Koh Phangan island is well known for its party scene and laid-back vibe, which attracts millions of people each year. Being a paradise for backpackers and digital nomads, it is absolutely worth exploring the island.
Since the ban on cannabis products has been lifted, several businesses have jumped at the opportunity to sell marijuana strains and edibles.
As a tourist, you must read these critical points before heading to any cannabis shop on the island:
You cannot carry cannabis seeds or plants from or to Thailand for any reason.
Individuals under 20 years old, breastfeeding women, and pregnant women are not eligible to consume cannabis.
Smoking cannabis near schools, malls, and other public places is illegal.
Avoid driving if you have consumed cannabis food or drinks containing weed.
If you are looking for ways to enhance your travel experience with cannabis products, here are some of the best cannabis dispensaries in Koh Phangan.
1. PrikPot
Before discussing about the physical cannabis stores, let's take a moment to check out PrikPot, the go-to online destination for premium cannabis products in Thailand.
PrikPot's primary objective is to provide customers with top-quality cannabis from the convenience of their own homes.
The store prides itself on offering a seamless customer experience, from the initial inquiry to post-purchase support. Their team of highly knowledgeable experts is dedicated to educating and assisting customers in making well-informed choices.
PrikPot distinguishes itself by offering a range of cannabis products that are organically grown and rigorously tested for safety. They steer clear of harmful additives such as Plant Growth Regulators (PGRs) and pesticides in their production process.
To enhance your overall experience, you can avail of a discount of 5% on all products in the store using my code 5OFF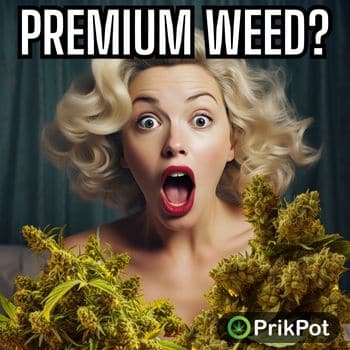 2. Jamaica Jello Bar
If you visit the popular Haad Rin beach for the Full Moon Festival, the Jamaica Jello Bar is where you want to be. You can't miss it, as it is located on the beach and offers a wide variety of cannabis products.
Some of them include cannabis jello shots, drunken gummies, drinks, and of course, groovy vibes so that you can have the best night of your life.
Furthermore, each shop wall is decorated with Queen Luana's spirited artwork.
You will also get to interact with the locals and other tourists who love to party, just like yourself.
Address: 202/20 moo 6 Hadrin Beach Koh Phangan, Surat Thani 84280, Thailand
Timings: Open 24 hours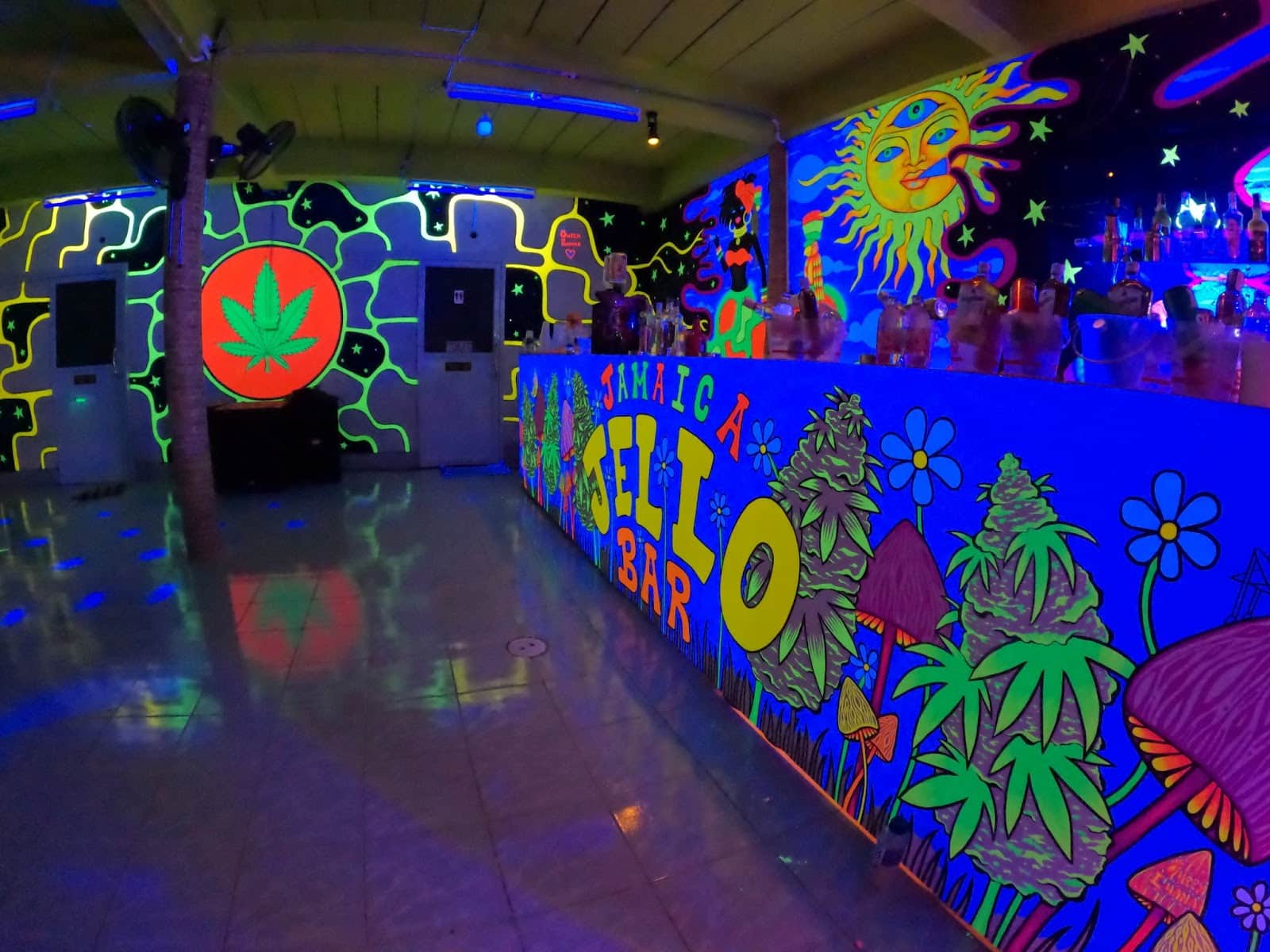 3. The Bud Lounge
Another top cannabis shop in Koh Phangan is the Bud Lounge at Taladkao Road.
The restaurant is popularly known for its medical cannabis products, and since all the ingredients are sourced from local farmers, they offer high-quality marijuana strains for their customers.
When you visit the lounge, you can choose from various delicious food and beverages that keep you wanting more.
CBD edibles like cookies, brownies, etc., are the favorites, but you can also check out their cocktails and CBD infuses.
The staff is inviting, pleasant, professional, and accommodating to their customers.
Address: 44/2 Taladkao Rd, Thong Sala, Koh Phangan, Surat Thani 84280, Thailand
Timings: Thursday-Tuesday 2 pm - 10 pm (closed on Wednesdays)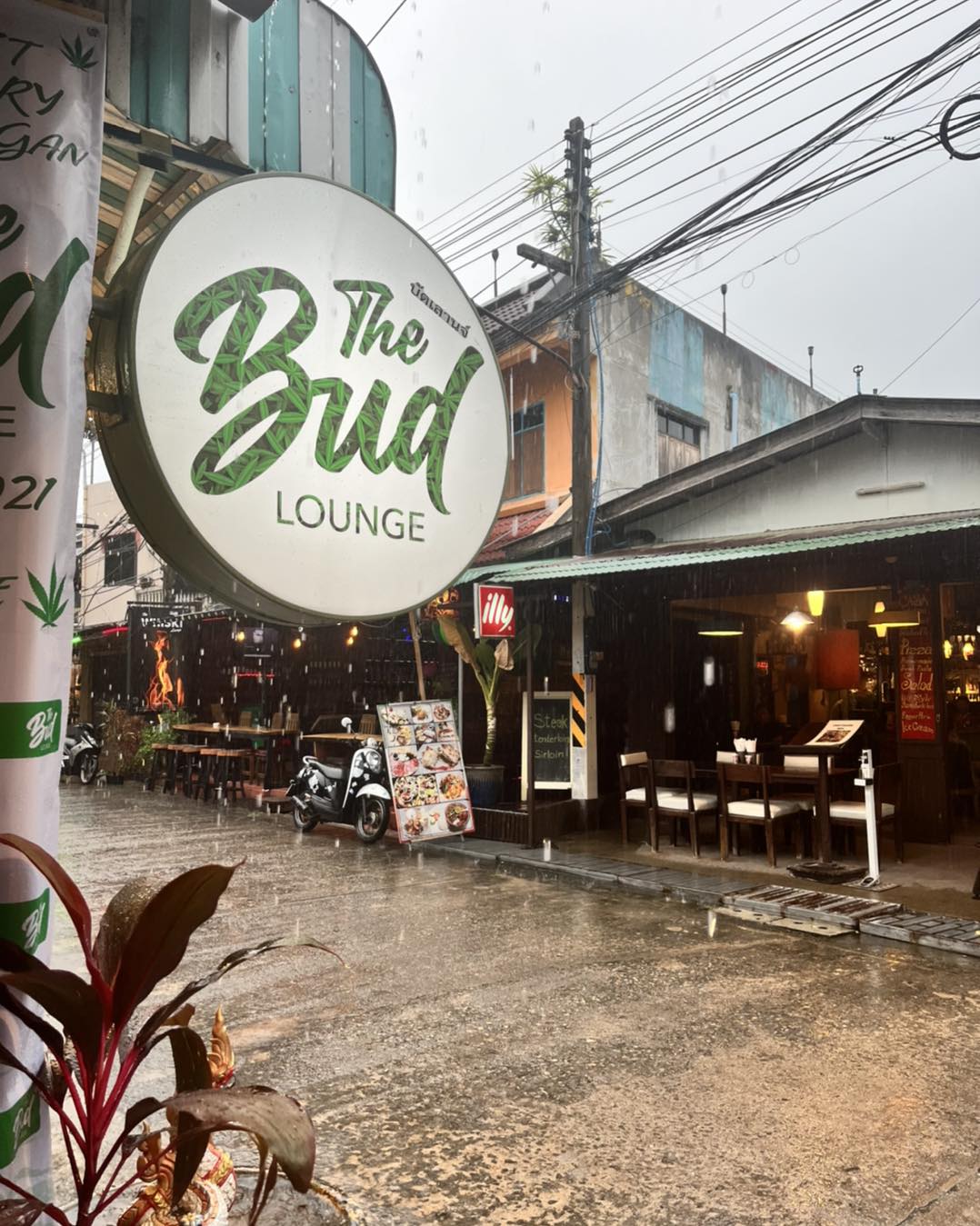 4. Mamma Mia
Mumma Mia was the first franchise in Koh Phangan to get a license for selling cannabis-infused products.
In 2022, they got approved by the Thai government, and today, they sell some of the best products on the market.
At Mamma Mia's, you will be offered a variety of edibles, foods, and beverages from organic cannabis seeds.
The owner Loris and his wife's dream was to fuse food and marijuana so that each customer could enjoy all the benefits of the cannabis plant.
The staff is welcoming and ever-ready to serve you their fresh baked dishes every day of the week.
However, they are meticulous about the laws set by the government, so they ensure that each customer is limited to only 8 leaves a day.
Address: 111/1 moo 1 Ko Phangan, Surat Thani, Thailand 84280
Timings: 1 pm -1 am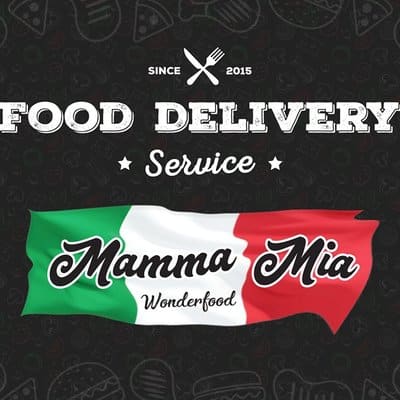 5. Cali Weed Phangan
Cali Weed is considered one of the best places to buy cannabis that are of top quality.
They proudly boast about premium weed products, but what attracts customers is the prices.
Amongst the many cannabis dispensaries and shops in Koh Phangan, it is by far the cheapest on the island.
If you love smoking weed, you will also find Thai bongs to enjoy your favorite weed in Phangan. They are known for their variety of flavors, so make sure that you check them out.
Address: PX5V+G9C, Ko Pha-ngan Sub-district, Ko Pha-ngan District, Surat Thani 84280, Thailand
Timings: 11 am - 11 pm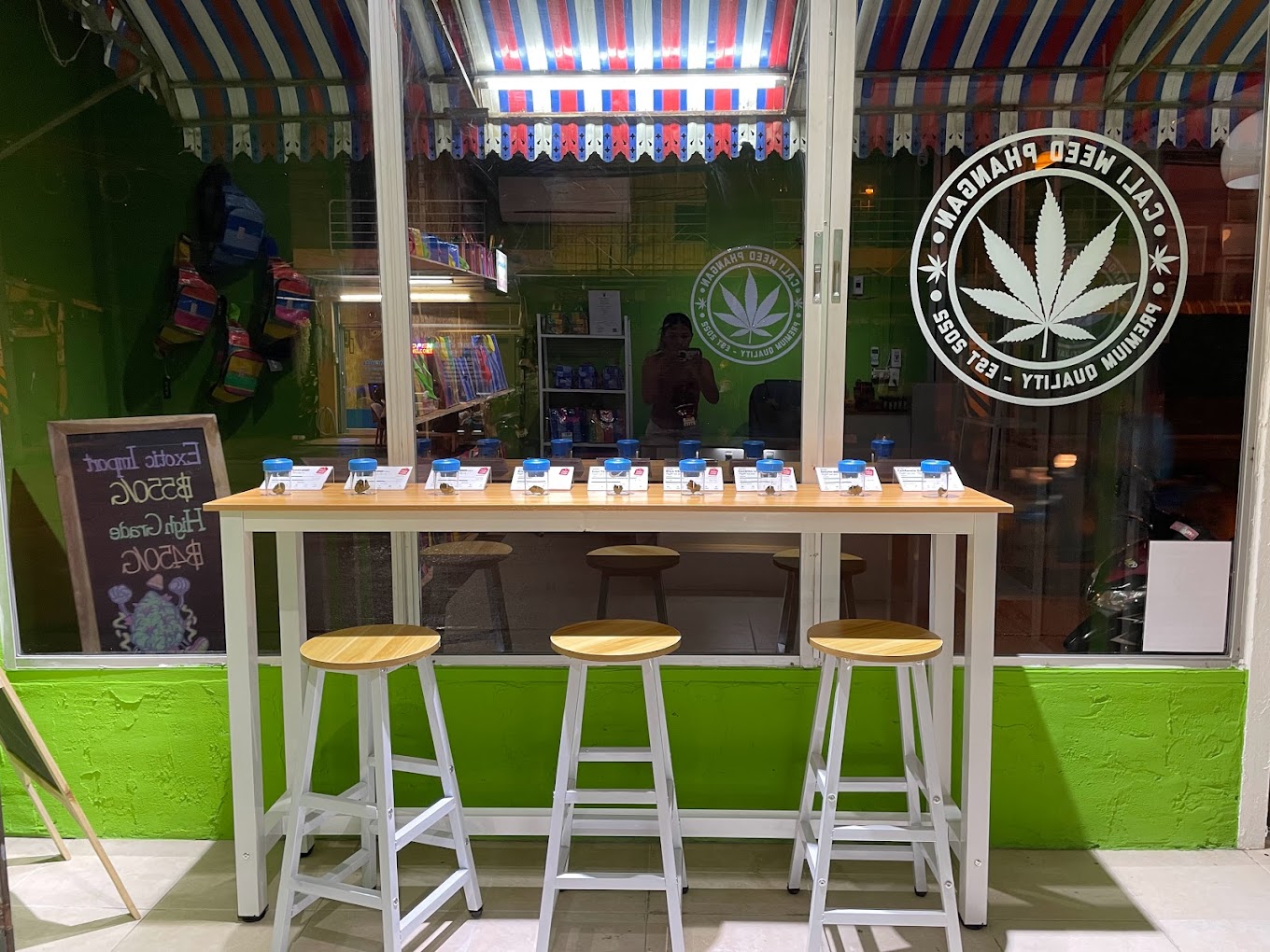 6. Cannabis Center
If you are looking for a large selection of top-quality cannabis products, then Cannabis Center is the best place in Phangan.
This center offers several products, from strong flowers to baked goods, to keep you high and happy.
The prices at this vendor are exceptionally good, which is why people from along the island flock to this cannabis shop.
The owner and staff are very kind, as they will help you find exactly what you are looking for and suggest some of the best strains available.
You can also purchase different bongs and rolling paper to enjoy your weed. However, their smoking area is not yet open, but you can expect it soon.
Address: 214, Tong Sala, Koh Phangan, Surat Thani 84280, Thailand
Timings: 9 am - 11 pm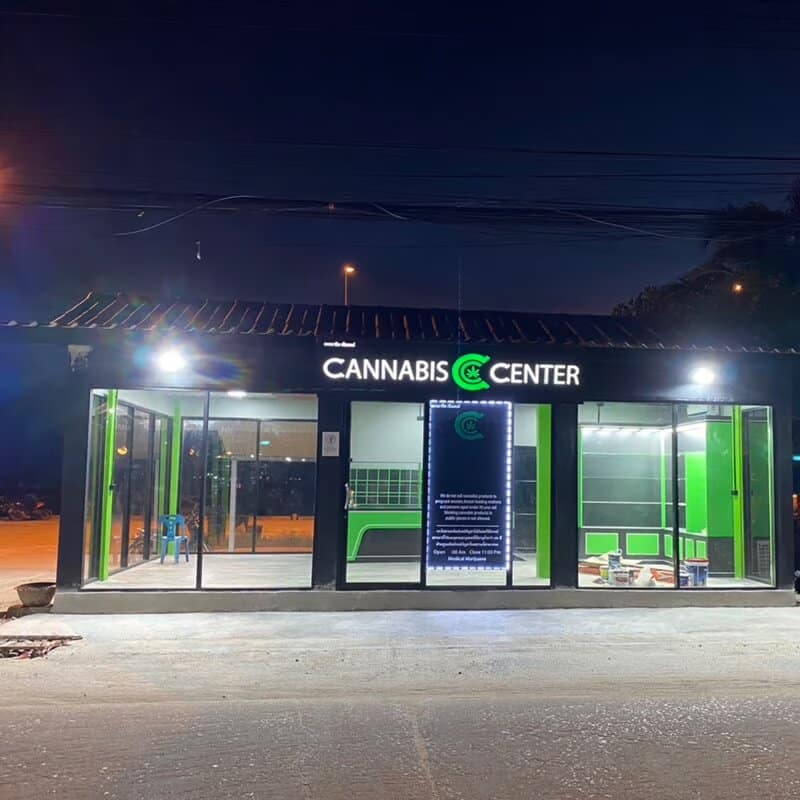 7. High Lounge
As the name suggests, the High Lounge is a place to get high, chill, and relax!
This cannabis shop has designed an ultimate relaxation living room experience for its customers.
What makes this experience so unique is the massive sofas, gaming consoles, fully stocked bar, Live Jam sessions, and a well-rolled joint in your hand.
The vibe here is truly amazing, as you can have a laid-back experience smoking, playing, and drinking; All day long. You can also play a game of chess with the owner.
While the atmosphere is everything you might have wished for, the dispensary offers a variety of high-quality weeds that you can choose from. You can even buy flowers in bundles or just one bud per your need.
When you visit the lounge, you will meet many people like yourself and have a great time.
Address: 66/21, Ban Tai, Koh Phangan, Surat Thani 84280, Thailand
Timings: 11 am - 12 am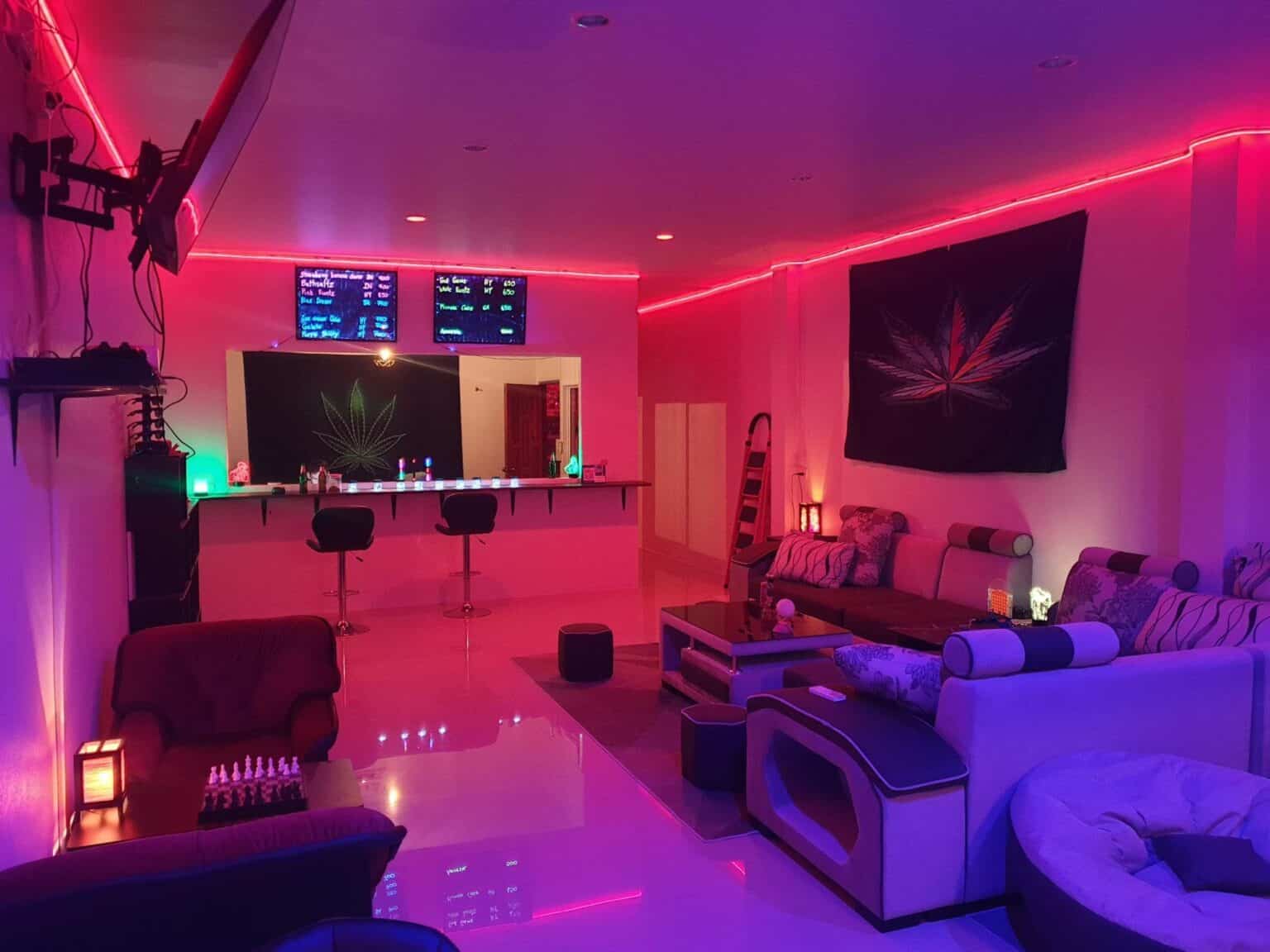 8. Kanna Cannabis Dispensary
The Kanna Cannabis Dispensary is a medical marijuana dispensary on the island that offers its customers high-quality CBD and THC products.
Their weed comes from licensed local farmers to ensure top-quality strains can be rolled into amazing magical buds.
The staffs are experts in recreational cannabis use and the medical purposes of the plant.
They also offer multilingual services and help cater to different English, German, and Thai needs.
If you come across this cannabis shop, along with weed strains, you will find different rolling papers and teak wood bongs at good prices.
All the products are displayed on the counter so that customers can choose weed as they like. The average cost is around 300-500 Bhat.
Address: 78, Koh Phangan, Surat Thani 84280, Thailand
Timing: 12 pm - 9 pm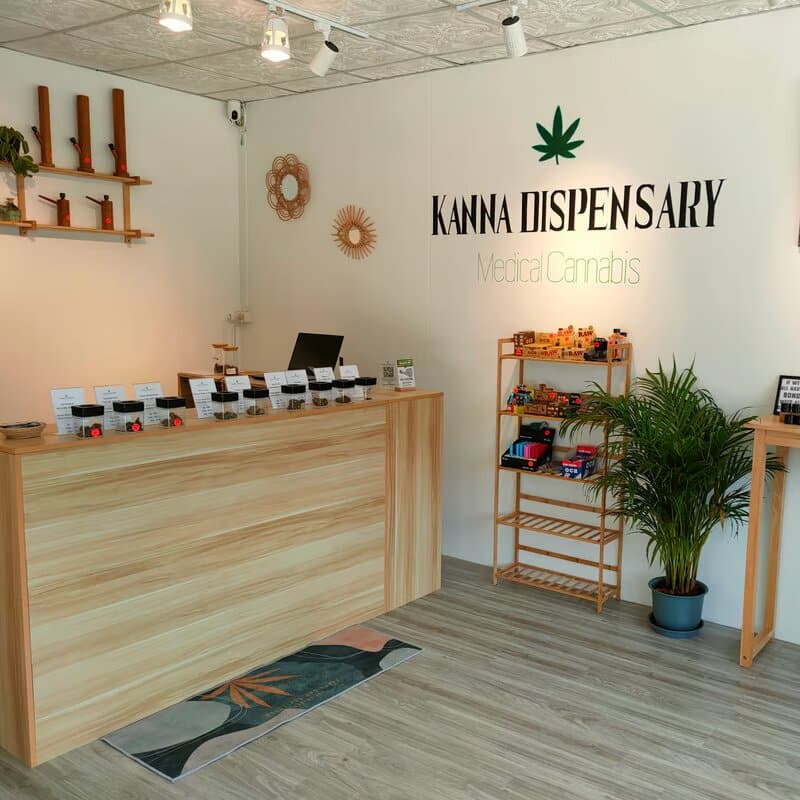 9. DONS Professional Cannabis Shop
If you want a cool site to lay back and smoke some well-rolled joints, then DONS Professional Cannabis shop is the perfect store for you.
The cannabis store offers top-quality weed strains infused with edibles like muffins, hash, and drinks.
Customers are even allowed to smoke at the store itself. You can get your weed rolled into a joint by a bartender or opt for their bongs. After each use, their bongs are cleaned with a special bong-washing liquid, so you won't have to worry about hygiene.
They have a large room with a plasma TV, sofas, tables, and even gaming consoles, so you can enjoy smoking weed.
If you are new to marijuana, the owner can help you choose the best strains and may even offer a discount on certain products.
This place is popularly known for its collection of weed products, such as smoking pipes, grinders, trays, bongs, pro=rolled cones, filter screens, etc.
At times, he has even helped customers explore the island. Please also consider checking our guides on Koh Phangan.
Address: 44, Pantip Food Market, 128 Moo1, Tambon Ko Pha-ngan, Koh Phangan, Surat Thani 84280, Thailand
Timings: 10 am - 2 am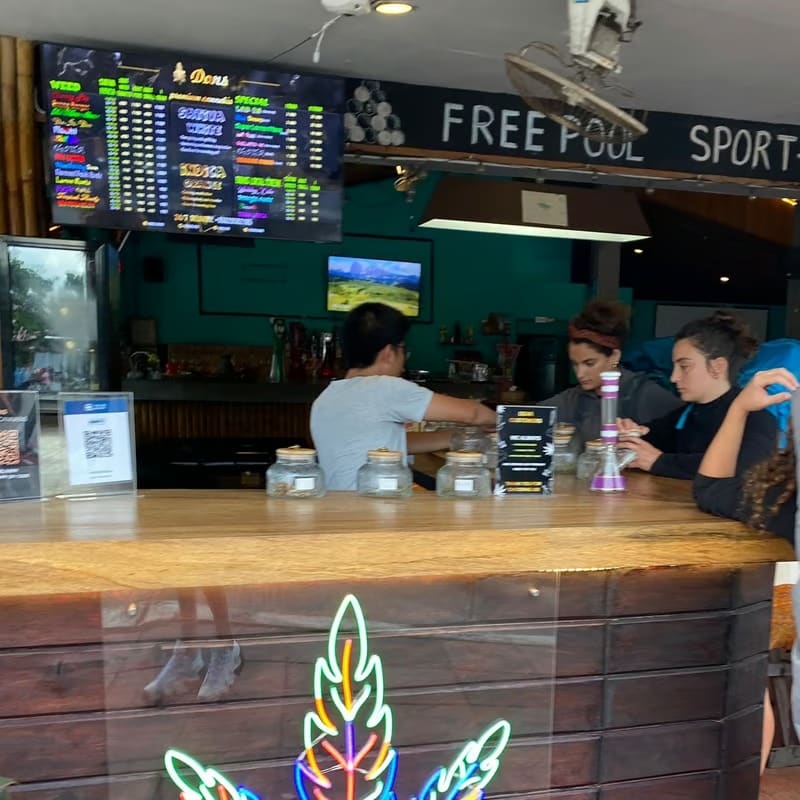 10. 420 Smokey Phangan
The 420 Smokey Phangan is another popular cannabis shop in Koh Phangan that offers quality marijuana products.
The shop is run by a great couple, Riko and Tami, that love serving their customers.
When you visit the store, you will stock their local weed strains high in THC content, perfect for marijuana lovers.
If you do not know what to buy, the couple will explain all the types of weed they have at the shop and even suggest one that meets your preferences.
Like most shops on the island, you will find bongs, pre-rolled cones, and other products to smoke your favorite weed.
The staff is fluent in English, French, and Thai and always welcomes their customers with a smile.
Address: 44/51 Moo 1, Soi Krung Thai Bank, Thong Sala Road, Koh Phangan, Surat Thani 84280, Thailand
Timings: 11 am - 1 am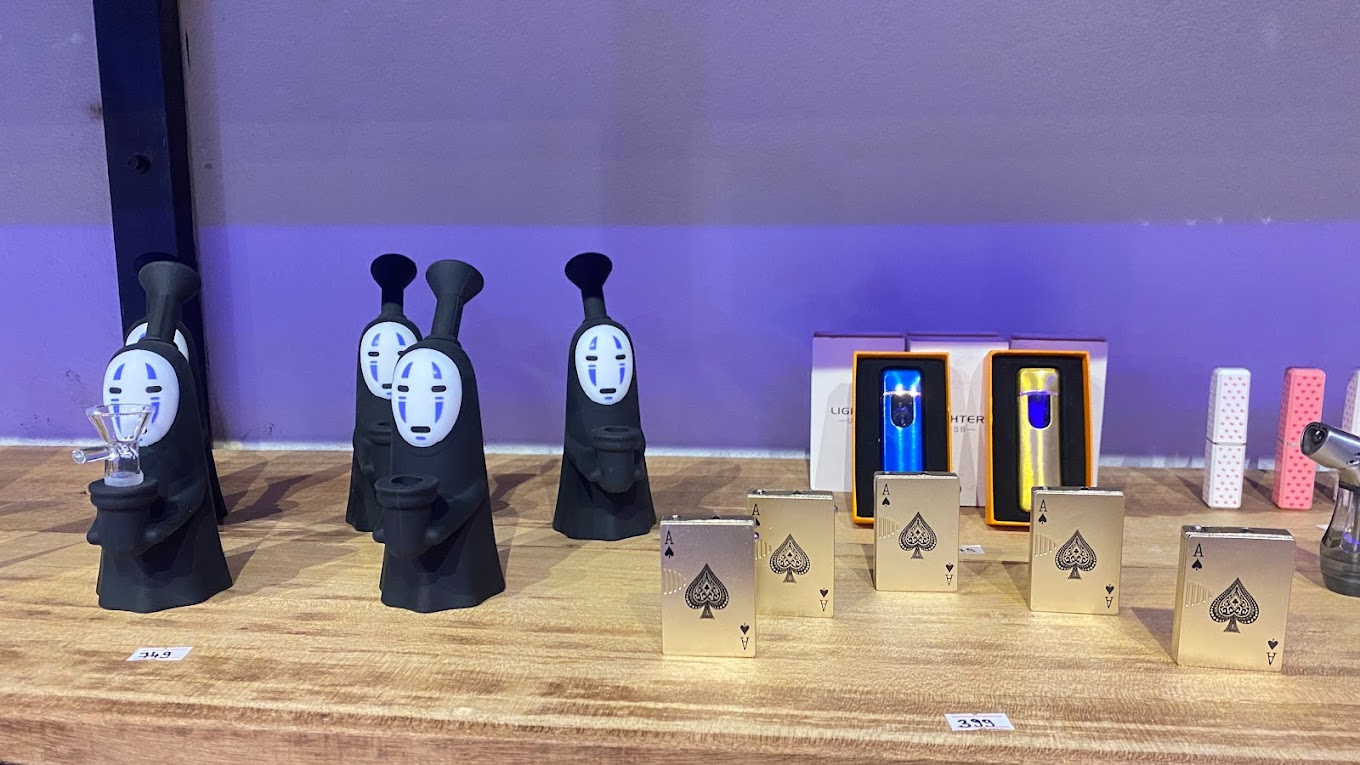 11. High Cloud by P&P Dispensary
High Cloud is a stylish store that is located on the main street of Koh Phangan. They offer a variety of strains at reasonable prices, which attracts many weed seekers from around the island.
The store is clean, filled with plants, and decorated with designs, which create a good atmosphere to smoke your buds.
The shop also offers a great cup of joe while you choose your favorite strain and chill at the cannabis shop.
The owners are very welcoming and offer pleasant services. The staff is fluent in English, French, and Thai, so you can purchase the best strains.
So if you are looking for affordable prices in Phangan, High Cloud is highly recommended!
Address: 28/14-15 Koh Phangan, Surat Thani 84280, Thailand
Timings: Monday to Friday, 8 am -11 pm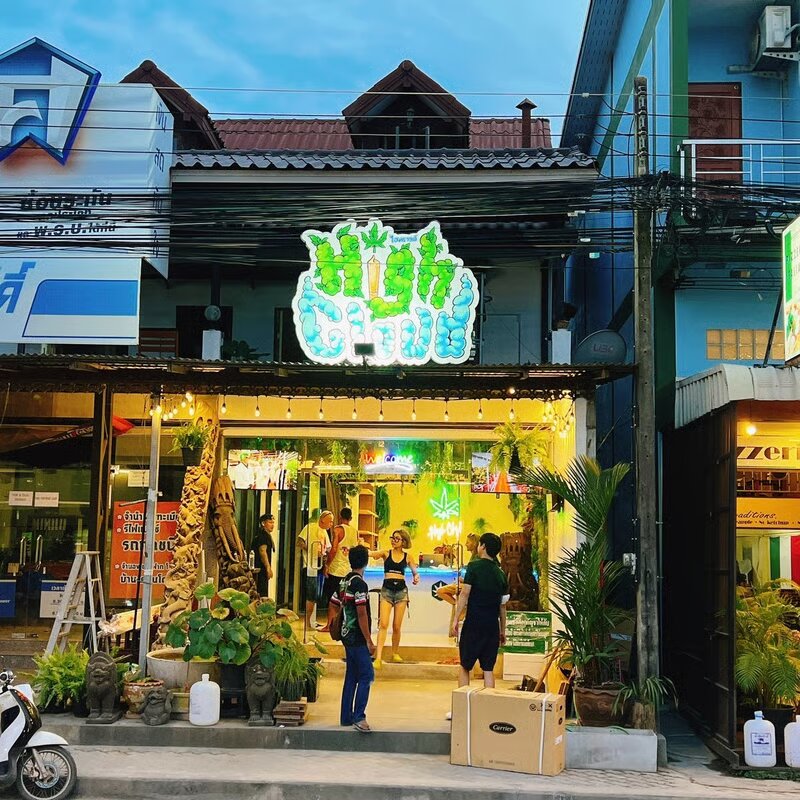 12. Headquarters KPG
Headquarters KPG takes pride in selling top-quality cannabis on the island for their customers.
The team is passionate about cannabis Sativa, Indica, and even hybrids, so you can have pure and potent weed.
The staff present at the store is friendly and knowledgeable and will even help you choose from a wide selection of flowers.
This weed shop is one that you can trust as they make necessary efforts in lab testing all their cannabis seeds and flowers.
Remember that prices here might be slightly higher, but it is worth the quality. They also have promotions and discounts on certain products.
You will also find bongs, filters, crushers, etc., that suit your needs.
Address: PX6R+955, Ko Pha-ngan Sub-district, Ko Pha-ngan District, Surat Thani 84280, Thailand
Timings: 11 am - 10 pm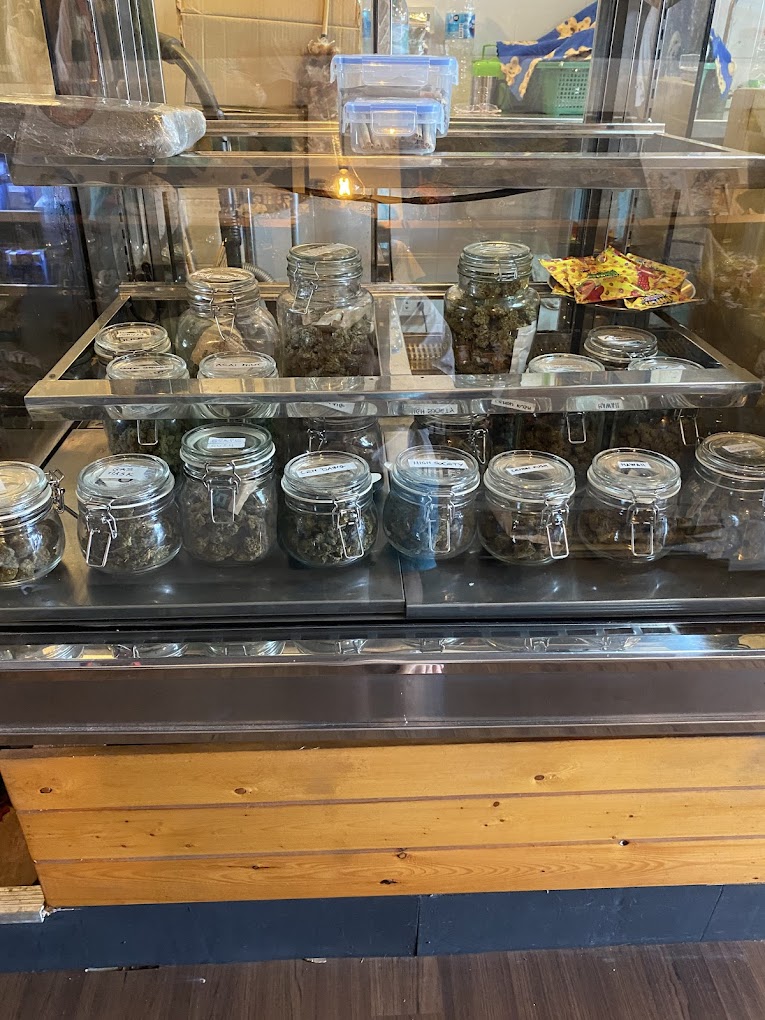 Are You Ready to Try Some Weed?
Cannabis has many health benefits that can be considered a modern-day cure. For your first cannabis experience, there is no right or wrong way, but you must take precautions.
While the ban on marijuana has been lifted, its recreational use comes with certain boundaries. Make sure you stay within the country's laws, and you will have a great time.
If you are visiting Koh Phangan for the first time, and under a budget, here are some budget-friendly hotels for you.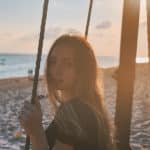 Noah Zaidi is an ardent traveler who has been documenting her Thailand exploration through Thailand Nomads. Her aim is to inform and educate people around the world about the must-visit places in Thailand.