In a world where modernization is the name of the game, Phuket stands as a shining example of embracing change while preserving its unique charm.
Located within the Cherngtalay sub-district, Boat Avenue Mall is a testament to this evolution—a place where retail therapy, comfortable living, and delectable dining harmoniously coexist.
This extraordinary destination has witnessed a gradual transformation over the years, emerging as a bustling hub of activity on this mesmerizing island.
The Birth of Boat Avenue Mall: A Shopping Oasis in the Making
As one strolls through the expansive aisles of Boat Avenue Mall today, it is hard to fathom its humble beginnings.
What started as a modest venture has blossomed into a thriving shopping and dining neighborhood, delighting all who visit.
Its strategic location at the entrance of the Laguna Complex in Bang Tao, Cherngtalay, has made it an indispensable stopover for travelers exploring the northern reaches of Phuket.
Boat Avenue's story is a testament to adaptability and foresight. The mall has not only kept pace with the changing times but has also led the way in transforming the local scenario.
Its contemporary style and diverse offerings have redefined the shopping experience, attracting both locals and tourists in droves.
While some people include it in the list of the top malls in Phuket, Boat Avenue is not a traditional mall, it is a shopping and lifestyle destination.
Presently, the 30,000-square-meter area of Boat Avenue includes numerous clothing businesses and eateries, a sizable Villa Supermarket, and a weekly night market. It's one of Phuket's busier shopping districts, with a modern aesthetic and ample parking.
The shops on Boat Avenue are dispersed throughout the street. There is a lengthy row of stores on the left and a smaller alley to the right as you look toward the entrance from the main road.
The eccentric Container Mall, which was constructed using repurposed shipping containers, is located in between.
Top 6 Attractions of Boat Avenue Mall
Let us now what is a must-visit and try at Boat Avenue!
1. Fun Friday Avenue Market
Every Friday between 4 pm and 9 pm, Fun Friday Avenue Market adds vibrant colors and creativity to Boat Avenue.
It is not just a market; it's a chance to try authentic Thai cuisine that you won't find in regular restaurants. The lively atmosphere and diverse offerings make it a must-visit.
Open: Friday from 4 pm to 9 pm

Phone: +66 (0)81 677 9851
2. Marie France Van Damme
It is a store owned by Marie France Van Damme, a fashion designer with a passion for travel. Through this store, she introduced her stunning resort wear collection to Boat Avenue.
The store exudes elegance and style, mirroring the items available for purchase.
The selection predominantly caters to women and features swimsuits, dresses, and casual attire in a sophisticated palette of metallic shades and natural prints crafted from silk, chiffon, and satin.
Open: Daily from 11 am to 1 pm and from 2 pm to 8 pm
Phone: +66 (0)76 324 022
3. Villa Market
Villa Market is a Thai-based chain of international supermarkets catering primarily to expatriates and foreign visitors seeking a taste of home. It is a haven for those yearning for familiar essentials and treats from their native countries.
It is worth noting that while you can find most of your beloved items on their shelves, prices may run slightly higher compared to what you would typically pay for the same products in your home country.
4. Chandra
In Boat Avenue, Chandra stands out as one of the few fashion boutiques that offer a comprehensive range of both men's and women's attire.
Focusing primarily on fashionable resort wear, their collection encompasses vibrant bikinis, graceful dresses, well-fitted shirts, airy trousers, and more.
Chandra's designs prioritize a sense of stylish simplicity, featuring a preference for clean and uncomplicated patterns.
It is noteworthy that aside from their presence in Boat Avenue, you can also find another Chandra store in the serene Surin Beach of Phuket, along with two additional outlets in the picturesque Koh Samui.
Open: Daily from 8 am to 10 pm
Phone: +66 (0)7 630 4630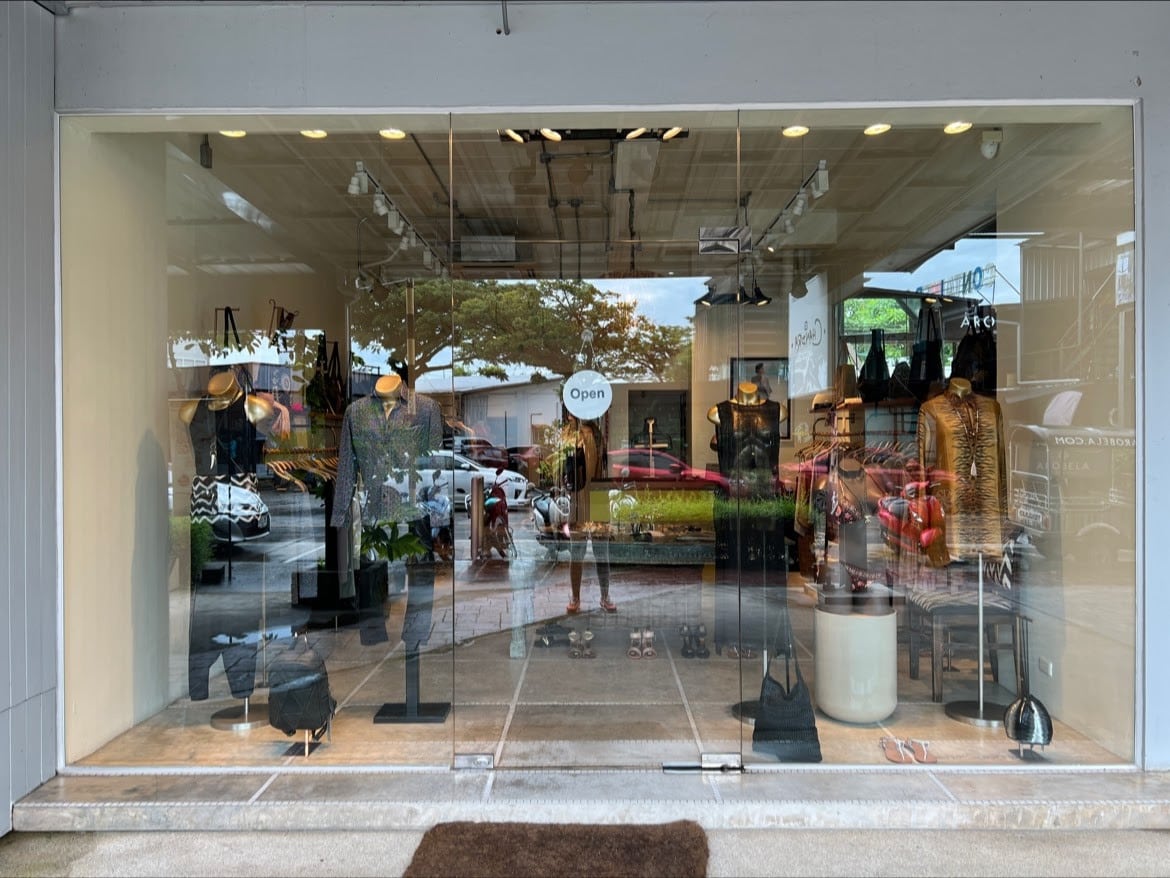 5. Kaanda Beach Life
As the name suggests, Kaanda Beach Life is a beachwear brand located inside the Boat Avenue Mall, Phuket. It has stores all over Thailand.
The store offers a variety of stylish options. Their collection, available at the flagship store near Villa Supermarket, includes one-piece swimsuits, bikinis, beach dresses, kaftans, and accessories.
While they do not have men's clothing, women can discover unique and attractive designs to enhance their beach look.
Phone: +66 (0)76 608 699
6. Porto de Phuket: The Companion Mall
Adjacent to Boat Avenue Phuket is Porto de Phuket, an open-air community mall that shares the same brand as Central Phuket.
While it features familiar shops and franchise restaurants, Porto de Phuket has a distinct concept. It offers a relaxed shopping experience, unlike multi-story malls.
Dining Delights at Boat Avenue Phuket
One of the highlights of Boat Avenue Phuket is its diverse dining scene. With dozens of restaurants offering a wide range of cuisines, you are in for a culinary adventure.
While Thai food and seafood are readily available, you can also savor sophisticated European dishes. Here are a few places to check out.
1. Brewbridge Craft Beer
Brewbridge Craft Beer is an ideal destination for craft beer enthusiasts. Their standout brews include the robust 8% pale ale, La Chouffe, and the delightful 5% golden ale, Boonville.
You can also indulge in a limited yet delectable array of premium bar snacks and gourmet pub fare featuring savory options like pork ribs and Thai-style seafood spaghetti.
Location: Boat Avenue, 49/22 Bandon-Cherngtalay Rd, Cherngtalay, Thalang, Phuket 83110, Thailand

Open: Daily from 3 pm to 11 pm
Phone: +66 (0)76 606 650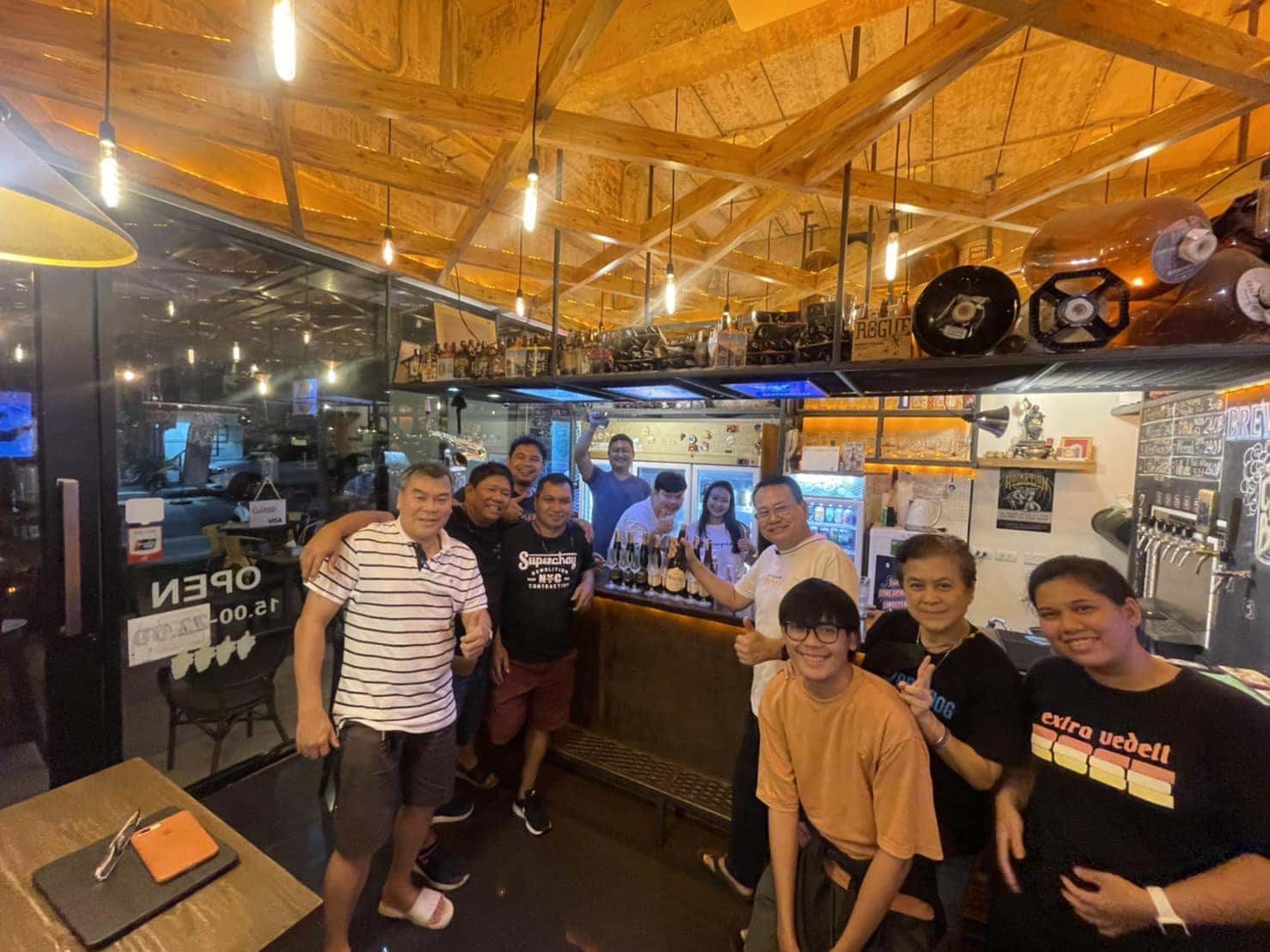 2. CUT Grill & Lounge
CUT Grill & Lounge Phuket, situated by the lake behind Boat Avenue, offers top-notch steak dining. Here, you can savor exquisite selections of beef, lamb, pork, and chicken, all served in a picturesque environment.
This venue also ranks among the most sophisticated lounge bars in the Bangtao area.
Location: Boat Avenue, Bandon-Cherngtalay Rd, Cherngtalay, Thalang, Phuket 83110, Thailand
Open: Daily from 11 am to 11.30 pm
Phone: +66 (0)93 638 8921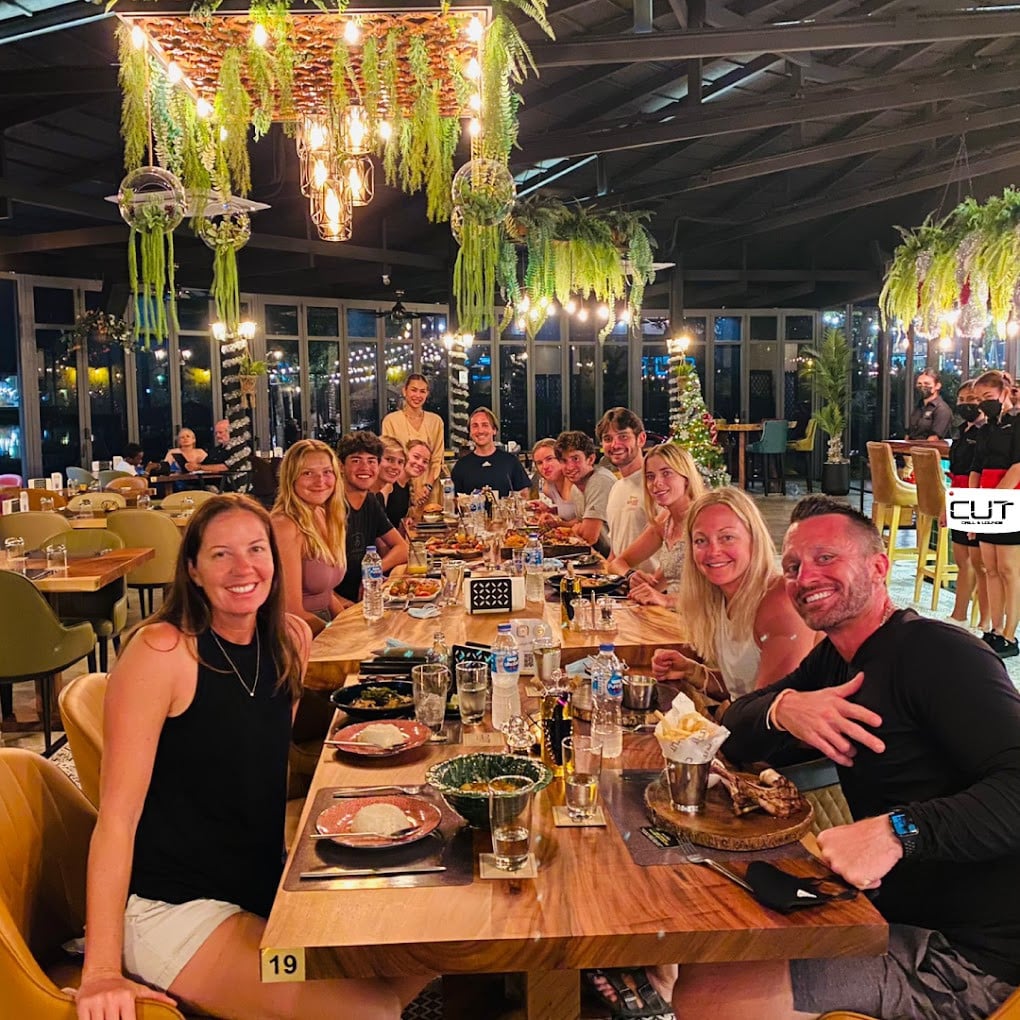 3. Uoteru Suisan Sushi Phuket – Boat Avenue
Uoteru specializes in offering top-notch Japanese cuisine, with a focus on sushi and sashimi, all at very affordable prices. They also feature an extensive menu of delicious Japanese main dishes, such as chicken teriyaki.
The restaurant has a straightforward and cozy atmosphere, offering both indoor and outdoor seating options, but what truly stands out is the consistently excellent food.
Uoteru boasts two branches in Phuket, with the other one located in Rawai, both featuring a bright and contemporary setting.

Location: Boat Avenue, 49/36 Bandon-Cherngtalay Rd, Cherngtalay, Thalang, Phuket 83110, Thailand

Open: Daily from 11.30 am to 2.30 pm and from 5 pm to 10 pm
Phone: +66 (0)76 325 005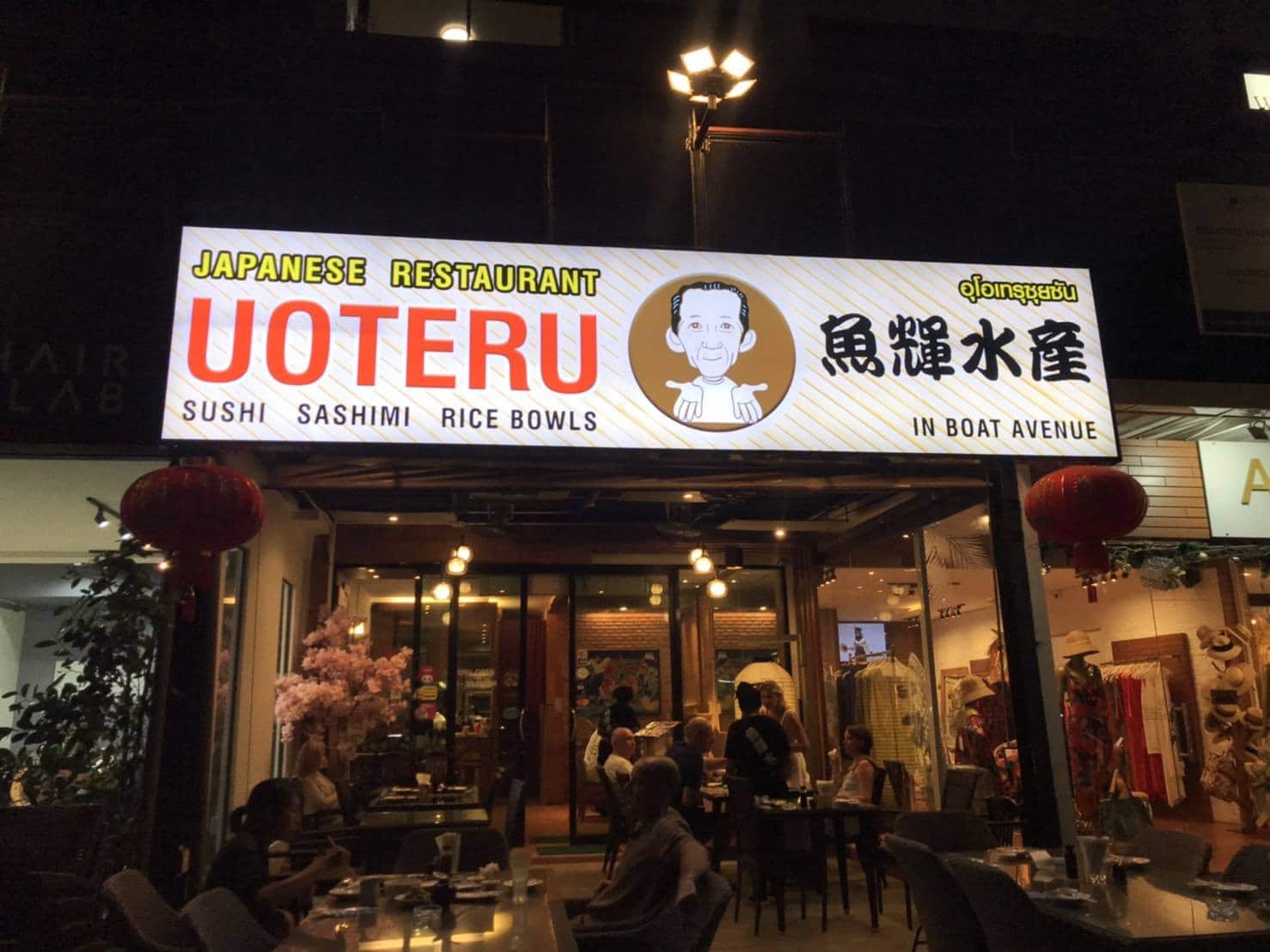 4. 23 Restaurant & Club
Nestled beside the serene lake at the rear of Boat Avenue, you will find the expansive 23 Restaurant & Club. This venue boasts a classical design, offering a picturesque waterfront garden and an inviting indoor lounge area.
On select evenings (Tuesdays, Wednesdays, Fridays, and Saturdays), you can enjoy live acoustic music as you savor their delectable fusion cuisine, which blends Thai, Mediterranean, and Japanese flavors.
Menu highlights include aioli pasta and green curry. While there is no strict dress code, given its stylish and elegant ambiance, opting for smart attire is suggested.
Location: Boat Avenue, 21/17 Lagoon Rd, Cherngtalay, Thalang, Phuket 83110, Thailand
Open: Daily from 4 pm to midnight
Phone: +66 (0)83 234 6264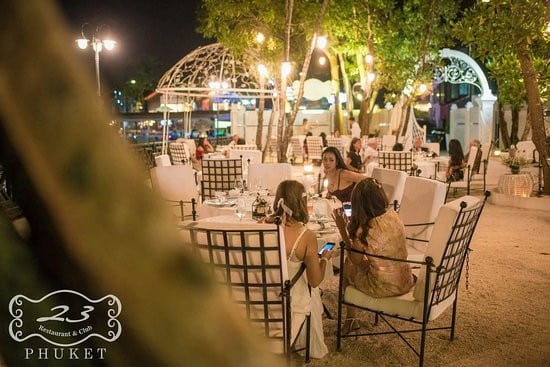 5. The Mexican
The Mexican is a pop-up restaurant nestled right in the center of Boat Avenue. Their standout dish is the budget-friendly taco, available in a variety of options, including fish, chicken, pulled pork, minced Australian beef, and vegetarian choices.
Despite the economical prices, the food is exceptionally delectable and quite irresistible, particularly when paired with their signature sauce.
In addition to their renowned tacos, you can indulge in a selection of other popular Mexican dishes such as nachos, burritos, and quesadillas.
Location: Boat Avenue, Bandon-Cherngtalay Rd, Cherngtalay, Thalang, Phuket 83110, Thailand
Open: Daily from 10 am to 11 pm
Phone: +66 (0)94 589 4277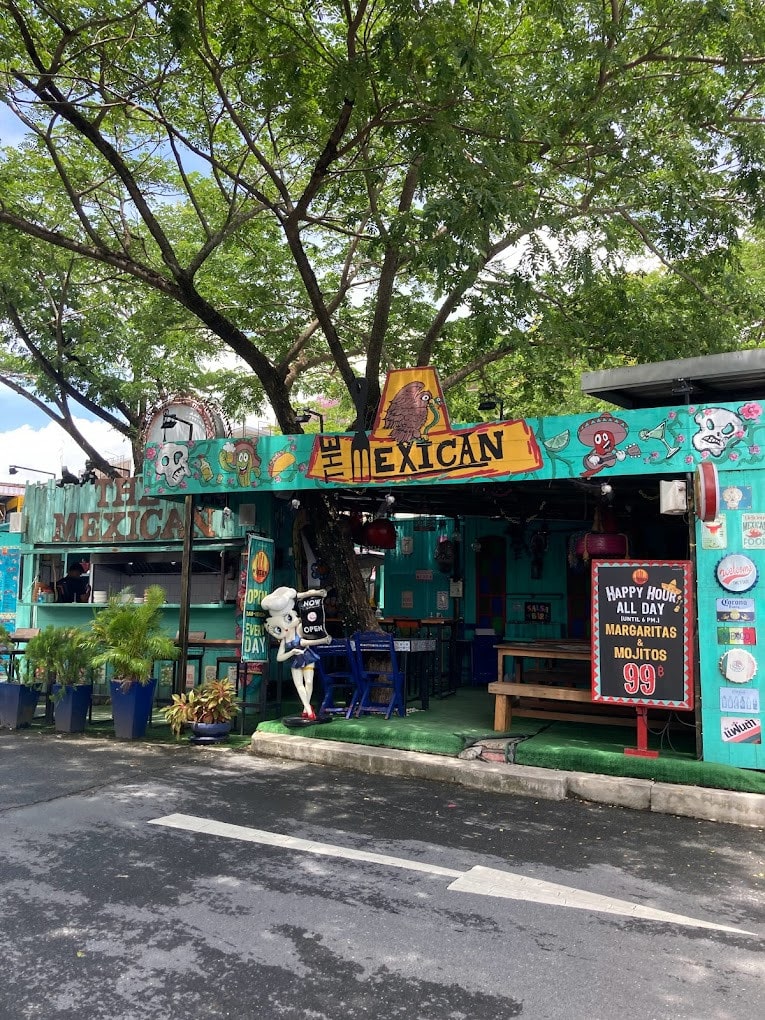 6. Little Paris
Little Paris is dedicated to crafting authentic French delicacies, including timeless classics like Burgundy snails, foie gras, and crème brûlée. Additionally, the establishment boasts an in-house bakery that offers a remarkable array of delectable sandwiches.
In true French dining fashion, Little Paris boasts an extensive collection of wines and a wide-ranging coffee selection. Moreover, alongside their French specialties, patrons can savor a diverse menu that includes pizzas, pasta, and even Thai cuisine.
Location: Boat Avenue, 49/47 Bandon-Cherngtalay Rd, Cherngtalay, Thalang, Phuket 83110, Thailand
Open: Daily from 8.30 am to 10.30 pm
Phone: +66 (0)63 050 8322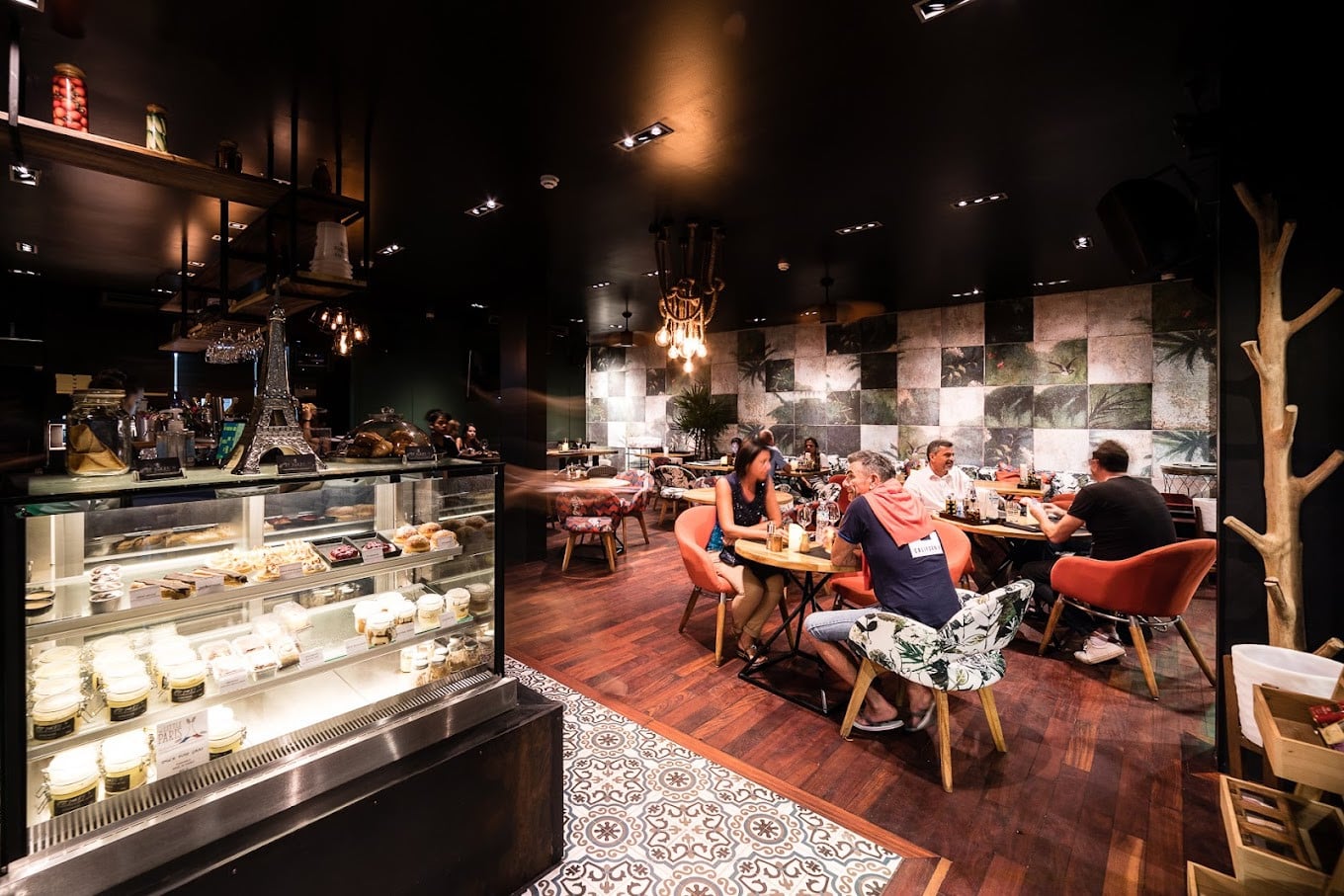 Visit Boat Avenue Phuket Today!
Boat Avenue Mall Phuket continues to evolve and offer a unique blend of shopping, dining, and entertainment.
Whether you're looking for high-quality products, diverse culinary experiences, or a fun night market, Boat Avenue has it all. So, make sure to include it in your Phuket itinerary for an unforgettable experience.
Location: Cherngtalay, Bang Tao
Address: 49/13 Bandon-Cherngtalay Rd, Cherngtalay, Phuket 83110
Operating Hours: 10 am – 10 pm