If you are seeking an immersive experience that offers excitement and relaxation, day and night, Blue Tree Phuket is your ultimate destination.
Blue Tree Phuket is a massive water park where both adults and kids can have a blast in the warm tropical waters of Phuket. Its colorful buildings along the road to Bangtao Beach make it easy to spot, and the park spans an impressive 17,000 square meters.
Have the Time of Your Life at Blue Tree Water Park!
Blue Tree Water Park boasts Thailand's largest Crystal Lagoon, featuring Thailand's longest Superfly, a thrilling water jump, a covered open-air amphitheater arena, a lifestyle shopping village, and an extensive natural Forest Park with a wide array of fitness and sporting activities.
Blue Tree Phuket truly stands out as a recreation park and entertainment hub where you can both thrill and chill from dawn to dusk. With a single ticket, you gain access to everything that the lagoon has to offer.
It promises to be an unforgettable experience and should be your top destination on your next vacation to Thailand! Let us quickly see what you can expect at the famous water park.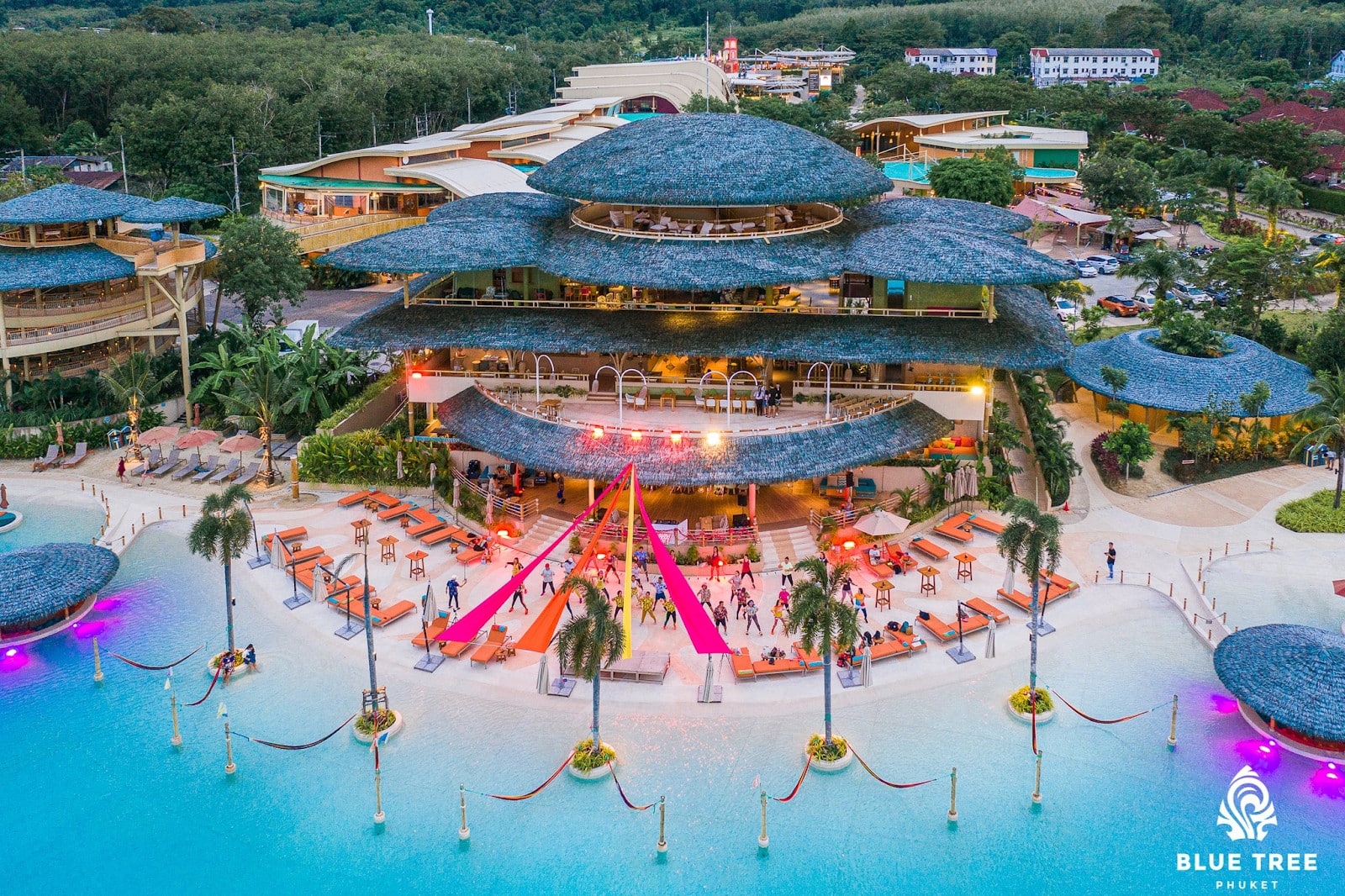 Events and Highlights at Blue Tree Phuket
One of the highlights of Blue Tree Phuket is the continuous calendar of events and activities that cater to families and kids. Whether you're visiting for the first time or planning a return trip, there's always something new and exciting happening at this entertainment hub.
Be sure to keep an eye on the latest events and promotions on their website to make the most of your visit.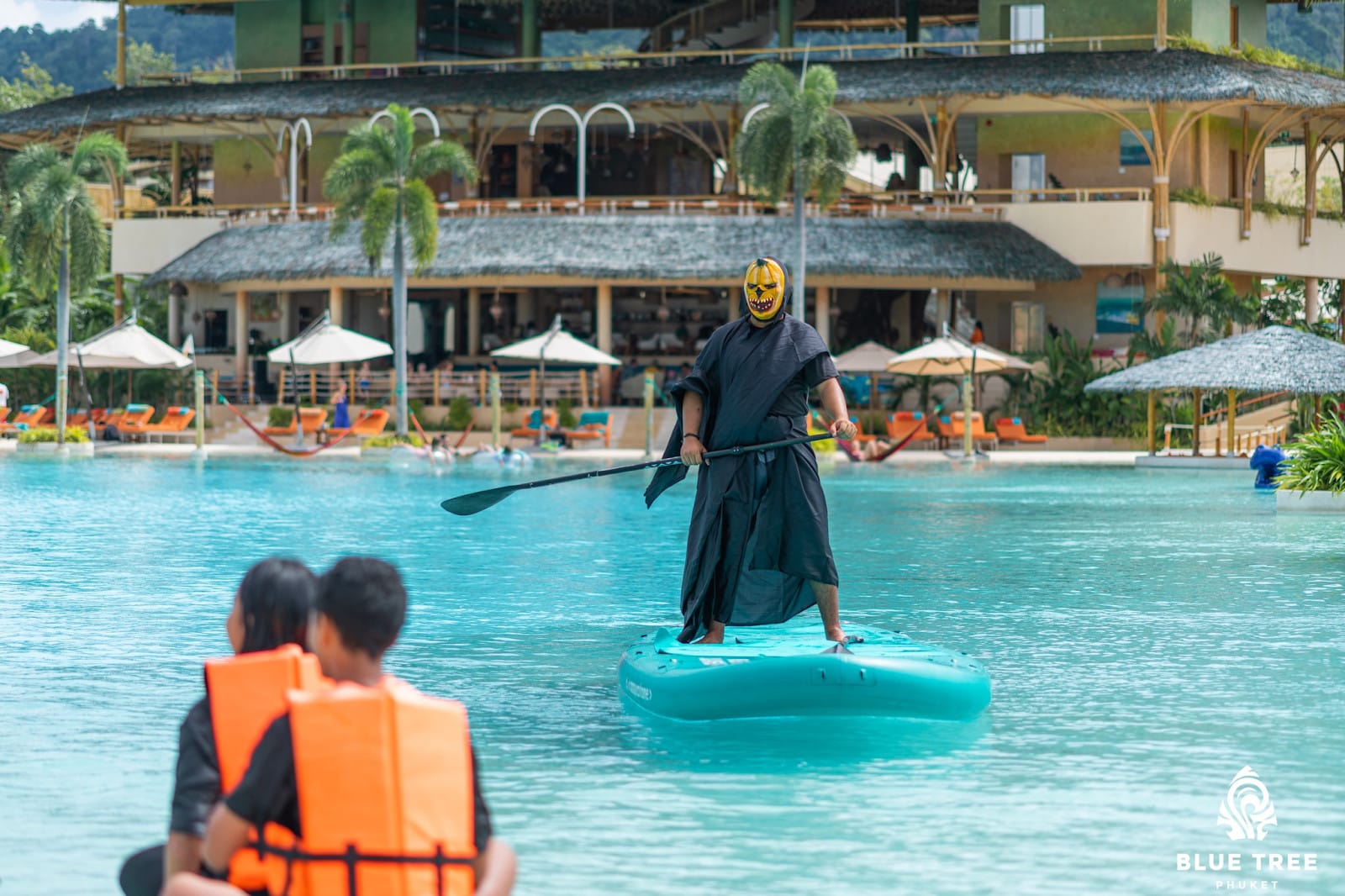 1. Thrilling Water Activities
At Blue Tree Phuket, you'll find exciting water fun that caters to adventure lovers. The main highlight is the thrilling water slides around the beautiful Blue Tree Lagoon.
Among them, the standout is the quadruple 'slip n fly' slides, which send brave souls high into the air before they splash down.
These slides come in different sizes and ways to ride them, with the headfirst option being the more daring choice. Safety is a priority here, with attentive staff ensuring everyone has a safe and enjoyable time.
If you are not quite ready for the big thrills, there are gentler slides for the younger ones to enjoy, making it a fantastic place for family fun in the water.
2. Dining Delights
Blue Tree Phuket isn't just about adventure; it's also a place for food lovers.
You can choose from five different restaurants and bars. The evening restaurant at the main building provides a unique dining experience. Whether you want a light meal or a fancy dinner, Blue Tree Phuket has a dining spot to satisfy your cravings.
Moreover, the food trucks add a touch of fun to the dining experience, offering quick and tasty bites for those looking to keep the adventure going without missing a meal.
3. Land Activities
Besides water fun, Blue Tree Phuket offers thrilling activities on land. People of all ages can enjoy these adventures. From trapeze training that lets you swing gracefully in the air to skating on a rink, there's excitement everywhere.
The exercise Parcours, a fun obstacle course, is a big hit, especially among young adventurers. With these land activities, Blue Tree Phuket ensures you can get your adrenaline fixed whether you're on land or in the water.
And for parents looking to keep their little ones entertained, the land activities offer a perfect balance to the water fun, making it an ideal destination for families seeking diverse adventures.
4. Shopping Village
As you enter Blue Tree Water Park, you'll come across a charming shopping village that reminds you of the old town of Phuket. Its colorful design with covered arches creates a lively atmosphere.
The shopping village adds a unique charm to the Blue Tree experience. It's a great place to explore, pick up souvenirs, and soak in the lively vibe.
While some shops may be in their early stages, the village's potential to offer a piece of Phuket's culture and crafts is worth the visit, supporting local artisans in their endeavor to share their creations with visitors.
The Four Zones of Tree Water Park
Blue Tree Phuket offers four distinct zones, each packed with activities and excitement for visitors of all ages. This is something that sets it apart from the other famous water parks of Phuket.
Let us discuss the four zones in detail.
1. The Famous Lagoon
The lagoon is undeniably the centerpiece of Blue Tree Phuket, an expansive body of crystal-clear water that beckons visitors to dive right in. This pristine lagoon isn't just for swimming; it's an aquatic playground offering a wide range of water activities.
At the lagoon, you'll find a thrilling array of water slides that cater to adventure seekers of all ages. From the iconic quadruple 'slip n fly' slides that launch you high into the air to gentler slides perfect for kids, there's an exhilarating experience waiting for everyone.
If you prefer a more laid-back experience, the lagoon also provides a tranquil setting for swimming and relaxation. Soak up the sun on the sandy shores or float in the calm waters while enjoying the beautiful tropical surroundings.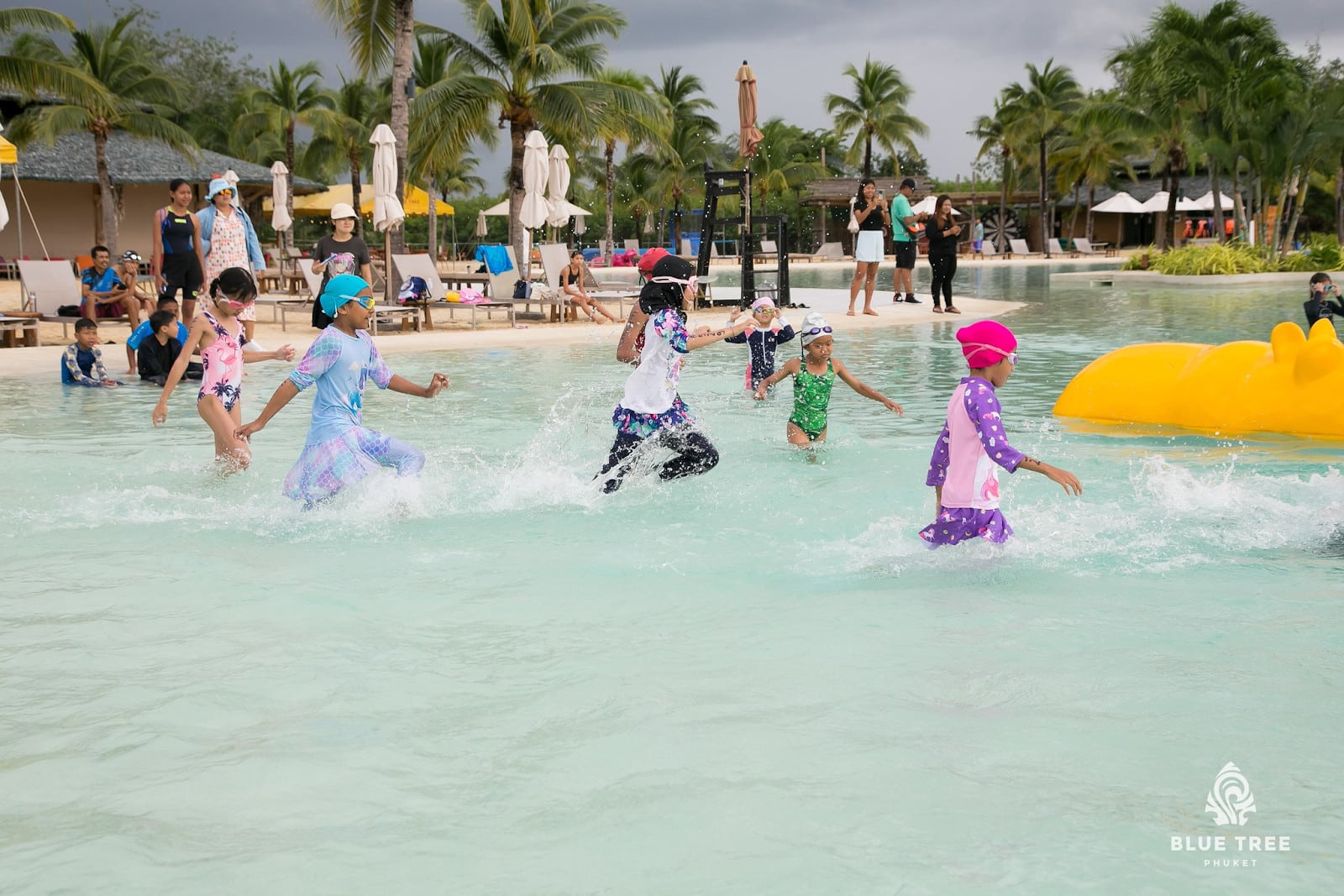 2. The Adventurous Forest Park
For those who crave adventure and a rush of adrenaline, the Adventurous Forest Park is the place to be. This zone is designed to get your heart pounding with a variety of high-octane activities.
Test your limits with adventure sports like ziplining, high ropes courses, and even trapeze training. Whether you're an experienced thrill-seeker or trying something new, you'll find a challenge that suits your level of daring.
Amid the excitement, don't forget to take in the natural beauty of the forest park. The lush greenery and scenic surroundings provide a stunning backdrop for your adventures, making it an excellent place for nature lovers as well.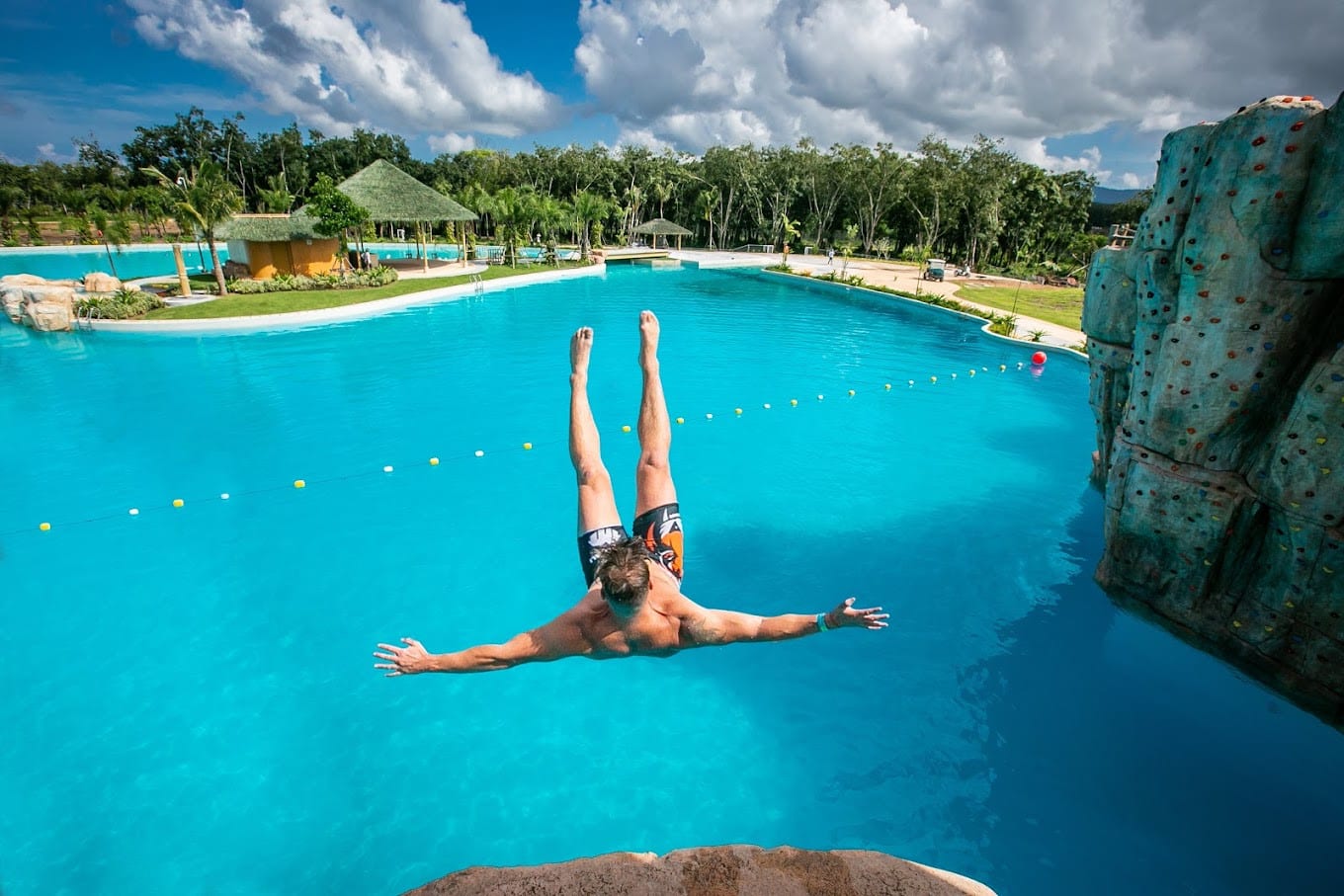 3. The Chill Lifestyle Village
The Chill Lifestyle Village offers a complete contrast to the adrenaline-packed zones. It's a serene haven for shopping, dining, and relaxation in a laid-back and vibrant atmosphere.
Explore a variety of shops and boutiques offering everything from local crafts to stylish fashion and souvenirs. It's the perfect place to find unique gifts or mementos for your visit to Phuket.
Satisfy your taste buds with a diverse range of dining options. From casual bites to gourmet cuisine, the restaurants and cafes in this zone provide a delightful culinary experience.
Whether you're sipping a coffee in a charming café or strolling through the village streets, the Chill Lifestyle Village is all about relaxation and taking it easy. It's an ideal place to unwind after an action-packed day.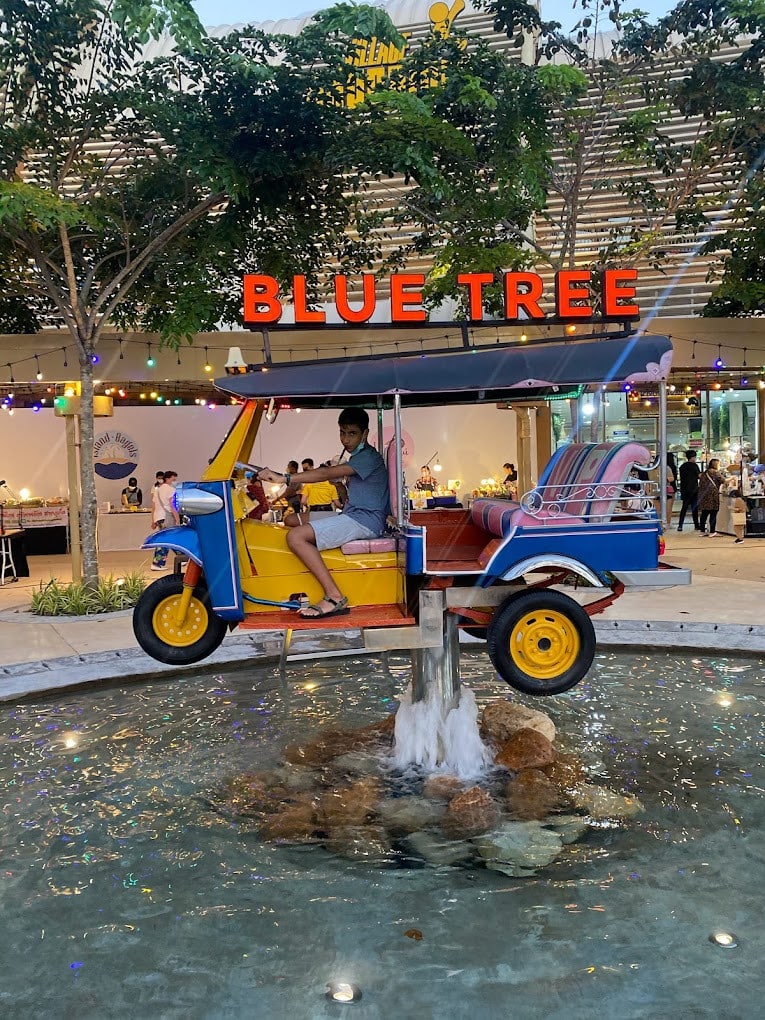 4. The Action-Packed Arena
The Action-Packed Arena is where the excitement never stops. This dynamic zone is dedicated to thrilling adventure sports, live music, and entertainment that will keep your energy levels high.
If you're an adrenaline junkie, you'll find an array of adventure sports here, from ninja warrior obstacle courses to gravity-defying activities that push your limits.
Enjoy live music performances and other entertaining shows that add an extra layer of fun to your visit. Whether you're watching talented performers or dancing to the beat, the arena keeps the party going.
Capture unforgettable moments of action and adventure as you challenge yourself and enjoy the vibrant atmosphere. It's the zone where you can truly let loose and create lasting memories.
Where is Blue Tree Water Park located?
Amphoe Thalang, Phuket 83110, Thailand. This fantastic water park is situated between Heroine's Circle and Bagnato Beach.
When is Blue Tree Water Park open?
Blue Tree Phuket Water Park welcomes visitors every day of the week, operating from 10:00 AM to 6:00 PM.
When is the Best Time to Visit Blue Tree Water Park?
To make the most of your visit with fewer crowds, we suggest planning your trip on weekdays, as weekends and holidays tend to draw larger crowds.
How Much Does the Ticket Cost in Blue Tree Water Park?
The starting point for basic ticket prices is 250 THB, with various options available, including promo packages for two adults at 1,100 THB and two children at 600 THB. Additionally, Blue Tree Phuket Water Park may offer special activities during events or special occasions.
Currently, the water park features a running race priced at approximately 550 THB per participant. Moreover, an upcoming Hip Hop night is on the horizon, with tickets available at 299 THB per guest.
It's worth noting that ticket prices might vary due to different discounted packages available on the park's website compared to on-site purchases on the day of your visit.
To ensure the best deal, we recommend prospective visitors check and book their preferred discounted tickets in advance through the park's official website.
Lastly, please keep in mind that tickets grant access for the entire day. If you plan to exit the park and return later in the afternoon, you can obtain a pass-out at the exit for re-entry.
Where to Eat at Blue Tree Water Park?
After a day filled with water sports and relaxation by the lagoon at Blue Tree Phuket Water Park, guests can savor a variety of dining options within the park. Here are some of the delightful dining venues you can explore:
1. Treehouse Restaurant
Nestled in a two-floor setup, the Treehouse Restaurant is designed to cater to the water park's many visitors. The first floor offers inviting beach lounges, while the restaurant itself is situated on the second floor.
Guests will find this restaurant to be a welcoming oasis, boasting an impressive menu of fresh and delectable cuisine, comfortable seating, and a laid-back atmosphere. What sets it apart is its eco-friendly and sustainable approach to design.
The menu at Treehouse Restaurant features a delightful array of options, including surf and turf specialties, fresh seafood, a variety of tapas, and vegan delicacies. On the first floor, the beach lounge serves up creative cocktails that will tantalize your taste buds.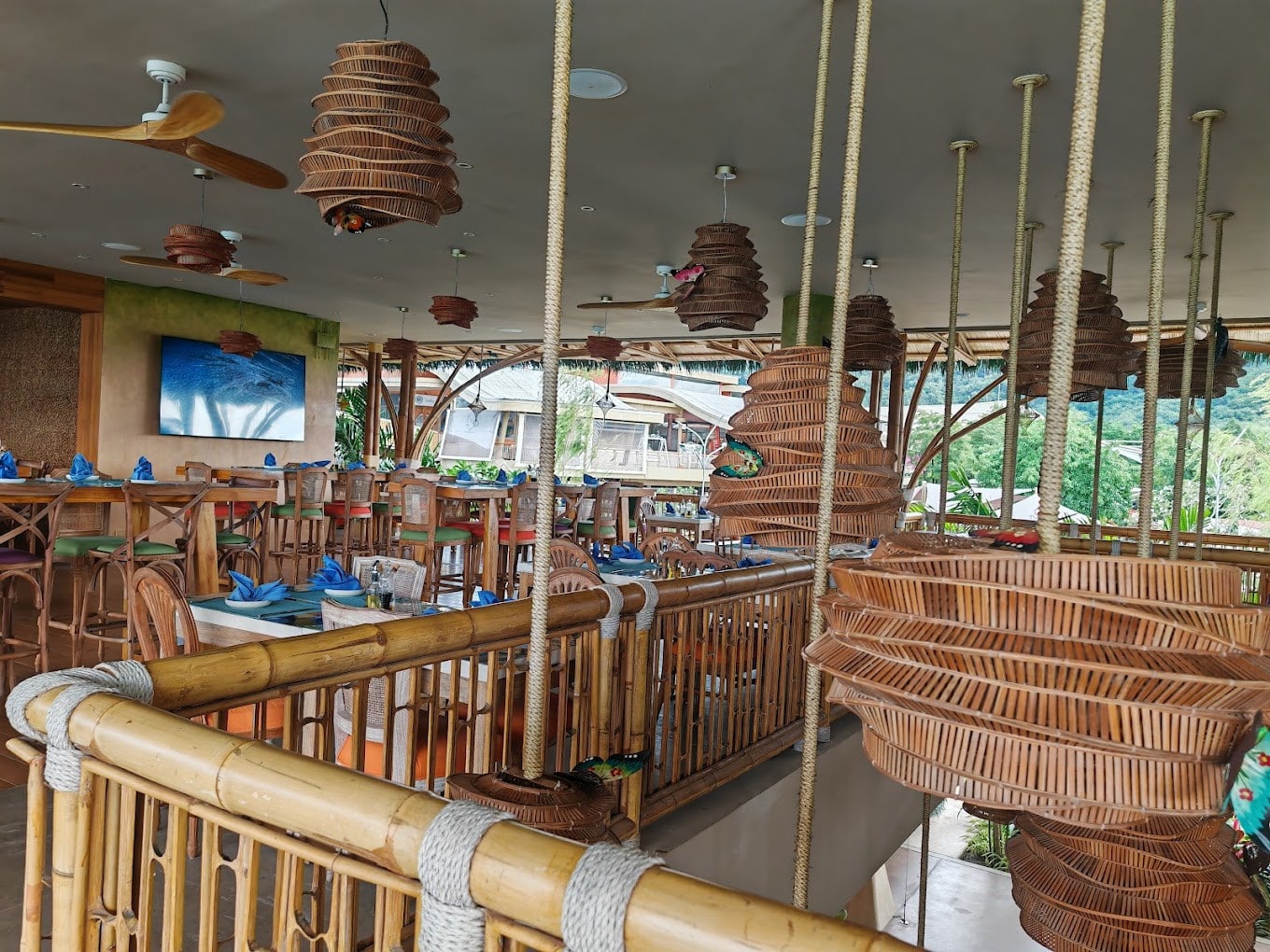 2. The Canopy
For those seeking a vibrant nightlife experience, The Canopy is the go-to venue. It opens daily at 5:00 PM, making it the perfect spot for partying and enjoying the evening with family and friends.
From The Canopy, guests can soak in stunning views of both the Blue Tree Phuket Water Park and Phuket itself. The lively atmosphere features a DJ spinning tunes while patrons sip on cocktails and dance the night away.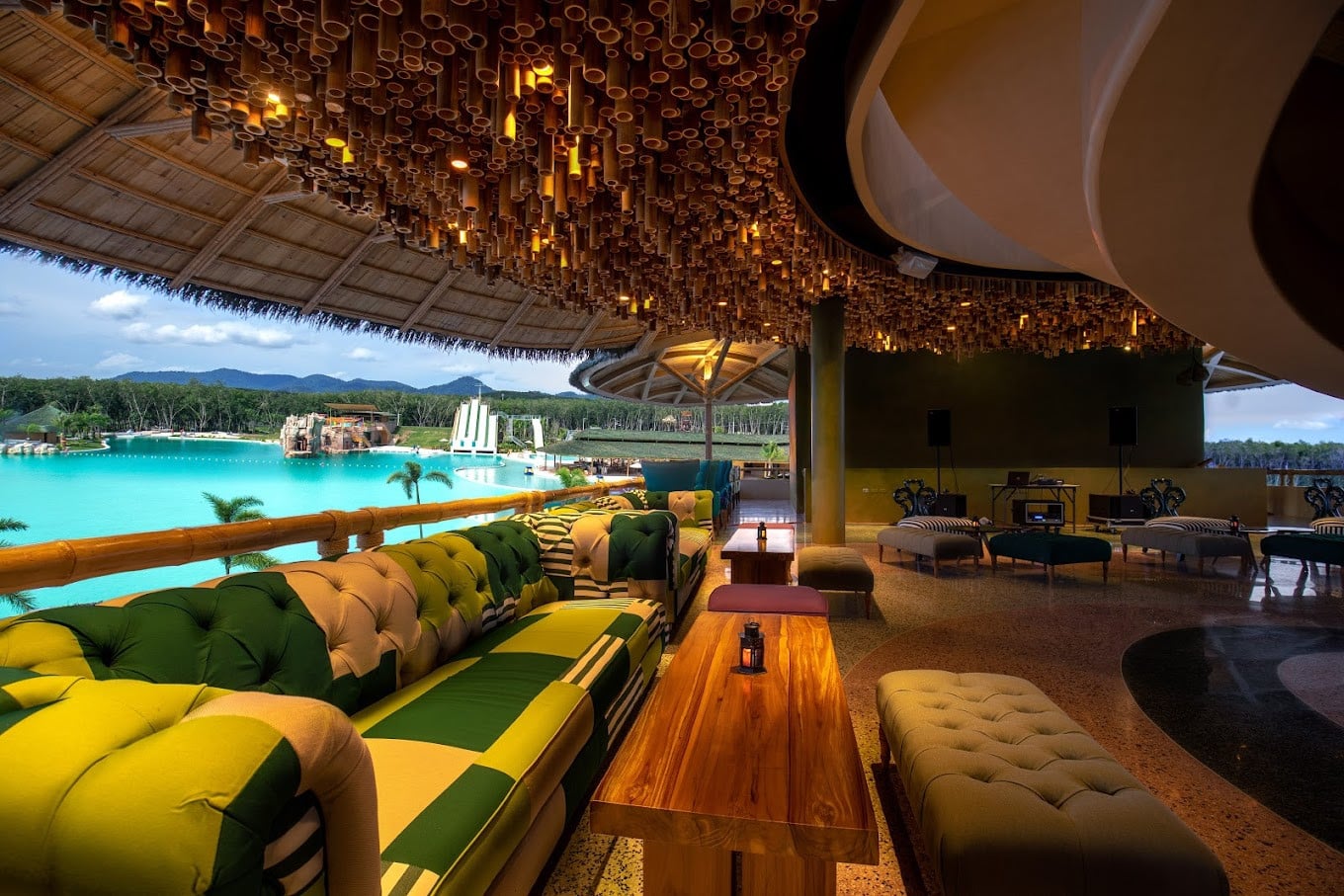 3. Sunset View
Situated by the water park's lagoon, the Sunset View is a delightful place to relax any time of day. However, it truly lives up to its name during sunset hours when guests can witness the breathtaking Phuket sunset.
This bar offers an enticing selection of exotic cocktails and tasty snacks to satisfy hungry guests. It's open daily from 10:00 AM to 6:00 PM, allowing visitors to enjoy its charms throughout the day.
4. Bay Grill
For those with a hankering for European cuisine, the Bay Grill is a must-visit spot. Located near the water park's lagoon, this grill teases the senses with the aroma of sizzling BBQ chicken, lamb, pork, beef, and steaks.
The Bay Grill is ideal for larger groups or families, offering generous portions and ample seating to accommodate multiple guests. It's a place where you can relish European flavors in the heart of Phuket.
Practical Information
Location: Cherngtalay
Address: 4/2 Srisoonthorn, Cherntalay, Phuket 83110
Opening Hours: 10 am – 6 pm
Phone: 076 602 435
Final Words
In conclusion, a visit to Blue Tree Phuket promises a day filled with excitement, adventure, and relaxation.
Whether you're sliding down thrilling water slides, enjoying a delicious meal, or exploring the charming shopping village, there's something for everyone at this Phuket entertainment hub.
So, pack your swimsuit, gather your family and friends, and prepare for an unforgettable experience at Blue Tree Phuket!