Deemed one of the most romantic destinations in the world, Phuket has some incredible wedding venues for you! If you wish to start your next chapter on this beautiful island, here is a list of the Stunning Wedding Venues in Phuket.
17 Stunning Wedding Venues in Phuket – 2023 Review
1. Hyatt Regency Phuket
Hyatt Regency Phuket is one of the city's most amazing and sought-after banquet facilities. It is a premium wedding venue choice that offers an elegant and superior banqueting space to high-end users.
It caters to the varied requirements of its clients. Irrespective of the scale of the celebration, the event is guaranteed to be a grand success here.
The staff at Hyatt Regency Phuket are skilled professionals who are experienced in hosting wedding ceremonies with lavish hospitality. They are very warm and welcoming.
The venue can accommodate up to 400 people and features indoor and outdoor spaces. There are ample parking spaces to avoid road blocking. The hotel also offers flexible catering services.
Website: https://www.hyatt.com/en-US/hotel/thailand/hyatt-regency-phuket-resort/phuhr
Address: 16, 12 Moo 6 Kamala, Amphur Kathu, Phuket 83150, Thailand
Phone: +66 76 231 234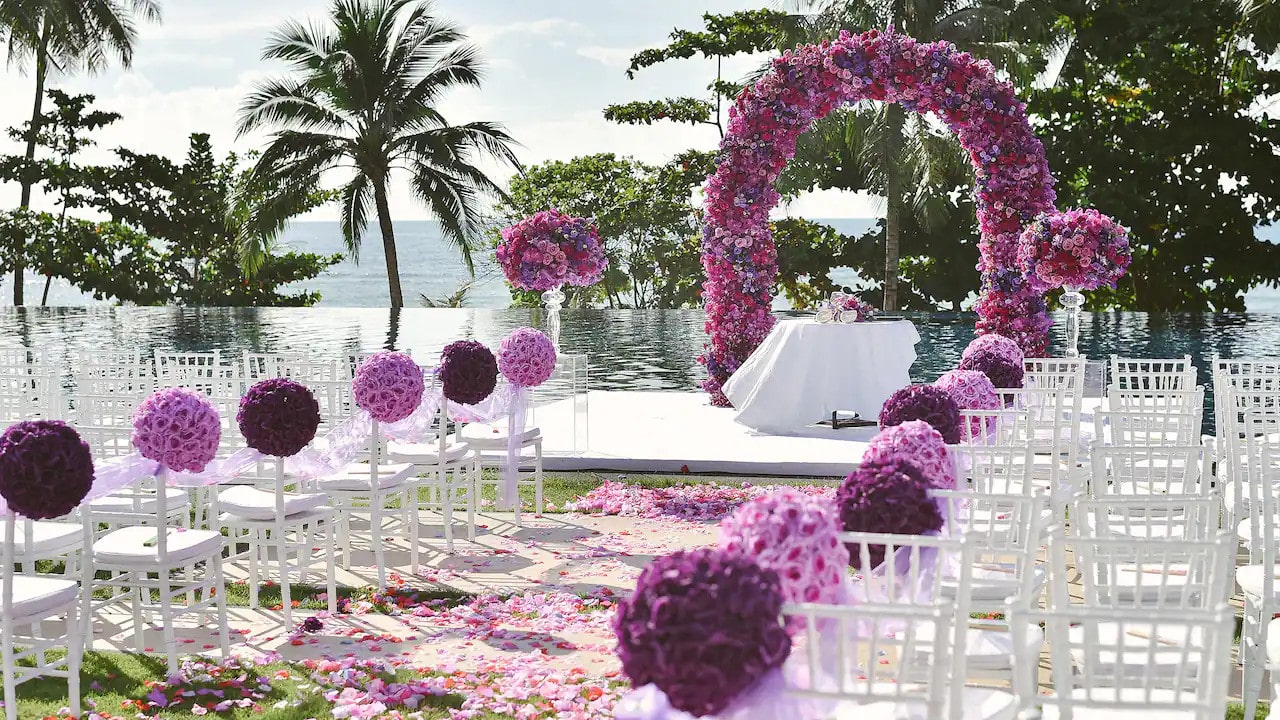 2. The Naka Island
It is a luxury wedding venue in Phuket that you can pick for a once-in-a-lifetime experience. The venue has both indoor and outdoor space and can host up to 300 guests at a time.
The resort has an in-house wedding coordinator who can help you customize the wedding theme, food menu, decoration, etc., as per your preferences.
The resort is surrounded by lush hills and has a beautiful beach area with natural settings, perfect for a dream-like wedding.
You have many options to choose from that include a relaxed beachside wedding or an elegant garden wedding, such as the Deluxe Area Courtyard, MEKA sky lounge, beachfront, meeting rooms or wedding chapel.
Don't let go of this chance to have the whole island to yourself for your special day!
Website: https://www.marriott.com/en-us/hotels/pyxlc-the-naka-island-a-luxury-resort
Address: 32 Moo 5 Tambol Paklok, Amphur Thalang, Naka Yai Island, Pa Klok, Phuket, 83110, Thailand
Phone: +66 76 371 400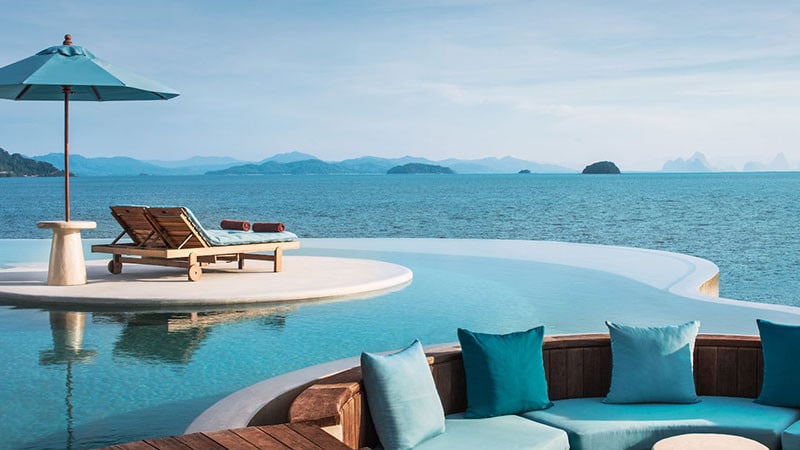 3. Ritz Cartlon
Dreaming of having an oceanfront view as the backdrop of your wedding pictures? Well, Ritz Cartlon could be your dream wedding venue in Thailand.
The Ritz-Carlton has a variety of wedding packages to offer. You can choose from the varied choice based on your preference and budget.
The prime focus of this venue is Sala Thai. It lies on an elevated pavilion that overlooks the ocean. The lust green surrounding combined with the breathtaking view of the beach makes it look like an art piece.
Clients can choose from the beachside or a poolside wedding venue. The wellness programs, food journeys, and cultural shows offered here add to the charm and warmth of the ambiance.
The place also has a swim reef with over 50 fish species where your guests can enjoy fish feeding and snorkeling while you prep up for your big day.
Website: https://www.ritzcarlton.com/en/hotels/
Address: 9/123 Moo 5 Tambon Bophut, Surat Thani 84320, Thailand
Phone: +66 77 915 777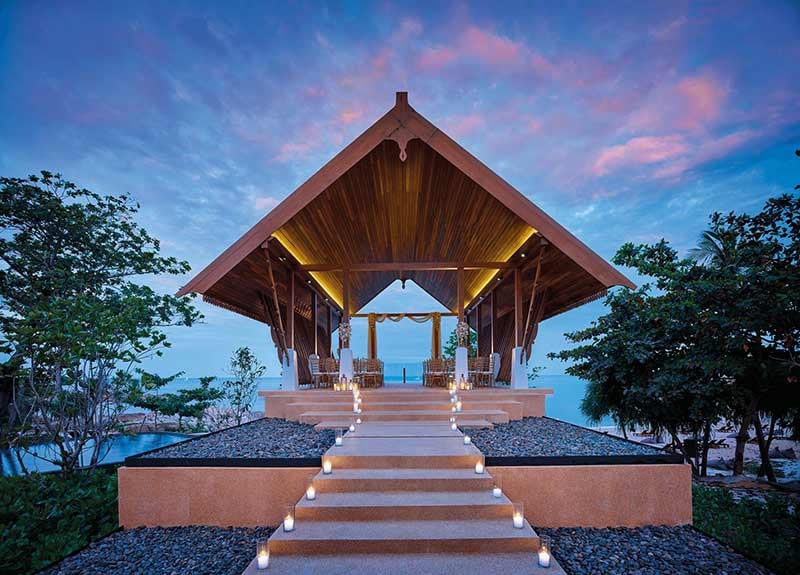 4. Baba Nest, Shri Panwa
This stunning tropical paradise is built along the hillside of Cape Panwa at the far end of southeast Phuket.
This place is perfect for a serene wedding, away from the hustle-bustle of the city.
Unlike other wedding banquets in Phuket, you won't get to choose from the different venues here at Baba Nest. They just have one venue, which is the best in Phuket.
Weddings at Shri Panwa are held on their world-famous rooftop bar area, which offers an incredible 360° ocean view.
Website: https://www.sripanwa.com/weddings/
Address: 88 Moo 8, Sakdidej Road, Tumbon Vichit, Muang, 83000 Panwa Beach, Thailand
Contact: +66(0)76 371 000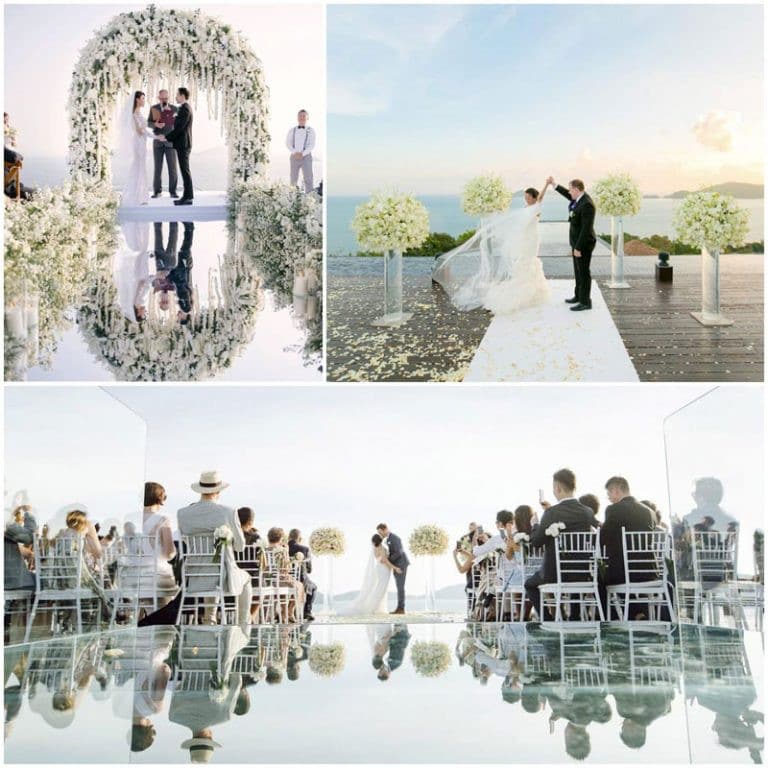 5. Keemala Phuket
Set in the rainforest of Kamala, overlooking the Andaman Sea, it offers a magical setting for your perfect jungle wedding.
The thick treehouses and dense forestry lend a very natural and serene appeal to this resort. Their wedding package is called the 'Enchanting Wedding Package', and rightfully so!
The wedding decors are very rustic in their appeal to match the theme of the resort. It gives out an enchanted woodland vibe that feels like a fantasy movie scene.
The property is conveniently located at a 5-minute drive from the famous Phuket FantaSea and a 15-minute drive from the bustling nightlife on Bangla Road in Patong.
The resort features an award-winning luxury spa service and a free shuttle service to Kamala beach.
Website: https://www.keemala.com/
Address: Keemala Phuket, 10/88 Moo 6, Nakasud Road, Kamala, Kathu District, Phuket, 83150, Thailand
Contact: +66 (0) 76 358 777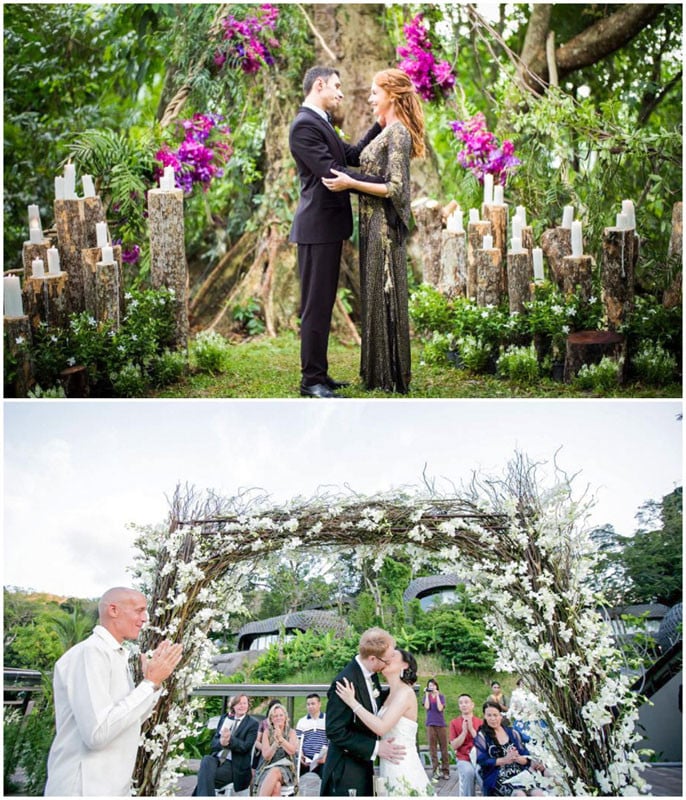 6. Banyan Tree
It is a five-star luxury property that is conveniently located at a 6-minute walk from Bangtao Beach and10 km from Phuket FantaSea. The property exudes an aura of absolute privacy and luxury.
Banyan tree has three wedding venue options for the guests, and we can honestly not decide which is the prettiest!
You can choose from the in-villa wedding, private beach wedding, and garden wedding.
You can even have a romantic dining experience on a private longtail boat in the middle of the lagoon, with candlelight under the stars.
Their wedding packages feature a variety of exotic location options, including lush outdoor spaces and a grand ballroom that provide an ideal ambiance on the tropical island of Phuket.
The restaurants at Banyan Tree cater delicious local and international cuisines coupled with refined service, providing a great experience for your guests.
Website: https://www.banyantree.com/thailand/phuket/weddings-honeymoons
Address: 33 33/27 Si Sunthon Road, Tambon Choeng Thale, Thalang District, Phuket 83110, Thailand
Phone: +66 76 372 400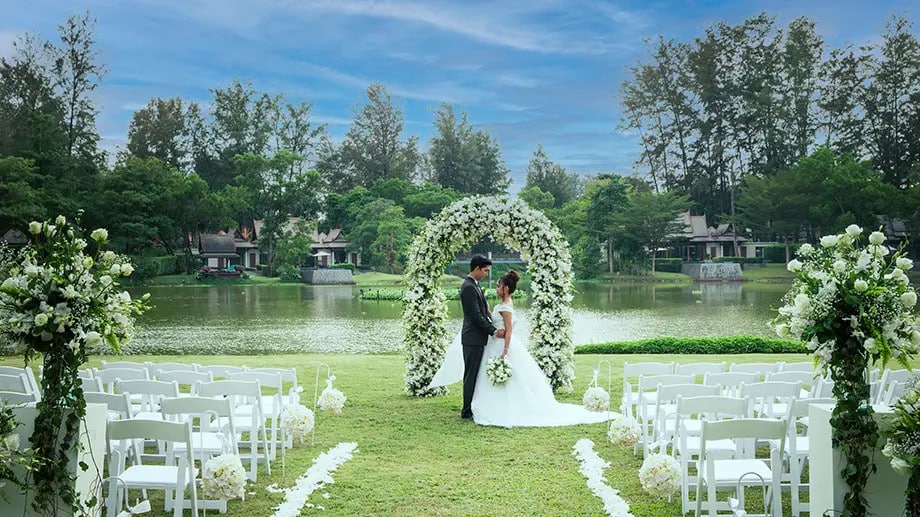 7. Mom Tri's villa Royale
This Royal villa is perfect for couples looking for an intimate wedding with just their close ones.
Mom Tri's villa is a luxury boutique resort in Phuket situated on a headland overlooking the Andaman Sea and Kata Noi Beach.
The villa was designed by the renowned artist and architect Mom Luang Tridosyuth Devakul or better known as Mom Tri. He is the descendant of King Rama IV.
It was formerly a summerhouse, which has now been opened to the public to let them avail a truly royal experience.
The Thai-style buildings feature Thai antiques blended with luxurious modern comforts. This, along with the beautiful panoramic sea views and lush tropical gardens, offer unmatched tranquillity.
Here you will find two freshwater pools and one saltwater swimming pool here. In addition, there is a private passage that leads you to the Kata Noi beach from the resort itself.
The villa also has a Beach Wing that gives you a breathtaking view of the sun-soaked beach with seclusion.
For a wedding ceremony, you get a wide variety of 12 suites to choose from. Some of them also have private pools.
Website: https://www.villaroyalephuket.com/
Address: 12 Kata Noi Road, Kata Noi Beach, Phuket 83100 Thailand
Phone: +66 (0)76 333 568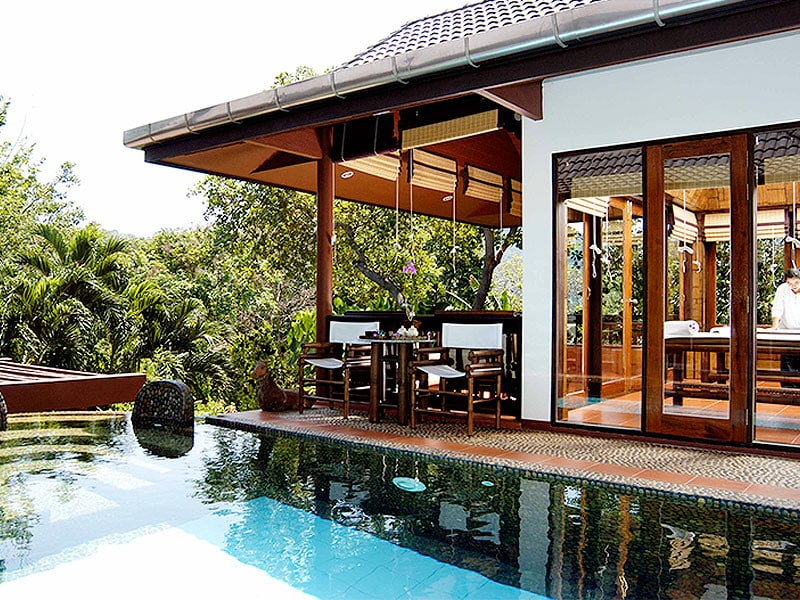 8. J W Marriott, Resort and Spa e
JW Marriott does not require an introduction. Their properties stand out in almost every region.
The 5-star family-friendly J. W Marriott property in Phuket is located a very short distance from Mai Khao Beach.
It provides easy access to the islands of Phang Nga Bay, Old Town Phuket, and the Royal Phuket Marina.
The Sandbox hotel has three outdoor pools, a modern fitness center, and an award-winning spa.
There is ample space with a chapel and ten spacious rooms for wedding celebrations.
Their award-winning restaurant offers three different exotic cuisine eastern, Thai and Indian. You can choose from them based on the preference of your guests.
They have both indoor as well outdoor venues for events. The advanced technology, custom catering, and dedicated event planners are sure to make your event a big success.
They have hotel rooms, suites, and villas replete with luxury amenities. The modern facilities include plush bedding, free Wi-Fi, marble bathrooms, 24-hour room service, and outdoor space overlooking tropical gardens.
Website: https://www.marriott.com/en-us/hotels/hktjw-jw-marriott-phuket-resort-and-spa/photos/
Address: 231 Mai Khao, Thalang District, Phuket 83110, Thailand
Phone: +66 76 338 000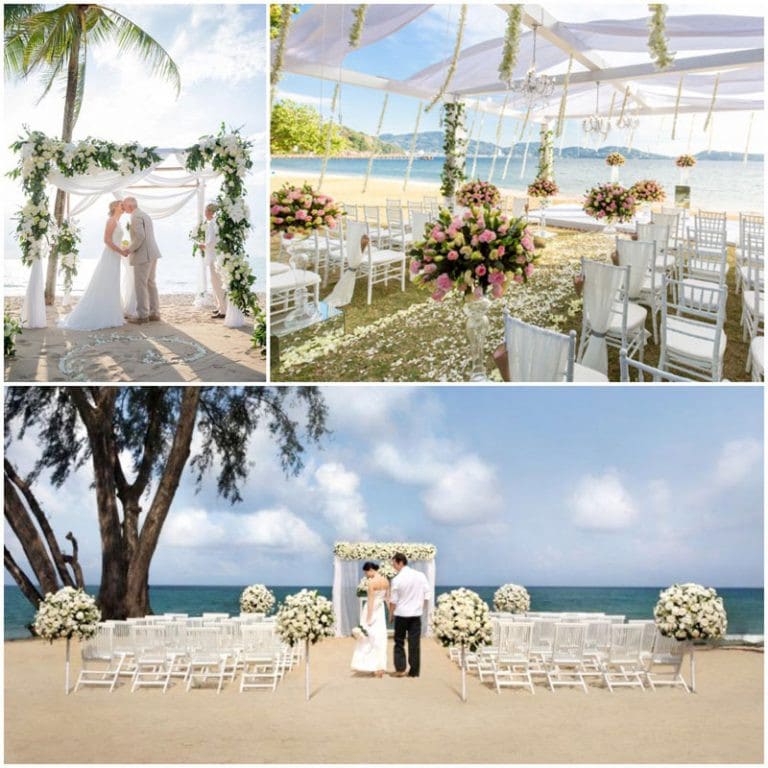 9. The Surin Phuket .
This place is perfect for couples who dream of having a sophisticated and elegant wedding setup. The glimmering fairy lights and flowers add the much-needed lovely finesse to the entire decor.
The property boasts an idyllic beachfront on Pansea Beach. The crystal white sand beach lined with coconut trees gives a unique Thai touch to this place.
This gorgeous architecture is designed by famous American architect Ed Tuttle! It feels like an oasis of peace away from the rest of the world.
It has over 100 luxurious cottages and suites where you can conveniently accommodate your guests.
Here, you get an overwhelming range of modern amenities that make the hotel a luxurious tropical getaway.
Website: https://www.thesurinphuket.com/
Address: Pansea Beach, 118 Moo 3, Choengtalay, Thalang, Phuket 83110 Thailand
Phone: +66 (0) 76 316 400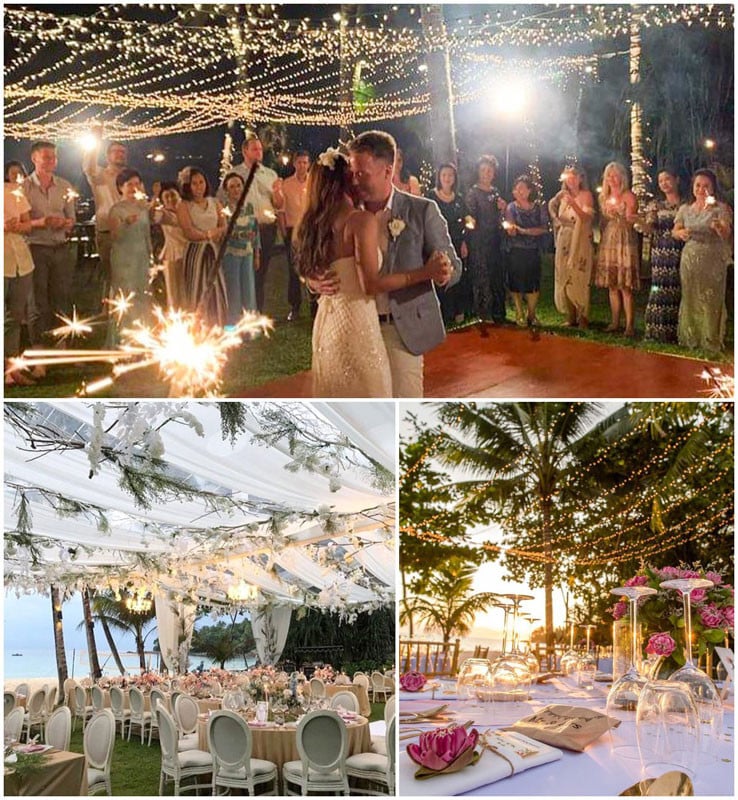 10. Paresa - Heaven of All Heavens
Paresa, the heaven of all heaven, is a five-star resort in Phuket, ideal for a memorable wedding.
This resort is perched on the seaside slope amid the tropical forests and offers a panoramic view of the Andaman Sea.
It features unrivaled luxury and deemed the island's best-kept secret.
There are cooking classes offered at the resort that your guests can enjoy. The restaurant, catering, and other amenities are top-notch.
Website: https://www.paresaresorts.com/
Address: 49 Moo 6, Layi-nakalay Road Kamala, Kathu District, Phuket 83150, Thailand
Phone: +66 76 302 000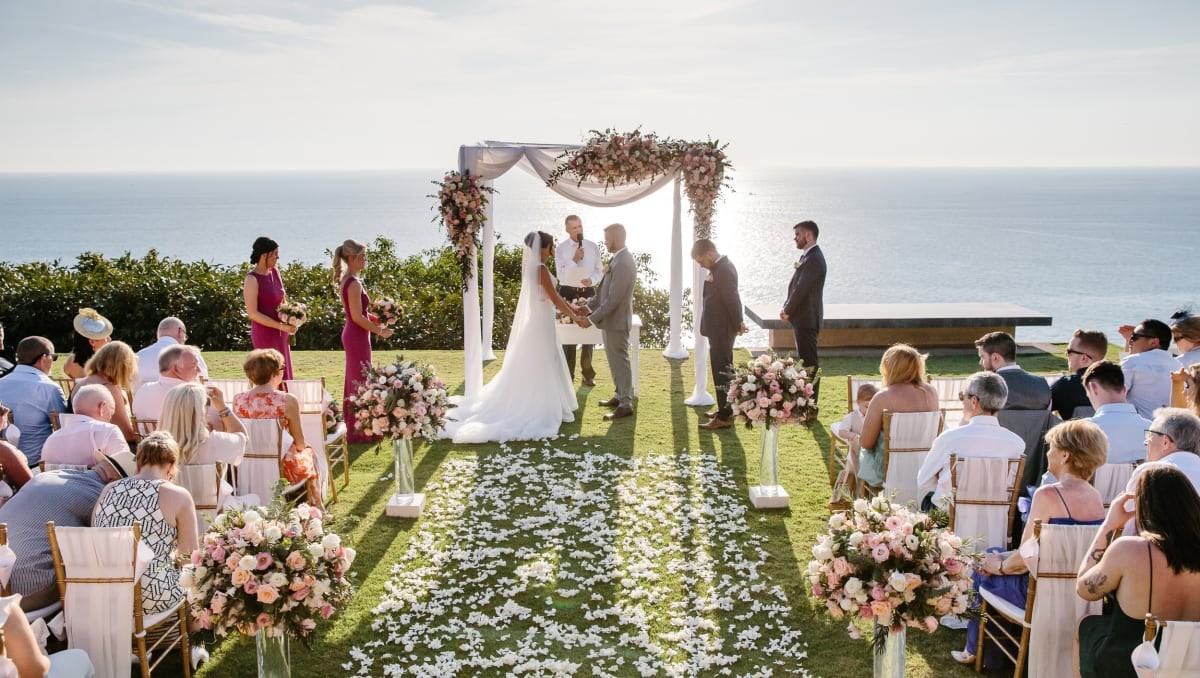 11. SALA Phuket
SALA Phuket offers you the option of both a vast lawn and a tropical beach wedding. You are given all the authority to choose exactly where you want the ceremony to happen; after all, it is your big day.
The property is right next to the beautiful Mai Khao Beach on the northwestern coast of Phuket. The usual decor of the place is sweet and simple, matching the calm of the sea.
The white-washed furniture, candles in jars, and dainty white roses give an English vibe. SALA offers a private yacht cruise for the wedding ceremony.
The bride and groom's stay here at SALA includes a complimentary upgrade on the night's stay with an additional breakfast-in-bed the next day.
That is not all! You also get a 2-hour couples' treatment in the spa.
They have a team of dedicated experts who will work with you to understand your expectations better to make your special day even more incredible.
Website: https://www.salahospitality.com/phuket/wedding/wedding-packages/
Address: 333 Moo 3 Mai Khao Beach, Thalang, Phuket, 83110 Thailand
Phone: +66-76-338-888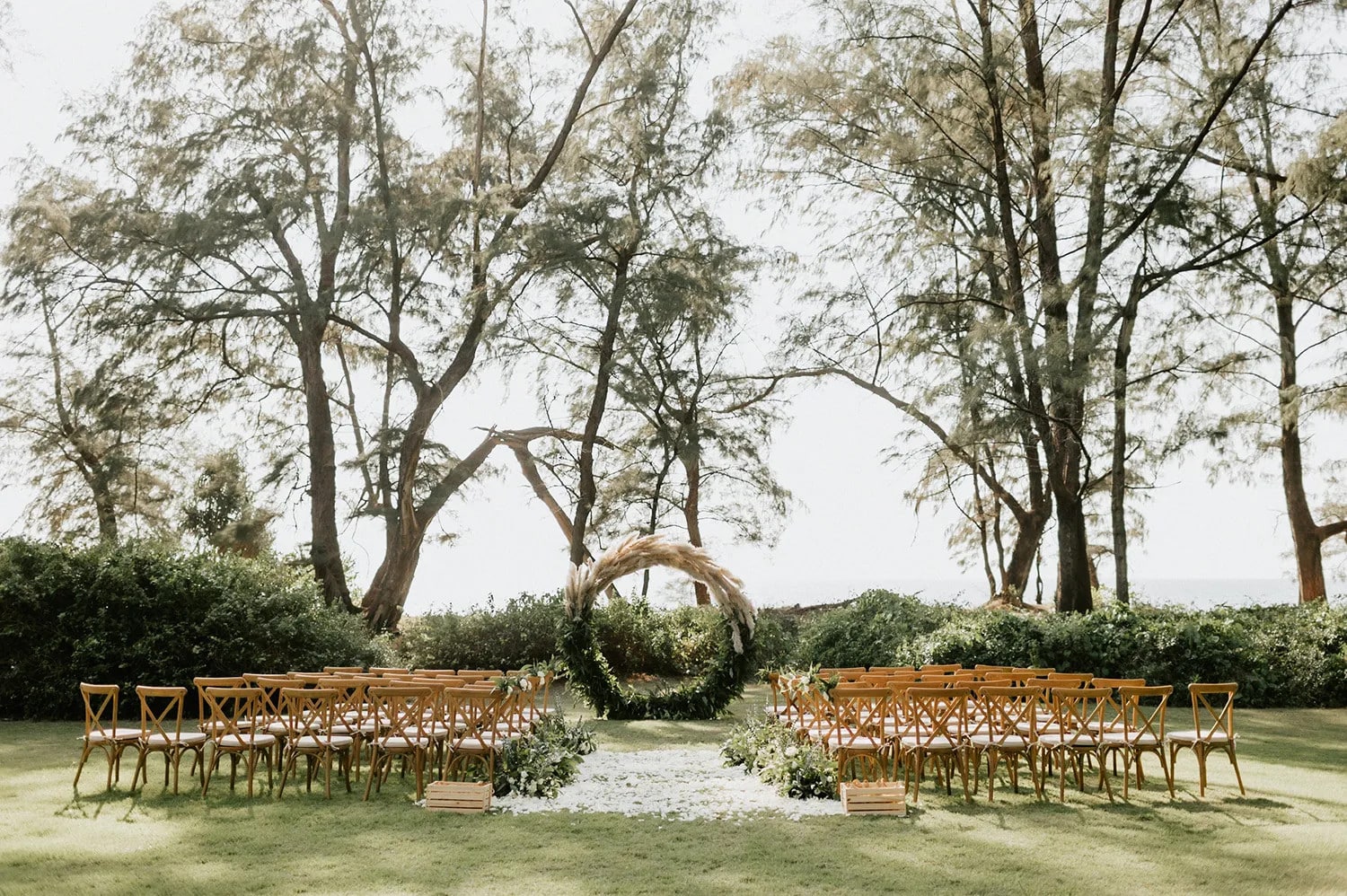 12. Dusit Thani Laguna Phuket
This is another dream-like property that could be the venue for your wedding party. The property is very close to Bang Tao Beach.
Dusit Thani Laguna has an authentic chapel settled on one of the lagoons' banks. It is a scarce feature in Phuket hotels.
General arrangements include flower decorations for the banquet, a bridal bouquet and corsage for the groom, and a flower canopy.
The property can easily accommodate upto 800 guests. There is a 500-capacity sit-down banquet set-up. The venue is suitable for both Thai and Western ceremonies.
Website: https://www.dusit.com/dusitthani-lagunaphuket/weddings/
Address: 390 Moo.1 Srisoontorn Road Cherngtalay Thalang District, Phuket 83110, Thailand
Phone: +66 (0) 7636 2999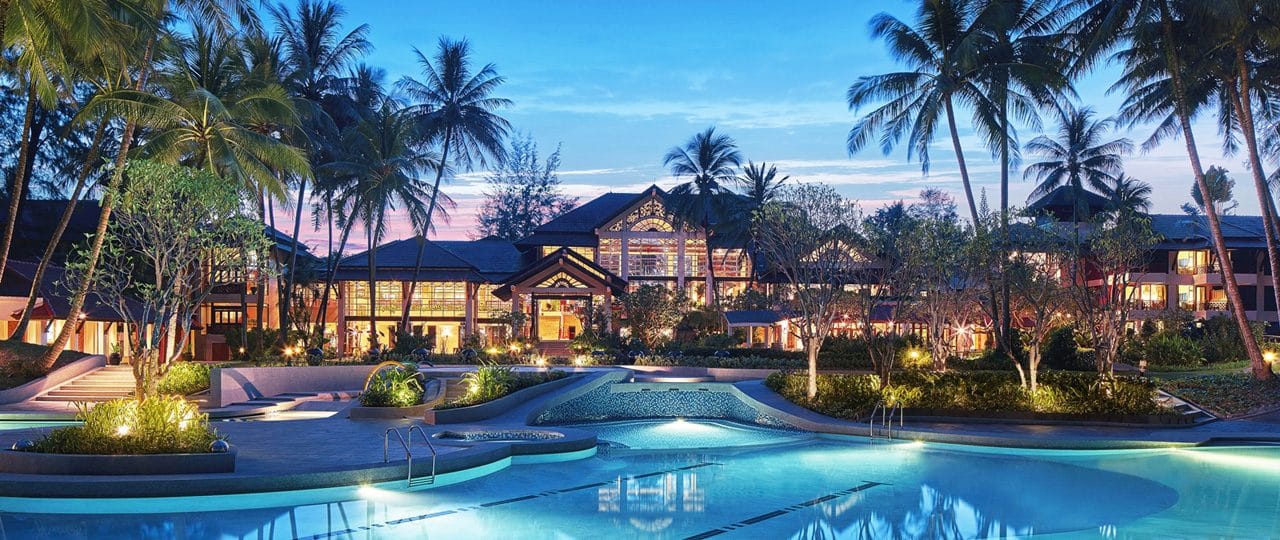 13. The Boathouse Phuket
The Boathouse is a lovely beachfront stay where you can plan your dream destination wedding.
The elegance and luxury of this beautiful stay make it a perfect choice for high-end weddings.
Boathouse provides you with a skilled wedding planner who sticks with your throughout to help you plan the event as per your choice.
You are in control of everything and can work on the minutest details.
Here you get tons of wedding packages to choose from. The options cater to all kinds of needs, from classic to elite! The package includes Premium Sunset Package to the Castaway Wedding Package.
You can also choose from five romantic wedding venues based on your theme. The options include their iconic restaurant, the beachside terrace, their rooftop Sunset Lounge, and more.
Website: https://boathouse-phuket.com
Address: 182 Koktanode Road Kata Beach, Phuket, Kata, 83100, Thailand
Phone: +66 76 330 015-7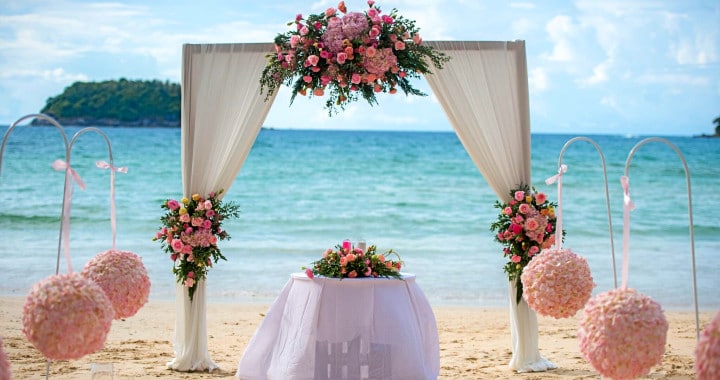 14. Renaissance
The Renaissance resort is a very popular wedding destination in Phuket. It is a luxury property that offers a variety of on-site restaurants and bars.
Renaissance is perfect for couples who want to have an intimate yet gorgeous wedding. The wedding venue is lined by fairy trees and has sunsets with lots of pink hues as the backdrop.
The setup on Mai Khao Beach overlooking the Andaman Sea looks dreamlike.
Here you can get exquisite Thai cuisine, global comfort food, specialty coffee drinks, and handcrafted cocktails for the guests.
There is a luxury Quan Spa on the beach where the guests can enjoy authentic Thai massages and wellness treatments.
They have a dedicated planning and catering team that works with you in collaboration to ensure that all the details are done as per your choice.
The hotel rooms here are very luxurious and feature stylish decor, plush bedding, and sleek bathrooms with robes, slippers, and deluxe toiletries.
There are three main wedding spaces that you can choose from.
It includes Beach Front Lawn (covered in fairy lights), Renaissance Ballroom, and The Lounge, a beautiful open space that shelters guests from the rain with a protective roof overhead.
Website: https://www.marriott.com/en-us/hotels/hktbr-renaissance-phuket-resort-and-spa
Address: 555, Moo 3, Mai Khao, Talang, Phuket, Thailand, 83110
Phone: +66 76 363 999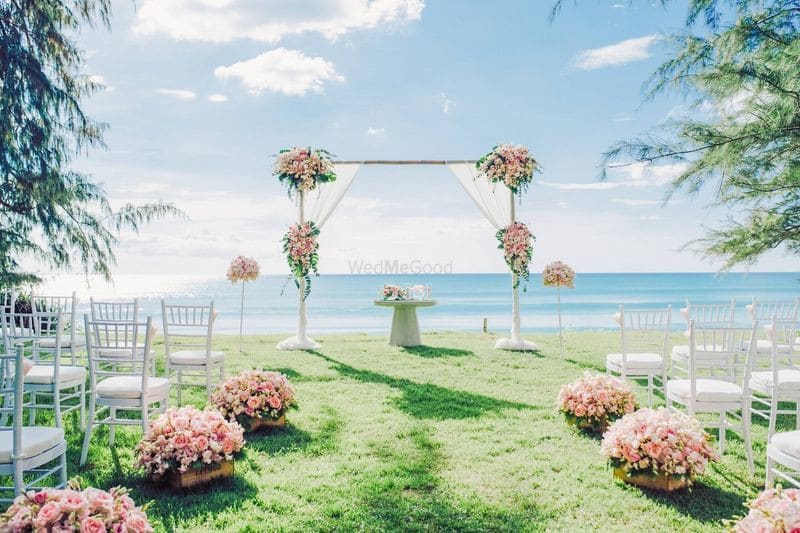 15. Rosewood Phuket
Rosewood is a tropical beach hideaway located along a 600-meter beachfront at Emerald Bay. It comes very close to looking like an ideal ocean village.
This luxury resort features innovative architecture with subtle Thai influences. The lush natural landscape and sun-weathered shores make this a perfect peaceful venue for a wedding.
Here you get simple, classic recipes with premium ingredients, making your guests remember the wedding feast forever!
There are three distinct venues you can choose from. The decor at all these places is incredibly beautiful.
Expect beautiful classic flowers, natural woods, wicker chairs, old suitcases, whites, creams, pinks, and soft greens on most of the venues.
The three venues are:
The Glasshouse - It has floor-to-ceiling windows that let bright natural light lit the place beautifully. The woods are great for the reception part of the wedding.
The Courtyard - It is an intimate set-up with the background showcasing a gorgeous cascade of swirling trees and hills. It makes a great choice for intimate rehearsal dinners, pre-wedding gatherings and bridal luncheons.
The Garden Beach & Lawn - This area is surrounded by a lush green forest. It features a rustic stone staircase as the grand entrance.
Website: https://www.rosewoodhotels.com/en/phuket
Address: 88/28, 88/30-33 Muen-Ngern Road, Patong, Kathu, Phuket, 83150, Thailand
Phone: +66 76 356 888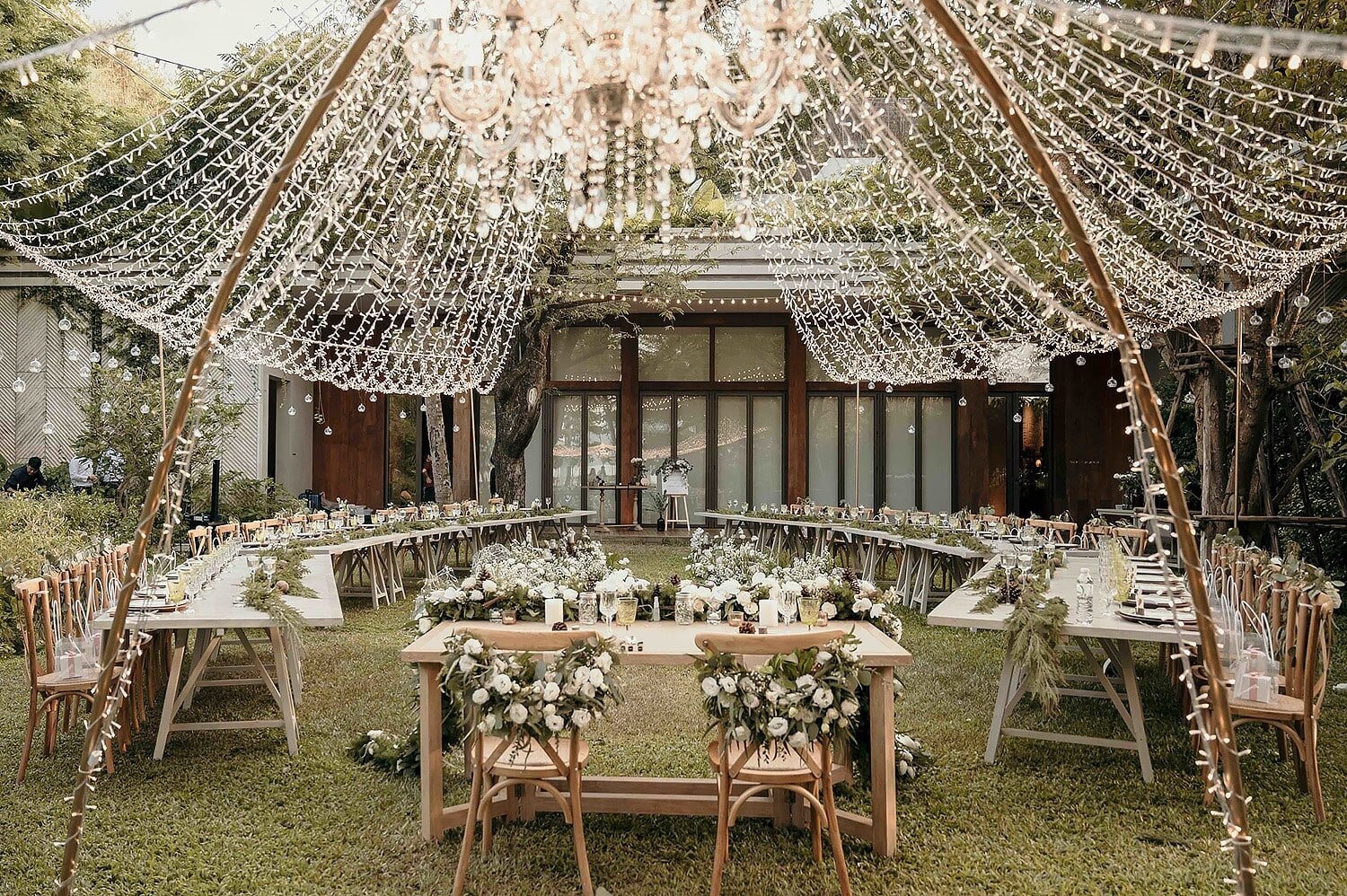 16. Trisara
Trisara is an oceanic space with a peculiar softness to it. It looks like it has a built-in beautiful Instagram/VSCO filter. The property is set up next to the seaside.
The main attraction of this wedding venue is the walk-on-water stage, which is as spectacular as it is gorgeous.
You can choose the Sunset Pavilion, Private Residence, The Deck and Trisara Beach for your wedding venue.
Trisara is just 15-minutes from the airport, so it is very convenient for guests.
Website: https://trisara.com/
Address: Huai Kaeo, Mae On District, Chiang Mai 50130, Thailand
Phone: +66 89 143 9225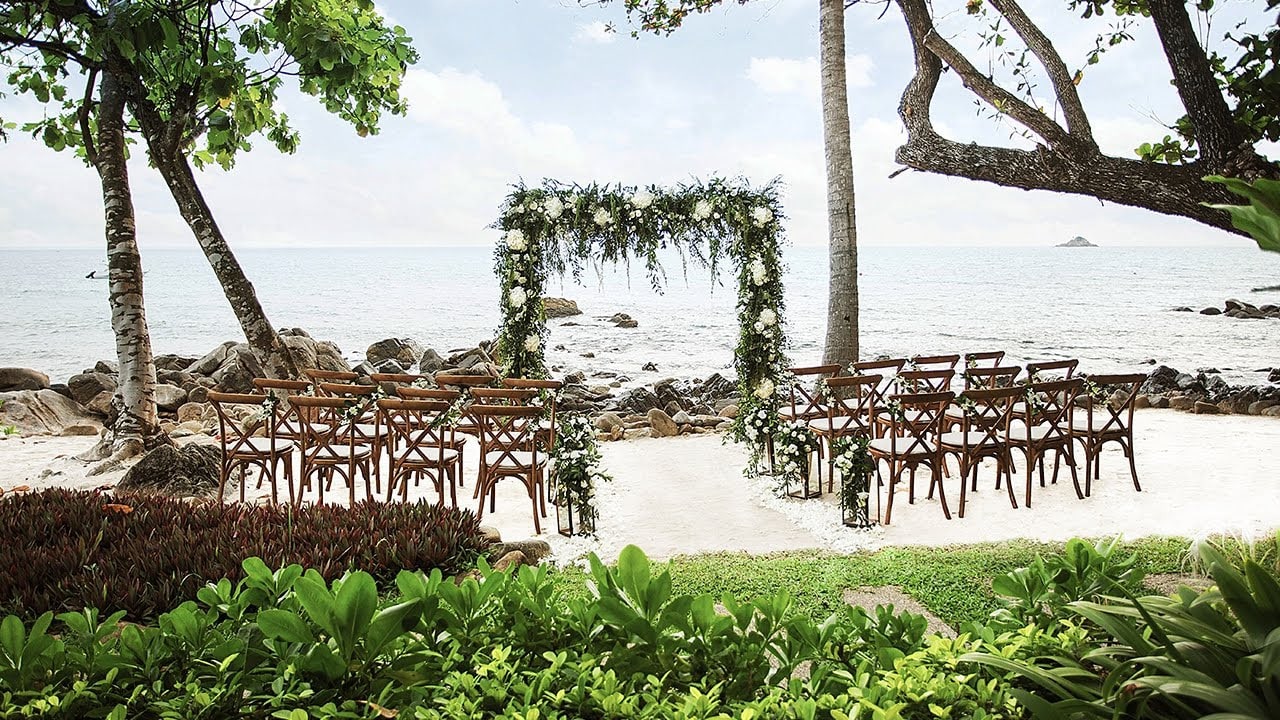 17. Impiana Private Villa
If getting married against a backdrop of panoramic sunset views excites you, Impiana is the place for you.
At this 20 sqm lawn that features 11 private villas, your party will surely be exclusive, romantic, and memorable.
Each villa is designed stunningly to make your wedding very memorable.
The unique wedding ceremony packages are tailored for the clients to enter into marriage either by Thai tradition or Western tradition.
You can also host pre-wedding events here with the constant help of wedding planners. The space can accommodate up to 80 guests.
Website: https://phuketprivatevillas.impiana.com.my/wedding/
Address: 10 Kata Noi Road Tambon Karon, Kata Noi Chang Wat Phuket 83100, Thailand
Phone: +66 76 340 138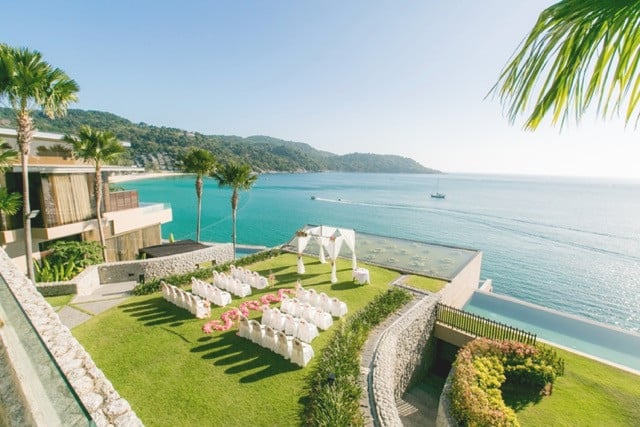 Wrapping Up
Phuket has something for all brides and grooms. It promises to deliver more than above and over your typical beach wedding.
Whatever you're inclinations are, there are plenty of different venues, themes and set-ups to cater to them.
Do write to us and tell us how you liked these places.