Chiang Mai city is home to some of the very popular Tattoo studios of Thailand. The artists in these studios are trained professionals who are experts in both duplicating a design as it is and also giving you a unique tattoo to flex. If you're looking to get inked during your visit to Chiang Mai, you won't be disappointed by the variety of tattoo parlours and studios available.
Following are the Top Tattoo Studios in Chiang Mai, where exceptional craftsmanship, artistic flair, and strict hygiene standards come together to provide memorable and safe tattoo experiences in the heart of Northern Thailand.
10 Tattoo Studios In Chiang Mai – 2023 Review
1.InkBoys Tattoo Studio
Situated on the infamous Nimmanhaemin street, The Unknown factory has its own barber, cafe, shop, nail salon, slow bar and tattoo studio.
The Inkboyz Tattoo Studio is on the 4th floor of The Unknown Factory. Along with a bird's eye view of the city, the studio provides a wide range of tattoo styles.
Some of the many tattoo styles include micro realism, japanese, traditional Thai and illustrative tattoos and practically everything you can think of between old school to new school styles.
The studio has 3 regular tattooists and often hosts guest tattooists from their community enabling their clientele extensive choices of styles.
Address: The Unknown Factory, 8/2 Nimmanhaemin Road, Suthep, Chiang Mai 50200
Contact: https://www.instagram.com/inkboyztattoostudio/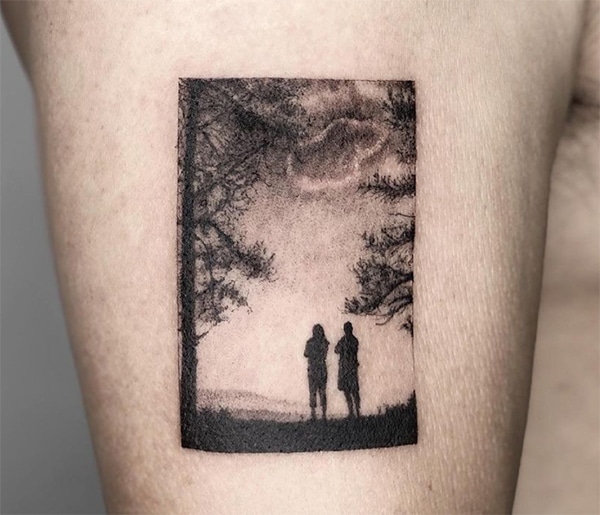 2.Lee on Ink Tattoo Studio
The Lee on Ink Tattoo Studio in Chiang Mai is famous for the quirky cute homemade tattoo style. They specialise both in machine as well as hand poke designs.
The tattoo artists at these studios are always working towards making the tattoo procedure more approachable and friendly. They tattoo all skin types.
Besides the quirky tattoos, you can also enjoy the light snacks and coffee served at the studio.
Address: Chang Phueak, Mueang Chiang Mai District, Chiang Mai 50300, Thailand
Instagram: https://www.instagram.com/leeonink/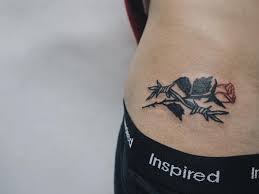 3.Celebrity Ink Tattoo Studio Chiang Mai
This Chiang Mai tattoo Studio is conveniently located near the Night Bazaar. Its Phuket branch has been globally acclaimed for its excellent services.
The Chiang Mai branch is not far behind. Many staff in the studio are Australians so language is not a problem for the tourists as they are fluent in English.
With no language barrier, you can explain the minutest of the detail to ensure your tattoo turns out to be exactly how you imagined.
All the ink used in the studio is imported from the USA and is authorized by the Professional Tattoo Association of Australia.
The artists are all trained professionals and the studio is well kept for cleanliness.
Address: 44/2 Loi Kroh Road, Chiang Mai
Contact
Opening Hours

: 09:00 – 24:00

Tel

: +66 (0)52 009 335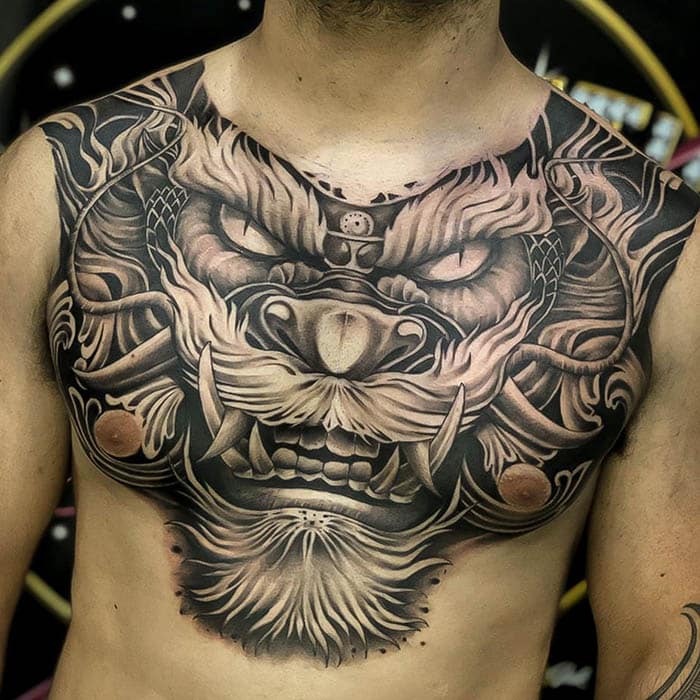 4.Bloodline Tattoo Studio
The Bloodline Tattoo studio opened its new branch in Chiang Mai recently following the wide appeal in Phuket.
Its one of the top chiang mai tattoo studios that features some of the renowned award-winning tattoo artists from Southeast Asia.
It is run by native Australians that are fluent in Thai and Chinese as well. The artists use technologically advanced equipment and imported inks for all the tattoos.
The inking is carried out in a sterile environment keeping the safety of the customer in mind.
You can even get the tattoo done using the traditional bamboo stick on request. The artists are more skilled with big designs but deliver the small ones just as perfect.
Address: 25/4 Loi Kroh Road, Night Bazaar
Contact
Opening Hours

: 11:00 – 01:00

Tel

: +66 (0)86 924 4820

Website

: https://bloodlinetattoochiangmai.com/
5. Chiang Mai Skinart Studio
This tiny tattoo studio is nestled in the old city of Chiang Mai. It might be far behind the giant studios of the city concerning the infrastructure but is popular among the locals and tourists for its skilled artists.
The studio uses vegan inks for all tattoos. The owner of the place Chris Kamhoms has particular dexterity in dot work.
He encourages the customers to choose the traditional designs, including geometric and mandala patterns instead of modern-day abstract sketches.
However, you are free to pick any design of your choice and it will be delivered with intricate details. We suggest you take recommendations from Chris for a more personal and meaningful tattoo experience.
Address: 74/1 Chaiyapoom Soi 2, Old City
Contact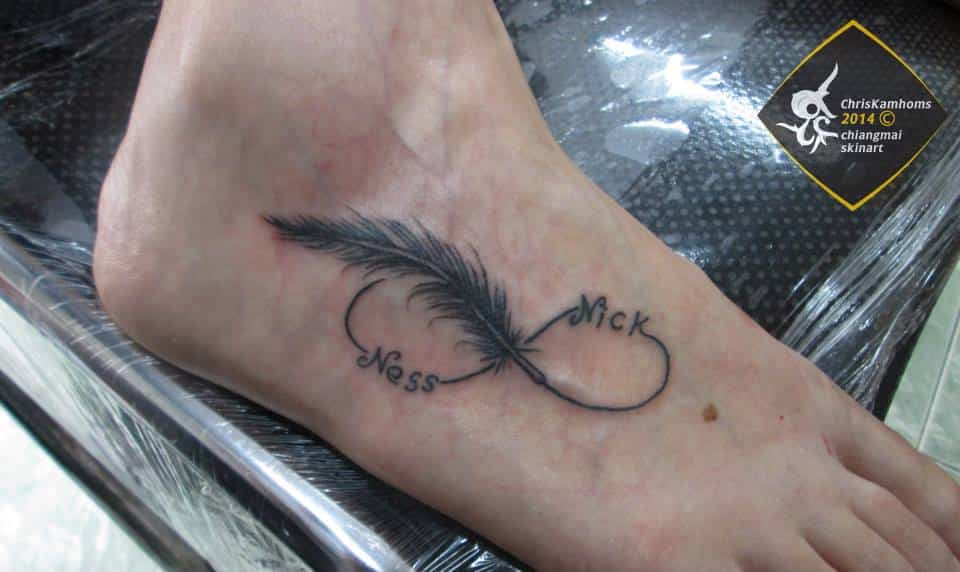 6. Best Sure Tattoo
As the name suggests, it is one of the finest tattoo studios in Chiang Mai. It offers a large variety of designs you can choose from.
The artists have their hands set on almost every technique so you can pick any that you like.
The studio even offers a hand-poked tattoo facility which is very rare to find. It specializes in oriental designs.
The studio is also famous for its special service for women. The services are delivered by women artists that are led by Khun Aon. It has also started offering courses for aspiring artists.
Address: 4th Floor, Kad Suan Kaew Mall, Nimman
Contact
Opening Hours

: 12:00 – 19:00

Tel

: +66 (0)86 776 6883
7. Panumart Tattoo
It is a family-run studio located in the old city of Chiang Mai. The studio has a mix of both Thai and Western tattoo influences. It is much talked about due to several reasons with the most prominent one being its on-point cleanliness and hygienic environment.
The artists here offer various different styles of tattoo such as Realistic, Watercolor, Minimal, Sak Yant, New School, Old School, etc.
All the artists are professionals headed by the main artist Ahm who has a background in art and design. She is more inclined towards tattooing realistic images but can do any design you wish just as well.
After inquiring about your preference, the studio pairs you up with an artist who specializes in that particular art to ensure perfectionism.
Address:77/3 Samlaan rd, Mueang, Chiang Mai 50200
Contact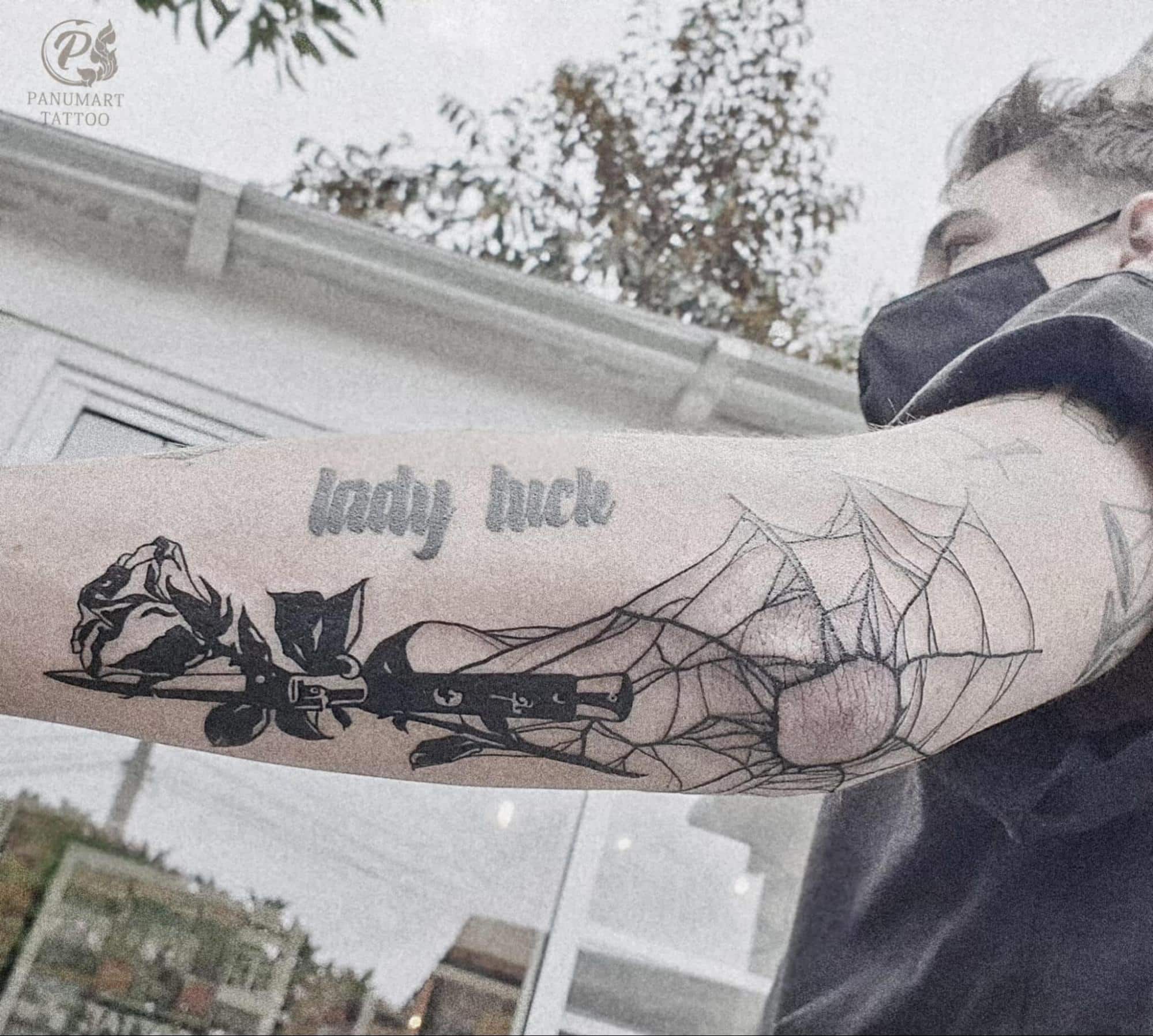 8. Sam Tattoo Chiang Mai
It is one of the oldest tattoo studios in Chiang Mai that was established in 1994. At present, it has three branches in Chiang Mai, all around the famous Night Bazaar area.
The artists here are skilled in both machines as well as traditional bamboo tattoos.
They have over a decade's experience that is reflected in the stability of artists' hands. There are a variety of established designs to choose from.
Their specialty is the magic tattoo that includes a blessing by a local monk.
The studio has special UV-sensitive inks that give an unearthly glow to the tattoos. Sam Tattoo gives a part of their earnings for cancer patient's treatments.
Address: Chang Moi Sub-district, Mueang Chiang Mai District, Chiang Mai 50100
Contact
Opening Hours

: 12:00 – 24:00

Tel

: +66 (0)89 884 0462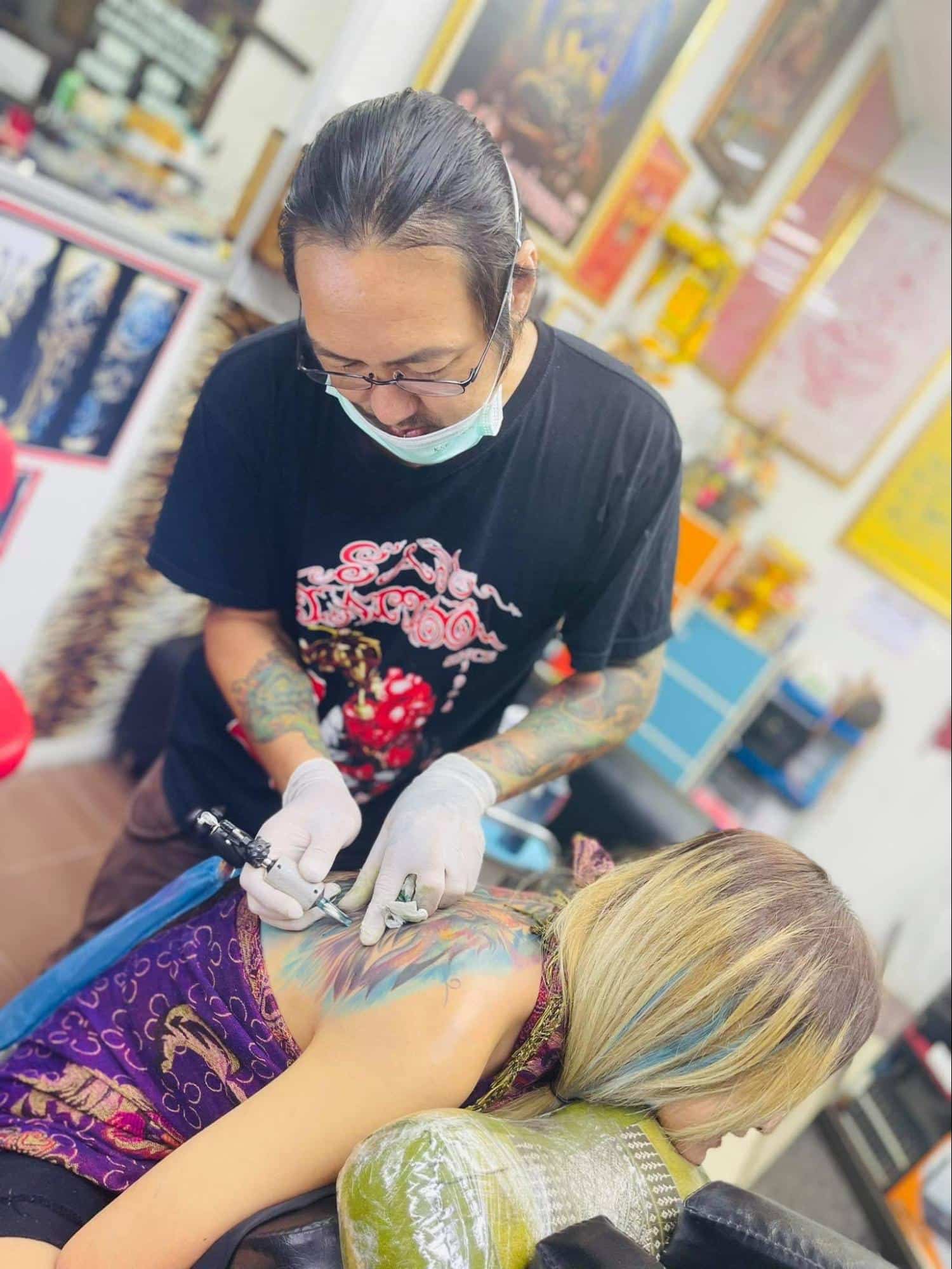 9. Baan Khagee Tattoo
This tattoo studio is situated in the mountainous area of Mae Wang district. You can enjoy the picturesque scene on your way as you drive to the location.
In case you find the route intimidating, the artist Nate himself will come to pick you up halfway at Ban Kat Market.
The studio is set up in the arms of nature away from the bustling city crowd. Most visitors describe the experience here as similar to that of visiting an old friend in a far-off place. The ambiance is very comforting and the staff very friendly.
Despite being away from the city, the studio has a high standard of cleanliness and hygiene. Even the ink that they use is vegan-friendly.
The head artist Nate specializes in natural and animal styles. He is described as a very humble and patient artist by most visitors.
Under his "Small Things Matter x Pang Ma-O" project, for each tattoo done by Nate, he donates one hour of his time to a kid's education.
Address:165 Mae Mut, Mae Win, Mae Wang, Chiang Mai Thailand 50360
Contact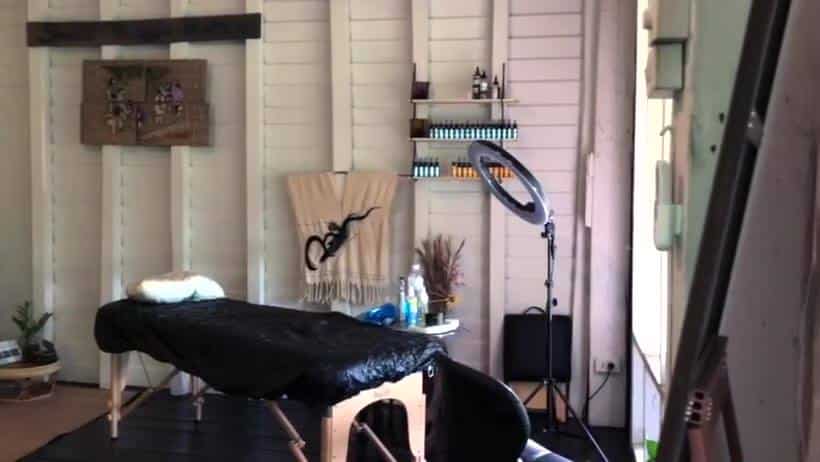 10. Naga Crew Tattoo
It is among the first modern tattoo shops in Chiang Mai. The studio is located in Chiang Mai's red-light district of Loi Kroh and is always brimming with visitors.
It is popularly known for the tribal and traditional Thai tattoos which they boast of doing better than any other studio in Chiang Mai.
The tattoos are done both using modern machines as well as traditional bamboo techniques.
The owner and head artist 'Ugly' is a self-trained artist who practiced the art with his school friends until he became one of the finest artists in the city. His 12 years of experience reflects in his work.
Address: 73/1-2 Loi Kroh Road, Night Bazaar
Contact
Opening Hours

: Mon – Sat 12:00 – 23:00 (Closed Sun)

Tel

: +66 (0)85 041 2302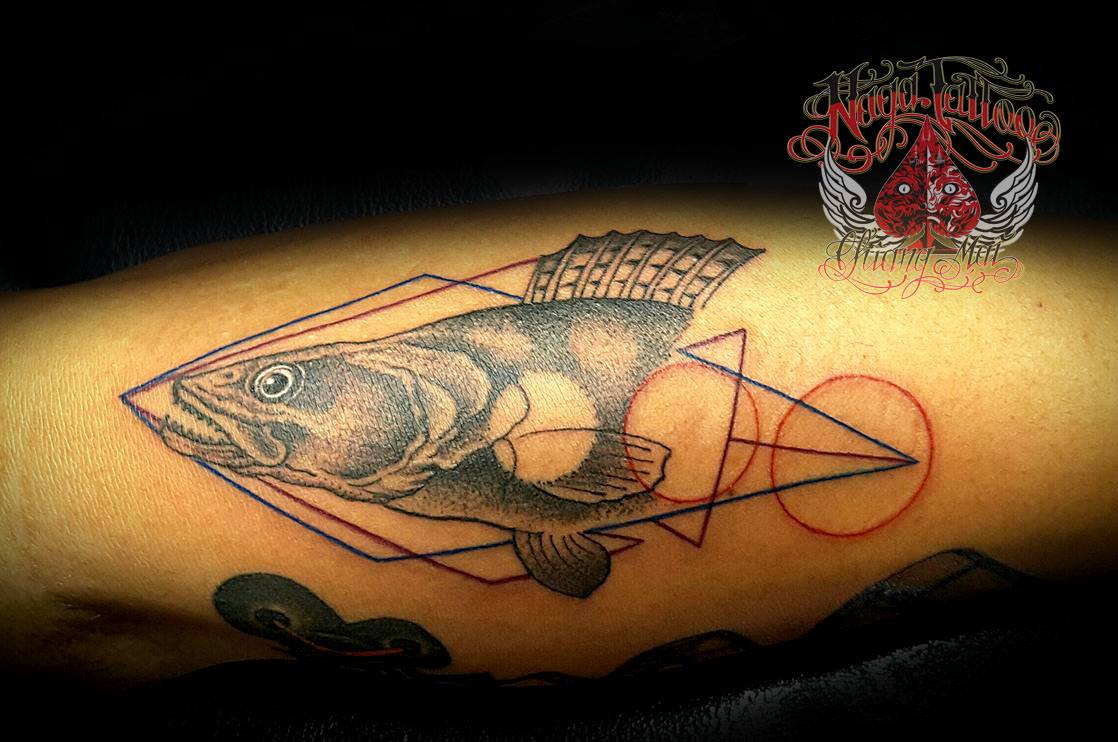 Still Have Any Questions?
You can visit our website https://www.thailandnomads.com/ for more details. Most Tattoo studios in Chiang Mai take proper care of hygiene. They use fresh needles for every new tattoo, some of them even use vegan inks that are eco-friendly.
Feel free to choose any of the above for a safe yet enjoyable tattoo experience.
Founder - Thailand Nomads
Jordan started Thailand Nomads primarily for sharing his experience of exploring Thailand for several years. The objective is to help tourists especially digital nomads plan their travel itinerary when visiting Thailand.
Email: jordan@thailandnomads.com