If you want to make the most of your trip to Phuket Thailand, renting a bike or car is exactly what you need.
Phuket is considered an excellent holiday destination as there are so many things to do and see.
Local transportation can be helpful but if you want to explore the city anywhere anytime, a motorbike or scooter rental is a cheaper as well as fun option.
We have listed the best 5 bike rentals that you must consider when you visit Phuket.
1. Som Motorbike Rental Phuket
If you are in search of a rental place that lends out only new motorbikes, Som Motorbike Rental is where you want to go.
The owner, Som, is extremely friendly and helpful who will help you find the right bike for your vacation.
Customers can choose their bikes online through their website or even visit the store themselves. However, with COVID-19 restrictions, you need to call the shop first before visiting.
Motorbike rental at Som is quite reasonable, affordable, and completely reliable. They even deliver the rental bike to hotels as well as pick up.
If there are any problems with your bike or helmet, you can easily contact the rental and get it switched.
Price: Approx 200 Baht per day (prices varies on the choice of motorbike)
Location: 54/17, Montree Road, Big Market City, Phuket 83000, Thailand
Contact: 080 048 4841 or 086 267 5161
2. Phuket Scooter Rental
Phuket Scooter Rental is an excellent motorbike rental that provides excellent customer service. Their motorbikes are well-maintained and in good condition.
When renting a motorbike, you only need to make a security deposit and they don't require your passport.
They offer excellent pickup and delivery service all over Phuket Island. Whether you stay at a hotel or a resort, you will be provided the bike of your choosing.
Every motorbike rented comes with a standard scooter helmet and even offers additional accessories to help you navigate comfortably.
Price: 210 - 700 Baht per day
Location: Phuket Villa 3, 69/22 Soi Phon Charoen 1, Wichit, Amphoe Mueang Phuket, Thailand.
Contact: +66 (0) 92 882 1755 (Available on Whatsapp as well)
Website: http://phuketscooterrental.com/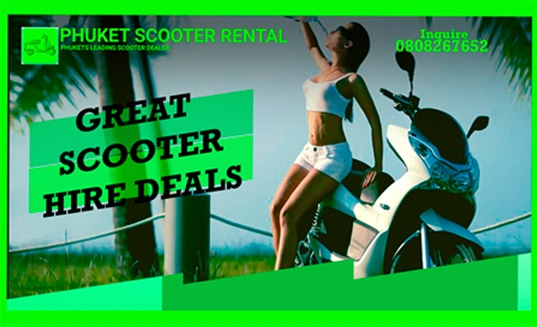 3. Motorbike Rental Phuket
Located in Patong Beach, this motorbike rental shop is widely known as Cheap as Chips Motorbike Rent.
With hassle-free scooter or bike hire, it is considered one of the most reputable rental services in Phuket, Thailand.
The shop owner is a friendly Australian gentleman who manages the rental shop along with other staff members.
The bikes are well-maintained, clean, and safe to ride in Phuket town. You can rent your bike on a daily, weekly, or monthly basis; prices will differ according to your choice.
Before you rent your motorbike or motorcycle, you will either have to make a deposit of 3,000 Baht and a photocopy of your passport.
However, you can submit your original passport instead of paying the security deposit.
When returning the bike, the staff will thoroughly check every aspect of your bike before refunding the deposit.
Price: 250 - 400 Baht per day
Location: 195-7 Soi Phrabaramee, Patong, Kathu, Phuket 83150, Thailand
Contact: 087 188 9047
Website: http://motorbikerentalphuket.com/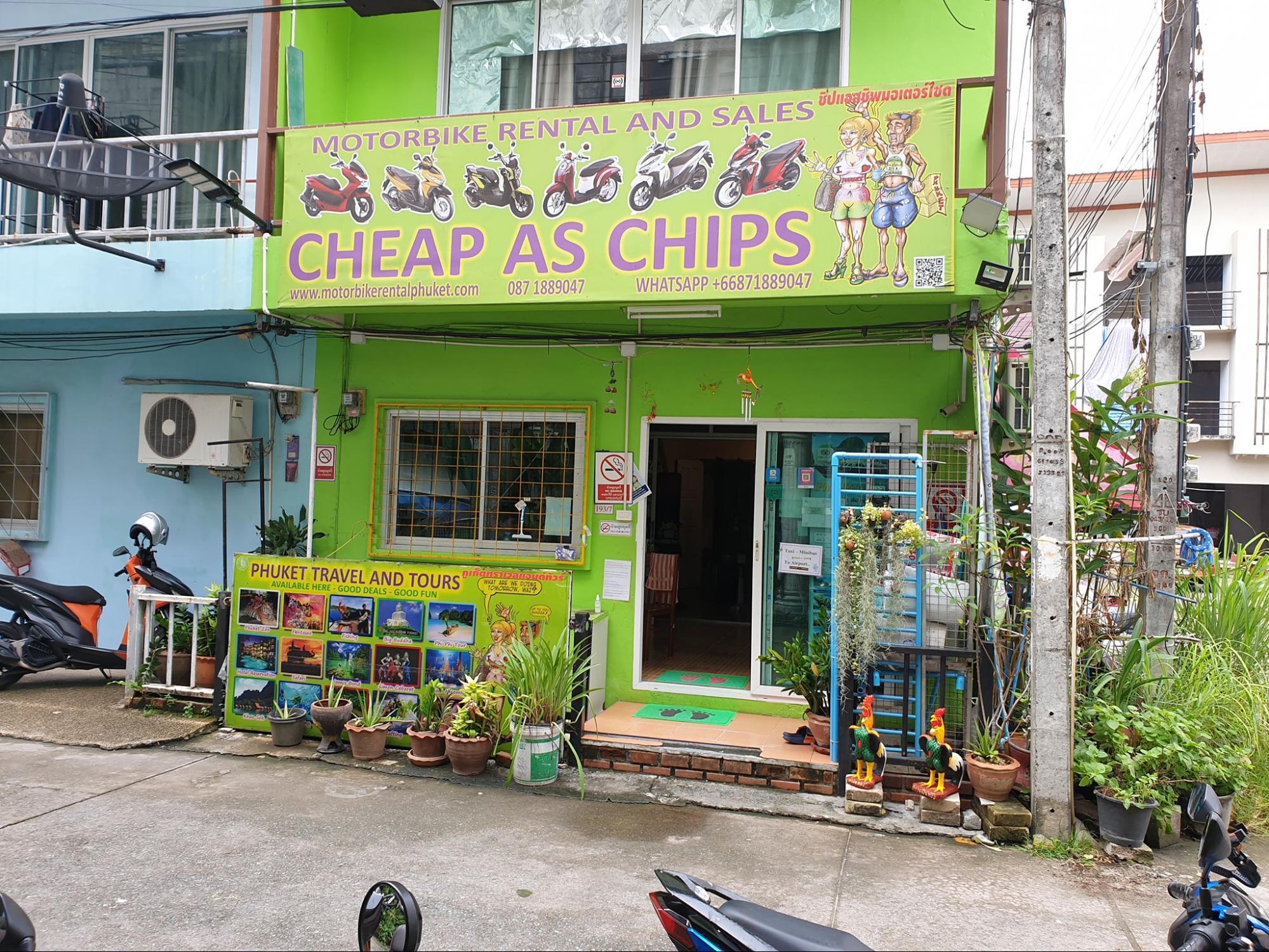 4. Rental Motors Patong
If you are looking for a motorcycle rental in Patong, Rental Motors is an excellent option as you have a variety of bikes to choose from. Along with small bikes, this rental shop also offers big bikes up to 900cc.
When you visit their website, you can explore the various bike options available at the rental through a video. It creates a real-life experience as you choose your motorbike. Their bikes are well maintained and serviced, which means you can ride your bike without worry.
Some additional support you receive from the rental includes bike insurance, a sightseeing guide, pickup and delivery, and 24/7 support if you have any queries.
All you need is an international license, passport, or a security deposit. The deposit depends on the motorbike you choose and it will be refunded after you return it.
Price: Bike rent varies on time, season and choice of bike.
Location: 158/101 Nanai Rd, Patong, Kathu Phuket 83150, Thailand
Contact: +66 923412564
Website: https://rentalmotorpatong.com/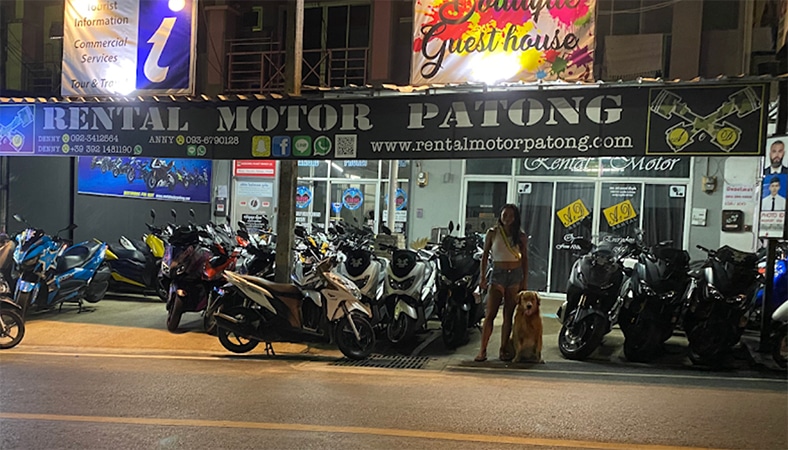 5. Nina's Cars
Located on a small street near Chalong Bay or Chalong port, Nina's Cars has been in the car rental and motorbike rental business for the past 10 years.
With over 100 motorcycles, scooters, and cars available at the rental shop, the company is highly appreciated for the customer service and additional features they have to offer.
Their fleet of vehicles is well maintained, functional, reliable and most of all, they are insured.
The price of the motorbikes or scooters is quite fair and reasonable as compared to the other rental shops in Phuket Thailand. With 24/7 assistance, Nina's cars are a great choice for your motorbike rental on the island.
Price: 220 to 2,000 Baht 110cc to 700cc motorcycle
Location: 61/34 Moo4 visit Road Rawai, Mueang Phuket District, Thailand
Contact: +66 896480499
Website: https://ninascar.com/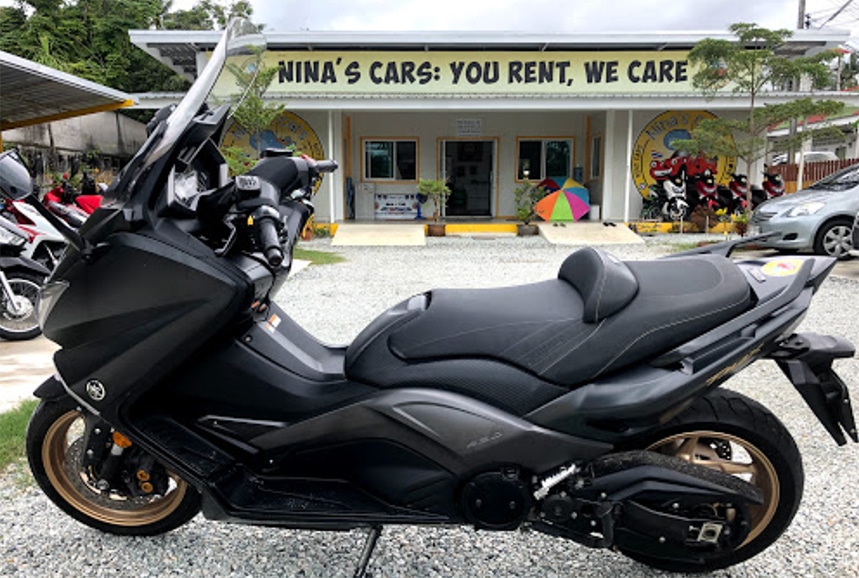 How to Rent a Bike in Phuket?
While renting a bike in Phuket is the most convenient option, there are a few things you must consider before you do.
Do's
1. Choose a reputable bike rental shop.
2. Always ask for insurance. However, most rental shops do not offer this service.
3. Choose the right bike for you. Consider your height and ability to balance the bike.
4. Inspect the bike thoroughly for damages, record a video for safety.
5. Ensure that one or two helmets are provided. (some may charge an extra 20 Baht)
6. Make sure you have your international license so you can legally ride in the city.
Don't
1. Never leave your passport as a security deposit at the rental shop.
2. You will be fined for traveling without an international license if caught.
3. Travelling without a helmet will be fined around 400 Baht
4. Riding in a swimsuit may get you in trouble.
5. Choose bikes without rental stickers to avoid time waste at police checkpoints.
Bottom Line
Regardless of how good of a rider or driver you are in your country, Phuket roads are old and may even have unnoticeable potholes.
While there are many positives to riding a bike, it does come with certain risks so make sure you are riding safely and following the traffic laws of the city.
Renting a bike can enhance your holiday experience as you are free to travel and explore this beautiful island.
Whether relishing the exotic beaches, exploring the night markets, or even taking part in some outdoor activities, find more information on Phuket here today.
FAQs
The price of gasoline is around 35 Baht per liter. However, the gasoline sold on the street in whisky bottles is costlier but easily accessible.
Editor - Thailand Nomads
Cindy quit her 9 to 5 job to pursue her passion for exploring mesmerizing locations in Thailand. She has been living here for the past 5 years now and through Thailand Nomads, she shares her experiences and insights about the must-visit places in Thailand.
Email: cindy@thailandnomads.com