To pick one as the best beach is a herculean task since Phuket is the largest island in Thailand and is home to several exotic beaches. During the high season, there is a surge of people on the beaches. People from all over the world visit Thailand to relish the exquisite beach experience. Lose yourself in the Most Exotic Beaches in Phuket, where pristine sands, turquoise waters, and stunning natural beauty come together to create the ultimate tropical oasis for every sun-seeker and beach lover.
13 Most Exotic Beaches in Phuket
1. Patong Beach, Patong
Located in the heart of Phuket, it is the longest beach on the island. Its coastline stretches up to 2 miles. It is also the most crowded beach in Phuket. The beach has no parking facilities so you will have to either walk or take a taxi to the beach. The busiest stretch of the beach is in the center where you can enjoy water activities and multiple attractions besides the natural beauty.
The Northern edge of the beach is a little less crowded as compared to the Southern end. Due to the crowd, the water towards the southern end is not clear. There is also a small fishing village in the south that you can enjoy.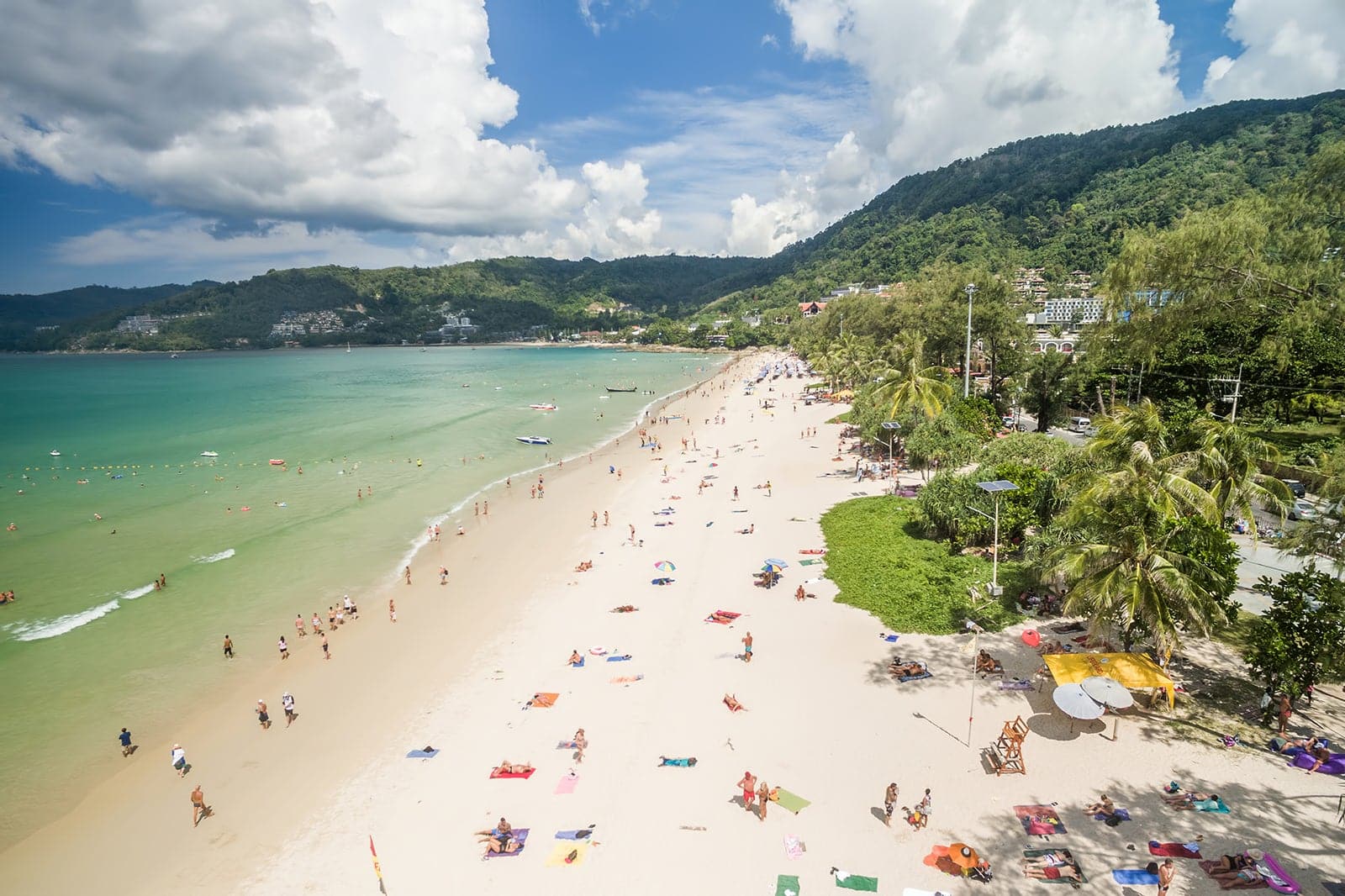 2. Freedom Beach, Patong
It is one of the most unspoiled beaches in Phuket whose coastline stretches up to 984-feet. The white sand on the beach is very soft and the water is warm and incredibly clear. Since one has to trek from the top of the hill, through a very steep slope it is not preferred by a lot of people. You can find some small stores and restaurants along the hilltop road.
You can alternatively travel by boat. The shortest route to Freedom beach is from the southern end of Patong Beach at 1,200 to 1,500 baht per boat for a round trip.
There are small cafes that serve authentic Thai food and chilled drinks. You can easily spot teeny weeny marine life and fishes on both ends of the beach. It is also one of the cleanest beaches in Phuket because of fewer visitors. There are cement stairs at the northern side of the beach that offer an incredible panoramic view of jade-hued water. It is so clear you can see the reefs below.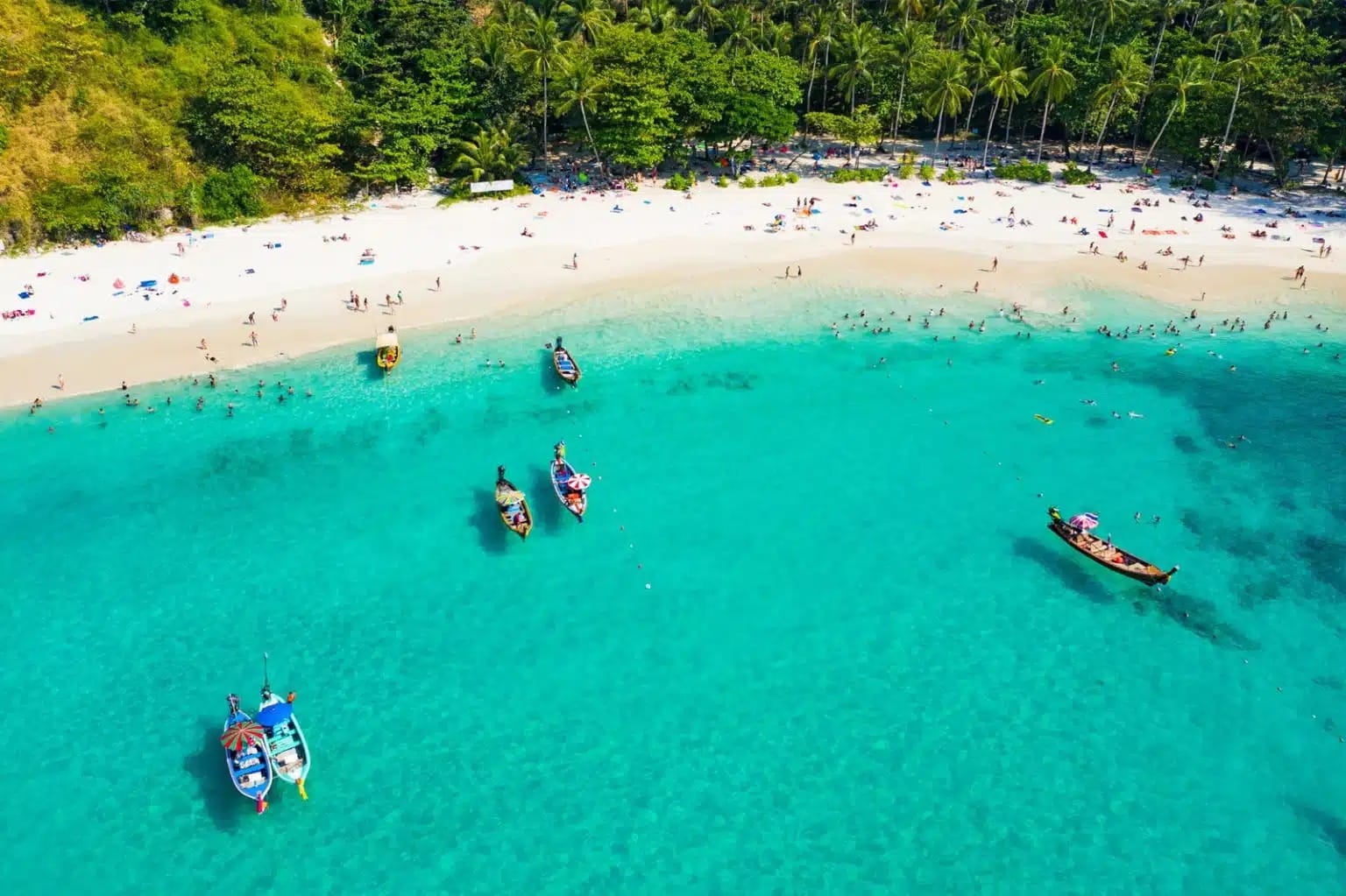 3. Paradise Beach
As the name suggests, it is truly a paradise on Phuket island. The beach is located at a distance of 10 minutes from Patong Beach and stretches only 600 feet long. Although it is relatively small, it is one of the most peaceful beaches in Phuket. The beach is very well protected. You can find gigantic granite rocks on the beach against the bright blue sky which makes it perfect for a relaxing experience.
There is a mesmerizing coral reef just at a 100 meters distance from the beach that is teeming with life. Just sitting by the coral reef can make your day! There is a club on the beach that offers various activities and restaurants that will keep you engaged all through. The beach has sun loungers and a volleyball court.
If you plan to stay at night, you can join the full-moon, half-moon, and black-moon parties and chill with great music and barbecue. The beach floor is incredibly soft but is peppered with sharp pieces of rock and coral so be very careful.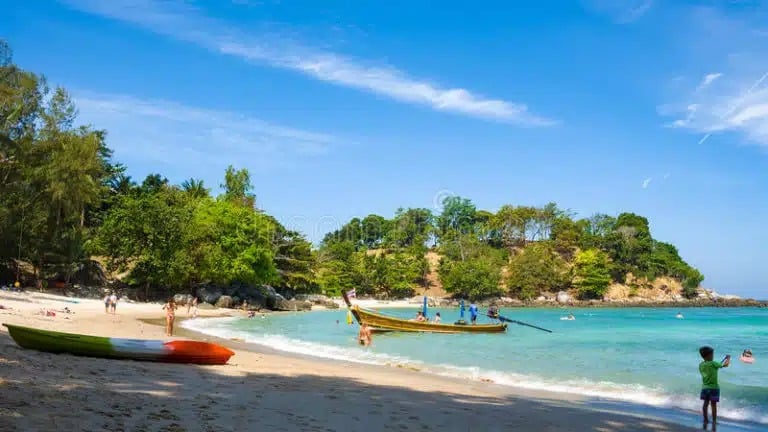 4. Surin Beach, Surin
This beach has changed a lot after the dispute with the Government in 2016 after which most restaurants and shops on the beach were demolished. It is, nonetheless, a perfect spot for relaxing. The turquoise crystal clear water and tall palm trees make it look like a flawless painting. The sea here gets deeper than in other bays, so be careful. After a tiring week, you can simply crash out on the colorful hammocks on the Surin beach and let the waves wash away the stress.
The beach features raw beauty and impeccable soft sand. You can also get a massage and buy snacks and drinks from the local vendors that have now started showing up. For entertainment, you can play volleyball, throw frisbee, swim, or go snorkeling. There are many exotic resorts close to the beach where you can plan your stay. Celebrities are often seen flocking the beach due to the smaller crowd. It was once visited by the late King Rama IX once visited in the 50s.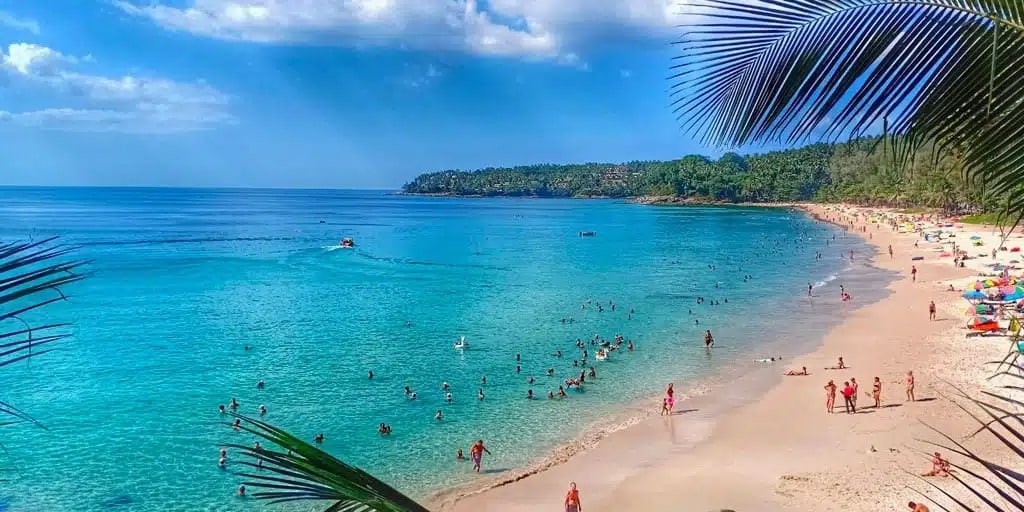 5. Kamala Beach, Kamala
Encircled by forested hills, this beach is located between Patong and Surin Beach in Phuket. There are plenty of funky restaurants, electric shops, and bars on the beach. Most of the happening things on the beach take place on the northern end while the southern end is usually calm and offers traditional boat rides.
There are luxury villas from where the tourists can enjoy the mesmerizing view of Kamala Bay.
It might not be as spectacular as the other beaches but it is certainly the cleanest beach in Phuket. The reason being a regular volunteer-organized beach cleanup that is usually done on Wednesdays and Fridays.
For more fun, head to the adjoining village where you can enjoy cultural shows, go shopping and even play games.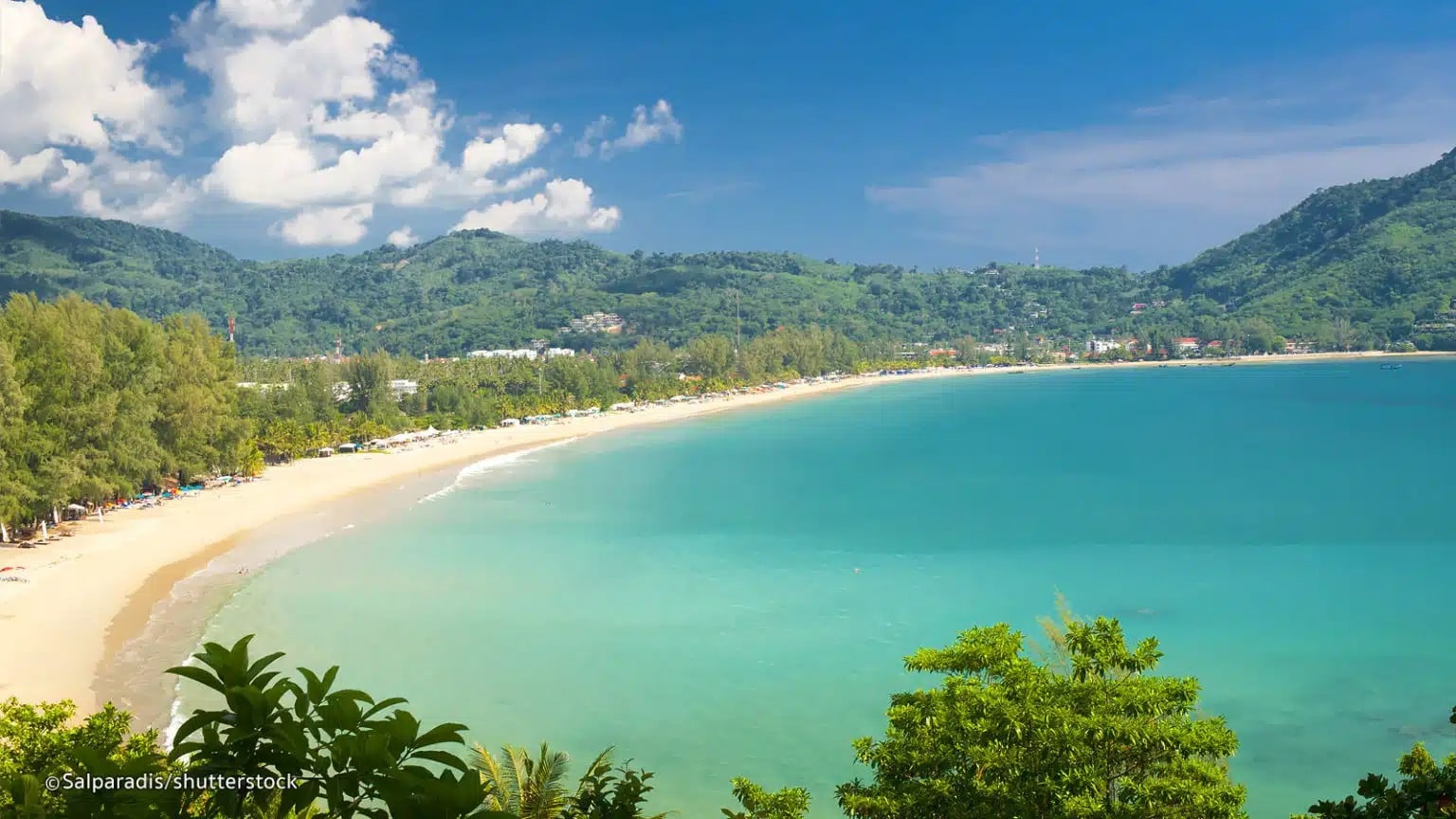 6. Kata Noi Beach, Kata
It is a mini version of the Kata Beach with a coastline that stretches over 2,000 feet long. There is minimal development on Kata Noi Beach but due to fewer visitors, there is ample space. It was once in the '10 best beaches in the world' on Tripadvisor TThere are few restaurants, bars, and convenience shops on the beach from where you can buy local stuff.
A major part of the beach is occupied by the Katathani Phuket Beach Resort but there are plenty of public areas to enjoy. The sand on the beach is incredibly soft. While on this beach you can enjoy banana speedboats, parasailing wings, snorkeling, kayaks, and jet skis. You can also see the famous Koh Pu island from here.
7. Kata Yai Beach, Kata
Located on the west coast of Phuket island, it is one of the most popular beaches in the city. The coastline stretches for 2 kilometers because of which there is plenty of space and privacy for people who want to savor tranquility. Most of the property on the beach is occupied by the Club Med ResortThe beach is bustling in almost every season and is considered ideal for a family vacation.
Casuarina trees line the beach and provide abundant shade where the beach bums can relax and enjoy massage. It has plenty of eating options- both snacks and full meals and chilled drinks. The beach has surf shops that rent out surfing boards and also teach surfing. It also hosts a surf competition once a year when the waves are usually high.
8. Bang Tao Beach, Laguna
The Bang Tao Beach is the second largest beach on Phuket that stretches for more than 6 kilometers. It is located halfway between Phuket International Airport and Patong. It is located halfway between Phuket International Airport and Patong. There are plenty of resorts, restaurants, and stores on the beach so if you want a more laid-back experience head to the northern tip of the beach.
It is comparatively less populated and hence peaceful. Towards the south, you can find beach huts, guesthouses, and other accommodation facilities. For a more luxurious option, you can consider the Laguna Holiday Club Phuket Resort which offers plenty of water sportsand has its own playground where you can play other games.
There is a night market on Fridays. However, years of legal disputes have kept most of the beachfront free from development.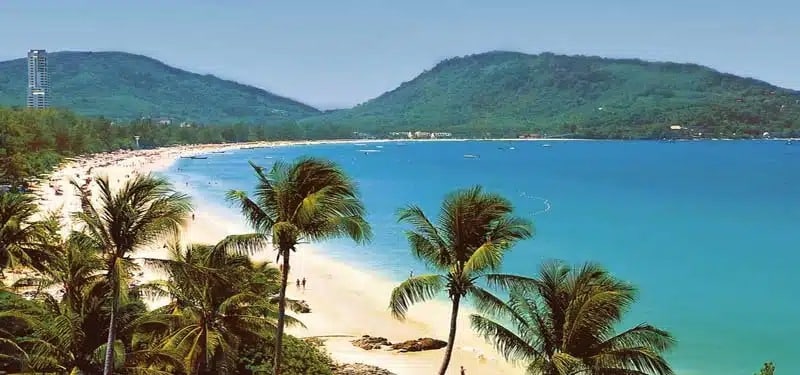 9. Karon Beach
Located between Patong (to the north) and Kata (to the south), it is the third-longest beach in Phuket with the coastline stretching to three miles. Due to plenty of space, long stretches of beach are free of crowds. Besides relaxing on the soft golden sand, there are plenty of things you can do for eg, parasail, swim, and jet ski. The clear cyan water is sure to tempt you for deep diving.
The beach is popularly known for water sports such as water skiing, sea kayaking, wakeboarding, and windsurfing. Because of the compact sand, it has hosted many international championship matches.
There are resorts and other accommodation facilities for both budget and high-end travelers. The south end is most suitable for snorkeling and diving. You may even spot sea turtles laying their eggs in the sand at night.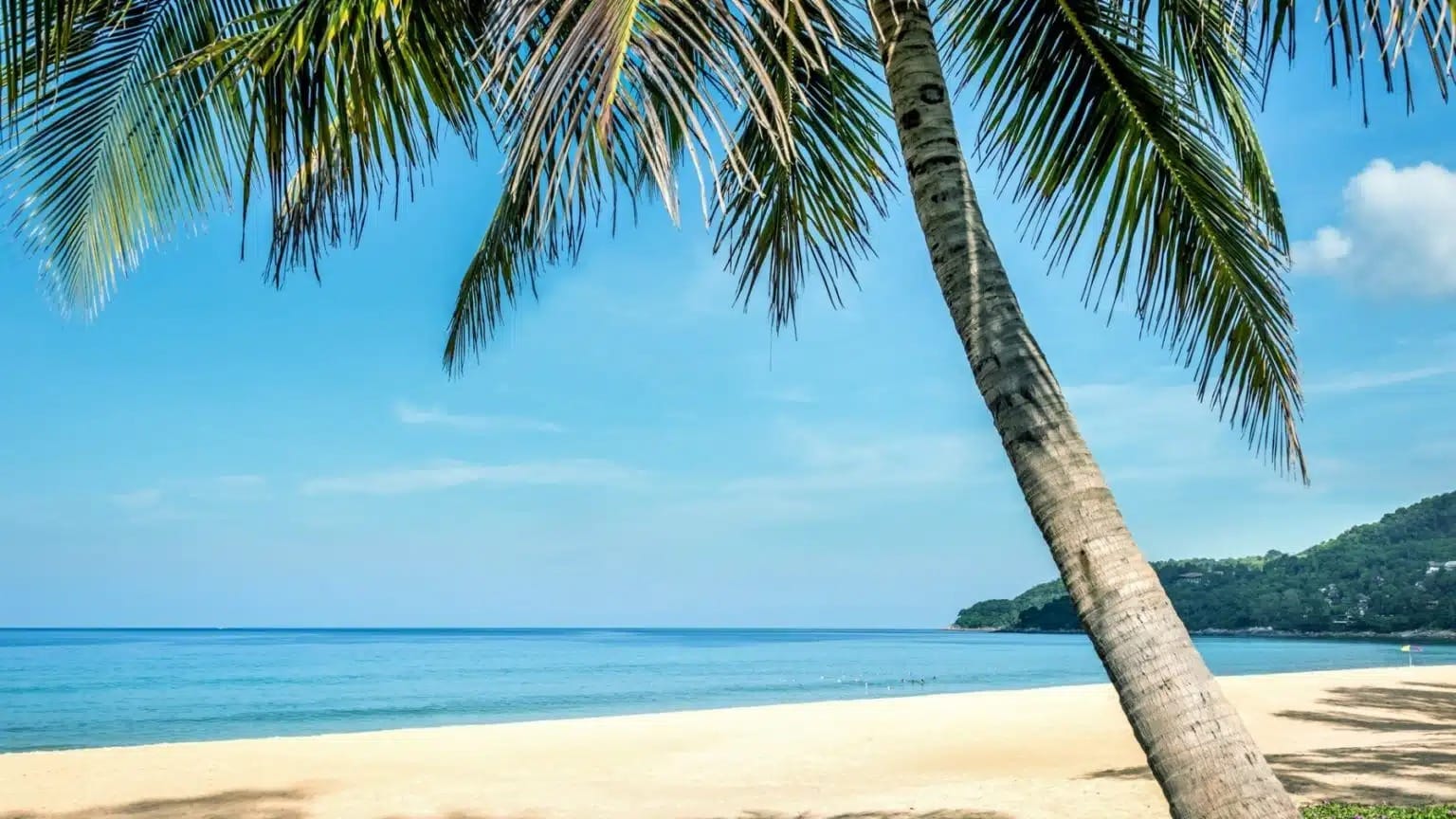 10. Ya Nui Beach
Although it is very small in size, almost like a cove, it is one of the cleanest beaches on Phuket island. Located near Nai Harn Beach, it is a perfect spot for a family vacation since the place is usually less crowded and quiet. The beach is well sheltered by the trees and also employs lifeguards that make it even safer. One of the striking features of this beach is that you can see the Promthep Cape - the end of Phuket on the southwest coast- that offers a panoramic view of the island.
You can enjoy diving, snorkeling, or simply have a peaceful me-time under the shade with the background score of ocean waves crashing against the sea. It is also popular for body-boarding. When visiting Ya Nui, be wary of the jellyfishes that are frequently seen near the coast.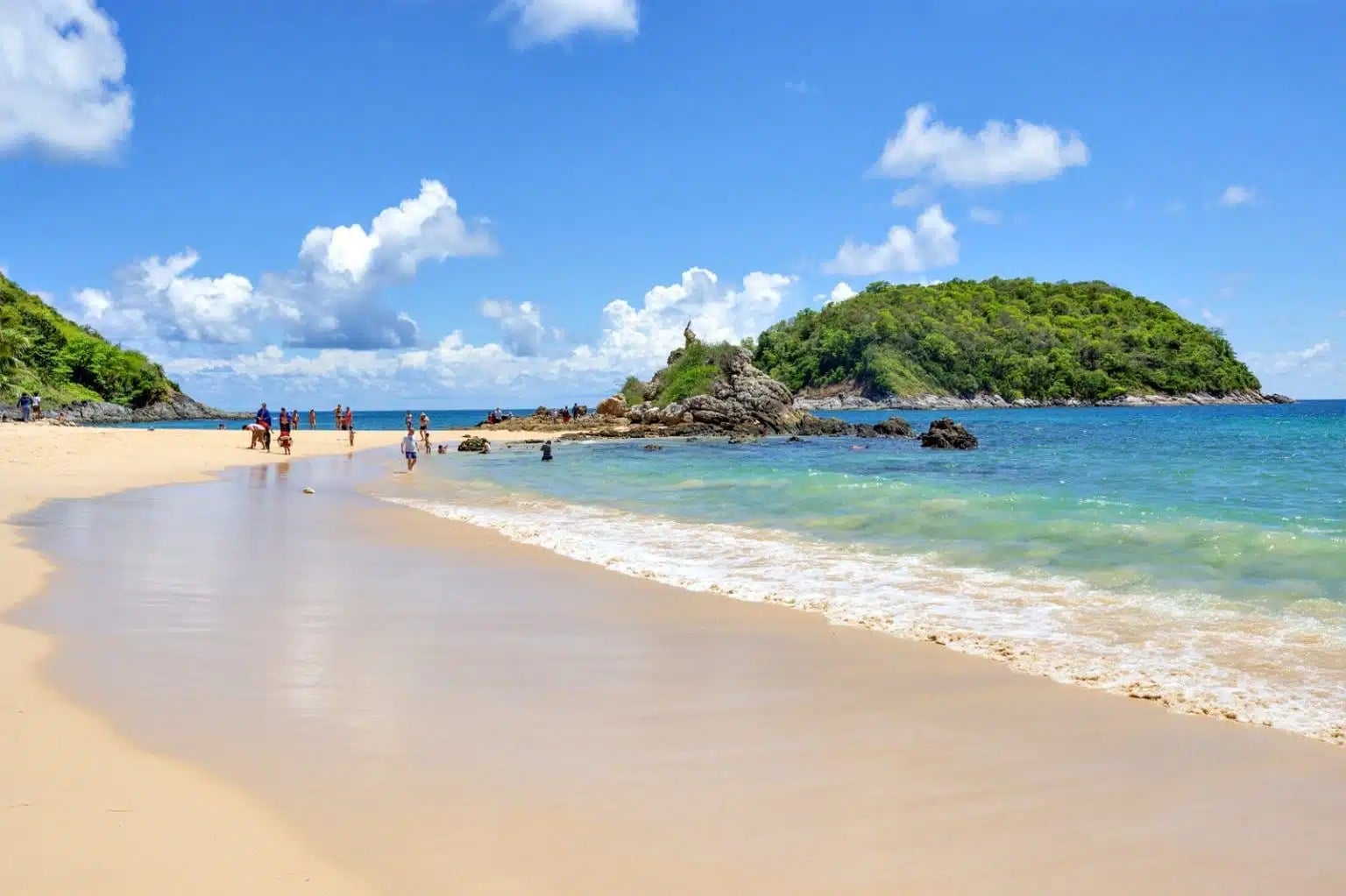 11. Banana Beach, Coral Island
It is located on Koh Hey Island (a.k.a. Coral Island) near Phuket. The beautiful beach gets its name from the fringe of trees that border its crescent-shaped shoreline. It is comparatively difficult to access the beach due to the dense forest that you have to cross to get there. You can reach there by a long-tail boat or hired cars.
There is only one restaurant on the beach from where you can buy your food and drinks. The fish served here is fresh from the sea. You can get involved in plenty of activities here for example parasailing, snorkeling, and kayaking. For a more laid-back experience, you can take a good massage under the shade of the trees in perfect silence.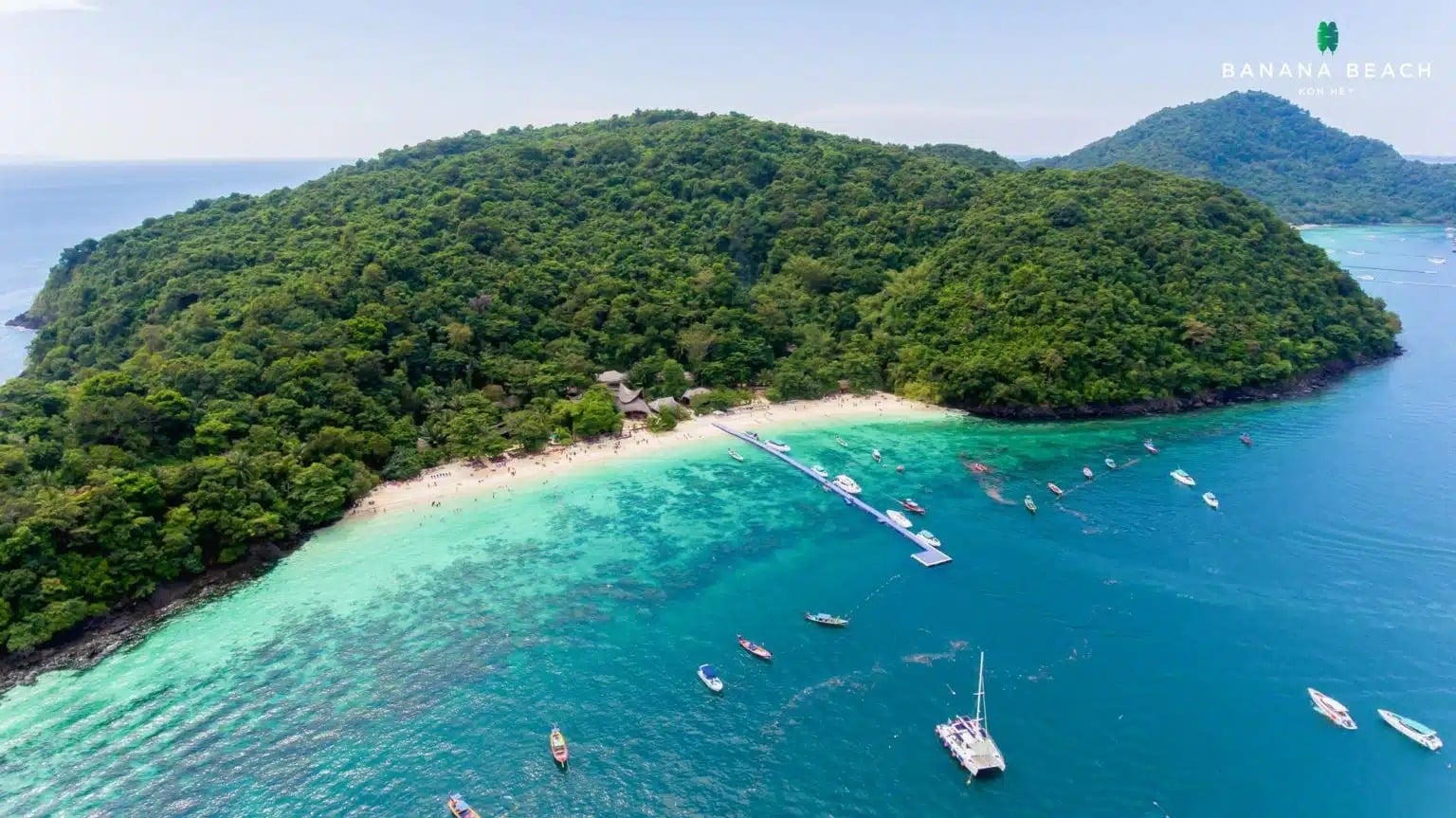 12. Nai Thon, North West
The Nai Thon beach is located at a distance of 10 minutes from Phuket airport. Although it is not very popular among tourists, it is ideal for beach bums who are wary of crowds and want a peaceful getaway. The clear cyan water, chalky white sand beach, and relaxing vibe are what makes it worth visiting at least once.
It is one of those places in Thailand that have not been touched by tourism and modernization and hence retain the authentic touch which is rare. Besides, it's home to the Phuket Elephant Jungle Sanctuary! There is a small village with a few restaurants and basic accommodation, so you have the option of using Nai Thon as a base that has a slow-paced beach atmosphere.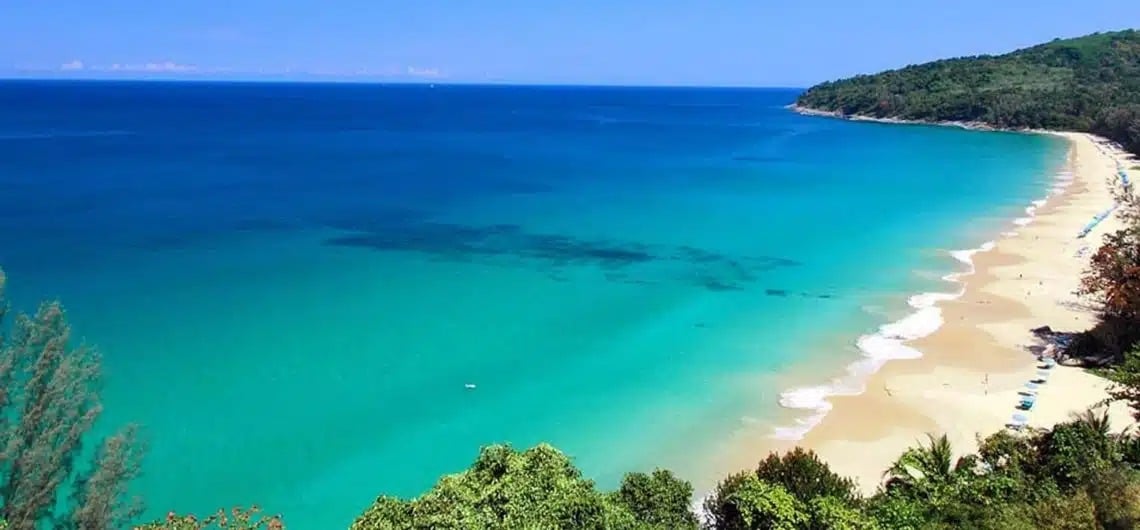 13. Laem Singh Beach
It is located on Phuket's west coast between Kamala and Surin beaches in Phuket. Earlier the only way to reach this beach was through a boat from the Surin beach but now there is also a roadway through the access stairway. The beach stretches across 150 meters and is surrounded by boulders. There is plenty of shade due to which it is a popular picnic spot among the people. Swimming is a popular pastime here.
For activities such as snorkeling or kayaking, you will need to bring your own equipment. You can easily rent Inflatables and bodyboards from nearby restaurants. Since it lies between two busy beaches, it usually remains uncrowded. Its unspoiled beauty and surreal tranquility are what makes it so famous. However, It has started to attract more crowds in recent years.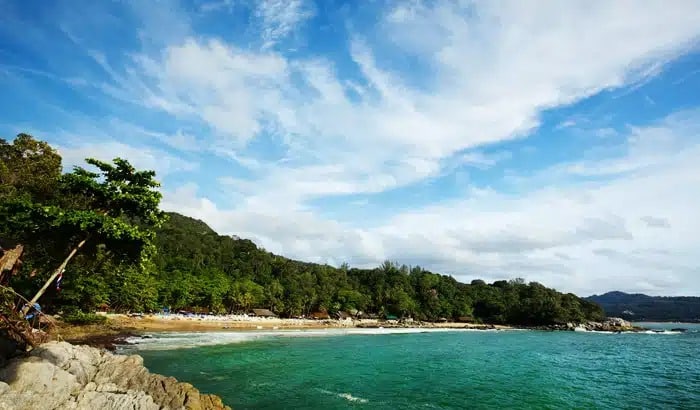 Bottom Line
Hence, we see that Phuket has almost all the variety of beaches one can possibly think of. Right from gleaming Patong Beach that offers umpteen activities, busy nights, and neon lights, to serene beaches such as Ya Noi and Nai Thon that are ideal for a laid-back experience, it has something to offer to all kinds of beachgoers.