Hotels are always a safe option for a stay, especially if you are visiting the place for the first time.
However, you can consider an Airbnb for perks such as a kitchenette, long-stay amenities, a private pool, and a bit more privacy.
Discover 17 stunning Airbnbs in Phuket, where breathtaking views, luxurious amenities, and exceptional hospitality come together to create your dream island escape, perfectly tailored to your desires.
17 Stunning Airbnbs in Phuket – 2023 Guide
1. Hilltop Condo with Ocean Views
It is a well-lit gorgeous Airbnb in Phuket that is perfect for solo travelers and couples looking to stay close to the beach.
It features one large bedroom with a king-size bed and one private full bathroom with a large vanity and a walk-in shower.
There is also a spacious living area with a dining table. The kitchen is well-stocked for two people and also has an espresso machine.
The outdoor space at this homestay includes a private balcony overlooking the beach and shared access to the infinity pool.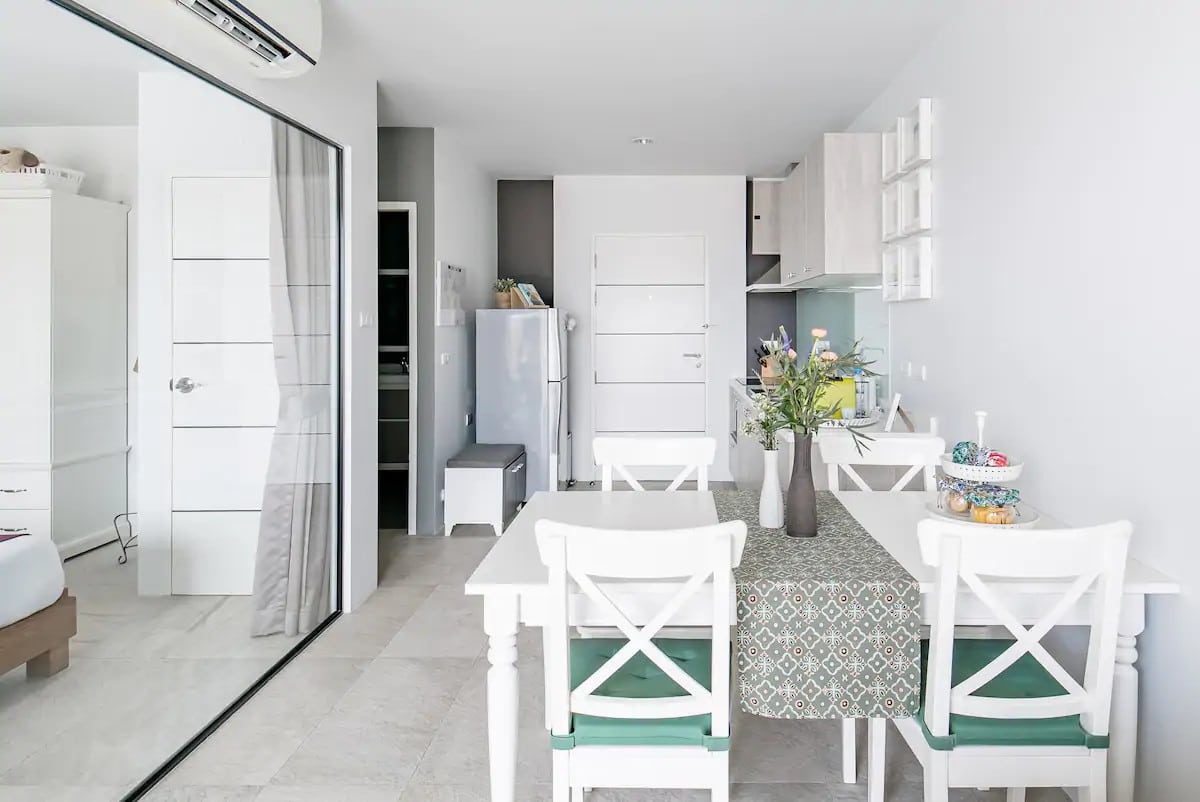 2. Mangrove Pool Villa Near Kamala Beach
This Airbnb's luxurious villa offers private resort-style amenities close to the shore.
The interior is very chic, featuring dark wood furnishings. There are three bedrooms with king-size beds and two full bathrooms with oversized walk-in showers.
The living area is very spacious and airy and has an extra couch for guests.
It has incredible outdoor space with access to a huge outdoor pool. The pool has three flowing fountains and is surrounded by palm trees and stones on all sides.
There is also a shaded patio with comfy outdoor seating and a relaxing hammock.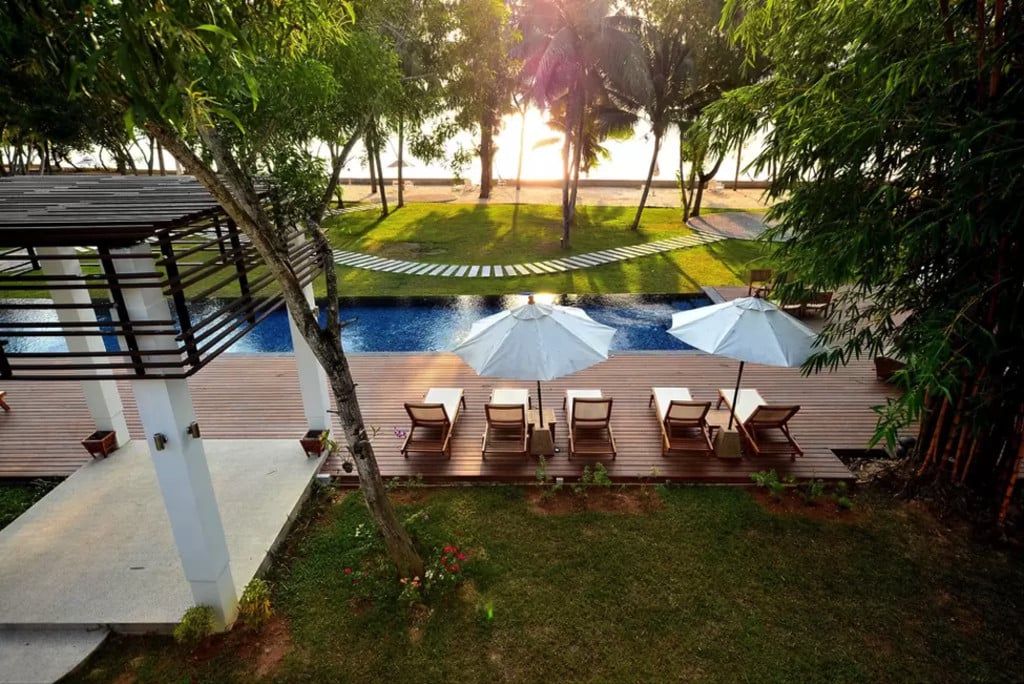 3. Luxury garden villa at Loch Palm
This Luxury garden villa Airbnb's in phuket is best suited for families or small groups of friends as it has four bedrooms.
The amenities here are endless, including an open-plan lounge, a well-appointed kitchen, a private pool, a fully equipped gym, a large pool, and lush tropical gardens.
Besides, you also get to enjoy fantastic Thai dining at the clubhouses at Loch Palm and Red Mountain.
Some major attractions such as Patong beach, Phuket Town, Central Festival, and Big C shopping centers are just a short drive away.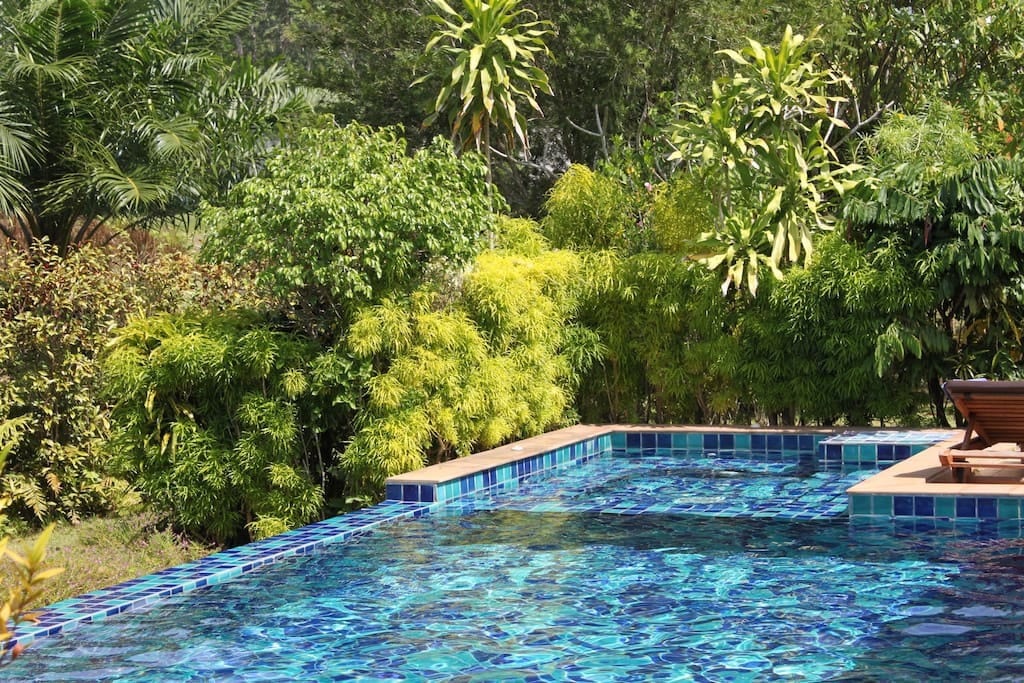 4. Safari Home
The Safari Home Airbnb stay is located near Nai Yang Beach. The stay features a spacious air-conditioned bedroom with an attached bathroom and balcony.
There is an airy living room and a furnished kitchen where you can prepare your own meals if you wish to have home-cooked food.
Here, you will find a well-equipped gym where you can have a truly amazing workout session and then jump into the pool to cool off.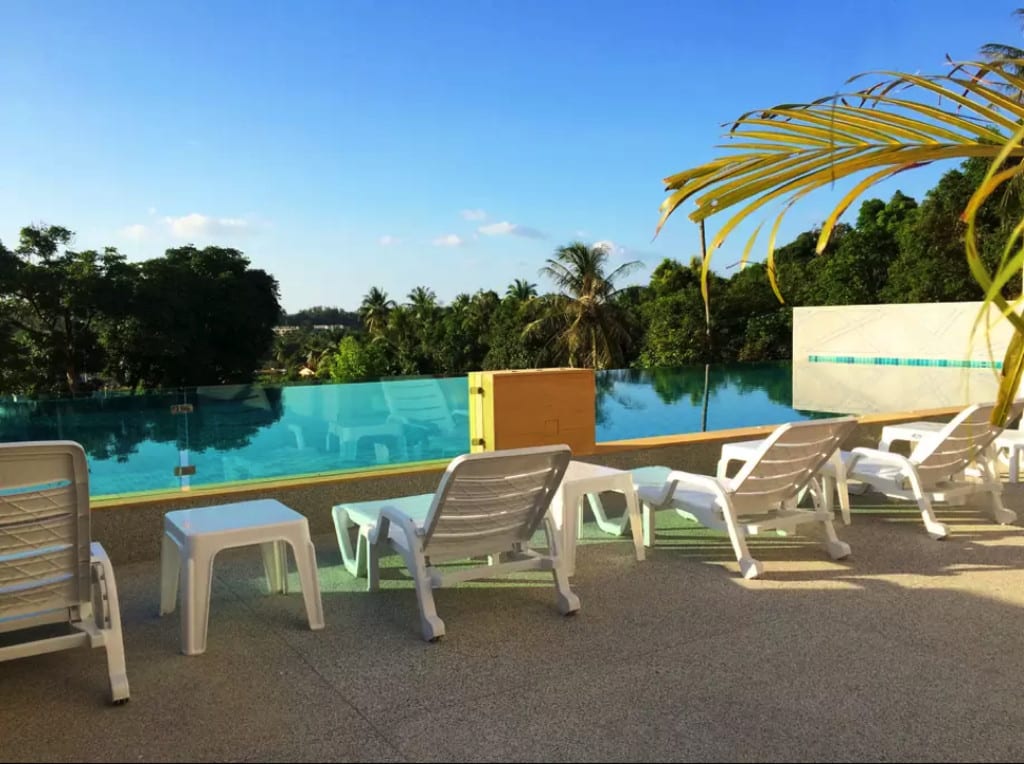 5. The Heights Phuket Penthouse
It is one of the most beautiful homestays in Phuket, perfect for those who assign a lot of value to views while deciding on a lodging place.
This luxurious, family-friendly, large penthouse is located near Kata and Kata Noi beaches. Nestled into the hilltop above Kata Beach, The Heights Phuket has 3 bedrooms and offers a majestic sea view with a private pool.
The homestay makes the best of its beautiful location. It is a popular choice for groups of travelers or families. Hosting accommodation for up to six people, this sea view penthouse offers up the utmost for a luxury holiday in Phuket. It is characterized by vast windows and bags of open space.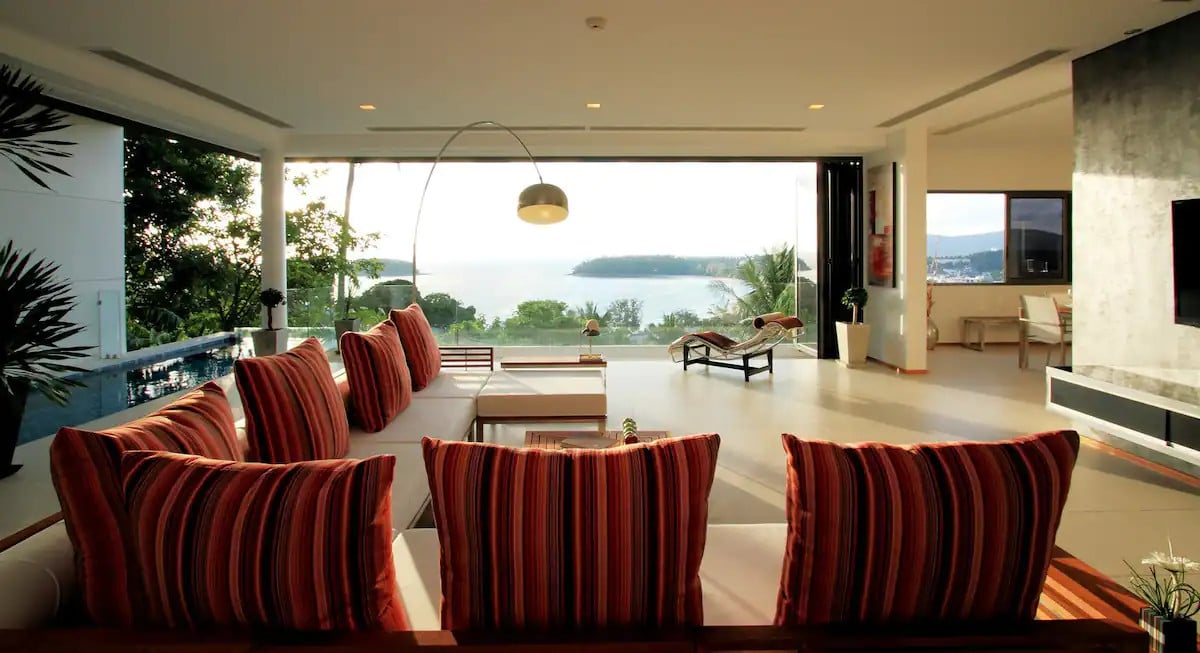 6. Himmapana Spacious Villa with Private Pool
This luxury condominium is a favorite on Airbnb in Phuket.
It is a super-private and spacious resort-style villa with three bedrooms.
The villa boasts one-of-a-kind luxury and cutting-edge technology, and the property is renowned for its breathtaking mountain vistas. The interior's light wood tones and green accents go perfectly with the breathtaking vista outside.
The new full kitchen and spacious dining area are available to visitors, and each bedroom has a king-size bed and a Smart TV. A subterranean outdoor lounge adjacent to the living room is divided from it by retractable glass doors.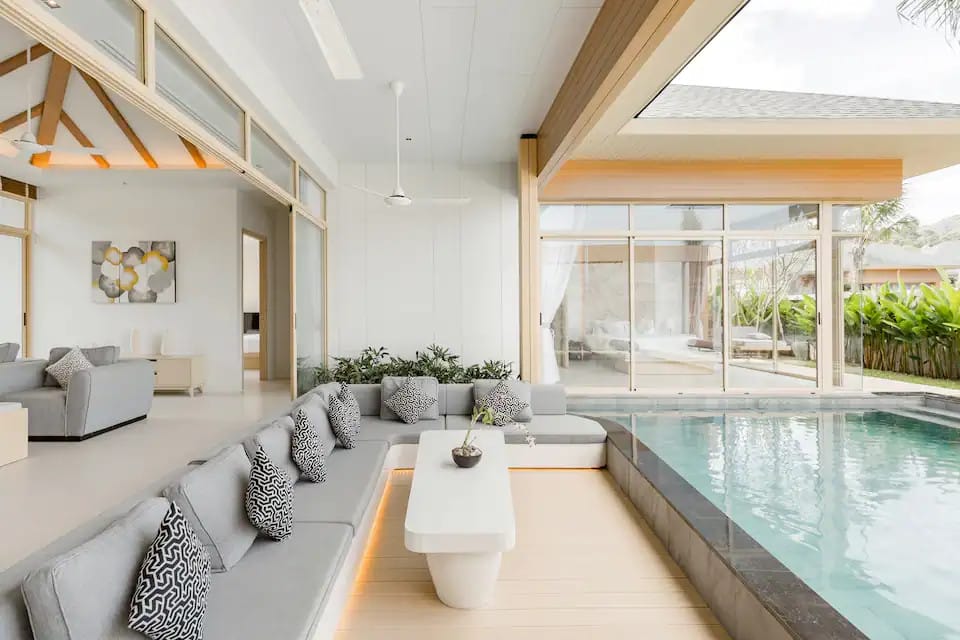 7. Breathtaking Home with an Enchanting Garden and Roof Terrace
If you are someone who gets excited at the thought of having the whole place to yourself, this could just be your place!
With this unique apartment rental in Phuket, you can relax in your very own private slice of paradise. The two-bedroom apartment features tasteful, individually styled bedrooms, each with a soft king-size bed, a Smart TV, access to a terrace, and a sumptuous en suite bathroom.
It features a comfortable living room with lovely classic decor, a fully functional kitchen with brilliant orange highlights, and a practical half bathroom with a stackable washer and dryer.
A formal dining room and a gorgeous front terrace with a lounging area and a fan are also included. However, if you wish to eat out, don't forget to check out these absolutely stunning Indian restaurants in Phuket.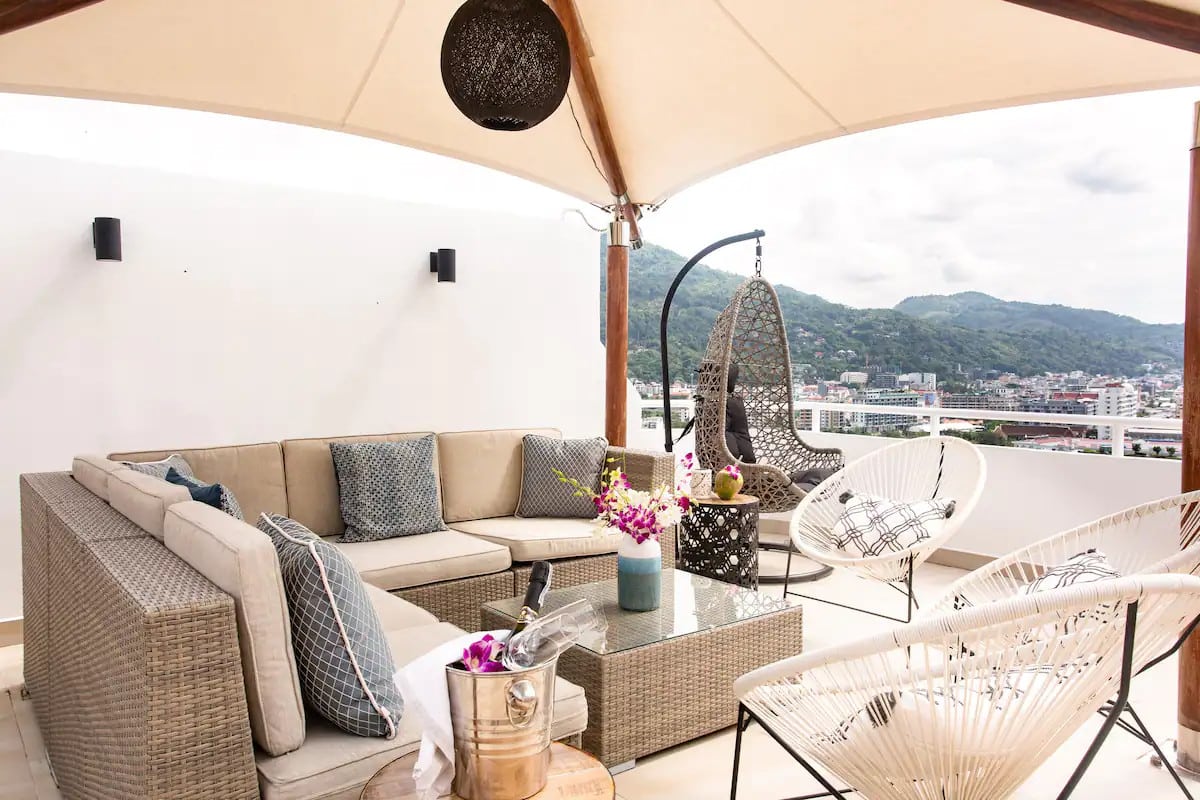 8. Massive Mountain Retreat With Ocean Views
This secret hillside property is the ideal Phuket Airbnb if you're visiting with a sizable group or simply desire a vast secluded sanctuary all to yourself.
The property can accommodate 16 people thanks to its seven bedrooms, 7.5 bathrooms, and sizable living space with additional beds.
This wonderful retreat is fully surrounded by lush vegetation and gorgeous surroundings, and the elevated location truly enhances the views.
You are welcome to lounge in the opulent infinity pool while taking in the view of the mountains, or you may take in the adjacent waters from the outdoor dining deck or the open-air living area.
There are Jacuzzi pools, Smart TVs, and a chef's kitchen as additional highlights throughout the entire property, which is decorated with the most opulent fixtures and fine furniture. A personal concierge is also provided with the rental, who can assist you in organizing meals and outings.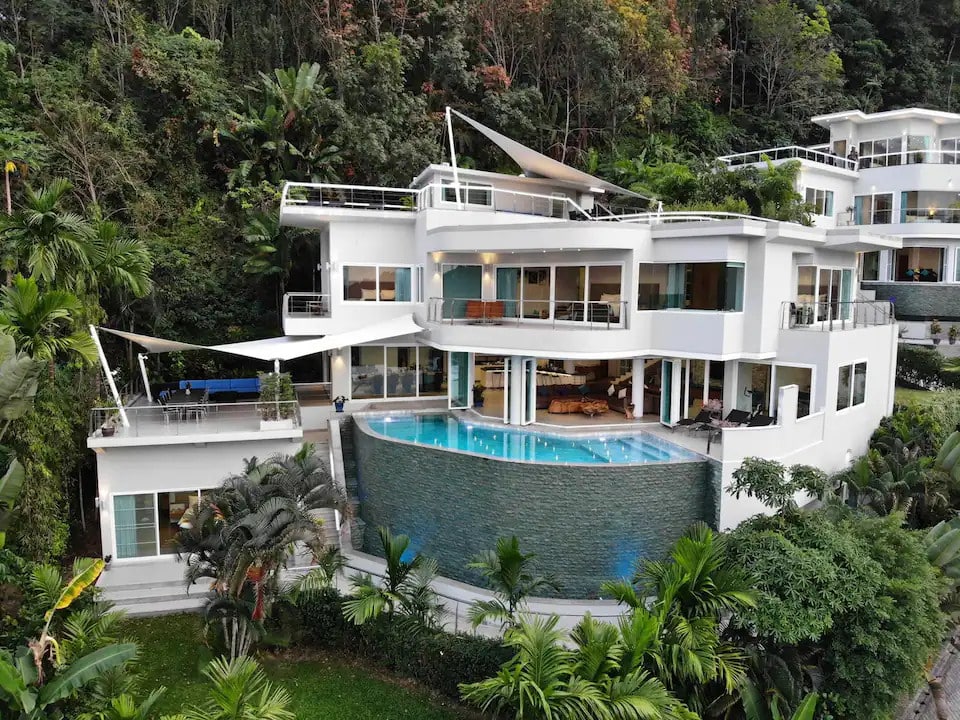 9. Villa Silk
Owing to its beautiful location, Villa Silk is an oft-picked accommodation on Airbnb.It is just a 5-minute drive to Nai Harn and Rawai beaches and close to numerous restaurants and exciting nightlife.
It is suited for couples, families, or even a group of friends. The property features three bedrooms, each with sumptuous beds and each with an en-suite private bathroom.
The spacious villa offers a large living room with a 42' flat screen TV, DVD, cable TV, plus a dining table seating 8.
The living and dining rooms open directly onto a terrace and swimming pool, and a spacious private garden ideal for children or to relax and enjoy nature's tranquillity.
The open-plan, fully fitted western-style kitchen is fully equipped to meet your every need, including a washing machine, dishwasher, oven, and microwave.
The Villa has WIFI internet, landline telephone, 42" TV, DVD player, offers a welcome pack on arrival and maid service all included. The villa itself is approximately 200 sq meters, and the garden is 800 sq meters in size.
The villa has air conditioning in all three bedrooms, ceiling fans, WIFI, landline telephone, and cable TV.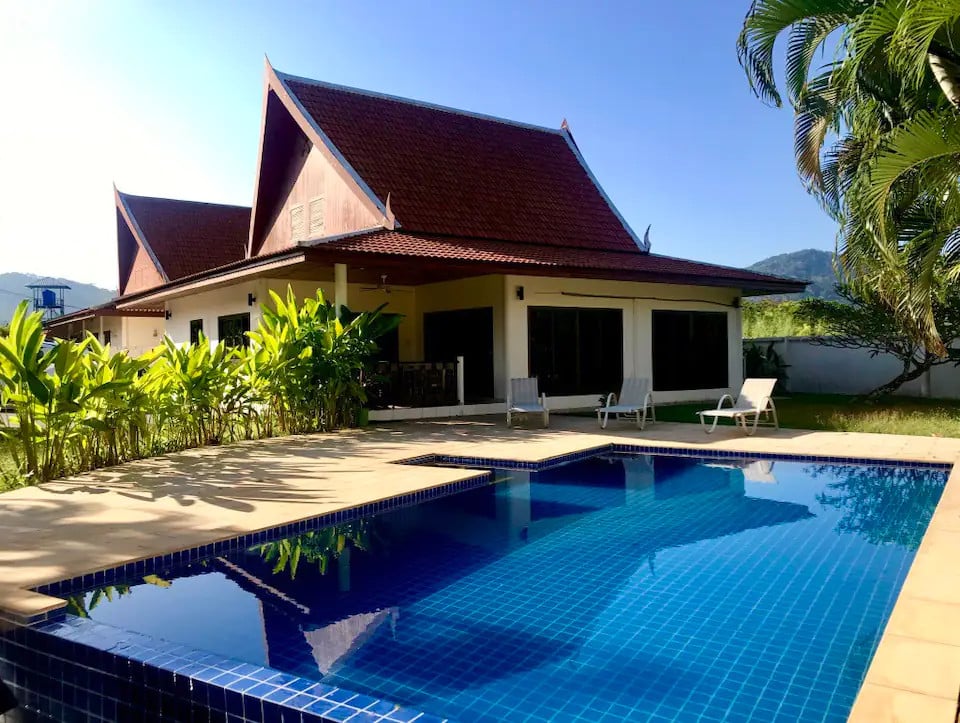 10. White Breeze Pool Apartments
It is a one-bedroom apartment in Phuket that is most popular among ex-pats and leisure solo travelers.
The property is air-conditioned and has a bathroom, living area, and kitchen.
Beautiful gardens surround the apartment and offer a breathtaking view from the private terrace.
There is a huge swimming pool right as you step out of the big glass door of the apartment.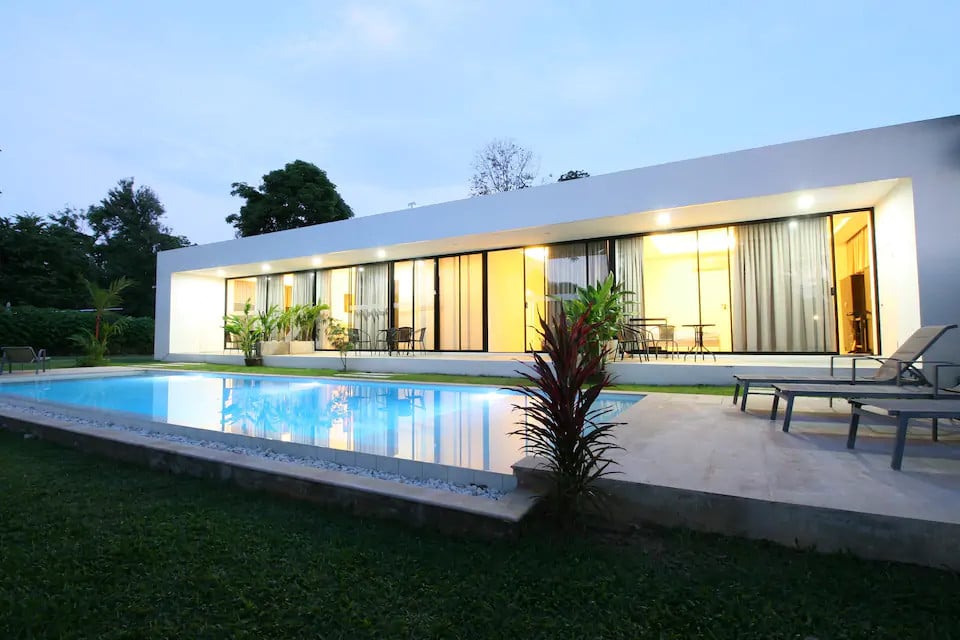 11. Room With Unrivaled Mountain View
This Airbnb property is located within walking distance of Patong Beach, Bangla Road, and Jungceylon.
The place has an outdoor balcony from where you can enjoy the surrounding mountain view.
The property's main attraction is the two pools- a kid and an adult pool. The adult pool is like an endless infinity pool with glorious ocean views.
The accommodation comprises a king bed, living area, dining area, balcony, well-equipped kitchen, and a gym.
Bicycles are provided to the guests free of cost.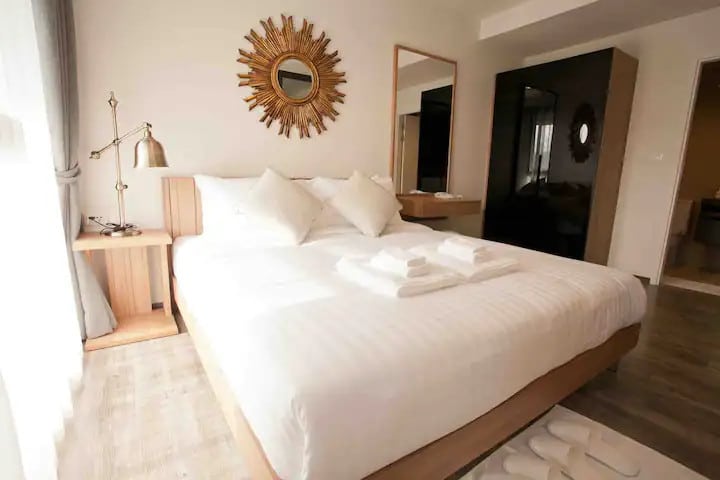 12. Villa Isadora
This two-bedroom boutique villa is an oasis of peace and luxury in Phuket.
The artworks embellishing this property have been collected from across Asia.
The detailed artwork is what makes this place a truly exceptional vacation stay.
Among other amenities, this property features a private infinity edge pool encompassed by a large teak sundeck and a mature tropical garden.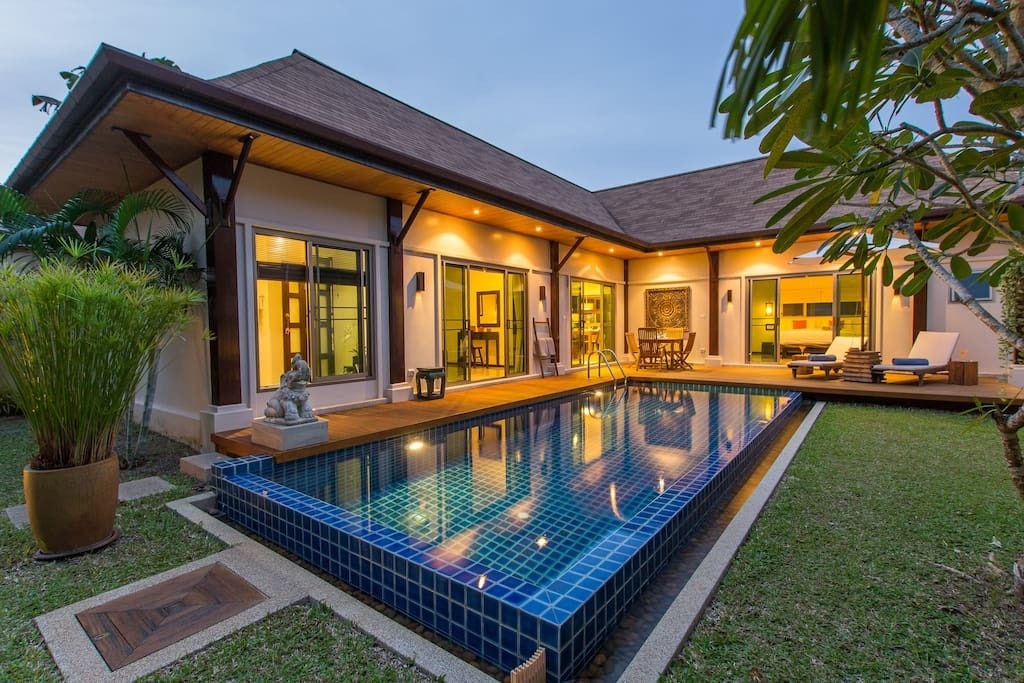 13. Bangloop Top
The comfortable balance between simplicity and quality found in this distinctive two-bedroom apartment is hard to find among short-term rentals in Phuket.
The relaxing ambiance of the comfortable living area is enhanced by indoor plants, botanical artwork, and light wood furnishings.
The modern full kitchen is given life by sunny skylights. There are 1.5 spotless bathrooms with gleaming white finishes, and each bedroom has a king-size bed, a desk, and balcony access.
Additionally, there is a washer and a travel cot for young children, as well as a small but attractive patio where guests can unwind or ride one of the two furnished bikes.
In addition, it takes only 15 minutes to walk to the airport, and a quick drive will get you to Maikhao Beach and Naithon Beach. Sirinat National Park, Phuket Yacht Haven Marina, and Bang Pae Waterfall are some more local attractions close by.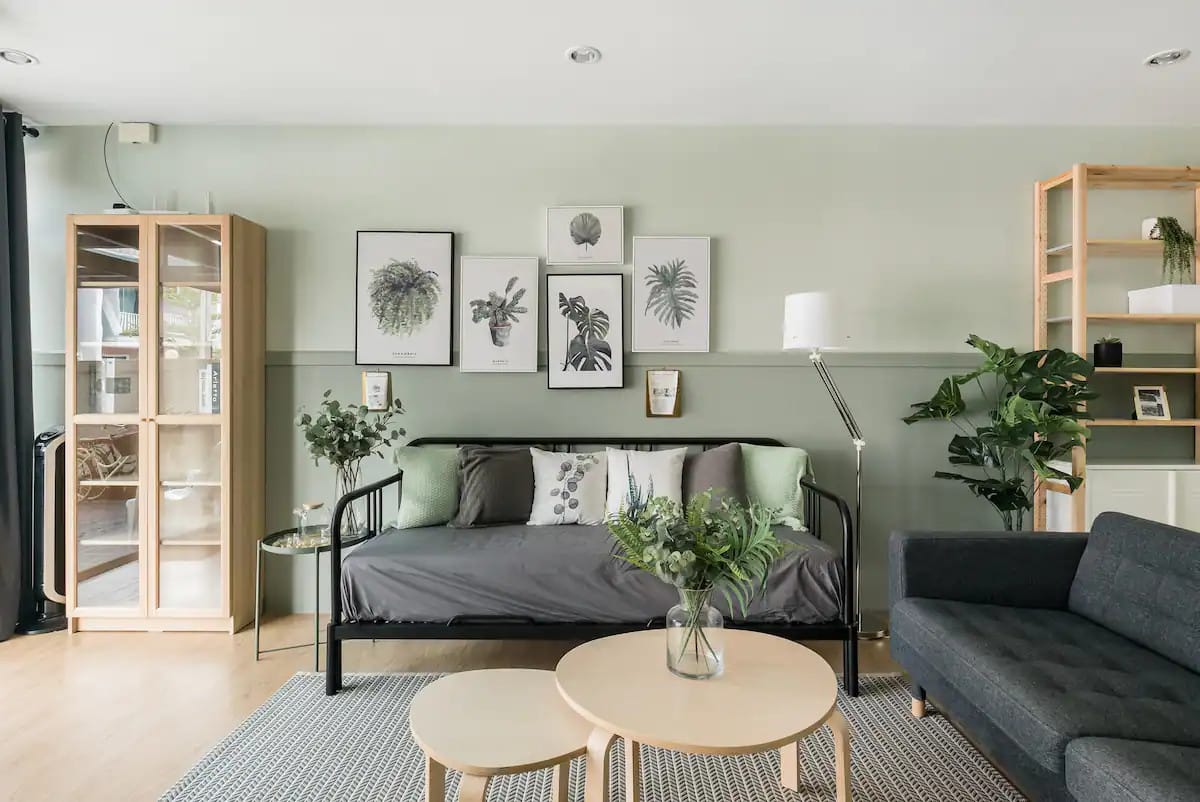 14. Chic Apartment Home with Pool Access
For couples, small parties, and families looking to stay close to Surin Beach's white sands, this lovely two-bedroom serviced apartment is the ideal.
With its bright white finishes, airy open layout, and wide windows, the contemporary interior is stunning.
The two-bedroom apartment can accommodate up to four people and has two incredibly comfortable king-size mattresses as well as two opulent full bathrooms with walk-in showers.
With sophisticated white marble furnishings, a sizable reclining sofa, and breathtaking views of nature, the living area is ideal for a chic and comfortable evening. A wonderful formal dining area, a modern full kitchen, a washing machine, and an elevator are also included in the rental. A private terrace with a patio table is located outside.
Guests have access to a lovely pool terrace with sun loungers and palm trees, as well as a private terrace with a patio table that overlooks an abundance of tropical foliage.
Surin Beach is renowned for its magnificent sunset views, tropical flora, and well-liked fine-dining establishments, making it the perfect getaway location.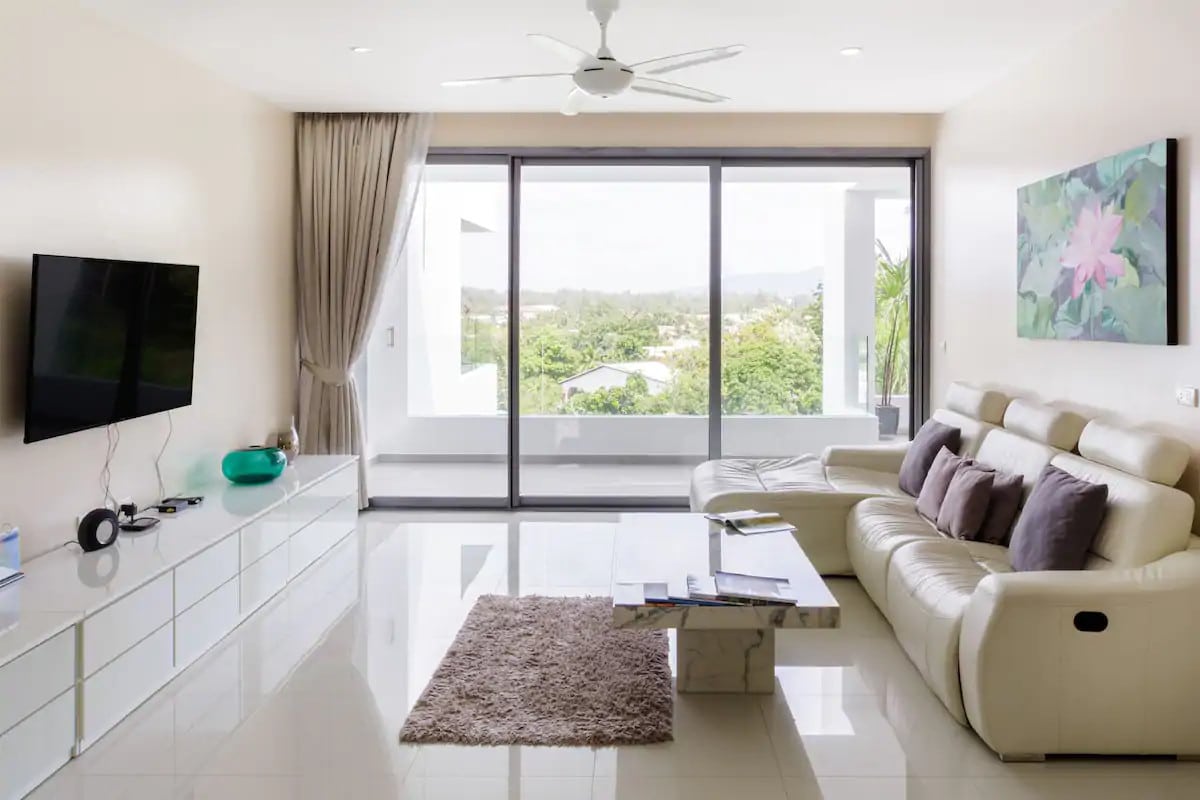 15. Private Guesthouse in a Resort-Style Villa
This wonderful guesthouse is contemporary, practical, and completely furnished with hotel-style conveniences, making it the ideal choice for single travelers and couples looking for a warm and private Airbnb in Phuket.
The studio is compact yet light and spacious, with high vaulted ceilings, a king-size bed, and lots of room to walk around. Additionally, there is a useful desk area, basic cooking appliances, and a magnificent full bathroom with a spacious walk-in shower and a wide vanity.
All of the interior spaces are exquisitely decorated with distinctive artwork and classic furnishings, and visitors have access to a gorgeous backyard with a soothing hammock.
You will receive regular housekeeping services as well as other facilities like bikes, beach supplies, and on-site laundry.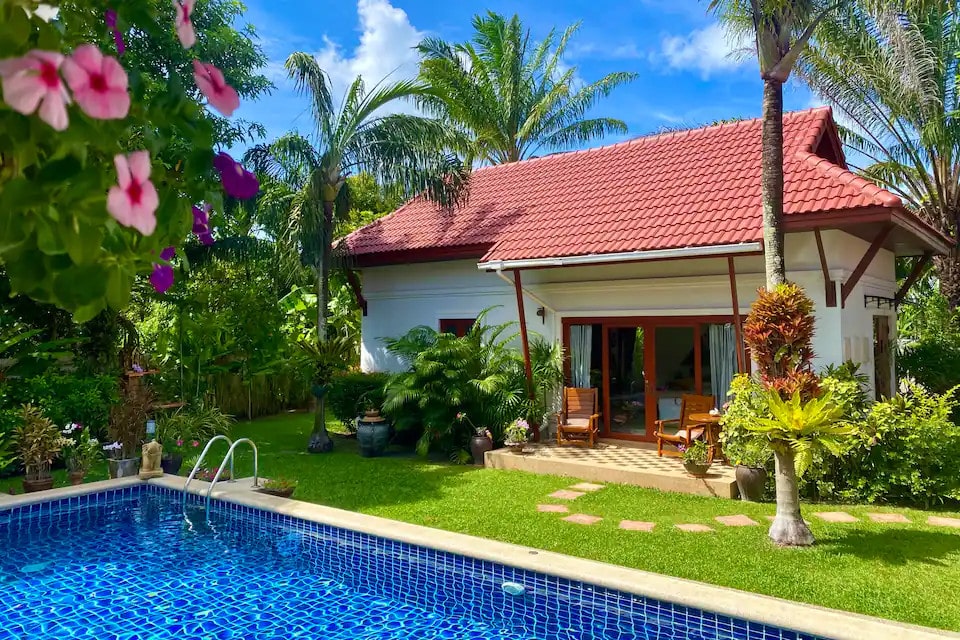 16. Private Villa Near Bangtao Beach
This convenient property is only 300 meters from the shore. It is the ideal beach house for a relaxing vacation.
The apartment is perfect for up to six visitors because it has three spacious bedrooms and three complete bathrooms, as well as high ceilings and huge windows in every room.
Both bathrooms have walk-in showers and attractive pastel-colored tiles, and the larger one also has a soothing soaking tub.
A wide, private terrace with an L-shaped pool and tropical trees is accessible through glass doors located throughout the house.
Additionally, there is a full kitchen that is connected to the open living space, which has a lounge area, and dining area and is equipped with contemporary amenities like a washing machine, dishwasher, and espresso maker.
This is one of the greatest Phuket Airbnbs for a tranquil retreat away from the hectic Patong neighborhoods because it has exclusive access to a gorgeous pool and is in a prime location close to Bangtao Beach.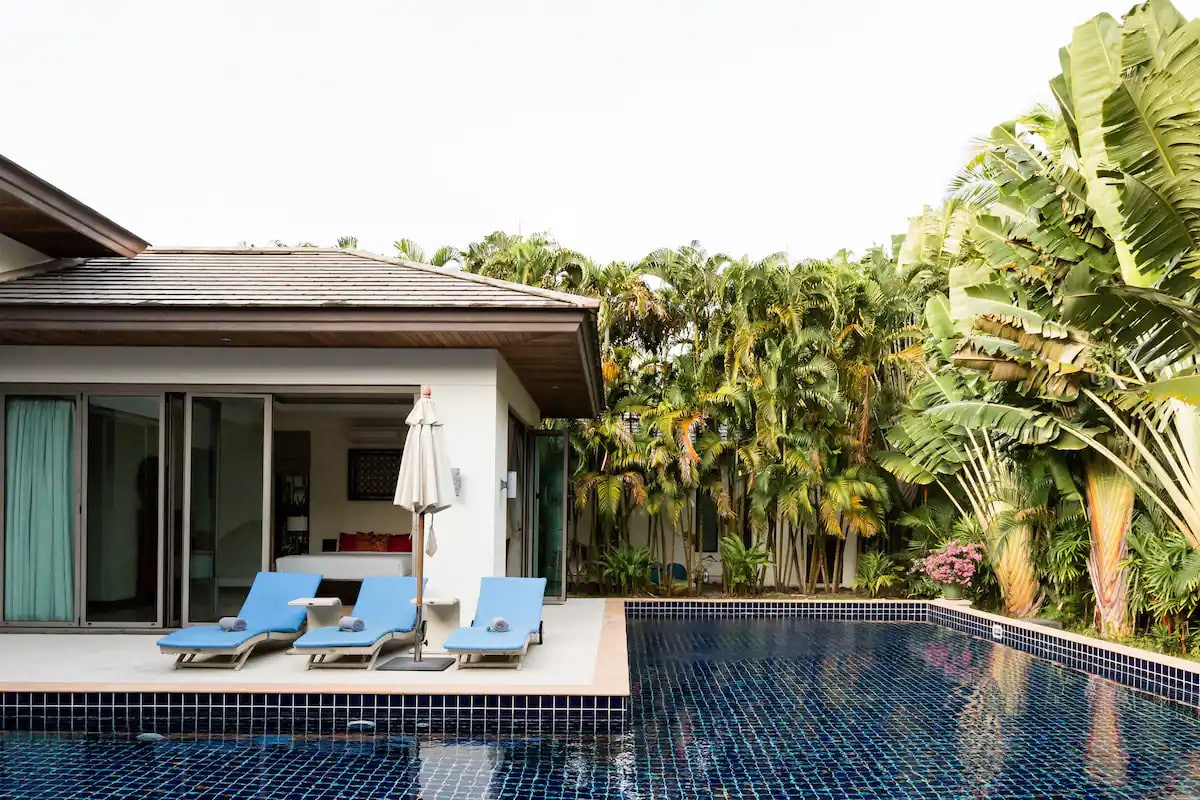 17. Oceanfront Suite on Rawai Beach
This coastal vacation condo is available to rent in Phuket, putting you so close to the water that you can almost taste it.
This two-bedroom, one-bathroom apartment has one king-size bed and one queen-size bed in each bedroom and can accommodate up to four visitors.
A portable crib can be made available for young children, and the area is ideal for two couples or a small family.
The vibrant décor is ideal for a beach holiday because it is very bright and vivid. The apartment is suitable for both short- and long-term stays because it has a full kitchen and a formal dining room.
The common rooftop pool is the ideal spot to unwind, and the building itself is breathtaking with its vibrantly colored traditional decor. The rental's proximity to the beach from the front door is its best feature.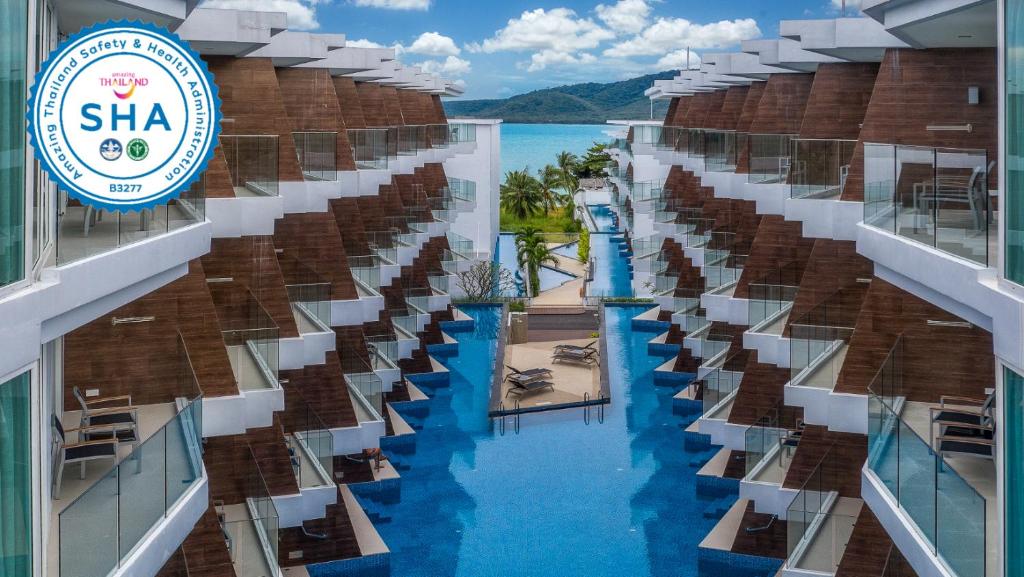 Bottom Line
The Thailand Nomads team has checked all the Airbnb properties listed above for quality and hygiene.
Still, it is best to assess them on your own based on the budget, preferences, and duration. However, before planning a trip here, don't forget to check out this blog on the best time to visit Phuket to ensure you make the most of your trip.
For more updates on the best places to check out in Phuket, keep following Thailand Nomads.