There is still some grey area concerning the status of Airbnb Thailand as a whole. As per law, private rentals of 30 days or less are considered against the law unless they are in a registered hotel or resort establishment.
However, on the ground, the rule is not implemented as such, and even if an action is taken, it is against the property owner and not the traveler, so feel free.
Discover the ultimate island getaway with our selection of top Airbnbs in Koh Phangan, where stylish design, breathtaking views, and exceptional hospitality come together for an unforgettable stay in paradise.
11 Airbnbs in Koh Phangan – 2023 Update
1. Modern apartment with panoramic views of the sea
This modern apartment Airbnb in koh Phangan offers panoramic views of the sea from every room. It is situated in a secluded area around Baan Kai Beach and can accommodate up to 5 guests at a time.
It has a living room, a well-furnished kitchen, two bedrooms with two beds, and a dining space to make you feel at home, away from home.
There is also a dedicated workspace in the apartment, perfect for digital nomads or people who have to work while on a holiday.
As a guest, you also get free access to the pool located at the nearby resort.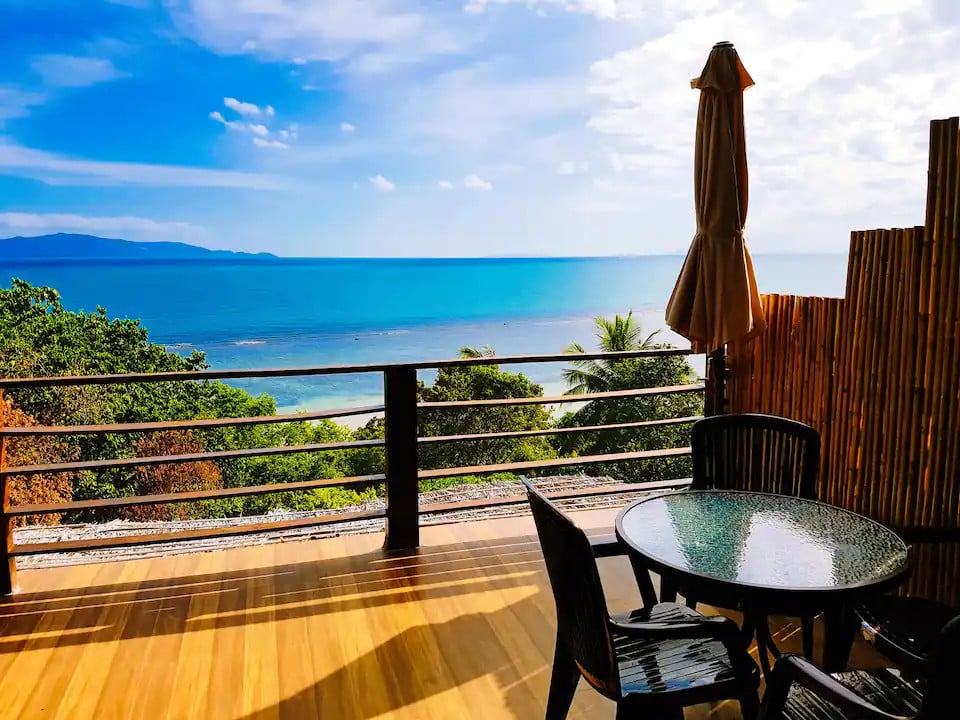 2. Vibrant villa with jungle views
This vibrant villa located in ko pha ngan features modern decor with contemporary interiors.
As this homestay is close to a jungle, you can enjoy an up-close view of nature and can also spot some wild animals, at a safe distance, in their natural habitat.
The property has 2 bedrooms with 2 beds and a bathroom, suitable for four people. You'll also feel the breeze from the mountain.
Despite being close to the jungle, the place promises a high-speed internet connection through wifi so you need not worry about hampering your work or delaying the upload of your insta-picture
There is a small river nearby where you can sit back and relax. There are beautiful tropical trees here that provide a lovely backdrop for your pictures.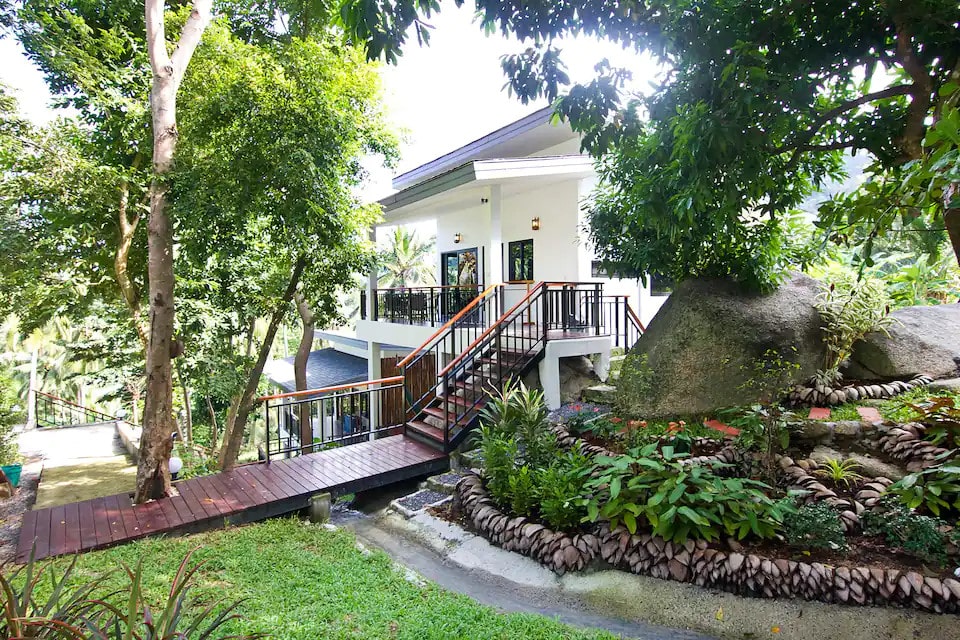 3. Luxury Home for Four
As the name suggests, it is a proper luxury stay in Koh Phangan, suitable for high-end travelers. This opulent, private rental can ideally accommodate four guests at a time.
It has a fantastic location and is equipped with two bedrooms, three beds, and one bathroom.
The villa is just 30 meters away from the beach and also has some popular restaurants and supermarkets close by.
You can enjoy a picturesque view from the rooftop sky terrace overlooking Ang Thong National Marine Park and Koh Samui.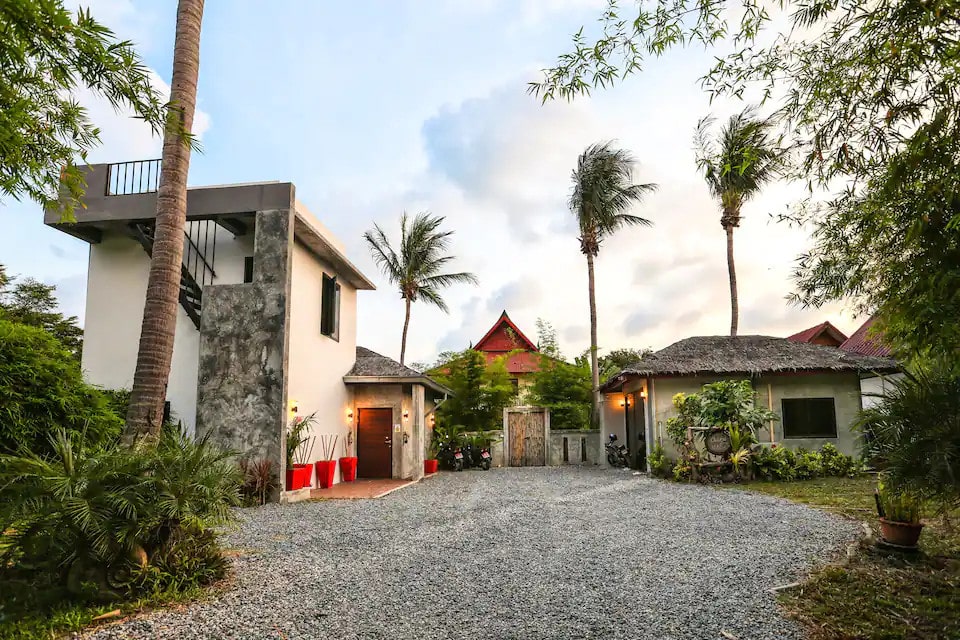 4. Clutter-free Bungalow for Two
As the name suggests, this bungalow is built in a modern style and is completely clutter-free. The space can accommodate up to 2 guests so it is ideal for couples and solo travelers.
There is one bathroom equipped with a hot shower and complimentary toiletries.
Additionally, amenities include free parking, a patio, Wi-Fi access, a backyard, air conditioning, and access to the beachfront.
There is also a mini kitchen with a coffee maker.
5. Asian-themed dwelling near beaches
This Asian-themed homestay is located in a coconut orchard on a hillside. It is surrounded by a mountain and a rainforest and offers a very unique appeal.
The homestay is equipped with amenities such as Wi-Fi, parking, and a balcony. It has a bedroom with two beds, one bathroom, and unparalleled mesmerizing ocean views.
Various restaurants, beaches, and bars are situated within a 10-minutes walk.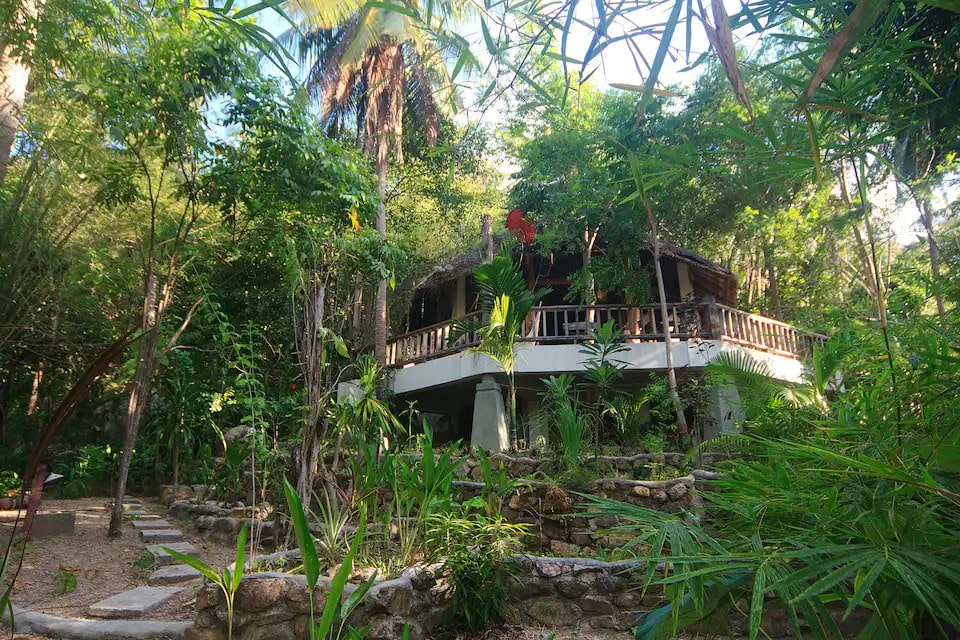 6. Gorgeous retreat in Koh Phangan
This gorgeous homestay is located close to Hin kong Beach. It is suitable for couples and solo travelers as it can accommodate up to 2 guests.
The lovely paintings and natural lighting give it a very contemporary appeal.
It features one bedroom with a king-sized bed and one and a half baths. The homestay is just
five minutes away from shops, a convenience store, local restaurants, and a yoga place.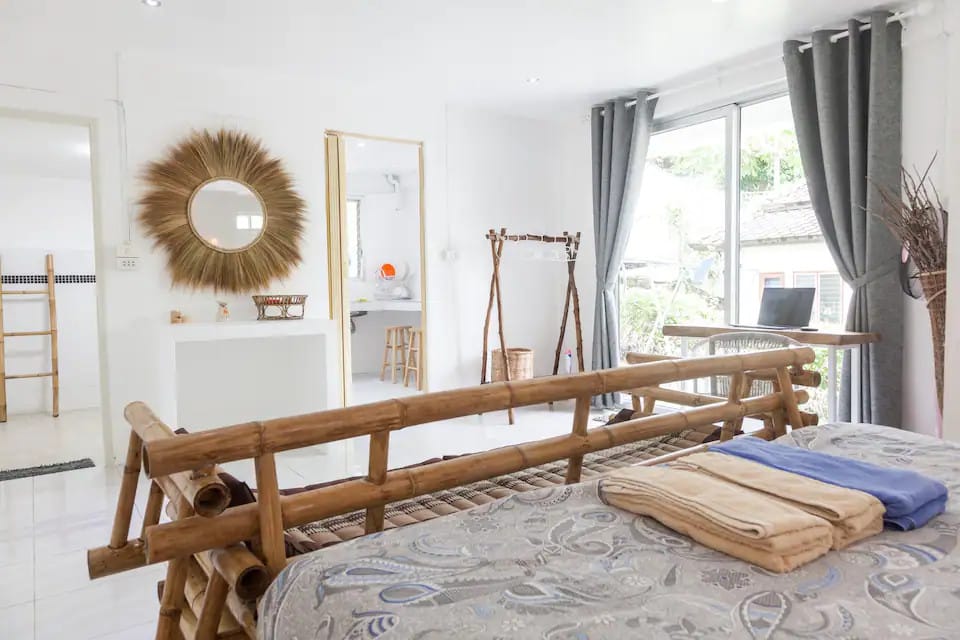 7. Eco-friendly loft surrounded by coconut trees
This bamboo bungalow is situated in a quiet place away from the hustle-bustle of the city. This property has a minimalist appeal with a warm ambiance.
Amenities include a high-speed internet connection through Wi-Fi, a refrigerator, free parking, and an airy balcony that offers a beautiful view of the surrounding.
The surrounding coconut trees and lush green garden lend it a very relaxing vibe. There is one bedroom with a queen-sized bed, suitable for couples and solo travelers.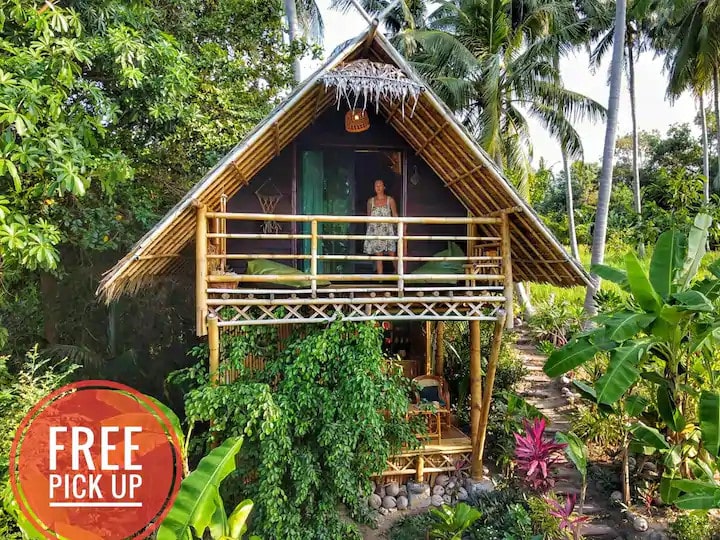 8. Beautiful House with a Pool
This mesmerizing homestay is set in a tropical garden and features a cozy living room, two bedrooms, and a fully covered terrace.
There is an additional sun balcony here overlooking the sea where you can sit back and soak yourself in the blissful sunlight while gazing at the sea.
Amenities here include a TV, air conditioning, free Wi-Fi, a pool, a washer, and free parking.
There is also a well-stocked kitchen here where you can cook your daily meals. Good news for pet lovers- the homestay is animal friendly.
9. Charming Residence with a Badminton Court
This homestay is also located in a secluded place in a tropical region. There are two bedrooms here with two comfortable beds, suitable for a small family or group of friends.
There is an outdoor kitchen, a big badminton court, a spacious garden, and a pool. Other amenities include high-speed Wi-Fi and Smart TVs.
10. Charu Bay Luxury Beach Side Garden Villa
This homestay is the only villa on Koh Phangan Island that is listed in The Lonely Planet Thailand guidebook 2016.
It is a private luxury villa with a rare rooftop sky terrace located 30 meters from Ao Bang Charu Beach. It features a tropical garden and private beach access just a walk away.
All amenities such as restaurants, supermarkets, and beach bars are all just a short walk away.
The architecture of the villa has a European fusion touch and was built by German architects. It provides lush flora and outdoor living spaces perfect for a relaxing experience.
The famous Walking Street and local Night Market in Thong Sala are very close to this homestay so you can save on commute expenses.
The property is not suitable for children below 6 years.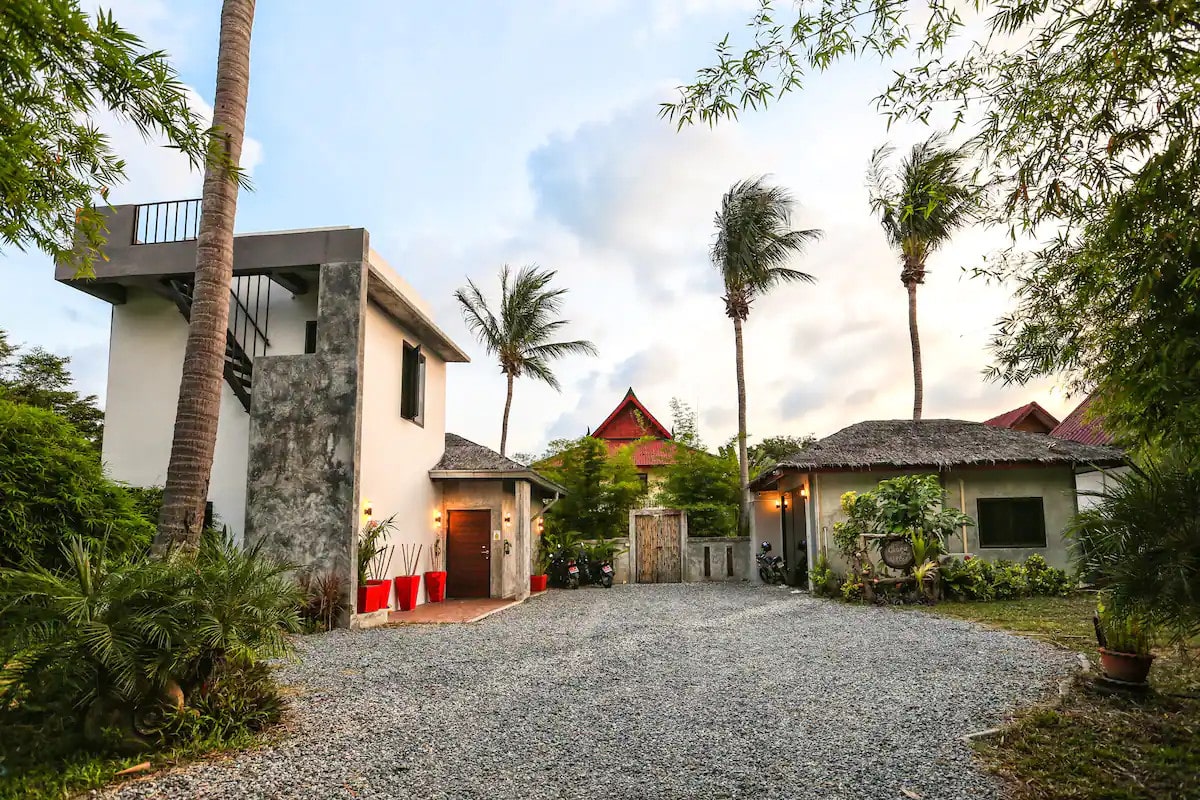 11. Rare Villa Right on the Beach
This rare villa is located just 5 mins away from the beach and is close to the main town, restaurants, nightlife, and food Market.
Owing to its convenient location, the property is mostly booked during the peak season. Amenities here include high-speed fiber optic internet, Smart TV with Netflix, and free Kayaks.
The homestay offers free pickup and drop-off to the guests and free delivery of your scooter to the villa.
The place offers a hotel service with the privacy of a villa. The kitchen is well stocked with a rice cooker, gas stove, fridge, freezer, toaster, blender, microwave, wine glasses, and even free potable water.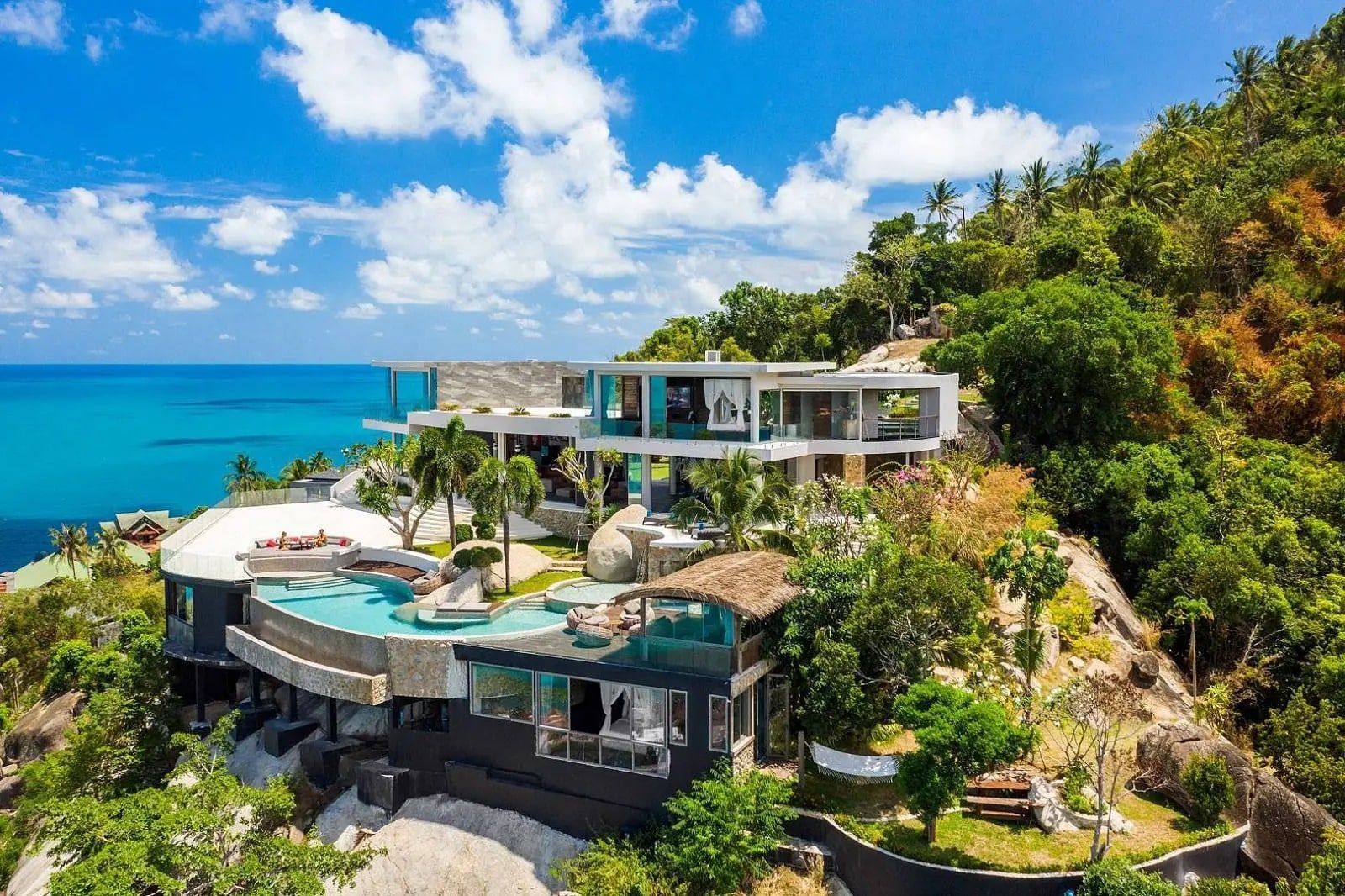 Wrapping Up
All these Airbnbs in Koh Phangan have made their place in this list owing to their convenient location, fair pricing, and top-notch services.
You can pick any that suits your need. However, most of them are very popular and get booked quickly.
Therefore, it is best to make a booking well in advance, especially if you are planning to visit during the peak season.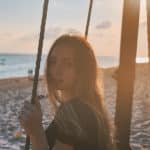 Noah Zaidi is an ardent traveler who has been documenting her Thailand exploration through Thailand Nomads. Her aim is to inform and educate people around the world about the must-visit places in Thailand.