Airbnbs have been one of the best inventions that mankind has achieved. It makes you feel at home in a completely unacquainted place.
At an Airbnb, you don't just get more space but also access to creature comforts like a fully-equipped kitchen, fenced-in yard, or private patio for your pet.
Some Airbnb hosts are kind enough to roll out the welcome mat for their four-legged guests with exclusive perks.
Discover a home away from home with our top Airbnbs in Kanchanaburi, where stunning riverside locations, charming traditional Thai architecture, and modern amenities combine to create an unforgettable stay, allowing you to experience the rich historyand natural beauty of Kanchanaburi in comfort and style.
11 Airbnbs in Kanchanaburi – 2023 Review
1. Green View Guesthouse
As the name suggests, this place is surrounded by beautiful greenery on all sides. It is a beautiful oasis in the middle of Kanchanaburi city.
The gardens surrounding the homestay are natural, voluminous, and very relaxing. The place has one bedroom with two beds and a private bathroom. The rooms are spacious and clean.
It is a perfect choice for couples and adventure junkies. Nightlife, public transport, and the city center are within walking distance.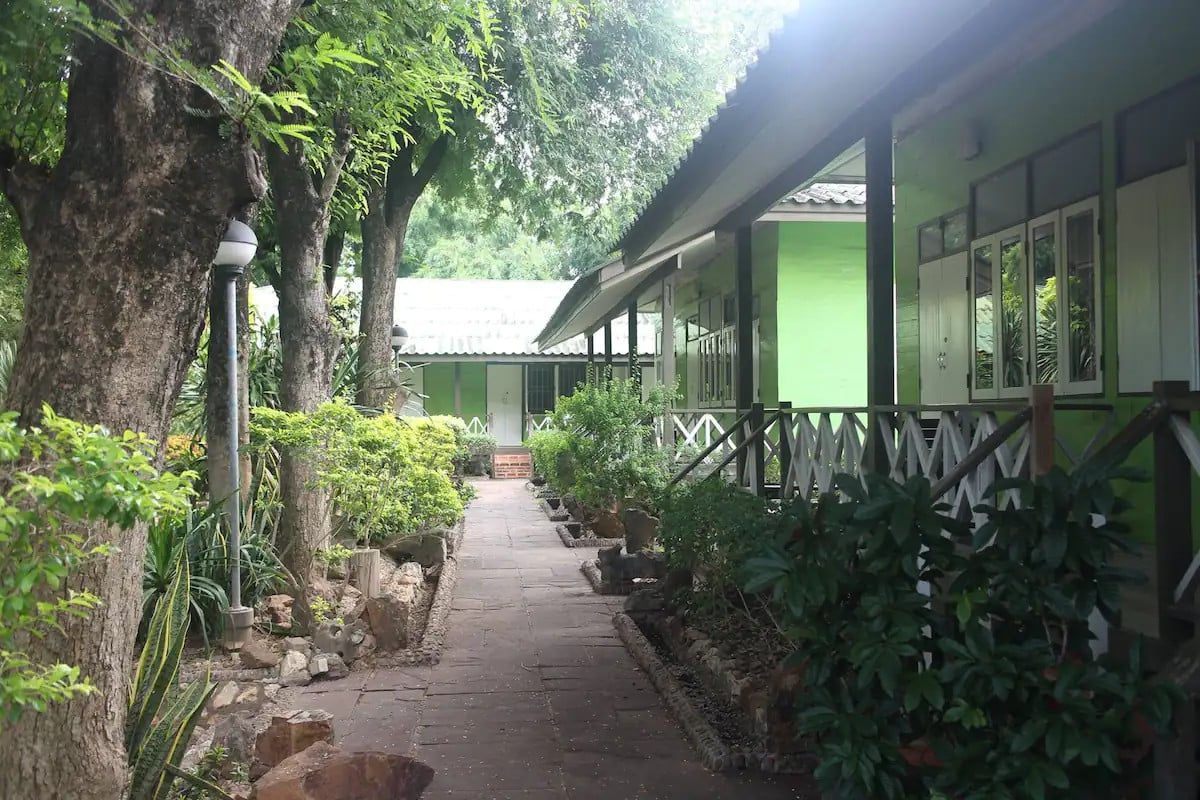 2. Home Away From Home
The homestay justifies its title to the fullest. It indeed makes you feel at home in a foreign land. It has one bedroom with a king-size bed and an attached spacious bathroom.
The rooms are maintained in mint condition and equipped with everything you would need for a comfortable stay.
Here, you also get a delicious complimentary breakfast, including authentic Thai dishes. The Kawai beach is just within walking distance from this place so you can visit it whenever.
The entire space is spotlessly clean and well-maintained. The contemporary touch of this homestay complements the modern design and welcomes both businesses and leisure travelers.
Other amenities include free Wi-Fi, air conditioning, satellite tv, a fan, a sofa, a refrigerator, an electric shower, a closet, and a dressing table.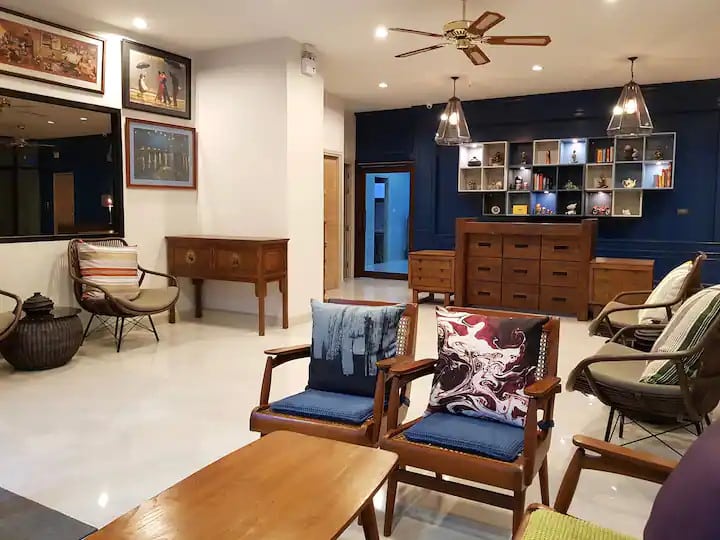 3. LKP Apartment
LKP Apartment is a pocket-friendly accommodation suitable for solo travelers and budget tourists. It is located in the heart of Kanchanaburi.
The JEATH War Museum, local market, riverside restaurant, and Bus station are within close reach.
Owing to its central location, it lets you have a close glimpse of the local life. The hosts are very friendly and can help you plan itineraries and bookings.
It has one bedroom and one bathroom, hence suitable for a small group of friends or couples. The room is clean and comfortable, with a large fridge and a kettle, a bonus for morning coffee!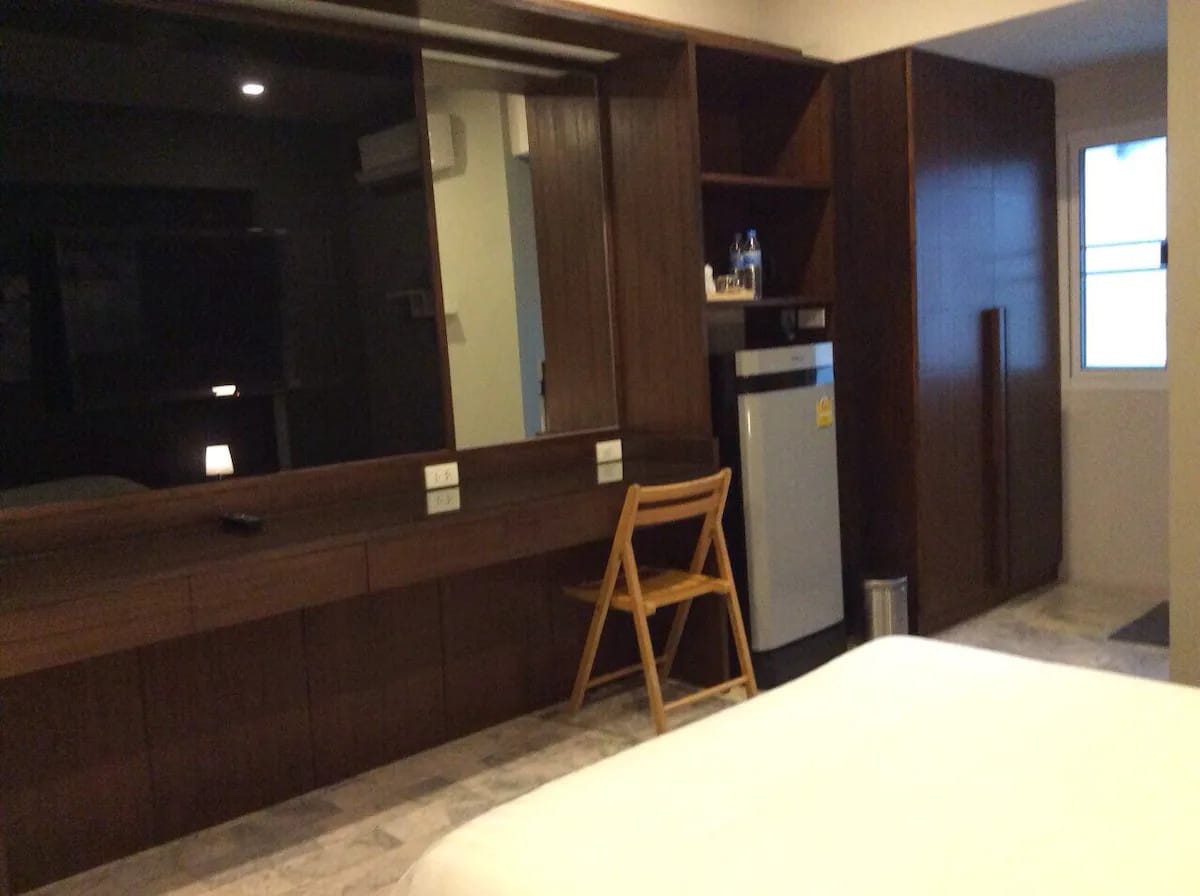 4. Bure Homestay
BURE Homestay is wrapped amidst Kanchanaburi's attractions, situated within walking distance of River Kwai Bridge and more. The rooms are spotlessly clean, and there is a complimentary breakfast too.
The room is maintained in mint condition and equipped with everything to ensure your comfort. It has a private garden where you can sun bath or picnic.
Its contemporary touches complement the modern design, welcoming businesses and leisure travelers.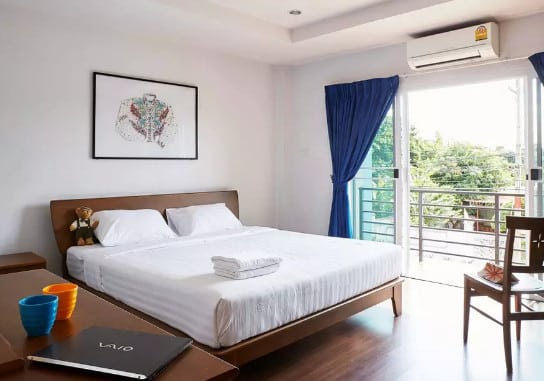 5. P Y Guest House
P.Y. Guest house offers a peaceful stay away from the hustle and bustle of city life. It is close to the famous JEATH War museum.
The hosts help you with 24-hour desk service, tour booking, and planning the itinerary. You can also avail yourself of the fabulous Thai massage.
The property is 2.8 miles away from the bridge on the Kwai river and 2.5 miles from Donrak War Cemetary.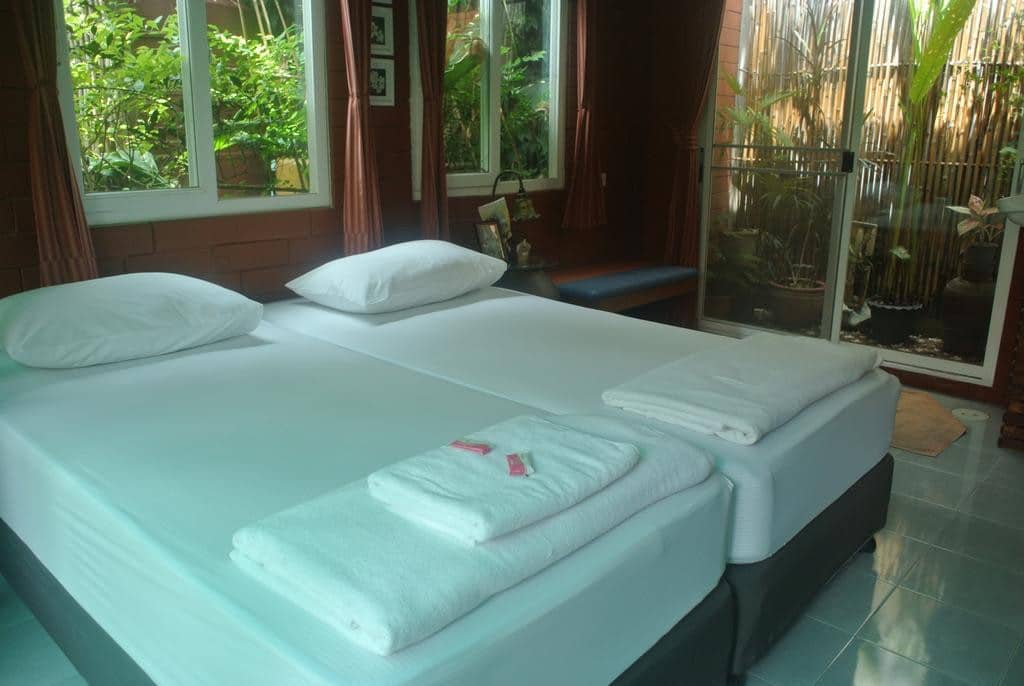 6. U Dee Room and Coffee
It is a perfect homestay close to the popular sights in Kanchanaburi. It is only one mile away from the Kanchanaburi War Cemetery and a five-minute drive from the Bridge.
The homestay is also close to many local restaurants. The rooms in the U Dee space are bright and airy and have a private balcony.
The car parking and the Wi-Fi are always free. Don't leave before paying a visit to the famous Bridge Over the River Kwai.
Massage and restaurant are among the special facilities that will enhance your stay with on-site convenience.
7. K G House in Kanchanaburi
KG house in Kanchanaburi offers stunning mountain and river views. The place is about a 3-hour drive away from Bangkok and roughly 55 km away from Kanchanaburi city.
It is about 600 meters away from the main road, making the homestay very quiet and private.
The house is perfect for two people, comprising one bedroom with a private bathroom. Other amenities include a TV, Refrigerator, Electric kettle., Microwave, and Air conditioning.
There are also rafts on the river that the guests can access anytime. Don't forget to enjoy rafts and kayaking on the river.
There is a large dining terrace where you can enjoy the complimentary breakfast from 7 am to 10 am. Fishing is allowed at the property and free of charge.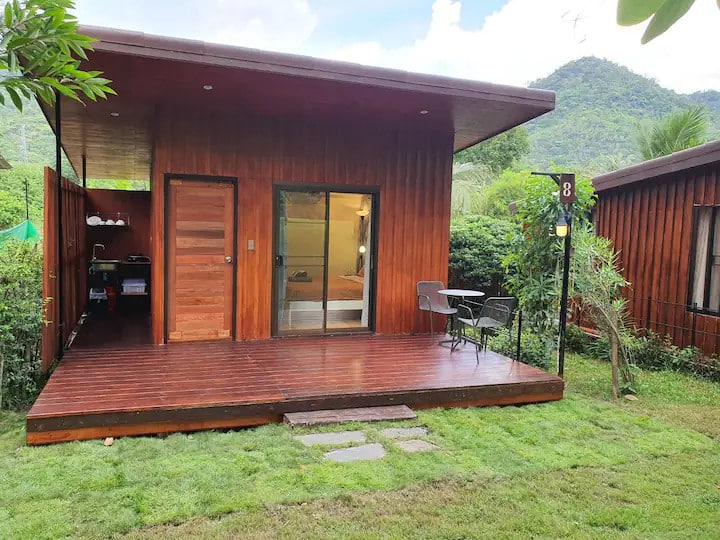 8. Baan Plearn Pleng
This weekend hideaway home is right next to the Kwai Yai River, surrounded by green trees and beautiful natural scenery of mountains and rivers.
The house exhibits a modern vibe, located on a 2-acre land. You can have a beautiful and panoramic view of nature and enjoy a luxurious slow life living in the middle of nature.
The house has three spacious bedrooms, a spacious living and dining room, and a large balcony.
Two bedrooms are in a separate unit but connected to the central living unit with the balcony, while the third is in the main living unit.
All bedrooms, including the main living & dining room, are fully air-conditioned. There is a fully equipped kitchen and an outdoor barbecue grill for guests who enjoy cooking.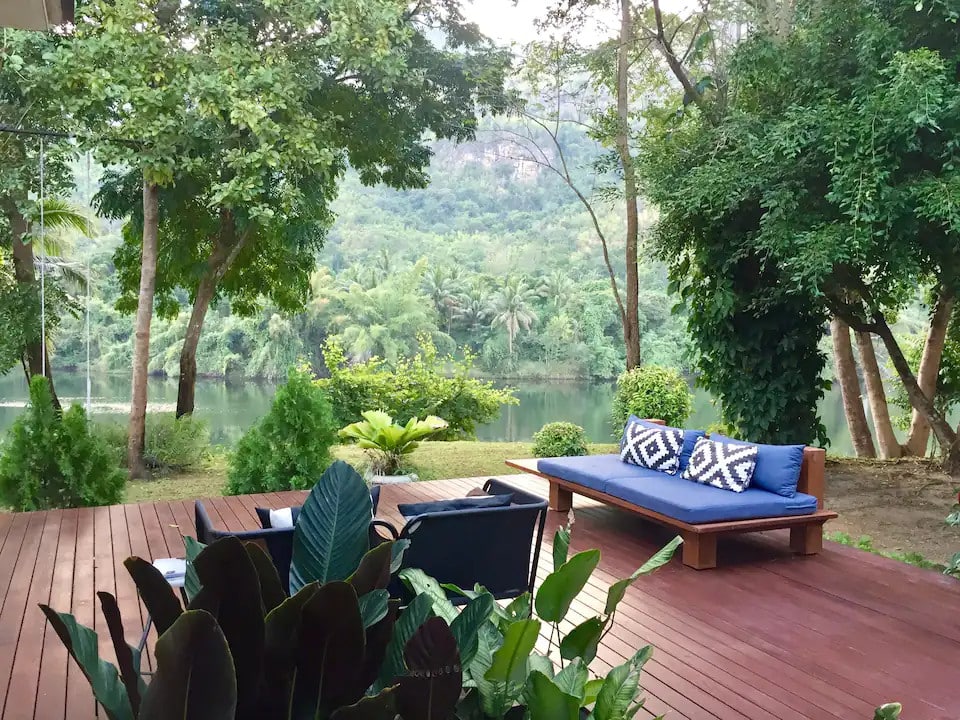 9. Train House Boutique Bogie
It is a unique homestay located 15 mins away from the Kanchanaburi centre. The place is in a unique shape of a train bogie. There is a tiny walkable lumen to soak your feet in the bogie.
It offers all the comforts of a homestay in a boutique setup. There is a thick, soft king-size bed, pantry, kitchen, spacious yard and balcony, bathtub, and a barbeque grill.
There is a small stream that flows nearby. You can enjoy the picturesque view of the surrounding mountain while your feet dip in the stream.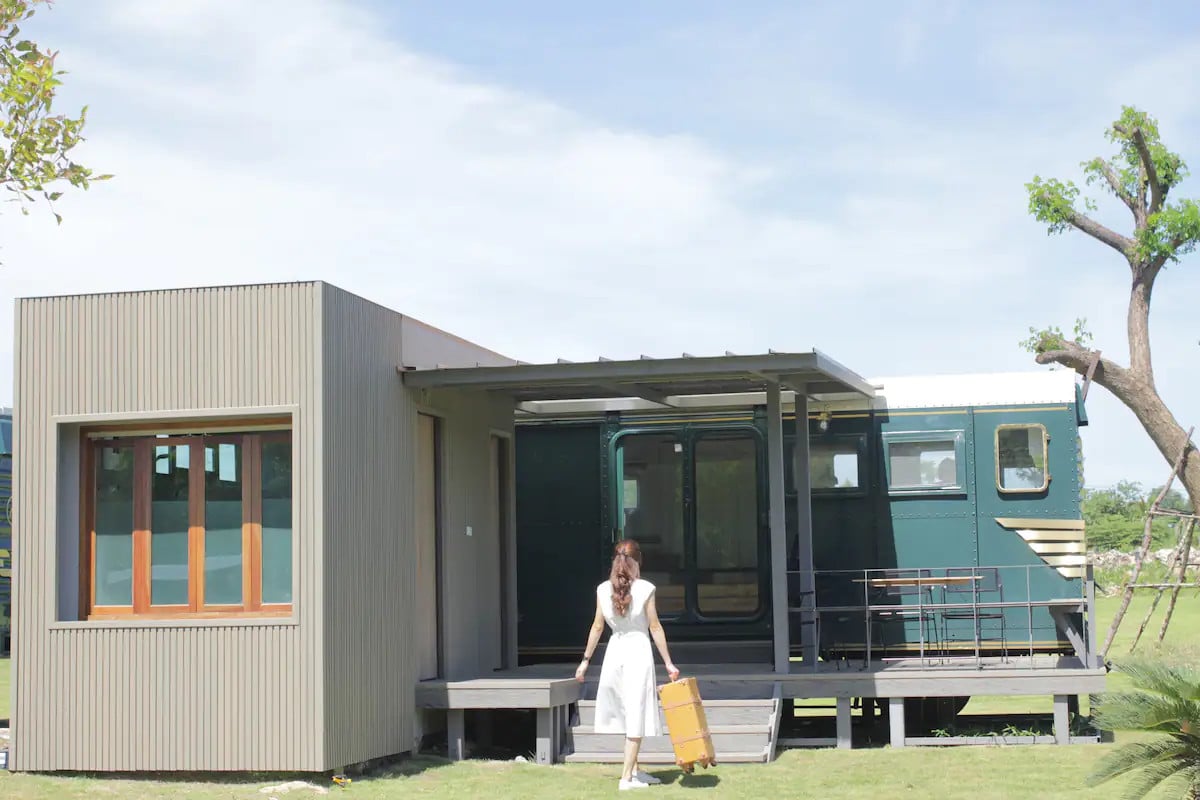 10. Duang Jaras by The River Kwae
This Thai Style homestay is located next to the River Kwae, 4 km from the city centre.
It is best for people who want to experience a provincial atmosphere, away from the hustle and bustle of the city.
The Kwae river comes to life at night with boats floating, music & colourful lights creating a buzz, and people dancing out the stress.
There are two bedrooms here that can easily accommodate up to five people. The space is suitable for small families.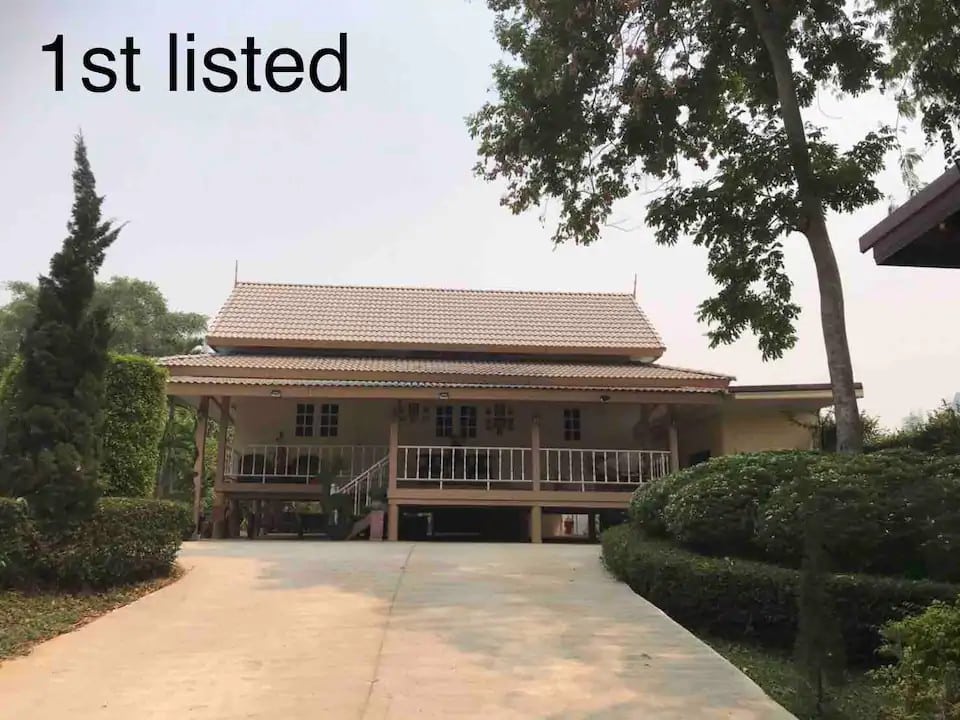 11. Homestay with Mountain View
This beautiful homestay is located on the Kwai Yai River and offers fantastic mountain views. It is built on 2 acres and consists of two buildings.
The main house has a large living and dining space, two en suite queen bedrooms, a fully-equipped kitchen, a utility room, and a guest bathroom.
There is also a lap pool with a sala here. The second compound or the annexe features a sitting area with a projector, gym, billiard area, full bathroom with tub and shower, and a deck overlooking the croquet court.
There is a wifi connection and a Sonos sound system in the annexe. You also get complimentary fruits and coffee as breakfast in the morning.
There is a tennis court available next door that the guests can use.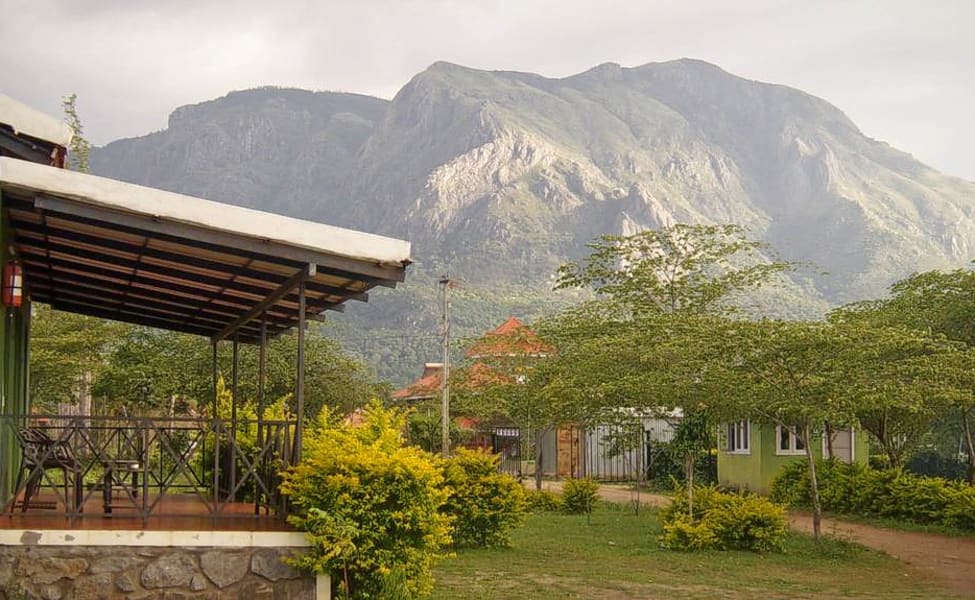 Final Words
This enormous city offers everything you need for a fantastic family or individual holiday, from tranquil hot springs to culturally rich museums.
Do explore the quirky coffee shops while you're here. These premier Airbnb vacation rentals, furnished with top-notch comfort facilities and placed in prime areas, will enhance your stay.
Additionally, having access to these affordable car rentals in Kanchanaburi makes it simple to navigate around the city.
We have put in a lot of time and effort to ensure a smooth travel experience for you in Kanchanaburi.
These Airbnbs have been checked for cleanliness, amenities, and everything you need for a comfortable stay.
Editor - Thailand Nomads
Cindy quit her 9 to 5 job to pursue her passion for exploring mesmerizing locations in Thailand. She has been living here for the past 5 years now and through Thailand Nomads, she shares her experiences and insights about the must-visit places in Thailand.
Email: cindy@thailandnomads.com