Are you planning a trip to Chiang Mai, Thailand? We have got you covered with the best accommodations that are pocket-friendly and offer breathtaking views.
Experience the charm and warmth of local living in Gorgeous Airbnbs in Chiang Mai, where unique design, modern comforts, and personalized hospitality converge for an unforgettable stay.
17 Gorgeous Airbnbs in Chiang Mai – 2023 Review
1. Tiny House in an Authentic Thai Neighborhood
This Tiny House is located just South of the Old Town, in a quiet residential neighborhood just south of the Old Town.
This property is perfect for anyone looking for a home away from home- no hustle-bustle.
The location is suitable for you to have a look and feel of the local life of the place. Almost all the facilities are within walking distance from this place, including organic markets.
It is an open-plan layout with a double and a single bed plus a comfy couch. The space is suitable for couples, families, friends, and solo travelers alike.
The owner of the property runs an embroidery and hand-stitch workshop right across the road.
It is open weekly and is free for guests of Airbnb. You just have to just pay a minimal fee for using the equipment.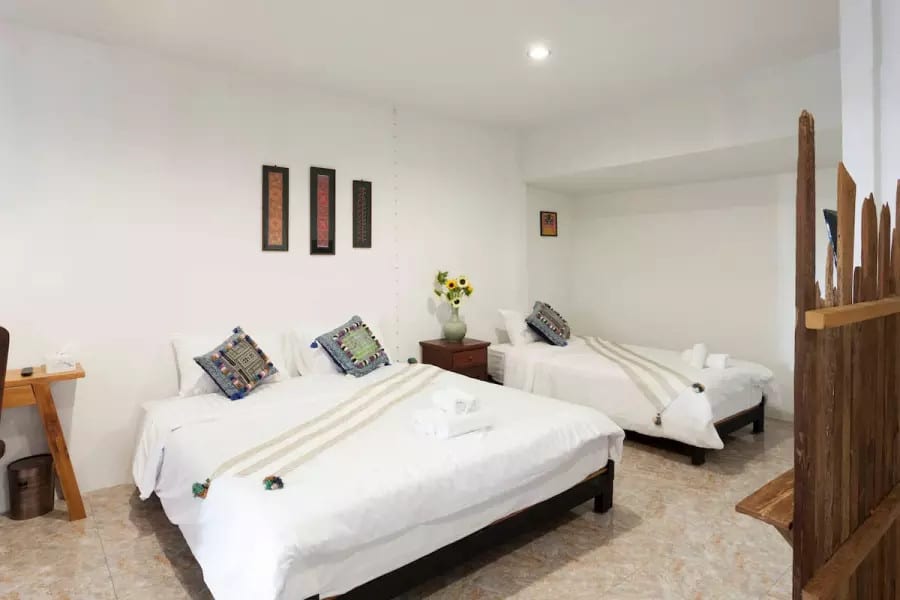 2. Elegant Executive Suite With a Rooftop Pool
This property will give you a luxury hotel feel at the price of an Airbnb. It is a great option for couples and a small group of friends.
The apartment features one bedroom with a king-size bed, a desk, and a luxurious en suite bathroom with a separate walk-in shower and a soaking tub.
The living area is very spacious, super-bright, and stylish. While one wall of the living area is of mirrors, the other has floor-to-ceiling windows.
There is a huge glistening chandelier in the center, beneath which there is a dining table and a comfy sofa.
It also has an impressive full kitchen equipped with an espresso machine and an in-unit washer.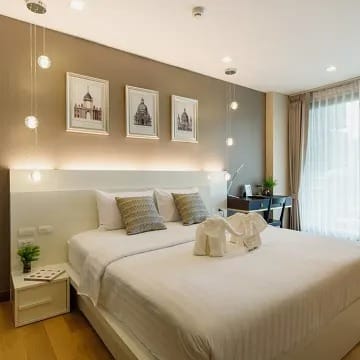 3. Stylish Studio in a Fun District
It is a laid-back vacation apartment located in the urban setting of Chiang Mai that offers a beautiful view of nature.
The apartment is characterized by warm exposed brick, light wooden furnishings, and striking modern accents.
The interior of the place is antique yet stylish. The space can accommodate up to 4 people.
It features a queen-size bed, a sofa bed, and a well-equipped bathroom with a modern walk-in shower.
The living room and sleeping space are combined, which makes the entire property very spacious. The area is illuminated by bay windows overlooking the trees, mountains, and skies.
A fully functional kitchen features an electric cooktop and a spacious dining area. Additional amenities include an in-unit washer and a TV.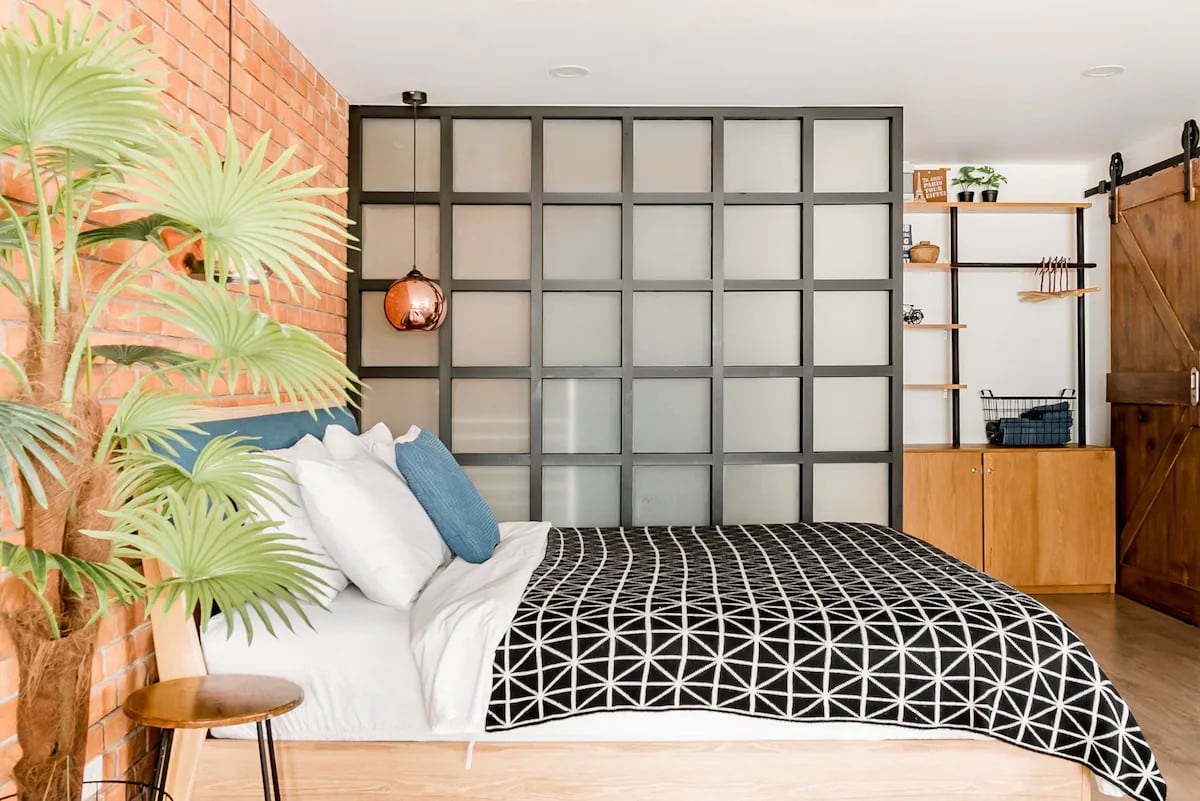 4. Spacious Pool Villa
This one-of-a-kind stay option in Chiang Mai is suited for large groups and joint families.
The ancient villa was built in 1945 and features antique furniture and unique décor.
This house has a big backyard with an inground swimming pool surrounded by a tranquil garden and outdoor showers.
The four bedrooms are furnished with three king-size beds, one queen-size bed, and four full bathrooms.
The living area is open-air, where you can enjoy the natural weather and refreshing breeze while relaxing or dining.
There is a fully-equipped kitchenette with a sink, a refrigerator, a microwave, and a washing machine.
Owing to its central location, authentic design, and friendly neighborhood, the villa is a popular stay option in Chiang Mai.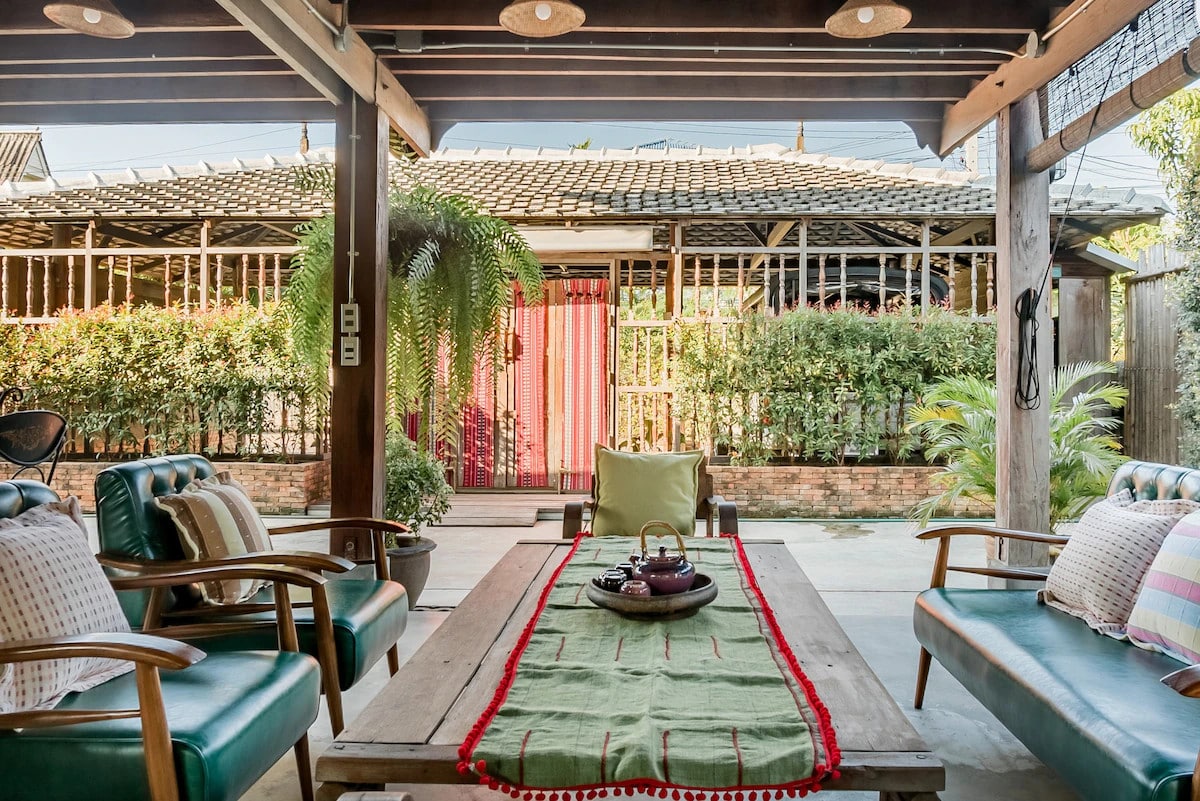 5. Light-Filled Studio in Nimman
This studio is nestled in the trendy neighborhood of Nimman. The place is conveniently located, close to countless restaurants, bars, clubs, and galleries.
The interior has various retro-style decorative pieces, wooden furnishings, and a ton of greenery that adds to the beauty and charm of the place.
The space features convenient amenities like a Smart TV and a dedicated workspace, making the studio a suitable stay option for office people.
The bedroom has one king-size bed and one sofa bed that can accommodate couples and groups of up to three guests.
Attached to the room is a private full bathroom with brand-new facilities and a modern walk-in shower.
There is also a cozy lounge area with a small kitchenette, a big window seat, and a charming vanity with extra storage space.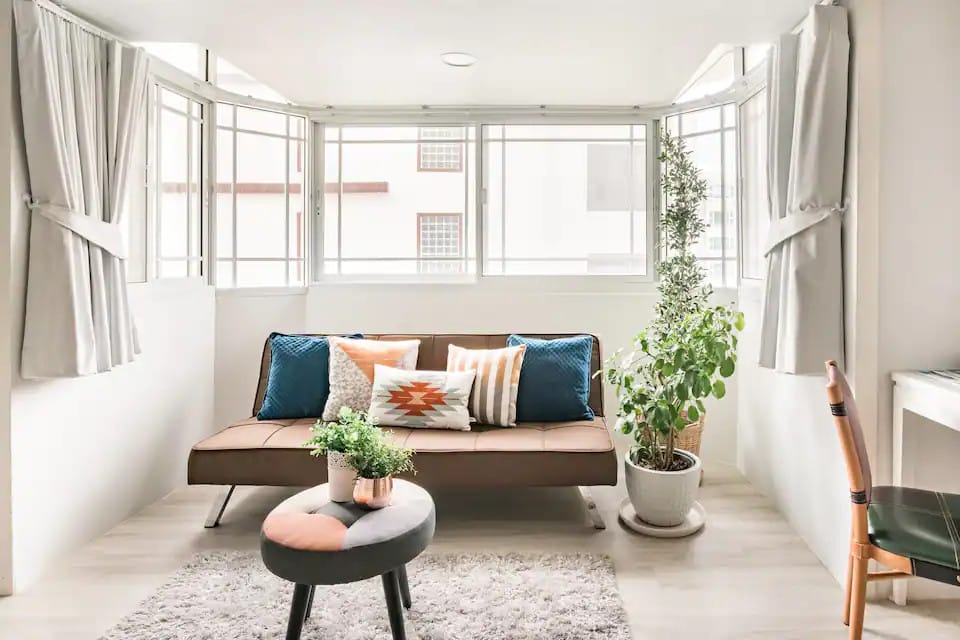 6. Traditional Wooden House with Mountain Views
This traditional wooden house is located southwest of the Old Town, away from the bustle of the city. It is perfect for people who love laid-back vibes.
This traditional homestay is technically two buildings; a two-story main house plus an adjacent rice barn. The rice barn offers a beautiful view of the mountains of Northern Thailand.
In addition to the bedroom, the visitors have a spacious living area with a verandah with a gorgeous hammock.
The host is very friendly and can help you plan your itinerary in Chiang Mai.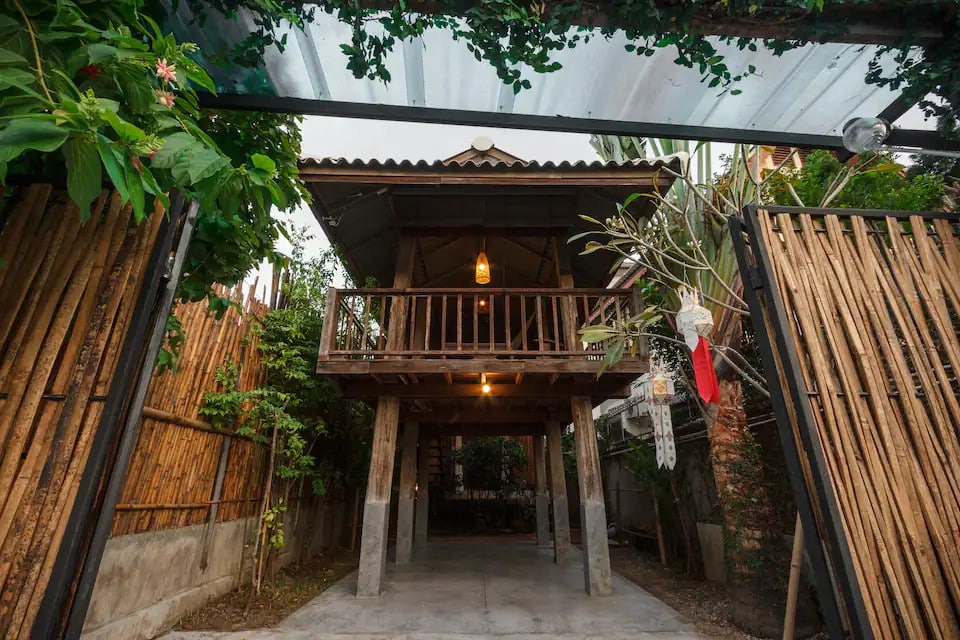 7. 'Leafy Greens' Earth House in Organic Garden
This is perhaps the most unique homestay in Chiang Mai, entirely made up of clay. The place was originally a meditation retreat.
The property is located in a peaceful suburb north of the Old Town. There is absolute peace and serenity here so you can detoxify easily.
This homestay is ideal for couples, friends, and solo travelers who like to try out-of-the-box experiences when on vacation.
There are bunk beds here which are very comfy.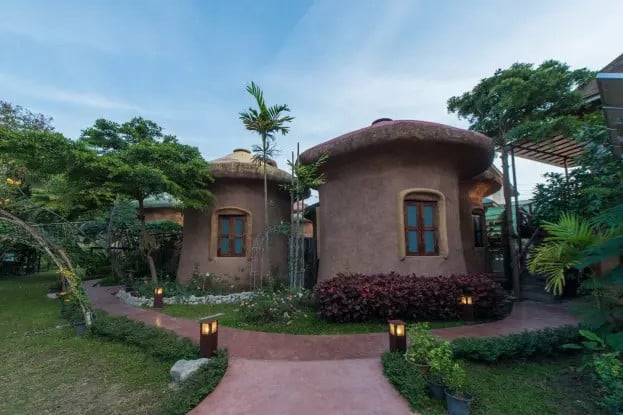 8. Luxurious Condo With Sweeping Views
As the name suggests, it is a high-end Airbnb in Chiang Mai, located near the historic center and the Night Bazaar on Chang Khlan Road.
The property features one bedroom with a queen-size bed, a spacious bathroom with a luxurious walk-in shower, and a fully equipped kitchen with an in-unit washing machine.
There is also a spacious living area with a wall of glass doors that opens onto a private balcony. You can also avail yourself of the well-equipped gym and sauna.
If that was less, the space has a luxurious rooftop pool and a stunning lobby with an in-house cafe.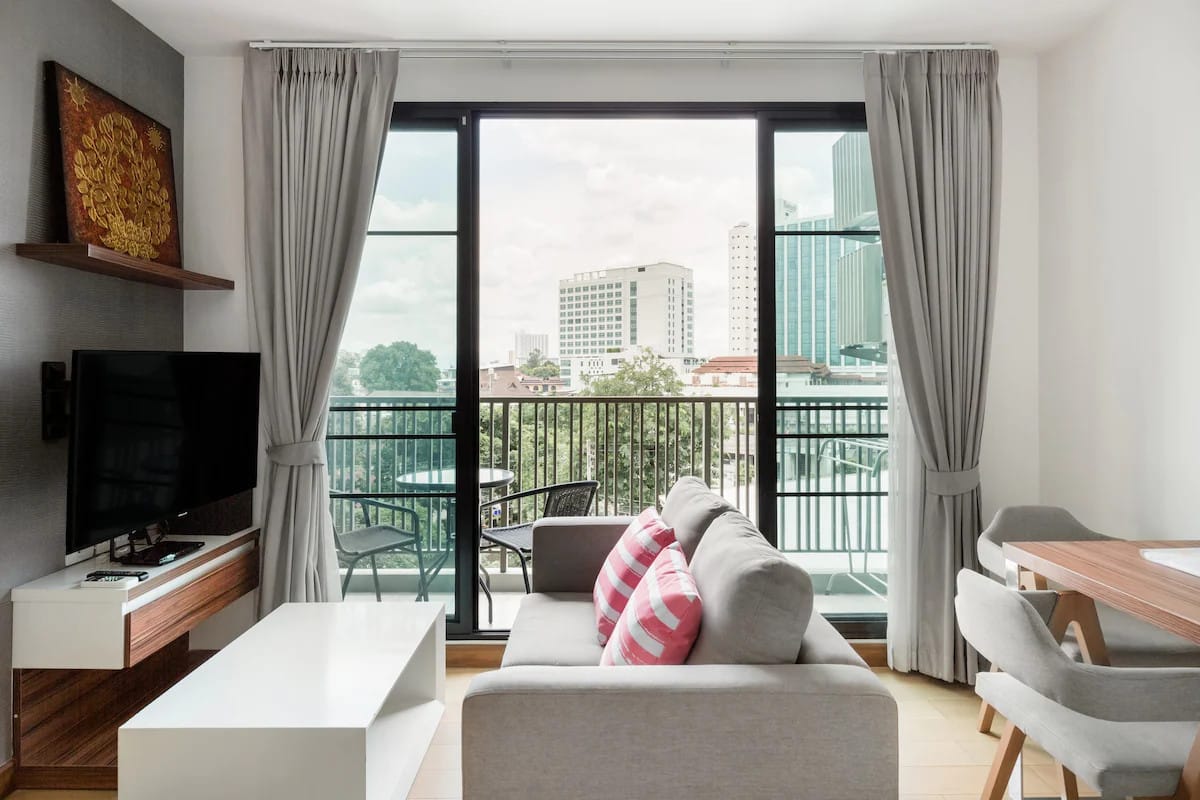 9. Honeymoon Suite in Central Chiang Mai
As the name suggests, this accommodation best suits couples or a small group of friends. It is located in a modern residential building with a peaceful yet central location.
The interior of the place has a very charming appeal. It is embellished with local artwork, brand-new modern amenities, and royal purple accents.
A private patio offers breathtaking views of the city and the distant mountains. The opulent bedroom features a plush king-size bed and an en suite bathroom with marble finishes.
There is a spacious living area, a cozy dining room, and a fully equipped kitchen. The kitchen has an electric cooktop, an espresso machine, and an in-unit washer.
Extra amenities here are not so prominent in other Aibnbs, such as an elevator, free parking, and baby gear, aligned with a rooftop pool.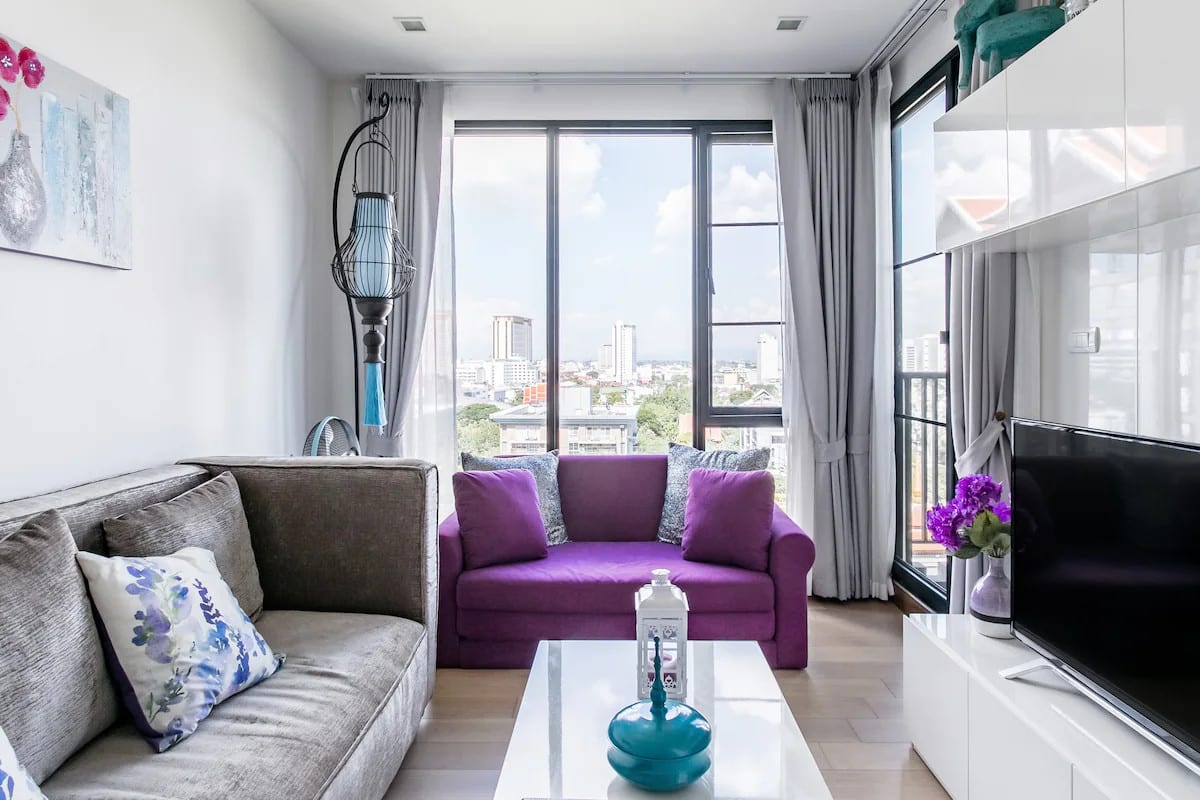 10. Stylish and Bright Apartment
It is another gorgeous and modern Airbnb rental in Chiang Mai. It has one bedroom and is suitable for solo travelers and couples.
There is a spacious living area with a large wall of glass doors leading out to the balcony. The neighborhood is very vibrant.
The building in which apartment features a fitness center and a courtyard swimming pool.
You'll find plenty of restaurants, bars, and shops within walking distance of the apartment, and there is even a brand-new shopping center nearby.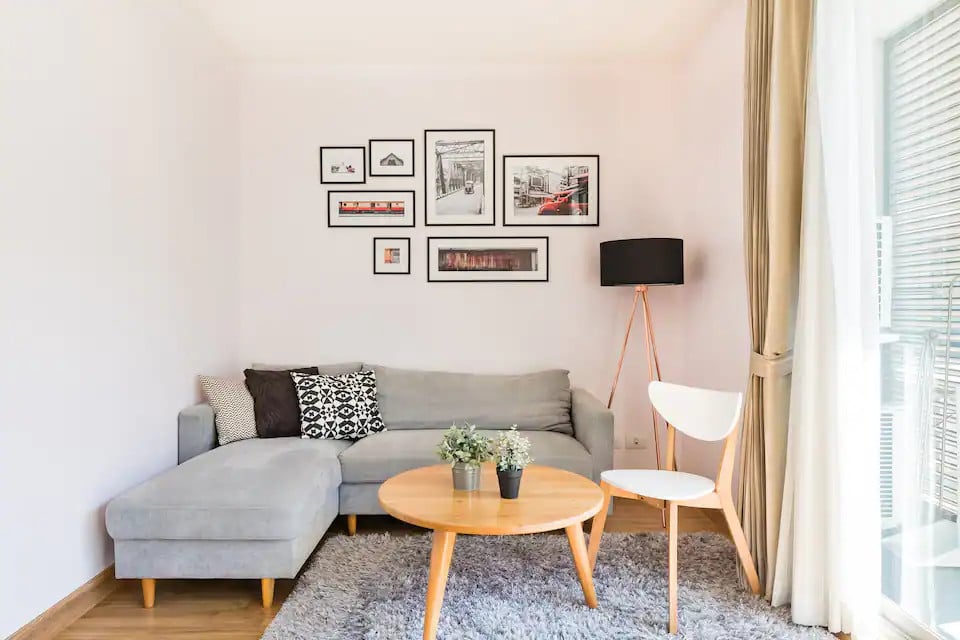 11. Sleek High-Rise Apartment
This sleek Airbnb in Chiang Mai is located in a high-rise building with a pool and a gym, hence the name Sleek High-Rise Apartment.
It features one bedroom equipped with a king-size bed, a desk, and a spa-like en suite bathroom. The bathroom has granite finishes with a separate walk-in shower and soaking tub.
The living area boasts high-end furnishings, soaring high ceilings, a mirror accent wall and floor-to-ceiling windows. The overall design is very sophisticated.
The living area has a plush sofa and huge windows that offer a stunning view of the mountains. There is a private balcony where you can go for some fresh air.
The apartment also features a decent dining area along with a fully-equipped kitchen. Other facilities include a TV, laundry facilities, and free parking in a private garage.
The place is within walking distance of several restaurants, cafés, bars, and grocery stores.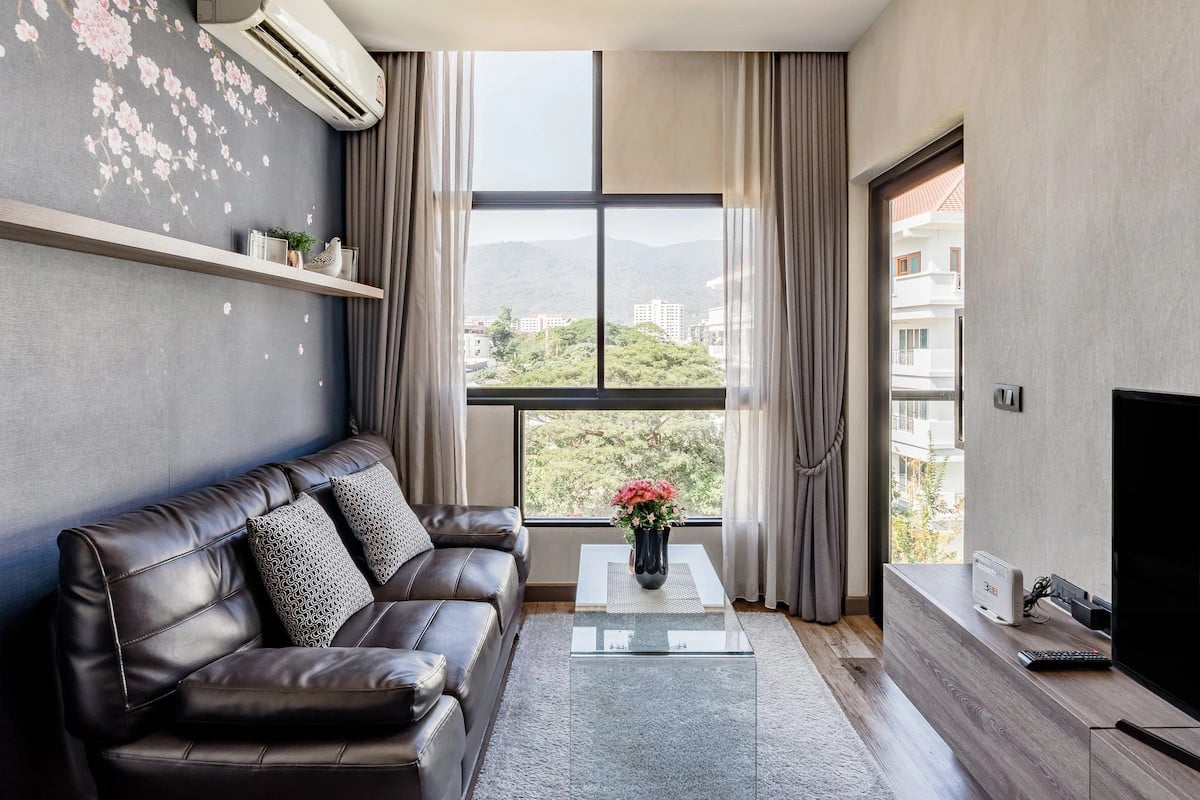 12. Boutique Luxury Condo with Pool
This luxury condo is located on the quiet side street off Nimman Road. It is a perfect spot for digital nomads because here, you get high-speed internet free of cost.
There is a bedroom, a living area, and a clean private bathroom. There is an open pool at the property where you can swim or just relax with your feet dipped in the water.
The private balcony overlooks the mountains offering a picturesque view of the greenery. The sofa in the living area is convertible, i.e., it can be used as a double bed when needed.
The condominium is on the 1st floor of the building, with easy access to the gym and sauna. The security in the building is top-notch, with unique security card checking for each visitor.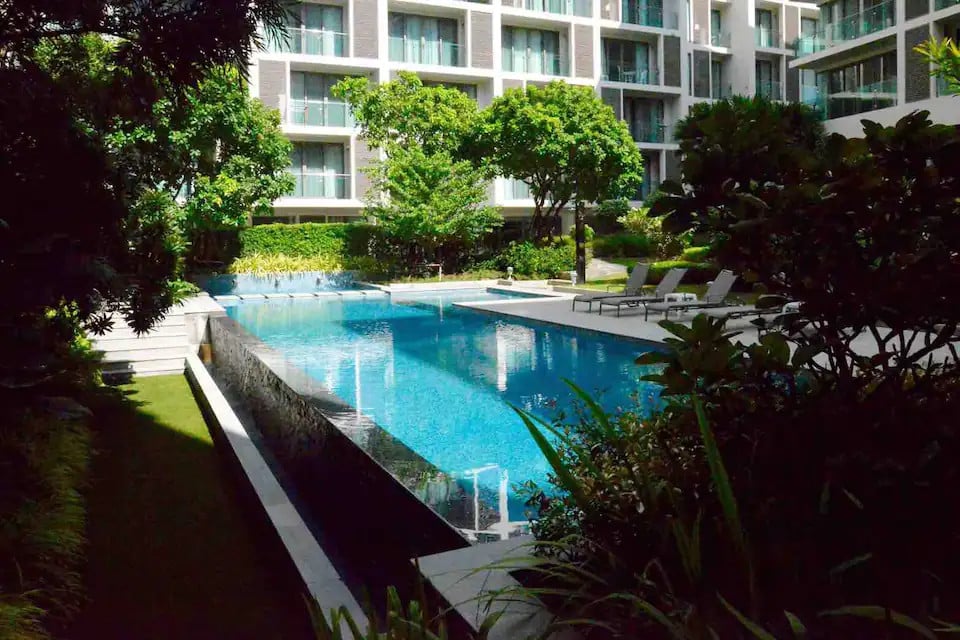 13. Litchi House
The house gets its name from the 'Litchi' tree that is situated in its garden. This vibrant yellow house has a strategic location close to both Nimman Road and the Old City, right next to the MAYA Shopping Mall.
The architecture of the house is very modern, with high ceilings and many windows through which the natural light floods in.
The property features three bedrooms and is suitable for a big family or group of friends.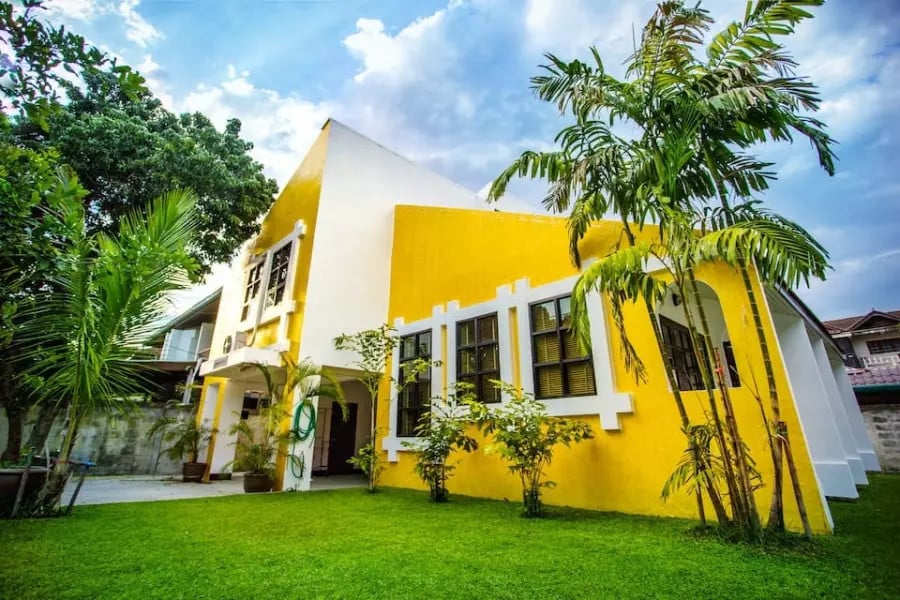 14. Modern Chiang Mai Airbnb With Mountain Views
This modern Airbnb is set on the seventh floor of a luxurious building. It is a brand new rental and hence is spotlessly clean with modern amenities.
The place is suitable for couples and solo travellers. There is one bedroom with a queen-size bed and a desk and one full bathroom. There is a small living area with comfy sofas.
There is a huge window as well as a private balcony through which guests can enjoy the breathtaking mountain views.
You also get a well-equipped kitchen here with a shiny black breakfast bar. The kitchen is always stocked with cooking supplies and complimentary beverages.
There is an in-ground pool here along with a state-of-the-art fitness center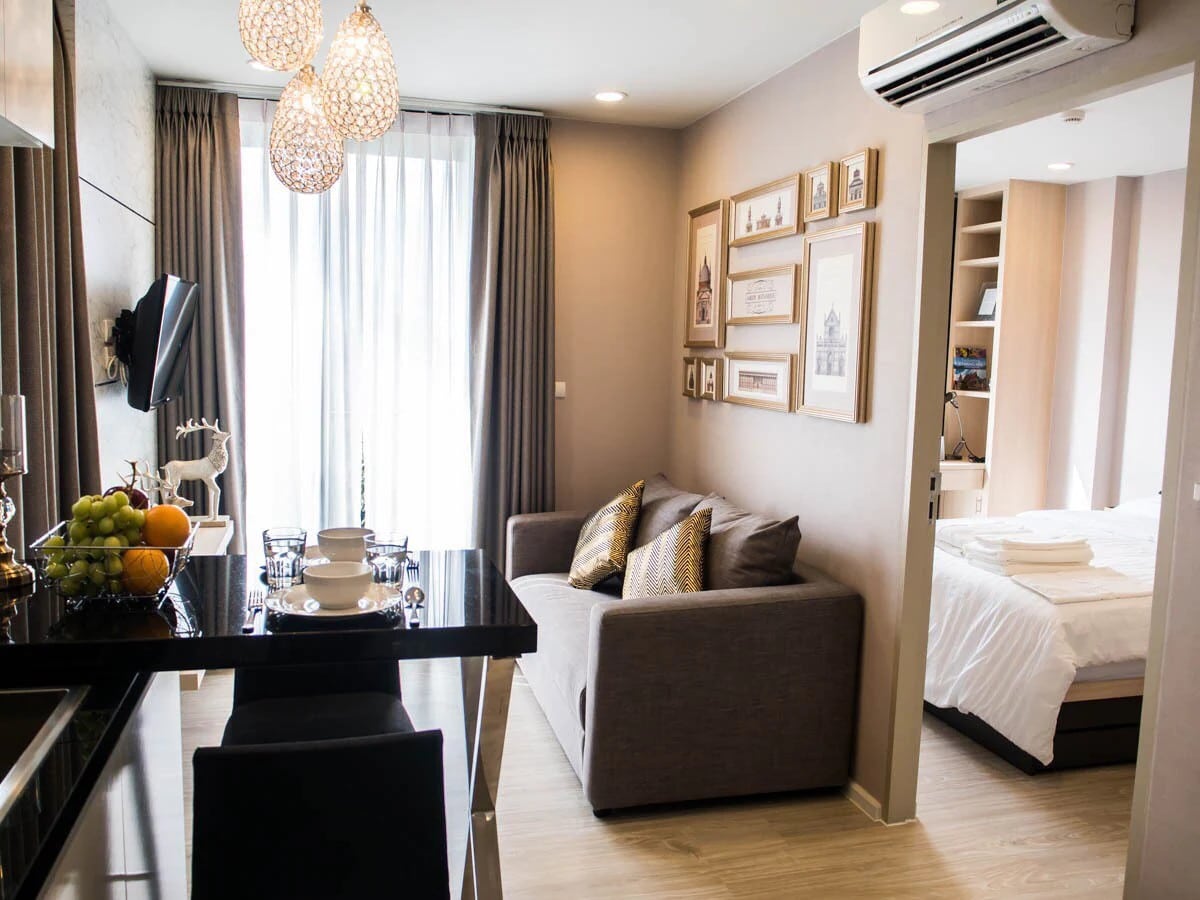 15. Luxury Home in a Quiet Neighborhood
Luxury home is a spacious and private stay option in a quiet residential neighborhood. The homestay can accommodate up to 7-8 people.
It has three-bedroom and is surrounded by gardens. The greenery around the place makes it a perfect getaway accommodation space in the bustling city of Chiang Mai.
The entire place is made of teak wood and features artistically crafted furnishings and authentic interior accents.
The outdoor includes a covered patio and a green area which is perfect for reading, sunbathing, and yoga retreats. The rental provides complimentary breakfast to the guests every day.
There is one king-size bed and two queen-size beds along with two full bathrooms. The neighborhood is very friendly, quiet, and safe, welcoming.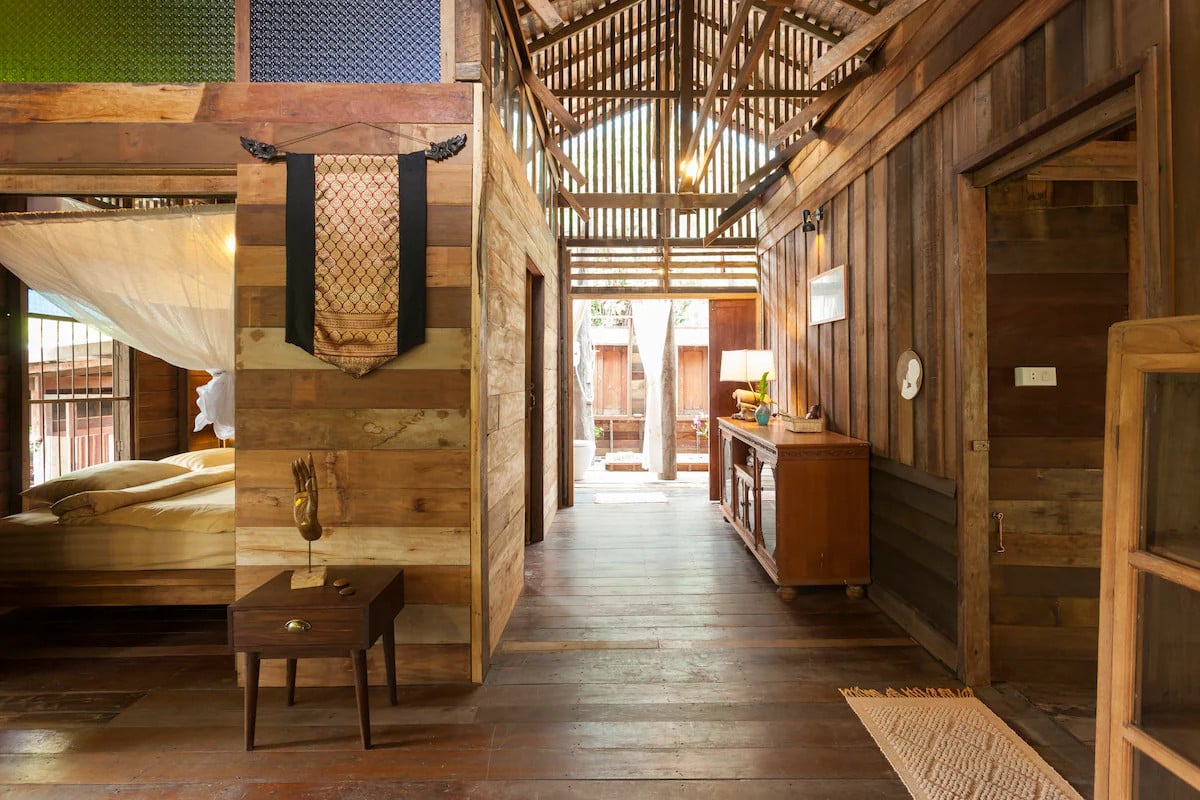 16. Blue Bungalow with Outdoor Tub
The Blue Bungalow is conveniently located in central Chiang Mai and hence close to all popular attractions.
This compact bungalow comes complete with all the modern and essential amenities including speedy Wi-Fi, air conditioning and fresh coffee for the mornings.
It is a spacious backyard with an outdoor tub. The neighborhood is very welcoming and walkable.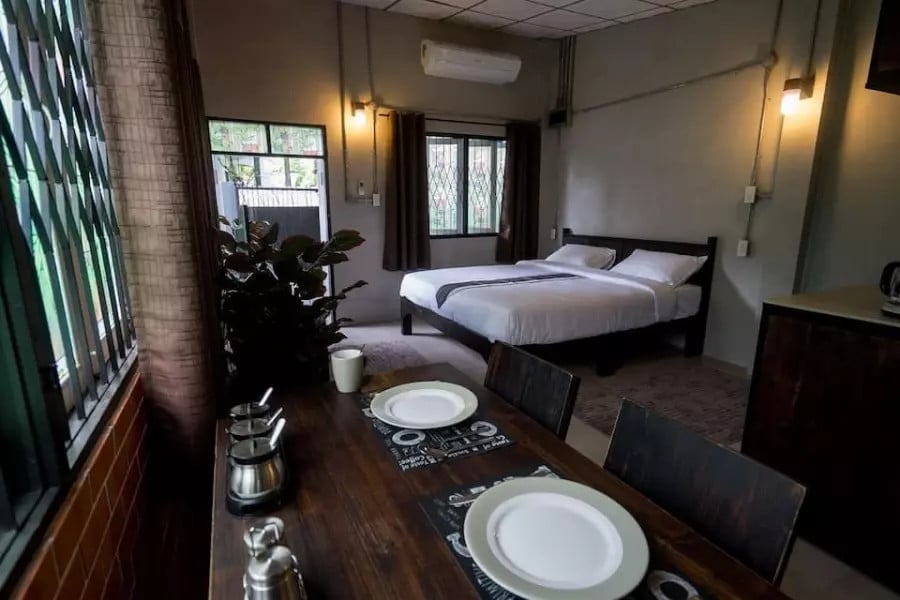 17. Bohemian Dala Ping River House
The Bohemian River House is owned by a family of artists and interior designers, which pretty much explains how this mesmerising place was built.
The property features two bedrooms and is suitable for small families or groups of friends. A private swimming pool is indoors, but you would rather soak yourself in the beautiful Ping River.
The property is located a 15-minute drive away from Old Town and 25 minutes from the airport. You also get to avail yourself of the free pick-up service.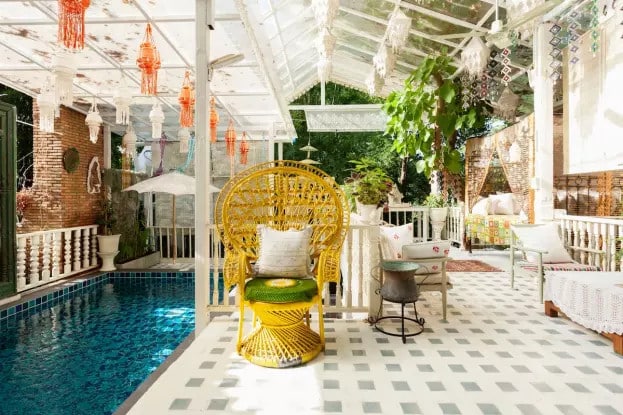 Wrapping Up
These beautiful stays in Chiang Mai have been handpicked so that you don't have to waste time researching the best accommodation. Besides accommodation, we wish to make your stay in Chiang Mai memorable.
Check out some amazing Chiang Mai places you must not miss visiting.