No trip to the tropical paradise of Phuket is truly fulfilled without immersing yourself in the exotic beach club experience.
Imagine your days brimming with beachfront adventures, and as the sun gracefully sets, you find yourself resting in a plush lounger, savoring cocktails in sync with the cool rhythms of music.
With the arrival of night, the beach clubs burst into life, renowned DJs taking the stage, and the shoreline morphing into a pulsating dance haven. Join us as we embark on a tour of Phuket's most exceptional beach clubs, each offering its unique slice of this island's vibrant nightlife.
1. Catch Beach Club - Bangtao Beach
Kicking off our list is the iconic Catch Beach Club, which sparked the beach club craze in Phuket many years ago. Though it temporarily disappeared due to land title issues, Catch Beach Club, by the famous Twinpalms Resort, is now back, catering primarily to an expat crowd.
At Catch Beach Club, you will be welcomed by pristine sands and turquoise waters. Their extensive menu offers both local and international dishes. They have even introduced a Kids' Club to ensure everyone has a blast without any disturbances.
It is the ideal place to savor the flavors of Phuket while lounging under the sun. As day turns to night, the club transforms into a lively hotspot with DJs spinning tracks that keep the party alive until the early hours.
The beverage menu at Catch offers a wide variety of refreshing cocktails perfect for sipping by the seashore, as well as a fine selection of wines. You can also savor a Singha, San Miguel Light, or Heineken beer at just 130 Baht.
Address: 202/88 Moo 2, Cherngtalay, Bangtao Beach
Open: Daily 9 am – 2 am
Phone: 065 348 201
2. Kudo Beach Club - Patong Beach
Kudo Beach Club, conveniently located in the heart of Patong Beach near Bangla Road, boasts an exceptional beachfront experience. With its unique spot, it is poised to become a Phuket beach club sensation.
With stunning sea views and a prime Address, Kudo Beach Club is an excellent choice for those who want to dive into the heart of the action.
Address: 33/1 Patong Beach Road, Patong Beach, Phuket 83150
Open: 10 am – Midnight
Phone: 098 024 6369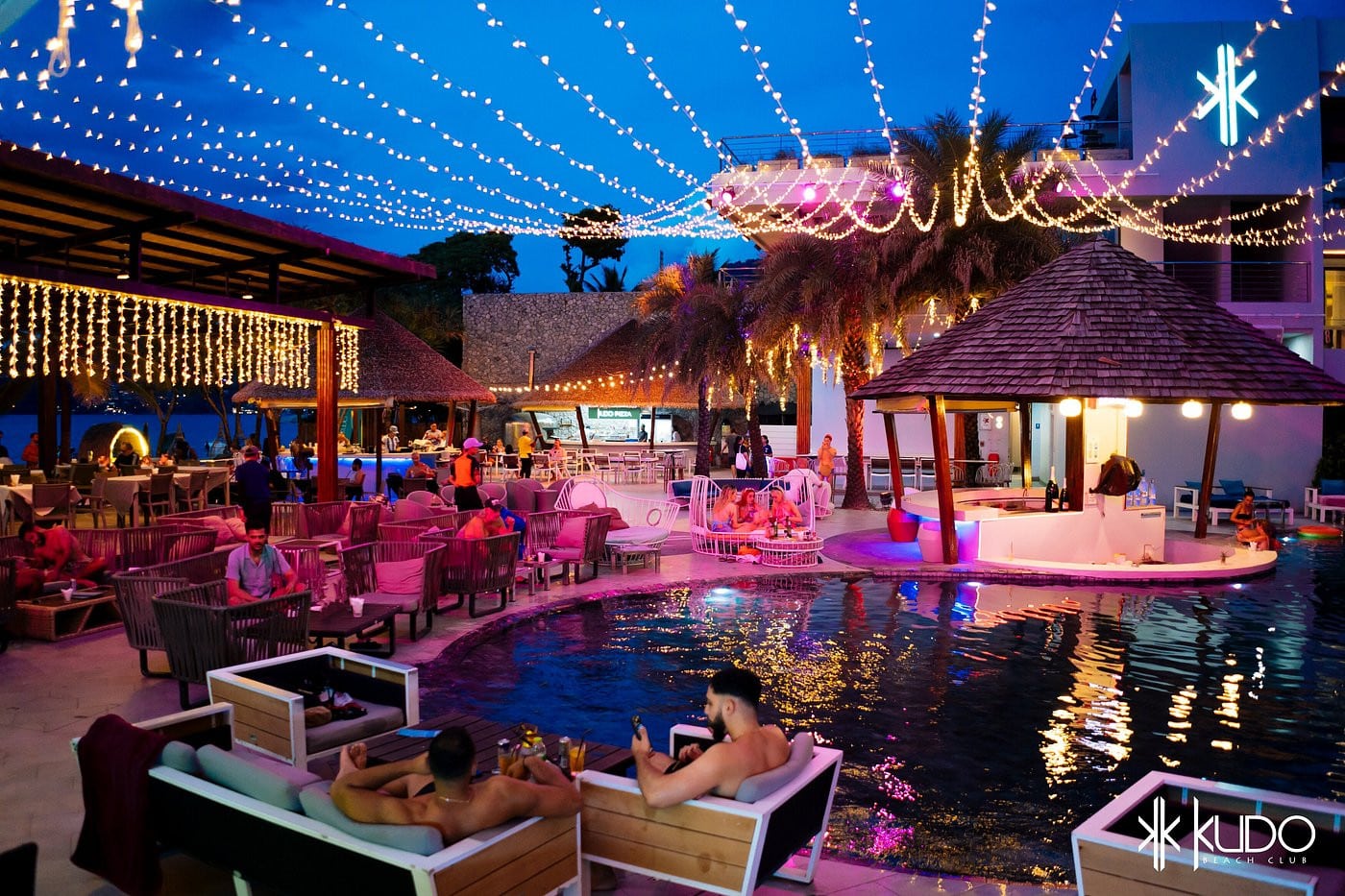 3. Tann Terrace - Karon Beach
Tann Terrace takes advantage of its unique location in Karon, with a vast wooden terrace facing the Andaman Sea. The beach is stunning, and it is the perfect place to enjoy sunsets with cocktails and pool parties.
It is a must-visit spot for those looking to enjoy the Andaman Sea's breathtaking sunsets. The vast wooden terrace provides a unique vantage point for these stunning natural spectacles.
With a selection of cocktails and pool parties, it is an excellent choice for an entertaining beach club experience.
Tann predominantly specializes in Italian cuisine, offering a diverse selection of pizzas along with a limited range of Thai dishes. Their bakery is an ideal place to kickstart your day, featuring an extensive breakfast menu and takeout options.
The menu is in English and thoughtfully presented, making it effortlessly enticing. The service is exceptionally friendly, and although it might be somewhat slower during busy periods, the staff remains composed and attentive.
Address: Patak Rd, Karon, Mueang Phuket District, Phuket 83100
Hours: 10 am – 9 pm
Phone: 094 156 4546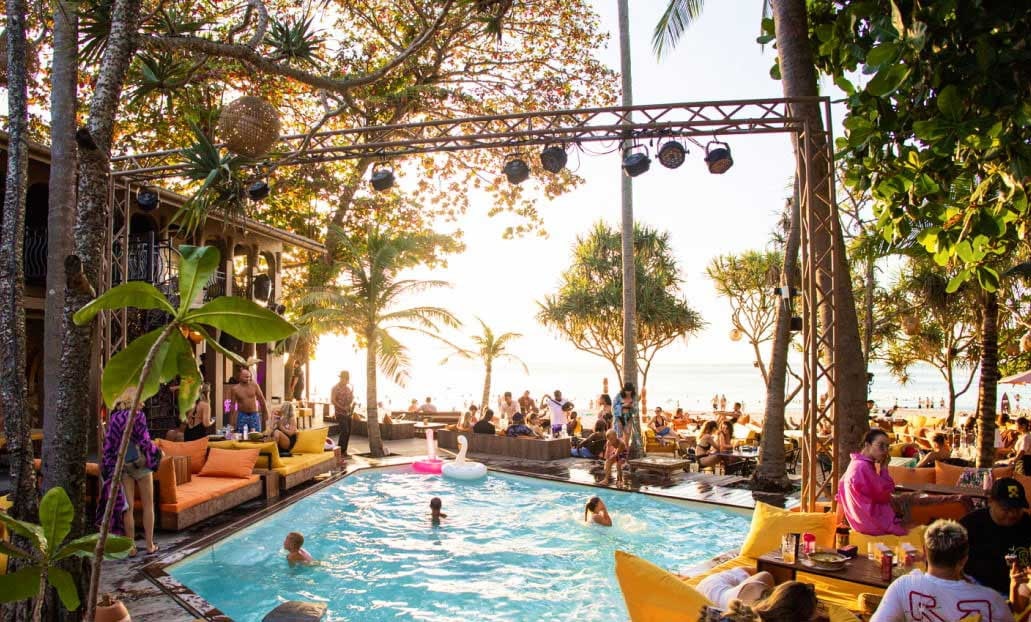 4. Pine Beach Bar - Kamala Beach
Located on Kamala Beach, Pine Beach Bar is the latest addition to the beach club scene. With direct beach access, it offers a diverse menu of delicious food and drinks. After dusk, it transforms into a lively party venue with DJs and beachside fire shows.
It is an excellent spot for those looking to immerse themselves in the local culinary scene.
As the sun begins to set, the club ignites with a fiery beach show that adds a dramatic touch to the party atmosphere, creating an unforgettable beach club experience that lingers in your memory long after the night ends.
During weekends, the ambiance transforms into a beach club featuring a fire show, live DJ, and a saxophone player, resulting in livelier music and a party vibe. Opt for a weekday visit if you prefer a tranquil and romantic setting.
Address: 333 Moo 3 Kamala Sub-District, Kamala Beach Phuket, Phuket 83150
Open: 8 am – 12 am
Phone: 076 629 999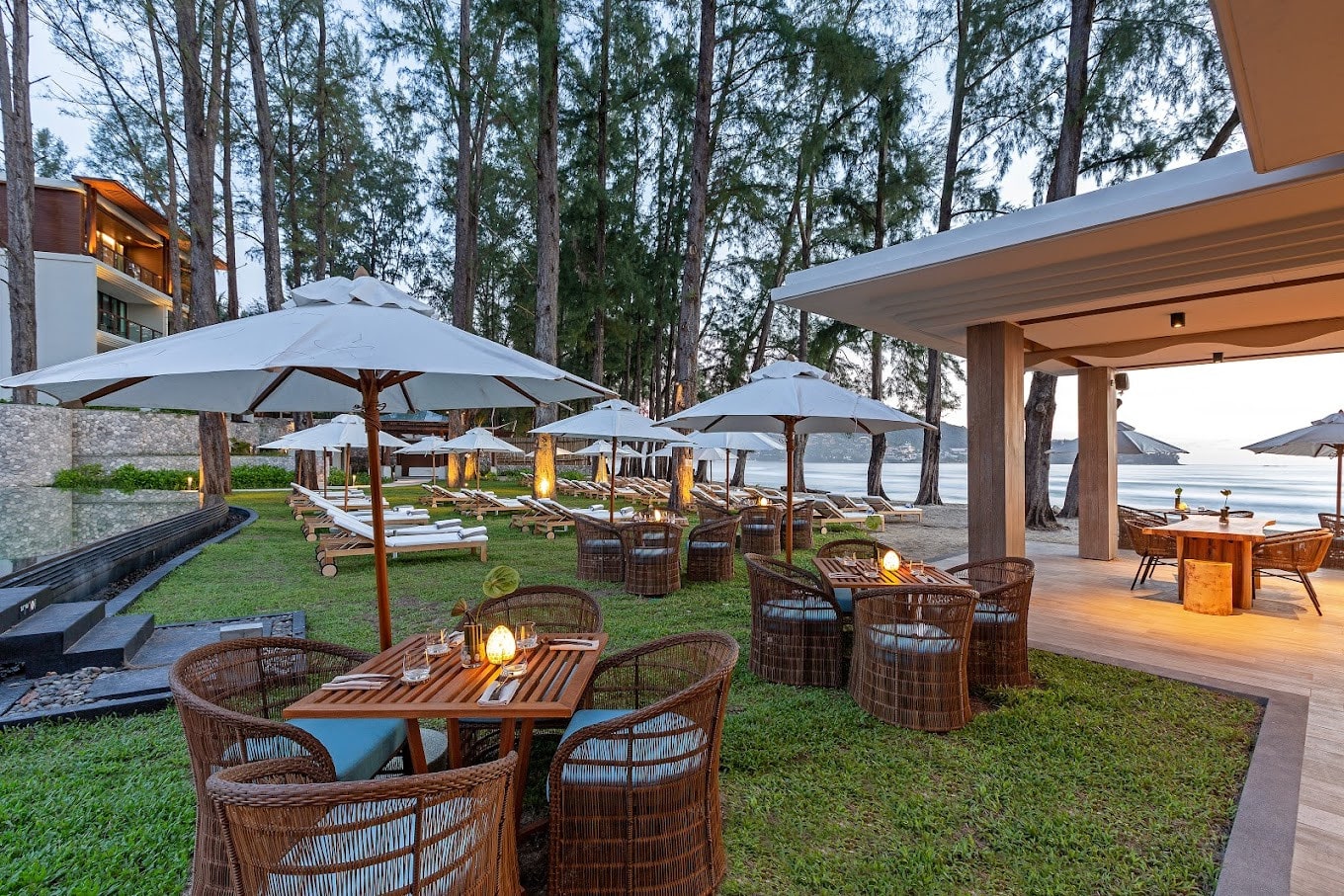 5. Coast Beach Club - Karon Beach
Coast Beach Club is the only beach club on Karon Beach, making it an ideal spot for a sunset cocktail with friends or family.
Though it is not directly on the sand, the club provides an inviting atmosphere and a range of seating options. It is an ideal spot for a relaxed evening, enjoying cocktails and the scenic beauty of Karon Beach.
You do not have to be a guest at the resort to savor the ambiance and refreshments this club has to offer. Whether you prefer a daybed or one of the large sofas near the sand, Coast Beach Club has something for everyone.
Address: 683 Patak Rd, Karon Beach, Phuket 83100
Open: 11 am – 11 pm
Phone: 076 201 234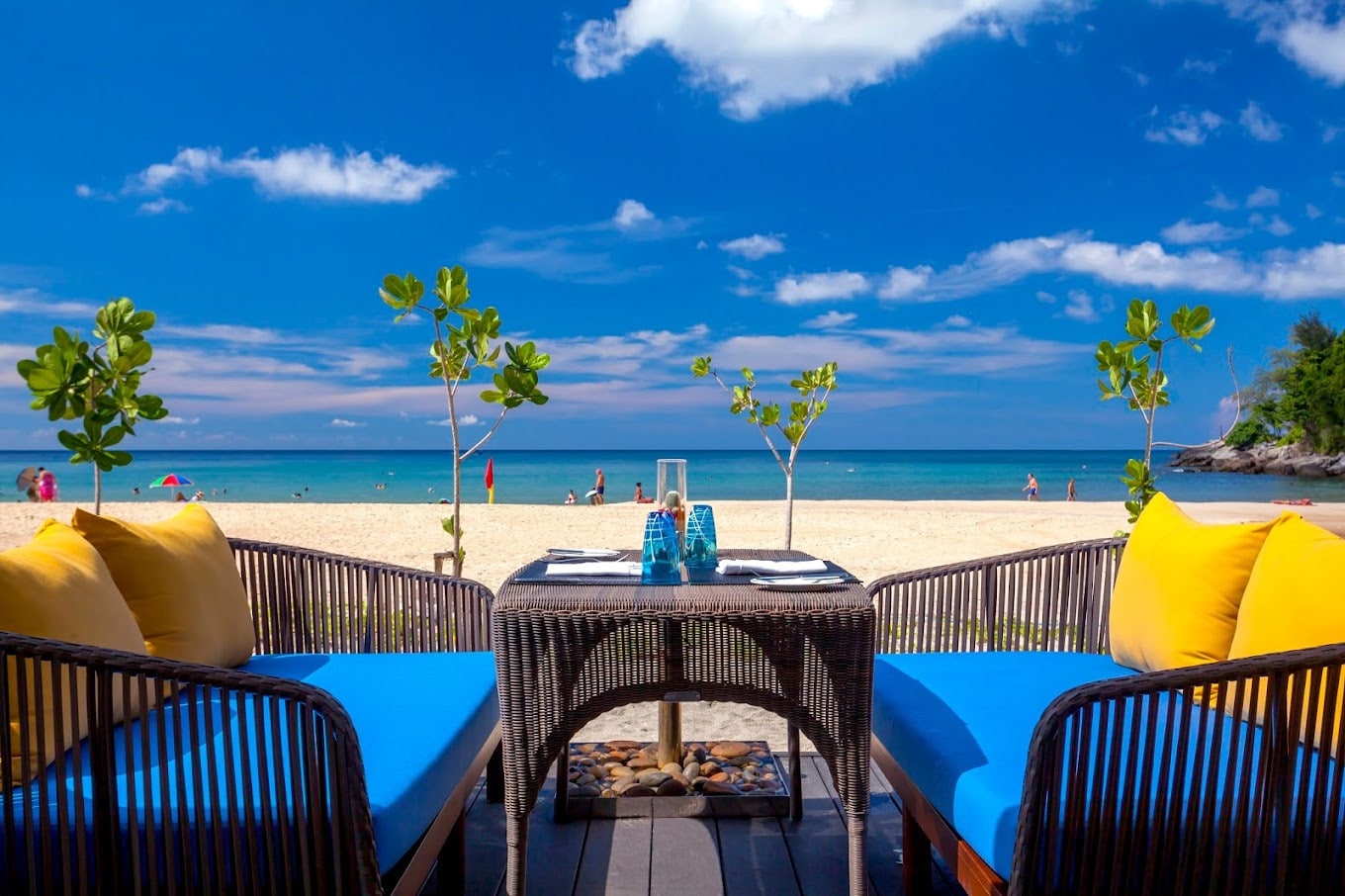 6. Xana Beach Club - Bangtao
Xana Beach Club, located at Angsana Laguna Beach Resort, is perfect for those seeking a relaxed beach club experience. Here, you can enjoy the beautiful beachfront setting, a stunning swimming pool, and occasional parties that will give you memories for life!
It is an ideal spot for unwinding throughout the day and well into the night. Xana Beach Club is known for its tranquil ambiance, making it a favorite for couples and those looking to escape the hectic party scene.
Taking a break in the sunloungers partially submerged in the shallower section of the 35-meter swimming pool is an excellent way to find respite from the daytime heat.
With a picturesque beachfront location, it is an excellent spot for sunbathing and swimming. Occasional parties are hosted here, creating a perfect balance of relaxation and entertainment.
Address: 10 Moo 4 Srisoonthorn Road, Choeng Thale, Phuket 83110
Open: Daily 11 am – 10 pm
Phone: 076 324 101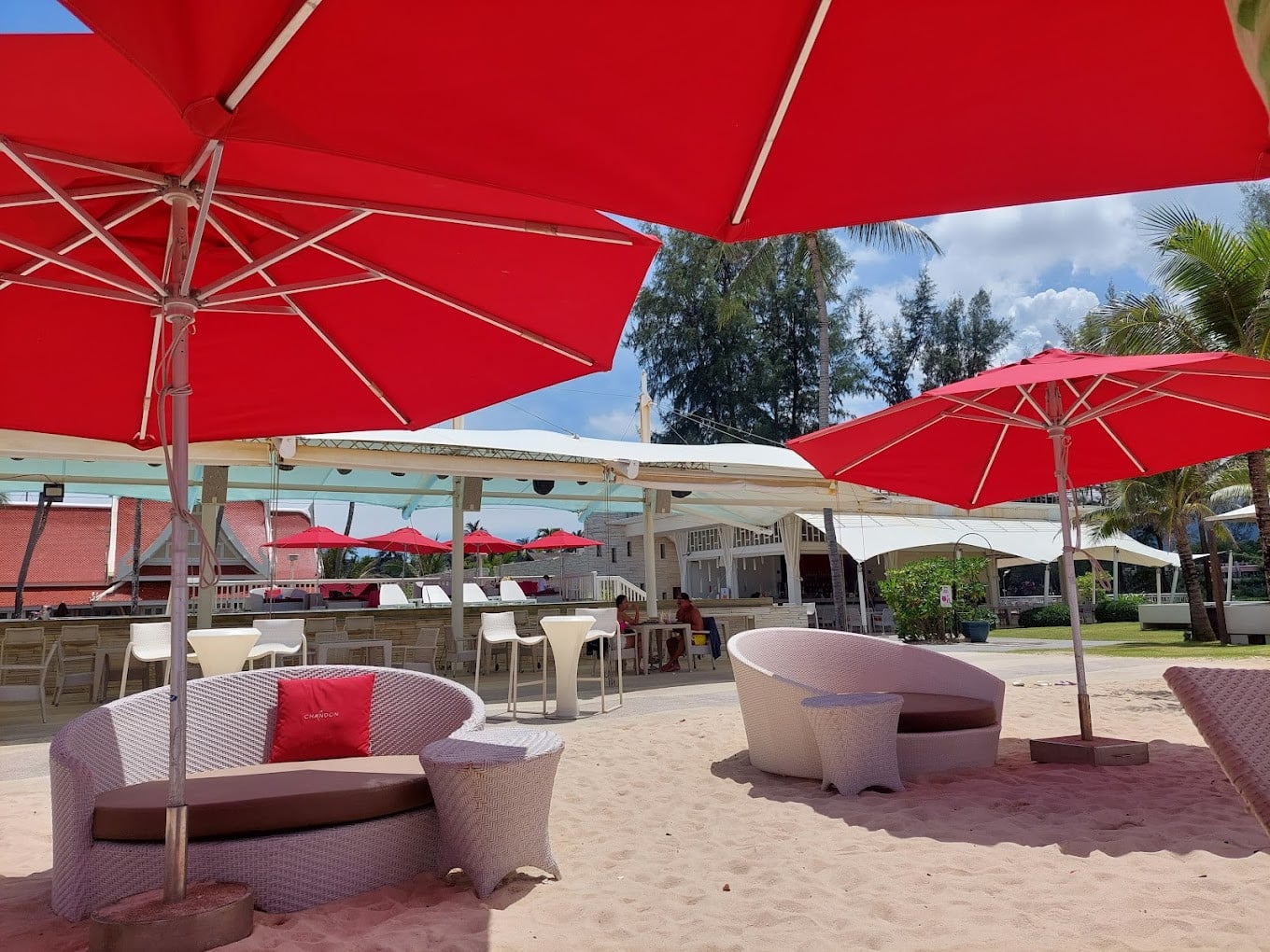 7. Carpe Diem Beach Club - Bangtao Beach
Carpe Diem Beach Club on Bangtao Beach boasts a trendy design and an extensive menu of refreshing long drinks. With its unique location in the center of Patong Beach, it is sure to become one of the most popular beach clubs in Phuket.
It is an excellent place for those seeking Instagram-worthy moments, thanks to its unique design.
The extensive menu is perfect for foodies and those who enjoy creative cocktails. The central location allows easy access to other entertainment options in Patong.
Address: 99/1 Bangtao Beach Road, Choeng Thale, Thalang District, Phuket 83110
Hours: 12 pm – 11 pm (Tuesday closed)
Phone: 065 058 5388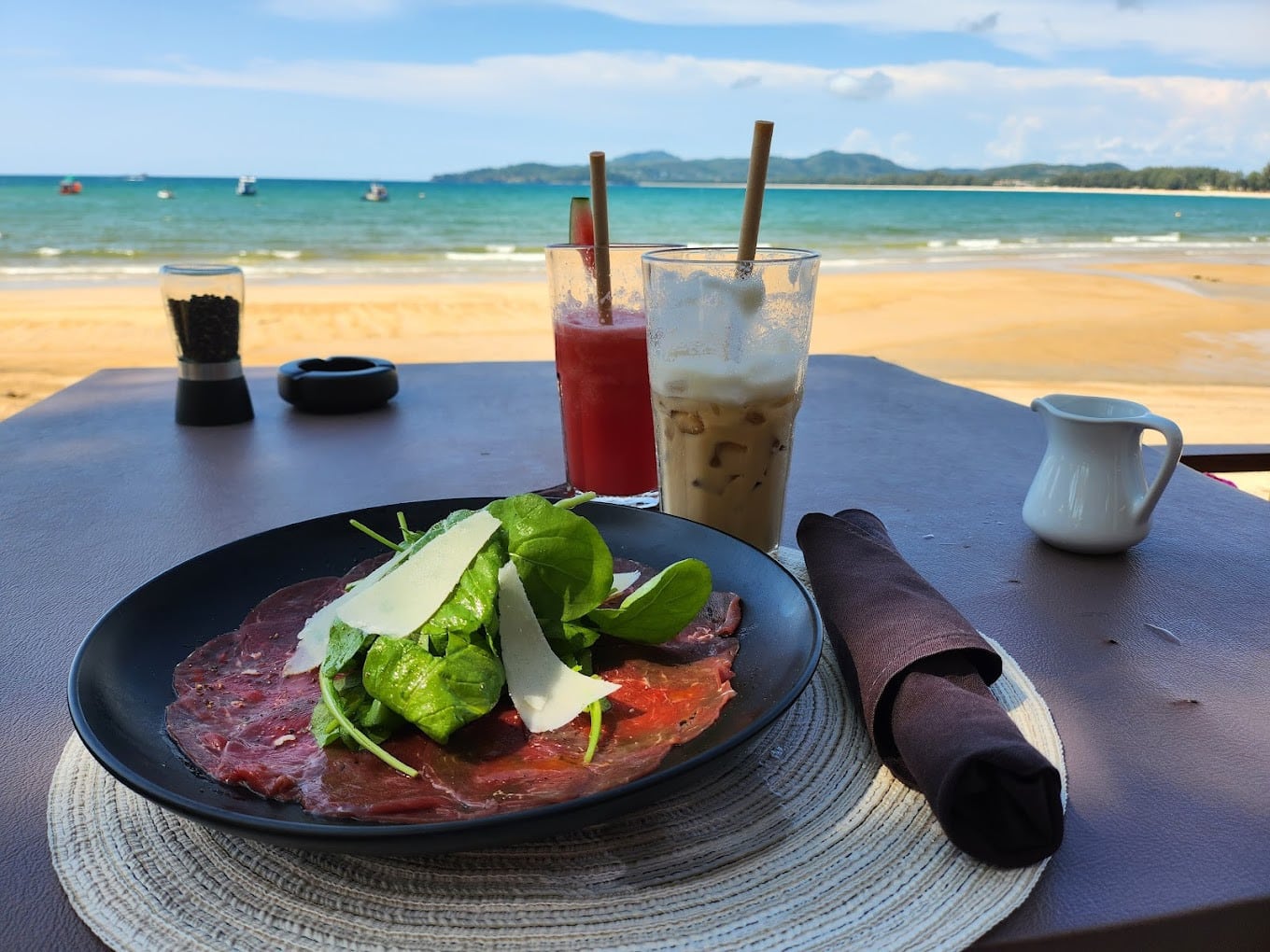 8. Cafe Del Mar - Kamala Beach
Cafe Del Mar, originating from the party haven of Ibiza, has become a party hotspot on Phuket's Kamala Beach. It is all wood, straw roof, and orange tones
While it may be slightly smaller and pricier, the music and ambiance are tailored to a younger crowd, offering an unforgettable beach club experience.
With a chic swimming pool and a variety of lounging options, this beach club combines luxury and fun. The mesmerizing sea views and vibrant poolside atmosphere create the perfect backdrop for mingling, dancing, and creating lasting memories with fellow partygoers.
Here, a beer is priced at 130 baht, while a craft beer costs 250 baht. For a Coke, you will pay 70 baht, and whisky or tequila starts at 240 baht. Classic cocktails are available for 280 baht.
You have the option to order from a diverse menu, including tapas, salads, and meats, with options like cold cuts for 320 baht, a baguette sandwich for 320 baht, a Wagyu burger for 390 baht, and lamb chops for 790 baht.
Address: 118/19 Moo3, Kamala Beach, Kathu District, Phuket 83150

Open: 11 am – 2 am
Phone: 061 359 5500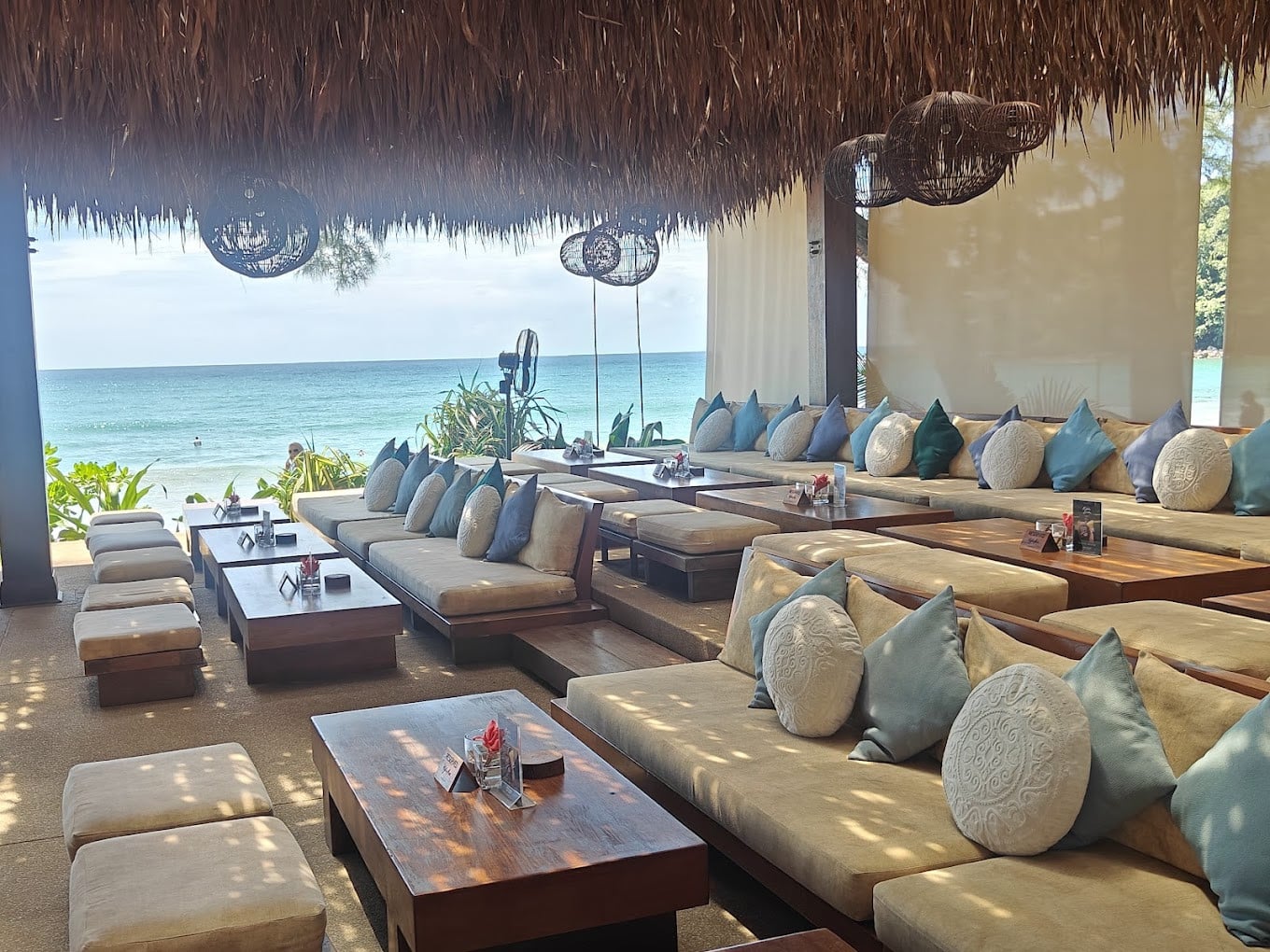 9. Ska Bar - Kata Beach
Ska Bar is a small but iconic Reggae bar offering a relaxing atmosphere and beautiful bay views.
It offers a unique and laid-back experience on the picturesque Kata Beach. While Reggae music is a highlight, you can still appreciate the atmosphere, beautiful view, and vibrant colors of the evening sky.
Ska Bar is part of the Kata Seafood restaurant, which is also on the beach. Kata Seafood features two stories with beachfront views, making it relatively simple to secure a table with a scenic outlook.
Accessing Ska Bar and Kata Seaview Restaurant, on the other hand, can be a bit challenging. There is a narrow alley leading to it from the rear street, but there is no designated car park; it is only spacious enough for motorcycles.
Many visitors prefer to park near the beach and take a short stroll along the sand to reach these establishments.
Address: 186/12 Kata Beach Phuket Thailand 83100
Hours: 9 am – 2 am
Phone: 088 753 5823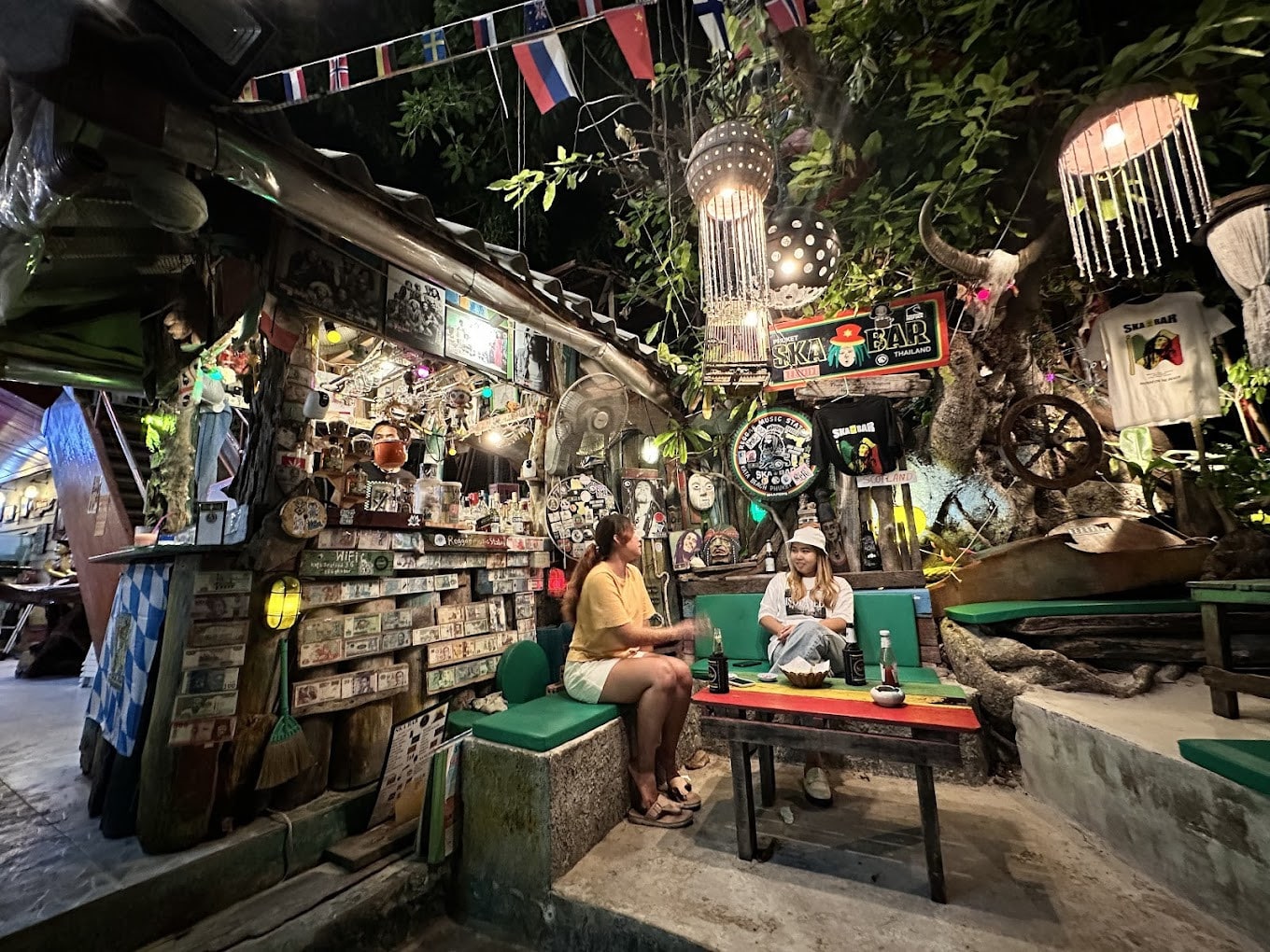 10. Flamingo Beach Front Cafe - Ao Yon Beach
Situated on Ao Yon Beach, the Flamingo Beach Front Cafe offers breathtaking views, comfortable seating, and a variety of dining options, making it a perfect spot for breakfast, lunch, dinner, or drinks.
The relaxed atmosphere and warm tropical breeze create a memorable beachside experience. The turquoise waters and soft sands of Ao Yon Beach provide a stunning backdrop to your dining experience.
You can choose between indoor and outdoor seating, with the latter being especially popular due to the warm tropical weather and refreshing sea breeze. It is an excellent place to enjoy seafood Asian fusion cuisine or simply sip cocktails as you gaze at the stunning sea views.
Address: 98 Moo 8 Wichit Subdistrict Muang Phuket 83000
Hours: 10 am – 10 pm
Phone: 086 312 2077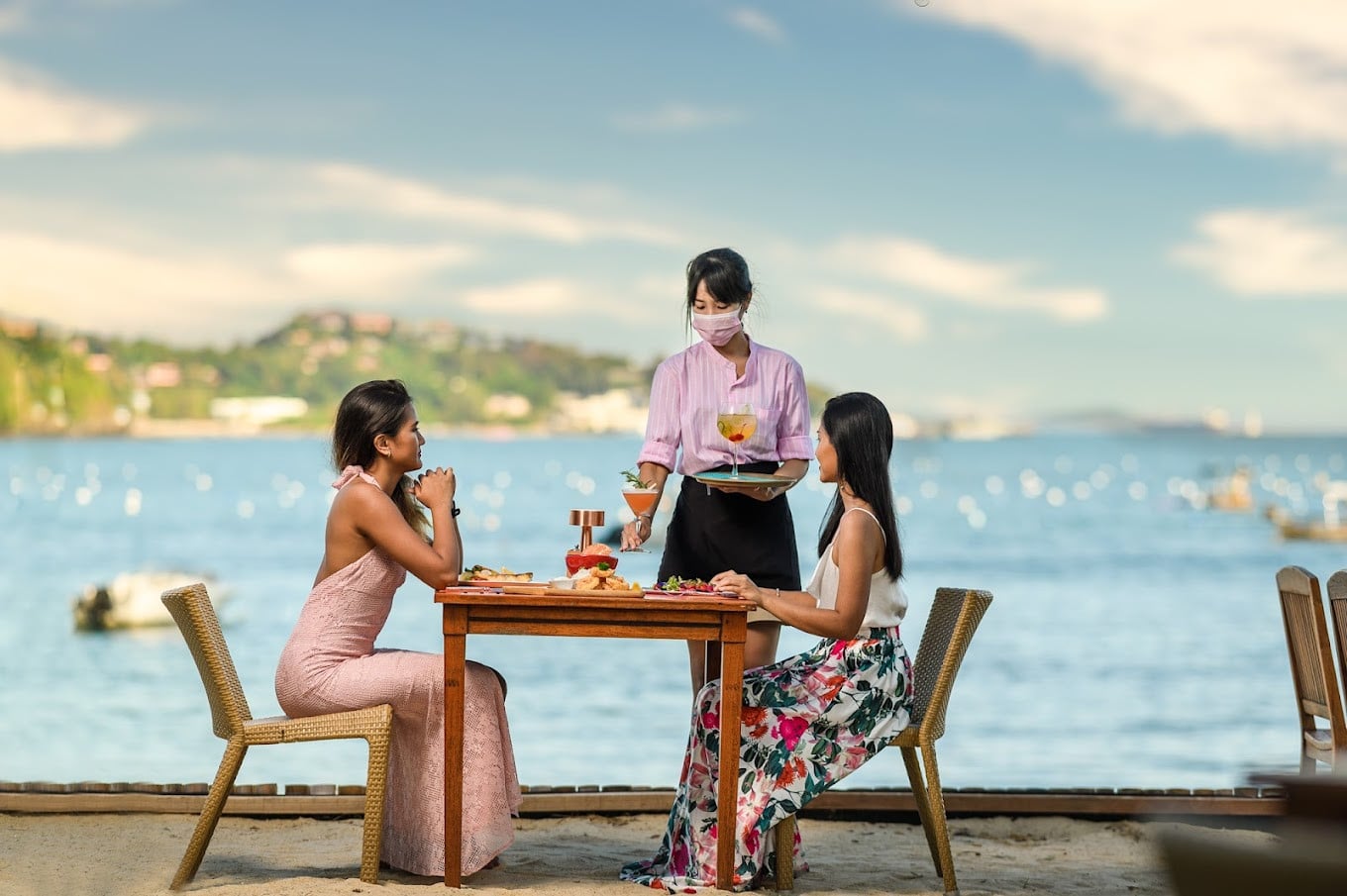 11. Fuga Beach Club - Patong Beach
Fuga Beach Club, located at the northern end of Patong Beach, offers a stunning design, fantastic bay views, and a great music selection. Enjoy tapas while witnessing a beautiful sunset over Patong Bay, and families will appreciate the child-friendly pool area.
Fuga Beach Club is designed for those seeking elegance and a tranquil beachfront experience. Its stunning design and the breathtaking view of Patong Bay create an ideal setting for a relaxing evening.
The tapas menu is perfect for those looking for a gourmet experience, and the child-friendly pool ensures that families can enjoy the sunset together in a safe and pleasant environment.
It is worth mentioning that Fuga provides three separate sections, with one being designated as VIP and necessitating a minimum spending threshold.
Address: Patong Beach, Pa Tong, Kathu District, Phuket 83150
Hours: 3 pm – 12 am
Phone: 091 035 0835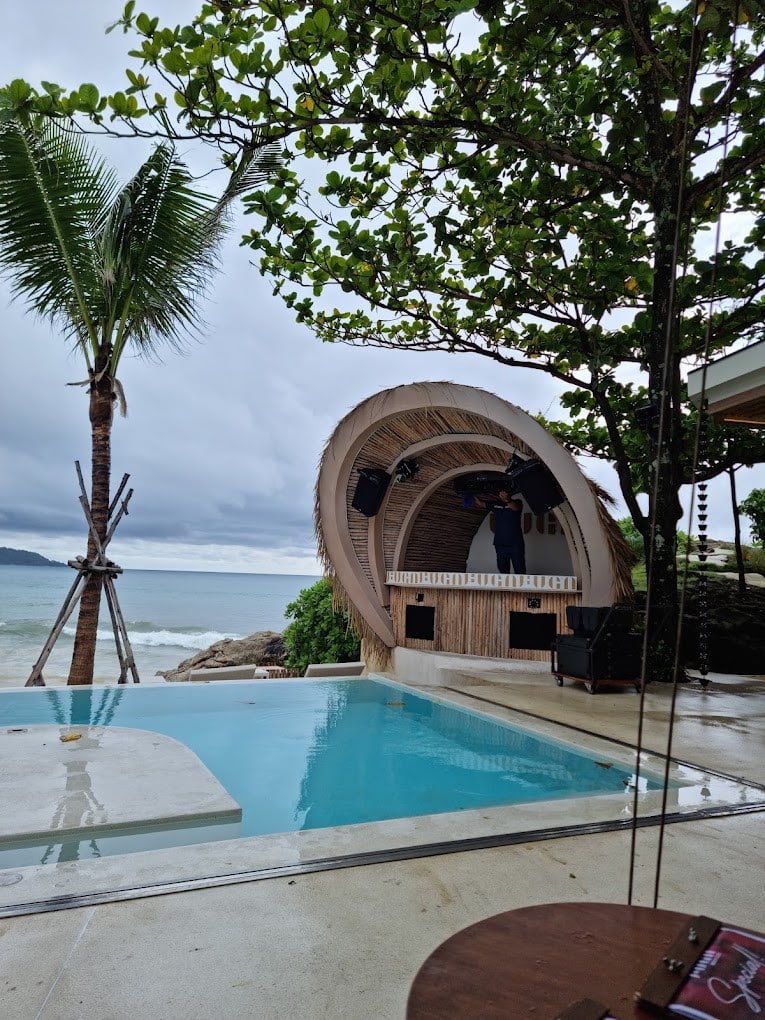 12. Paradise Beach Club
Paradise Beach, located just a short drive from Patong Beach, offers a unique and vibrant atmosphere.
It comprises two petite sandy coves with crystal-clear waters, velvety sands, and swaying coconut trees. The area offers a plethora of beach chairs, bars, restaurants, and shops and occasionally hosts large-scale parties during select nights.
This beach club is more like a bustling village by the sea, with numerous options for relaxation and entertainment.
The sprawling beachfront hosts epic full-moon and half-moon parties on special nights. It is the perfect destination for the younger crowd looking for a lively and unforgettable beach experience.
Paradise Beach was once a challenging place to locate until the construction of a concrete road facilitated access. Its proximity to Patong and the feeling of discovering a hidden beach contributed to its sudden surge in popularity.
Address: 4 Km south of Patong, Phuket
Open: 9 am – 7 pm
Phone: 083 743 9009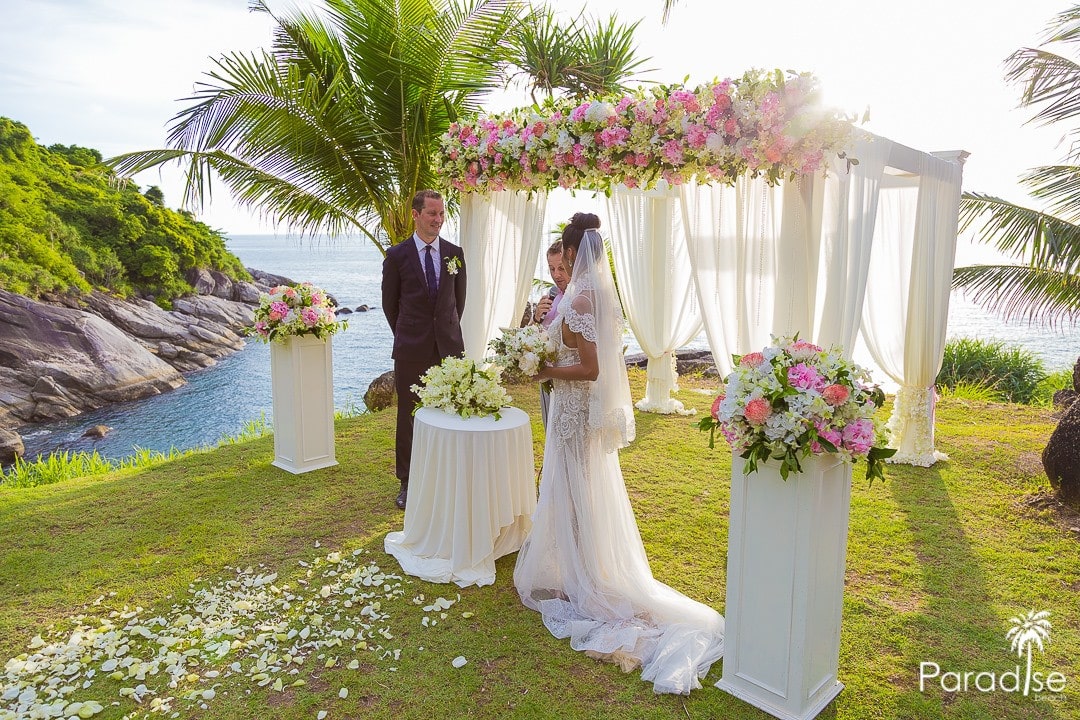 13. The Beach House at Anantara Layan
The Beach House and Roof Top by Anantara Layan offer an exclusive beachfront experience on the stunning Layan Beach. The rooftop boasts a vast, comfortable seating area where you can choose to relax on large sofas or dine at intimate tables by the water's edge.
The menu is a delightful fusion of Thai and international flavors, making it an ideal destination for a romantic evening or a memorable gathering with friends. Enjoy the soothing sea breeze as you dine under the stars.
Address: Choeng Thale, Phuket 83110
Rooftop hours: 4 pm to midnight
Phone: 076 317 200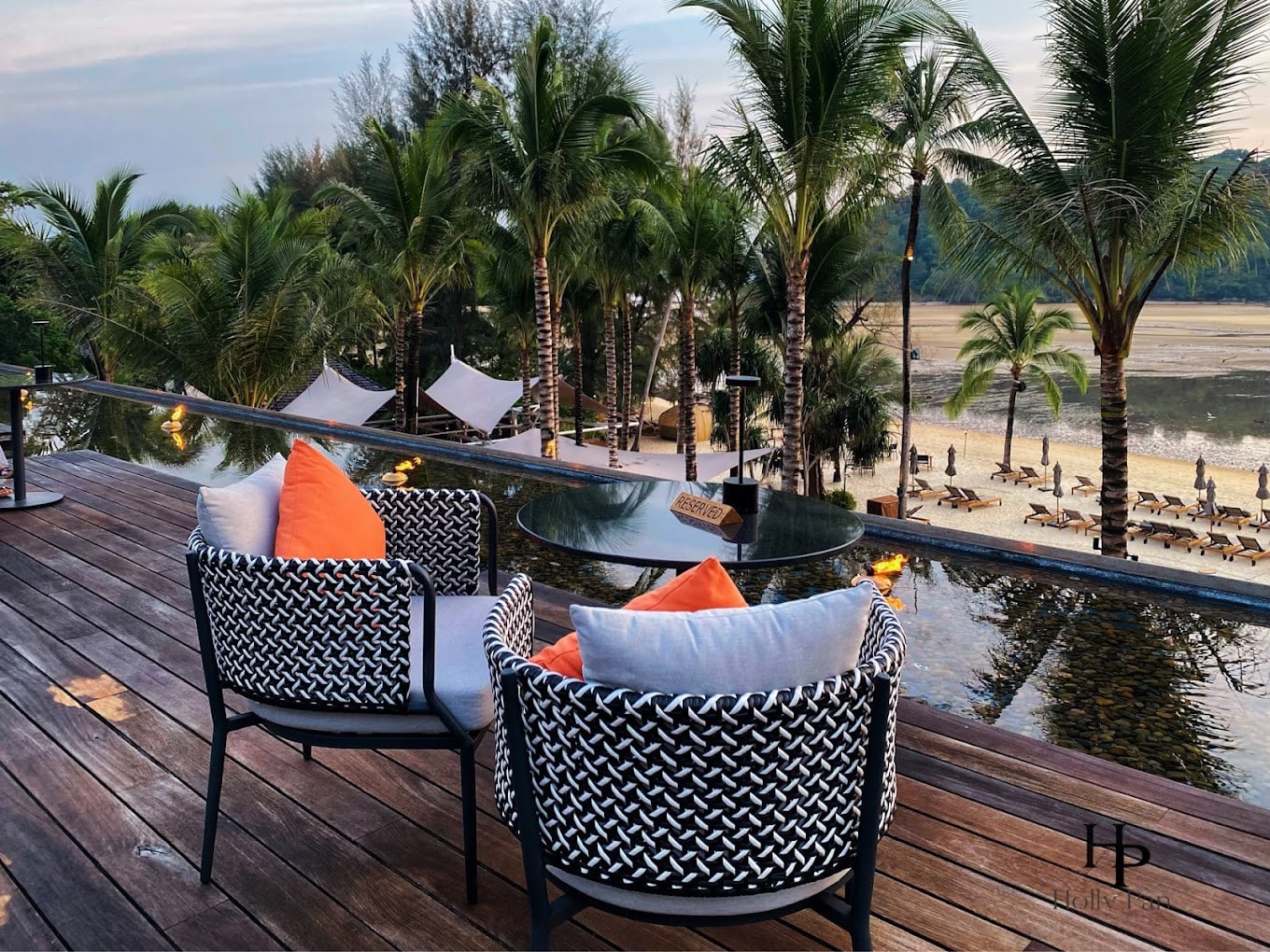 14. Splash Beach Club
Tucked away in a serene creek, not far from Patong Beach, Splash Beach Club offers a unique charm of its own. Unlike many other beach clubs in Phuket, this club does not feature loud music, providing a peaceful escape for those seeking tranquility by the sea.
Originally, to reach the beach, visitors had to get on a picturesque yet somewhat extended journey along a wooden path that meandered alongside the beautiful coastline.
However, to enhance accessibility, a recent addition has been made in the form of a newly constructed concrete road, making the trek to the beach more convenient and accessible.
Surprisingly, upon reaching the beach, there is an entrance fee of 100 baht that visitors are required to pay for access to the property. This fee might raise some eyebrows, but it is worth noting that it contributes to the maintenance and preservation of this pristine beachfront area.
The picturesque surroundings and the serene ambiance make it the perfect spot for a leisurely day by the water. Relax, unwind, and enjoy the natural beauty of this hidden gem.
Address: Near Paradise Beach
Open: 9 am – 6 pm
Phone: 094 838 8537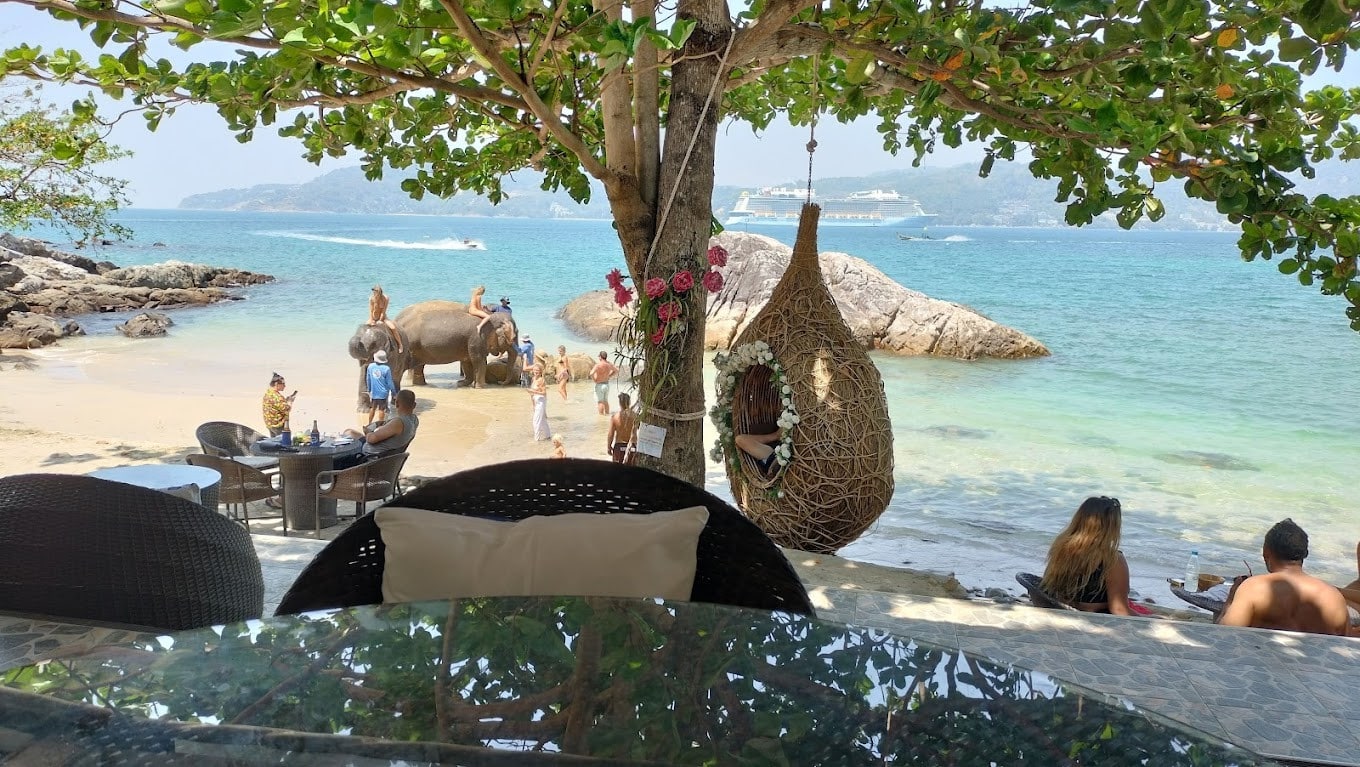 15. M Beach Club at Anantara Mai Khao
M Beach Club is your tranquil hideaway on the shores of Mai Khao Beach. Located in the northern part of the island, this beach club provides a relaxing atmosphere, making it an ideal spot to unwind.
Being distant from the bustling beaches of southern Phuket, it caters primarily to travelers residing in the Mai Khao region, including the guests of JW Marriott Phuket Resort.
Enjoy your afternoons by the sea, indulging in creative cocktails and fresh seafood. The club often hosts DJ sessions, ensuring you have a perfect soundtrack to accompany your beach experience. And if you are a sunset enthusiast, this is the place to be.
The menu is expansive and reasonably priced, especially considering the high standard of Anantara, one of Phuket's premier five-star resorts. For reference, local beers begin at 90 baht, while espresso is available for 120 baht.
The starting price for a glass of wine is 290 baht, and cocktails range from 290 to 320 baht. As is customary, please be aware that all listed prices are subject to government tax and service charges, necessitating an additional 14% to be added to those rates.
Should you feel hungry, the extensive food menu offers a diverse range of options, including tapas, burgers, salads, Thai cuisine, pizzas (beginning at 390 baht), pasta dishes (starting at 350 baht), and even a 500-gram Wagyu steak for two.
For those with a sweet tooth, delightful choices include a lemon tart (priced at 290 baht), ice creams (at 110 baht per scoop), and an affogato (priced at 270 baht).
Watch the sun kiss the horizon as you sip on your favorite drink, creating unforgettable memories.
Address: Mai Khao Beach, Phuket 83110
Open: 12 pm – 12 am
Phone: 076 336 111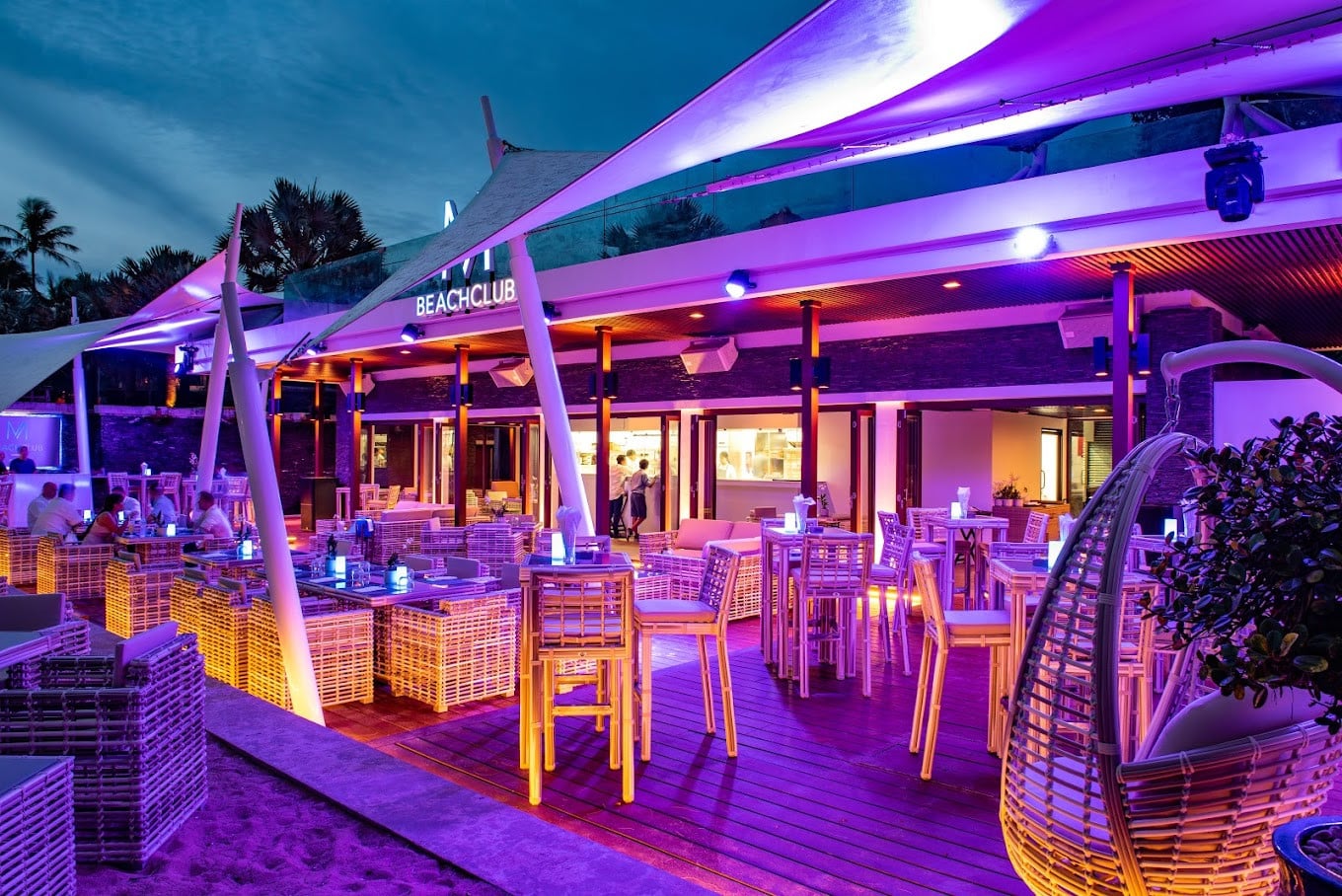 16. Relax Beach Bar at Le Meridien
At Relax Beach Bar, serenity and elegance meet the waves of Karon Noi Beach. This unique beach club stands out from the rest with its soft background music, providing a more peaceful ambiance.
The bar frequently hosts special dinners, buffets, and promotions featuring tantalizing cocktail creations. Whether you're a guest at Le Meridien or simply a visitor seeking a laid-back beach experience, this is the place to unwind and appreciate the beauty of the Andaman Sea.
Address: Karon Noi Beach, Phuket 83100
Hours: 5 pm – 10:30 pm
Phone: 076 370 100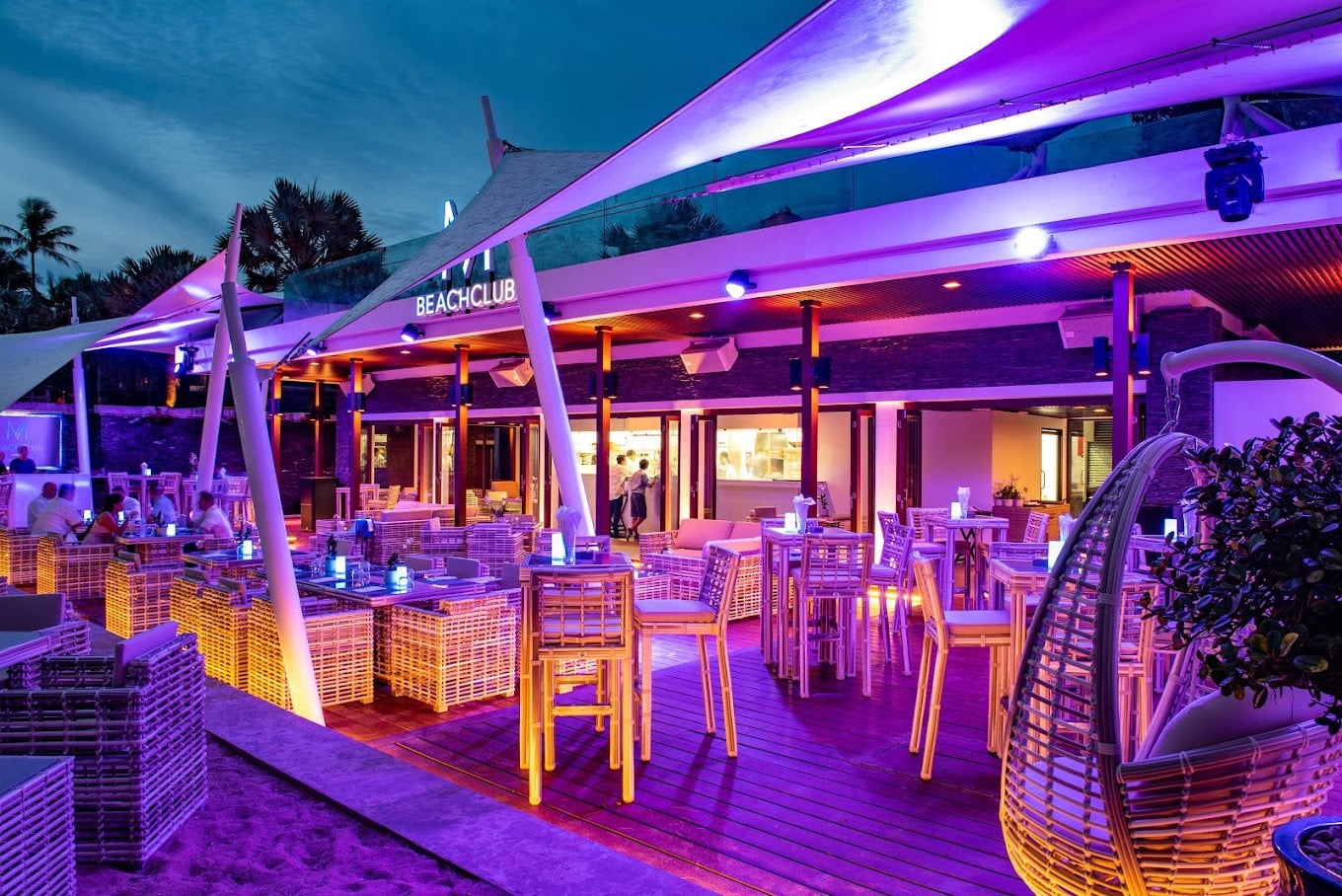 17. Beach Pig
Beach Pig is a trendy and vibrant beach bar located on the shores of Bang Tao Beach. This is the perfect place to end your day at the beach as you witness a mesmerizing sunset over the Andaman Sea.
The bar sits directly on the shoreline, positioned in front of the SAii Laguna Resort, boasting an entirely wooden structure with thatched roofs and bamboo accents.
The menu features a delectable selection of food and handcrafted cocktails that will tantalize your taste buds.
The English breakfast encompasses sausages, sautéed mushrooms, slow-roasted tomatoes, hash browns, baked beans, eggs prepared to your liking, and a serving of bread, all for 295 baht.
For those seeking lighter choices, alternatives include bacon with two eggs and toast at 185 baht, Khao Tom (rice porridge) with either pork or chicken for 150 baht, and even croissants and pain au chocolat sets available at 185 baht.
With its laid-back atmosphere and welcoming staff, Beach Pig promises an unforgettable beachfront experience.
Address: Bang Tao Beach, Phuket 83110
Hours: 8 am – 12 am
Phone: 081 270 1610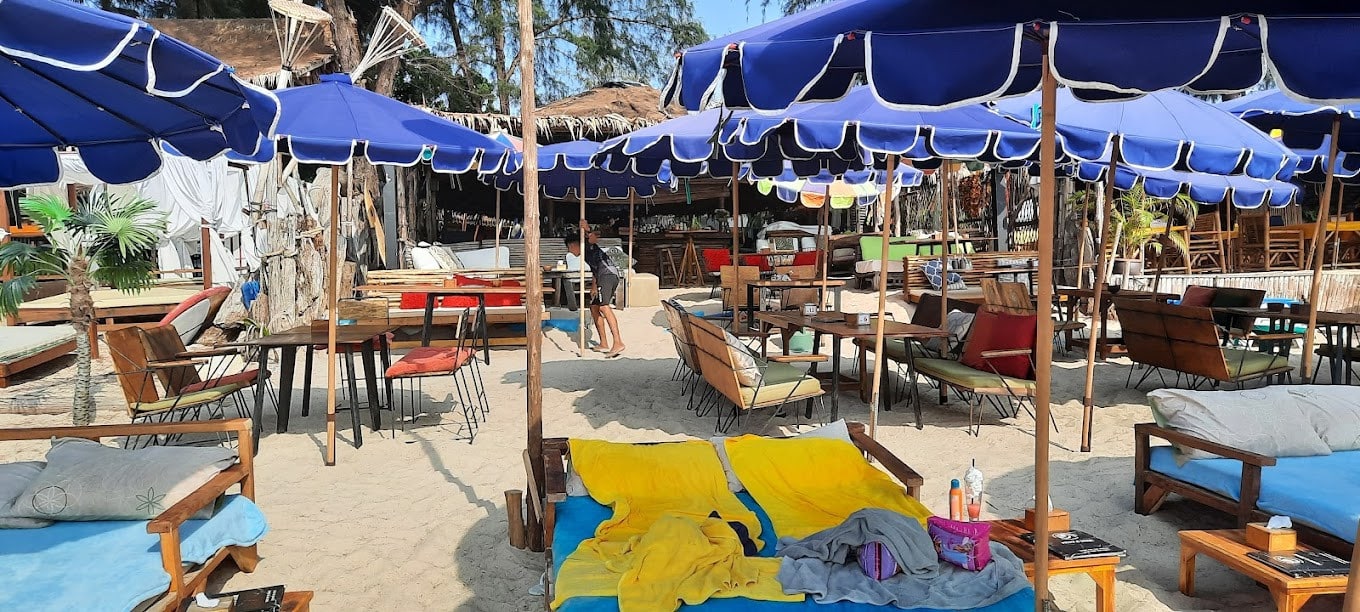 Final Words
These beach clubs, scattered along the island's coastline, offer a delightful array of experiences. From lively parties to serene sunset views and from gourmet dining to relaxed lounging, each beach club has its own unique charm.
Whether you seek the vibrant energy of a bustling party, the tranquility of a secluded escape, or a romantic evening by the sea, Phuket's beach clubs provide something for every traveler.
With the beauty of the Andaman Sea as your backdrop, these beach clubs offer a perfect way to cap off a day in paradise. So, make sure to include a visit to one or more of these beach clubs in your Phuket itinerary and experience the magic of the island's coastal lifestyle.