Get to learn more with An Ultimate Guide to Bangla Road in Phuket, your go-to resource for experiencing the vibrant nightlife, endless entertainment, and unique attractions that define this iconic destination.
Located in the resort town of Patong, the Bangla Road (Soi Bangla), also known as Patong Walking Street or Thanon Bangla is one of the major tourist attractions in Phuket. The street comes to life after sunset when the road is closed for traffic and the neon lights and music take over.
Phuket Bangla Road is one of the top nightlife spots in the country. The road stretches for about 400 km and several side streets or soi also join the main road. The prominent alleys include Soi Freedom, Soi Seadragon, and Soi Gonzo.
Experience the electrifying atmosphere of Bangla Road in Phuket, the island's bustling nightlife hub, where vibrant neon lights, pulsating music, and an array of bars, clubs, and restaurants come together to create a lively and unforgettable party scene that caters to all tastes, making it the perfect destination for those seeking excitement and entertainment on their Phuket getaway.
How to Get There?
Bangla Road is located at a distance of an hour from Phuket International Airport. It is towards the southwestern coast of Phuket Island close to the Andaman Sea. There are mainly three modes of transport you can choose from to reach there.
Car- You can easily get a rented car from Phuket town to Bangla road. By car, it takes about half an hour to 40 minutes to reach. It is recommended to not bring your own car as there might be a dearth of parking space after sunset and you will have to walk a long distance from the parking, in case you are lucky to find a spot.
Bus- Phuket town is well connected with Patong through bus services. There is an option for both open-sided as well as air-conditioned buses that regularly run between Phuket and Patong. The bus fare for this distance is usually between 8-15 THB.The three main bus stops in Phuket are Phuket Bus Terminal One on Phang Nga Bay Road, Central Market Terminal on Ranong Road, and Phuket Bus Terminal Two on Thepkasattri Road.
Songthaew- The third and less popular option is a Songathew- A type of share taxi made out of an altered pickup truck with two benches in the back down each side. The fare is usually 15 THB. There are no fixed spots where you can find them. You have to keep your eyes open.
The Bangla Road: Overview
Bangla Road is lined with nightclubs and beer bars on both sides. Most of the bars on the Bangla Road have bar girls who would lure you into taking a look at the bar and ordering one drink at least. Since most of the bars don't have walls, you can hear blaring music all through the stretch of the street.
Live music performance has recently become a popular thing in most of the bars while some of them hire DJs that play both traditional Thai as well as international superhits. You are likely to see at least one or two solo or group performances on the street itself.
Moving further you will find the beach end part of the Bangla Road which is mostly occupied by small shops and stalls that sell suits, accessories, and fast foods. You can easily get an attractive souvenir piece here to take back home from Thailand.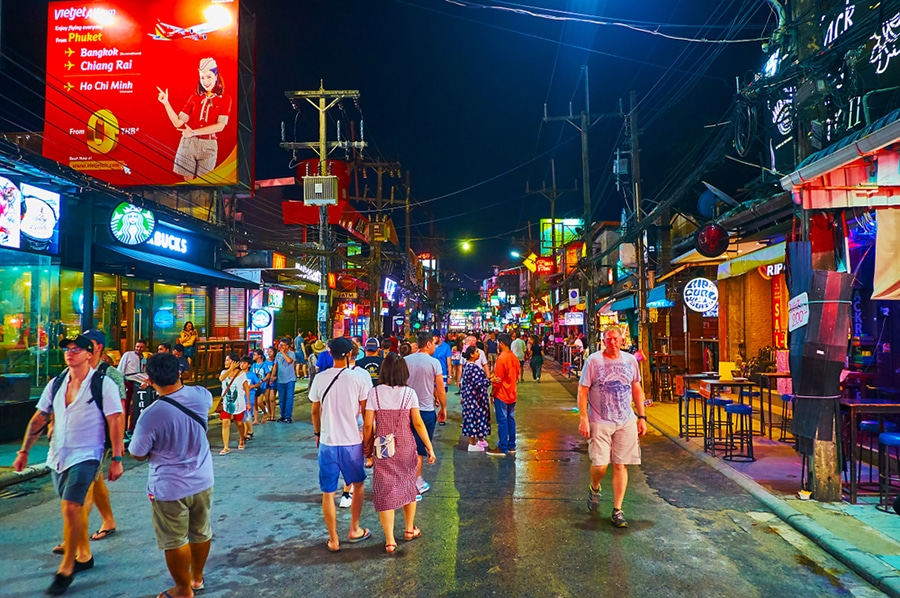 Night Clubs and Bars
On the southern side of the road, you can find several beer bars, all with an open facade. There are so many different ones to choose from ranging from casual beach bars that have cheap drinks to lavish bars that have professional dancers and exclusive wine. Most bars have one or more stages at the centre for the dancers.
Some of the most prominent bars and nightclubs are: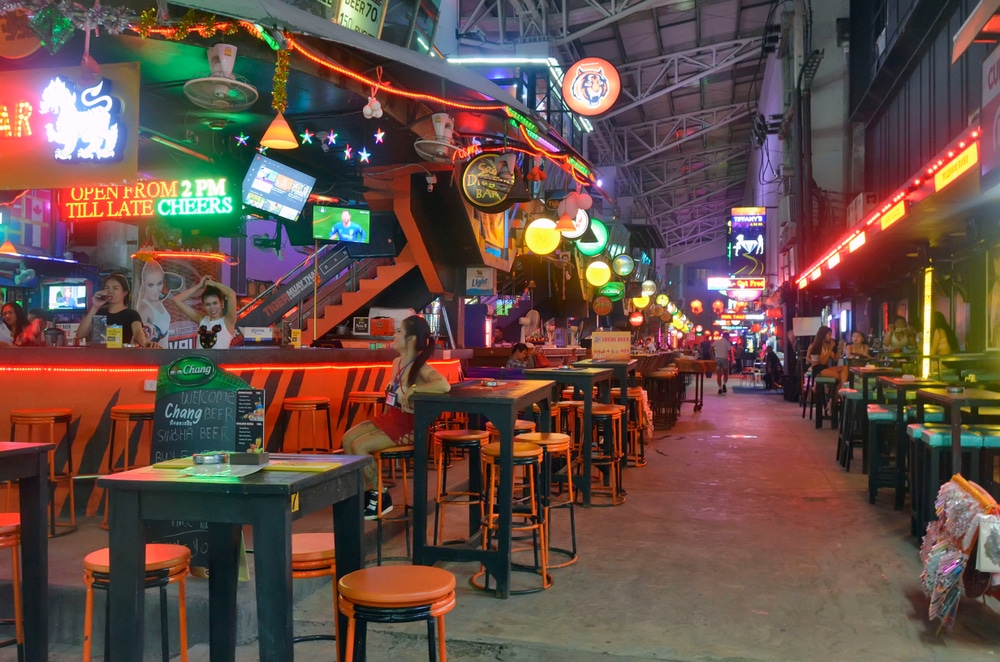 1.Illuzion Phuket
Location: Soi Bangla
It is one of the most popular nightclubs located near Patong Beach. It has top-quality sound and music equipment which is a major reason for its popularity. It has three big spacious rooms where different events run simultaneously. The bar regularly hosts international DJs for special shows.
Price: Free entrance
2.White Room NightClub
Location: Soi Gonzo (off Bangla Road)
It is located at the end of Soi Gonzo. The Club gets its name from the all-white interior that lends it an aesthetic and minimalist appeal. It is not as giant as the Illuzions but has a trendy design and a good atmosphere.
Price: Free entrance
3.Tiger NightClub
Location: 49 Bangla Road, Patong, Kathu, Phuket 83150, Thailand
It is a massive complex covering some 5,000 square meters of space across 3 floors. The first floor has beer bars and loud techno music whereas The second and third floors feature nightclubs where Tiger Disco is popular.
The backside called Tiger Pool Club is a quieter spot where you can peacefully play pool and sip some good cocktails.
Price: Free entrance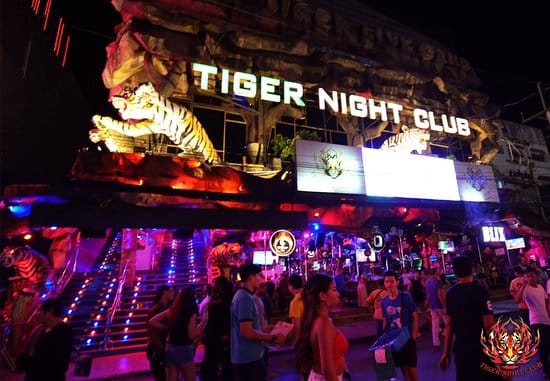 4.Tai Pan Disco
Location: 165 Rat-U-Thit 200 Pee Road, Patong, Kathu, Phuket 83150, Thailand
It is one of the oldest nightclubs in Patong. It is difficult to say if it's majorly a bar or a club. However, it is absolutely loved by the locals and also most tourists and for this reason, they like to call themselves FBI (Finest Bar In) Thailand.
Price: Free entrance
Where to Eat on Bangla Walking Street?
Apart from the blaring music and neon lights that steal the show on the street, there are some amazing eating options too. You can find most of these eateries and stalls in the Bangla Night Market area.
The street food served here includes both authentic Thai dishes and other international cuisines. Some very popular dishes are fried rice bowls, fresh seafood platters, meat and vegetable skewers, stir-fries, and even French fries and fried chicken.
The food stalls are placed under colorful tents. The stall owners do not have any accommodation of their own however there are plenty of folding chairs available in the area where you can sit and enjoy your meal.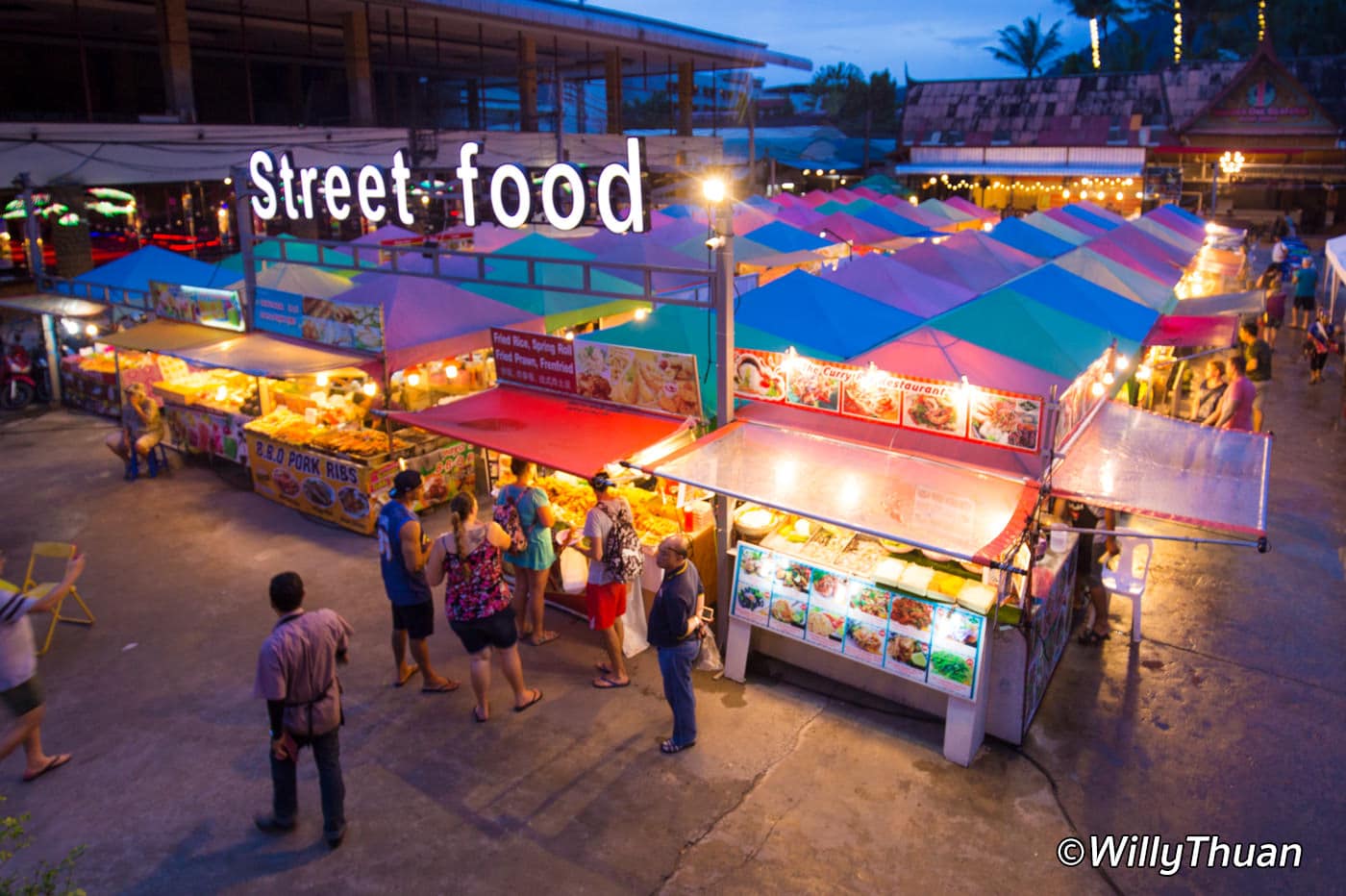 Conclusion
Besides the bars and restaurants on Bangla Road, there are other attractions such as the Patong Beach, Jungceylon Shopping Center, Simon Cabaret Show, Freedom Beach, and Surf House Phuket nearby that you can visit.