Formerly known as the Wat Huay Khot, Wat Huay Mongkol is among the most visited and famous Buddhist temple in Hua Hin. The temple complex is located around 15 kilometres west of Hua Hin. It is famous for the enormous statue of one of Thailand's most famous monks, Luang Phor Thuad.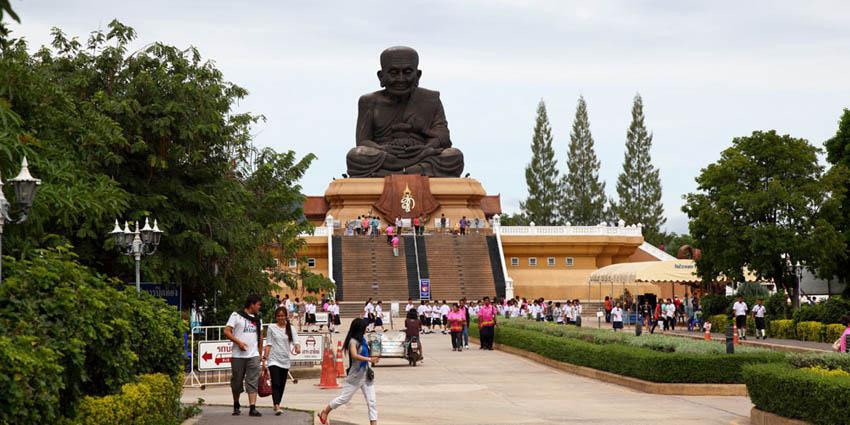 The Grand Luang Phor Thuad Statue of Wat Hua Mongkol
Wat Hua Mongkol has the largest statue of the Buddhist monk called luang phor thuad
The Grand Luang Phor Thuad statue is set on a large mound and about 12 meters tall and 10 meters wide. It is so huge that you can see it from miles away. There are two magnanimous wooden elephants on either side of the statue.
Thai locals believe that walking under the belly of elephants brings good luck. Therefore, there is always a huge crowd taking rounds under the elephant structure. To reach the top of the statue, you can take the stairs leading all the way up.
Always carry a water bottle and apply sunscreen liberally as climbing the stairs could get very exhausting during the daytime. People from all over the world come here to pay homage to Luang Phor Thuad and pray for good fortune.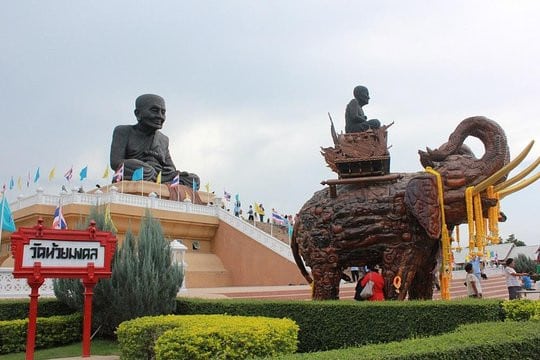 What to do at the Wat Huay Mongkol
The entire temple complex is very well managed by the authorities. The area boasts several waterfalls, pavilions, bridges, lakes, and streams. You can simply sit by the waterfalls, lakes and streams to have a peaceful time.
The complex gives out park-like vibes where you can spend quality time with your friends and family. You can also buy souvenirs from the various local shops that are scattered in the area. There is also a Buddhist temple with a statue of King Taksin the Great on horseback.
In addition to that, the place also has various restaurants where you can sit down to relish authentic Thai cuisine. There are a variety of restaurants to choose from based on your budget and other preferences.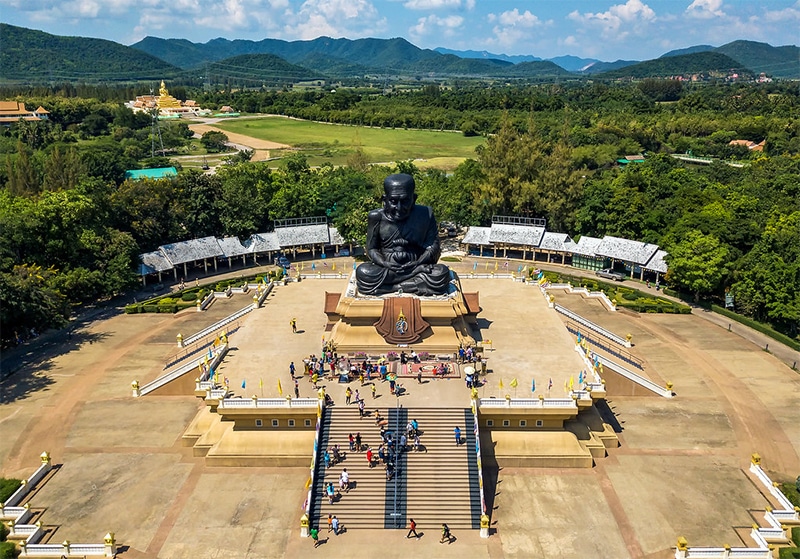 How to reach Wat Huay Mongkol
The Wat Huay Mongkol is 15km away from Hua Hin. it will take you around 30 minutes to reach here. There are broadly three ways you can reach the Wat Huay Mongkol. The most convenient option is to take your own transport.
If you are a tourist in Thailand but still want to enjoy the privilege of exploring the road at your own pace, you can rent a bike or car from the famous car rentals of Hua Hin.
If you are coming through private transport, take the Nong Pub - Pa La Ou route (Highway 3218). After 14 km you will reach the Tabtai sub-district, from here turn left at Nong Taphao Intersection, then go straight all the way until you arrive at Wat Huay Mongkol Temple.
Another way is to book a private taxi that will straight away drop you at Wat Huay Mongkol. Alternatively, you can take a songthaew or tuk-tuk from Hua Hin. irrespective of the mode of transport, you are certain to enjoy the route that is lined by beautiful pineapple plantations.
Location: Highway 3219 Thap Tai, Hua Hin District, Prachuap Khiri Khan 77110, Thailand
Looking for More Temples in Hua Hin
There are many mesmerizing and peaceful temples in Hua Hin that you should definitely consider visiting on your trip to Thailand. For your ease of decision-making, I have curated a list of the best temples in Hua Hin.
At Thailand Nomads, we strive to make your stay in Hua Hin worth the while. We have curated all the important information that you will need to plan your itinerary in Thailand.