Chances are that you must have already read about the best beaches in Phuket because of its worldwide popularity.
However, this one beach is still unexploited secret, retaining the serenity and natural beauty, which is the essence of good beaches.
Discover Freedom Beach - a hidden paradise in Phuket, where soft white sands, crystalline turquoise waters, and lush tropical foliage come together to create a serene and secluded haven perfect for sunbathing, snorkeling, or simply unwinding away from the crowds.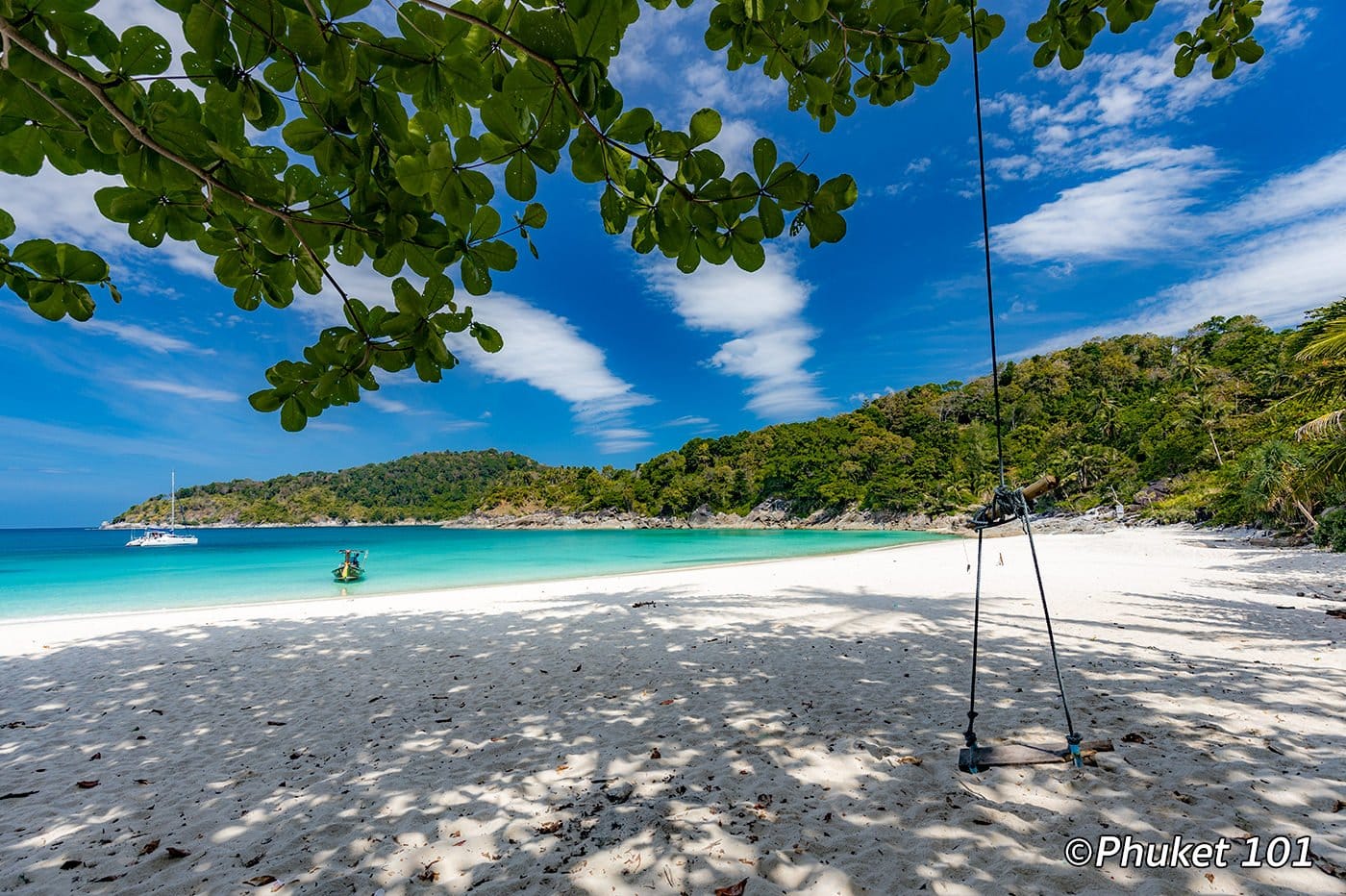 About the Freedom Beach
It is one of the most picturesque beaches in Phuket, located close to Patong Beach.
The incredibly white sand alongside the deep blue water looks like a classic painting right out of the canvas.
The beach is surrounded by hills and thick jungle, which makes it difficult to access. Perhaps, this is the reason why Freedom Beach does not get as many visitors as its beauty deserves.
This isn't to say that you cannot reach here without facing any difficulty.
How to Reach the Freedom Beach
Location: Patong, Kathu, Phuket 83100, Thailand
There are broadly two ways in which you can reach Freedom Beach.
Through Long Tail Boats
The first way to reach Freedom Beach is through a long-tail boat during the high season, from December to June. You can take the boat from Kata, Patong, Karon, or Kamala.
The shortest route is from the southern end of Patong Beach near the big bridge at Amari Phuket.
The journey on a long-tail boat is usually long because of the low speed of the boat. The fare would be around 1200 to 1500 Baht per boat for a round trip.
On your way to Freedom Beach, you can spot some teeny-weeny beaches such as Tri Trang, Merlin, and Paradise.
Upon reaching, you will have to jump into shallow water to disembark.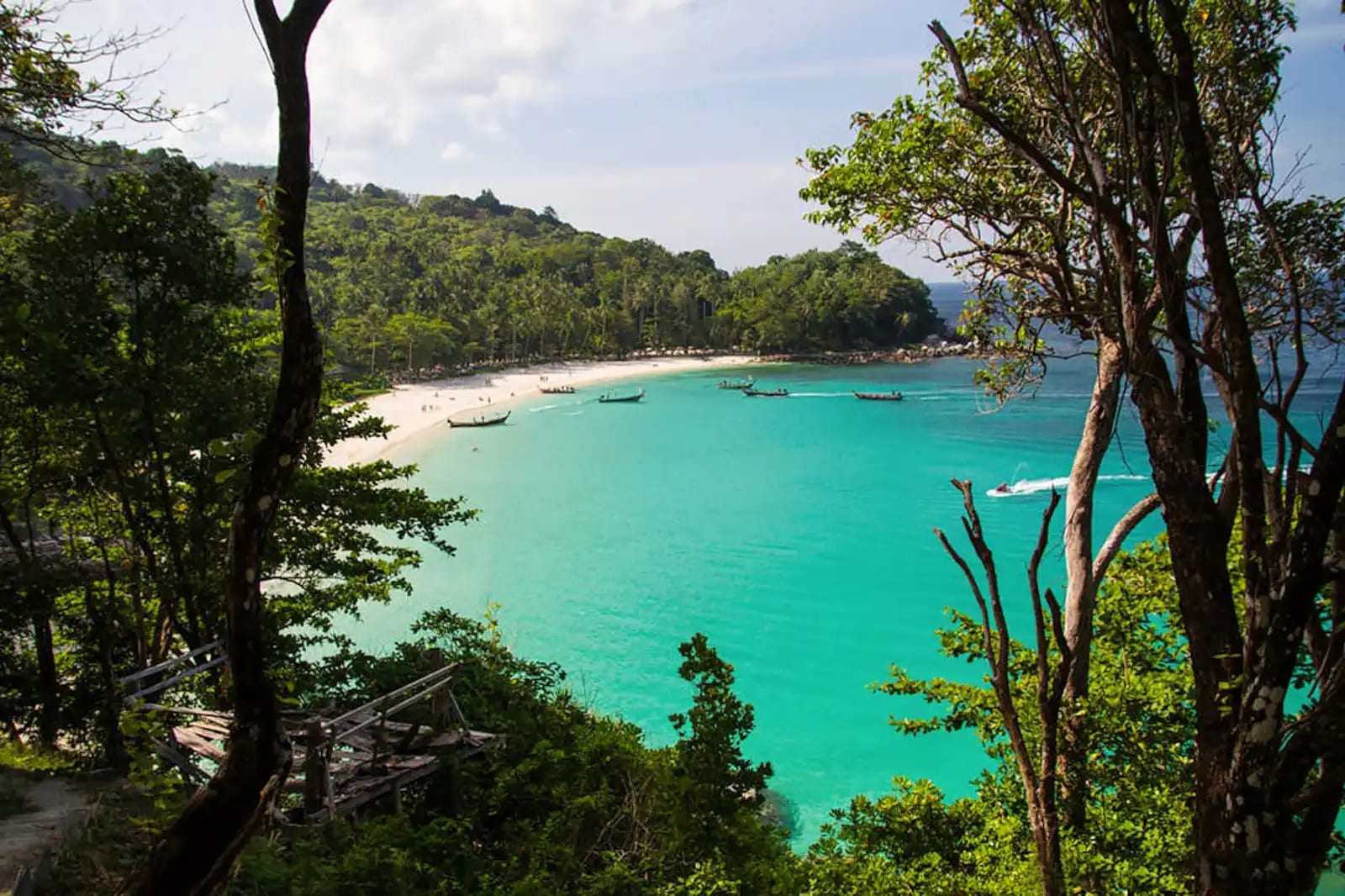 Through Hiking
This option is suitable only for those who like to be adventurous since the hike is too steep. The worst part is that the route is not even properly marked.
The absence of proper signages makes it very difficult to reach the destination without taking wrong turns.
Although there are proper steps with ropes to hold on to, this route is not suitable if you have children and elderlies in your group.
Beware of people scamming you 100 Baht tickets as entry fees. There is no entry fee to enter the beach.
You can find the hiking route on Patong-Karon road just before the top of Patong Hill.
What to do on Freedom Beach?
The beach has two different sections, which are separated by the boat landing spot.
The northern side is more serene, so you can just sit back and relax with the mesmerizing view right in front.
You can also carry your swimsuits and snorkeling gears to the beach and enjoy seeing small fishes and other marine creatures.
So, if you don't like crowded beaches and want to have the entire place to yourself, do visit Freedom beach. You can also check out these other amazing beaches in Phuket that are extremely beautiful.
Editor - Thailand Nomads
Cindy quit her 9 to 5 job to pursue her passion for exploring mesmerizing locations in Thailand. She has been living here for the past 5 years now and through Thailand Nomads, she shares her experiences and insights about the must-visit places in Thailand.
Email: cindy@thailandnomads.com