Nestled on a gentle hillside along the scenic way in the Kathu area, Wat Kathu Temple is a prominent landmark featuring two beautiful temples dedicated to Lord Buddha, situated between the bustling towns of Patong and Phuket Town.
Originally known as Wat Amparam, Wat Hua Hin is the most important and popular temple of Hua Hin. Sometimes back it was also known by the name Wat Laem Hin. This temple was built during the reign of King Rama V.
The temple features a Buddha statue in the Attitude of Subduing Mara. This is the main attraction of the temple and people from all over Thailand come to worship the statue. This statue along with the other Buddha's relics and Buddha's footprint were brought here from the ancient city of Sawankhalok.
In addition to that, the temple also has a Luang Pu Nak statue. Luang Pu Nak was one of the most eminent Buddhist Monks of Hua Hin. The inner walls of the temple are beautifully decorated with paintings of the Jataka tales. The temple campus also has a municipal school.
Uncover the spiritual allure of Wat Hua Hin, a sacred temple located in the heart of this charming coastal town, where intricate architecture, ancient relics, and a serene atmosphere come together to offer a tranquil retreat amidst the bustling surroundings.
History of the Wat Hua Hin
The Wat Hua Hin was built by Mr. Phueng and Mrs. Aim. Both of them along with the help of the villagers built this temple. The villagers contributed to the funds and also joined hands to build this temple out of respect to Lord Buddha.
Initially, the temple was just a monastery with a main hall and pavilion, like all the other Buddhist temples in Thailand. Later the temple was renovated and many new sections and features were added along with a municipal school.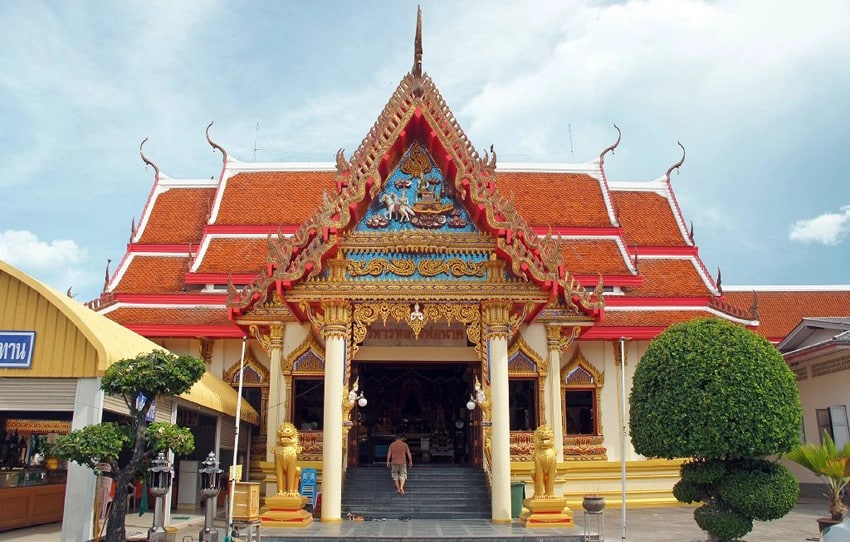 How to reach Wat Hua Hin
The Wat Hua Hin is very conveniently located near the Clock tower which is a famous landmark of Hua Hin. You can take your own transport or even rent a car from the famous car rentals of Hua Hin.
Location: Phet Kasem Road, Hua Hin 77110, Thailand
More Temples in Hua Hin
Besides the Wat Hua Hin temple, there are several other fascinating and beautiful temples that you can visit to immerse yourself in the Thai culture. All these temples have one thing in common and this- divine peace. It could be a perfect retreat on a holiday. We have made a list of the best temples in Hua Hin so that you don't miss any.
Hi, I'm Justin Pearce - a passionate traveler who has spent over 6 years of his life exploring lesser-known yet mesmerizing locations in South-East Asia. I am an avid biker who likes covering long distances on a bike. Through Thailand Nomads I want to share my tips and tricks for exploring some of the most popular tourist destinations in Thailands.