The 3 Km long stretch of golden sand in Patong is one of the most beautiful beaches in Phuket. It is also the most popular beach in that area owing to its scenic views and legendary nightlife.
The beach is crowded on most days, bustling with visitors, parasailing and jet ski operators, boat drivers, beach vendors, and masseuses.
The shore is separated from the road by a row of coconut, palm, and tropical almond trees. There are plenty of stalls selling snacks and drinks, along with beachfront bars and restaurants.
Most of these bars and restaurants can be found in the center of the beach near the entrance to Bangla Road.
Bask in the vibrant atmosphere of Patong Beach, a bustling hotspot in Phuket known for its pristine sandy shores, exhilarating water sports, and lively entertainment, perfect for an unforgettable beach getaway.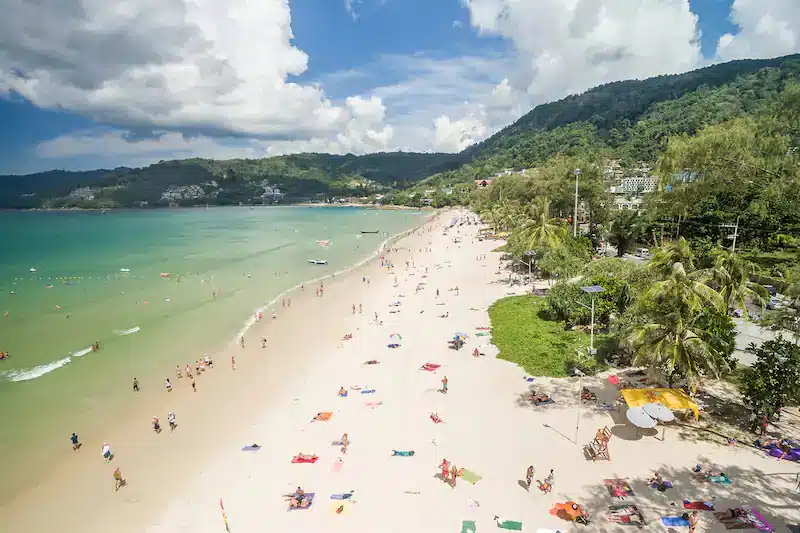 About the Patong Beach
Patong Beach can be roughly divided into two parts: Northern and Southern.
The northern part is more beautiful and less crowded than the southern part. The space is mostly used as a parking space; therefore, there are fewer people.
Plenty of palm trees provide ample shade to sit and relax on the beach. You can also find various local food and fruit vendors selling fresh fruits and snacks.
Water is also bluer during the high season, and there are plenty of palm trees to offer shade.
There is also a small sandy creek where the water is very shallow and clear during the high season.
The Southern part of the beach is close to the mouth of a river, and hence the water is gleaming with fish.
It is best suited for snorkeling. You can find a number of fishing boats anchored here.
There is a floating pontoon bridge that you can take to board longtail boats leading to the secluded Freedom Beach.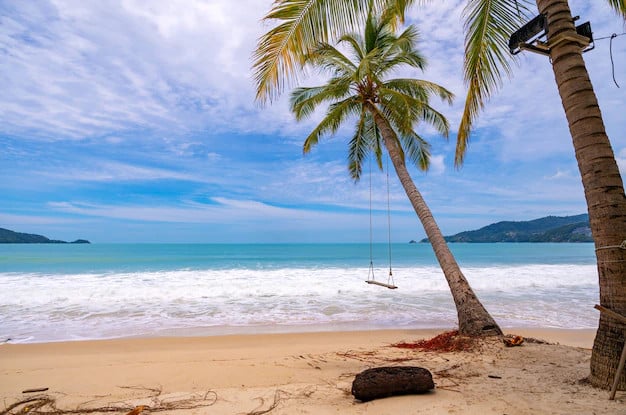 Best Time to Visit The Patong Beach
The best time to visit Patong Beach is during the high season. The high season in Phuket is from November to April.
During the high season, there is just enough water for you to enjoy the beach without worrying about your safety.
Avoid visiting here from May till October as the beach experiences violent waves and dangerous swells during this time.
There could be a threat to your safety if you go near the water during this time.
Facilities on Patong Beach
The Patong beach has all the basic facilities for the convenience of the visitors.
The entire beach area is lined up with clean toilets. You must pay a few baht maintenance fees to use them.
There is plenty of parking space, so you don't have to think twice about getting here in your own vehicle.
Sun loungers are easily available here. Also, you can carry your own mats because on some days it gets very crowded.
Eating on Patong Beach
As discussed earlier, there are a plethora of eating options on Patong Beach, both exotic and budget-friendly.
You can find various beachside stalls and wandering vendors selling a wide variety of food, drinks, snacks, and ice cream.
There is a particular area from Haad Patong Alley to Prachanukhro Road that is lined with a variety of different cafes and restaurants.
You can also find popular food chain stores such as McDonald's, KFC, and Burger King here.
There's also a vast variety of restaurants and bars on the beach, including Chez Bernard, Sole Mio, and Patong Beachfront Food Court.
Also Read: Best Beaches In Phuket
Patong is an ideal place to hang out both for peace lovers and adventure junkies. On the one hand, there are plenty of spots where you can sit back, relax, and let the waves wash over you.
On the other hand, there are popular sports such as parasailing, jet skiing, wakeboarding, kayaking, etc., that you can try here.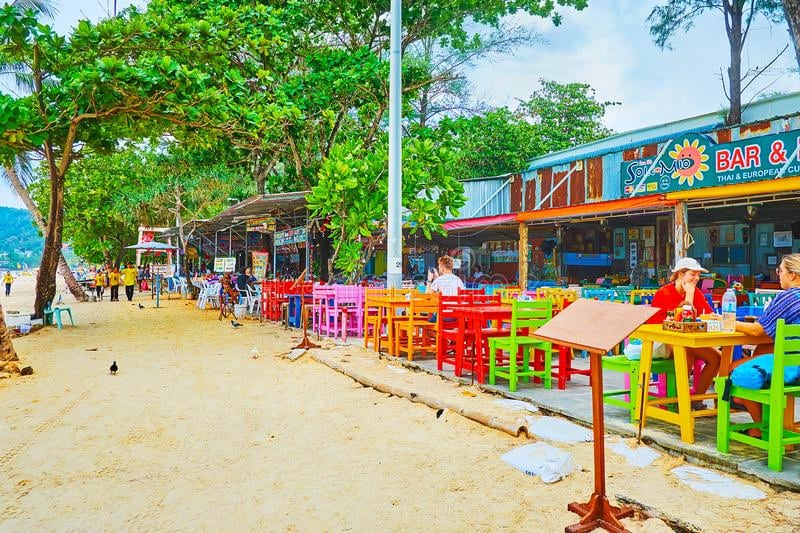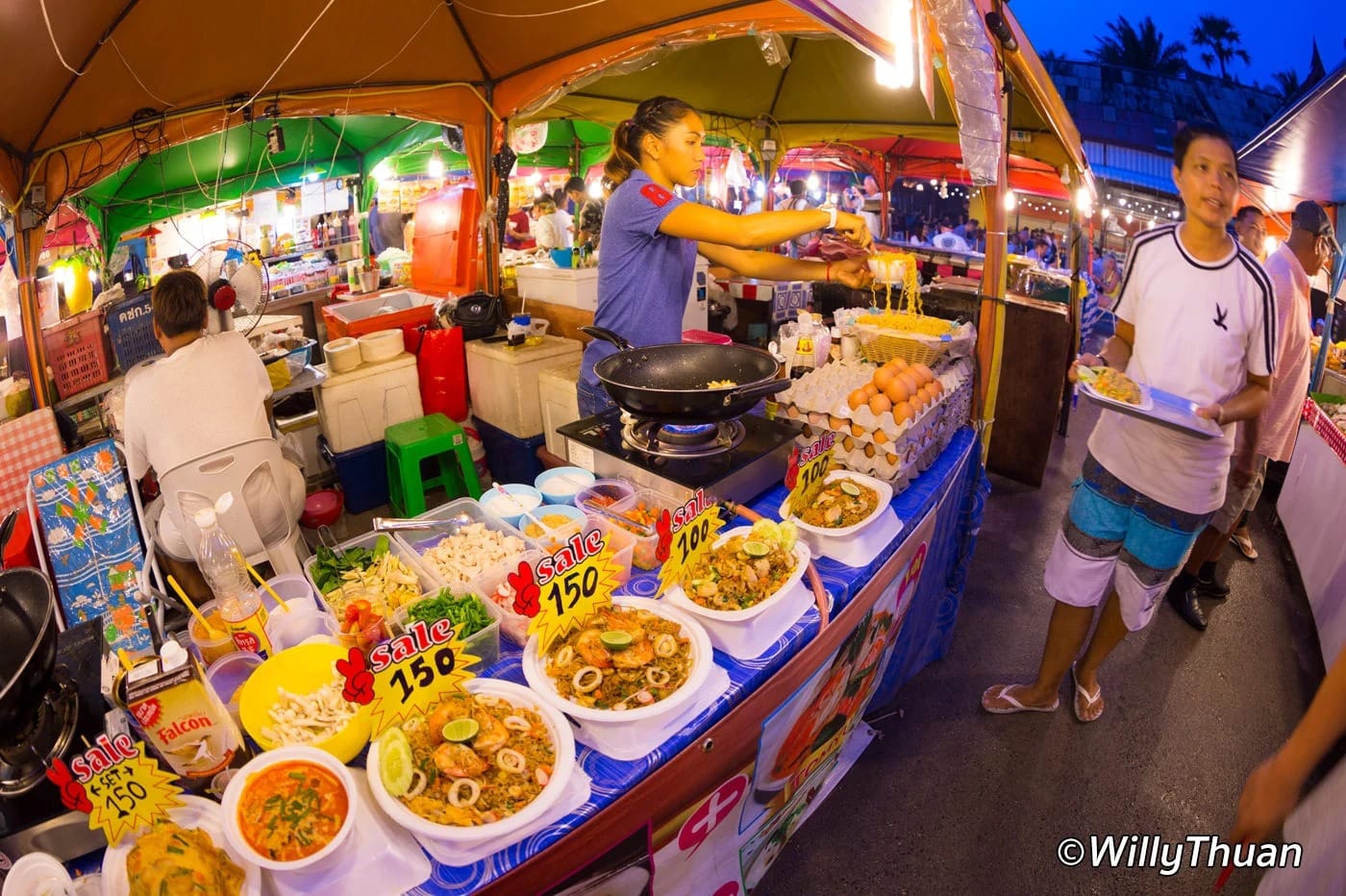 Editor - Thailand Nomads
Cindy quit her 9 to 5 job to pursue her passion for exploring mesmerizing locations in Thailand. She has been living here for the past 5 years now and through Thailand Nomads, she shares her experiences and insights about the must-visit places in Thailand.
Email: cindy@thailandnomads.com