Temples have been a very significant part of the tourism industry of the mesmerizing country of Thailand. The majority of them are Buddhist temples. Visiting a temple could be one of the easiest and most engaging ways of understanding and blending with Thai culture. Discover the sacred beauty of Temples in Hua Hin, where ancient history, spiritual art, and mesmerizing architecture combine to reveal the rich cultural heritage and enduring traditions of this charming beachside destination. You will need to make sure to add them to your bucket list.
1. Wat Hua Hin
It is by far the most significant and also the most popular temple in Hua Hin. It is also known by the name Wat Ampharam among locals. Wat Hua Hin is conveniently located in the center of the town and can be easily reached on public transport.
Apart from being a popular tourist destination in Hua Hin, it is also famous for the meditation sessions it offers in the afternoon. The interior walls of the temples have intriguing murals that depict the life of Lord Buddha. There are several golden statues of Buddha that you can pay homage to.
Location: Phet Kasem Road, Hua Hin 77110, Thailand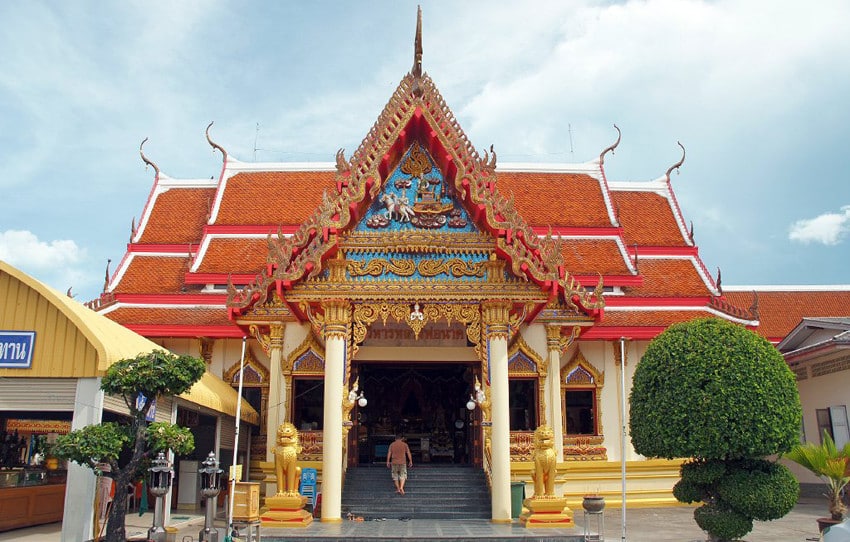 2. Wat Bor Phai
The Wat Bor Phai is located at a distance of 5 km from downtown Hua Hin. It is among the most peaceful spots in Hua Hin where you can comfortably sit and meditate. The temple is popular for the many ponds that it has.
It is a pure delight to watch the tiny weeny fishes swim in the pond. You can also get the fish food from the monks and feed them. It is desirable to give some generous donations to the monk so that they are pleased to let you feed the fish.
Location: JWCR+CM6, Hua Hin, Hua Hin District, Prachuap Khiri Khan 77110, Thailand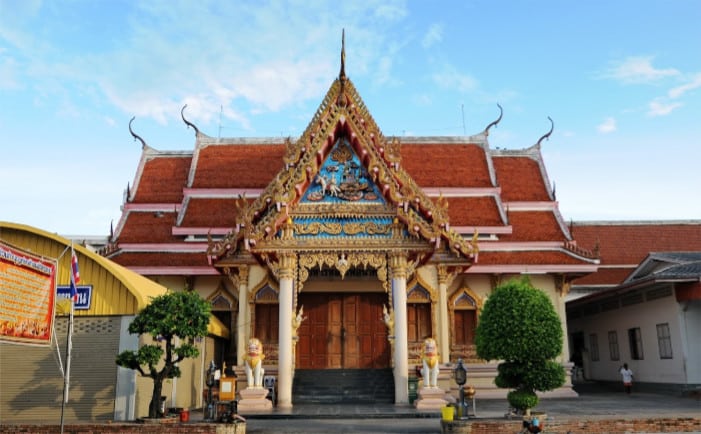 3. Wat Huay Mongkol
Located 10 km west of Hua Hin, it is a popular Buddhist Pilgrim destination in Hua Hin. It features the largest image of Luang Phor Tua in Thailand. Hence, the places are usually crowded with tourists who come to see this spectacle.
The area surrounding the temple has several streams, waterfalls, lakes, pavilions, bridges and what not! There are several restaurants also where you can sit down for a lip-smacking authentic Thai meal at a reasonable price. You can also buy souvenirs from the various shops nearby.
Read our detailed article on Wat Huay Mongkol here for more information.
Location: Highway 3219 Thap Tai, Hua Hin District, Prachuap Khiri Khan 77110, Thailand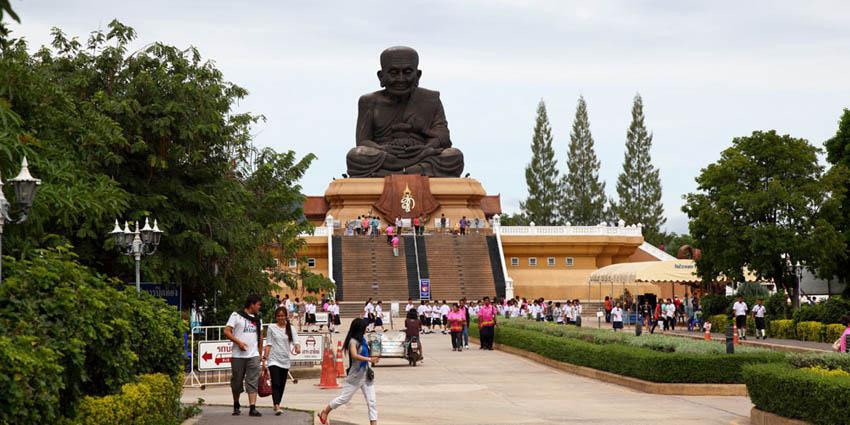 4. Khao Takiab Temple
Khao Takiab translates to "chopstick hill". The name of the temple was given after the village where it is located i.e. the Khao Takiab village, 7 km from Hua Hin. The village is located on a hill. The temple features a huge statue of a standing Buddha along with several rows of bronze bells.
You can clearly see the Cha-Am beach from the temple. You can reach the temple on transport or even take the steps, all the way up to the hilltop where it is located. Beware of the monkeys here, especially if you are carrying any eatables.
Address: 123, 55 Nong Kae-Takiap, Nong Kae, Hua Hin District, Prachuap Khiri Khan 77110, Thailand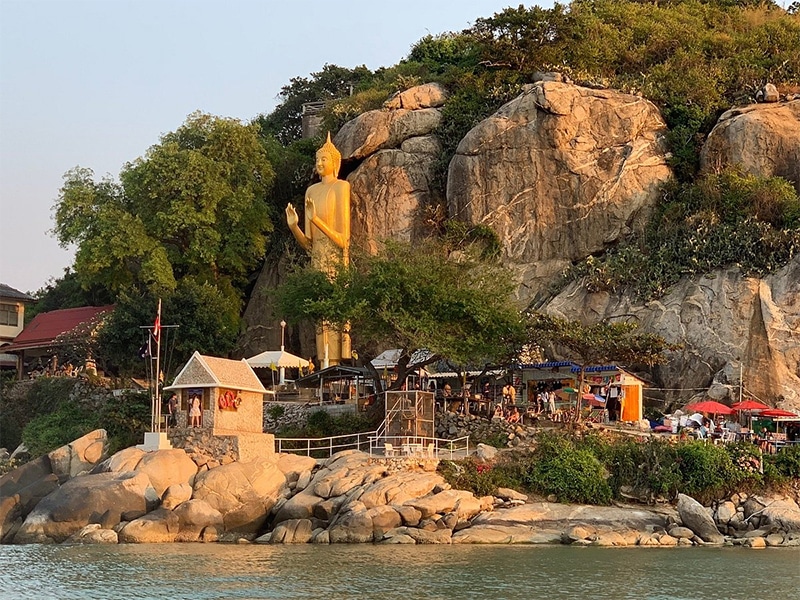 5. Wat Khao Sanam Chai
It is the most beautiful temple complex in Hua Hin that is situated on several adjoining hilltops. Owing to its elevation, Wat Khao Sanam Chai offers a breathtaking panoramic view of the entire town of Hua Hin. There are many shrines and monuments spread throughout the ground.
The entire temple has beautiful signages and quotes on how to lead a peaceful life and not indulge in harming any other living being. The white building with golden trim has the magic to capture your attention if you are passing by that area.
Location: 69/7 Petchkasem Rd, Hua Hin, Hua Hin District, Prachuap Khiri Khan 77110, Thailand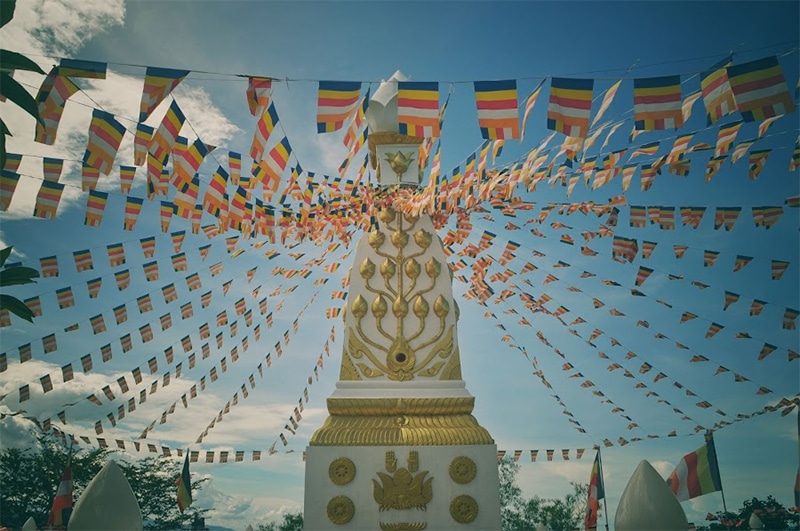 Wondering Why Visit a Temple in Hua Hin?
Visiting temples could be a very effective way to immerse yourself in Thai culture. The peace that you will get at these temples is unmatched. Apart from the above-mentioned temples, you can also visit the Wat Khao Krai Lart and Wat Khao Takiap in Hua Hin.