The Pong Kwao Hot Springs was first found around 120 years ago by a group of hunters and was opened for recreational purposes after the year 2000.
Immerse yourself in the soothing mineral-rich waters of Pong Kwao Hot Springs and experience nature's ultimate relaxation in the heart of Thailand.
About the Pong Kwao Hot Springs
As you enter there is a beautiful garden with fountains and a swimming pool. The paths are lined with wooden bungalows.
The place has both indoor as well as outdoor pools or onsens. The indoor pools are ideal for people who like privacy and are more prone to sunburns.
These pools have a shade where you can relax in the hot spring without having to bear the scorching sun. There are a total of two indoor pools in the premises.
If you wish to savor the breathtaking view of the surrounding mountains as you soak yourself in the warm water, go for an outdoor pool.
There are three outdoor pools where you can enjoy the natural view. These hot springs usually spring themselves every 30 seconds.
Besides these, the Pong Kwao Hot Springs also has nine private rooms where you can enjoy in peace with your group of friends or family.
The inside of the hut has a small clean space with a couple of hangers and baskets where you can keep your items.
If you find the water too hot, you can use the small shower cabin which has a fresh supply of cold water.
There is a special Thai style shower room with stone walls where you can enjoy the traditional style Thai bath.
This shower room has the most hot natural water in PongKwao Hot spring. There is a separate section for men and women to ensure safety.
You can find out more information about the other Hot Springs in Chiang Mai here.
Contact:
Address: Samoeng Nuea, Samoeng District, Chiang Mai 50250, Thailand
Phone: +665348 7069-71
Hours of Operation: 8:30am – 5:30pm daily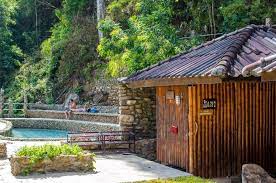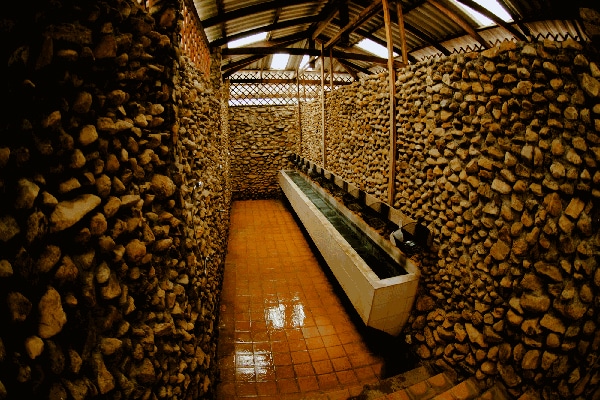 Additional Treats
Pong Kwao Hot Springs offer you Aromatherapy, Hot Oil Spa, or Foot massages, in a clean environment, and a sauna.
They also have special Hot Herbal skin and scalp treatments along with the Traditional Thai Massages.
There are onsite eateries where you can sit down for a sumptuous meal after a relaxing hot water bath. The food items are reasonably priced.
How to Get There?
The Pong Kwao Hot Springs is nestled in the mountains of the Samoeng District at a distance of 50 km from Chiang Mai city.
You can conveniently reach the location on your own scooter or car. There is also an option to book a taxi but that would cost you a lot of money.
Pro Tip: Apply sunscreen liberally if you are going on a bike or scooter to avoid tan.
Entrance Fees
Thai Locals: 80 Thai Baht
Foreigners: 150 Thai Baht
Kids under 4 years: Free
Conclusion
Although the Pong Kwao Hot Springs is a long trek away from the city center, it is worth all the effort.
The area is abundantly lined up with trees that provide shade.
There are pools for everyone: the reserved family group, the effervescent friend circle, and also the quiet individual who wishes to visit here for some peace.
Founder - Thailand Nomads
Jordan started Thailand Nomads primarily for sharing his experience of exploring Thailand for several years. The objective is to help tourists especially digital nomads plan their travel itinerary when visiting Thailand.
Email: jordan@thailandnomads.com