Like the temples of any other place, the Wats of Bangkok bespoke the culture and history of the town.
Some of these temples have a very intriguing story that is likely to recharge your spirituality.
Embark on a spiritual journey through must Visit Temples in Bangkok, where intricate architecture, sacred relics, and serene atmospheres transport you to a world of timeless beauty and cultural heritage.
17 Must Visit Temples in Bangkok – 2023 Guide
1. Wat Pho
It is one of the most prominent and most significant temples that houses Thailand's giant reclining Buddha, 46 meters long and 15m tall.
The temple is named after the monastery where Buddha lived in India. The temple is spread out in an area of about 80,000 square meters.
The temple is also popularly known as the earliest public university in Thailand.
It used to conduct science and literature lessons earlier but currently only runs a massage and natural medicine school.
The temple is right next to the Grand Palace and has over 1,000 Buddha images and 91 chedis (stupas).
Address: 2 Sanam Chai Rd, Phra Borom Maha Ratchawang, Phra Nakhon, Bangkok 10200, Thailand
Phone: +66 83 057 7100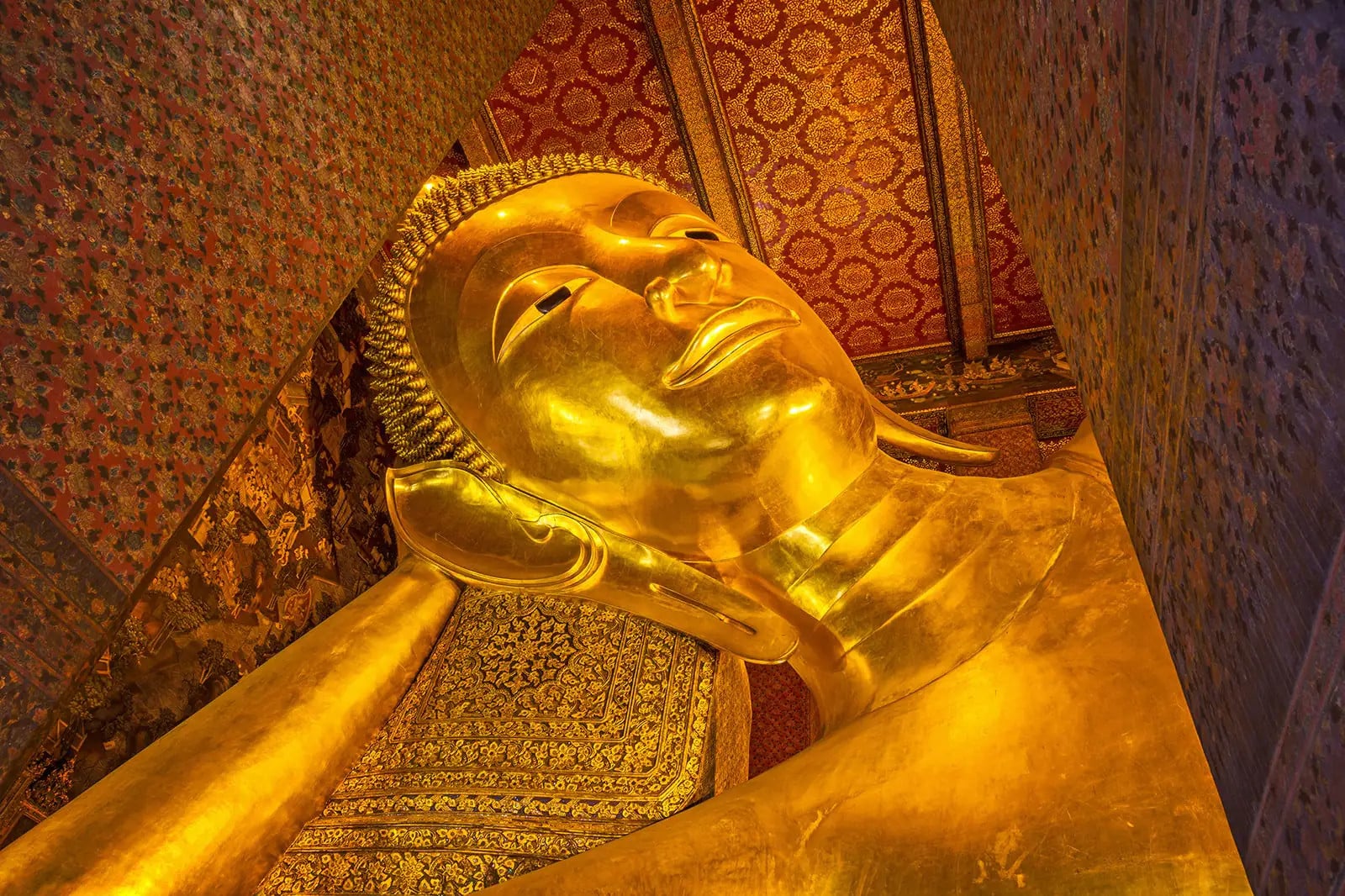 2. Wat Phra Kaew
It is one of the famous temples in bangkok known as Temple of the Emerald Buddha. Wat Phra Kaew is one of Thailand's most important and famous temples.
It is partially because the temple has been home to Thailand's most important statue, the Emerald Buddha, since the 1700s.
The temple features a fascinating gallery that stretches for about 2km. It is lined by detailed mural paintings that depict the 178 scenes of the epic story of Ramayana.
The temple is only open until 3.30 pm, and entrance costs at least 500 baht for non-Thai citizens.
Location: QF2V+M34 Na Phra Lan Road, Phra Borom Maha Ratchawang, Phra Nakhon, Bangkok 10200, Thailand
Phone: +66 2 224 3290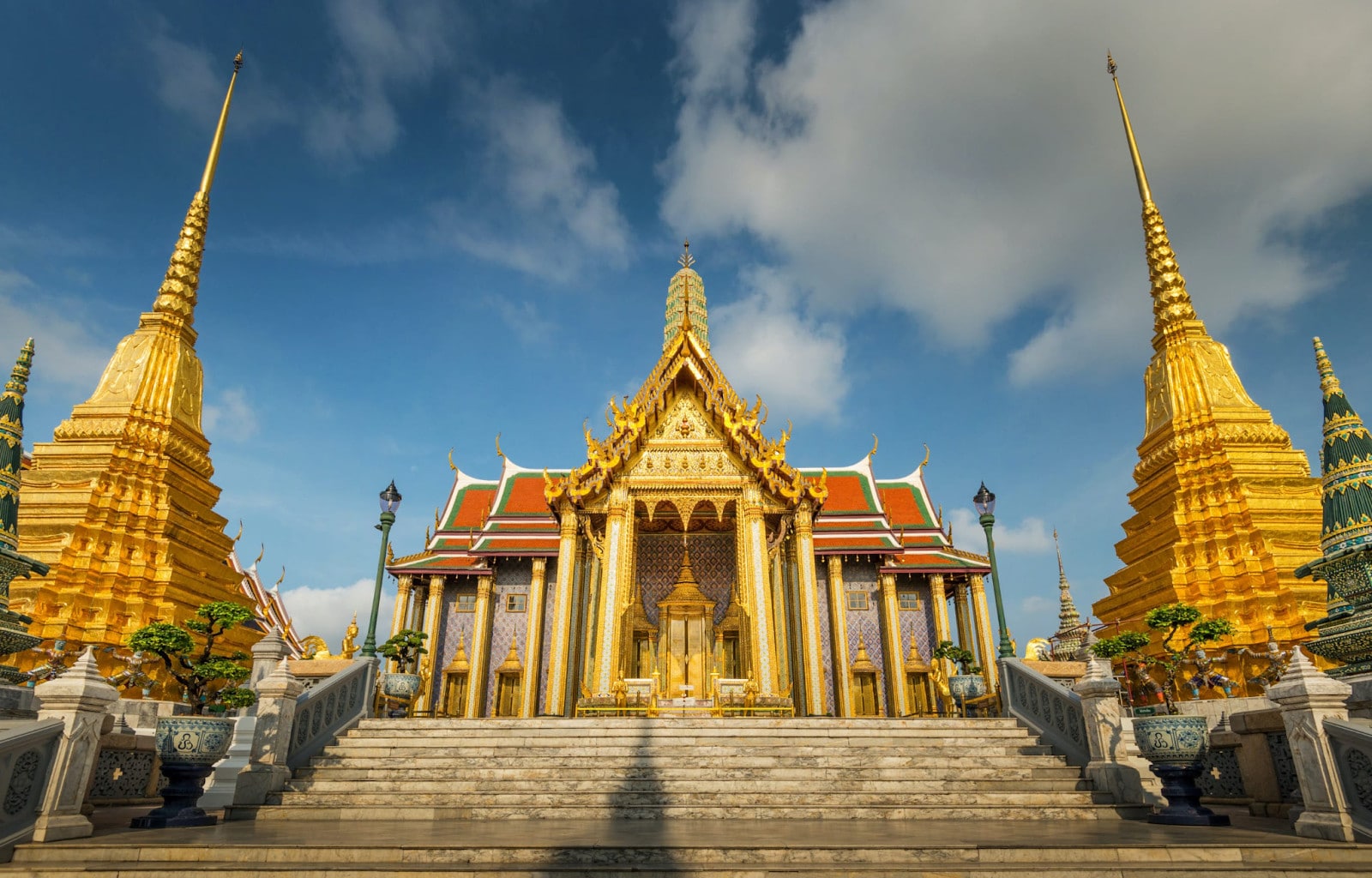 3. Wat Arun
The temple was established to pay homage to the Hindu god Aruna, who is associated with the rising sun. This is why it is also referred to as the "temple of dawn".
The temple is very popular for its picturesque location beside a river and also because of its unique design.
The best time to visit the temple is during sunrise or sunset. To get the best view of the temple, you will have to climb the central prang.
To reach Wat Arun, you can catch a boat from Wat Pho Temple and get off at Wat Arun right across the river.
Location: 158 Wang Doem Road, Wat Arun, Bangkok Yai, Bangkok 10600, Thailand
Phone: +66 (0)2 891 2185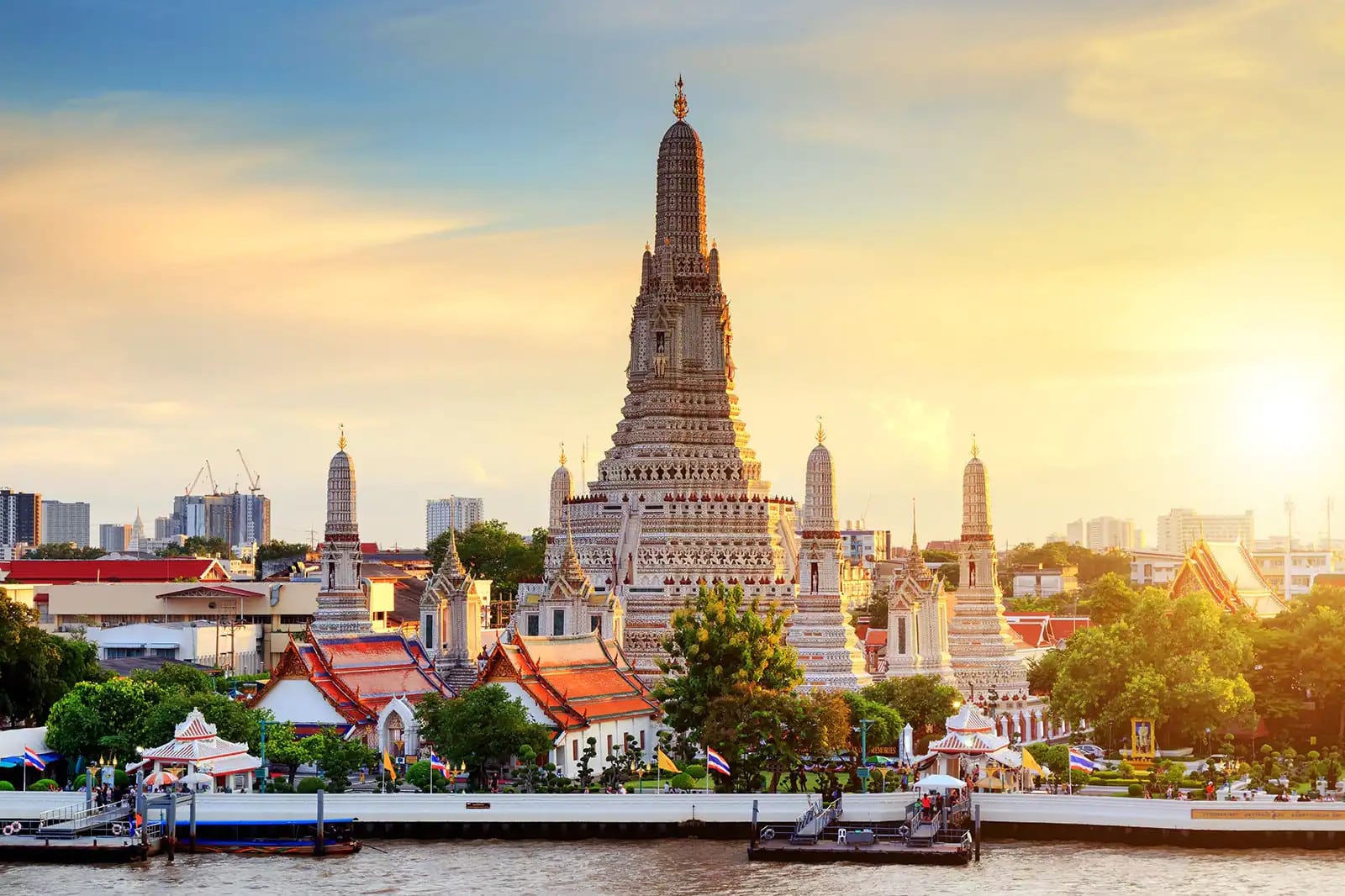 4. Wat Benjamabhopit
It is also known as the Marble Temple of Bangkok since the external walls of the temple are made up of Italian marble. The same temple is carved on the back of the 5 Baht coins.
Wat Benjamabhopit is also called Wat Benja by Thai locals.
The temple is a combination of beautiful golden and red and is also quieter than other temples in Bangkok.
The main attraction of the temple is the 52 Buddha images that surround the assembly hall.
The statues of the temple were collected by King Chulalongkorn.
Location: Rama V Road, 5 Dusit, Dusit District, Bangkok 10300, Thailand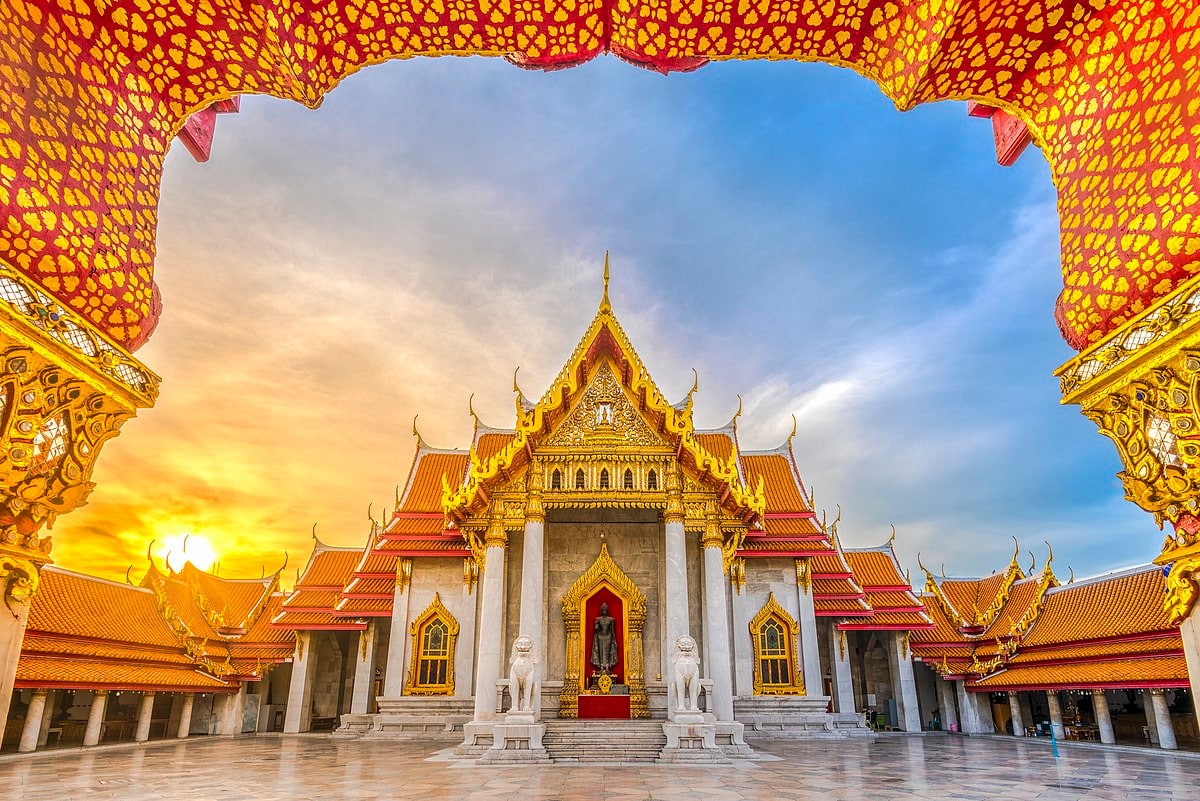 5. Wat Saket
Wat Saket, or The Golden Mount, is situated on top of an 80-meter high hill in the heart of Bangkok.
The temple should be struck off your list if you are not much into adventures as you can reach here only by climbing 300 gold and red steps.
At the base of the Golden Mount, there is a cemetery covered in vines and overgrown trees.
The temple is also famous because of two annual festivals that occur in November.
Both these festivals include candlelight prayer and celebration.
Location: 344 Chakkraphatdi Phong, Ban Bat, Pom Prap Sattru Phai, Bangkok 10100, Thailand
Phone: +66 65 010 3131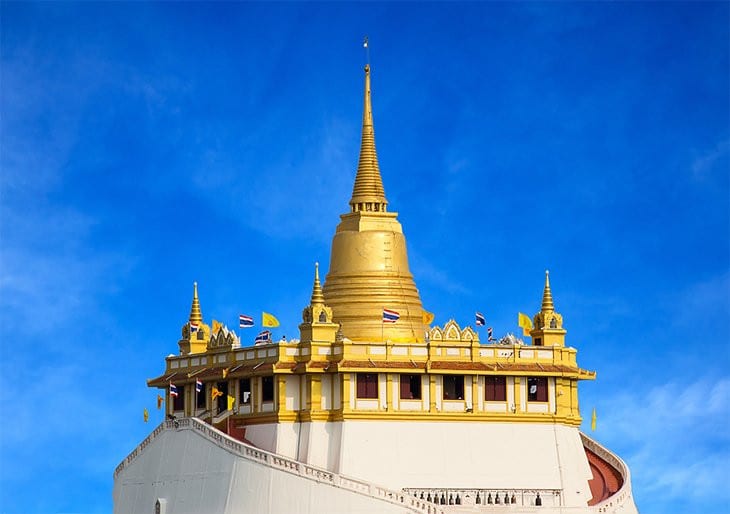 6. Wat Traimit
It is another very popular temple in Bangkok with a 5,500-kilogram statue of a seated Buddha made of gold.
The current value of the Buddha statue is $250 million. The statue has a peculiar yet exciting story behind it.
There is a museum on the third floor of the temple complex where you can get in first-hand and in-depth information about the temple's history through a video presentation.
On the second floor, you can watch 3D presentations detailing the history of the Chinese traders in Bangkok.
Location: 661 Charoen Krung Rd, Talat Noi, Samphanthawong, Bangkok 10100, Thailand
Phone: +66 (0)89 002 2700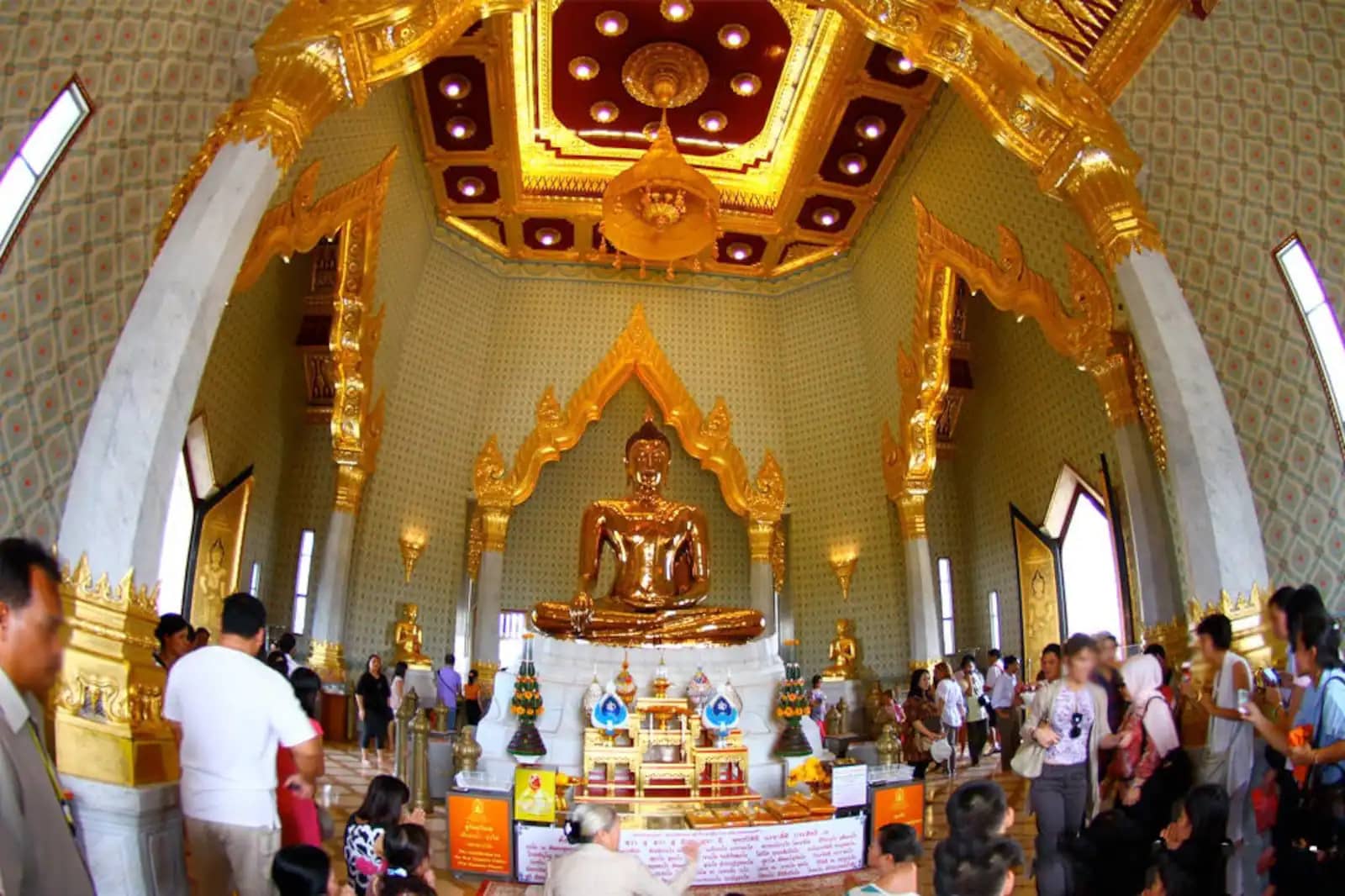 7. Wat Mahathat
Situated close to Bangkok in Ayutthaya, the ten royal temples of the highest class in Bangkok are used for royal ceremonies.
The temple ground is home to the oldest higher education institute for Buddhist monks in Thailand and an important center for the study of Meditation and Buddhism.
The temple is centrally located in the 290-hectare historical park and is very popular among history and archaeology enthusiasts.
One of the main attractions of this place is the famous Buddha's head embedded into a tree trunk and surrounded by roots of it.
Location: 3 Maha Rat Rd, Phra Borom Maha Ratchawang, Phra Nakhon, Bangkok 10200, Thailand
Phone: +66 (0)2 222 6011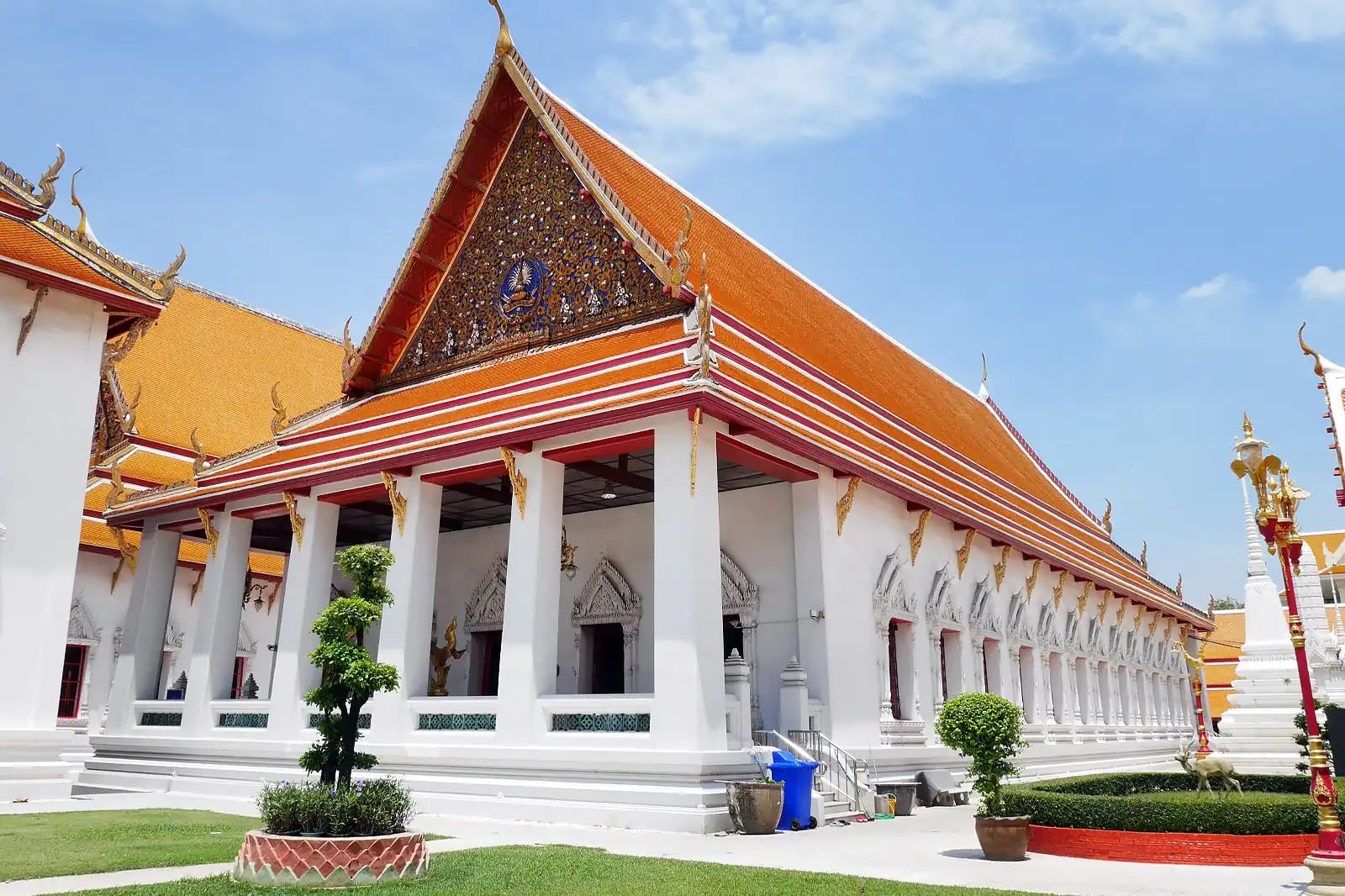 8. Wat Suthat
The Wat Suthat Thepwararam is an impressive temple in Bangkok which is popular for its giant swing that is placed outside.
The giant red swing, or Sao Ghingcha, is 21 meters in height and built entirely of teak wood.
The temple features a mesmerizing chapel with a sweeping roof, magnificent wall murals and exquisite hand-carved teakwood door panels.
Since the temple is very close to Emerald Buddha, the Grand Palace and Wat Pho, you can plan a combined trip.
Location: 146 Bamrung Mueang Rd, Wat Ratchabophit, Phra Nakhon, Bangkok 10200, Thailand
Phone: +66 (0)2 622 2819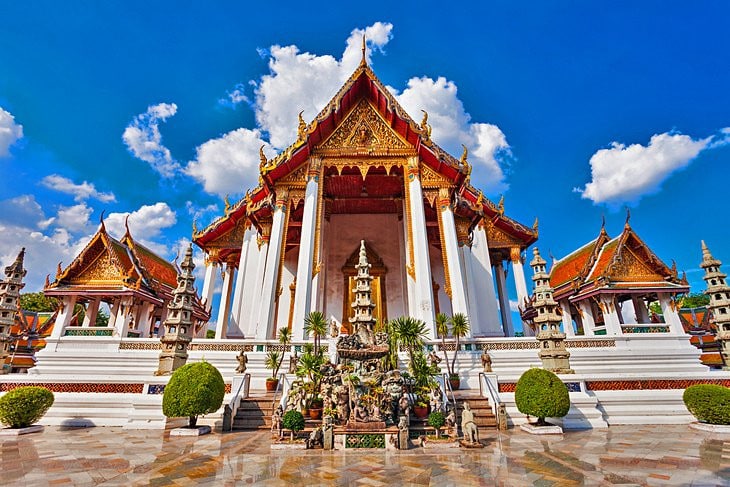 9. Wat Prayoon
Wat Prayoon or Wat Rua Lek is a small white temple located on the western side of the Chao Praya River.
The temple has a large inverted bell-shaped chedi (pagoda) and is surrounded by gardens, turtle ponds, and housing spirit houses.
The visitors can feed the turtles living in the pond. The 80-meter-tall, bell-shaped chedi has some very ancient Buddha relics.
The temple has a unique bright red iron fence built using ancient weapons as the main raw material.
Location: 24 Prajadhipok Rd, Wat Kanlaya, Thon Buri, Bangkok 10600, Thailand
Phone: +66 (0)2 466 1693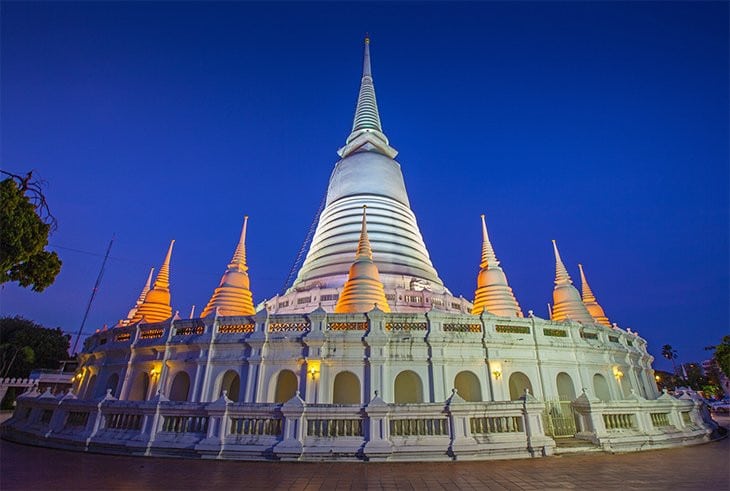 10. Wat Suwannaram
The Wat Suwannaram, earlier known as Wat Thalong, served as an execution ground during the war with Burma.
After that, it became a crematorium for members of the royal family.
In the 18th century, Lord Rama ordered its restoration, and since then, it has been popularly known as Wat Suwannaram.
The most attractive part of the temple is the giant golden Buddha and the red murals that embellish the walls and ceilings.
There is a small pond at the center of which is a tiny magical library.
Address: QF7G+8PG Soi Charansanitwong 32 Siri Rat, Bangkok Noi, Bangkok 10700, Thailand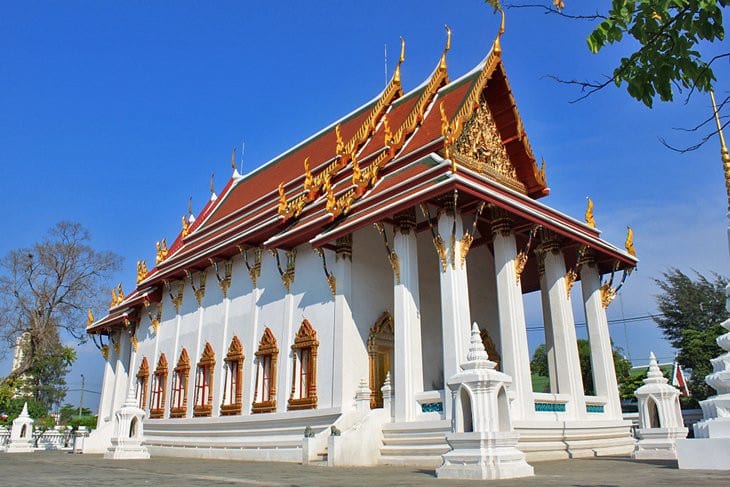 11. Wat Mahathat
The Wat Mahathat temple is located outside Bangkok city in the ancient town of Ayutthaya. It could be a perfect option for a trip.
Ayutthaya was the official capital of the country until 1767. In 1767, the Burmese Army attacked and destroyed most part of the city.
At present, there are over structures that remain in the historical park, out of which Wat Mahathat is the most popular.
The temple's most striking feature is the Buddha's head, which is embedded into a tree trunk and surrounded by roots.
Address: 3 Tha Prachan Road, Phra Borom Maha Ratchawang, Phra Nakhon, Bangkok 10200, Thailand
Phone: +66 2 222 6011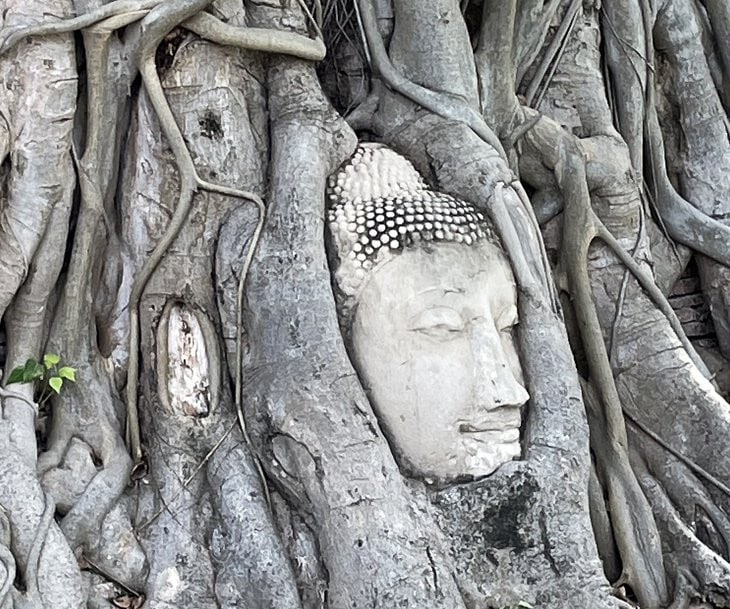 12. Sri Mahamariamman Temple
Bangkok's most impressive Hindu temple has a striking facade of colors and shapes. It was built near the end of the 19th century.
The most unique feature of the hospital is the six-meter-tall gopura at the entrance.
It features carvings representing different deities. The temple has a main hall where the statues of Ganesh, Krishna, Shiva, and Vishnu are placed.
You can pay your respects and homage by offering flower garlands, incense, and fruits or sweets. You can buy them from the many shops on the streets around the temple.
Address: 2 Pan Rd, Khwaeng Silom, Bang Rak, Bangkok 10500, Thailand
Phone: +66 97 315 9569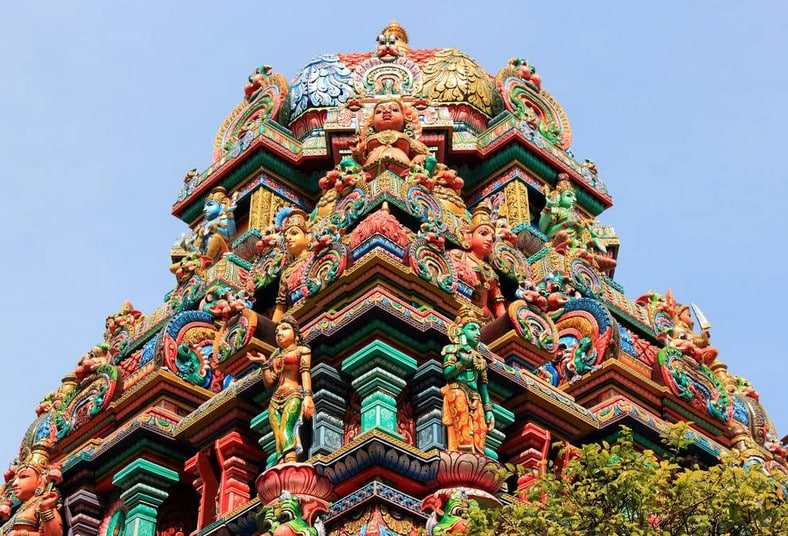 13. Wat Kalayanamit
The Wat Kalayanamit is located across the Chao Phraya, next to Wat Arun.
It is so huge and magnanimous that you cannot help but notice it if you pass that way.
It was built in the 19th century and since then has attracted tourists from various places who come here to pay respects.
There are no entry fees here.
It has one of the tallest ordination halls in Thailand.
In the main hall, you will find a 50-foot tall Buddha image, in the subduing Mara pose, with its left hand lying palm upwards in its lap.
Address: 371 Soi Arun Amarin 6, Kalyana Temple, Thon Buri, Bangkok 10600, Thailand
Phone: +66 86 709 2829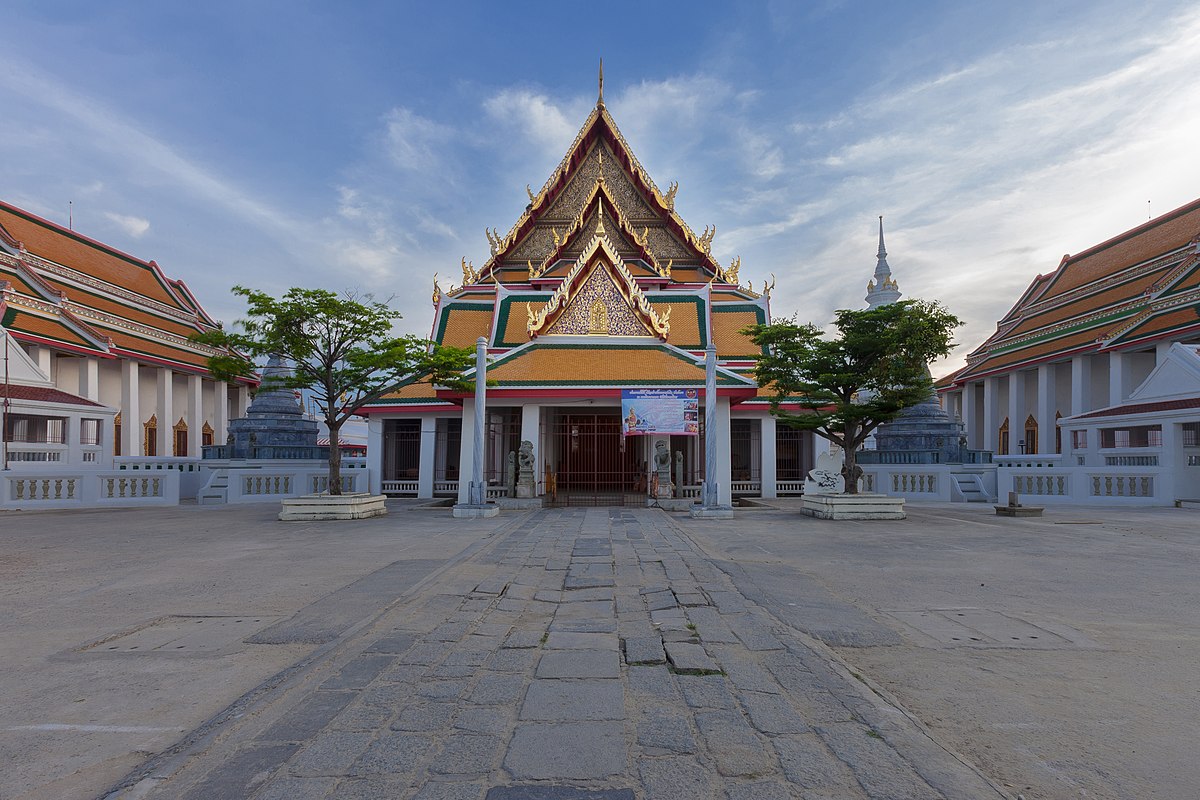 14. Wat Bowonniwet
Also known as Wat Bowon, this ancient temple dates back to 1926.
It is also popularly called the national headquarters of the Thammayut order- a sect that refers to Thai Buddhism.
The temple depicts 19th-century western Thai life and is also home to some noteworthy murals.
Many kings of Thailand were monks and abbots here, such as King Rama IV and King Bhumibol.
Address: 248 Phra Sumen Rd, Khwaeng Wat Bowon Niwet, Khet Phra Nakhon, Krung Thep Maha Nakhon
Phone: +66 2 629 5854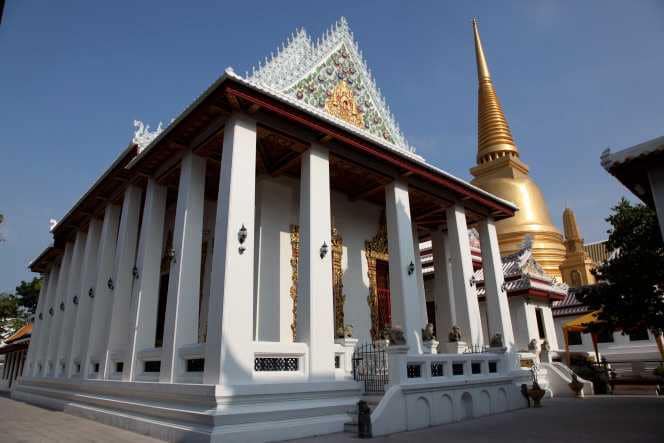 15. Wat Chana Songkhram
The Wat Chana Songkhram was originally known as Wat Ratchaburana.
One of the most striking features of this temple is that It has one of the largest Sri Lankan-style bell-shaped chedi in Sukhothai.
Just north of this temple in Bangkok is the monument of King Ramkamhaeng, which is very popular among the locals.
Address: Chakrabongse Rd, Khwaeng Chana Songkhram, Khet Phra Nakhon, Krung Thep Maha Nakhon, Thailand
Phone: +66 93 126 4000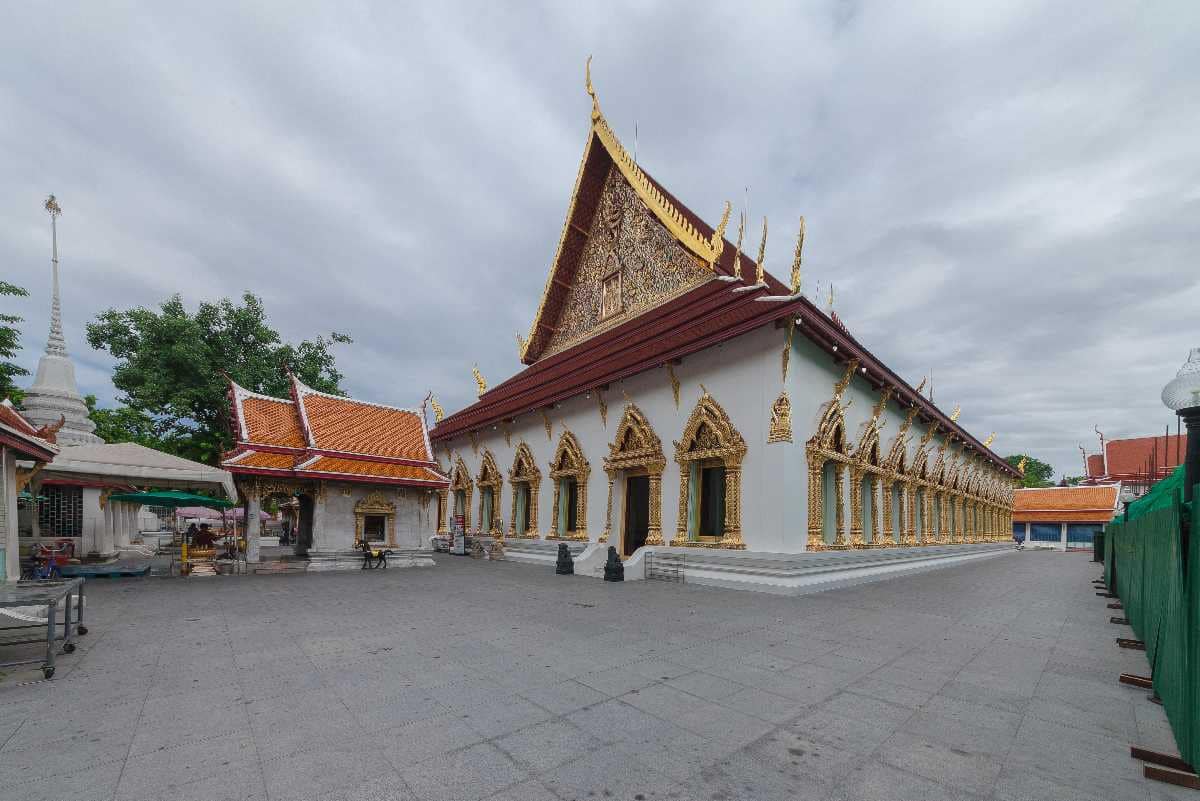 16. Wat Paknam Bhasicharoen
Also known as Wat Paknam, this temple was built during the Ayutthaya period. It enjoys the reputation of having the biggest Mae Chae community in Thailand.
The reason mae chis (nuns) flock to this Wat is the meditation master Luang Pu Sod's meditation policies that emphasize Buddhist and secular studies for them.
The main Phrarathchamongkhon Stupa of this temple is built entirely out of glass shards. In 2013, a new chedi and a stupa were added here
Address: Ratchamongkhon Prasat Alley, Khwaeng Pak Khlong Phasi Charoen, Khet Phasi Charoen, Krung Thep Maha Nakhon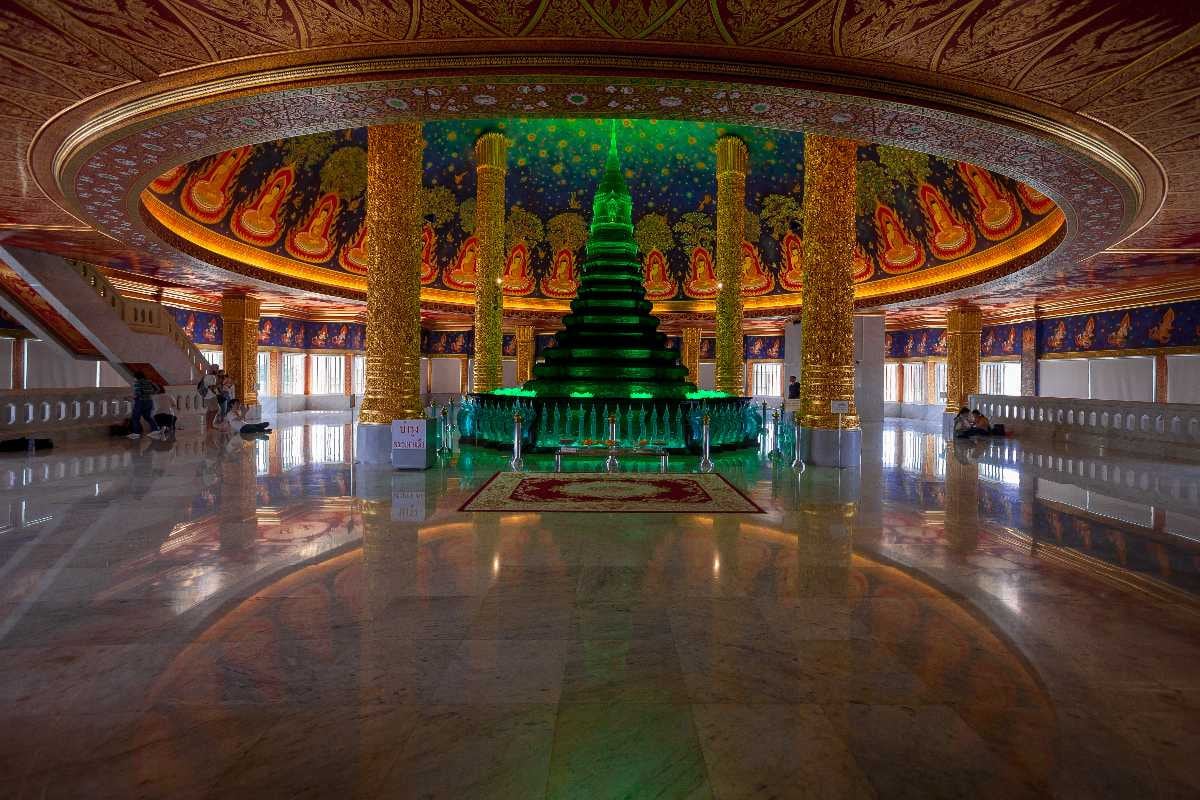 17. Wat Rakang
Wat Rakang is also known as the temple of bells.
This temple is not as popular as the others on this list but is definitely worth a visit, especially if you have an eye for details and love peace.
The temple was built in the 18th century. It has five giant bells and a seated Buddha in the meditation position in the center.
The architecture is sublime, and the murals inside the ordination hall are noteworthy.
The locals believe that sounding the bells will bring them fame and a good reputation.
Address: Thanon Arun Amarin, Khwaeng Siriraj, Khet Bangkok Noi, Krung Thep Maha Nakhon
Conclusion
Hence, we see that the city of Bangkok has some of the must Visit Temples in Bangkok. While some are blazing in glory, others are humble and rich in their historical story.
These religious monuments tell a lot about the city's history, culture, and social values; therefore, I highly recommend you to visit at least some of them.
Editor - Thailand Nomads
Cindy quit her 9 to 5 job to pursue her passion for exploring mesmerizing locations in Thailand. She has been living here for the past 5 years now and through Thailand Nomads, she shares her experiences and insights about the must-visit places in Thailand.
Email: cindy@thailandnomads.com