Pilates is very different from other forms of workouts in that it focuses on toning the muscles with springs, bands, or one's body weight.
It is a structured program that involves precise moves and specific breathing techniques. Therefore, the exercise is best learned from an experienced trainer.
For this reason, we are listing down the top 8 Pilate Studios in Bangkok that you can pick from today:
13 Pilates Studios In Bangkok – 2023 Review
1. Pilates Studio
Pilates Studio Bangkok is a fully equipped fitness studio that offers a variety of classes by professional instructors in a warm and friendly environment.
It is situated in Bangkok CBD on Phloenchit road. Since its establishment in 2005, the studio has set high standards of training in the Pilates exercise.
The pilates classes offered here are mat, apparatus, Fit Ball, Pre & Post Natal, Physical Therapy, etc,.
They also offers Pilates education courses by Body and Flows in NYC.
Address: 888/58-59 Mahatun Plaza Phloenchit Road, Patumwan Bangkok, 10330, Thailand.
Phone: 02-6507797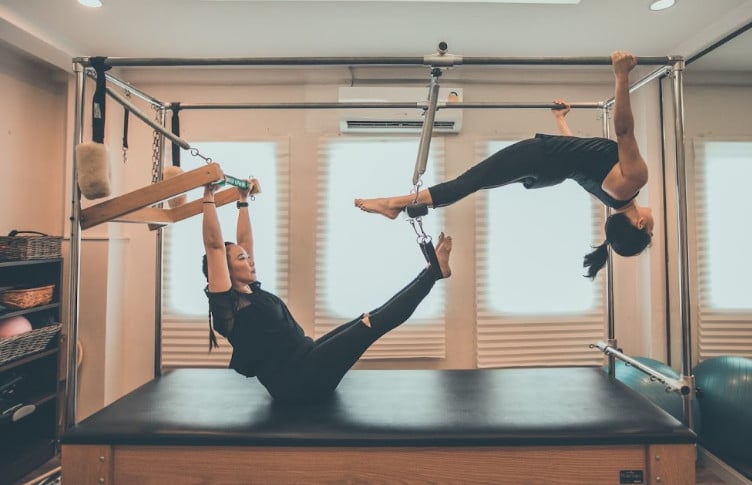 2. Pilates Station
Pilates Station is both a recreational pilates studio and a learning space for pilates bangkok instructors.
The class size at Pilates Station is usually kept small to give attention to the needs of each individual.
The studio offers mat pilates, private, reformer pilates, aerial yoga, barre, and stretching classes.
The training is focused on rehabilitation along with strengthening and increasing mobility.
Address: Jasmine City Building - Sukhumvit Soi 23, Khlong Toei, Bangkok 10110, Thailand
Phone: +66 2 661 7468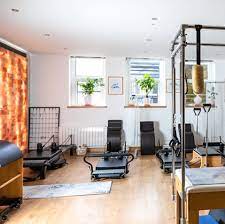 3. Pilates Plus
It is a Pilates Studio in Bangkok that offers a variety of group classes ranging from reformer pilates to barre workouts.
It is the only studio in Bangkok to offer Hot Pilates sessions.
The studio offers both groups as well as private classes. Private sessions are best for those who have just started or want to master the art of Pilates.
The instructors at Pilates Plus pay meticulous attention to detail, form, and alignment that will help unlock the power, balance, and energy from within.
Address: 90 Fifty Fifth Plaza, 2nd Floor, Soi Sukhumvit 55 (Thong Lor 2), Sukhumvit, Khlong Tan Nuea, Watthana, Bangkok 10110 Thailand.
Phone: +66 92 413 6222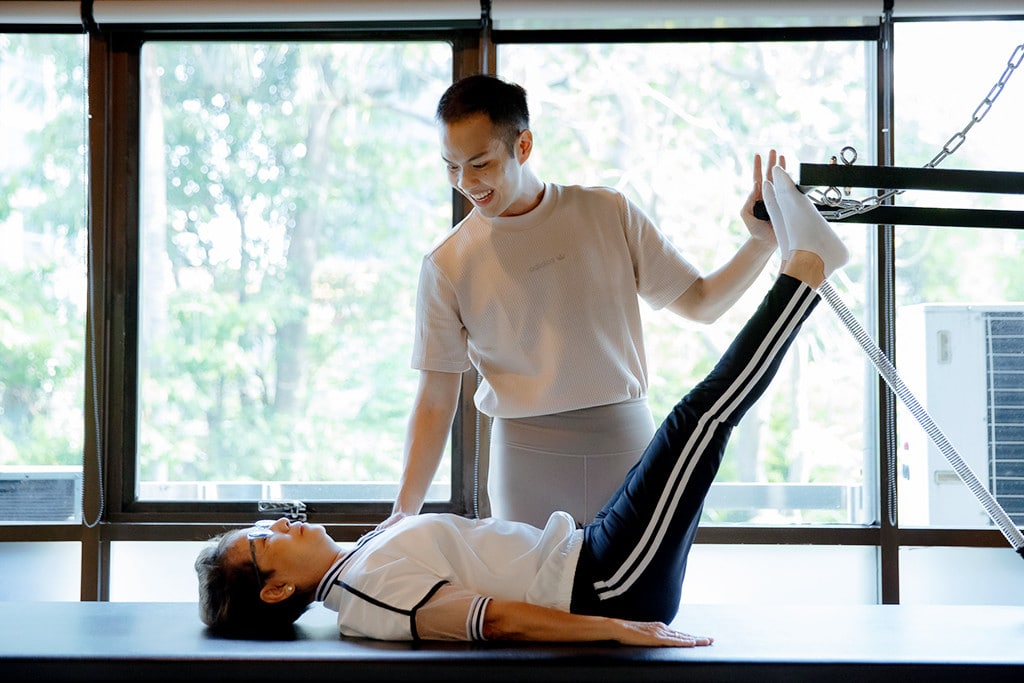 4. The Balance Pilates and Physio
It is one of the finest Pilates studios conveniently located in the center of Bangkok. The instructors here are very knowledgeable and well trained.
One of the distinguishing facts about this studio is that the content of the class is always varied.
The studio offers private and semi-private instruction, limiting our class size to nine participants.
People who have taken training here are all praise for the myofascial release practice that enables people with injury to work out in a safe environment.
Address: Sukhumvit Rd, Klongtoey, Watthana, Bangkok 10110, Thailand
Phone: +66 92 246 9462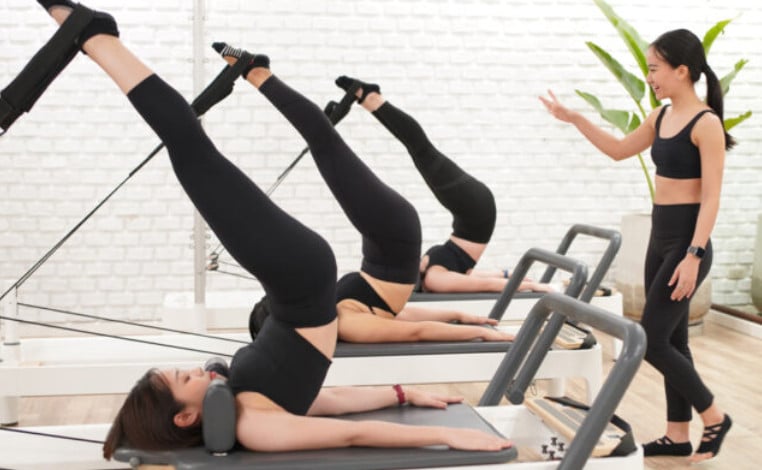 5. Pilates by Apittiya
It is an outstanding Pilates studio in Bangkok with well-trained instructors, friendly staff, and modern equipment.
The studio offers both groups as well as private classes at an affordable price.
The center caters to people of all ages and levels of experience. Whether you are a beginner or an expert, you will find something to suit your need here.
The different classes offered here are Motr, Total Bodhi, Apparatus Class, Corealign Class, Mat Class, TRX class, Paddle Bom, etc.
Address: No. 139 10 Soi Phra Phinit, Thung Maha Mek, Sathon, Bangkok 10120, Thailand
Phone: +66 87 505 1112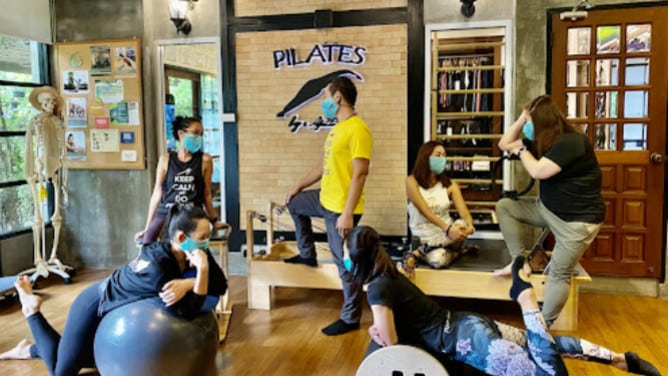 6. Star Pilates
It is a Boutique Professional Pilates & Yoga Fly Studios in the heart of Silom and Bangna, Bangkok.
The studio is well equipped for a quality training session.
It offers Pilates, Yoga Fly, Zumba, Core Strength, and more. The Pilates instructors are highly skilled, and Stott & Balancedbody Certified. ​
The instructors speak fluent Thai and English so the language is not a bar at Star Pilates.
Address: Rama IV road 942/166 Charn Issara tower, Silom, Bang Rak, Bangkok 10500, Thailand
Phone: +66 62 537 3698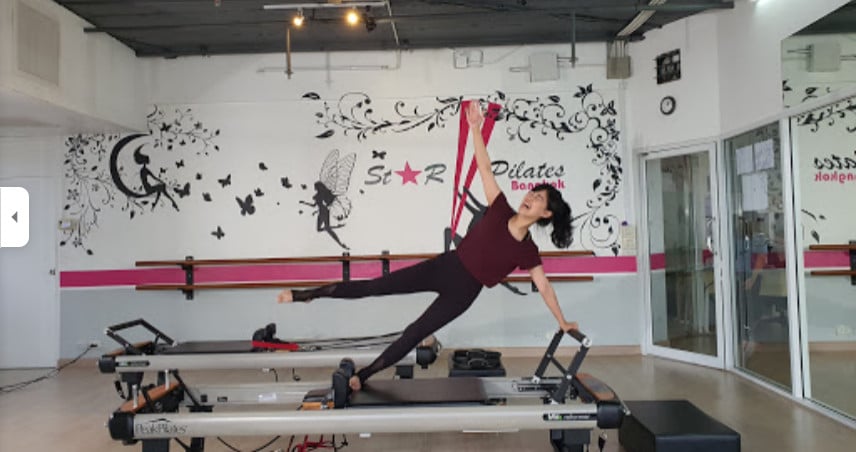 7. I Love Pilates Studio
It is another very popular Pilate Studio located in Bangkok. The studio features state-of-the-art tools and machinery that you would need for advanced training.
Both group and private classes are offered here.
However, even the group classes include not more than 9 members, so it gives out a near-private class feel.
The instructors are trained professionals who are very sensitive and attentive to the individual needs of the trainees.
They speak both Thai and English, so there is no scope for any miscommunication.

Address: I Love Pilates studio, 3653/1-4 Sukhumvit Rd, Bang Na, Bangkok 10260, Thailand
Phone: +66 94 965 6652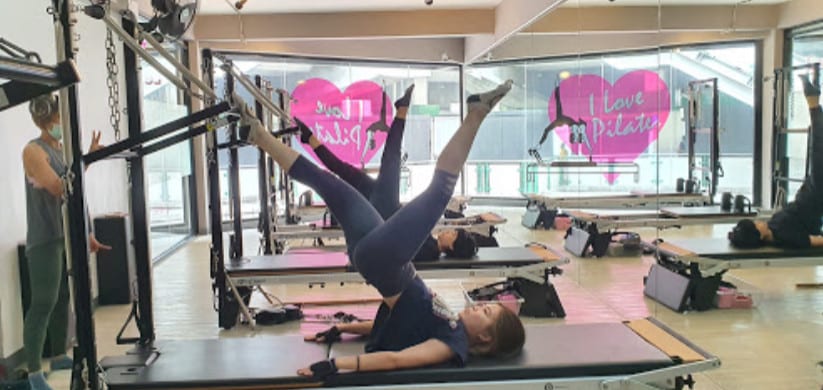 8. Flex Your Abilities
Flex Your Abilities is a boutique Pilates studio that focuses on conditioning the mind and body of an individual.
The studio is well equipped and spotlessly clean.
Their team of certified instructors are trained to enhance strength, stability, and mobility for various client populations ranging from recreational athletes to pre/postnatal and post-rehabilitation.
The head trainer, Nandni, is highly knowledgeable and makes the movements effective and conducive to the healing of trainees.
Address: 47 Sukhumvit 20 Alley, Khwaeng Khlong Toei, Khet Khlong Toei, Bangkok 10110, Thailand
Phone: +66 98 139 5776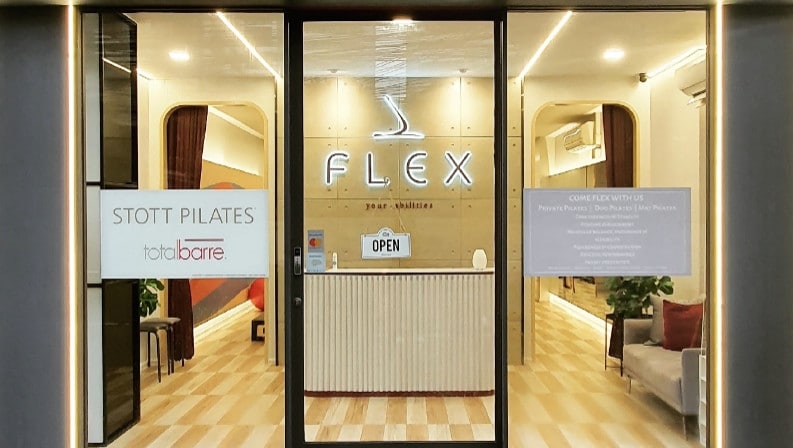 9. The Pilatest
It is one of the finest Pilate Studios in Bangkok that specializes in personal pilates training.
The head trainer Rachel along with others knows multiple languages and can thus train people from different origins.
The studio is also the official hosting center for STOTT PILATES and Total Barre instructor courses.
Address: 106 4 Sukhum Vit 49, Khlong Tan Nuea, Watthana, Bangkok 10110, Thailand
Phone: +66 2 258 4854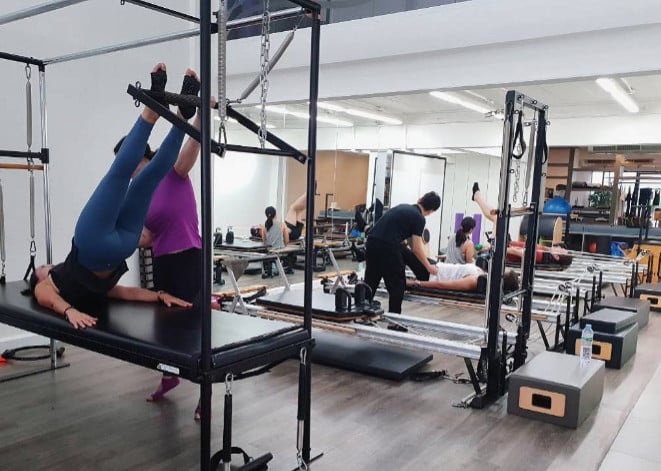 10. The Balance Pilates
The Balance Pilates is focused on aligning pilates to your Life. The facilities are top notch with accessible price.
There are a variety of classes offered here to suit all age brackets and fitness level. There are large schedules and hence booking is very easy.
If you are looking for an Expert Pilates Studio & Physiotherapy in Bangkok, look no further than The Balance.
Address: Sukhumvit Soi 21 Interchange Building B2 Floor, Bangkok 10110 Thailand
Phone: +66 92 246 9462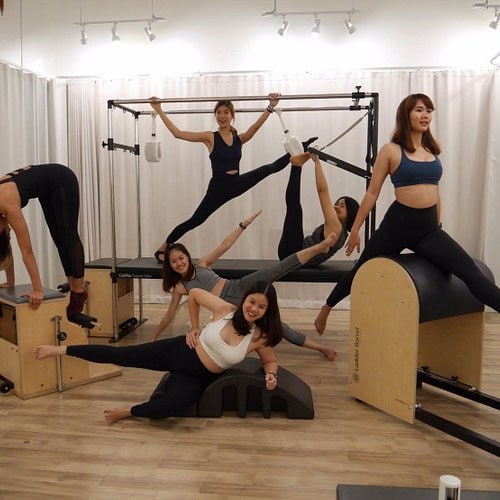 11. Bliss Body
It is a premium Pilates Studio in Bangkok that you can check out for a truly luxurious Pilates experience.
The studio has world-class equipment and other facilities, perfect for an extensive workout.
The trainers are highly skilled, and most of them speak fluent English.
The workout area is very spacious.
Address: 5, 1032/1-5 Rama IV Rd, Thung Maha Mek, Sathon, Bangkok 10120, Thailand
Phone: +66 99 051 5454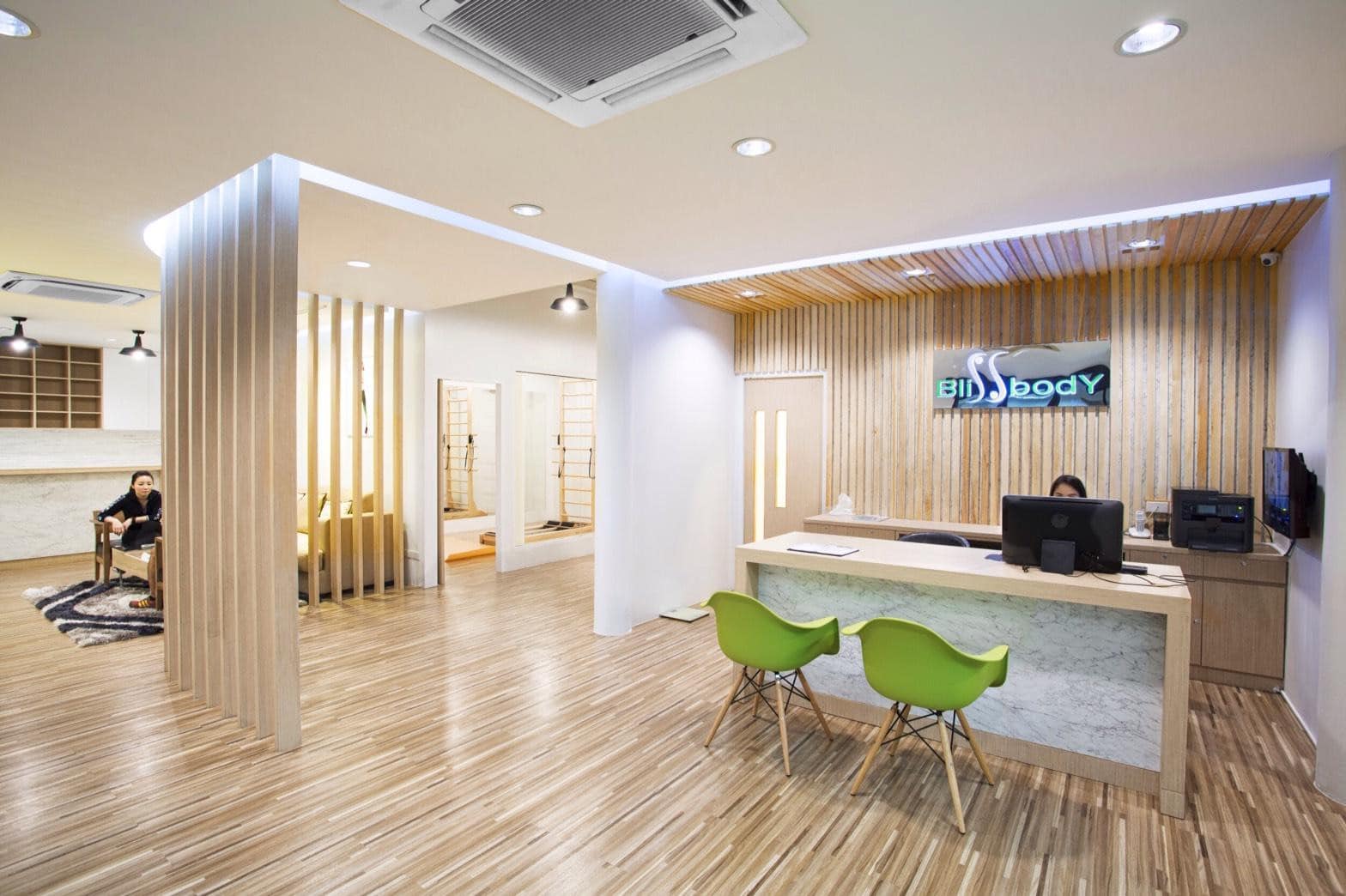 12. Elite Pilates Studio
The Elite Pilates Studio is popularly known for personlised Pilates lessons.
The studio offers personalized pilates programs that are designed specially to meet an individual's need for better health.
The instructirs at Elite are highly skilled, attentive, and very warm.
They understand an individual's capacity and allow them to progress at their own sweet speed.
Address: in front of the elevator, 2nd floor, 90 Thong Lo 2, Klongton Nuea, Watthana, Bangkok 10110, Thailand
Phone: +66 93 399 6593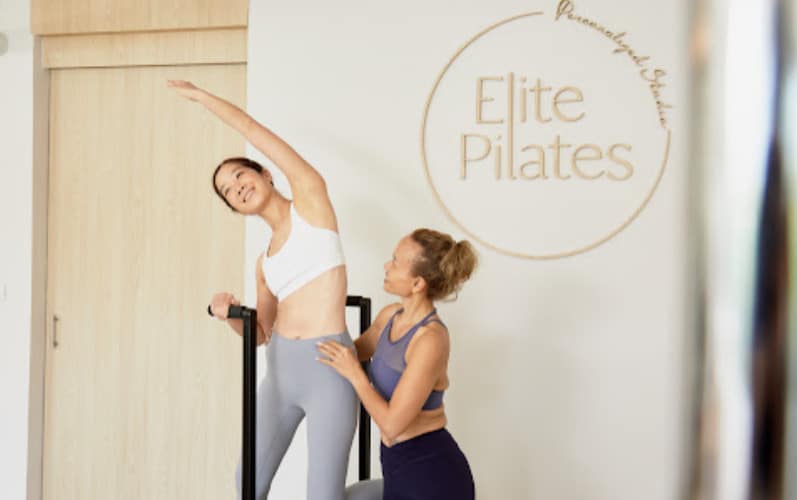 13. Sanooklife Limited Company
It is a physio pilates studio located at Asoke BTS or Sukhumvit MRT.
The main aim of the studio is to ensure physical fitness, which to the owner, is the key to overall happiness.
The trainers here are experts in movements that help to rehab injuries, reduce pain and curves for Scoliosis cases, and improve posture.
You can get a free consultation to analyse your body and see the problem areas. This is done to tailor the program based on your needs.
The studio gets selected every year from the most prestigious universities of Physiotherapist to educate and teach Pilates for Rehab of all professionals.
Address: 399, Interchange 21 Building, 21 Sukhumvit Rd, Klongtoey, Watthana, Bangkok 10110, Thailand
Phone: +66 92 246 9462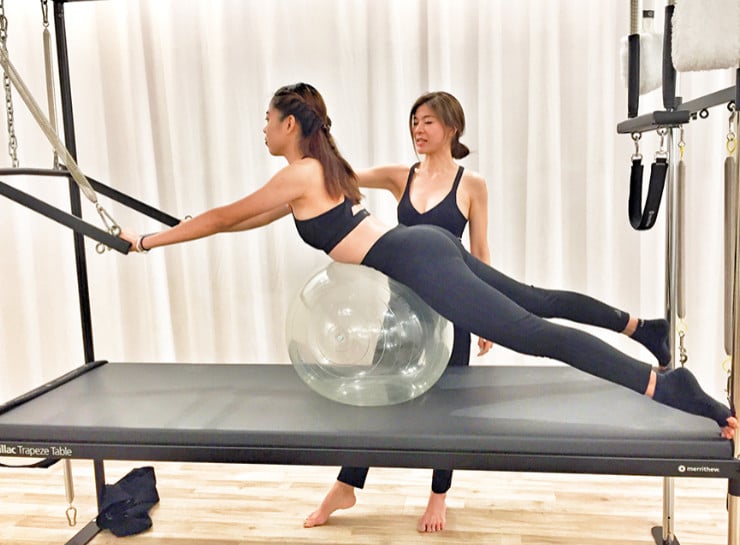 Conclusion
This list has been curated after hours of research so that you don't have to waste time, energy, and money on trial and testing.
Editor - Thailand Nomads
Cindy quit her 9 to 5 job to pursue her passion for exploring mesmerizing locations in Thailand. She has been living here for the past 5 years now and through Thailand Nomads, she shares her experiences and insights about the must-visit places in Thailand.
Email: cindy@thailandnomads.com