Getting a massage is one of Thailand's most well-liked activities among visitors and locals. Since the nation has its own Thai massage style, you may find one on practically any street.
For many Westerners, getting a Thai massage is a once-in-a-lifetime experience, and many go back for multiple sessions each week.
Therefore, we have curated a list of the Amazing massage spas in Koh Tao so that you can choose better.
7 Amazing Massage Spas in Koh Tao – Traveller's Guide for 2023
1. Paradise Massage
Paradise Koh Tao massage is located on the Sairee's brick road, and if you're not looking, you might walk right past it.
You can unwind while listening to the waves smash on the sand because the resort is situated by the beach.
Since they have a full team, the waiting hours are usually very short. The ambience is very relaxing, and the staff are very attentive.
Address: 3RVH+W5R, Ko Tao, Ko Pha-ngan District, Surat Thani 84280, Thailand
Phone: +66 86 098 2282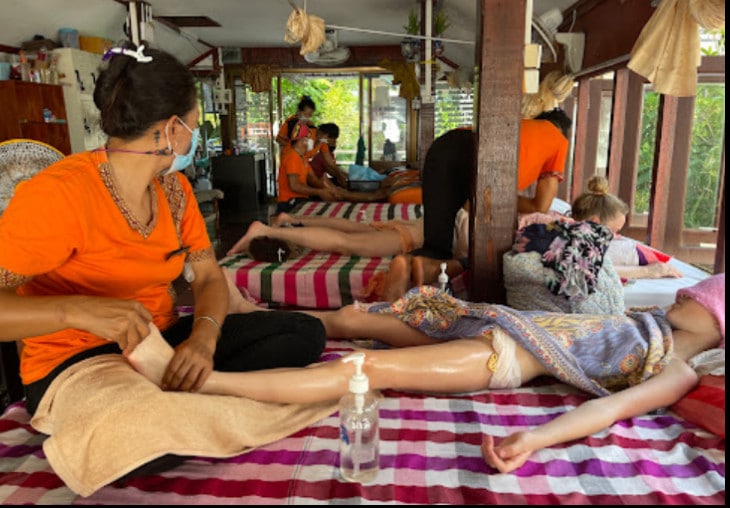 2. Kayo Massage
Visit Kayo Healing Massage Center if you want to enjoy a perfect combination of a massage with a beach breeze and the soothing sound of the waves.
It is a large massage parlor located on Sairee's brick road.
There is rarely a wait because they offer a wide variety of therapies and also give you a cup of tea after the session.
The ladies are very professional and highly skilled. Since it's one enormous room, there isn't much privacy.
The massage is top-notch, and the cost is fair.
Address: 3RVH+P3Q, Ko Tao, Ko Pha-ngan District, Surat Thani 84280, Thailand
3. Royal Thai Massage
With good reason, Royal Thai Massage is consistently rated as one of the best places in Koh Tao to have a massage.
It is conveniently located next to the pier, offers a variety of treatments, has reasonable prices, and has air-conditioned massage rooms, which is a significant plus.
You might have to wait a few minutes for the front desk to call a massage therapist because their masseuses are independent contractors.
You can simply walk in; an appointment is not even necessary. The center is also known as the Manara Massage Center.
Address: 84360 Tambon, Ko Tao, Ko Phangan District, Surat Thani, Thailand
Phone: +66 94 327 2669
4. Watergate Spa
It is one of the finest spas in Koh Tao. Their oil massage is very popular. Besides oil massage, they also offer a variety of massages, foot spas, facials, manicure, pedicure, etc.
The location is calm, serene, and right on the beach, and the employees are courteous and professional.
The lights are low, and there is a zen feeling; they don't try to cram as many people in as possible.
Prices on the island are typical (low), and the quality is superb.
Address: 4R3G+4R, Ko Tao, Ko Pha-ngan District, Surat Thani 84280, Thailand
5. Mai Thai Massage
Mai Thai Massage provides one of the Amazing massage spas in Koh Tao by offering both oil massage as well as authentic Thai massage.
The owner Miss Bee is very humble, helping, and sensitive to the needs of the clients. She knows all the right spots that would make you feel very relieved and rejuvenated.
She has the top of the line in hospitality and massage skill.
Address: 28/1 Sairee, Koh Tao Ko Pha-ngan District, Surat Thani 84360, Thailand
Phone: +66 62 583 8828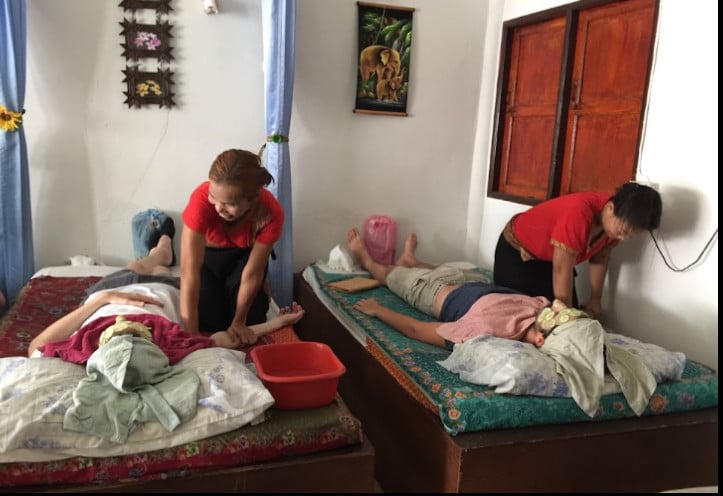 6. Good Idea Massage
The Good Idea Massage Parlour is located in Mae Haad, just 150 meters from the pier on the left towards the top main road.
They offer Thai Massage, Oil Massage, Foot Massage, Body Scrub, Reflexology Massage, Ear Spa, Manicure & Pedicure .
The masseuse at Good Idea Massage are all qualified personnel with relevant certificates to education!
You can find a blend of various Thai massage techniques here. Come in and find out your favorite massage to unwind, rejuvenate your body, soul and mind.
Address: 5/28 Moo 2, T. Koh Tao, A. Koh Phangan, Surat Thani 84360, Thailand
Phone: +66 84 384 0834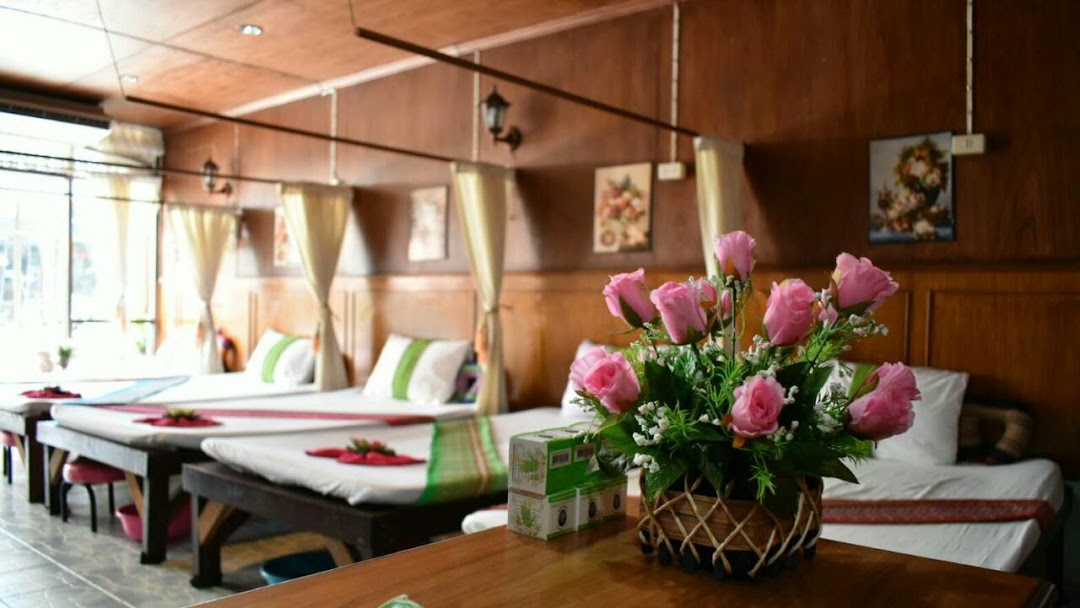 7. Majestic Spa
It is a premium massage parlour in Koh Tao which is best suited for high end users. They offer a wide variety of massage options and their reflexology is a must-try!
You can also get your waxing here. It is especially helpful if you are looking for a brazilian wax. They charga 800 Baht for brazilian wax. The sdtaff is very courteouos.
After the massage session, clients are served tea and pineapple.
Address: 4R2H+3VC, Ko Tao, Ko Pha-ngan District, Surat Thani 84280, Thailand
Phone: +66 61 940 9595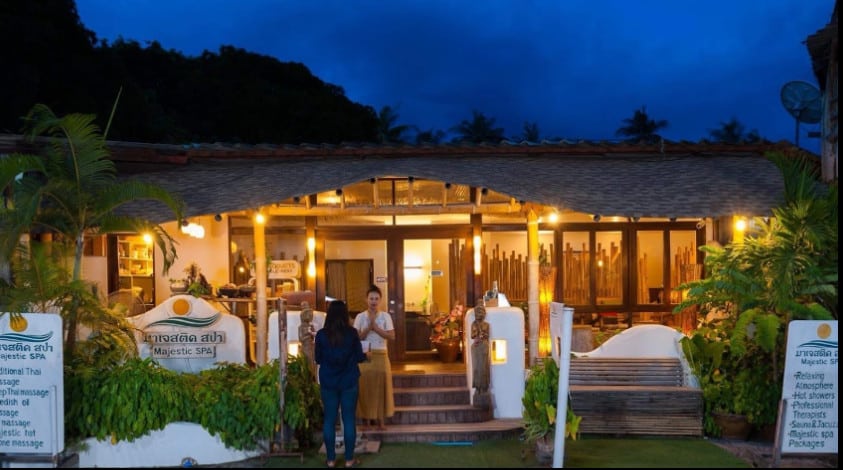 Final Words
In conclusion, visiting amazing massage spas in Koh Tao is an essential part of your island getaway, providing the ultimate relaxation and rejuvenation experience to complete your unforgettable Thai vacation.
The treatment involved in massage moves the body to release tension, and hence reduces stress considerably.
Therefore, whenever you are visiting Koh Tao, dont't forget to experience Thai Massage at one of the centers mentioned above.
If your pursuit is for a relaxing experience that has health benefits too, consider visiting these yoga centers on the island.