With about 350 named dive sites, great visibility, and warm water all year round, the beautiful reefs and amazing marine life of Thailand create some of the best dive sites in the world.
With more than 50 diving schools in Koh Tao, choosing the right one can be daunting. Dive into the crystal-clear waters of Koh Tao with confidence by enrolling in one of the best diving schools in Khao Tao, offering professional instruction, top-of-the-line equipment, and unforgettable underwater experiences.
11 Best Diving Schools in Koh Tao - 2023 Review
1. Roctopus Dive
Roctopus Dive is a vibrant dive school with amiable staff who are enthusiastic about diving and transmit that enthusiasm forward to you.
It is a medium-sized facility that opened in 2011 and has 15 instructors.
You will have fun at Roctopus diving with this dynamic, safe crew whether you want to learn to dive or are just interested in diving.
The young staff members are knowledgeable and passionate about diving.
You will find that the establishment welcomes visitors of all ages and demographics, including singles, couples, and families.
Address: 17 Moo 1 Sairee Beach Koh Tao Suratthani Koh Tao, Surat Thani 84360, Thailand
Phone: +66 99 173 6046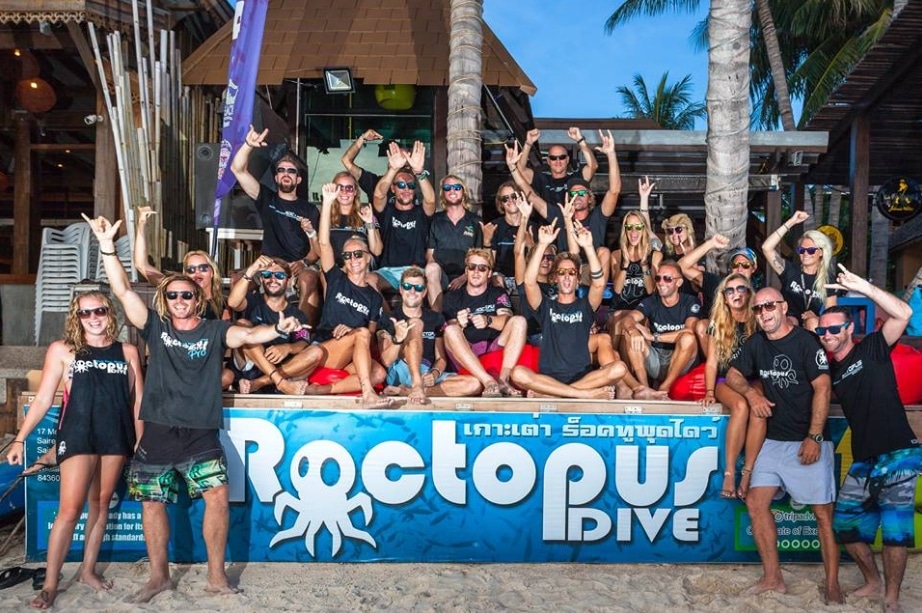 2. Big Blue Diving
The scuba diving training offered by Big Blue Diving is very popular in Koh Tao and nearby areas. They offer SSI Scuba Diving Courses along with PADI courses.
Training sessions are conducted at the pool with all necessary equipment.
The dive school also has its own boats that dock in the neighboring bay, making it simple to begin your day of scuba diving.
Many tourists remain longer on Koh Tao to complete their SSI instructor course or professional dive guide training in addition to the SSI beginner, advanced, and rescue courses.
Big Blue also owns the biggest dive school in the Japanese language, Big Blue Chaba, and the retail store Drift in Sairee village.
Address: 14/148 Moo 1 Sairee Beach Koh Tao Koh Phagnan, Surat Thani 84360, Thailand
Phone: +66 77 456 415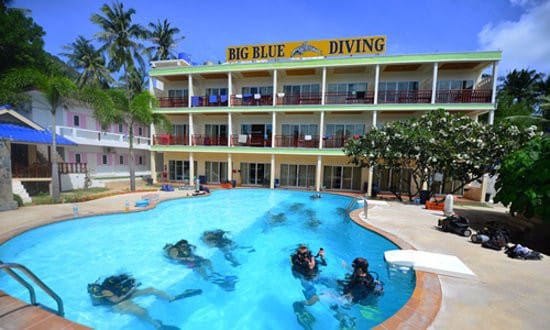 3. Davy Jones Locker (DJL)
Davy Jones Locker (DJL) Diving is a medium-sized 5-Star PADI CDC Resort with 22 years of expertise. The Diving school was started in 1996.
The staff at DJL is very courteous, accommodating, and knowledgeable.
Although they offer training at all levels, they are a great place to go if you want to become a PADI diving master or instructor because they have two full-time Platinum-rated Course Directors on staff.
All ages and demographics, including single travelers, couples, and families, are catered to by DJL.
Address: 5/52 Moo 2 Mae Haad Koh Tao, Surat Thani 84360, Thailand
Phone: +66 84 001 8293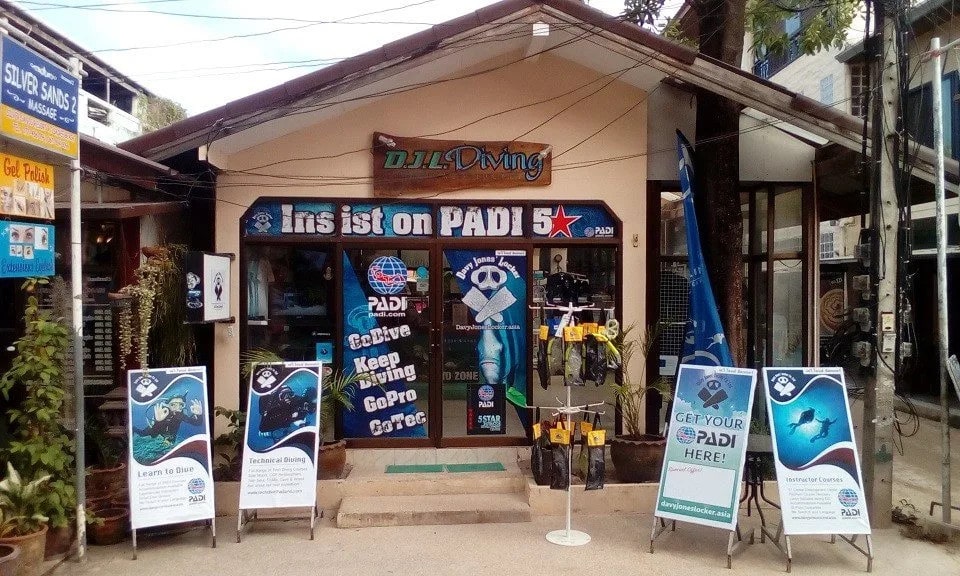 4. Ban's Diving Resort
In addition to English, Ban's Diving Resort also offers PADI dive lessons in Thai, Chinese, German, French, Spanish, Dutch, Swedish, Hebrew, Japanese, and Korean.
For training and recreational dives, the resort has four diving boats, a sizable variety of BCDs and wetsuits in various sizes, as well as regulators, fins, and masks.
The PADI Open Water course is for people who want to obtain entry-level diving certification.
Students receive dive theoretical instruction over the course of four days, practice water safety in one of the pools, and participate in four training dives.
Advanced Open Water, Rescue Diver, Divemaster, and even the PADI Open Water Scuba Instructor course are some of the higher-level PADI courses that are offered here.
Address: Koh Tao, Ko Pha-ngan District, Surat Thani 84360, Thailand
Phone: +66 81 979 8025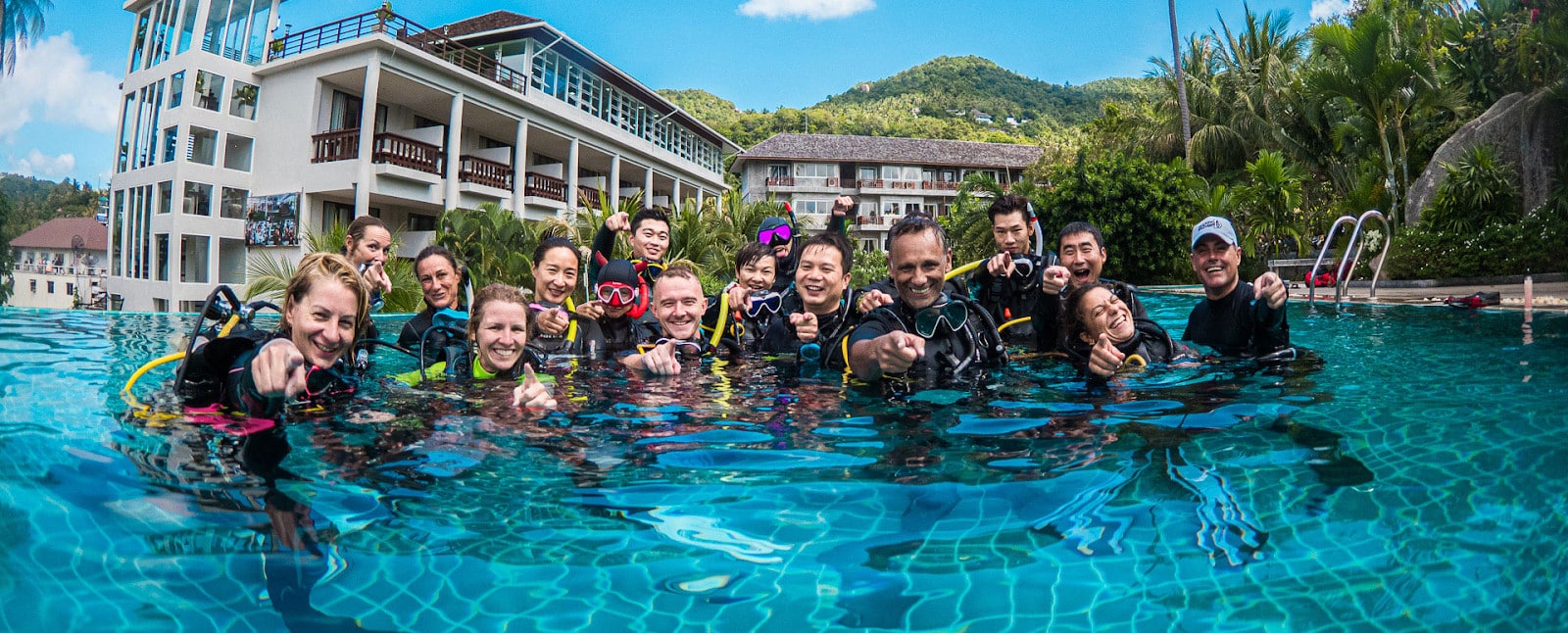 5. Apnea Total Freediving
All courses at apnea Total Freediving use a student-centered teaching methodology, regardless of whether a participant is preparing for the Freediver beginner course or the Advanced Freediver course.
Instead of stressing about checking off items on a checklist, the emphasis is on ensuring the training is done in a relaxing manner.
A line is used during training, which is done in small groups with a maximum of three students in the water.
One objective of freediving instruction is to be able to descend to a depth of 20 meters in a single breath.
Apnea Total Koh Tao puts the comfort and abilities of the student first to allow them to enjoy the ocean whenever they choose.
Between the hours of 10 am and 2 pm, their own boat visits desirable locations. The training includes all necessary equipment.
There are newly constructed rooms on-site at the school, but there is also additional housing nearby, ranging from affordable to more luxurious rooms.
Address: 9/224 Moo1, Sairee Beach, Koh Tao, Ko Pha-ngan District, Surat Thani 84360, Thailand
Phone: +66 84 878 626990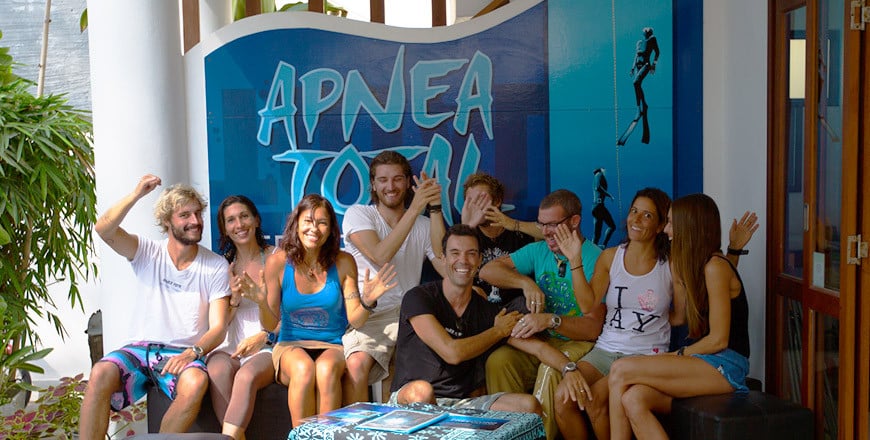 6. ACE Marine Expeditions
One of ACE Marine's unique benefits is the ability to customize courses.
For skill training, their experts will travel to your lodging, or they can make arrangements for coursework at one of the island's top institutions. "ACE Marine"
The focus at this exclusive facility is on individualization. Thus dives are organized as private charters and scheduled accordingly.
The greatest times to visit well-known diving locations are when no other boats are present.
Their qualified staff will come to your lodging to teach you, and they can modify schedules based on your time needs and preferences.
The owner is also a well-known underwater photographer who is happy to tailor photography instruction to suit specific objectives.
Address: Moo 1, 10/46, Koh Tao, Koh Phanghan, Surat Thani 84360, Thailand
Phone: +66 89 224 3656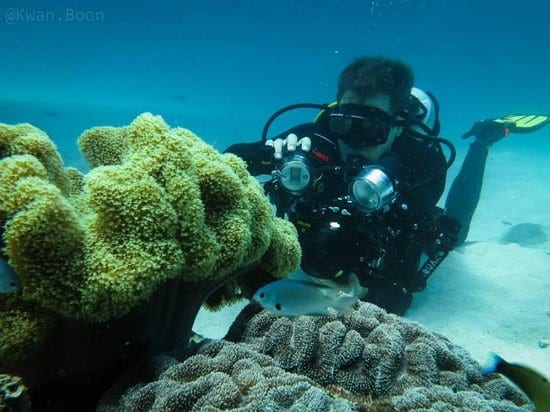 7. French Kiss Diver
Despite being a smaller dive school, French Kiss Divers has made a name for itself thanks to the several diving-related training programs they give.
Beginner divers can receive their open water and advanced certifications in small groups of no more than four under the guidance of an experienced dive instructor.
French Kiss has several sets of children's equipment and tanks available for use, so families with young children are welcome to participate in training.
Since Koh Tao has so many shallow bays, conducting restricted skills training in one of them is common, allowing dive trainees to become accustomed to the underwater environment right away.
Address: 25/3 Moo2, Koh Tao, Koh Phangan, Surat Thani 84360, Thailand
Phone: +66 64 127 6082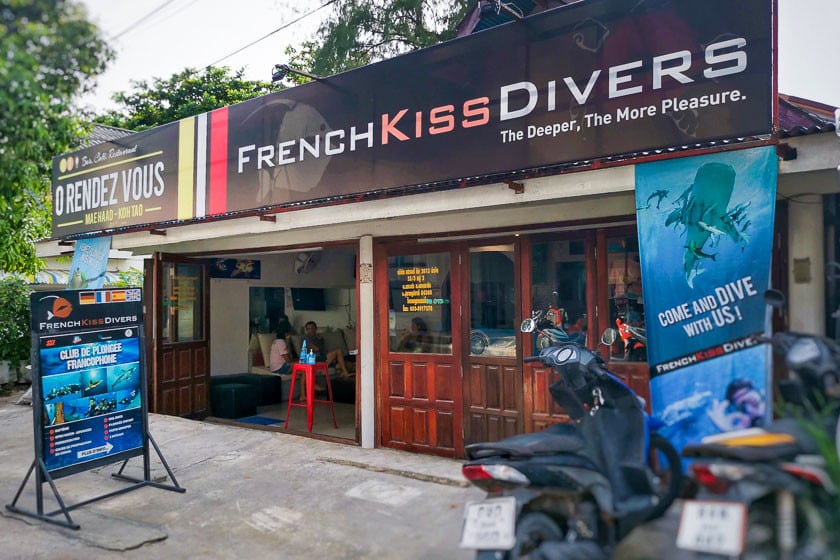 8. Big Bubble Diving
Big Bubble Diving was one of the first diving schools to open its doors on Koh Tao in 1994.
Big Bubble has remained a family-oriented company with a laid-back attitude. It is situated in Chalok Baan Kao in the southern region of the island.
Big Bubble Diving offers PADI courses from beginner through teacher development for anyone looking to advance their diving certification.
Although the dive center primarily serves the Thai population, it also offers instruction in English, German, and French for all scuba diving courses.
Each skill is practiced in a shallow harbor, and the training dives and recreational dives are conducted from one of their two private boats.
The school is permitted to conduct up to five dives daily, including two in the morning, two in the afternoon, and one at night.
They also provide special excursions to Sail Rock, one of Koh Tao's most well-known dive sites.
Address: 3R8G+GWJ, Ko Tao, Ko Pha-ngan District, Surat Thani 84280, Thailand
Phone: +66 77 456 669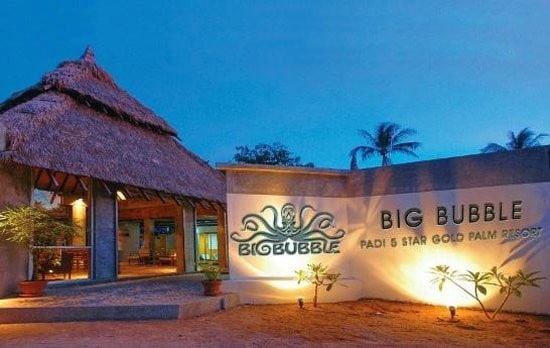 9. Impian Divers
Impian Divers, which opened as a little dive shop at Sai Daeng Beach in 2006, has become well-known for its unconventional approach to diving instruction.
Impian Divers Koh Tao, which relocated to Mae Haad Bay in 2012, conducts the majority of its courses by the IDD curriculum (Instructor Dive Development).
It is an internationally renowned and well-known European professional diving organization.
There are also PADI and SSI courses available, but most students choose to become IDD-certified.
Every dive course adheres to the general format and skill-practice exercises for the Open Water, Advanced, and Rescue courses and is taught following international dive standards.
Address: 6/5 Moo2 Mae Haad, Mae Haad, Koh Tao, Surat Thani 84360, Thailand
Phone: +66 77 456 369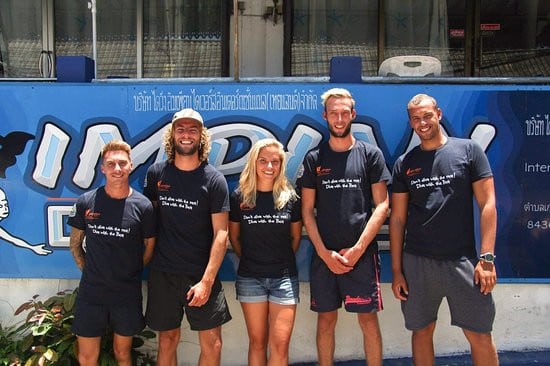 10. Phoenix Divers
Phoenix Divers was one of the first dive schools in Koh Tao and has 30 years of experience.
The whole range of SSI diving courses, from introductory to professional, as well as specialties for more adventurous diving and SSI Instructor Crossover, are offered at Phoenix Divers, which their customers view as the "genuine" diving school where they can enroll.
Languages other than English, Spanish, Portuguese, German, or Thai are available upon request for diving courses.
Courses can begin on a day that works with your vacation schedule, or you can join daily diving trips in small groups for exciting dives at breathtaking dive sites near Koh Tao.
Address: 1, Sairee Beach Koh Tao, Ko Tao, Amphoe Ko Pha-ngan, Surat Thani 84360, Thailand
Phone: +66 77 456 033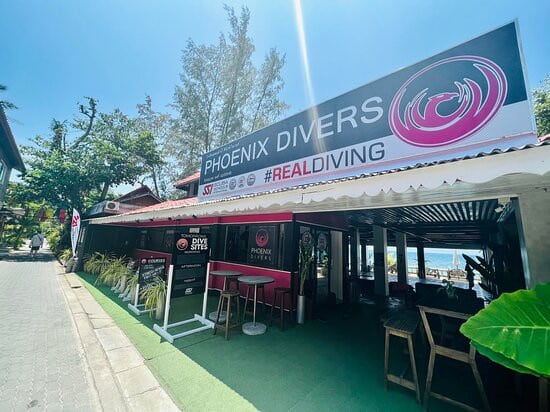 11. Calypso Diving
Calypso Diving is a pleasant and welcoming dive business prioritizing quality over quantity.
It has been situated on the beach at the breathtaking Tanote Bay since 1999. With an emphasis on sustainability, Calypso Diving Koh Tao offers a tranquil setting.
From basic to expert levels, they provide CMAS and SSI diving courses, all of which come with complimentary lunches.
Anyone over the age of eight is welcome to take a diving course in their choice of German, English, French, or Thai.
Here, you may see the wide variety of marine species that inhabits Koh Tao, including sea turtles and, if you're lucky, perhaps even a hump-head parrotfish.
Calypso dives on the east side of the island most of the time and departs a little later than other shops so that you may escape busy and crowded times and dive more slowly.
To ensure that the safety standards are met, Aqualung dive equipment is utilized and is frequently serviced internally.
Customers can request service for their own Aqualung equipment during
Address: Tanote Bay 40/20, Koh Tao, Surat Thani 84360, Thailand
Phone: +66 84 841 5166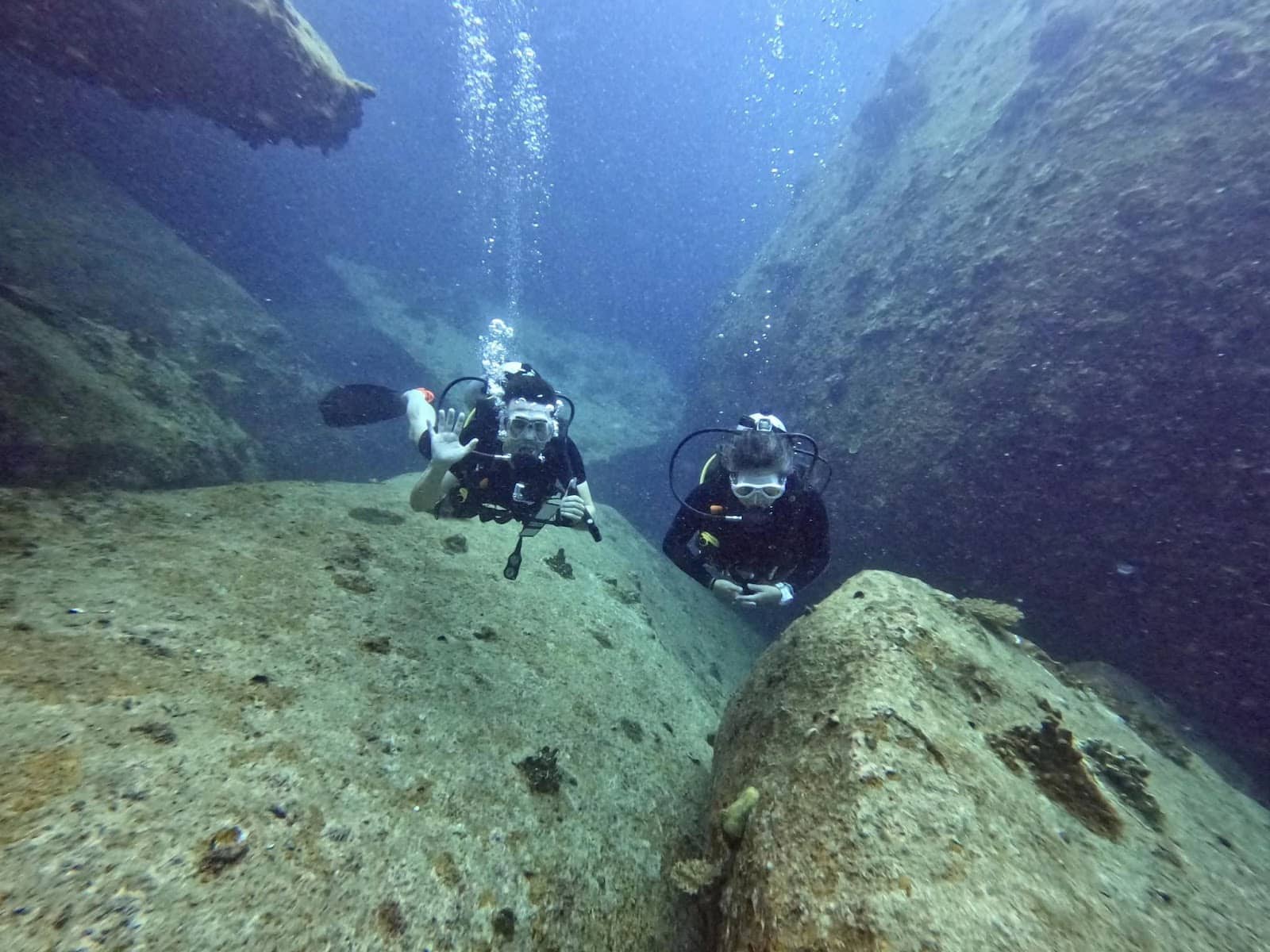 Wrapping Up
Most diving schools in Koh Tao have accommodation included within the cost of the dive course, along with a friendly atmosphere and highly qualified, multilingual instructors.
If you plan on spending a few days or a few months learning about diving, Koh Tao provides the perfect balance for education and island living.
For more details related to Diving in Koh Tao, you can read this comprehensive blog on Koh Tao Diving.