Located in the Gulf of Thailand, Koh Tao is a tropical paradise known for its crystal-clear waters, vibrant coral reefs, and laid-back atmosphere.
While the island is famous for its stunning beaches and underwater adventures, there's another aspect that has gained attention among tourists—its cannabis culture.
In this blog, we'll take a look at the best cannabis shops in Koh Tao, where enthusiasts can explore this unique facet of the island's culture while keeping in mind the legal and ethical considerations.
1. PrikPot
Before diving into their physical stores, it's essential to introduce PrikPot—an excellent online cannabis shop. The main aim of PrikPot is to provide top-quality cannabis products with the added convenience of online shopping.
PrikPot ensures a smooth experience for customers, from the moment they start looking into products to after they make a purchase. Their team of experts is there to guide customers through their product options and help them make informed choices.
One standout feature of PrikPot's cannabis products is their organic nature, meaning they're safe to use. This is because PrikPot avoids using any harmful chemicals during production.
To make the experience even better, I am giving you a special discount code, "5OFF," that gives a 5% discount on all products. So why wait?
2. Buds Cannabis Shop Koh Tao
With over 15 years of experience in the cannabis trade, buds cannabis has emerged to be the most famous cannabis shop in Koh Tao
Thai indoor-grown strains to imported delights, the shop ensures that every customer finds their perfect match. But Buds isn't just about the products; it's about the people. Visitors praise the shop's staff for their friendly and helpful demeanor.
The owner affectionately referred to as Bank, has garnered a reputation as an approachable and knowledgeable figure in the cannabis community. Customers appreciate the guidance they receive, whether it's about strains, consumption methods, or simply finding a cozy spot to relax.
Beyond the cannabis, Buds offers an inviting atmosphere where cannabis lovers can unwind and connect. The shop's interior design creates a comfortable environment, while the addition of a pool table and other games adds to the laid-back ambiance.
It's a place where people can gather, share stories, and enjoy the experience of discovering new strains. Buds has become more than just a shop; it's a community hub that welcomes seasoned enthusiasts and curious newcomers.
Address: 1, 28, Ko Tao, Ko Pha-ngan District, Surat Thani 84360, Thailand
Hours: 12 pm - 10 pm
Phone: +66 94 798 5944

Website: https://www.budskohtao.com/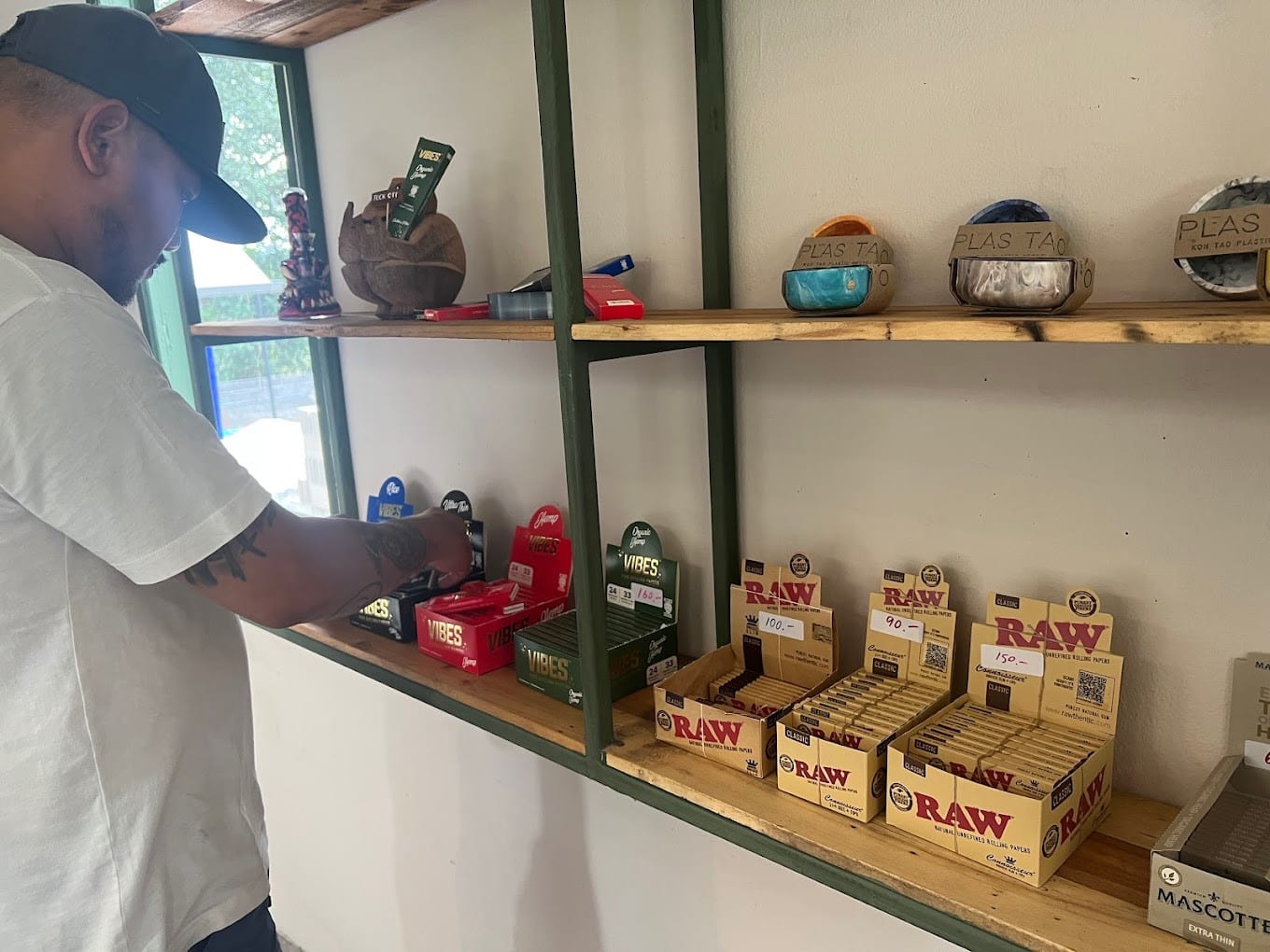 3. Canna420kohtao
Canna 420 Koh Tao stands out as a versatile destination that caters not only to cannabis enthusiasts but also to those seeking electronic solutions. This unique combination of cannabis and electronics sets Canna 420 apart from the rest of the cannabis dispensaries.
The shop boasts a knowledgeable staff that can guide you through various strains, ensuring you find the perfect match for your preferences. The variety of choices available has been praised by customers, making it a top spot to explore the island's cannabis offerings.
So whether you're looking for quality cannabis, electronic solutions, or both, Canna 420 has you covered.
Address: 5, 51, Koh tao, Phangan, Surat Thani 84360, Thailand
Hours: 8:30 am - 9 pm
Phone: +66 81 345 1152
Website: https://www.facebook.com/canna420kohtao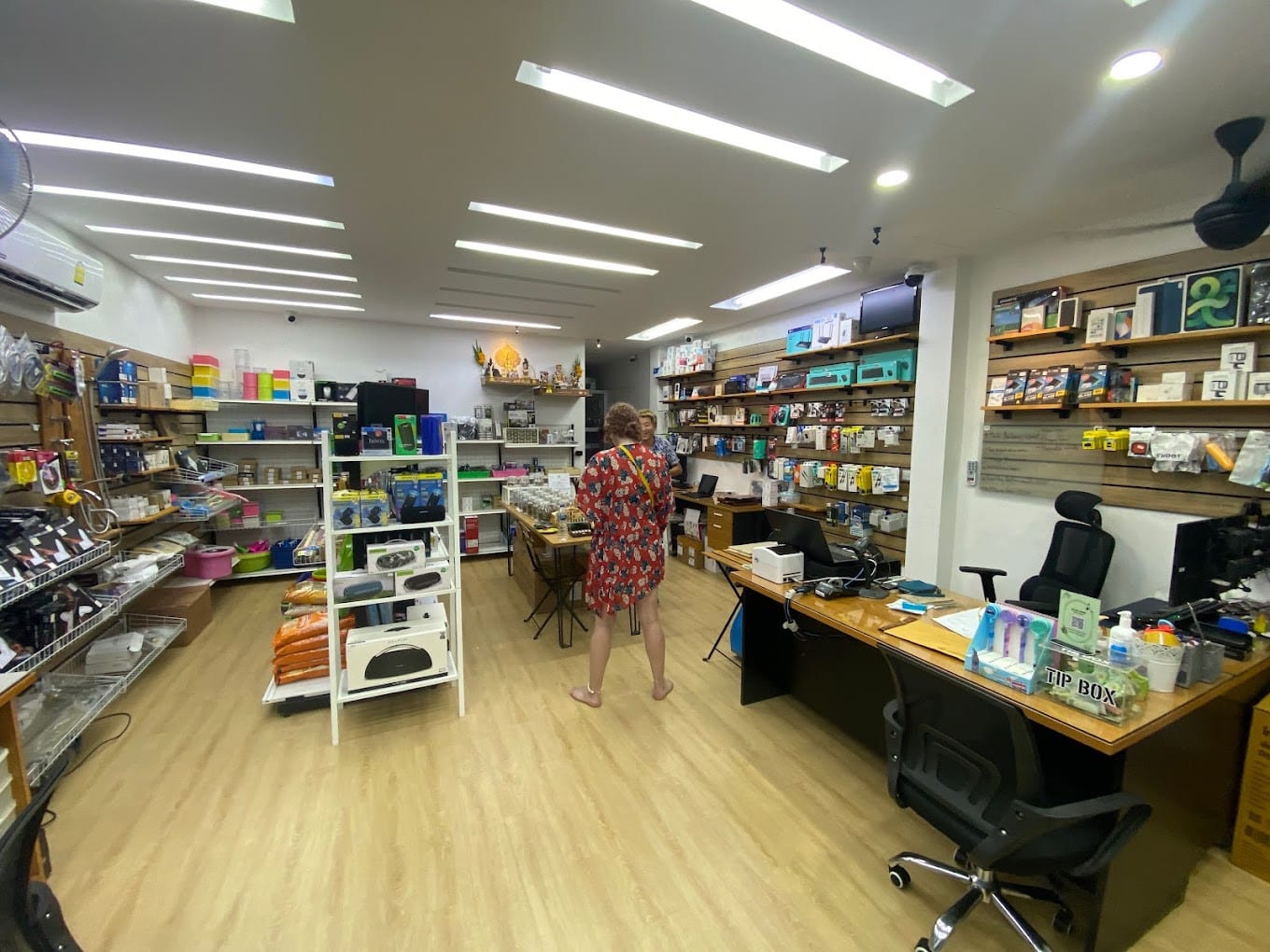 4. Green Island
Green Island Cannabis Shop on Koh Tao is undoubtedly a favorite among cannabis enthusiasts, offering a fantastic range of products and a dedicated staff focused on customer satisfaction
The shop's reputation for providing top-notch cannabis is widespread. Customers praise the excellent selection, affordable prices, and friendly demeanor of the staff, with Bee receiving a special mention for her exceptional service.
The combination of quality and affordability has left a lasting impression on visitors, leading to many recommending Green Island as the go-to place for cannabis on the island.
Address: 7 1 Koh Tao Koh Pha-ngan Surat Thani 84360, Thailand
Hours: 8:20 am - 10 pm
Phone: +66 89 892 9382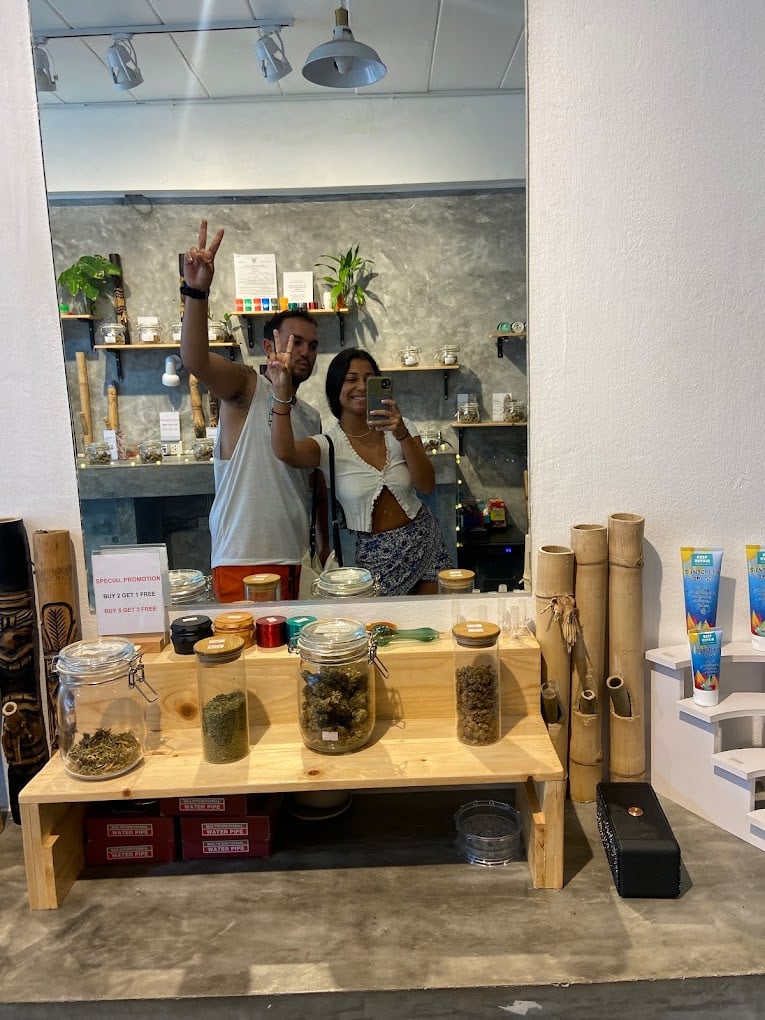 5. High Got You - Cannabis Dispensary
High Got You Cannabis Dispensary is a popular spot for cannabis enthusiasts, offering a carefully curated selection and a welcoming atmosphere akin to contemporary art galleries.
The shop's modern interior design blends seamlessly with its functionality, creating an environment that's as visually pleasing as it is inviting.
The staff's warmth and expertise have garnered praise from patrons, who feel at home while exploring the range of high-quality products.
The dispensary isn't just a place to buy cannabis; it's a community hub that caters to all preferences and levels of experience, making each visit an enriching and enjoyable experience.
Incorporating a fusion of aesthetics and quality, High Got You Cannabis Dispensary stands as a symbol of modern cannabis culture.
It's a space where customers, whether seasoned connoisseurs or newcomers, can comfortably explore and make informed choices in an impeccably maintained environment.
With its dedication to exceptional service, top-tier products, and a blend of contemporary design, the dispensary creates a memorable experience that goes beyond the transaction.
Address: 9/24 Ko Pha-ngan District, Surat Thani 84280, Thailand
Open: 1 pm - 2 am
Phone: +66 99 420 6963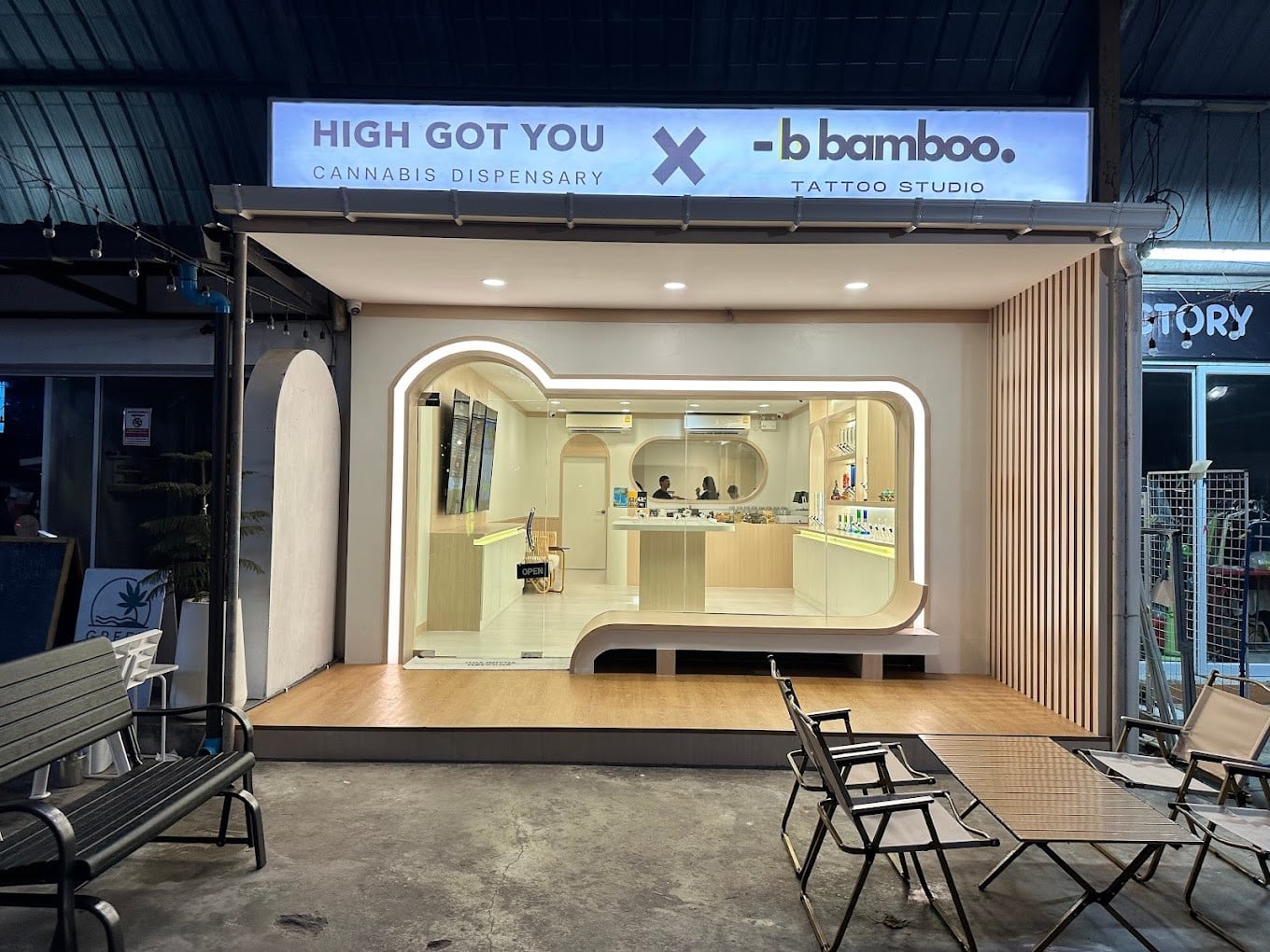 6. NAF Koh Tao
Situated in Koh Tao, NAF (Natural Artist Farm) emerges as a cannabis shop with an artist-centric approach. Their commitment lies in maintaining the highest standards for their premium flowers, guaranteeing a pure and untainted experience.
NAF's assortment of blooms remains untainted by contaminants, pesticides, heavy metals, or environmental pollutants. However, NAF goes beyond being just a cannabis dispensary; it doubles as a creative space akin to a semi-art and craft gallery.
Thai artists from various corners of the country find their work displayed here, while crafts sourced from cooperatives across Thailand find a place of pride as well. Notably, NAF's mission goes beyond commerce.
They are dedicated to safeguarding nature, pledging a portion of their profits to initiatives that educate, raise awareness, and take practical steps towards marine conservation, alongside nurturing the unique biodiversity around Koh Tao.
Address: 2 25 group 3 Koh Phangan - Koh Tao, Tambon Ko Tao, Amphoe Ko Pha-ngan, Surat Thani 84360, Thailand
Hours: 11 am - 11:30 pm
Phone: +66 98 745 9292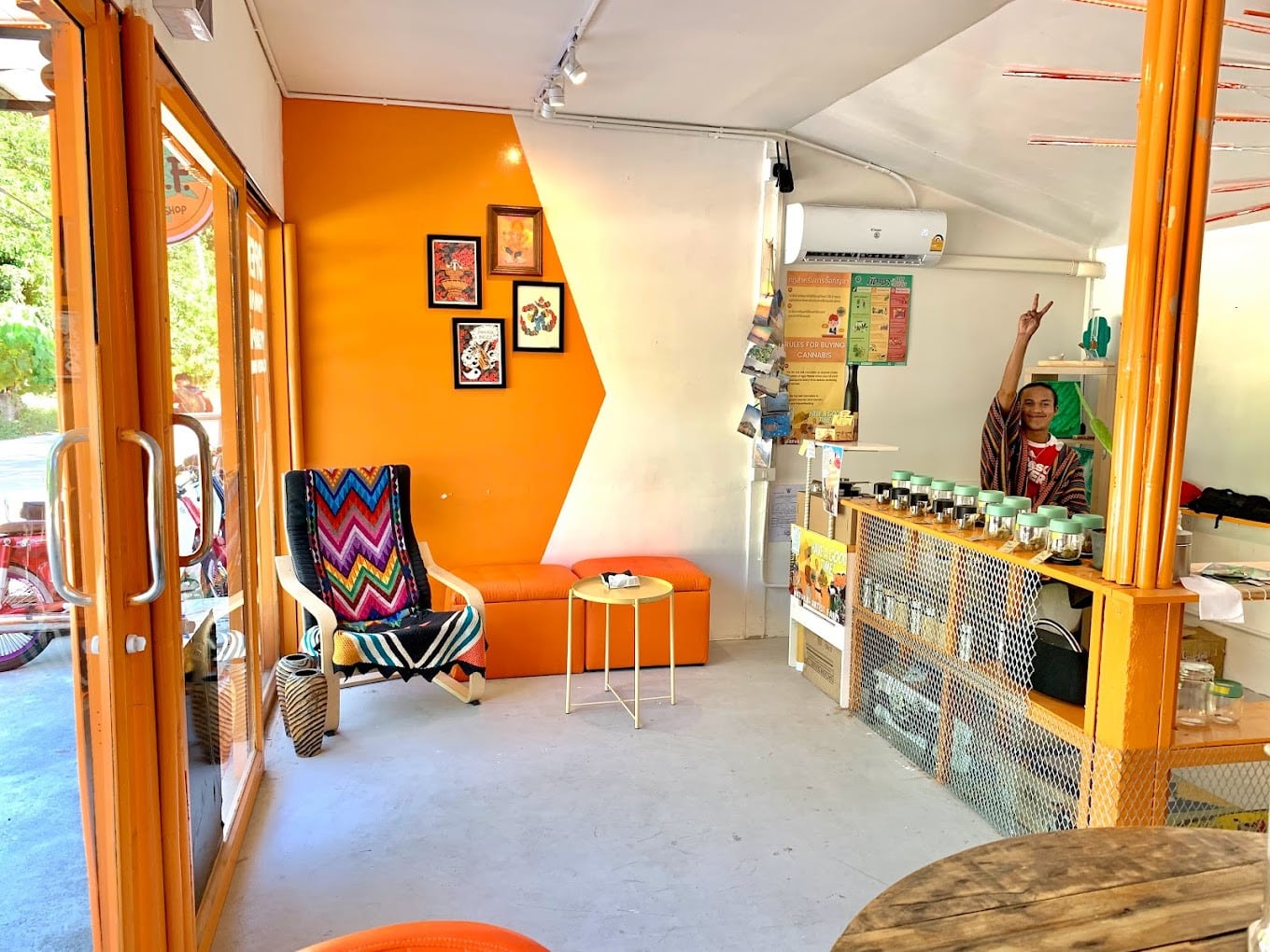 7. Youngmao Koh Tao
Youngmao Koh Tao is a famous cannabis shop on Koh Tao Island that has garnered a good reputation over the years.
Known for its welcoming and chill vibes, the owner and staff have created an inviting atmosphere where customers feel comfortable to ask questions and seek advice about their wide range of quality cannabis products at reasonable prices.
With rap music playing in the background, the shop offers an inclusive environment where everyone is encouraged to smoke and enjoy the laid-back ambiance.
The personalized attention to customer preferences, such as specific strains like "GOD" and lime-flavored options, further enhances the experience.
This establishment's blend of good music, a friendly community, and accessible, high-quality cannabis has resonated with both locals and tourists.
Customers appreciate the products and the atmosphere that Youngmao Koh Tao provides, making it a notable destination for those seeking a relaxed and enjoyable cannabis experience.
Address: 19 moo2 Koh Phangan - Koh Tao, Tambon Ko Tao, Amphoe Ko Pha-ngan, Surat Thani 84360, Thailand
Hours: 9 am - 10 pm
Phone: +66 84 052 9933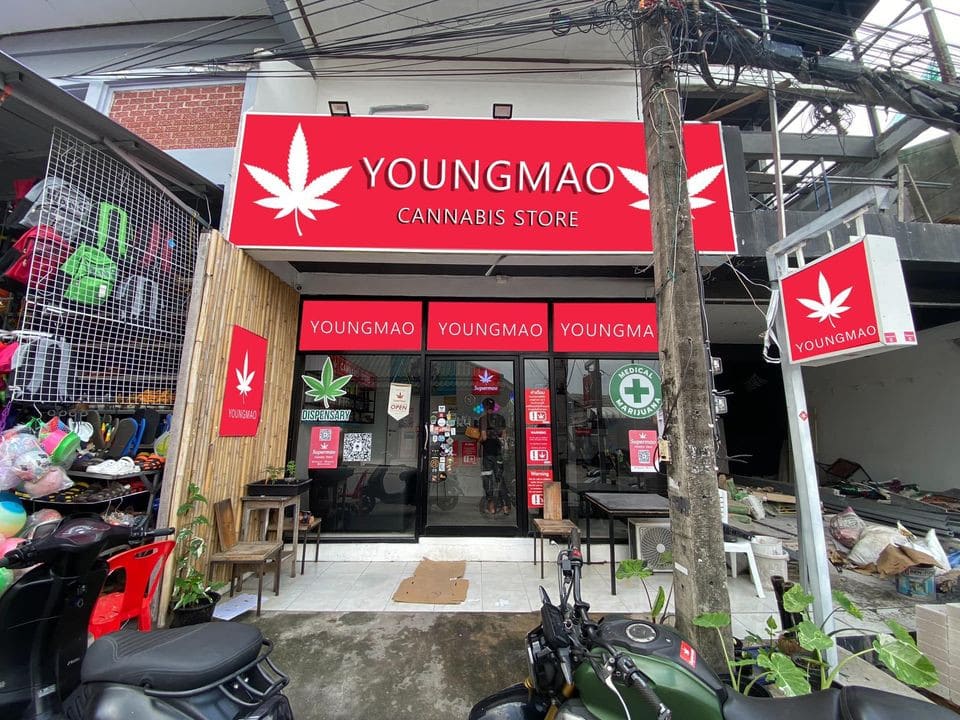 Legal and Ethical Considerations
It's crucial to note that while cannabis culture may be present in Koh Tao, the legal landscape surrounding cannabis in Thailand is strict.
As of my last knowledge update in September 2021, the possession, sale, and use of cannabis for recreational purposes are illegal in Thailand and can result in severe penalties, including imprisonment.
However, there have been discussions about potential changes to these laws, so it's essential to stay updated with the latest legal developments before considering any cannabis-related activities.
Additionally, even if cannabis laws were to change, responsible consumption and ethical considerations should always be a priority. Supporting businesses that adhere to ethical sourcing practices and prioritizing the well-being of local communities is essential.
Final Words
Koh Tao's cannabis shops offer a unique and alternative way to experience the island's culture, but it's essential to approach this aspect with caution and respect for the law.
As laws and regulations surrounding cannabis are subject to change, it's advisable to research and stay informed about the current legal status before making any decisions. Remember, Koh Tao has much more to offer than just its cannabis scene.
From breathtaking underwater exploration to stunning sunsets, the island's natural beauty and rich culture provide a wide array of experiences that can be enjoyed responsibly and in alignment with local laws and customs.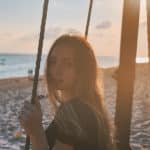 Noah Zaidi is an ardent traveler who has been documenting her Thailand exploration through Thailand Nomads. Her aim is to inform and educate people around the world about the must-visit places in Thailand.