The weather in Chiang Mai can get unbearably hot at times, especially during the burning season. What better option than to chill around a cold waterfall on such hot days! Chiang Mai is home to many waterfalls from which you can choose.
These waterfalls differ in terms of size, accessibility, and safety. In this article, we prepare a guide for visiting one of the most beautiful waterfalls of Chiang Mai- Mae Sa Waterfall.
Mae Sae Waterfalls: Chiang Mai
Mae Sae is a 10–storeyed waterfall that is located in the Doi Suthep-Pui National Park in the Mae Rim area of Chiang Mai. It is popular both among tourists as well as locals and can get really crowded on the weekends.
The area around the waterfall is enormous. There is a big space for parking, therefore, you need not worry about finding a place to park your vehicle. The waterfall is about 150 meters away from the parking area.
As you enter the gates leading to the waterfall, you will be able to spot a big signboard with Mae Sae Waterfall written on it. There are huge rocks surrounding the waterfall where you can sit and get yourself soaked in the natural beauty.
The water source is very wide so a lot of people can savor it at the same time. You can also stay the night near the waterfall. Although there are no shelters, you can find numerous camping spots and tents on rent here.
The water is very clear and cool- perfect for relaxing. There are 10 levels of the Mae Sa Waterfall. They are:
Pa Lad Waterfall
Wang Yao Waterfall
Pa Thak Waterfall
Wang Sam Muen Waterfall
Wang Tao Phrom Ma Waterfall
Tad Mei Waterfall
Phana Rom Waterfall
Pha Ngoeb Waterfall
Wat Hang Waterfall
Lan Tae Waterfall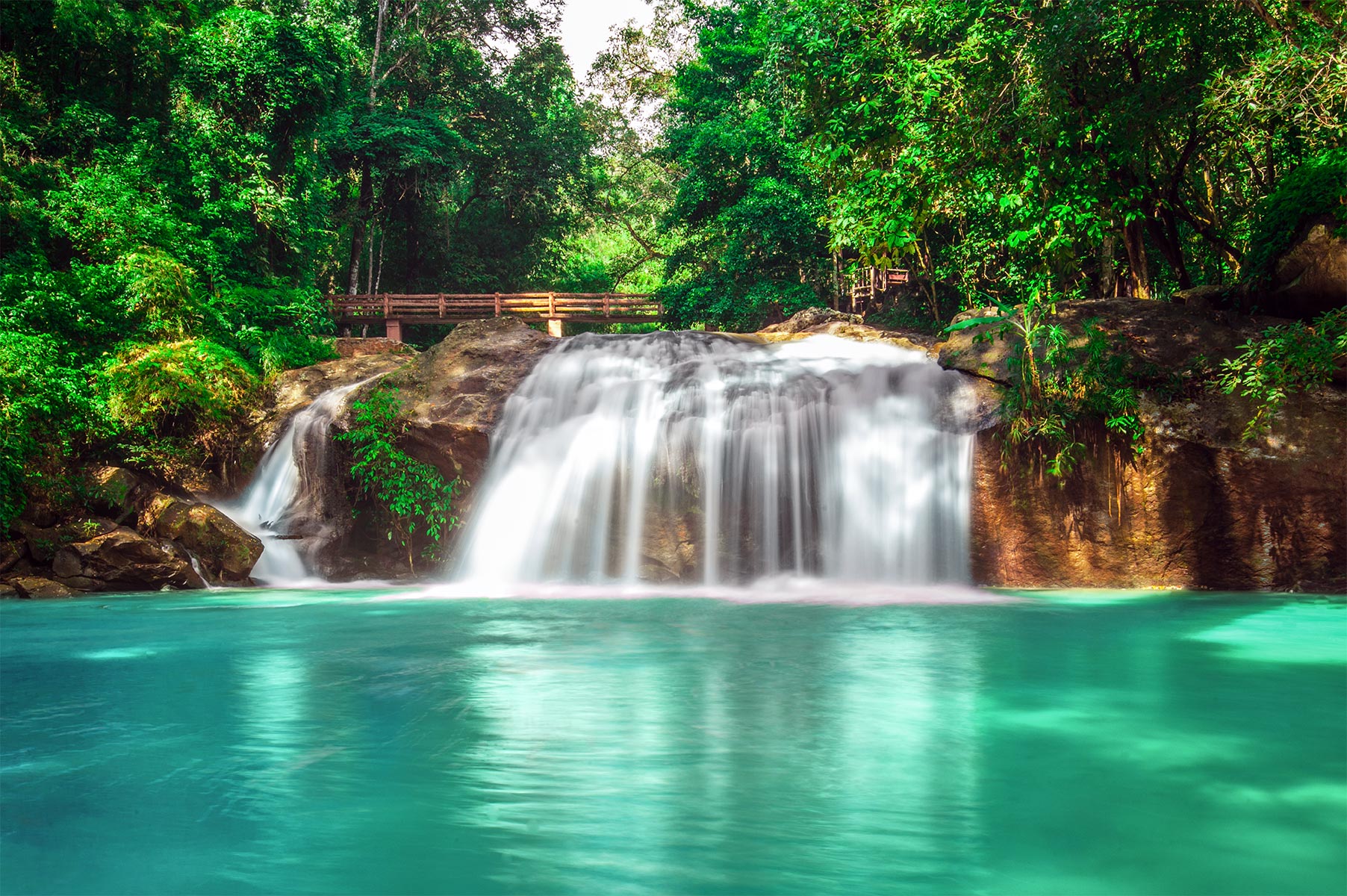 How to Reach the Mae Sa Waterfall?
The Mae Sa waterfall is just 30 minutes away from Chiang Mai city. It is among the most easily accessible waterfalls in Chiang Mai. You can easily reach here even if you don't have a mode of personal transport. Since the waterfall is located inside the park, it is not visible from the road.
However, there are plenty of signs that will guide you throughout the way. If you have your own car, just drive out of downtown Chiang Mai and continue straight on the Mae Rim road on path 107.
After a few kilometres, you will cross the district office, keep moving straight from there. When you reach the traffic light, take a left turn onto Mae Rim-Samoeng. After about 12 km you will be able to spot the signage indicating the entrance of Mae Sa waterfall.
Alternatively, if you prefer public transport, take a songthaew at either Chang Phuak Transport Station or Warorot Market. Go for the one that runs on the Chiang-Mai- Mae Rim route.
When you reach the Wat Mae Rim Intersection, get down to change for Chiang Mai-Samoeng instead. After a short while, you will arrive at the park where the waterfall is located. As you reach, you will be required to pay a fee which we will discuss in the next section.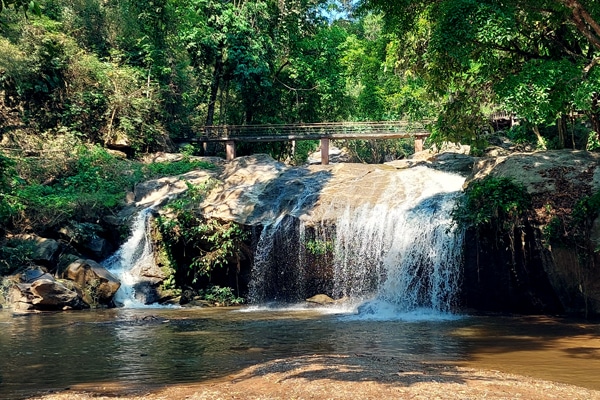 Entrance Fees and Opening Hours
The entrance fee at the Mae Sa waterfall is 20 Baht for an adult, 10 Baht for a child, and 200 Baht for a foreigner. Additionally, if you've come by your own vehicle you will have to bear the parking cost which is 30 Baht for a car and 20 Baht for a motorbike.
The park remains open for visitors from 8:00 am to 5:00 pm. If you want to enjoy the serenity of the place, avoid visiting on the weekends and on the weekdays, plan for early morning.
Tourist Attractions Near Mae Sa Waterfall
There are some popular tourist locations near the Mae Sa waterfall that you can explore.
Mae Sa Elephant Camp
The Mae Sa Elephant camp is one of the most popular elephant sanctuaries in Northern Thailand. It was awarded the most educational and entertaining Elephant show in northern Thailand, by the Guinness Book of World Records 2005. The elephants here are very well cared for. Visitors get to have hands-on experience with the elephants here.
Siam Insect Zoo
The Siam insect zoo is a perfect place for those travelers who are interested in knowing about the tiny weeny insects. The place is located at a distance of 2 km from the waterfall. The zoo includes exhibits with insects ranging from caterpillars to beetles to butterflies. You can gain good knowledge about these tiny beings by visiting here.
Mae Rim Monkey School
This place is located at a 20 mins distance from the waterfall. At the Mae Rim Monkey School, you get to see many impressive shows done by the monkeys here. These activities include coconut-picking, bike-riding, basketball and arithmetic. The entry fee to enter the monkey school is 200 Baht. It remains open for visitors from 9:00 am to 04:00 pm.
Final Words
With all this information, you are ready to savor the beauty of the Mae Sa waterfall. However, keep in mind that the floor near the waterfall can get very slippery so always wear sturdy shoes and carry a set of clothes to change in case you get wet.
Founder - Thailand Nomads
Jordan started Thailand Nomads primarily for sharing his experience of exploring Thailand for several years. The objective is to help tourists especially digital nomads plan their travel itinerary when visiting Thailand.
Email: jordan@thailandnomads.com