Located in the scenic town of Chiang Dao, the hotsprings offer visitors the opportunity to soak in natural thermal pools amidst picturesque surroundings. Fang Hot Springs, a natural wonder nestled in the lush forests of northern Thailand, invites visitors to unwind and rejuvenate in its therapeutic mineral-rich waters, offering a serene retreat from the hustle and bustle of everyday life. It is one of the largest hotsprings in NorthernThailand consisting of about 50 natural hot springs to dip within a 10 rai area.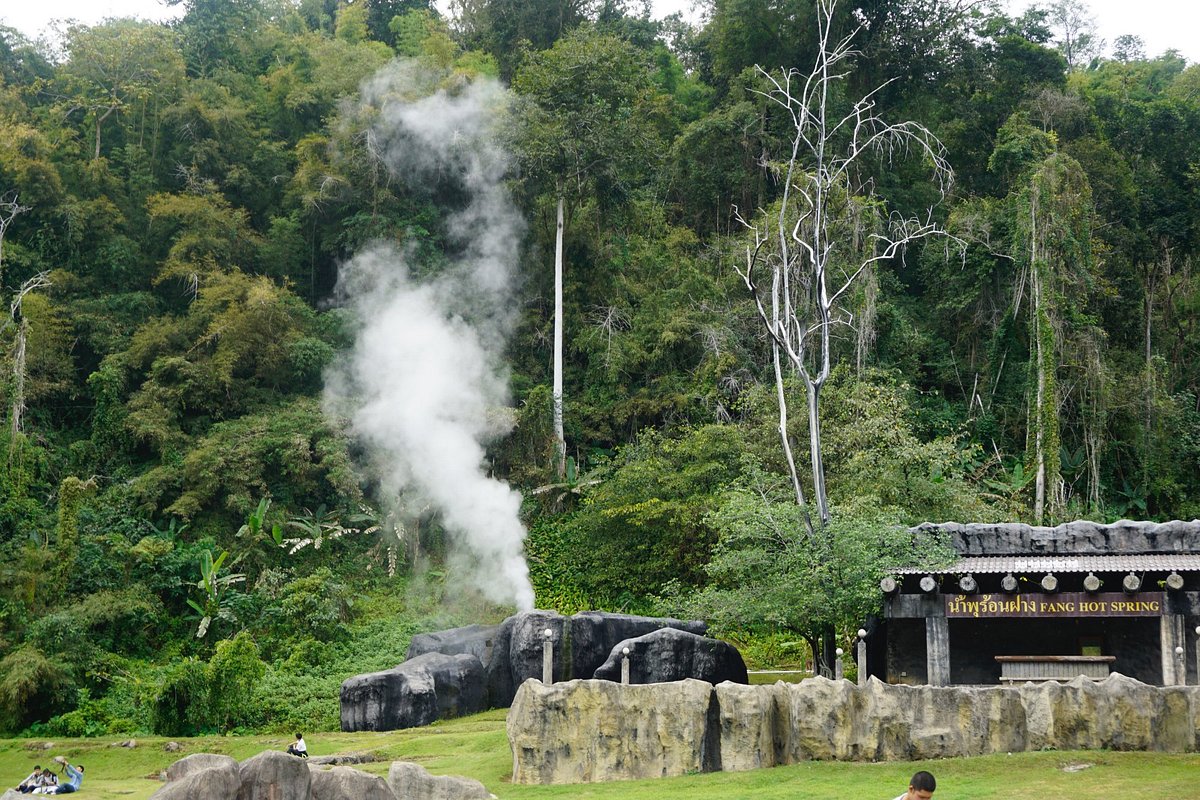 The Fan Hot Springs: An Overview
It is located within the famous Doi Pha Hom Pok National Park. The hot spring is situated in an open glade, surrounded by lush green trees on all sides.
The geysers here are not natural but are as good as the real ones. They erupt at regular intervals with stirring force, creating a beautiful view.
You can consider other hot springs around Chiang Mai that result from natural magma heating.
The pathway around the hot spring is lined with rocks to give you the feel of a natural hot spring.
The heat caused due the geysers is balanced by the many trees and surrounding mountains, making it just perfect for a relaxed day-out.
Contact
Location: North-East Off Route 107 Mon Pin, Fang
Phone Number: 084 483 4689
Opening Hours: Mon-Sun: 7:30am - 7pm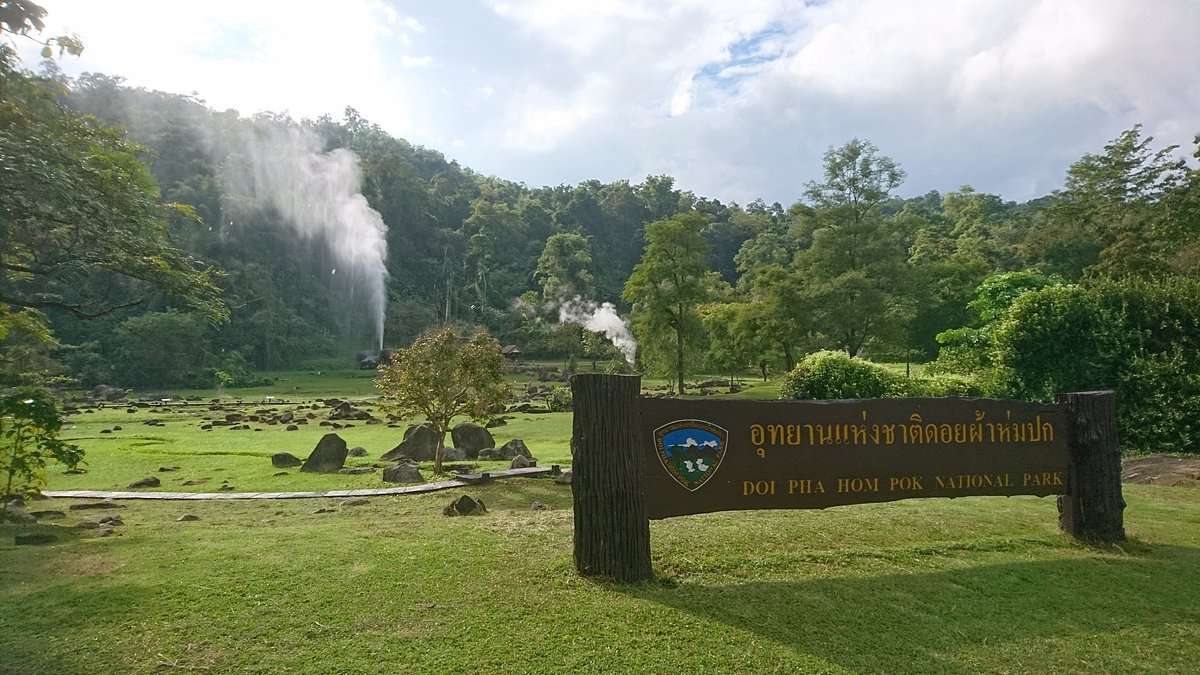 Activities Offered Here
The surrounding area of the Hot Spring is so beautiful itself that just slowly strolling around is a great pleasure there. You can also avail the benefits of a mineral water bath at the Fang Hot Springs.
There is an open-air mineral water bath pond where you can relax for as long as you want.
At the entrance, you can buy eggs to boil over the geysers. The vendors can be seen selling eggs in bamboo baskets that you have to place over the hot steam and wait for it to cook.
It is a rare fun activity and almost all the tourists who visit here try their hands on it.
The place also attracts a good variety of beautiful birds. Plenty of other birds can be found at this site too with Eurasian Jay being a highlight with its white face and Asian Barred Owlet is easily found here too along with wintering Long-tailed Minivets, colourful Golden-fronted Leafbirds and several species of Barbet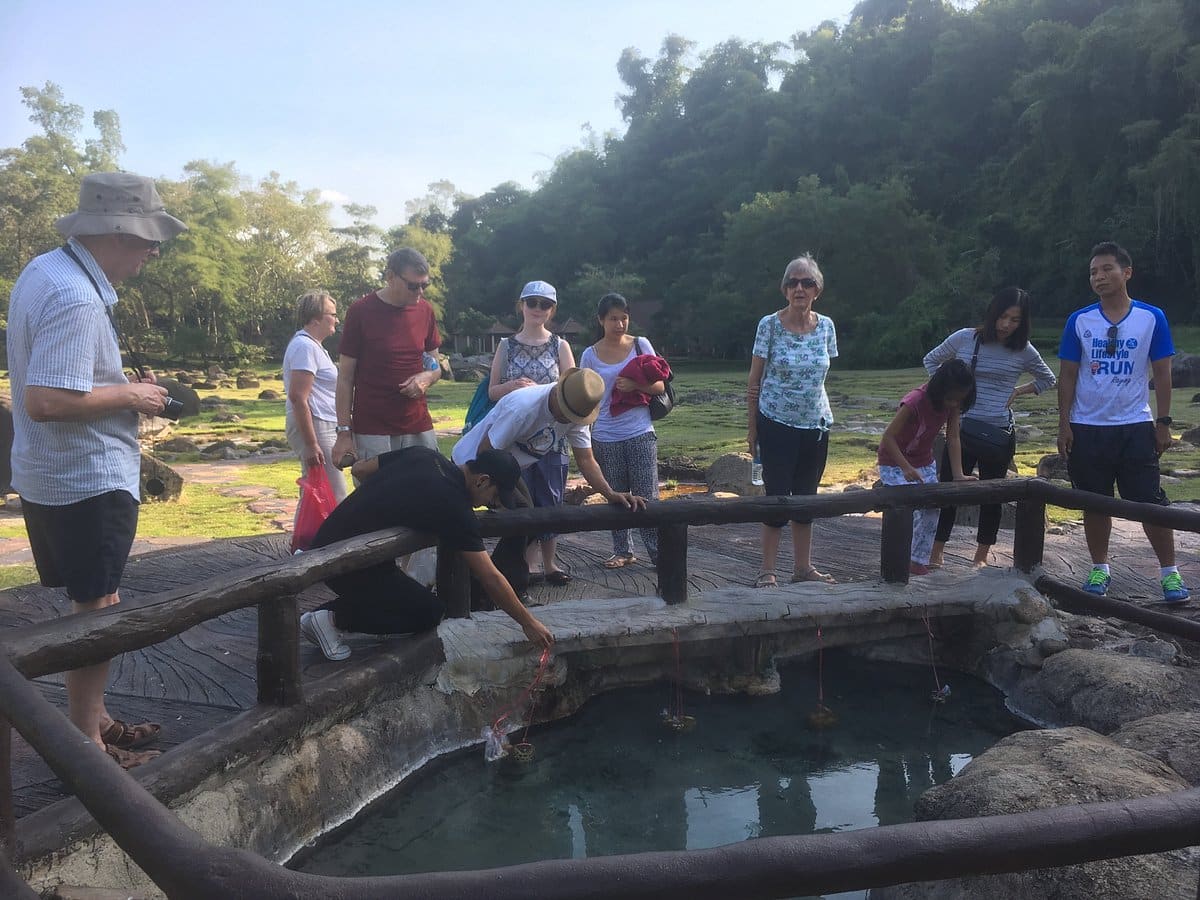 How to Get There?
The easiest way to reach Fang Hot Springs is by private vehicle. You have to follow highway 107 heading north from Chiang Mai which goes directly to the town of Fang.
Bus
If you plan on going by bus, you will have to go to the Chang Phueak (northern) bus station in Chiang Mai and take a bus that terminates in Thatorn. From the bus station, you can easily get a tuk-tuk to the Hot Spring.
Taxi
Travelling by taxi would be a long ride both from Chiang Mai and Chiang Rai. It will take you about 3 hours to reach by taxi. Therefore, to avoid paying extra, get the taxi booked through your hotel.
Don't ever consider going on a bike or a tuk-tuk as it would take you forever to reach. By the time you reach the destination, you would be too tired for any fun.
Prices
1. Entrance Fee
Foreigner (Adult): 200 baht

Foreigner (Child): 100 baht

Thai (Adult): 20 baht

Thai (Child): 10 baht
2. Open-Air Mineral Bath (Time Unlimited)
Adult: 20 Baht

A Child:10 Baht
3. Mineral Water Sauna
An Adult: 30 Baht

Child: 10 Baht
4. Mineral Water Room Service
3-5 People/room: 150 Baht

1 person/room:100 Baht
Conclusion
Overall, the Fang Hot Springs is an excellent place for a detox trip with so many things to do here. You can also camp here with a good selection of cheap and pleasant hotels just down the road.
FAQs
Near Fang Hot Spring, some popular attractions include Doi Ang Kang, Doi Ang Kang Strawberry Garden, No Lae Village, and Thanatorn Orange Garden.
Founder - Thailand Nomads
Jordan started Thailand Nomads primarily for sharing his experience of exploring Thailand for several years. The objective is to help tourists especially digital nomads plan their travel itinerary when visiting Thailand.
Email: jordan@thailandnomads.com