In earlier days, Elephants were an integral part of everyday life in Thailand and are still a rich part of the Thai culture. However, in 1989 the Thai government banned teak logging that heavily depended on the use of elephants. This led to the displacement of around 4000 elephants and rendered their owners jobless. That is when the mahouts entered into the elephant tourism business and the elephant sanctuary started flourishing.
Since there is no such law defining a 'sanctuary' in Thailand, almost every elephant experience that you will come across in Chiang Mai will claim to be a sanctuary. Therefore, it is important to research the sanctuary you are planning to visit in order to ensure that you get the experience you are expecting. Connect with majestic gentle giants at the best ethical elephant sanctuaries in Chiang Mai, where compassionate care, responsible practices, and unforgettable encounters come together in harmony.
7 Best Ethical Elephant Sanctuaries In Chiang Mai – 2023 Review
1. Elephant Nature Park
Situated around 60 km from the city of Chiang Mai, it is one of the most ethical rescue and rehabilitation centers in Northern Thailand. It was founded by Lek Chailert, who is widely famous for her elephant conservation work. She has won multiple awards for her work and is named one of "Asia's Heroes". The sanctuary offers a special 'Saddle Off!' program whose sole objective is to improve the quality of life of the previously mistreated elephants. The program involves educating the owners of elephants on proper care and bringing income to the families by means other than elephant riding or any cruel circus training. It is a must-visit for anyone who wants to enjoy the ethical elephant experience. It has a whooping 5/5 rating on trip advisor with positive responses from over 1000 visitors.
Cost
2,500 THB per person/Day
Overnight Stay at 5,800 THB per person
Activities allowed with Elephants
Feeding - Yes
Bathing- No
Riding- No
Contact
Telephone: +66 (0) 53 272855,
Address: 1 Ratmakka Road, Phra Sing, Chiang Mai 50200, Thailand
Website: https://www.elephantnaturepark.org/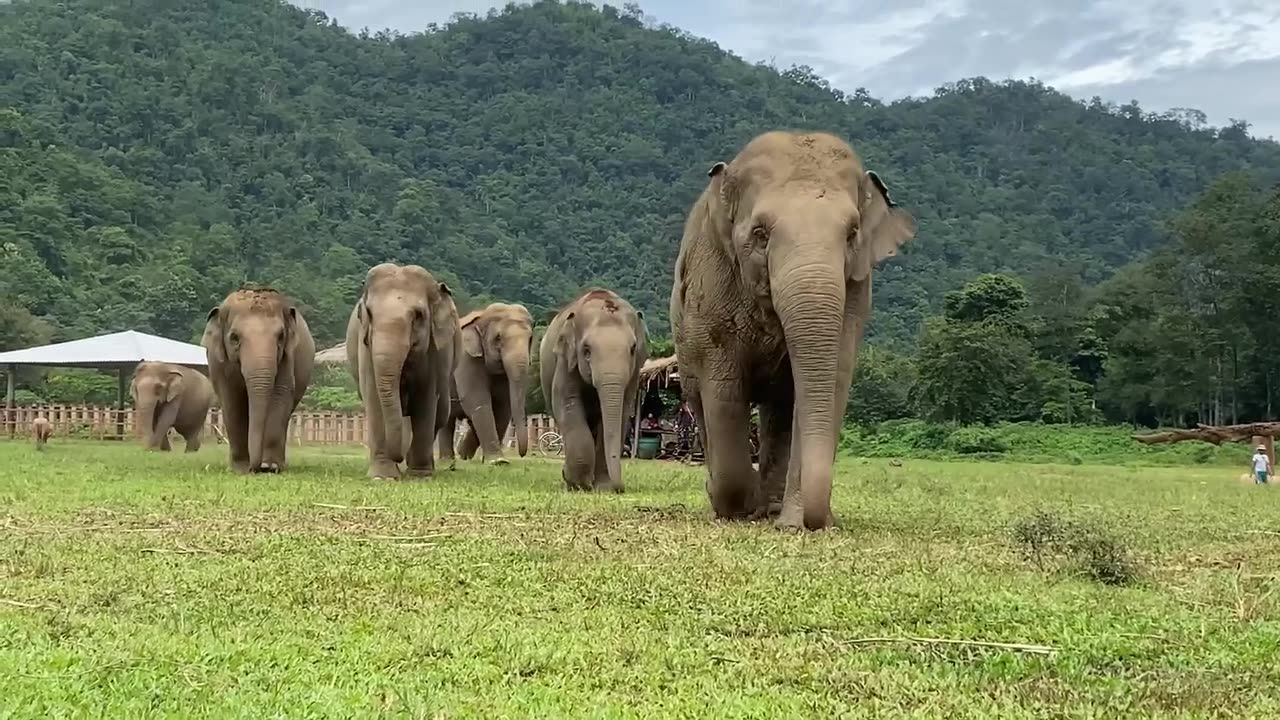 2. BEES- Burm and Emily's Elephant Sanctuary
The sanctuary is located in Maechaem at a distance of 134 km southwest from the city of Chiang Mai. It was founded in 2011 by Burm Pornchai Rinkaew and Emily Rose McWilliam who were disturbed to see the pitiful conditions of elephants involved in tourist rides. It is undoubtedly the most ethical sanctuary whose main focus is to ensure a natural habitat for the elephants where they can naturally forage, dust bath, roam, explore and socialize. The sanctuary also supports local farmers by buying their produce to feed the elephants. At present, it is providing full-time employment to 5 locals and part-time income opportunities to various others. At the sanctuary, you can enjoy the picturesque view of the lush green forest, rivers, and the lofty Doi Inthanon Mountain.
Cost: The Sanctuary does not run a daily day program or overnight stay. The program is usually Mon-Thurs/Thurs-Sun OR 1-week Mon-Sun. The stay charge is disclosed upon booking.
Activities allowed with Elephants:
Feeding: No
Bathing: No
Riding: No
Contact: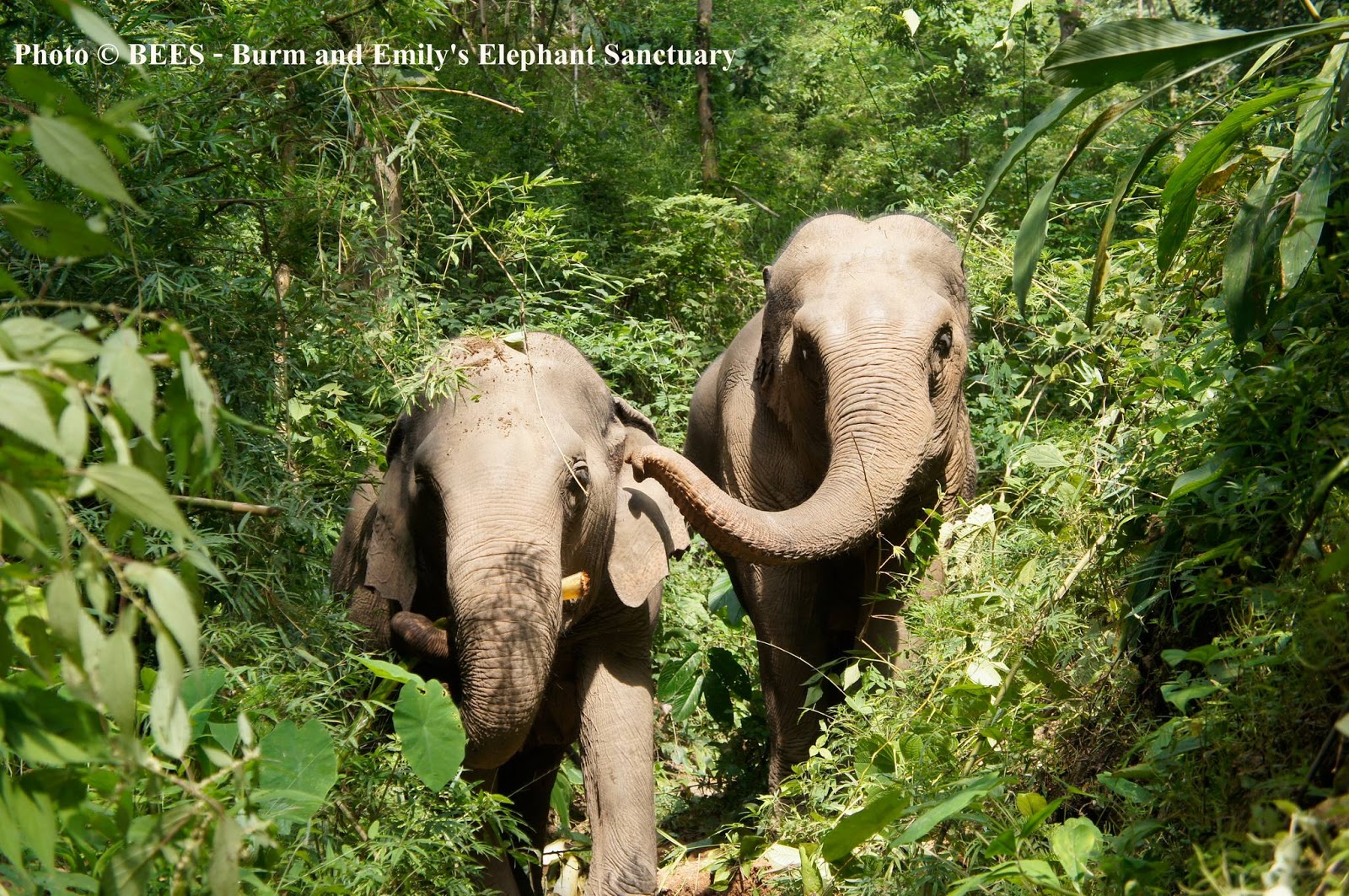 3. Happy Elephant Home Sanctuary
It is located in the Mae Taeng district at a distance of 1-hr from the city of Chiang Mai. Nearly all the elephants in this sanctuary were rescued from some logging or performing operations where they lived the hard life of captive elephants. The rescued animals enjoy their natural habitat, swimming and mud-bathing. Since there are no barricades or fences, as a visitor, you will be made to put on special dresses- to make the elephants feel you are in their team- which ensures safety. The dress is similar to what the karen hill tribe people wear and prevents your dress from getting soiled or wet.
Cost
1-day visit- 2400THB
Half-day visit- 1,800THB
Activities allowed with Elephants:
Feeding: Yes
Bathing: Yes
Riding: No
Contact:
4. Into The Wild Elephant Camp
It is located at a distance of 1.5 hours from the city of Chiang Mai. This sanctuary also focuses on the development of the Karen hill tribe community besides taking care of the elephants. The programs that it offers to the visitors include teaching how to make food and herbal medicine for the elephants. The visitors can enjoy the sight of rescued elephants enjoying the mud spa and relieving bathing experience. It also offers employment opportunities to the local people and sends them supplies and clothes frequently.
Cost:
1,700 THB for children of 5-9years
Children below 5 can join for free.
Activities allowed with Elephants
Feeding: Yes
Bathing: Yes
Riding: No
Contact
Telephone: +064 991 9746, +096 479 5674
Address: 15 3 Room 1 Sri Poom Rd | Office at Hug Hostel, Chiang Mai
Website: https://www.intothewildelephantcamp.com/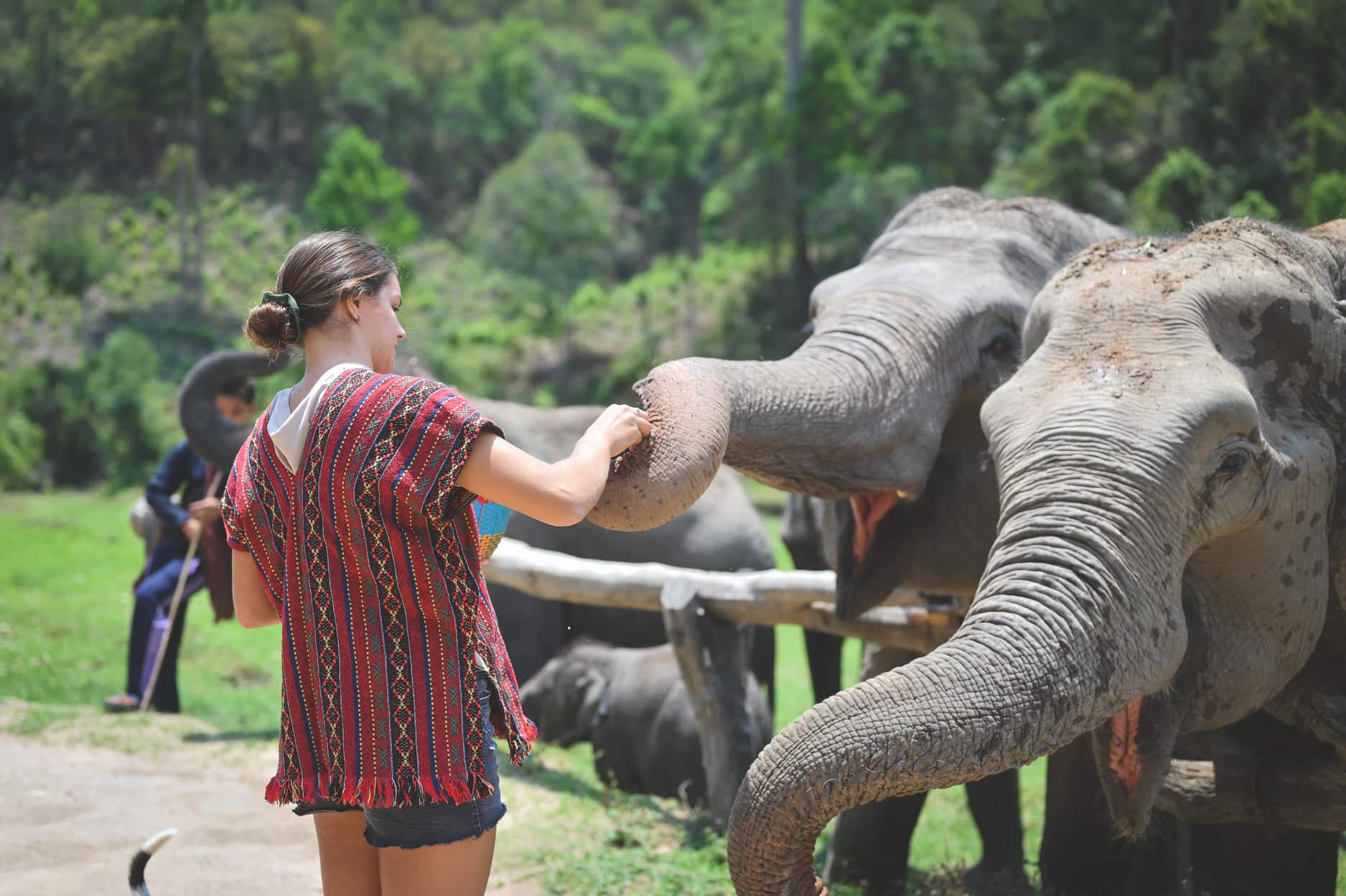 5. Patara Elephant Farm
Located at a distance of 45 minutes south of Chiang Mai, it is a health-recovery and reproduction-management farm that focuses primarily on elephant welfare. The farm's conservation philosophy is that Extinction is forever so they try to mitigate it through ethical breeding of elephants. Broadly they try to achieve the goal of elephant conservation through four focus points, rescue, recovery, reproduction, and re-introduction. One of their popular visitor programs, Elephant Day Care, is dedicated exclusively to taking care of non-working pregnant elephants and baby elephants. Their aim is to educate people about the needs of elephants so they can have a better understanding of how to promote their welfare. One of their most popular programs is the 'Elephant Owner for a Day' where each visitor is given an elephant to take care of for a half-day or a full day to give them hands-on experience with elephants.
Cost: It has different prices for 8 different programs that it offers ranging from 3,200THB to 5,800THB
Activities allowed with Elephants:
Feeding - Yes
Bathing- Yes
Riding- Yes
Contact: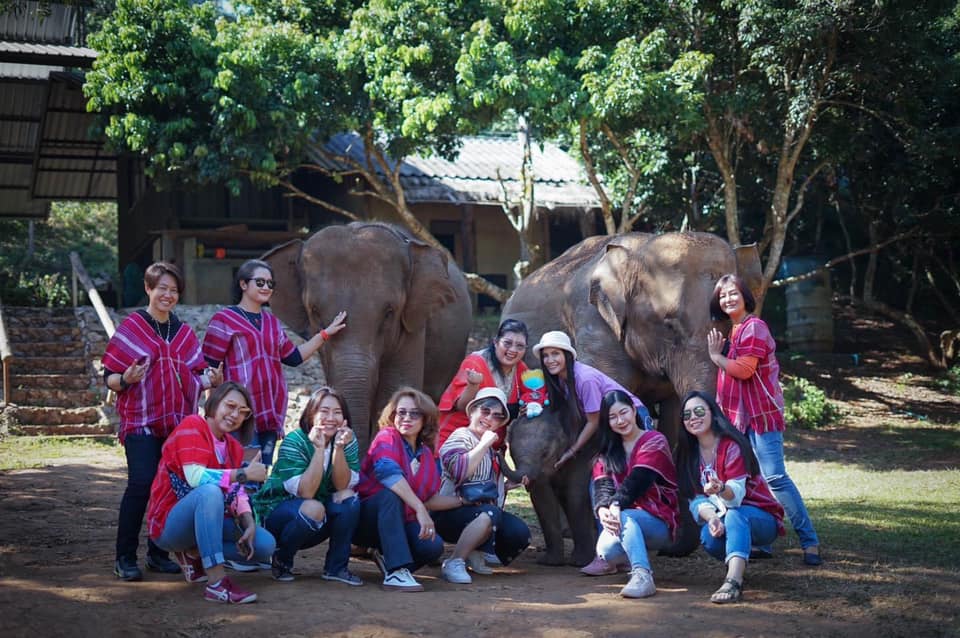 6. Boon Lott's Elephant Sanctuary
This sanctuary is located at a distance of 8 km from the village of Baan Tuek in Sukhothai Province. Their objective, like any other wildlife sanctuary, is to rescue and protect the wild elephants from unethical elephant tourism practices. They provide a safe home and natural habitat to the rescued elephants and focus on elephant care to promote individual survival and help the animals relearn social skills. It is one of the first sanctuaries in Thailand that does not allow hands-on experience with the elephants which means that elephant bathing, feeding, and riding are prohibited during the elephant tour.
Cost: 6,000 THB per person/night including meals
Activities allowed with Elephants:
Feeding: No
Bathing: No
Riding: No
Contact:
Website: https://www.blesele.org/
Address: 304 Mu 5, Baan Na Ton Jan, Tambon Baan Tuek, Si Satchanalai, Sukhothai, Thailand 64130
Email: katherine@blesele.org
7. Chiang Mai Elephant Land
It is located at a distance of 2km from the city of Chiang Mai. It is probably the only ethical sanctuary in Chiang Mai that has free-range elephants and has its own farm. It does not share elephants with other sanctuaries. The visitors of the elephant park are also taught to make herbal medicines for the elephants besides watching them roam freely in the lush green Doi Inthanon forest. The people working there are mostly Karen natives. The sanctuary also offers jungle trekking to visitors through the rice terrace. Unfortunately, the place is closed temporarily due to COVID-19 pandemic but is expected to reopen shortly for visitors.
Cost: 2,300 THB per person/day
Activities allowed with Elephants:
Feeding: Yes
Bathing: Yes
Riding: No
Contact:
Telephone: +66 (0)95 673 8146, +66 (0)86 658 9122
Address: 57 Kotchasarn Road (near lane 2), Changklan, Chiang Mai 50100
Website: https://chiangmaielephantland.com/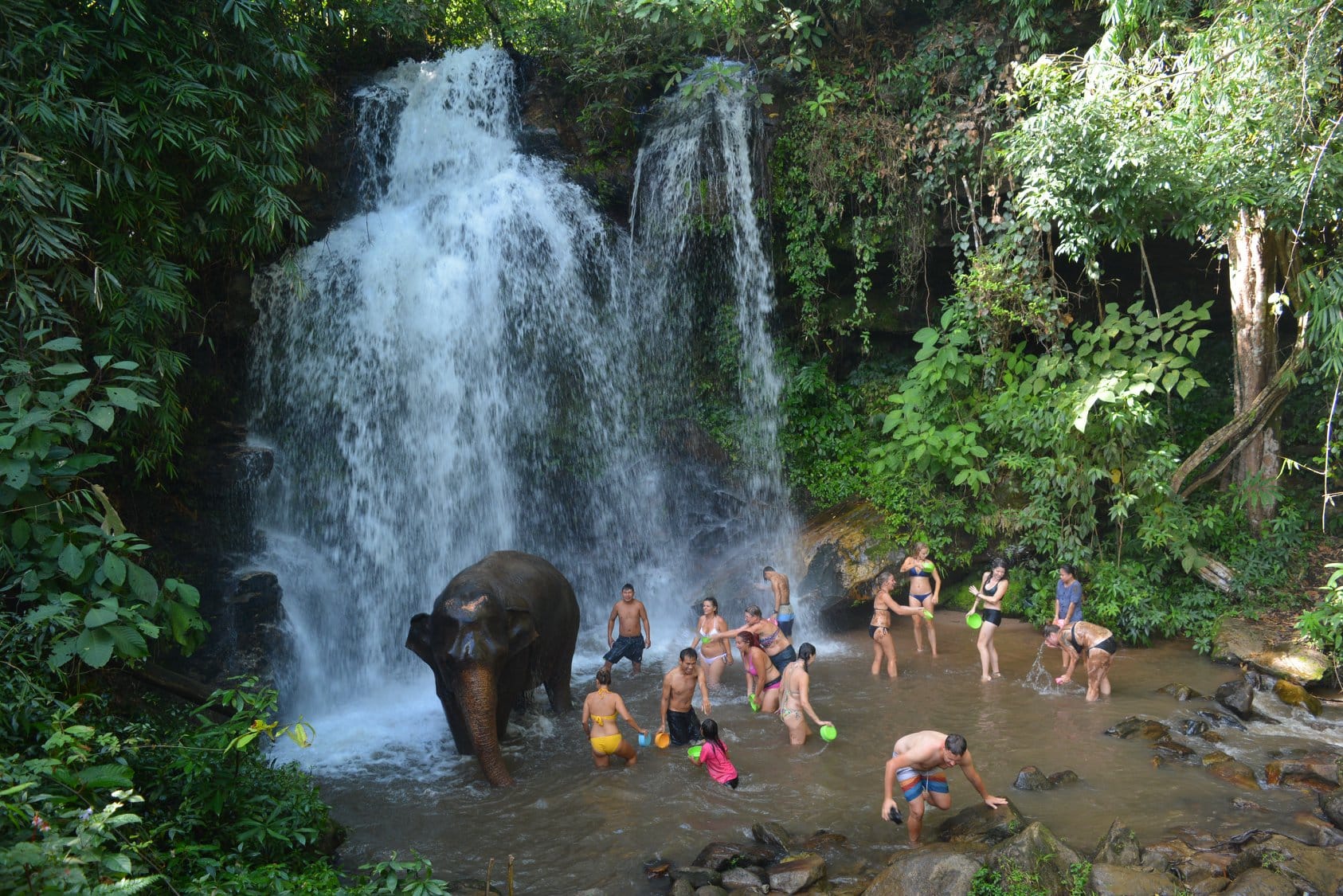 Founder - Thailand Nomads
Jordan started Thailand Nomads primarily for sharing his experience of exploring Thailand for several years. The objective is to help tourists especially digital nomads plan their travel itinerary when visiting Thailand.
Email: jordan@thailandnomads.com