Once a less-known island, Koh Tao is now becoming a popular tourist destination in Thailand. As the number of tourists increases, the city prepares itself for them.
The Resort Koh Tao offers a range of comfortable bungalows and villas for a pleasant and memorable stay on the island.
This welcoming island accommodates every type of traveler, whether a honeymoon couple or a backpacker on a shoestring budget.
Anyone who wishes to experience the uniqueness and authenticity the capital has to offer must stay in one of the below-mentioned accommodations.
Choose a hotel with cosy bungalows and villas to experience the ultimate comfort and serenity while exploring Koh Tao.
Experience the beauty and tranquility of Cosy Bungalows and Villas in Koh Tao by staying in one of these, as they offer privacy, comfort, and breathtaking views of the island's natural wonders.
7 Cosy Bungalows and Villas in Koh Tao – 2023 Guide (with Photos)
1. The Place Luxury Boutique Villasl
If you're trying to decide where to stay in Koh Tao and want a secluded, romantic villa, go no further than this resort. The Place Luxury Boutique Villas has nine villas.
Each features a private infinity pool, a spacious sun deck with bean bags to lounge on while admiring the ocean views, a kitchenette with a Nespresso coffee maker.
The villas, which have excellent reviews, are located in a shady hillside about ten minutes' walk from Sairee Beach.
Mountain bikes are free here.
Address: 15/4 2, Koh Phangan - Koh Tao, Koh Tao, 84360, Thailand
Phone: +66 87 887 5066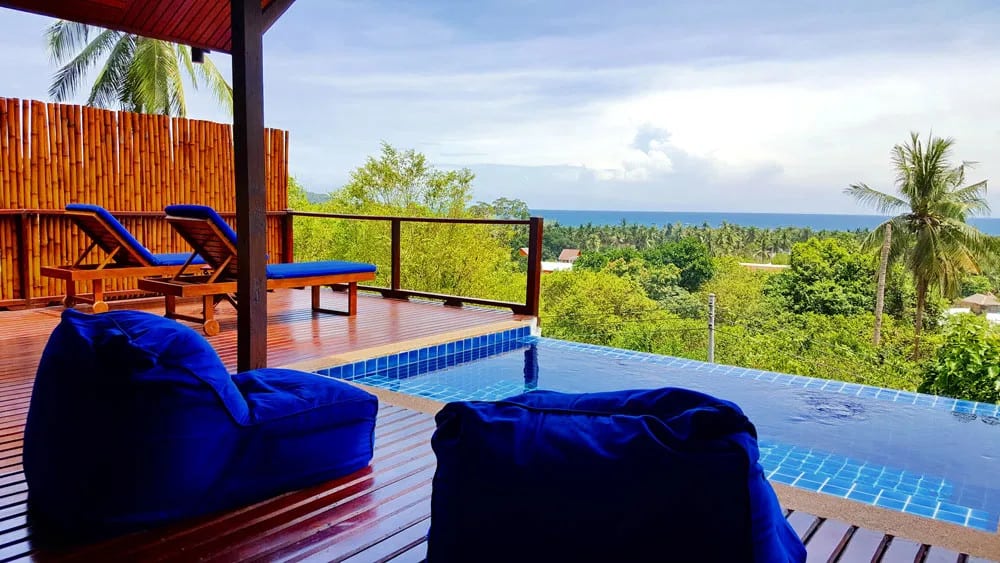 2. Fisherman's Villas
The Fisherman's Villas are six contemporary villa-style residences nestled away amid other nearby private villas on a clifftop point on Koh Tao's southeast coast, close to Shark Bay.
With numerous outdoor living spaces and breathtaking views, these are some of the most opulent villas in Koh Tao.
They each have a private outdoor pool, a lounge space outside, and bedrooms with air conditioning and fully functional kitchens.
It has a queen-sized bed in a separate bedroom and a small kitchen and hence the compact Squid House is ideal for a couple.
The balcony has stairs leading down to the water, where you can swim and snorkel.
Some of the larger villas can house four to six people. Some can be divided so that a couple just rents the bottom floor of a two-story villa.
Along with free pickup from the Mae Haad Pier, daily housekeeping service is also provided along with the ferries from Koh Samui and Koh Phangan.
Address: 21/32 Moo 3 Koh Tao Koh Phangan, Surat Thani 84360, Thailand
Phone: +66 92 594 7517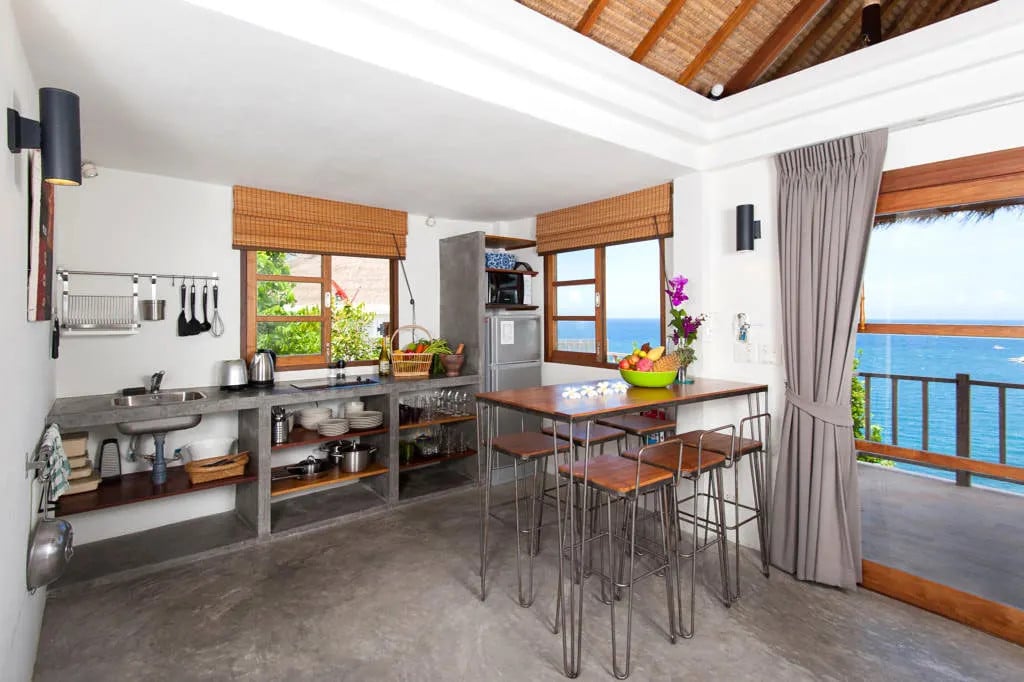 3. Pahili Pool Villas
Pahili Pool Villas - SHA Plus is located in Koh Tao, 1.8 km from Aow Leuk Beach.
It provides accommodations with free WiFi, a patio or balcony, access to a garden, and an outdoor pool that is open all year long.
It is only 2.5 km from Tanote Bay Beach and 2.7 km from Sai Daeng Beach.
There are flat-screen TVs, living rooms with sofas, well-equipped kitchens with eating areas, and private bathrooms with showers, slippers, and bathrobes in each of the air-conditioned accommodations.
Along with a kettle and a coffee maker, there is also a fridge, a microwave, and a minibar. The villa has a sun patio that visitors can utilise.
Address: 39/5 moo3 chalok baan kao koh tao, Surat Thani 84360, Thailand
Phone: +66 84 841 4100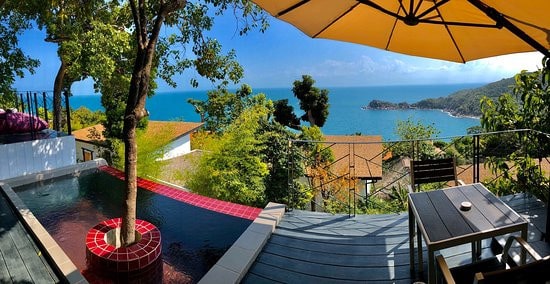 4. The Plantation
Only 300 meters from Sairee Beach and surrounded by a coconut plantation, The Plantation Koh Tao provides cosy lodging.
There are many bars and eateries close by. Free pick-up from the pier is provided for visitors.
A flat-screen TV, an electric kettle, and a kitchenette are included in the apartments and pool villas at this establishment.
For the comfort of the visitors, the restroom has a hot rain shower and free toiletries.
While a pool is only available in the pool villas, every property has an own terrace with views of the ocean. The centre of Sairee may be accessed in less than 600 metres.
Address: 15/99, Koh Phangan - Koh Tao, Koh Phangan, Surat Thani 84360, Thailand
Phone: +66 99 245 5364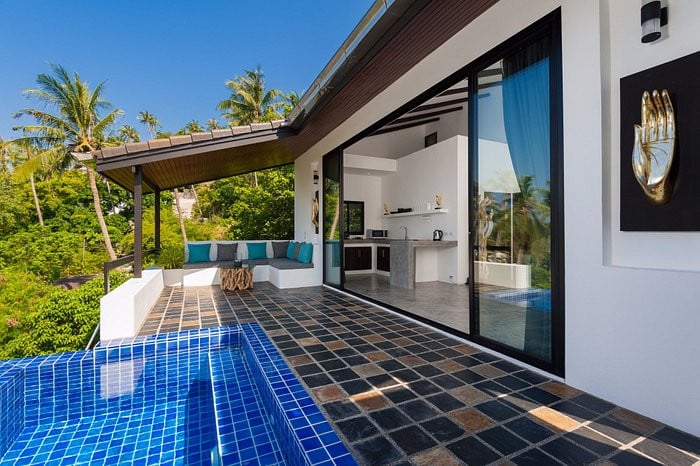 5. Naroua Villas
Naroua Villas in Ko Tao provides its visitors with private pool villas and a host of other amenities. Free WiFi and paid private parking are offered by the establishment.
Sunken Ship is 2.2 km and Mae Haad Pier is 1.4 km away from the property. The distance to Samui Airport is 65 km.
Several villas here feature a living room, kitchen, and dining space. They also have a patio, flat-screen satellite TV, and iPod dock. The bathroom comes equipped with a shower.
On request, delivery services for groceries can be arranged.
Additionally, visitors can ask for a private supper, a private diving expedition, or an in-villa message.
Address: 5/27-28 Moo 1, Sairee, Koh Tao, Surat Thani 84360, Thailand
Phone: +66 81 564 1899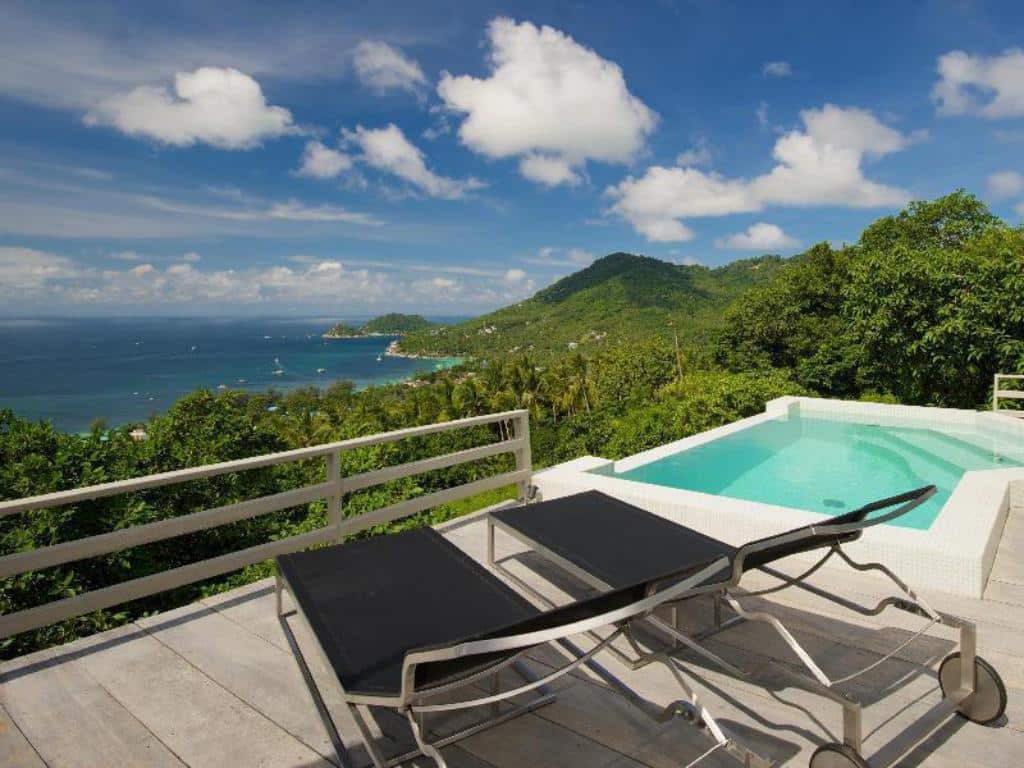 6. Cape Shark Villas
Ko Tao's Cape Shark Villas provides opulent villas and a segregated beach area. It has cozy villas with complimentary WiFi in public areas.
In certain villas, a private pool is also an option. There is free bus service and free private parking.
Sairee Beach is 3.7 km away, while Nangyuan Island is 6.8 km away from Cape Shark Pool Villas. Maehaad Pier is only a 15-minute drive away.
There is a tour desk and a sun terrace on the property. Additionally, offered services include laundry, ironing, and fax/photocopying. Activities available to visitors include snorkeling
Each elegant villa features a dining area, a private terrace, and air-conditioned bedrooms.
A sofa and flat-screen TV complete the living room. Some villas come with a completely functional kitchen. Private bathrooms include complimentary toiletries and a hairdryer.
Address: 10.064372, 99.838327 Koh Tao, 84280, Thailand
Phone: +66 77 457 121
7. Anankhira Villas
Within a 5-minute drive of Mae Haad Pier, Anankhira Villas provides accommodations with breathtaking sea views 300 meters from Sairee Beach.
While some homes have contemporary designs, others have Balinese-inspired architecture. Some condos have their own private plunge pool as well.
The villas provide air conditioning, a sitting space with a TV, coffee, and tea-making amenities, and a refrigerator in addition to bedrooms with private bathrooms.
The helpful staff can help with making transportation arrangements. On-site, unrestricted private parking is offered here at Anankhira Villa.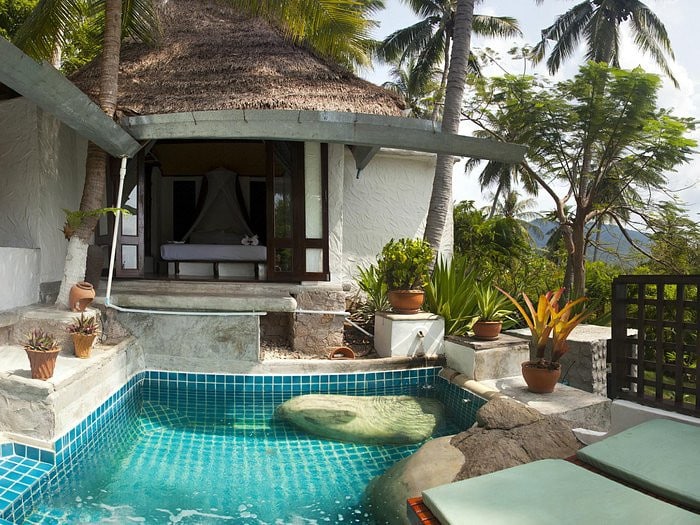 Wrapping Up
As an island so closely associated with beach life, Koh Tao has many luxurious and affordable accommodations.
However, in this list, we have ensured to mention only those that top the list and check most of the boxes, if not all!
However, before planning a trip to Koh Tao, we recommend you do some research on the weather and the best time to visit Koh Tao so that you can make most of your time here.