The Old Town of Koh Lanta is a calm destination composed of genuine cottages and lovely embellishments. A cozy blend of Thai-Chinese, Thai-Muslims, and sea gypsies called this place their home.
Our travel guide here is to help you discover all the necessary details and advice about Koh Lanta Old Town in Thailand.
The best sites and activities in Koh Lanta Old Town are highlighted, along with information on how to get there, what to do, and where to stay.
Explore the enchanting charm of Koh Lanta Old Town with our Travel Guide for Koh Lanta Old Town unveiling the hidden gems of this historical seaside village in Southern Thailand.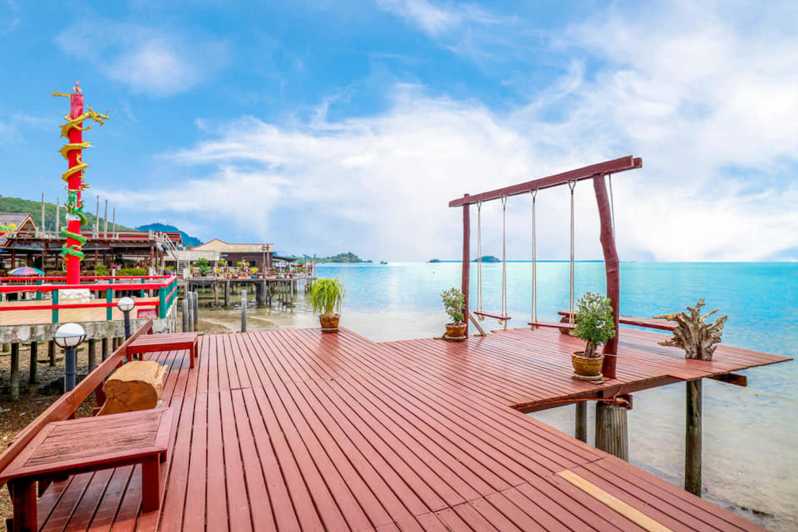 WHAT TO EXPECT
The Old Town has a slow-paced, laid-back vibe with a definite Chinese flavor. You can feel the passing of time as you stroll around and observe the lanterns.
While Old Town is still a fishing community for the inhabitants, a large portion of its trade now comes from low-key tourists, where gift shops sell regional products like genuine leather.
To truly experience this place, we suggest taking a stroll through Old Town and stopping at one of the fine bars or restaurants by the water for a drink or meal to appreciate its charm.
Fair warning! You must be on the west coast of Koh Lanta to find a beach for swimming and tanning. But don't worry! We know how to get you there. Keep reading to learn how.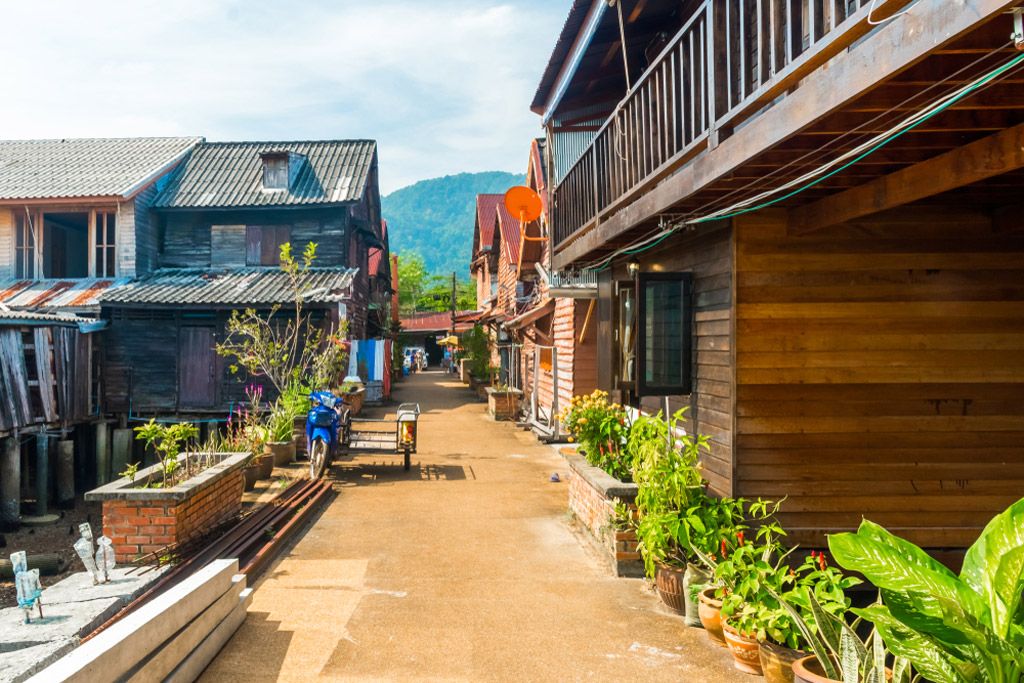 HOW TO GET THERE
Express Transfer, which combines a minivan and speedboat to transport you door to door from Krabi Airport to your Koh Lanta hotel, is the shortest method to travel to Lanta Old Town. For families and social groups, a Private Minivan Transfer is another option.
You can reach this location by traveling from Ban Saladan along the east coast route or by cutting across the island on the west coast road and continuing south. Turn left and descend to the river to get there.
Location Guide: Koh Lanta Old Town is located 16.8 km by road from Saladan Pier.
PLACES TO VISIT
From Lanta Old Town, you can visit many of the eastern & southern islands and also the mangrove forests. These trips can be made by longtail or sailing boat. Some trips include kayaking.
Here are some must-visit places:
KOH LANTA HAMMOCK HOUSE
Hammock House, a nice store to check out, has been promoting relaxation since 1996. Butch and Jaeb, two adorable and understandably laid-back owners, founded the company.
Here you can find a distinctive collection of cozy, handcrafted hammocks with patterns and colors you won't find anywhere else perfect for souvenirs. Also, it is located right in the heart of the main road.
For more outdoorsy tourists, you can get hanging chairs, parachutes, travel- or family-sized hammocks, indoor and outdoor hammocks, and extra-special V-weaves.
ADDRESS: Ko Lanta Yai, Ko Lanta District, Krabi 81150, Thailand
OPENING HOURS: Open daily from 10:00-17:00
CONTACT NUMBER: +66 84 847 2012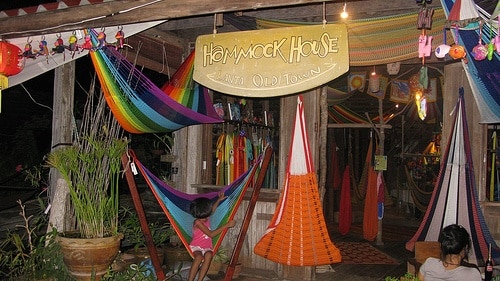 KOH LANTA COMMUNITY MUSEUM
Koh Lanta Community Museum is another excellent location close to the roundabout.
The Chao Leh, often known as "sea gypsies," is one of the ethnic groups who dwell on the island, and this museum was established in 2007 to exhibit their past.
The Old Town Museum features antiquated images and artifacts that detail Koh Lanta's past and inhabitants. Your tour to Old Town will be more prosperous as a result of getting a sense of how the islanders formerly lived.
ADDRESS: Ko Lanta Yai, District: Ko Lanta, Province: Krabi 81150, Thailand
OPENING HOURS: Open daily from 9:00 to 17:00.
BEST TIME TO VISIT: Early hours or noon.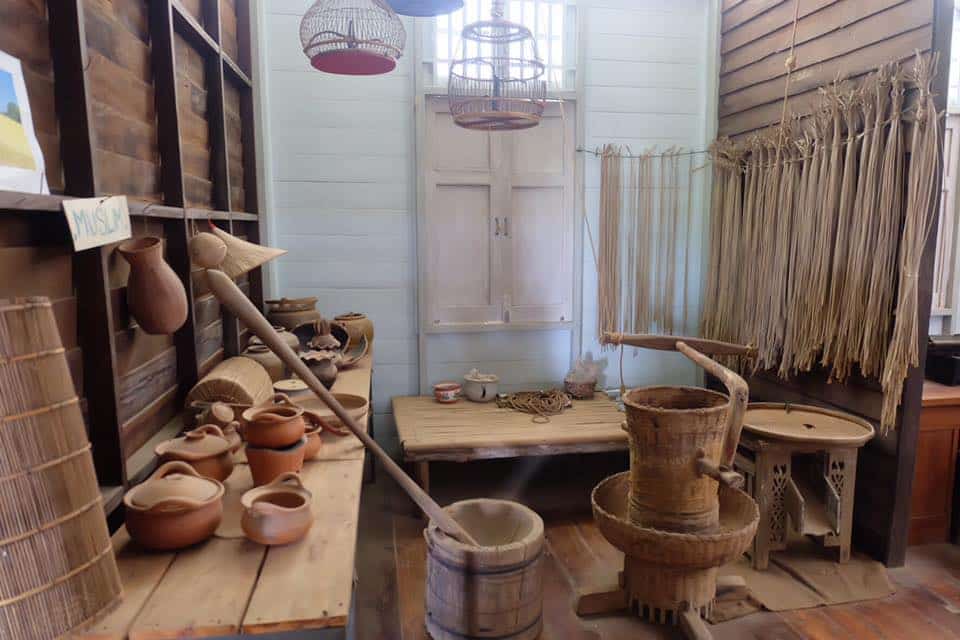 SEAFRONT CHINESE TEMPLE
A charming Chinese temple on a long pier can be seen in Old Town after a little stroll along the street. Really nice views can be captured from the shrine at the end of the pier.
The town's residents, many of whom are descended from Chinese immigrants, are the ones who constructed the characteristic wooden shop houses that resemble the old shop houses you can still find in mainland China.
The atmosphere here is very relaxed. You can sit in the middle with the locals and get acquainted with a piece of authentic Thailand without sacrificing your comfort.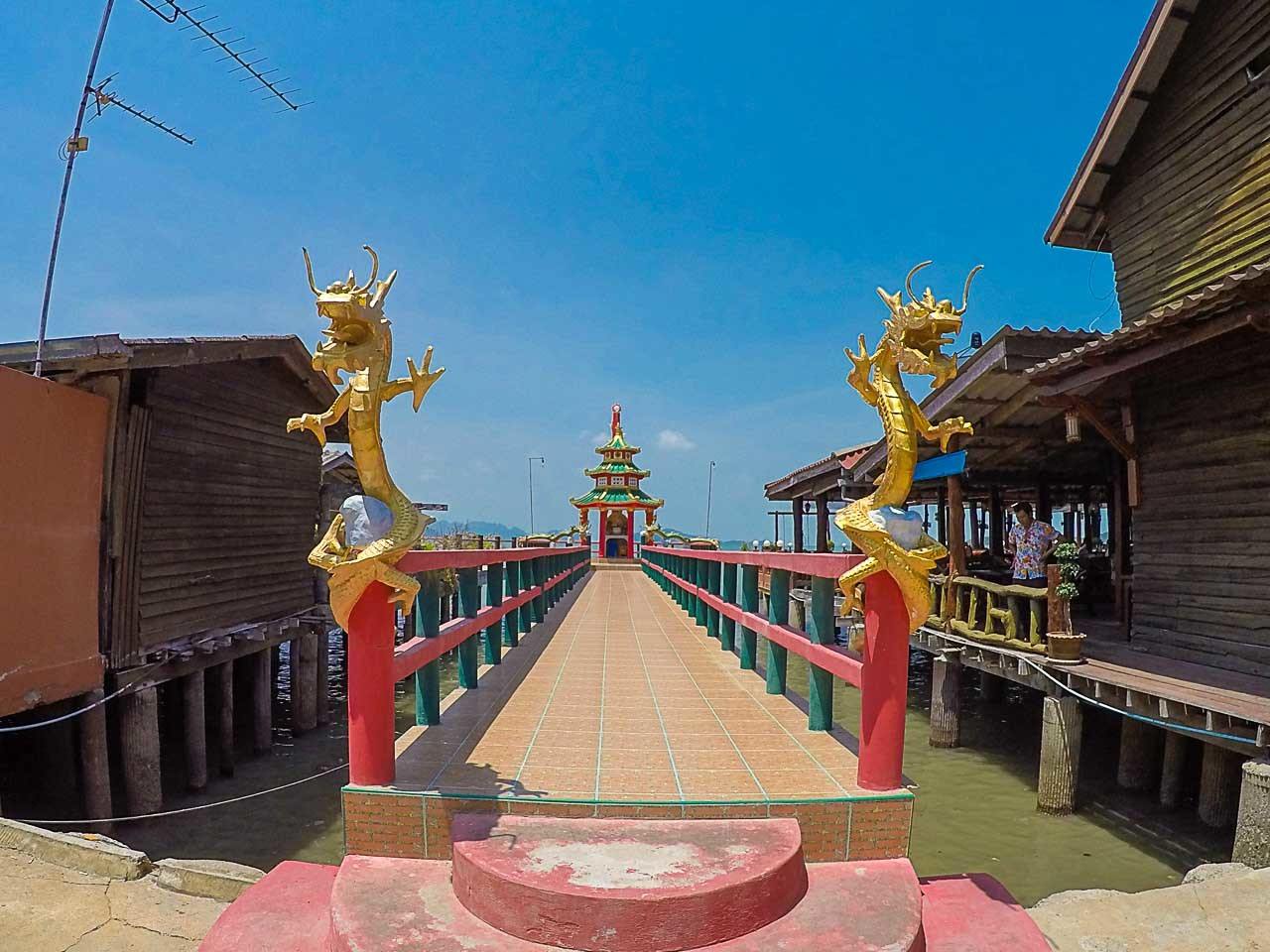 ACTIVITIES TO DO
Although this tiny town is known for its calm and cozy vibe, you can still participate in many activities. Here are some things we recommend that will enhance your experience.
BIKING
The first spot you encounter upon entering Koh Lanta Old Town from the main road is a small roundabout with a sizable Buddhist shrine in the center. You can explore quickly and conveniently by biking through the areas next to the roundabout if you are coming on your motorcycle.
There is nothing better than riding a bike around the stunning location of this Old Town, which is on the east coast of Krabi Province. You can easily ride your way into the Old town of Koh Lanta from the west coast while enjoying the wind in your hair.
To learn more about renting a bike, you can check out our Best Bike Rentals In Krabi list, where you can find good quality bikes.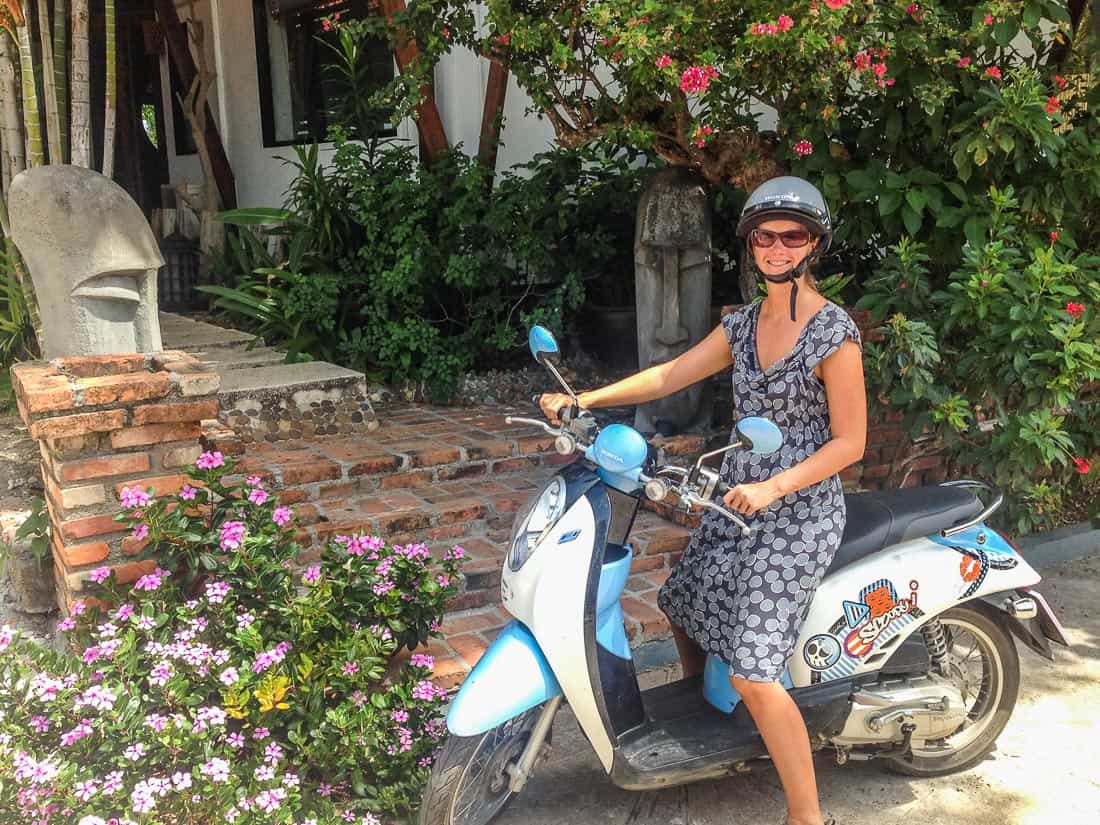 BOATING
The Old Town Pier, which used to import commodities and export agricultural products from the island, is in front of the roundabout.
Here you can find a few tour boats that leave from this port on trips to the small islands off the east coast of Koh Lanta. The Old Town is no longer a central trading hub, but you can visit the ancient sites and its infrastructure.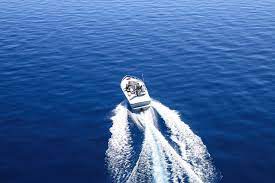 BEACHES
While exploring Koh Lanta Old Town, you can also travel to some of the west coast's beaches, like Ao Nui Beach and Bamboo Beach.
A road that runs from the west coast to the east coast of the island allows tourists who rent their motorbikes to make a circular day trip down one side of the island and back up the other.
This is fun, but due to the time spent riding, it is likely to produce sunburn, so remember to carry your sunscreen and proper clothing.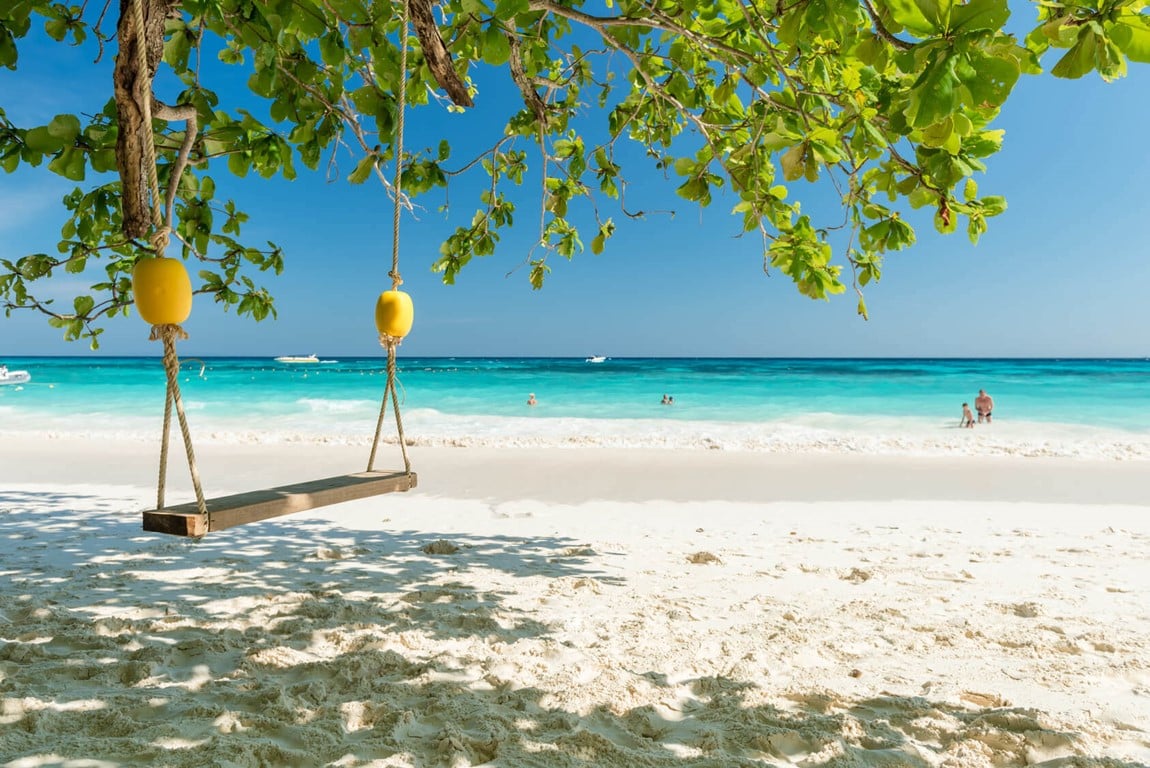 SHOPPING
In Lanta Old Town, you can buy the usual trinkets like magnets. Also included are apparel, sunglasses, and flip-flops. The availability of charming little businesses selling homemade goods is excellent.
The best part about shopping in Old Town is that prices on this side of Koh Lanta are slightly lower than on the west coast, but remember to shop about and haggle with humor!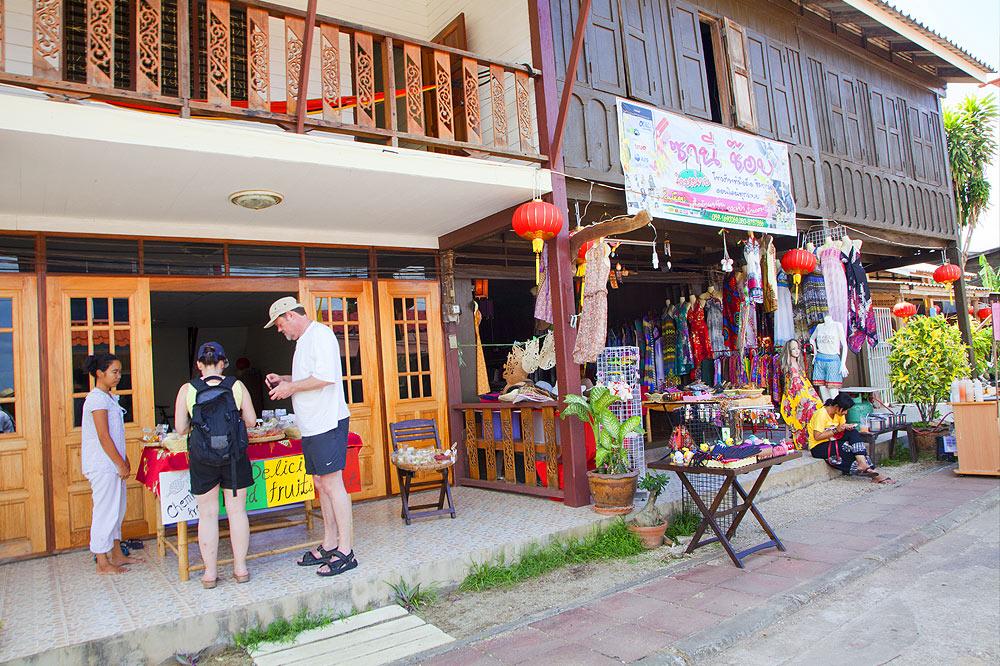 LAANTA LANTA FESTIVAL
One of the most beautiful events is the Laanta Lanta Festival in Old Town.
A three-day festival presents a perfect opportunity for the various ethnic communities to express their gratitude to one another by showcasing the finest of their respective artwork and traditions in front of everyone who comes to visit.
The streets are decorated with vibrantly illuminated lanterns during the event, which enhances its splendor.
It's a terrific family-friendly event. Your heart will be touched by the festive, joyous mood and kind hospitality, and you'll get long to visit this island of many harmonious cultural expressions again.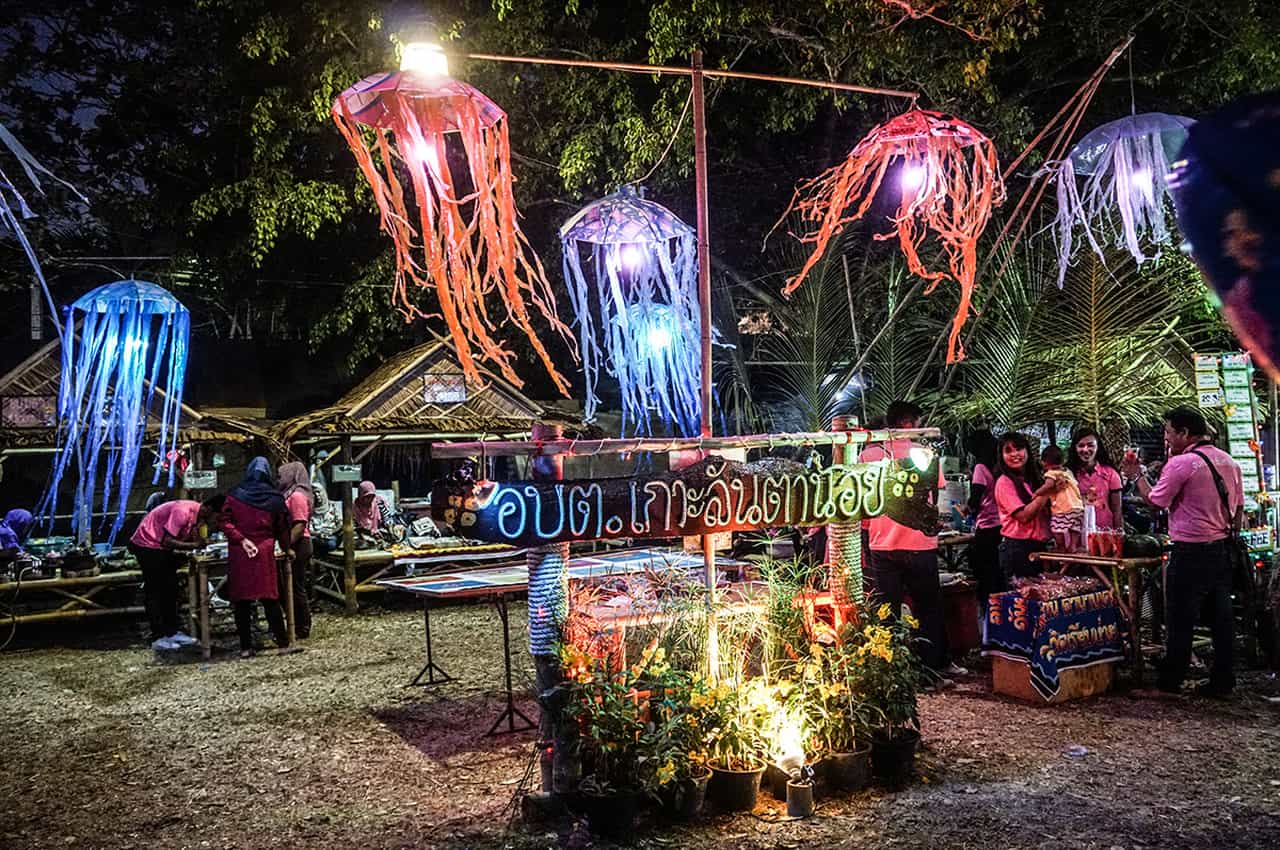 Some useful information for the Laanta Lanta festival 2023
Date -1-31 March 2023
Time -08:00-24:00
Locations -Old Town, Koh Lanta
Price-N/A
If you are interested in diving deep into Thailand festivals, you can learn more about Koh Phangan's Full Moon Party, which is about 140 miles away from Krabi province.
You have probably already heard a lot of tales about the infamous full moon party on the island of Koh Phangan. Here is an extensive Koh Phangan's Full Moon Festival Guide to learn more about it. Covering all you need to know about this festival.
WHERE TO STAY IN OLD TOWN
With wooden bungalows on stilts directly on the waterfront, staying in Koh Lanta Old Town is an entirely different experience than visiting beach resorts on the west coast.
Many villas have recently been constructed close to the Old Town. The villas are breathtakingly gorgeous, with natural surroundings from which you can see the heavenly sunrise over faraway islands.
These villas provide an opportunity to experience Koh Lanta differently and get a taste of native island life in Thailand while enjoying all the finer points of luxury living.
Some homes are even available for daily, weekly, or monthly rentals.
For a middle-class budget with a family, you can stay at The Verona Lanta Resort, which has detached bungalows, a sizable private terrace, and a fantastic pool.
There are six bungalows, so the poolside is calm. It is advised to make a reservation beforehand. The Old Town is only a short stroll from the resort.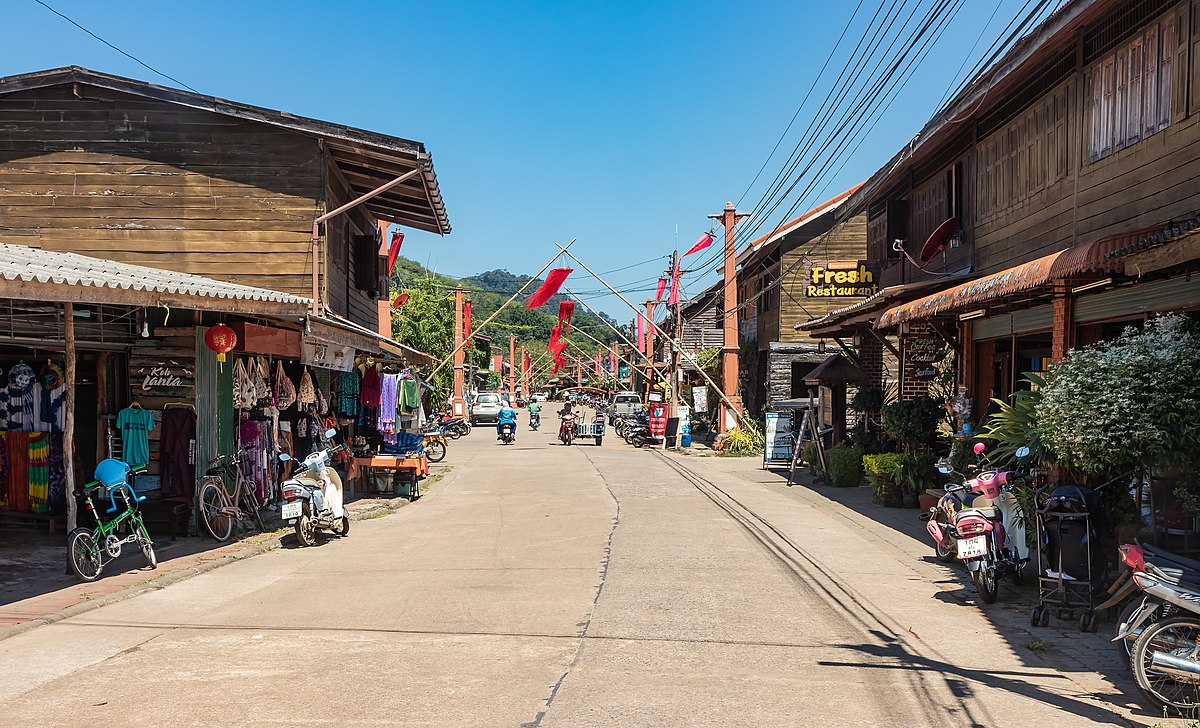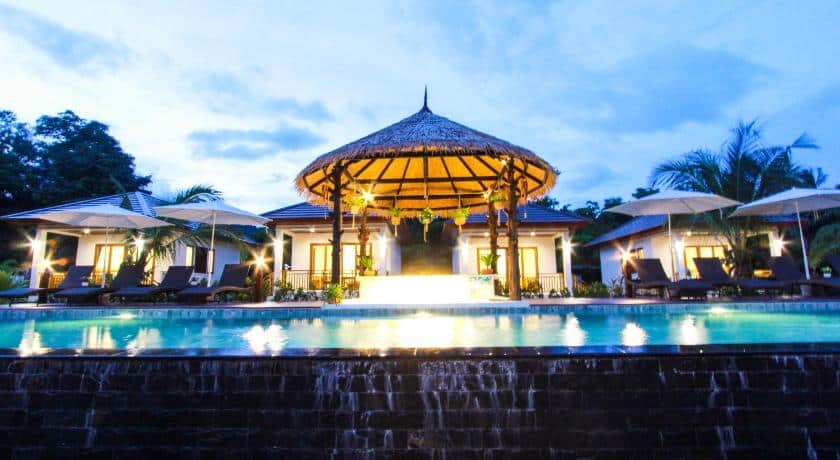 FOOD AND RESTAURANT
There are a few restaurants and coffee shops in this area, most of which are perched above the water on stilts and provide stunning views of nearby islands and the mainland.
The main road provides restaurants, including Old Town SeaFood, Sawasdee, Fresh, and Beautiful, that offer beautiful views and Thai cuisine, with the majority also serving seafood dishes. Along the side of the road, there are also noodle stalls.
Despite its tiny size, Koh Lanta Old Town has plenty of eateries with lovely locations, and choosing one can be challenging! The Rareview Coffee & Restaurant is a fantastic place to visit. It has a terrace above the sea with delectable drinks and excellent coffee.
Similarly, Di Farina Pizza Bar and Restaurant has lovely waterfront locations with top-notch pizzas for western tourists.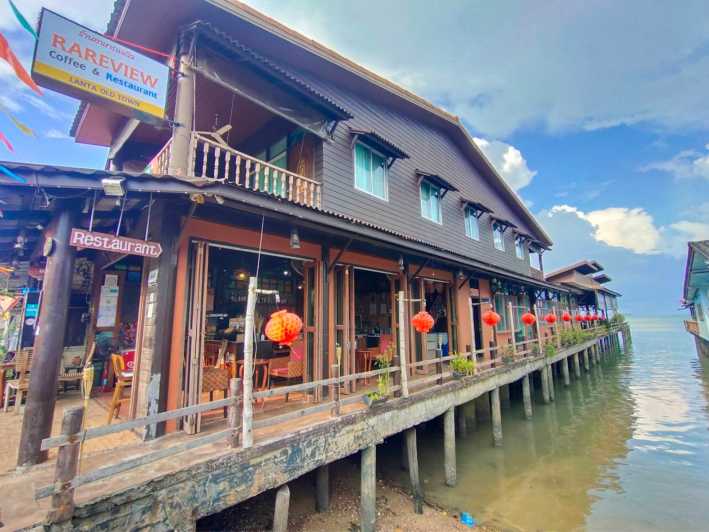 BEST TIME TO VISIT
The best months to travel to Koh Lanta Old town are January through April. It is usually the same all year long as the attractions and tourist hot spots are open all year.
But if you plan to visit the whole of Koh Lanta islands. It is worth remembering that there are two distinct seasons. Beginning in January and ending in April is the dry season.
All year long, the temperature is between 25 and 32 degrees Celsius. The island will be completely closed owing to excessive rain during the rainy season, which lasts from May to December.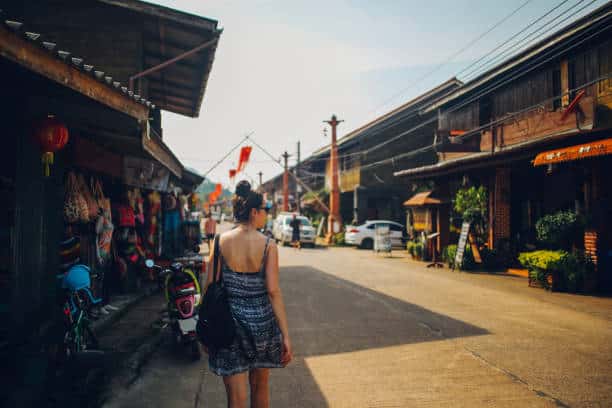 BEST TRANSPORTATION
Taxis and scooters are the two available modes of transportation on the island to get around the Old Town. A taxi journey costs between 50 and 200 Baht, depending on the distance.
Renting a scooter is far more practical because it allows you to access secret locations.
But be cautious with renting scooters because there have been instances of scams. Also, remember to wear a helmet, as the roads are not that good.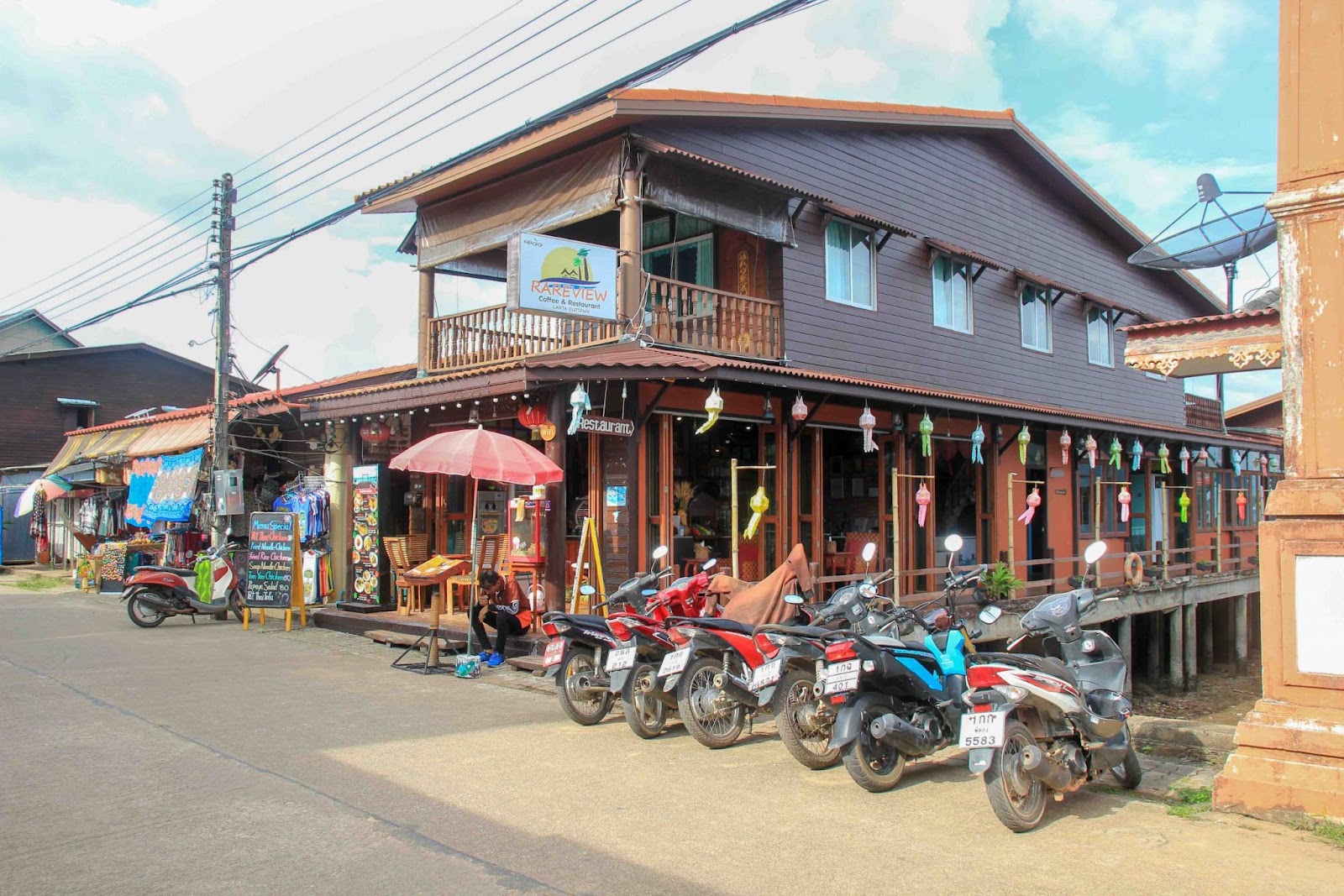 CONCLUSION
Don't rush, but remember to give this place time as you explore all it offers. You will be surprised by what more this tiny town can offer. We shared the same feelings as everyone there before and after us.
As you end your stay in OLD TOWN, you will want to explore more about the nearby beaches, as most do.
We understand it can be daunting to choose one as Thailand is full of exotic beaches. To help you get a head start on beaches, you can start here with Exotic Beaches in Phuket.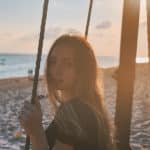 Noah Zaidi is an ardent traveler who has been documenting her Thailand exploration through Thailand Nomads. Her aim is to inform and educate people around the world about the must-visit places in Thailand.