Surin Beach on Phuket island is a perfect relaxing spot away from the hustle-bustle of city life. It is perfect for a retreat with the beautiful Andaman sea stretching out before you.
It was and still is among the top 10 beaches of Phuket, owing to its beauty and serenity. The turquoise green water and fine white sand are a treat to the eyes.
About the Surin Beach
Surin was earlier among the most happening and swankiest beaches of Phuket, owing to many fancy clubs and restaurants lined the beach.
However, after a dispute in 2016 with the government, most clubs and restaurants were demolished.
However, even today, after the massive demolition drive, the beach withholds its beauty and charm. In fact, it looks and feels a lot more natural now.
Although most restaurants have been removed, there are various local stalls selling authentic Thai snacks that you can enjoy eating under the long palm and coconut trees.
Activities on Surin Beach
The water on Surin Beach is crystal clear, which is a reason why it is considered among the most beautiful beaches in Phuket.
The water is exceptionally clear during the high season and hence perfect for snorkeling. You can rent the snorkeling gears from vendors on the beach for a few hundred bahts.
However, avoid snorkeling in the low season because the sea waves get very violent and make it unsafe and difficult to practice the sport.
During the low season, you can opt for Boogie-boarding and surfing. Apart from that you can go swimming or just lie down and let the waves wash away all the stress!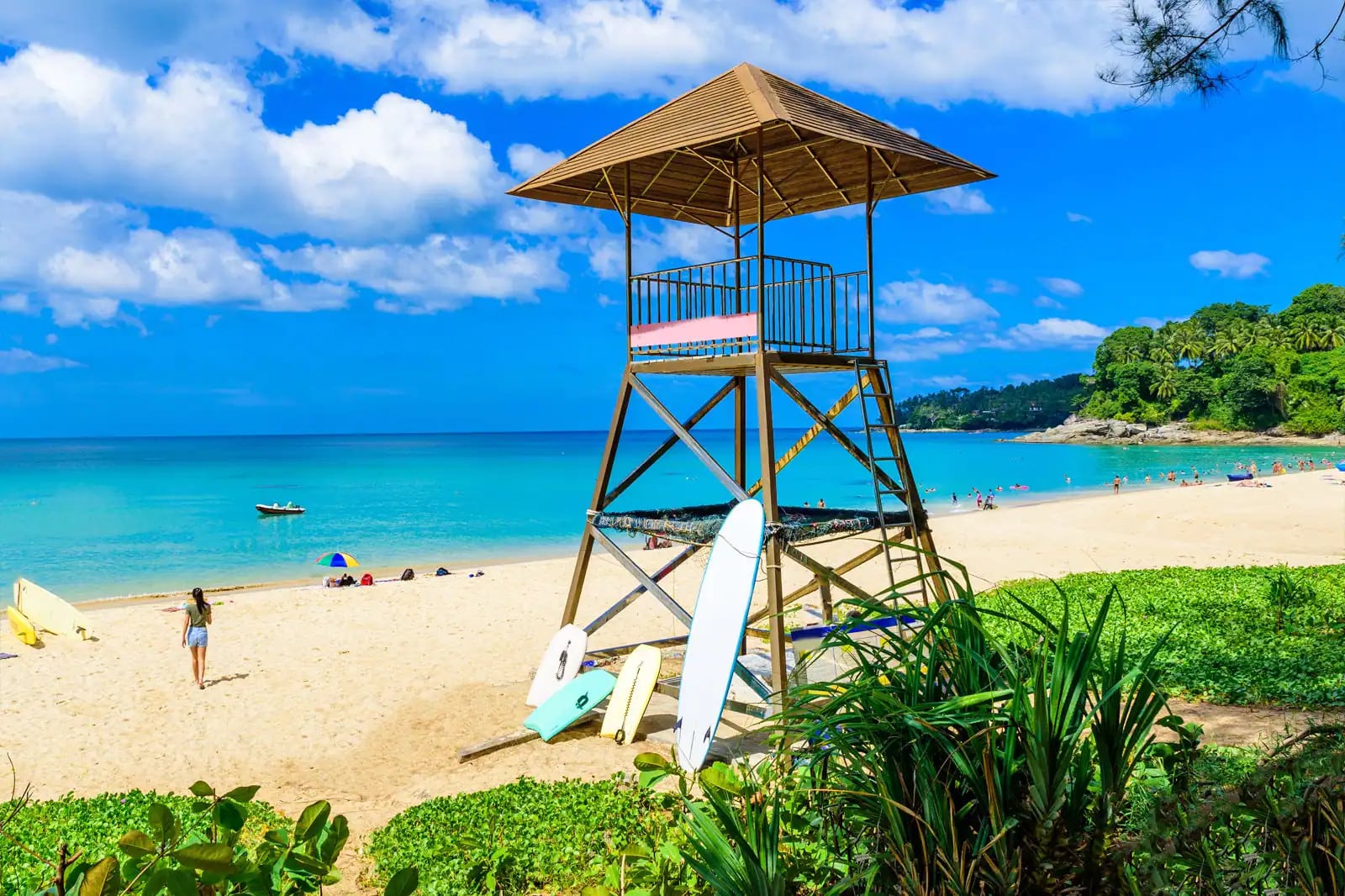 How to Reach Surin Beach?
You can easily go to Surin Beach by local bus, tuk-tuk, taxi, or your own vehicle.
Given below is the distance of Surin beach from various prominent locations.
Distance from Patong Beach to Surin Beach is 13 km
Distance from Phuket Airport to Surin Beach: 23 km
Distance from Phuket Town to Surin Beach: 24 km
The 800-meter stripe of soft sand on Surin beach is a perfect place to de-stress and relax. You can either indulge in water sports or rent umbrellas and loungers to relish a laid-back field on one of the most beautiful beaches of Phuket.
Editor - Thailand Nomads
Cindy quit her 9 to 5 job to pursue her passion for exploring mesmerizing locations in Thailand. She has been living here for the past 5 years now and through Thailand Nomads, she shares her experiences and insights about the must-visit places in Thailand.
Email: cindy@thailandnomads.com