What better place to learn the sport of Muay Thai than from its place of origin. The Muay Thai gyms are something you should definitely check out on your trip to Thailand, even if it is just for a day.
Immerse yourself in Thailand's revered martial art at the best Muay Thai gyms in Surat Thani, where experienced trainers, authentic techniques, and supportive environments come together to help you master the art of eight limbs.
5 Best Muay Thai Gyms in Surat Thani – 2023 Update
1. Muay Thai Martial Arts Academy
It is one of the most famous gyms in Surat Thani and nearby areas.
The Muay Thai Martial Arts Academy is certified by the Ministry of Education of Thailand and is a great place to learn the complex sport of Muay Thai.
The instructor Ajarn Sumboom is an expert in his field, and that is truly reflected in his dexterity and patience while dealing with the trainees.
The gym is well suited for both amateurs as well as professional fighters who want to whet their skills further.
Location: Chonkasem Rd, Tambon Makham Tia, Mueang Surat Thani District, Surat Thani 84000, Thailand
Website: https://sites.google.com/view/muaythaiacademy/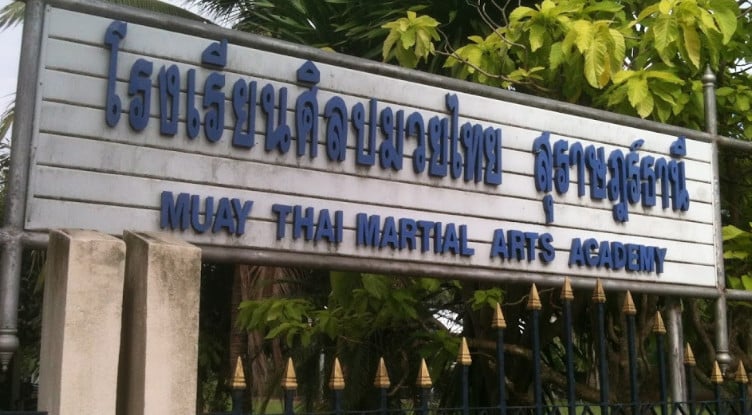 2. Jun Muay Thai
It is another great gym in the Surat Thani with a whopping 5-star rating on Google reviews. The gym is named after the head instructor Jun.
He and his team are very professional and skilled in their field.
The gym was also conferred with the title of the 'Best Gym on Koh Samui' by the Petchbuncha Stadium in Chaweng.
Jun and his team of trainers give personal attention to each candidate and go up and beyond their way to make them an expert in Muay Thai.
Address: 164/4 Moo 4,, Maret Lamai Koh Samui 84310 Thailand, Suratthani, Thailand
Phone: +66 89 589 6356
Website: http://junmuaythai.com/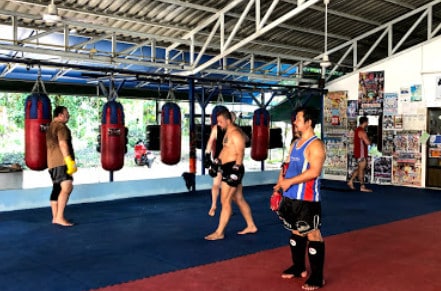 3. Diamond Muay Thai
Diamond Muay Thai is an authentic Thai boxing camp in the Surat Thani province. The gym offers intensive Muay Thai training to professional fighters, Muay Thai enthusiasts, and hobbyists.
The training is provided in an open atmosphere.
The trainers here are very warm and welcoming. They will always encourage you to progress without rushing at your own pace. The overall vibe of the place is very appealing and fun.
You can easily get spacious, clean, air-conditioned apartments for accommodation near the gym.
Address: 145/8 Moo 1 Nai Wok, Ko Pha Ngan 84280 Thailand
Phone: +66 80 098 4424
Website: http://www.diamondmuaythai.com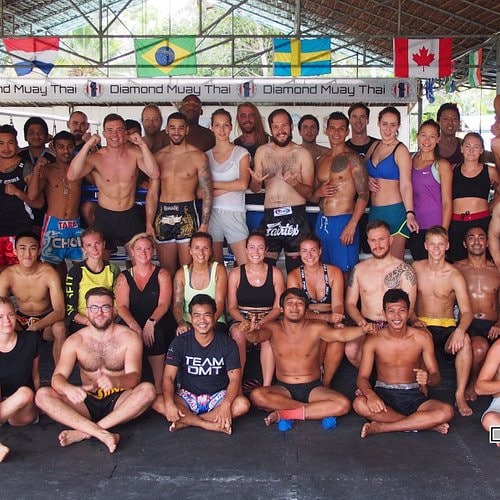 4. Superpro
It is one of the most advanced and modern gyms in the Surat Thani province. The gym is well-equipped with all modern-day equipment that is required for an intensive workout session.
It is a one-stop solution for all fitness enthusiasts. It offers a variety of fitness programs.
Here you can learn Yoga, Muay Thai, Brazilian Jiu-Jitsu, Crossfit, etc. The gym has some of Surat Thani's most sought-after trainers.
The gym features national and international professional top trainers and ex-stadium champions who know the Muay Thai sport inside out.
Location: Pak Nam, Mueang Surat Thani District, Surat Thani 81000, Thailand
Phone: +66 (0) 77 414 393
Website: https://superprosamui.com//
5. Jackie Muay Thai
Last but not least, we have the Jackie Muay Thai gym. The gym is family-run, headed by the former Bangkok champion- Jackie.
The gym caters to trainees of all levels. There are different classes for trainees based on the experience they have.
The size of the class is usually kept very small to ensure personal attention to each trainee. The gym has two full-sized rings and free weights too. There are many affordable accommodation options available nearby.
Location: 114/14 Ko Samui District, Surat Thani 84320, Thailand
Phone: +66 84 187 7582
Website: https://jackiemuaythaisamui.com/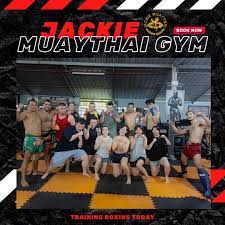 Conclusion
Hence, we see that the province of Surat Thani has a good variety of Muay Thai gyms scattered around. Nearly all these training centres cater to all kinds of fitness enthusiasts.
Don't forget to check these out on your trip to Thailand. Besides, there are other amazing places in Surat Thani that you can check out on your vacation.