Thailand is internationally renowned for its mountainous interiors and exotic beaches. The beautiful lush green scenery around the island makes it a perfect place for golfing.
Experience the perfect blend of leisure and challenge at Koh Samui top golf courses, where spectacular views and exceptional facilities await players of all skill levels in this tropical haven.
1. Santiburi Golf & Country Club
The Santiburi Golf and Country Club has been rightly deemed the pride of Koh Samui and was established in 2003. The 19-holes golf club is situated on the northern coast of the island. It is widely spread in an area of about 6,930 and offers numerous services to golf players.
The Golf club is built in a way that it seamlessly integrates the natural terrain of the Koh Samui island with the golf course. The golf course offers a breathtaking view of the green hills, white sandy beaches, and coconut plantations.
It is internationally recognised as a Thai Golf Course of international standard. It has also hosted several Asian tour events including the 2006 Bangkok Airways Open. The golf course features a pro golf shop, dining and drinking establishments, laundry facilities, and changing rooms for players.
Address: Highway 4169, Koh Samui, Ko Samui District, Surat Thani 84330, Thailand
Contact: +66 77 421 700
Website: http://www.santiburigolfsamui.com/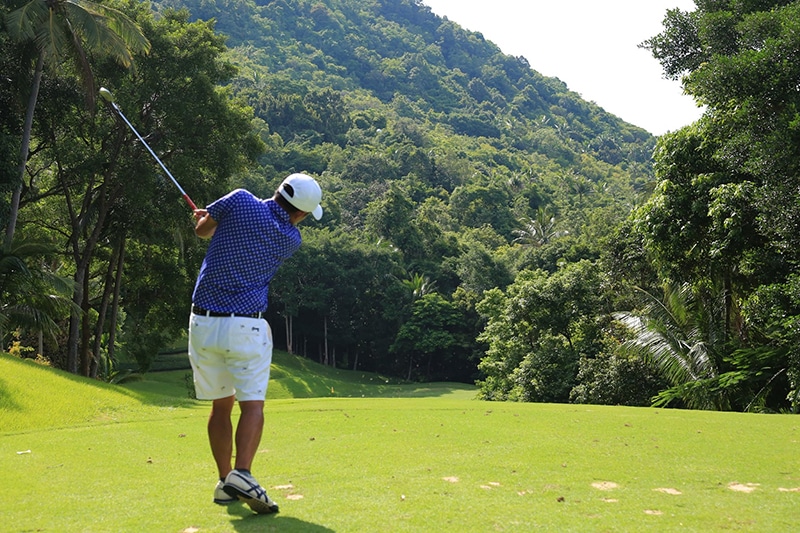 2. Royal Samui Golf & Country Club
The par-36, 9 holes Koh Samui's course Royal Samui Golf and Country Club was founded by a small group of golf enthusiasts in 2006. It is one of the most affordable and reasonably priced golf courses on Koh Samui island. The course is made in the middle of the jungle and has several pathways leading back to the resort.
Each hole in the course offers picturesque views of neighboring holes with prominent elevation changes. The golf club however is not for newbie golfers, since the course is very challenging. There are no caddies available here but you can get carts for rent.
Address: Bo Put, Ko Samui District, Surat Thani 84310
Contact: +66 (0) 64 032 5737
Website: https://www.rsgcc.co.th/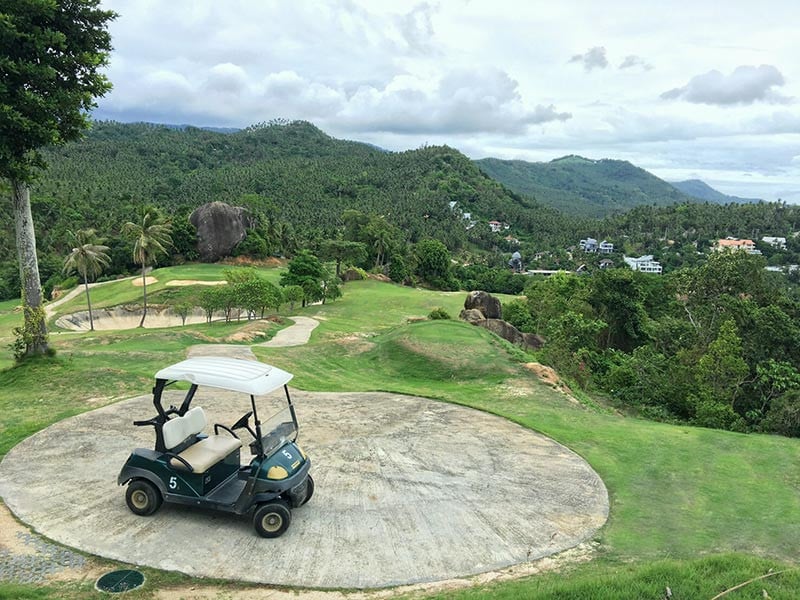 3. Ratchaprapha Golf & Country Club
The Ratchaprapha Golf and Country Club is conveniently located near the Khao Sak National Park, surrounded by dense jungle. Set among the limestone monoliths, the golf club demonstrates the exhilarating challenges of golfing in Thailand.
The golf course is perfect for professional golfers who love challenges. The club features a clubhouse and an authentic Thai restaurant that serves southern Thai dishes at very affordable prices. There are golf carts available for passive players.
Address: 53 Moo 3, Ratchaprapha Dam, Khao Phang, Ban Ta Khun District, Surat Thani 84230, Thailand
Contact: +66 77 242 562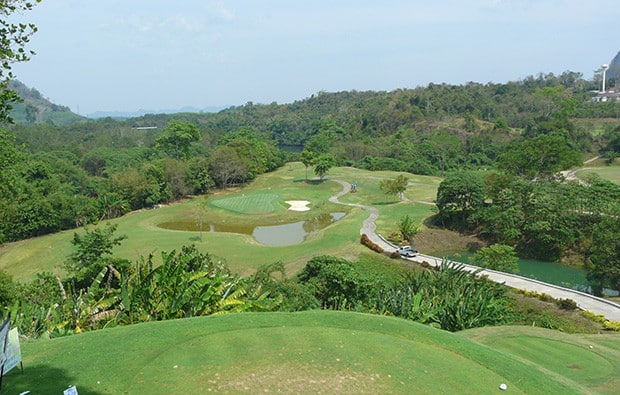 4. Bophut Hills Golf & Country Club
The Bophut hill golf club is one of top golf courses in ko samui nestled in the lush green hills of Boput on the island of Koh Samui. The golf course has par-279 holes with a Pirapon Namatra Design. It is best for beginners and newbie golfers as the course is not very challenging.
The golf course has a clubhouse with a full bar and an authentic Thai restaurant. It is surrounded by numerous trees on either side. The golfers are served midway and also offered lunch. There are no cars available but you can take help from caddies.
Address: 166/13 Moo 1, Bophut, Koh Samui, Surat Thani 84320, Thailand
Contact: +66 77 430 811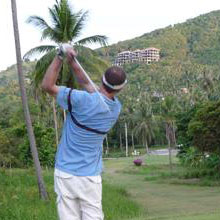 5. Samui Golf Club and Driving Range
The Samui golf club is beautifully located on the hillside in Koh Samui. It has a very unique and pleasant vibe. This might not be a full-fledged golf course but more of a driving range and putting green. There is a Golf Pro Shop where you can get golf equipment and accessories.
The golf course offers a driving range that covers 250 yards. It is more of a green place where you can practice and give an edge to your golfing skills. You can also avail the expertise of professional golf teachers here.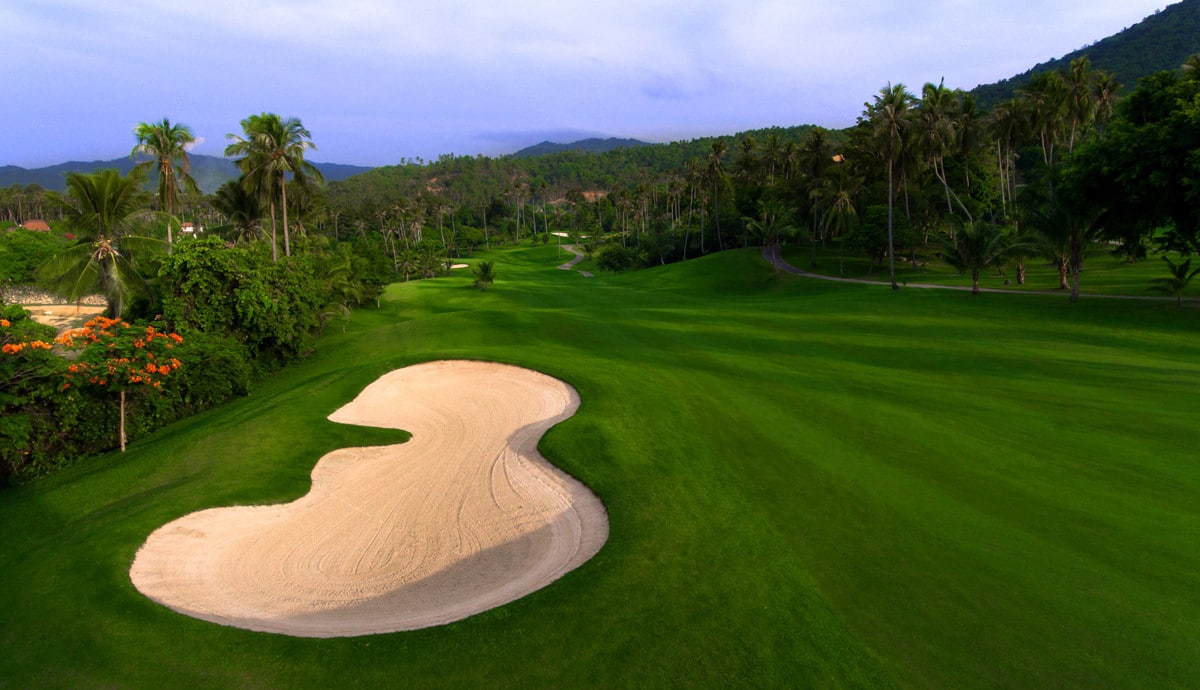 Bottom Line
The Golf Courses on the Koh Samui island are very diverse and cater to the needs of both amateurs as well as professional golfers. Some of them are of international standards. So if you wish to play golf in Koh Samui, you can conveniently choose from these.
Editor - Thailand Nomads
Cindy quit her 9 to 5 job to pursue her passion for exploring mesmerizing locations in Thailand. She has been living here for the past 5 years now and through Thailand Nomads, she shares her experiences and insights about the must-visit places in Thailand.
Email: cindy@thailandnomads.com