Muay Thai is gaining popularity internationally over the years. It is not only a sport but an overall development program where you get fitter and smarter. You learn self-defense techniques which can come in handy at an inopportune event.
Many popular Muay Thai gyms have emerged in Thailand that cater to the Muay Thai needs of the people. Some of the best of these gyms are in Koh Samui. Hence, besides exploring the beauty of the island you can also acquire some new skills here.
5 Muay Thai Gyms in Koh Samui
1. Jun Muay Thai
Conveniently located in the Lamai region, the Jun Muay Thai Camp is a conventional Thai gym devoted to offering the best Muay Thai training on Koh Samui island. It caters to trainees of different ages, experiences, and abilities alike. The academy has all the modern-day equipment that are required for advanced training.
The head coach Jun and his team are trained to impart Muay Thai lessons in an absolutely safe yet fun and challenging environment. The professionals are trained to teach you the basics of the sport while also improving your power and endurance.
Students from all over the world come to them for authentic Muay Thai instruction. The class sizes are usually kept small to ensure attention to each individual's performance and progress. The accommodation facilities have been divided into different categories for varying preferences and affordability.
Address: 64/4 Moo 4, Maret Lamai Koh Samui 84310 Thailand, Suratthani, Thailand
Website: http://junmuaythai.com/
Telephone: +66 89 589 6356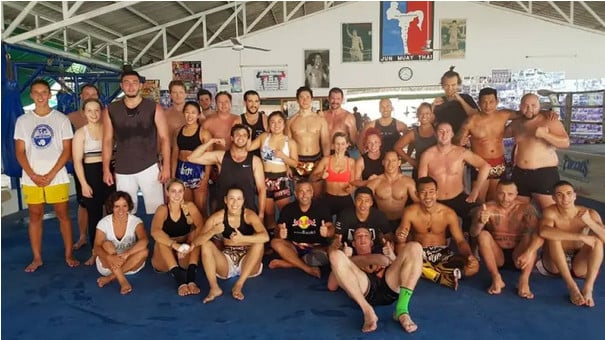 2. Yodyut Muaythai Gym
The Yodyut Muaythai is a Muay Thai training camp located at a distance of 5 minutes from Choeng Mon Beach, Chaweng, and the airport. Due to its central location, it attracts a good number of trainees from different regions. The gym offers top-notch training through qualified coaches at the gym.
The training centre caters to all kinds of trainees, be it a newbie or an experienced Muay Thai fighter. It is especially famous for training people who are very new to Muay Thai. The camp offers both personal and group lessons, however, if you are a beginner you should go for the individual training.
This gym koh samui has 8 full-time Thai trainers all of whom are also experienced fighters with a lot of knowledge of the sport. It features 2 full-sized boxing rings (6m x 6m), 15 bags, a large matted floor area and hot shower facilities. There is an onsite shop where you can buy all your Muaythai essentials.
Address: 76/77, Koh Samui, Surat Thani 84320, Thailand

Website: https://www.yodyutmuaythai.com/
Telephone: +66 90 797 4940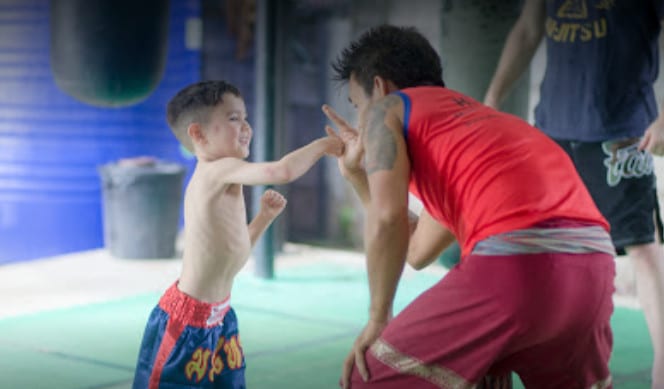 3. Lion Heart Muay-Thai
The Lion Heart Muay Thai gym is tucked away in a remote corner of Koh Samui island, surrounded by beautiful tropical gardens. The gym is very close to Saymui's best beach stunning- the Ban Tai beach. It is close to 200 meters from the beach.
The advanced equipment coupled with the tranquil setting allows the Muay-Thai training camp a perfect location to practise the sport. The gym is spread in an area of 300 square meters with a central training hall to make the best out of your workout.
The gym features ten punching bags, a 66-pound boxing ring, a three-bay Crossfit rig, kettlebells, dumbbells, Olympic bars, and a tire sprint field. The majority of the staff is fluent in English so you can easily communicate your preferences to the trainers.
Address: 32/8,moo5, Bantai Mae Nam, Ko Samui District, Surat Thani 84330, Thailand
Website: https://www.lionheartsamui.com/
Telephone: +66 99 005 8671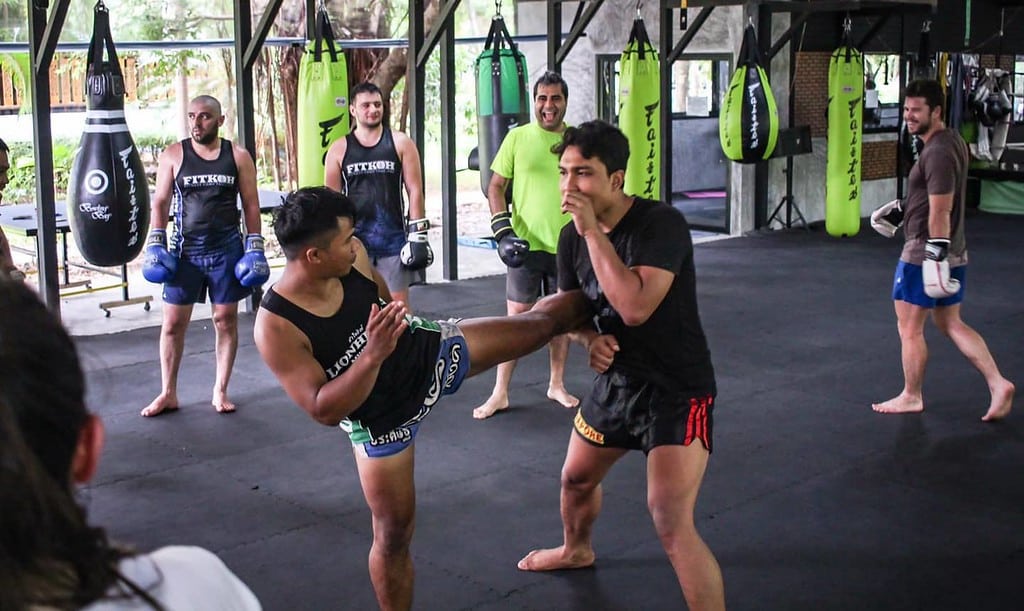 4. Superpro Samui
The Superpro Samui Muay Thai Training Center offers training to nearly all levels of trainees- beginners as well as pro-level fighters. The head coach of the gym has traveled extensively around the globe and has a very deep understanding of the sport.
As a result, the ambience of the gym is very non-threatening and welcoming so that all the trainees feel very comfortable practicing here irrespective of their skills and experience. At the resort, the trainees have all-hours access to the gym and can train as much as they want.
Training is available both in a personal one-on-one setup as well as in a group. The resort has a pool where you can sit back and relax after an intense workout session.
Address: 48/10 Moo 3 Bo Put, Surat Thani 84320, Thailand
Telephone: +66 77 414 393
Website: https://superprosamui.com/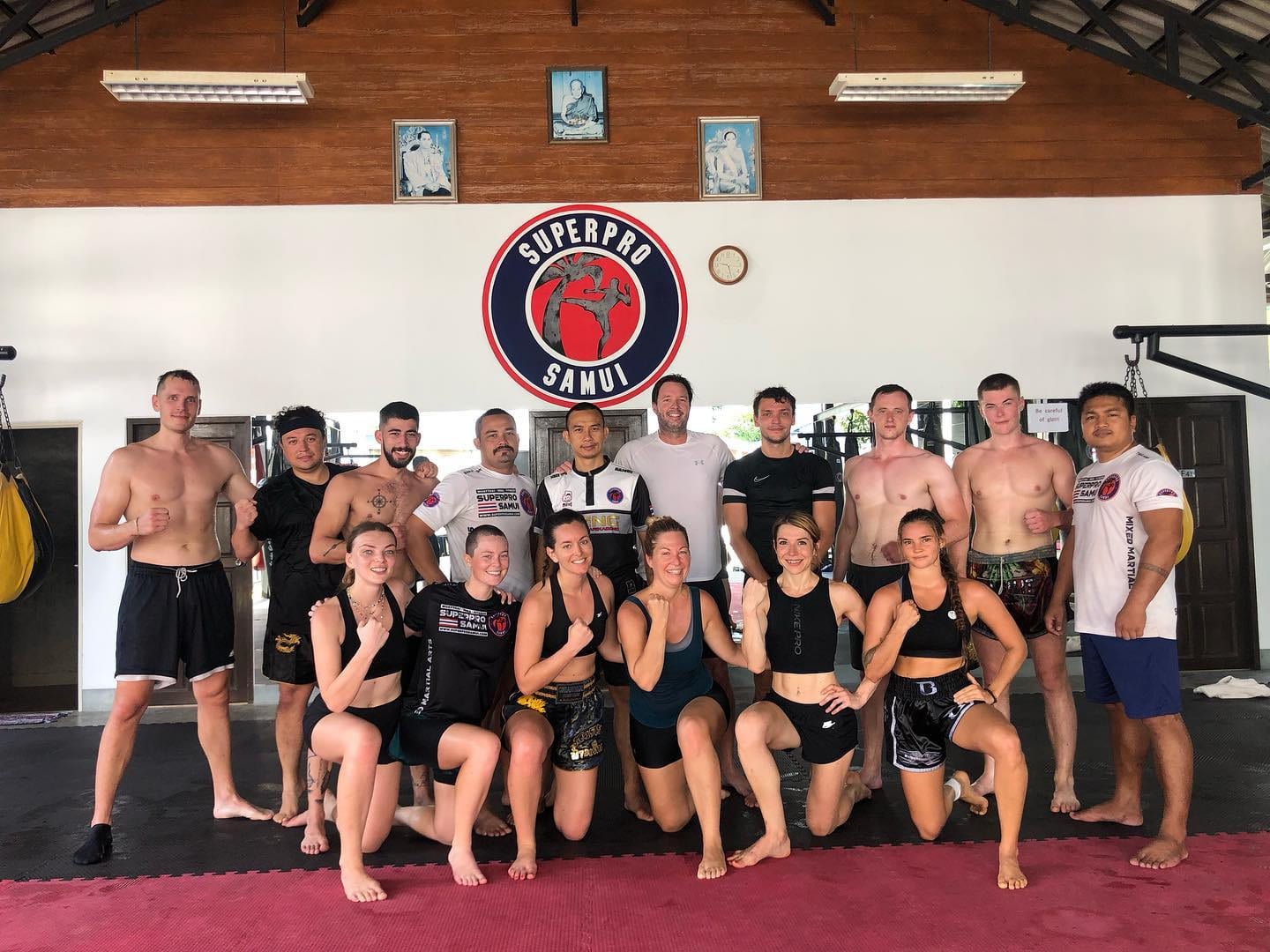 5. Jackie Muay Thai Gym
The Jackie Muay Thai gym is conveniently located in the Chaweng area and is dedicated to providing the finest Muay Thai instruction to clients, which has made them popular on the entire island. The trainers here are very polite, knowledgeable, and helpful.
The gym has all well-equipped, modern fitness training camp spread around a wide area. The instructors have a lot of expertise and are well-known in Thailand for Muay Thai training. They have both taught and fought in different parts of the world.
Address: 114/14 Ko Samui District, Surat Thani 84320, Thailand
Website: https://jackiemuaythaisamui.com/
Telephone: 66 84 187 7582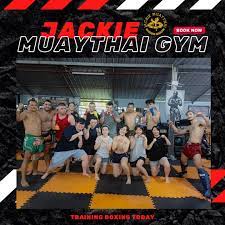 Bottom Line
The sport of Muay Thai is a perfect blend of high-intensity exercise and mental discipline, which is excellent for overall development. Since it is the national sport of Thailand, what better place to try your hands at this sport than Thailand. So, what are you waiting for? Join a Muay Thai gym now.