A motorbike is by far the best option to explore the mesmerizing Koh Samui island. It gives you the freedom to explore each place at your own pace. In addition to that, you can also enjoy the view on your way rather than just savoring specific locations.
Embark on an unforgettable journey across Koh Samui's breathtaking landscapes with the best bike Rentals In Koh Samui, providing an extensive selection of well-kept scooters and motorcycles, dependable services, and competitive prices, granting you the freedom to explore the island's sun-drenched beaches, verdant scenery, and hidden gems in a truly exhilarating and unique manner.
5 Best Bike Rentals In Koh Samui
1. Idan Rent
The Idan Rent Company is conveniently located in the Chaweng area of Koh Samui. They have been operating in Thailand for more than 10 years now. The staff is very cordial and friendly, making the booking and after-rental procedure very smooth.
The booking process is very easy and quick. You can book both through the website or visit the rental store. You don't need to submit any documents or passports. You just have to give a copy of your passport along with a deposit money of 3000 Thai Baht.
Location: 166/27 Chaweng Inside "Samui Isra Tours, Koh Samui, Surat Thani 84320, Thailand
Contact: +66 91 657 5121
Website: https://idanrent.com/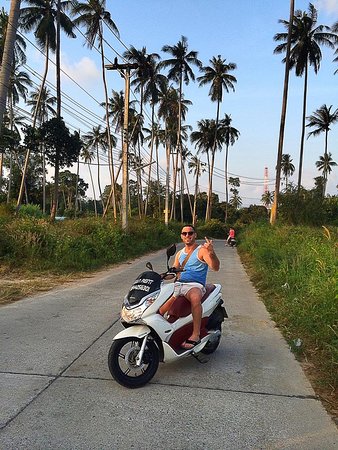 2. James Rental
James Rental is one of the earliest motorbike rentals in Koh Samui. It has been operating since 2003. They offer both short term and long term rental services in Koh Samui. The rental has a wide range of bikes to choose from.
The vehicles are regularly serviced and are in very good condition. The staff is very friendly and speak both French and English. They offer free drop-off and pick-up services from hotels, airports, and sea sports.
They have over 180 different models of bikes you can choose from at an affordable starting price of 150 Thai Baht a day. All the bikes come with a government insurance policy that covers physical damage (injury) and provides liability protection.
Address: 11/35 Moo. 2 Bophut, Koh Samui, 84320 Surat Thani, Thailand
Website: https://www.james-rental-samui.com/motorbike-rental-koh-samui.html
Contact: +66 84 628 7001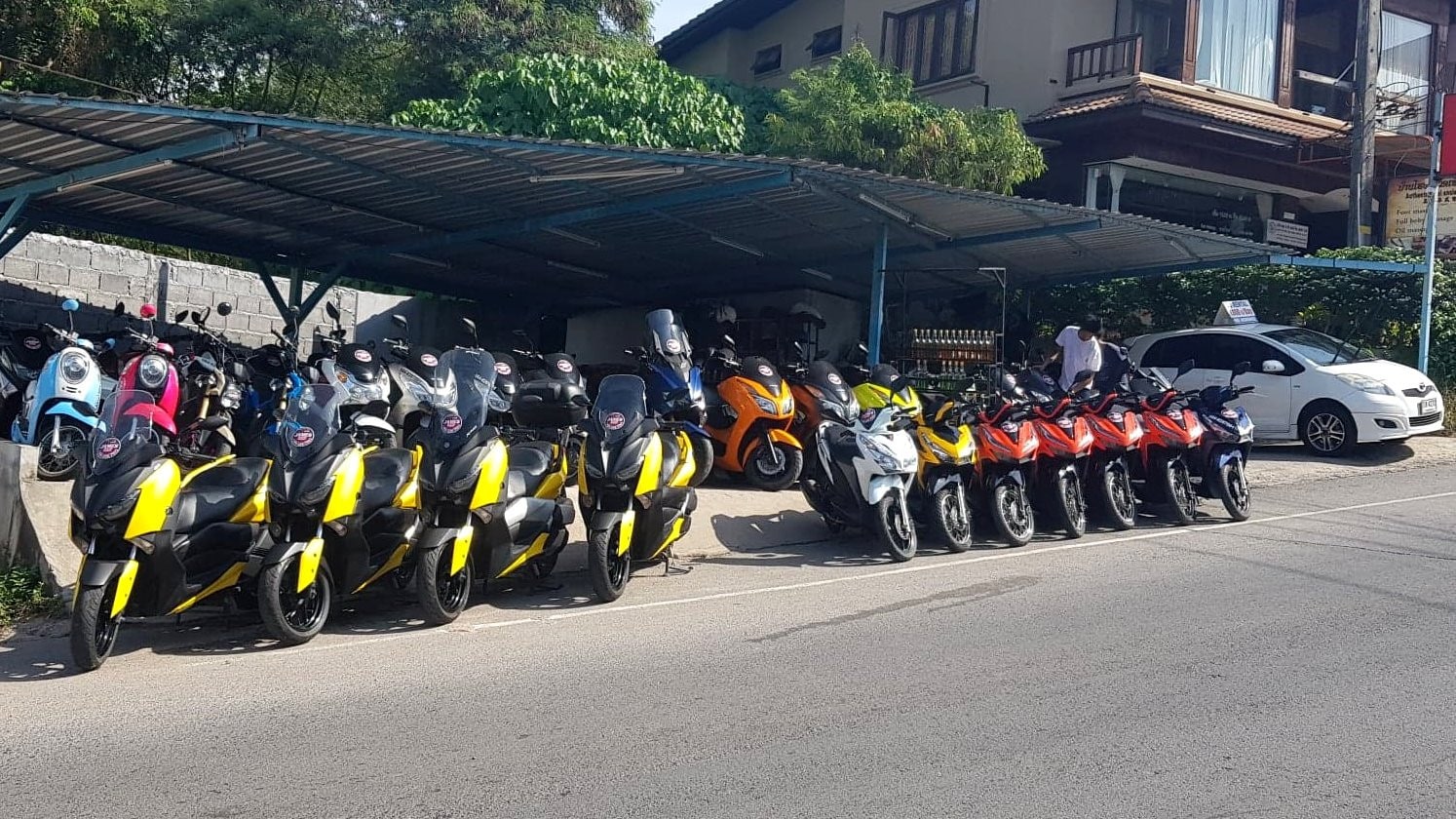 3. Rent Car Samui
Rent Car Samui is another popular bike rental in Koh Samui that you can trust. The staff at Rent Car Samui is very professional and takes care of all your needs and requests at the time of renting a bike. The booking procedure is very smooth.
All the bikes are listed on their website. You just have to select the bike you want and fill in all the details on the rental application form on the website and submit it. After analyzing your application, an executive will get in touch with you regarding the booking.
You just have to submit your passport along with a deposit of 200 Thai Baht. However, if you do not wish to submit your passport, you can alternatively give 3000 Thai Baht as a security deposit which will be returned to you after you return the motorbike.
Address: 9/72, Moo 2, T. Bophut, Koh Samui Suratthani, Thailand 84320
Contact: +66-93-574-95-87
Website: https://rentcarsamui.com
4. Thai Moto
Thai Moto is a premium bike rental service in Koh Samui. It offers a wide variety of bikes, all of which are in excellent condition. They have options for both regular 125-200cc engine bikes as well as top model bikes for adventure biking whose engine power is upto 500cc.
In order to get a bike on rent, you have to either submit your passport or submit 5000 Thai Baht as a deposit. This money is refunded as and when you return the bike. It is one of the most affordable rentals in Koh Samui where you can rent a motorbike for around 200 Baht a day.
Address: 159/47 Moo 2, Bophut, Koh Samui, Suratthani
Contact: +66 88 398 7300
Website: https://thai-moto.com/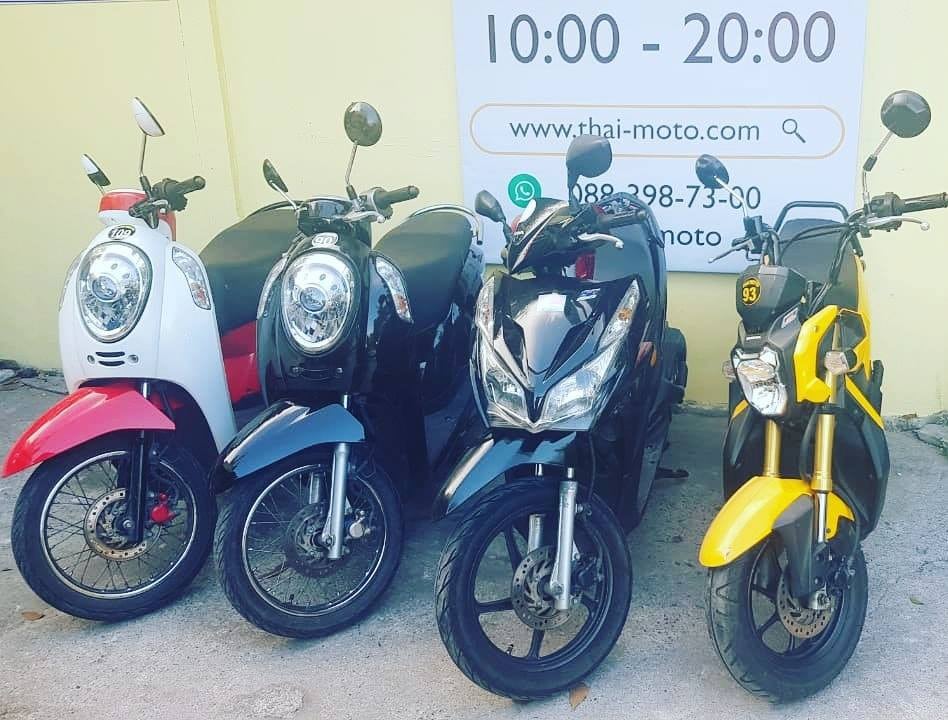 5. Raf's Affordable Rental
As the name suggests, it is one of the cheapest rentals in Koh Samui. Here you can rent a bike for as less as 125 Thai Baht a day. Raf, the owner of the rental, is very kind, attentive, and courteous. Besides giving bikes on rent he gives excellent advice on must-visit places in Koh Samui.
Raf operates the business entirely through the Facebook page and over the phone. There is no physical shop where you have to go to book the bike. You also get good-quality helmets along with the bikes which is very important for ensuring safety on roads.
Address: 59/17 Moo 5 T.Bophut, Bophut, Koh Samui, Surat Thani 84320, Thailand
Contact: +66 81 414 0906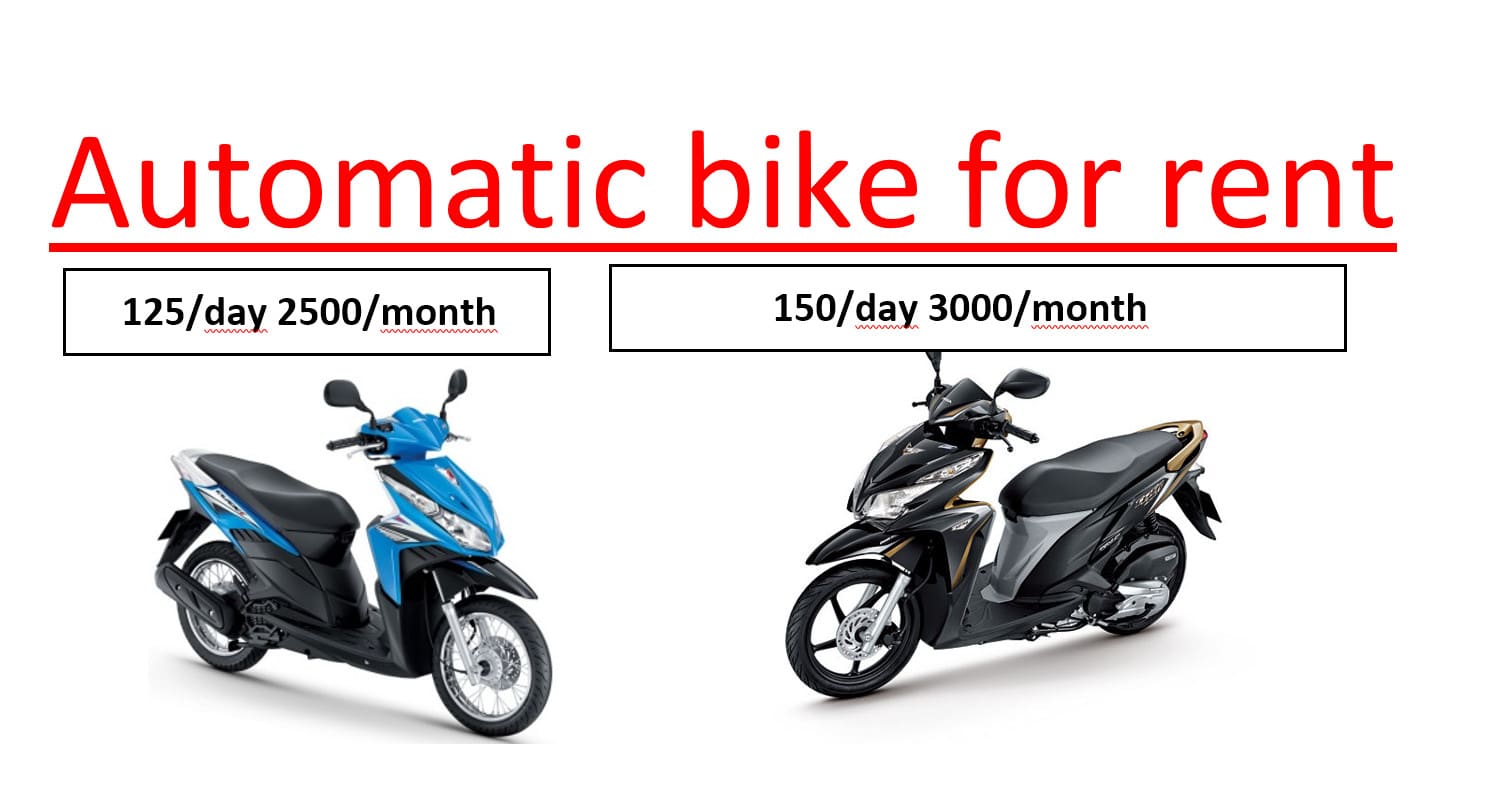 How much does renting a motorbike cost in Koh Samui?
On average, a day's rent for a motorbike costs around 100 Baht a day with an additional security fee that is refundable. The deposit money differs for all rentals. Most rentals give you an option to either submit your passport or deposit money.
If you plan on staying for long, go for the weekly or monthly rental plans because they are cheaper and also have additional services such as free pick-up and drop, extra fuel etc.
Types of Motorbikes available for rent in Koh Samui?
There are broadly three kinds of motorbikes that you can rent in Koh Samui
1. Scooters- They are the safest two-wheeler option available for rent in Koh Samui. This is especially true for beginners or those who are not well-acquainted with the roads of Koh Samui island. They are easy to ride and mostly automatic i.e no gears.
2. Manual Motorbikes - The manual motorbikes have manual gears hence it is suitable for only experienced riders. However, the thrill of riding these manual motorbikes are unmatched. They are best for inter-city travel.
3. Semi-automatic Motorbike- Semi-automatic scooters are rare in Koh Samui. However, you can find them at certain rentals. These bikes combine the features of both manual and automatic bikes.