Although the nightlife in Koh Lanta is not as wild and crazy as that in Phuket and Koh Phi Phi, there is still plenty of partying, provided you know where to go.
One of the most laid-back islands in Southern Thailand is Koh Lanta, which is well renowned for that fact. Every night of the week, several parties and live music performances take place.
The island is home to a few fantastic bars, host parties, and nightly live music performances. The nightlife also includes karaoke and kickboxing events, giving it a distinct charm.
With various nighttime options available, the island's many regions each have their special charm.
Hence, we are curating this guide on Koh Lanta's nightlife so you can enjoy it to the fullest.
Top 4 Bars in Koh Lanta
Whether you're looking for a lively atmosphere with live music and cocktails or a laid-back vibe with a stunning view, you can find a bar to suit your preferences in Koh Lanta. Some of the popular bars on the island include
1. Why Not Bar
Why Not Bar is a chilled-out beach bar right next to the beachfront. It is well-known for its relaxed and peaceful atmosphere.
The beachfront pub offers entertaining fire shows, inexpensive beverages, cozy seating, and a buzzing atmosphere.
It will be hard to keep a tab of time as you chat with the welcoming staff members while lounging on the plush cushions, listening to the soothing guitar music, and sipping on refreshments.
You'll be astounded by the brilliant fire on the sand at night.
This location is a big YES for you if you're looking for a much-more-relaxed nightlife with some great folks to spend your time in Koh Lanta.
Address: 9 M.5 T, Ko Lanta District, Krabi 81150, Thailand
Phone: +66 83 644 1333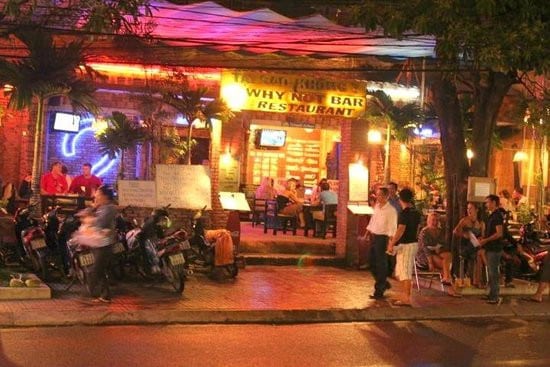 2. Majestic Bar
It is one of Koh Lanta's most well-known bars that has been around for some time.
In fact, it is one of the best bars in Thailand, with lovely lanterns and fairy lights, flags for vibrant pops of color, lots of bare wood for an aged look, and a terrific atmosphere in addition to delectable, reasonably priced cocktails.
It's the ideal setting for watching the breathtaking sunset while listening to a fantastic soundtrack.
Address: Between Easy Bar & Smile Beach at Klong Dao Sala Dan, Ko Lanta District, Krabi 81150, Thailand
Phone: +66 84 846 8688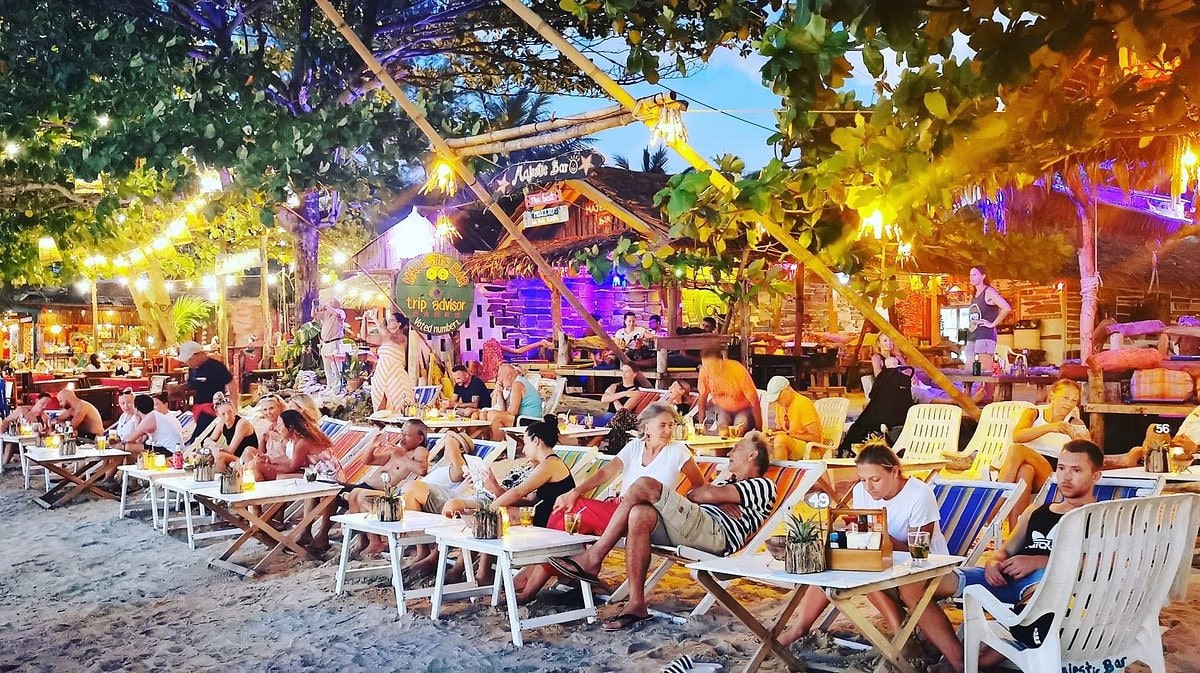 3. Mushroom Bar Koh Lanta
The Mushroom Bar at Klong Khong Beach is most well-known for its glow and the dark events.
It can be considered one of the island's only true nightclubs, with loud music, mushroom shakes, as the bar's name would imply, UV paint parties, and lots of fun.
However, people have raised concerns about their staff and complained about spiked drinks. So exercise due caution while you are here.
Address: Sala Dan, Ko Lanta District, Krabi 81150, Thailand
Phone: +66 81 690 9456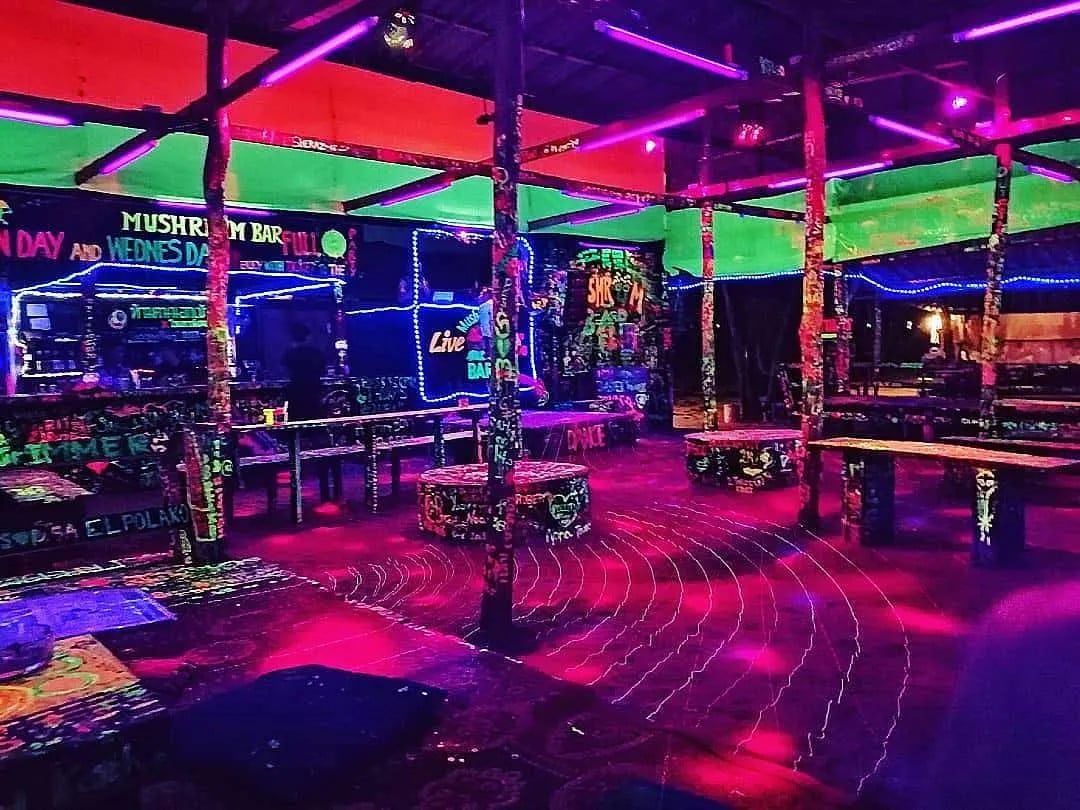 4. Pangea Beach Bar
The Pangea Beach Bar is conveniently located on the beach and exudes a fun vibe that is much liked by the tourists.
The party begins at 9 p.m. and continues until late in the morning. You can enjoy the popular house and tech music throughout the night.
Address: Sala Dan, Ko Lanta District, Krabi 81150, Thailand
Phone: +66 62 270 9374
Nightlife Events in Koh Lanta
Koh Lanta offers a diverse range of nightlife events for tourists to enjoy after the sun goes down. Some of the popular nightlife events on the island include
1. Open Mics and Live Music
Every Wednesday at 8.30 p.m., an open mic night is held at the Irish Embassy Pub. You can go with pals and sing until the sun comes up while having a blast.
Every Thursday and Saturday from 6.30 p.m. to 9.30 p.m., live music is performed at Koala Bar.
Every night, there is live music at Why Not Bar on Kantiang Bay, which also offers reasonably
priced food and drinks.
Where: 233 Moo 2, Prae Ae, Sala Dan, Ko Lanta District, Krabi 81150, Thailand
2. Quiz Night
Every Monday at 8 PM, the Irish Embassy Pub offers a quiz night.
Participants can win free shots and even a 1500 THB bar tab to spice up an entertaining night.
Where: 233 Moo 2, Prae Ae, Sala Dan, Ko Lanta District, Krabi 81150, Thailand
3. Sunset Session
A DJ spins tunes at the Ozone Beach Bar every Monday and Tuesday from 5 p.m. to 12 a.m.
While the DJ spins their selection, you can dance and enjoy the Andaman Sea sunset.
Where: 471, Sala Dan, Ko Lanta District, Krabi 81150, Thailand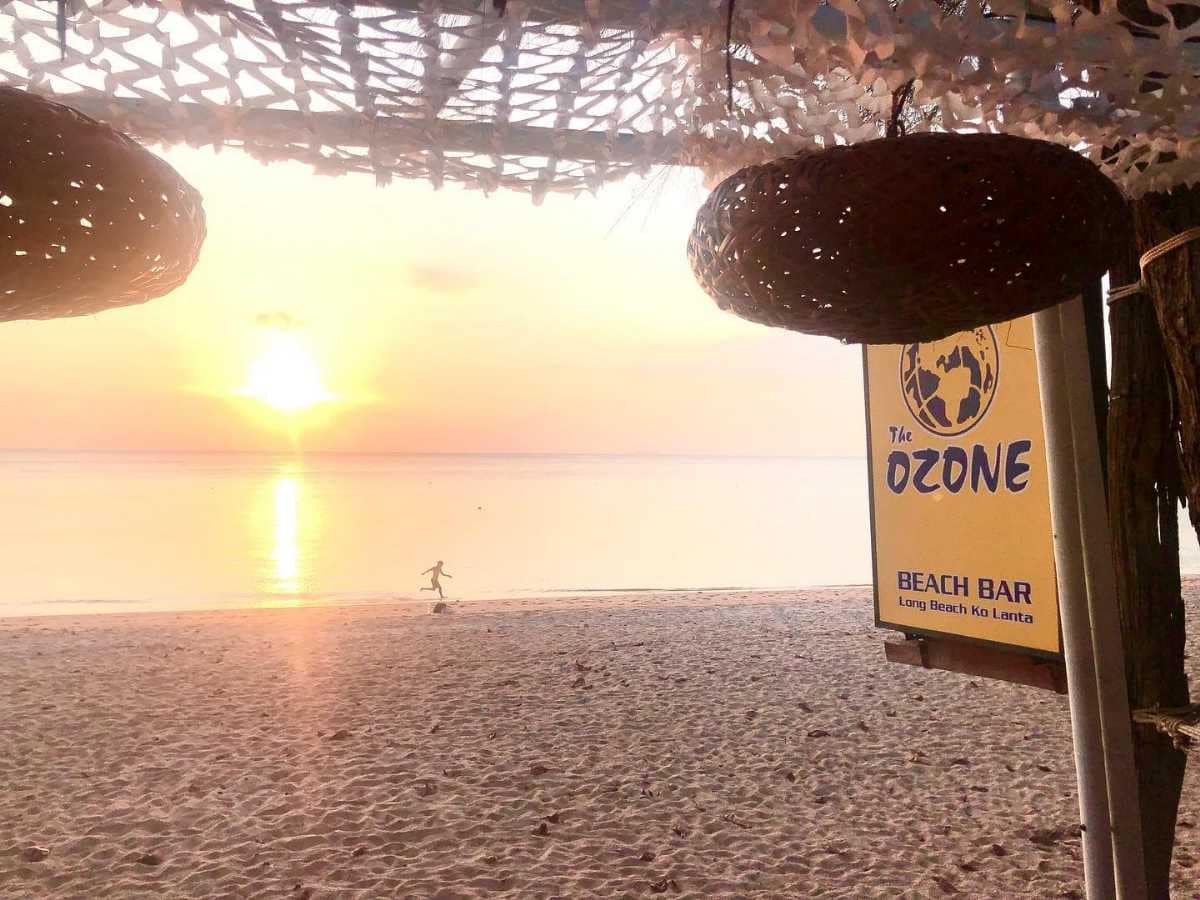 Nightlife in Northwest Koh Lanta
The largest selection of bars and pubs can be found on the beaches in Koh Lanta's northwest beaches.
The establishments here host parties on various nights of the week. While some establishments provide tranquil nights out, others host exhilarating and energetic gatherings.
Some of the most famous bars in northwest Koh Lanta are:
1. Funky Monkey
If you want to enjoy some fantastic western food, visit the Funky Monkey bar right away. Angus steak, pizza, and even handmade burgers are all available.
The Island's best live music may be found here.
Funky Monkey has had a recent surge in popularity in Koh Lanta.
Given that they give away free shots for every song you sing and the two winners receive cocktail buckets, it has become a karaoke night for tourists.
You can also get some inexpensive beverages at the bar during happy hours.
They also arrange live music every night from their regular band and the music played by visitors and participants.
Dine while being serenaded by their vocalists from 6 p.m. until late.
Sports events are broadcast on large-screen TVs, and music is played, from classic westerns to Thai.
Address: 641 Phra Ae, Saladan Ko Lanta District, 81150, Thailand
Phone: +66 94 589 2797
2. Freedom Bar
Compared to other beach bars, Freedom Bar has a considerably more laid-back vibe.
While enjoying the inexpensive beer, you may unwind in the beachside hammocks while watching whichever game is playing.
The owner Tony is a great guy who knows how to keep his guests engaged and entertained.
Address: Moo 2, 15 4 Sala Dan, Ko Lanta District, Krabi 81150, Thailand
Phone: +66 98 090 4942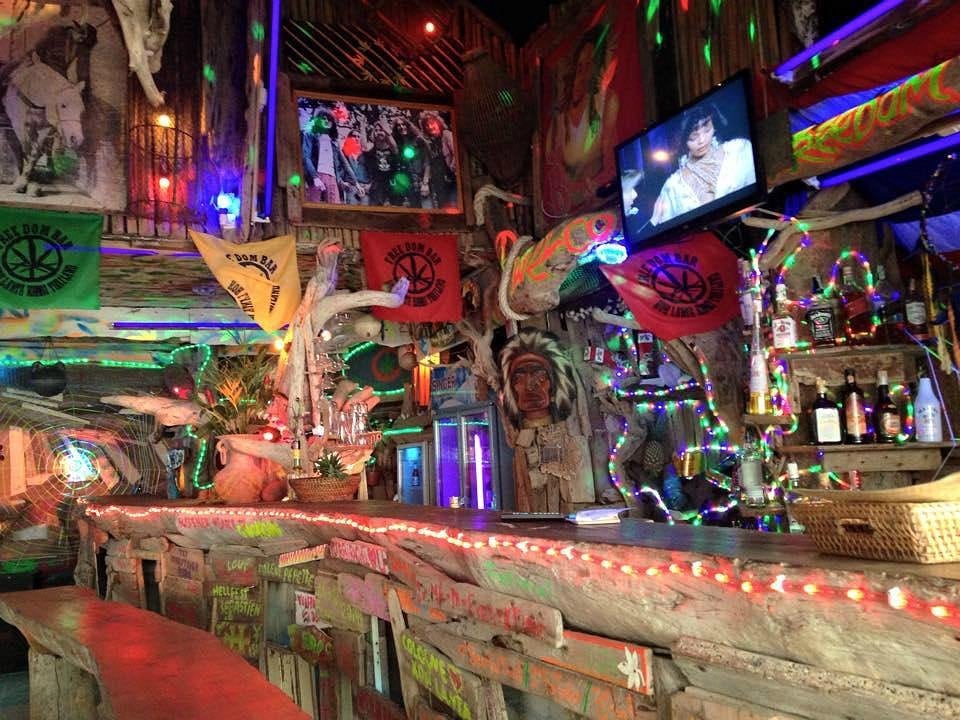 3. Klapa Klum Beach Club
This beachfront bar has lounge chairs on the sand so guests can watch the Andaman Sea sunsets.
Bamboo and driftwood were used to build the bar, while recycled lighters were used to make the lanterns.
There are parties held here on some nights. Don't forget to check out their famous Mojito Tom Yum.
Address: H27P+89G, Unnamed Road, Sala Dan, Ko Lanta District, Krabi 81150, Thailand
Phone: +66 61 068 8407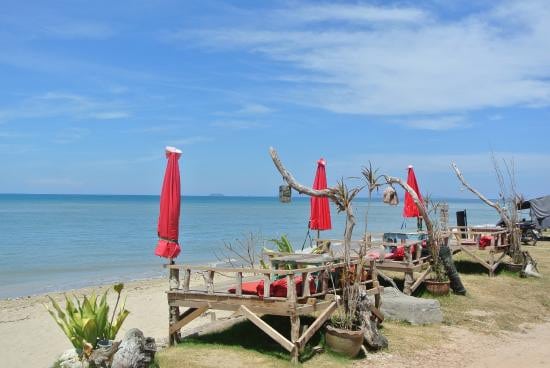 4. Ozone Beach Bar
It is one of Koh Lanta's longest-running and most enjoyable party nights. It is also one of Koh Lanta's oldest bars.
Live DJs spin tech house and deep house tunes from 10 p.m. to 4 a.m. Each Thursday night, a party is held there.
Its outstanding sound system and light display make it Koh Lanta's first superclub. Additionally, they offer lodging options to visitors in the Ozone home.
This bar hosts late-night events on the sand and has excellent DJs and music selections. Within the complex, there are two bars, one open all day and the other open at night.
Address: 471, Sala Dan, Ko Lanta District, Krabi 81150, Thailand
Phone: +66 64 138 8877
5. Shooters Bar
Shooters Bar is the best place to play pool in Koh Lanta. However, the locals who frequent this club are fierce competitors, so you can lose some money playing them.
This bar isn't exactly a place to have a party; it's more on the quiet side. There are happy hours from 5 to 8 o'clock.
It is well-suited for people who like a more laid-back vibe and are not comfortable around thumping music.

Address: Sala Dan, Ko Lanta District, Krabi 81150, Thailand
Phone: +66 81 690 9456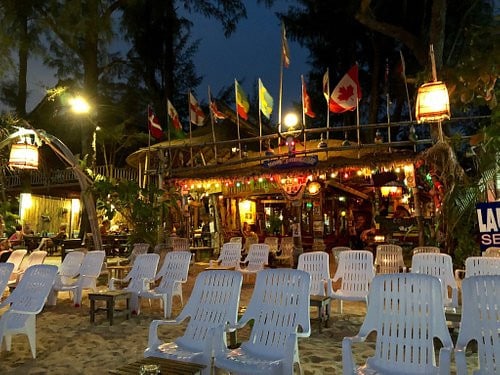 6. Irish Embassy Pub
The Irish Embassy is an excellent spot to spend the night because it has big-screen TVs, Wi-Fi, and frequent free barbecues. The place is trendy among divers and their clients.
In Koh Lanta, there is no better bar where you can spend the evening with wonderful people who won't make you feel lonely and will treat you like family, including the owners.
Your favorite pub fare, including fish, chips, burgers, etc., is served to you. This venue will meet all of your nightlife expectations.
It has pub quiz nights, live music nights, open mic nights, retro music, pool, darts, live sports, and a great and varied music selection.
At Irish Embassy, happy hour begins between 16:00 and 19:00. The quiz begins at 20:00, and participation is free.
Address: 233 Moo 2, Prae Ae, Sala Dan, Ko Lanta District, Krabi 81150, Thailand
Phone: +66 94 776 9062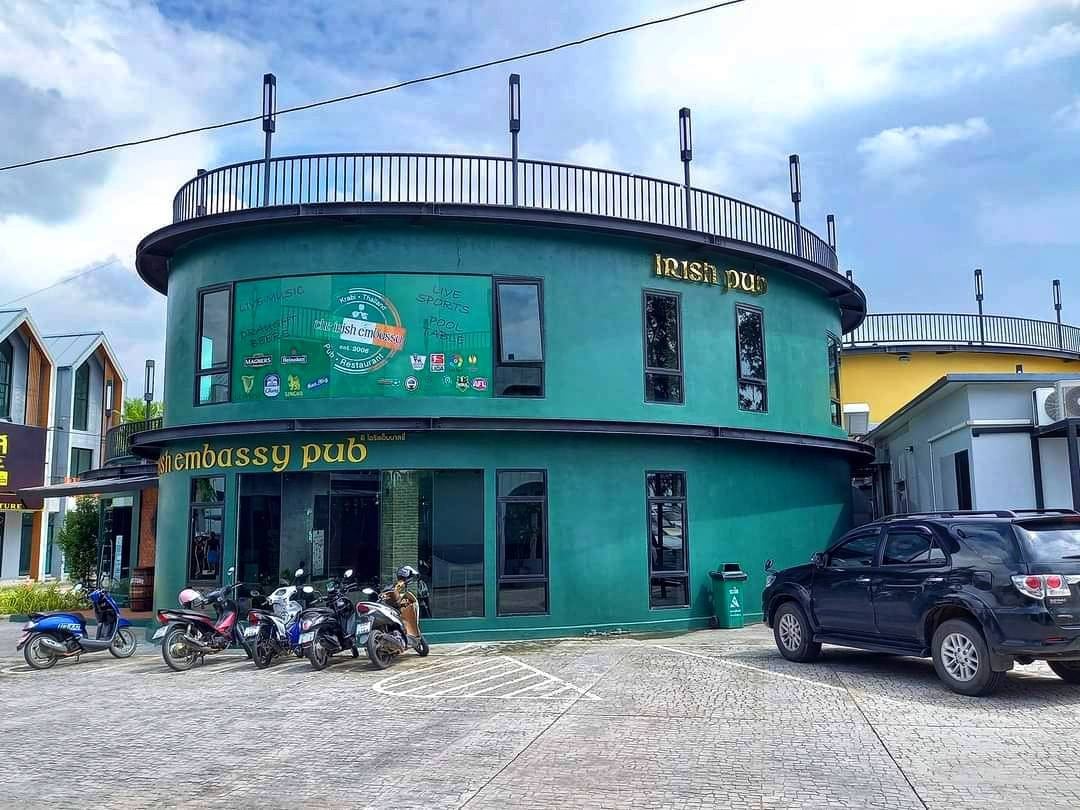 Nightlife in Ban Saladan
The Nightlife scenes in Ban Saladan are less exciting than in the Northwest. However, you can still find some decent night bars here.
1. Bar Racuda
This bar is close to a dive site, and right outside its door, you can feel the cold sea breeze.
One of Koh Lanta's top cocktail bars, Racuda Bar, hosts regular live music performances.
The bar has a laid-back vibe with an outdoor seating area and serves a variety of drinks, including beers, cocktails, and smoothies.
Address: 109 Moo 1, Saladan Subdistrict, Koh Lanta, Krabi 81150, Ko Lanta District, Krabi 81150, Thailand
Phone: +66 87 469 3128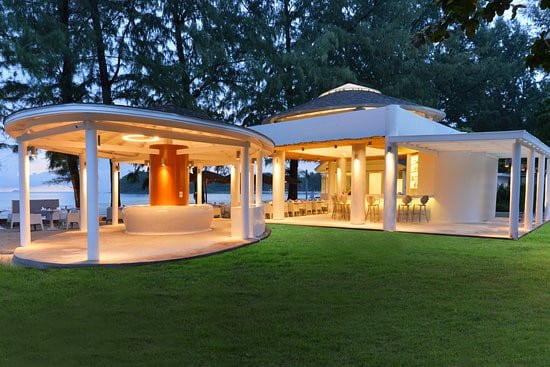 2. Mary Ann's Bar
Mary Ann's is a cozy, tiny bar with many welcoming patrons. You can engage with foreigners who have settled on the island while savoring excellent tapas.
The owner Ferguson is beneficial and kind.
The menu is wide enough to satisfy almost all tastes. It is almost exclusively a fish-oriented restaurant. There is vegetarian food available too.
The menu also has traditional options and fantastic seafood options with hearty portions.
Whether you are going in for a pint or a meal, this lovely pub is always worth the trip. There is ample parking space and a wheelchair facility available here.
Address: First turning after Lanta Mart (opposite 7-Eleven) on the right
Phone: +66 89800 7124
Nightlife in Southwest Koh Lanta
Koh Lanta's southwest region is home to pricier, classier, but also more expensive /bars than the island's north.
This area of Koh Lanta has more laid-back nightlife. You shouldn't anticipate crazy partying in this island area because there are no nightclubs.
However, there are some bars here where you can enjoy your time.
1. On the Rocks
On The Rocks Bar is an excellent place for groups to sit together and watch the newest sporting events on the big-screen TV.
One of the busiest bars on Koh Lanta's southern coast, the bar offers tranquil beach views from within its lush garden setting.
Address: 443 Sala Dan, Ko Lanta District, Krabi 81150, Thailand
Phone: +66 94 429 4249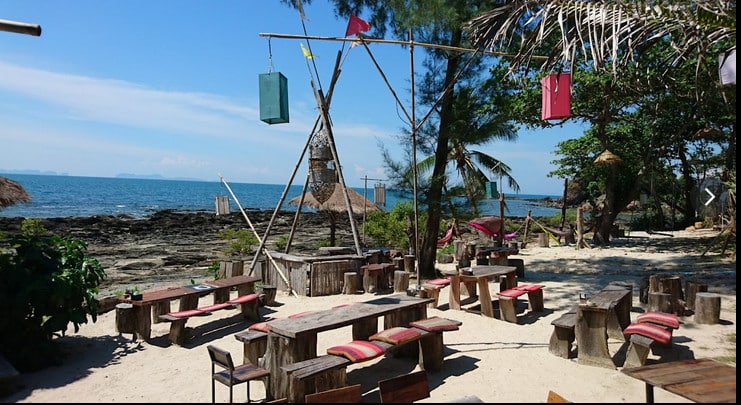 2. Blue Moon Bar
You can find great live music at the Blue Moon Bar in Koh Lanta. The bar also frequently hosts fire performances, which is very intriguing.
This wooden bar on the Klong Nin beach serves Thai and Western food.
Address: 4R7, Provincial Highway 4245, Ko Lanta Yai, Ko Lanta District, Krabi 81150, Thailand
Phone: +66 75 662 732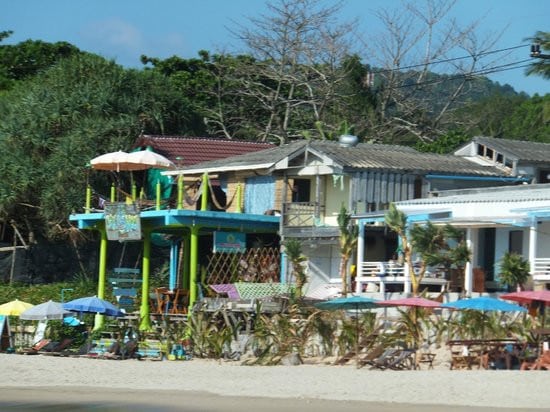 3. Aqua Bar
It is one of the few places to party in southern Koh Lanta. The stunning sunsets over Kan Tiang Bay may be seen from Aqua Bar, perched on stilts just steps from the beach.
The celebrations here occasionally last into the wee hours of the morning.
Address: Baan Kantiang 1 99 Moo 5 Ba Kan Tiang Beach Koh Lanta
Phone: +66 61 916 2679
Nightlife in East Koh Lanta
East of Koh Lanta is where the old town is. Since most visitors to Koh Lanta spend the night in their hotels on the west coast, this island area is usually bustling during the day.
However, more tourists have recently started visiting this island area, leading to a thriving nightlife.
Mango House Bar
Mango House offers beachfront accommodations in classic timber villas and suites.
Additionally, the hotel offers a bar that has rapidly become one of the popular gathering places in Koh Lanta's old town.
The pub offers delicious appetizers and top-notch DJs at night. It also accommodates business gatherings.
Address: 45 Sriraya Road, Moo 2 | Lanta Old Town, Ko Lanta 81150, Koh Lanta
Phone: +420 608 355 499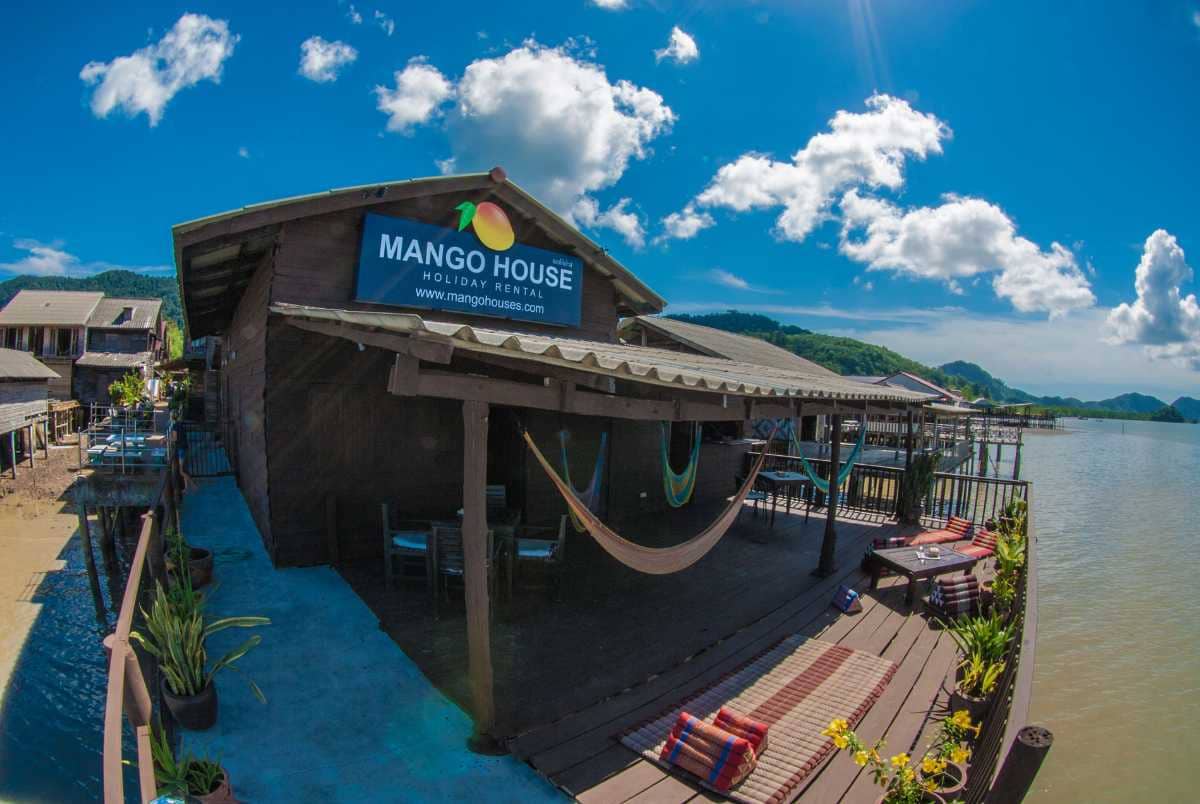 Things to Do in Koh Lanta Besides Partying
In addition to its vibrant nightlife, Koh Lanta has a wealth of other things to do. The relaxed atmosphere, long expanses of deserted beaches, mouthwatering cuisine, and stunning sunsets are all worth trying!
While you are here, do check out these amazing beaches and quirky coffee shops.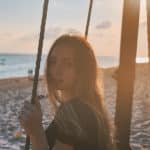 Noah Zaidi is an ardent traveler who has been documenting her Thailand exploration through Thailand Nomads. Her aim is to inform and educate people around the world about the must-visit places in Thailand.