Like other parts of Thailand, Koh Samui features a plethora of temples, pagodas, and Buddhas. They're quite picturesque, and if you're interested in Thai culture, seeing the temples up close and learning more about Buddhist culture is fascinating.
There are a few temples in Koh Samui that are well worth visiting. In this article, you'll discover a list of all the temples on Koh Samui, along with location and opening hours.
Uncover the spiritual side of Koh Samui by visiting its enchanting temples in Koh Samui, where sacred art, intricate architecture, and serene surroundings reveal the island's rich cultural heritage and enduring devotion to ancient traditions.
1. Big Buddha Temple
The Koh Samui Big Buddha sacred Temple is located on Koh Faan, a tiny rocky island about north of Bophut. One of Samui's most prominent attractions is its golden, 12-meter-tall sitting Buddha monument, which dates from 1972.
A courtyard and vendor portion surrounds the statue's base, where you may buy amulets, religious artefacts, apparel, and souvenirs. Two additional Buddha images are housed in pavilions.If you're on public transportation, it's a good idea to say Wat Phra Yai, which is how the locals refer to the Big Buddha Temple.
Location: Route 4171, Bophut, Koh Samui, Surat Thani 84320, Thailand
Open: Daily from 8 am to 6 pm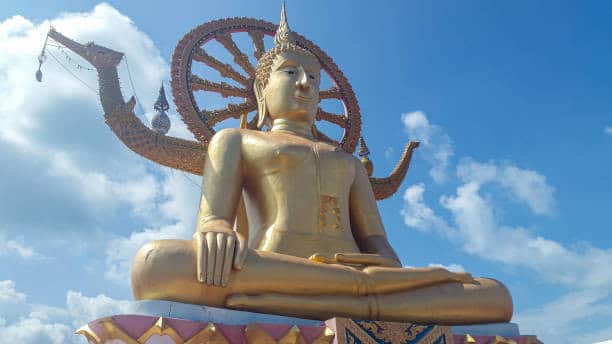 2. Wat Plai Laem
On Samui's northeastern shore, Wat Plai Laem is a Buddhist temple. It features a beautiful white 18-arm picture of Guanyin, the Chinese Buddhist Goddess of Mercy and Compassion.
Wat Plai Laem has complex Buddhist-themed art and architecture, as well as an insight into Chinese-Thai beliefs. The temple is bordered by a lovely lake, which contributes to the peaceful atmosphere.
Location: Road 4171, Bophut, Koh Samui, Surat Thani 84320, Thailand
Open: Daily from sunrise to sunset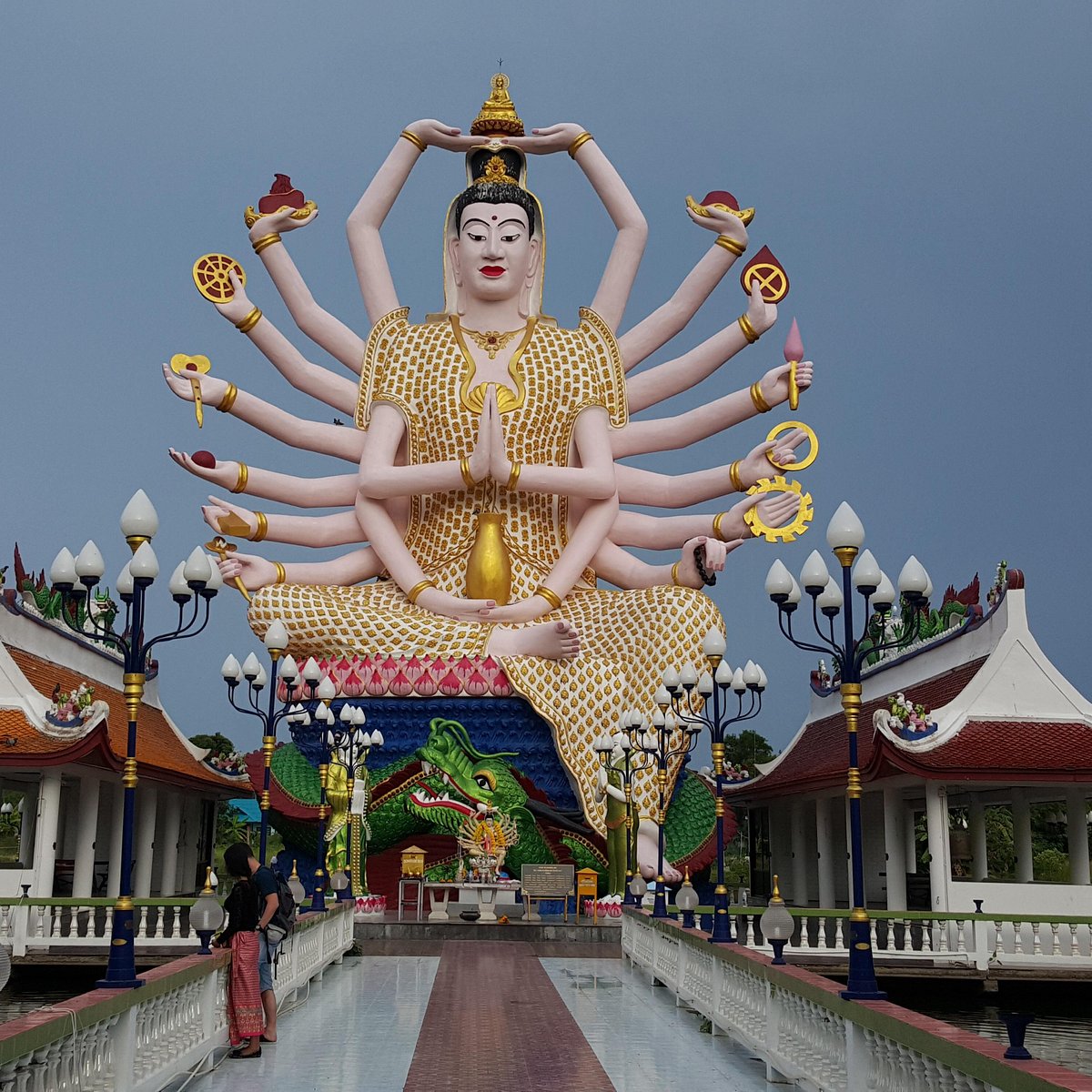 3. Wat Khunaram
Wat Khunaram in Samui is notable for housing the mummified remains of a monk named Luong Pordaeng. The mummy is seated in a contemplative pose, and it displays no signs of deterioration.
For some, seeing a dead man in plain view (since 1973) may be disturbing, but for Thais, it is a source of reflection and reverence. Wat Khunaram is a typical Buddhist temple where locals gather to create merit and pray every day. You are invited to purchase amulets or participate in the daily ceremonies.
Location: Route 4169, Na Mueang, Koh Samui, Surat Thani 84140, Thailand
Open: Daily from sunrise to sunset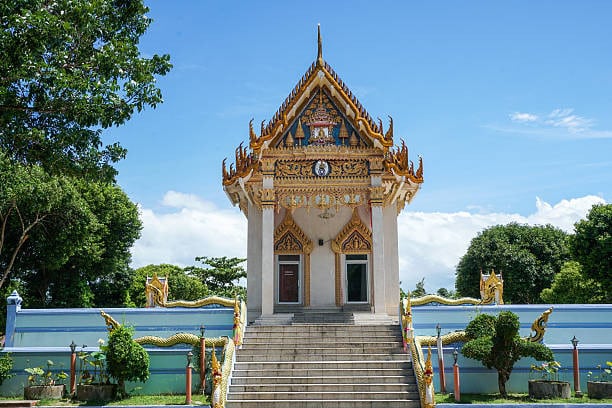 4. Hin Lad Waterfall Temple
In Koh Samui's most evergreen tropical jungle, the Hin Lad Waterfall Temple is located immediately before a trail leading to the famed Hin Lad Waterfall. There's a beautiful garden, a strolling route, Buddha pictures, religious sculptures, and a meditation place.
This woodland monastery, also known as Wat Namtok Hin Lad, is normally only crowded on weekends when residents come to tam boon (create merit) and enjoy a picnic at the surrounding waterfall.
The temple is well-shaded and serene, making it an ideal spot for unwinding and relaxing.
Location: Moo 2, Ang Thong, Koh Samui, Surat Thani 84140, Thailand
Open: Daily from sunrise to sunset
Phone: +66 (0)92 331 9568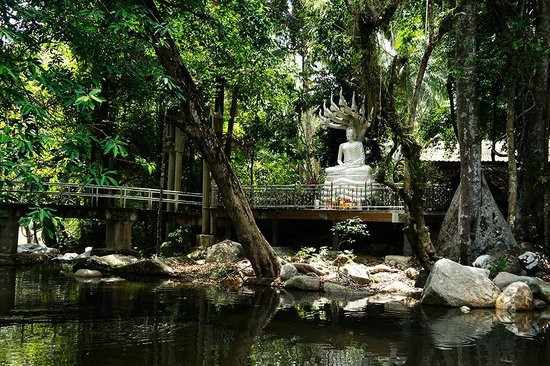 5. Nathon Hainan Shrine
The Nathon Hainan Shrine, built-in 1862, is vividly coloured. It's down Soi Angthong 4 in the heart of Nathon. From the lane, you can practically see the temple compound.
As you approach the main gate, you'll notice two ferocious-looking golden lions protecting it. The main structure is encircled by a walled garden, and road noise is minimal inside.
Location: Moo 3, Nathon, Ang Thong, Koh Samui, Surat Thani 84140, Thailand
Open: Daily from sunrise to sunset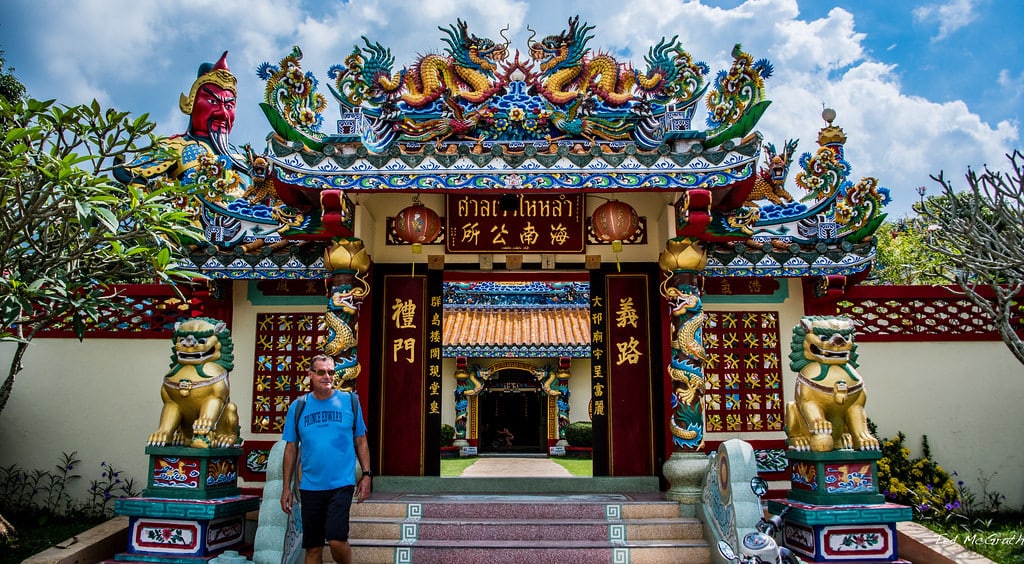 6. Secret Buddha Garden
The summit of Pom Mountain, one of Koh Samui's tallest hills, is home to the Secret Buddha Garden. Amid the lush forest, the sculpture park provides spectacular vistas and an intriguing collection of monuments.
The place, also known as Namtok Tar Nim or Magic Garden, was created by Nim Thongsuk, an elderly Samui fruit farmer. He began creating Buddhist-inspired and Apsara statues around his family's lush farm in 1976. Because of its magical ambience, this garden is now an excellent spot to relax.
Location: Na Mueang, Koh Samui, Surat Thani 84140, Thailand
Open: Daily from 9 am to 6 pm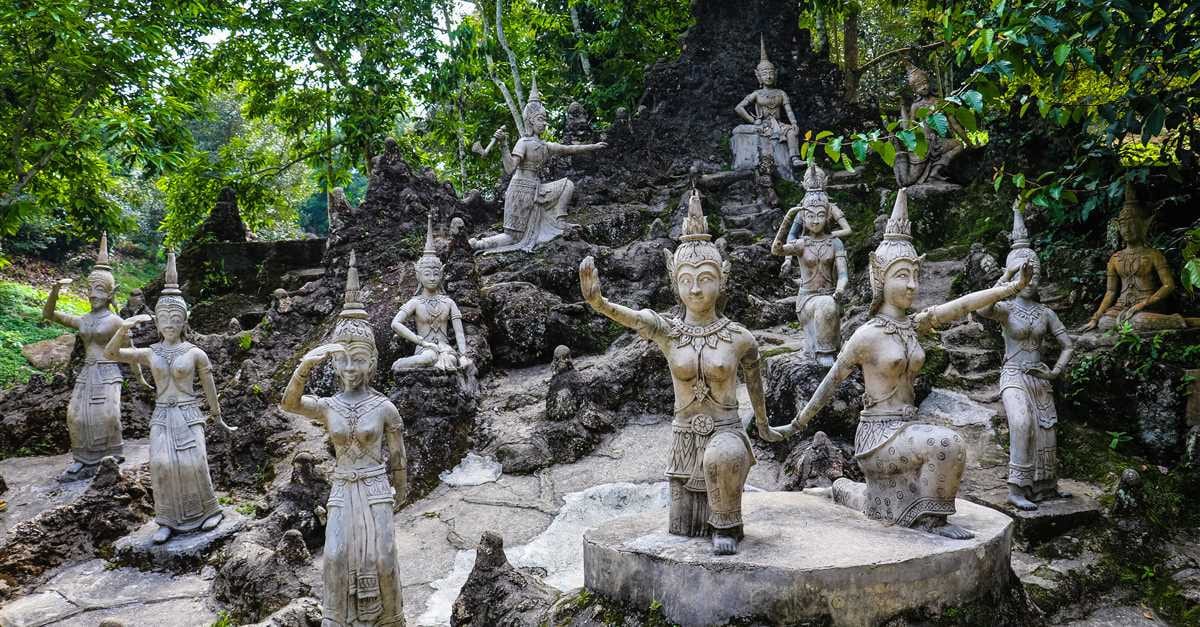 7. Laem Sor Pagoda
On the southernmost tip of Koh Samui, Laem Sor Pagoda is located on Bang Kao Beach. The golden facade of the temple contrasts well with the turquoise water and blue sky behind it.
Two yaks (giant) warrior sculptures with swords, colorful clothes, and scary expressions stand to watch at the entryway. Behind the sculptures, a Buddha-figure stands at the entryway. There is no obstruction in your view, making this a fantastic photo opportunity.
Location: 99/9 Laem Set Rd, Na Mueang, Koh Samui, Surat Thani 84140, Thailand
Phone: +66 (0)63 813 8109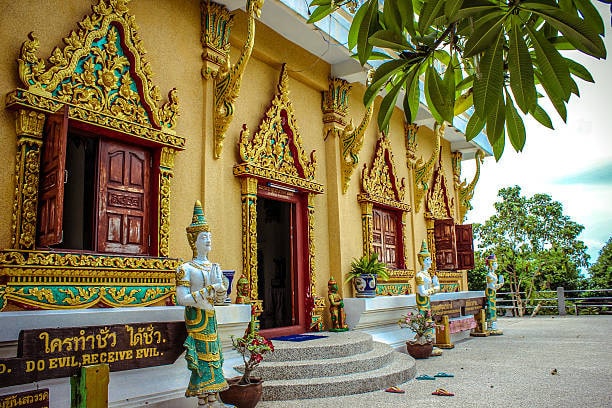 8. Khao Hua Jook Chedi
Because of its shape, this temple resembles a pagoda, stupa, or chedi and is situated on a hill near Chaweng Lake. The stunning coastline and valleys of Koh Samui can be seen from this high landscape with its lovely temple.
To reach the pinnacle of the Pagoda, you must park your car or scooter and hike the stairs. When you get to Khao Hua Jook Chedi, you'll be greeted by a plethora of sculptures and golden Buddha idols, as well as a stunning vista. When visiting Koh Samui, this is an excellent place to stop.
Location: Tambon Bo Put, Koh Samui District, Surat Thani 84320, Thailand
Open: Daily from sunrise to sunset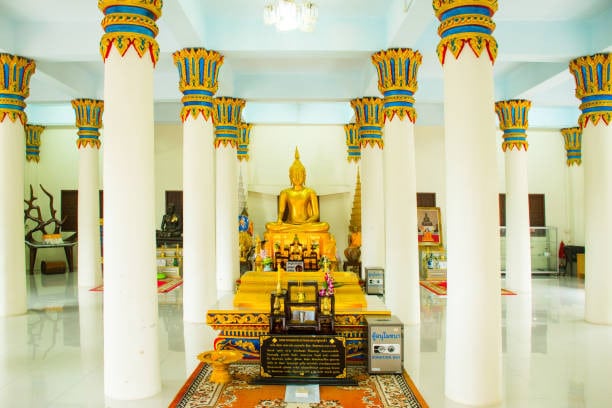 9. Wat Ratchathammaram
Along the Samui Ring Road sits Wat Ratchathammaram, a Buddhist temple. It's also known as Wat Sila Ngu, which translates to "stone snake" in English. Many stone-carved snakes may be seen around the site.
This long-established temple features a wonderful deep red clay structure that adds to the site's mystery yet tranquil ambience. The enormous chamber it shelters is gloomy, with scenes from Buddha's life etched into the walls.
The beachfront position of Wat Ratchathammaram provides spectacular views of Koh Samui's east shore.
Location: 60/22 Moo 2, Bophut, Koh Samui, Surat Thani 84320, Thailand
Open: Daily from sunrise to sunset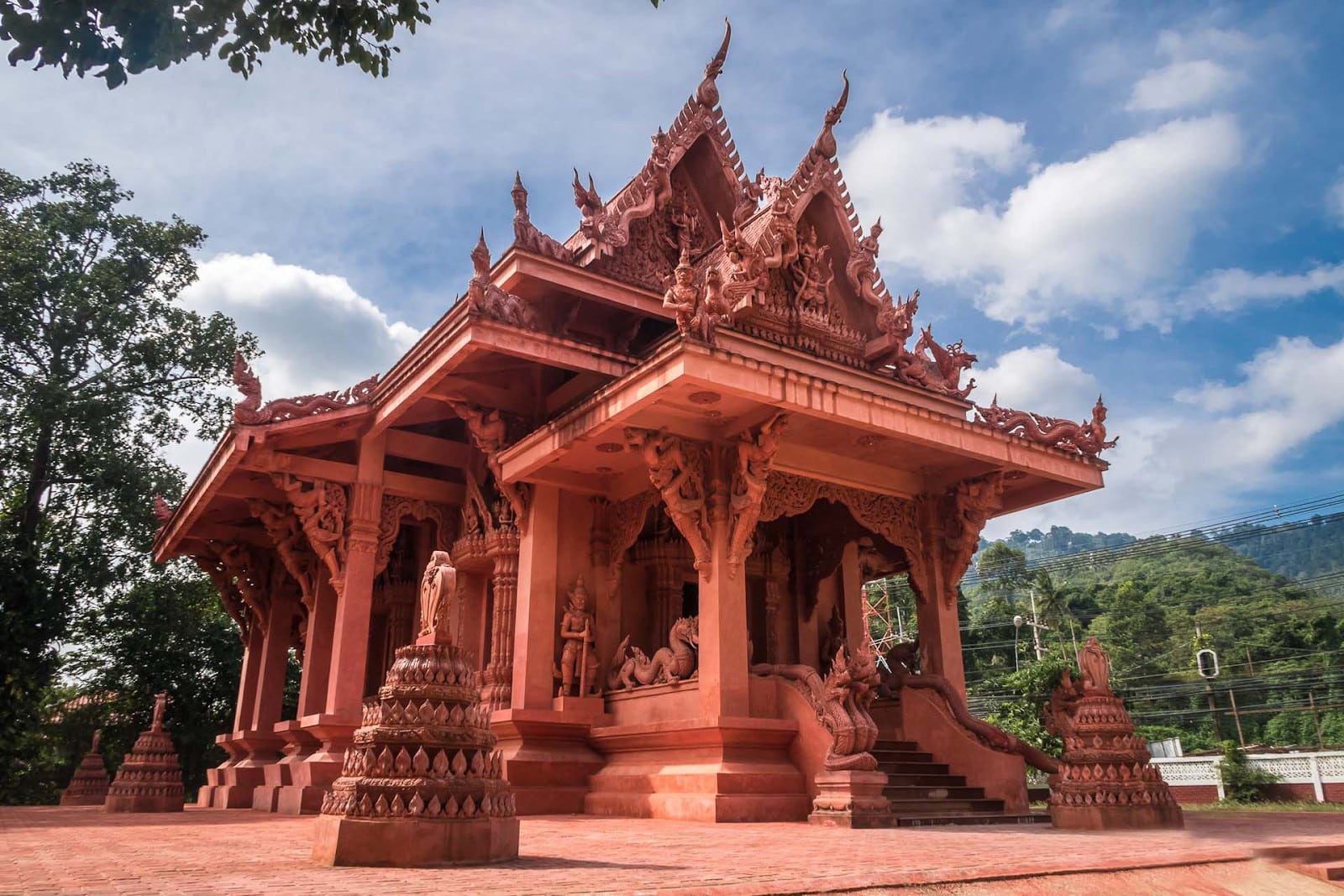 10. Wat Chaeng
Wat Chaeng is a beautifully built temple with a school attached. The temple structure at Nathon has a massive sculpture of Buddha in the pang prathanporn position, with one hand uplifted with the index finger and thumb touching and the other hand on his lap (palm facing up).
Two massive green and gold sculptures protect the temple and Buddha image. To get to Wat Chaeng, take Thaweerat Phakdee Road (4169 through Nathon) to the southern end and turn left into the temple grounds.
Location: Nathon, Ang Thong, Koh Samui, Surat Thani 84140, Thailand
Open: Daily from sunrise to sunset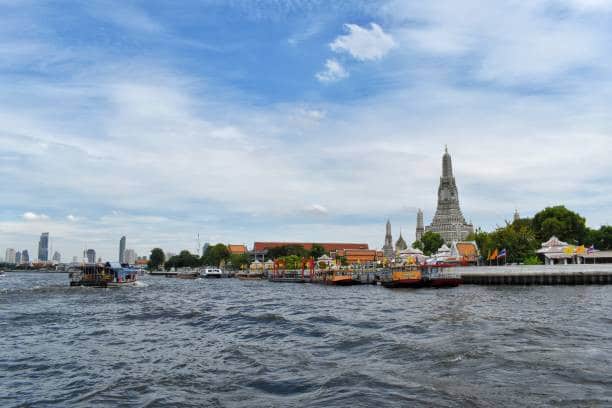 Best Time to Visit These Temples
If you wish to visit Koh Samui, you should go during the ideal months, when the weather is the driest.
The monsoon season normally runs from October through December, with November being the wettest. The sunniest months are February and March. January is the coldest month of the year, while April is the warmest.
In general, the ideal time to visit Koh Samui is from January to October if you want to have a sunny holiday.
More Reasons to Travel to Koh Samui?
Koh Samui is a beautiful holiday spot. It's so delicious that you won't want to leave! There is plenty to keep everyone pleased due to the combination of activities and culture. It wouldn't be a Thai island without a few stunning beaches, and you'll be spoilt for choice on Koh Samui.
This island is known for its soft white sand, beautiful palm trees, and crystal-clear oceans. A tropical island in Thailand's Gulf that is well worth a visit.