How you get to Koh Lanta primarily depends on your starting point and how important time, comfort, and money are to you.
Given its size and position, Koh Lanta remains one of Thailand's most tranquil and subtly developed islands.
This might seem surprising given its proximity to Phuket, one of the nation's most well-known vacation destinations.
Koh Lanta is a well-liked vacation spot between November and April because of Thailand's efficient tourism infrastructure. There are various simple ways to get to the island.
Koh Lanta is extremely well connected to the rest of southwest Thailand by numerous daily ferries, speed boats, and minivan services while being less developed than neighboring islands.
The southern Thai province of Krabi is where Ko Lanta is situated. The closest airport is Krabi Airport; there isn't one on the island itself. There are connections from both Phuket Airport and Trang Airport. However, the distances are long.
The Fastest Way To Reach Koh Lanta
Express Transfer is the fastest way to reach Koh Lanta. From Krabi Airport to Ko Lanta, the Express Transfer combines a minivan and a speedboat.
The minivan driver will meet you upon arrival at Krabi Airport. He will then drive you to the private speedboat pier in the air-conditioned minivan.
After that, a 15-minute picturesque motorboat trip takes you to Ko Lanta. You can avoid the lines for the automobile ferry by doing this.
When the speedboat reaches Ko Lanta, a pick-up van will be waiting to take you from the port to your Ko Lanta hotel.
Most transfers take 90 minutes or less door to door if your accommodation is near one of the northern beaches.
Krabi Airport to Ko Lanta Express Transfer Average prices
– 2045 Thai Baht per adult
– 1200 Thai Baht per child
– Infants under 2 go free
Please be aware that Krabi Airport is much closer to Ko Lanta than Phuket or Trang; so arriving there will likely be more convenient for you.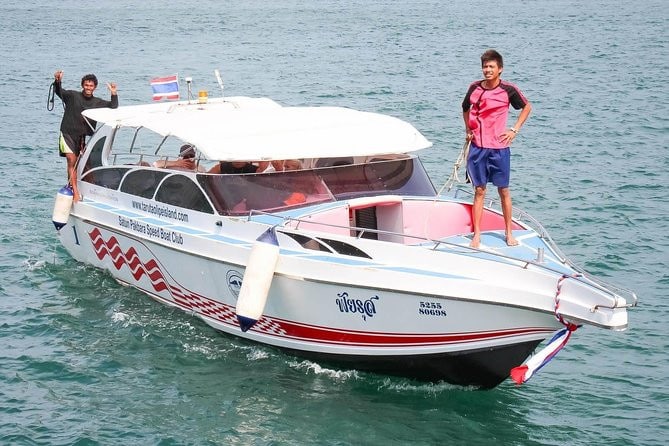 The Cheapest Way to Reach Koh Lanta
The cheapest way to reach Koh Lanta is by taking a public minivan. These minivans are more common during the off-season from May to October.
The minivan will drop you off at the beach or lodging of your choice at a minimal cost.
The minivan will travel to Koh Lanta Noi via ferry from the mainland, then travel to Koh Lanta Yai over the new bridge- the most developed of the two.
It's up to you whether you want to exit the van while on the ferry because it's a brief journey.
Before leaving, the minivan waits until it is fully loaded with passengers. Despite the short trip, your minivan will stop multiple times to pick up and drop off passengers. So be prepared and plan accordingly as the delays add to the travel time.
The public minivan is not advised if you travel with heavy bags or small children because it can be hot and incredibly crowded.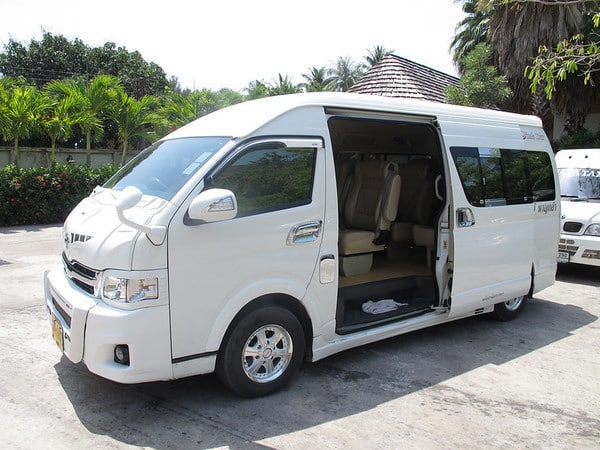 The Most Convenient Way to Reach Koh Lanta
If you are comfortable driving on Thai roads, you may reserve a car online and have it waiting for you at Krabi Airport. For additional information, see Ko Lanta Car Hire.
Remember that in order to drive in Thailand, you must have a valid International Driver's License, which you must obtain in your home country before arriving.
For additional information, contact The Department of Land Transport.
Getting to Koh Lanta from Bangkok
Koh Lanta is a full day (or overnight) bus or rail journey from Bangkok.
If you only have a few days away from Bangkok, consider visiting one of the nearby beaches or another pleasant destination. Save Koh Lanta for a later day when you have more time.
Bus
Taking a night bus from Bangkok to Koh Lanta is the cheapest alternative, albeit it is not the most fun.
Full passage to the island may be booked on Bangkok's Khao San Road for roughly 750 baht.
Since they use transport pooling, they can provide low-cost tickets.
Your bus will take the long route south, stopping in Surat Thani to pick up passengers headed for the islands of Koh Samui, Koh Phangan, or Koh Tao.
Expect only one or two small pauses over the 12- or 14-hour voyage; there is a tiny squat toilet on board.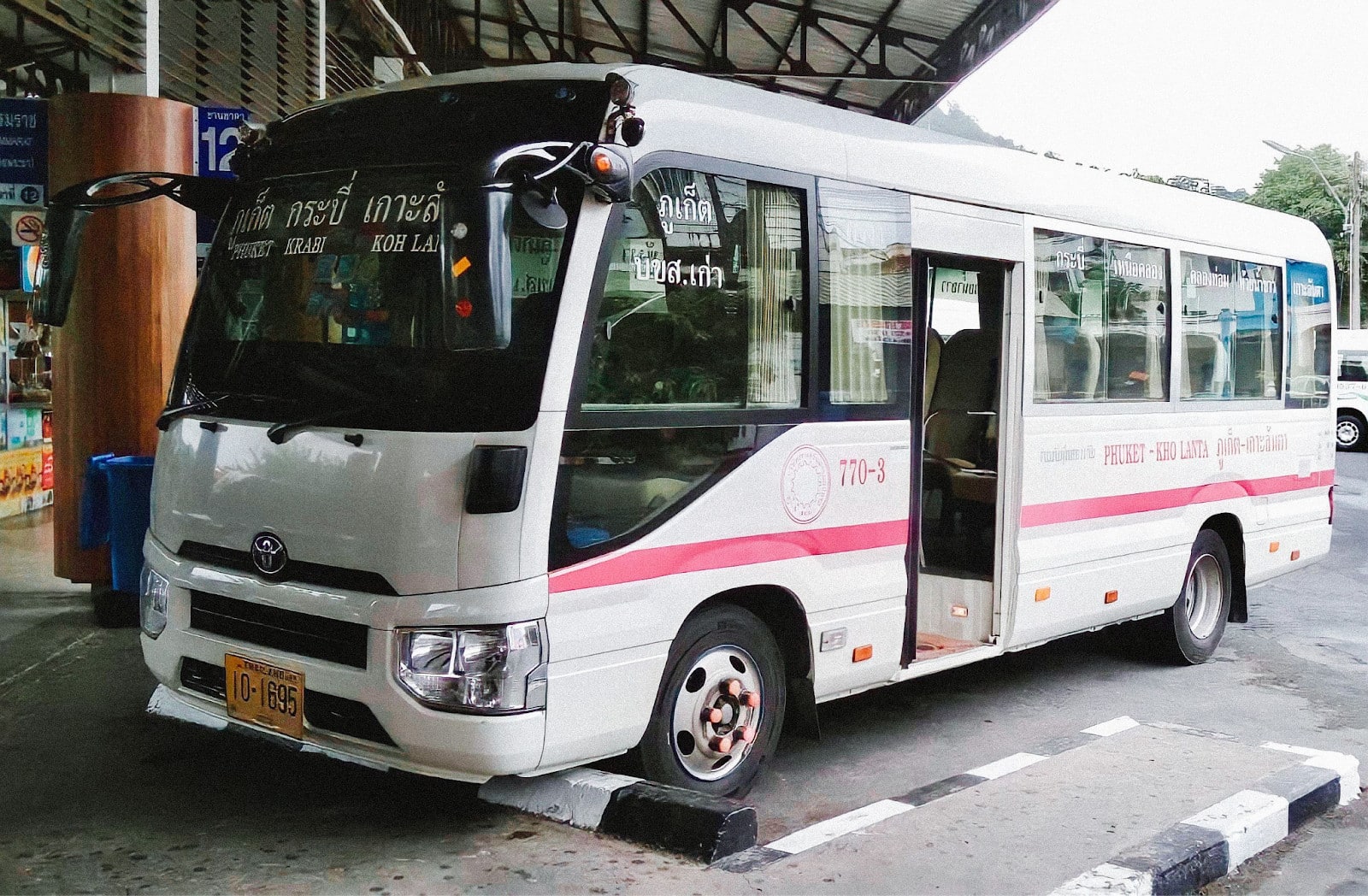 Train
The night train frequently stops along the journey, but at least you have your own sleeping room, albeit tight, with a privacy curtain and the option to move around.
Trains are clearly a more social option, and you can stretch when necessary.
When the train arrives at Trang, the nearest station to Koh Lanta, one of the conductors should wake you up.
The boat from Trang to Koh Lanta arrives in Old Town on the island's less-developed east coast in the south.
You'll need to take a taxi from Old Town to your lodging on the other side of the island.
Alternatively, some tour operators may arrange for you to take the railway to Surat Thani, then take a minivan across Thailand to Krabi Town.
If you have the time and money, there is always a way in Thailand.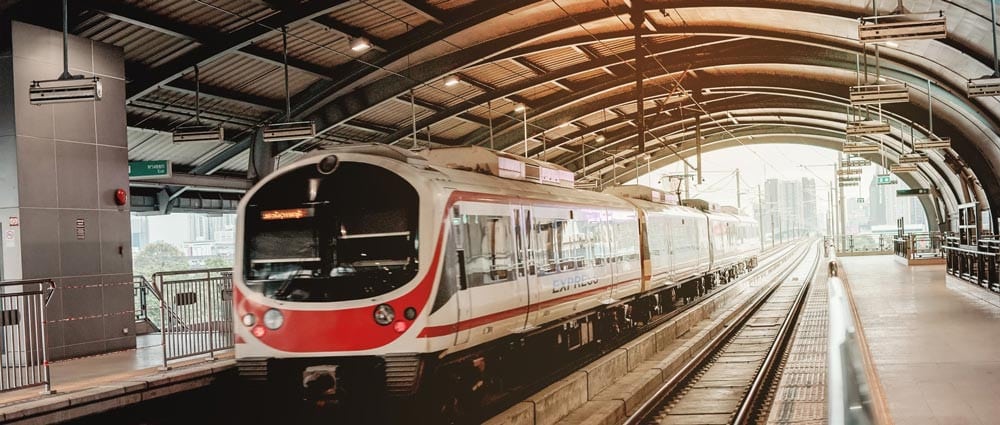 Getting to Koh Lanta from Krabi
Boats go twice daily from Krabi Town's Chao Fa Pier (times vary, but usually morning and early afternoon).
If you're visiting during the low season or if you miss the boat and don't want to remain in Krabi, you can take the minivan to the island via ferry.
The minivan driver will do his utmost to get you to your hotel as soon as possible.
It's a good idea to know the name of a location or beach ahead of time. If you're unsure, give the name of the beach where you want to stay, and then stroll from there to hunt for lodging.
When you ask the driver for a recommendation, he will usually take you to an isolated location where he will collect a commission.
If you are dropped off at the dock, you can take a motorcycle-sidecar taxi for 60 baht to Ban Saladan (the northern end of the island).
Again, do not request a hotel recommendation from the driver! In a pinch, order the "Funky Fish," which will land you in the heart of Long Beach, a popular beach with a range of lodging alternatives.
When you arrive at Krabi Airport, you can go to one of the various travel offices to arrange a direct flight from the airport to your accommodation on the island.
The most basic form of shared transportation costs roughly $12 USD.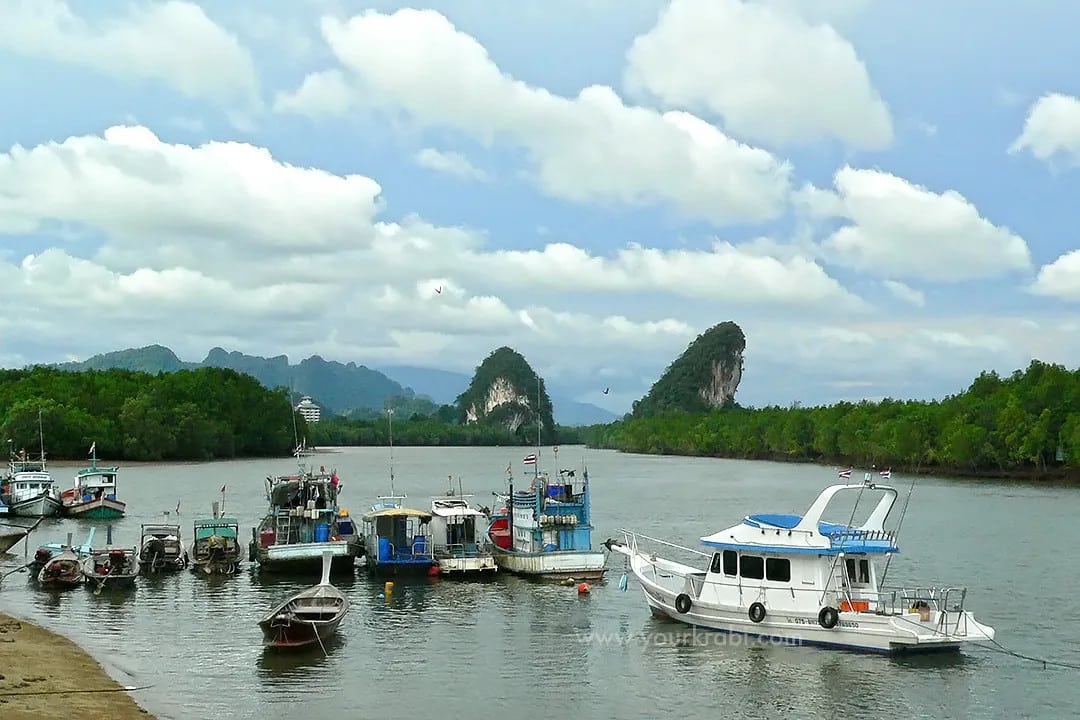 Getting to Koh Lanta from Phuket
Boats run between Phuket, Koh Phi Phi, Ao Nang, and Koh Lanta on a daily basis. All boats depart from Ban Sala dan's dock.
Ferries depart Ratchada Pier in Phuket at 8 a.m. during high season. It is possible that you will need to change boats at the port on Koh Phi Phi.
A speedboat from Phuket to Koh Lanta is a more luxurious yet affordable choice. Speedboats take approximately 1.5 hours.
Getting to Koh Lanta from Ao Nang, Railay, and Koh Jum
The boat from Ao Nang to Koh Lanta departs at 10:30 from Nopparat Thara Pier in Ao Nang, stopping at Railay at 10:45, Koh Jum at 12:00, and Saladan Village on Koh Lanta at 12:45.
There are other ferries connecting Koh Jum to Koh Lanta. The first boat leaves Krabi Town at 11:30, calls at Koh Jum at 12:30, and arrives in Koh Lanta at 13:45.
The second ferry leaves Krabi Town at 14:30, stops at Koh Jum at 15:30, and arrives in Koh Lanta at 16:45.
You can take a cab or tuk-tuk from Saladan to your resort for roughly 50 - 150 Baht per person, depending on where you want to go on the island. Some resorts, notably those in the south of the island, provide free boat service.
If you are staying in Ao Nang, you can take a minivan/taxi to Krabi town and then take one of the frequent minivan trips to Koh Lanta via the auto ferry service. The cost of a trip to Koh Lanta is approximately 450 Baht per person.
Getting to Koh Lanta from Koh Phi Phi
Several ferries and speedboats sail between Koh Phi Phi and Koh Lanta every day during the high season.
When you arrive at Saladan village in Koh Lanta's north, you can take a taxi or tuk-tuk to your resort for around 50 - 150 Baht per person, depending on where you choose to go on the island. Some resorts, notably those in the south of the island, provide free boat service.
Speedboats leave Koh Phi Phi at 09:30 and 13:30, traveling around 30 minutes to reach Saladan Village on Koh Lanta's northern point.
Larger passenger ferries leave Koh Phi Phi at 9:00, 11:30, 15:00, and 15:30, taking approximately one hour to reach Saladan Village.

Final Words
In conclusion, Koh Lanta can be easily accessed by a variety of transportation options, including flights, buses, taxis, and private transfers, depending on your preferences and budget.
Visitors can fly into nearby airports, such as Krabi or Trang, and then continue their journey to Koh Lanta via bus, taxi, or private transfer.
Alternatively, visitors can also reach Koh Lanta by taking a ferry from nearby islands such as Phi Phi or Phuket.
With several options available, visitors can choose the most convenient and cost-effective mode of transportation to get to Koh Lanta and start enjoying all the island has to offer.
Resources:
https://www.dlt.go.th/en/renew-license/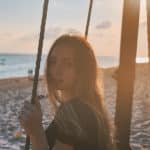 Noah Zaidi is an ardent traveler who has been documenting her Thailand exploration through Thailand Nomads. Her aim is to inform and educate people around the world about the must-visit places in Thailand.