Koh Lanta is a stunningly beautiful island in the southern region of Thailand's Krabi Province. With its white sandy beaches, clear blue waters, and abundant natural beauty, it's no surprise that Koh Lanta is rapidly becoming a popular tourist destination.
The island offers various activities, ranging from water sports and outdoor adventures to cultural experiences and relaxation. Here are some of the top things to do in Koh Lanta: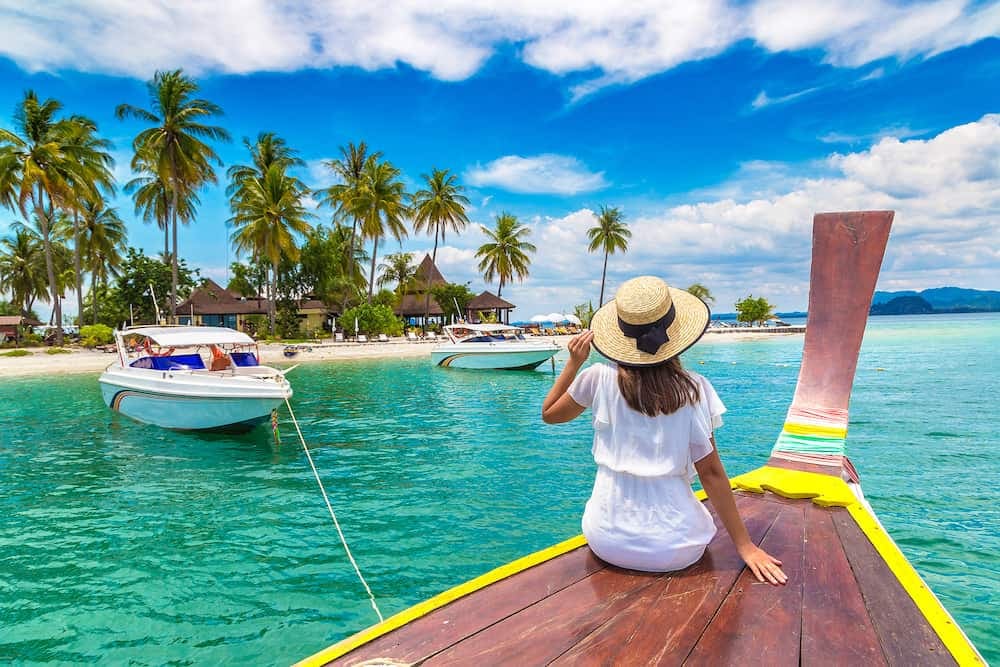 Explore the Beaches
Koh Lanta is famous for its stunning beaches, with several options. With over 30 kilometers of coastline, Koh Lanta boasts some of the most stunning beaches in Thailand.
Each beach has its unique charm, making it an ideal destination for travelers seeking relaxation, adventure, or a little bit of both.
Some of the most popular include Long Beach, Klong Dao Beach, and Klong Khong Beach.
These beaches offer many activities, such as swimming, sunbathing, snorkeling, and diving.
You can also take a boat trip to some of the nearby islands, such as Koh Rok, for some excellent snorkeling and diving.
Visit Lanta Old Town
Lanta Old Town is a charming little fishing village that offers visitors a glimpse into traditional Thai culture. The old town is located on the island's east coast and starkly contrasts the island's bustling beaches and tourist hubs.
It has a unique mix of Chinese and Thai influences, and the old wooden houses and quaint streets are perfect for strolling around and soaking up the atmosphere.
The town is a melting pot of different cultures, mixing Thai, Chinese, and Muslim communities harmoniously.
One of the town's highlights is the colorful wooden houses that line the streets, providing a glimpse into the region's traditional architecture.
The houses have been beautifully preserved and are adorned with intricate carvings and decorations, adding to the town's charm.
Visitors can also explore the town's small shops and boutiques, selling handmade crafts and souvenirs.
The local markets offer a variety of fresh produce and seafood, providing a unique culinary experience for foodies.
For those interested in history and culture, the old town has several temples and mosques open to visitors.
These religious sites offer a glimpse into the town's spiritual heritage and are beautifully adorned with traditional Thai and Chinese architecture.
The town's pier is another popular destination, offering stunning views of the sea and the surrounding islands. Visitors can enjoy a relaxing stroll along the pier or a fresh seafood meal at one of the pier's restaurants.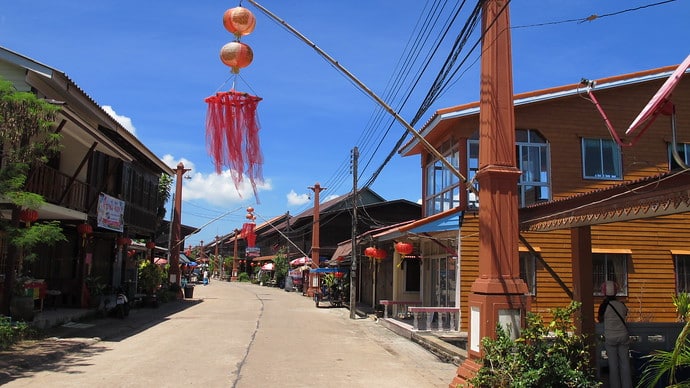 Take a Cooking Class
Thai cuisine is world-renowned. Taking a cooking class in Koh Lanta is an excellent opportunity to learn about Thai cuisine and experience the local culture.
The island is home to several cooking schools that offer classes for all skill levels, from beginner to advanced.
The classes usually start with a visit to a local market, where the instructor introduces students to the ingredients used in Thai cooking. You will learn to select fresh produce, spices, and herbs essential to create authentic Thai dishes.
After the market visit, students return to the cooking school, where they are guided through the cooking process step by step.
The classes are hands-on, meaning you will prepare and cook your dishes under the instructor's supervision. This allows you to learn by doing and ask questions as you go.
The dishes you will learn to cook vary from school to school, but some of the most common include Pad Thai, Tom Yum Soup, Massaman Curry, and Green Curry. Vegetarian and vegan options are also available.
In addition to learning how to cook delicious Thai dishes, taking a cooking class in Koh Lanta offers a unique cultural experience.
You will learn about the history and traditions behind Thai cuisine and gain a deeper understanding of the local way of life.
At the end of the class, you get to sit down and enjoy the fruits of your labor by indulging in the dishes you've prepared. Some cooking schools also provide recipe books to recreate your favorite dishes at home.
Many of the cooking classes at Koh Lanta take place in a beautiful outdoor setting, such as a local garden or farm.
You'll learn about the ingredients and techniques used in Thai cooking and taste the results of your efforts.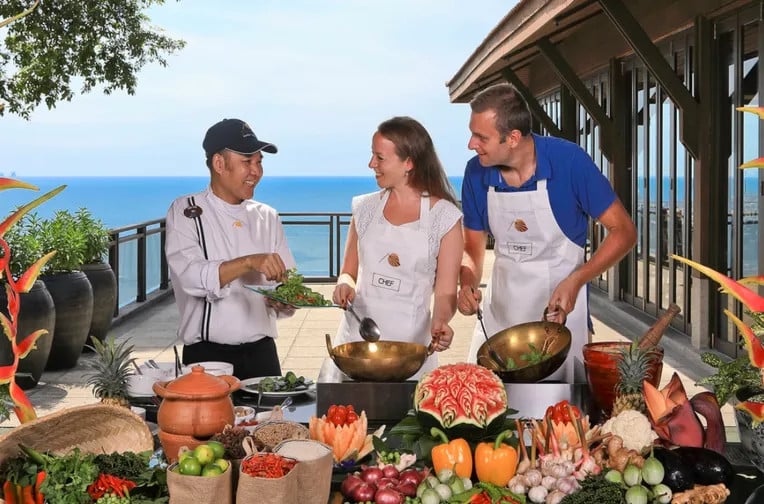 Go on a Jungle Trek
Jungle trekking in Koh Lanta is a thrilling experience that immerses you in the island's natural beauty.
The island's lush rainforest covers much of the interior, providing a range of trails and terrains to explore. It has excellent hiking trails that take you through the island's lush jungle.
One popular jungle trekking destination in Koh Lanta is the Khao Mai Kaew Caves, a network of limestone caves home to bats and stalactites.
The trek to the caves takes you through a scenic jungle trail, where you can spot various wildlife species.
.
Jungle trekking tours in Koh Lanta are typically led by experienced guides knowledgeable about the local flora and fauna.
They will take you on a journey through the dense jungle, where you can witness various wildlife, such as monkeys, lizards, snakes, and birds.
You may also come across exotic plants and trees, some of which have medicinal properties.
The trek can be challenging with steep inclines and rough terrain, so wearing comfortable, sturdy footwear is essential.
The guides will provide you with water and other necessary supplies, but bring your sunscreen and insect repellent.
The length and difficulty of the trek will vary depending on the tour you choose.
Some tours offer short, easy hikes suitable for families with children, while others offer more prolonged and challenging ones for experienced trekkers.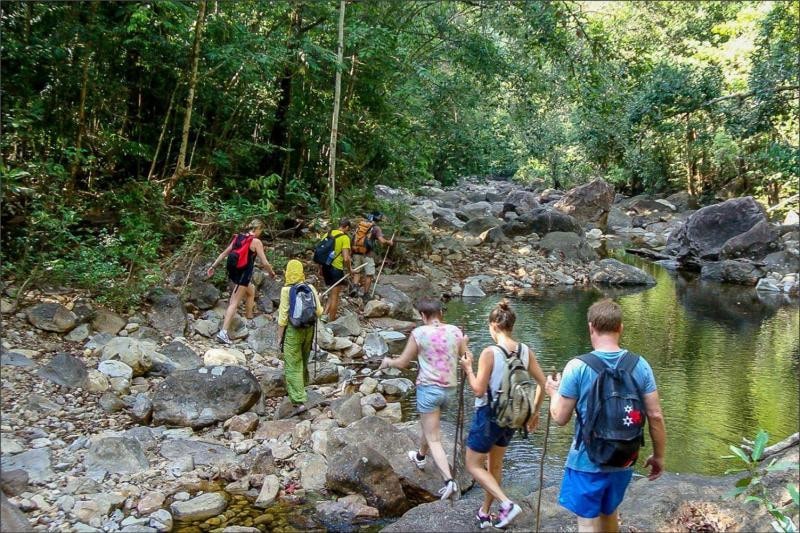 Visit Koh Lanta National Park
Koh Lanta National Park is a protected area that covers over 50 square kilometers of land and sea. The park is home to diverse wildlife, including macaques, gibbons, and hornbills.
One of the most popular activities in the park is hiking, and several trails wind through the jungle and up to the park's highest peak, Khao Mai Kaew.
From the top, hikers can enjoy sweeping views of the Andaman Sea and the surrounding islands.
The park has several stunning beaches, including Bamboo Bay and Kantiang Bay.
Visitors can spend the day lounging on the soft sand, swimming in the turquoise waters, and snorkeling among colorful coral reefs.
For those interested in wildlife, the park is home to various species, including monkeys, squirrels, deer, and bird species. Visitors can also take a boat tour to nearby islands to see sea turtles and explore hidden coves.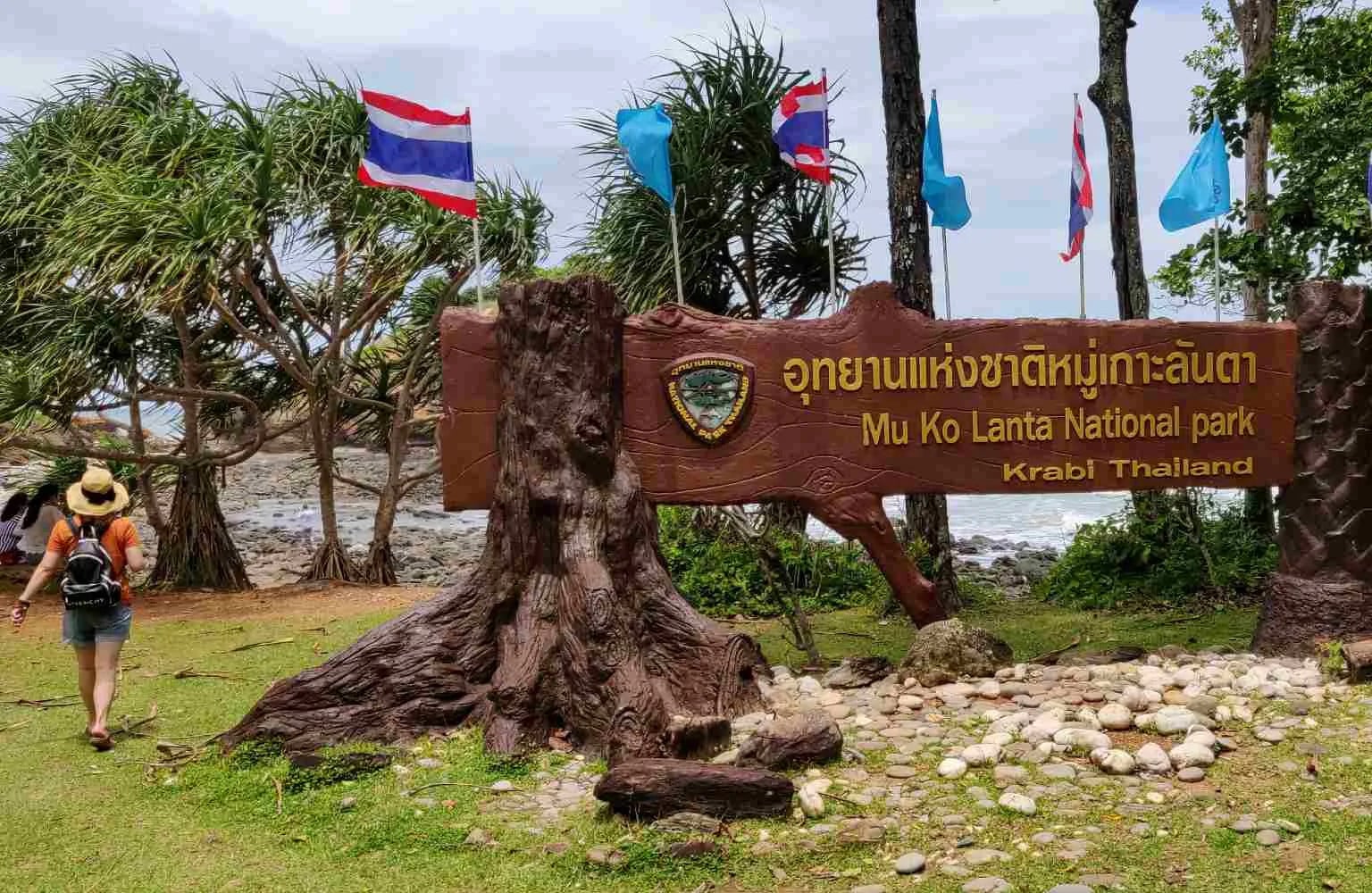 Take a Boat Tour
One of the best ways to experience the beauty of Koh Lanta is by taking a boat tour. Many tour operators on the island offer trips to nearby islands and snorkeling excursions.
Most boat tours depart from the main pier in Saladan and take visitors to nearby islands such as Koh Rok, Koh Phi Phi, and Koh Lipe.
Along the way, visitors can enjoy the stunning views of the Andaman Sea, with its crystal-clear waters and lush green forests.
Visitors can also participate in snorkeling and diving activities during the boat tour, with equipment the tour operator provides.
The marine life surrounding Koh Lanta is diverse, with colorful fish, coral reefs, and even sea turtles.
Many boat tours also include stops at secluded beaches, where visitors can relax, swim, and sunbathe.
Some beaches are only accessible by boat, providing visitors with a unique and secluded experience.
The boat tour often includes lunch, with various Thai dishes on board.
Visitors can enjoy their meals while enjoying the stunning scenery and soaking up the sun. Some popular destinations include Koh Rok, Koh Phi Phi, and Koh Lipe.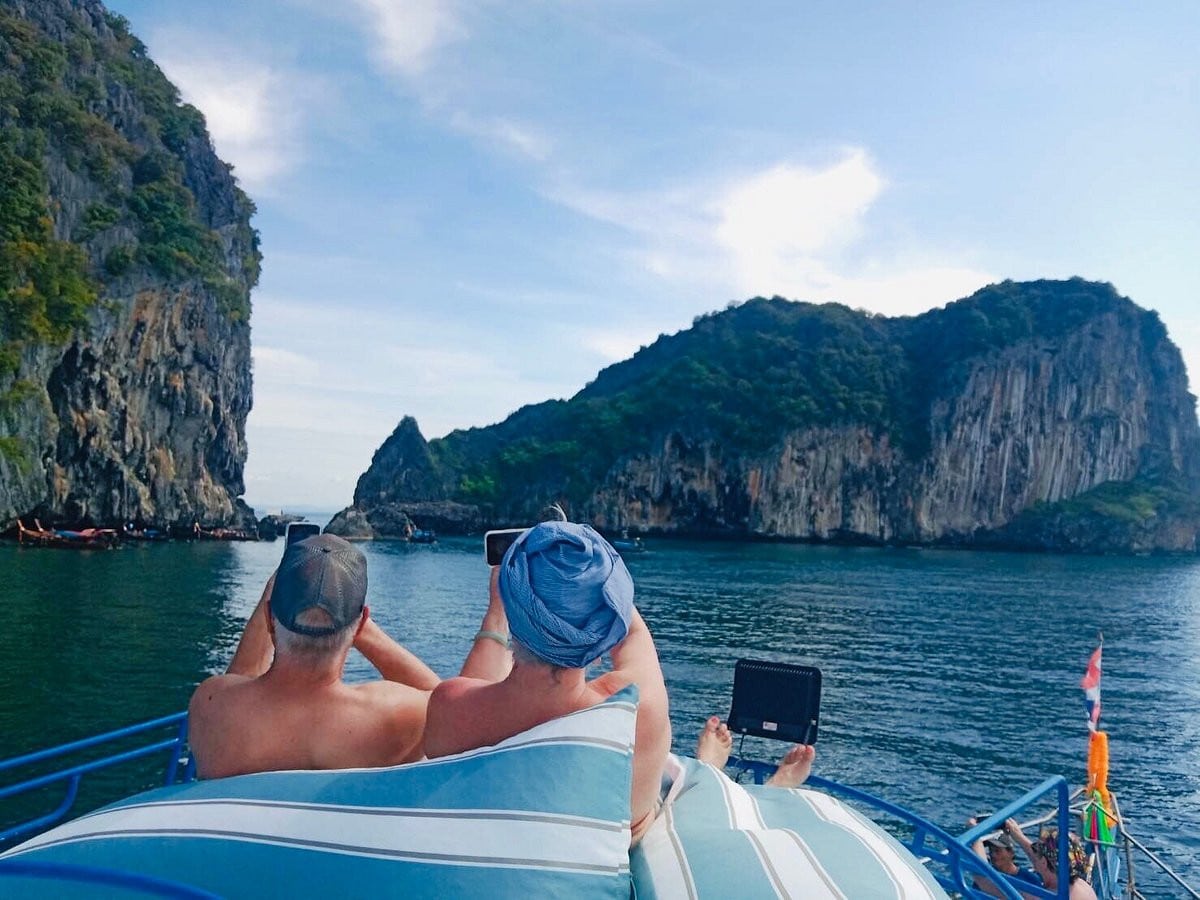 Learn to Dive
Diving in Koh Lanta is a must-try experience, with several dive shops offering courses for beginners.
The waters around the island are teeming with marine life, and you can see everything from colorful tropical fish to reef sharks and the sea.
Numerous dive sites surround the island, ranging from shallow reefs suitable for beginners to deeper dives for more experienced divers.
Some popular sites include Hin Daeng, Hin Muang, and Koh Haa.
Hin Daeng and Hin Muang are deep dive sites with steep walls that descend to over 50 meters.
These sites are known for their incredible visibility and diverse marine life, including whale sharks, manta rays, and various species of sharks.
Koh Haa is a group of five small islands with several diving spots that offer a mix of hard and soft corals and a variety of marine life, such as seahorses, nudibranchs, and turtles.
It's a great site for both novice and experienced divers.
Diving operators at Koh Lanta offer a range of courses and packages to suit all levels, from introductory dives to advanced courses.
The diving community on the island is also known for its professionalism, safety standards, and commitment to conservation efforts.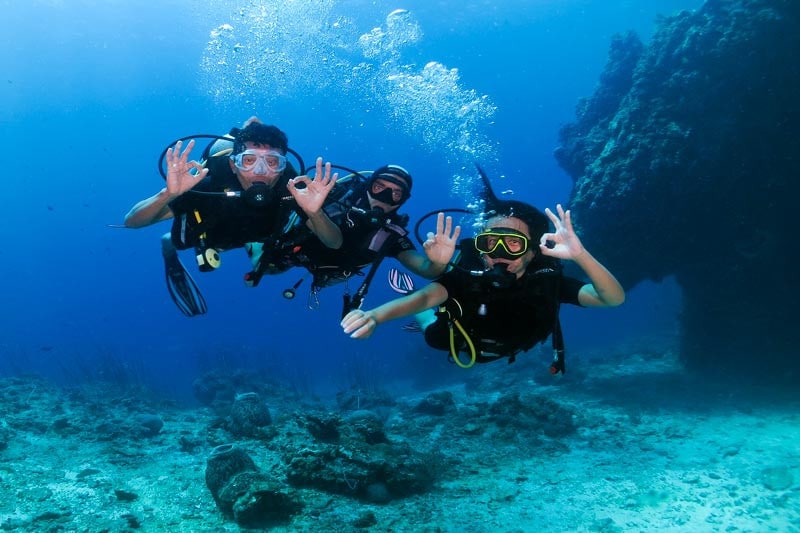 Go Kayaking
Kayaking in Koh Lanta offers visitors a unique perspective on the island's natural beauty, allowing them to explore hidden coves, caves, and lagoons inaccessible by larger boats.
The kayaking tours are conducted in small groups, providing a more personalized and intimate experience.
Unlike scuba and snorkeling tours, kayaking allows visitors to paddle at their own pace and explore hidden coves and lagoons inaccessible by larger boats.
One of the popular kayaking destinations is Koh Phee, also known as Ghost Island, where visitors can navigate through a maze of caves and limestone cliffs.
Visitors can hike and explore the caves without needing a harness, providing a thrilling and immersive experience.
The island is surrounded by calm waters, making it an ideal location for kayaking.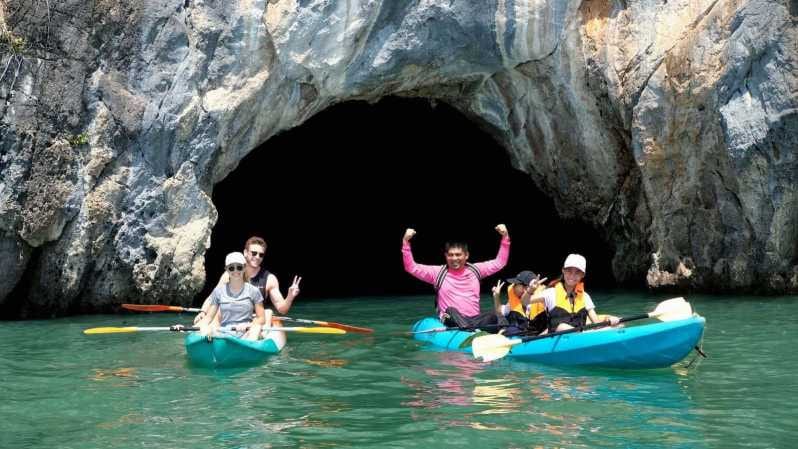 Experience the Culture
Koh Lanta is home to diverse Thai, Chinese, and Muslim cultures. One of the best ways to immerse yourself in the local culture is to explore the island's traditional villages.
Koh Lanta is home to several small villages known for their unique customs and traditions.
Visitors can take a guided tour to learn more about the local way of life, including the art of batik painting, traditional weaving, and the production of hand-crafted pottery.
Another way to experience the local culture is through food. Koh Lanta's rich culinary scene combines Thai and Malay influences, resulting in a unique blend of flavors and spices.
Visitors can sample local delicacies at street food stalls and traditional restaurants, such as fresh seafood, spicy curries, and sweet desserts.
Visitors can also experience the local culture through various festivals and events.
The most famous festival on the island is the Loy Krathong Festival, celebrated in November and involves floating baskets made of banana leaves and flowers on the water to pay respect to the goddess of water.
Lastly, visitors can learn about the local religion by visiting several Buddhist temples on the island.
Wat Klong Dao, Wat Khlong Nin, and Wat Phra Ae are some of the most popular temples on the island, and visitors can witness the daily rituals and ceremonies of the local community.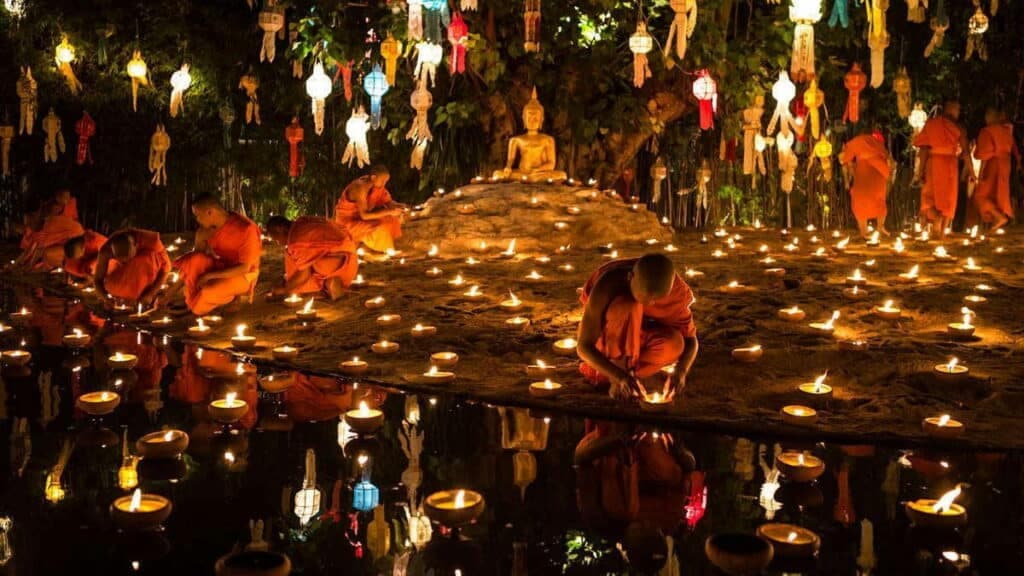 Wrapping Up
In conclusion, Koh Lanta is a treasure trove of natural wonders, cultural experiences, and gastronomic delights that enchant any traveler. Whether seeking adventure, relaxation, or a combination, Koh Lanta has something for everyone.
From exploring the island's hidden beaches and waterfalls to immersing yourself in its rich cultural heritage, you're guaranteed to create unforgettable memories.
So pack your bags, book your ticket, and get ready to discover what Koh Lanta offers. You won't be disappointed!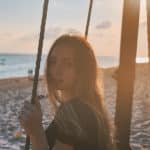 Noah Zaidi is an ardent traveler who has been documenting her Thailand exploration through Thailand Nomads. Her aim is to inform and educate people around the world about the must-visit places in Thailand.