The Wat Chalong, Phuket's most important Buddhist temple, stands as a testament to the island's rich spiritual heritage. This complex was built in its current location in 1837 and has since become the largest and most visited temple in Phuket. Towering at 60 meters tall, the temple's magnificent 'chedi' shelters a splinter of bone from the revered Buddha himself. Poh Than Jao Wat, a significant shrine within the complex, further solidifies Wat Chalong's status as the most revered and most visited Buddhist temple in Phuket. Out of the 29 temples, Wat Chalong is the largest and most revered in Phuket town. The temple is dedicated to two highly venerable monks, Luang Pho Chaem and Luang Pho Chuang, who led the Chinese rebellion in 1876. With their knowledge of herbal medicine, they also helped the injured during the war. The Wat Chalong, an exquisite and revered temple complex, stands as a prime example of intricate Thai architecture and a spiritual haven for those visiting Phuket, Thailand.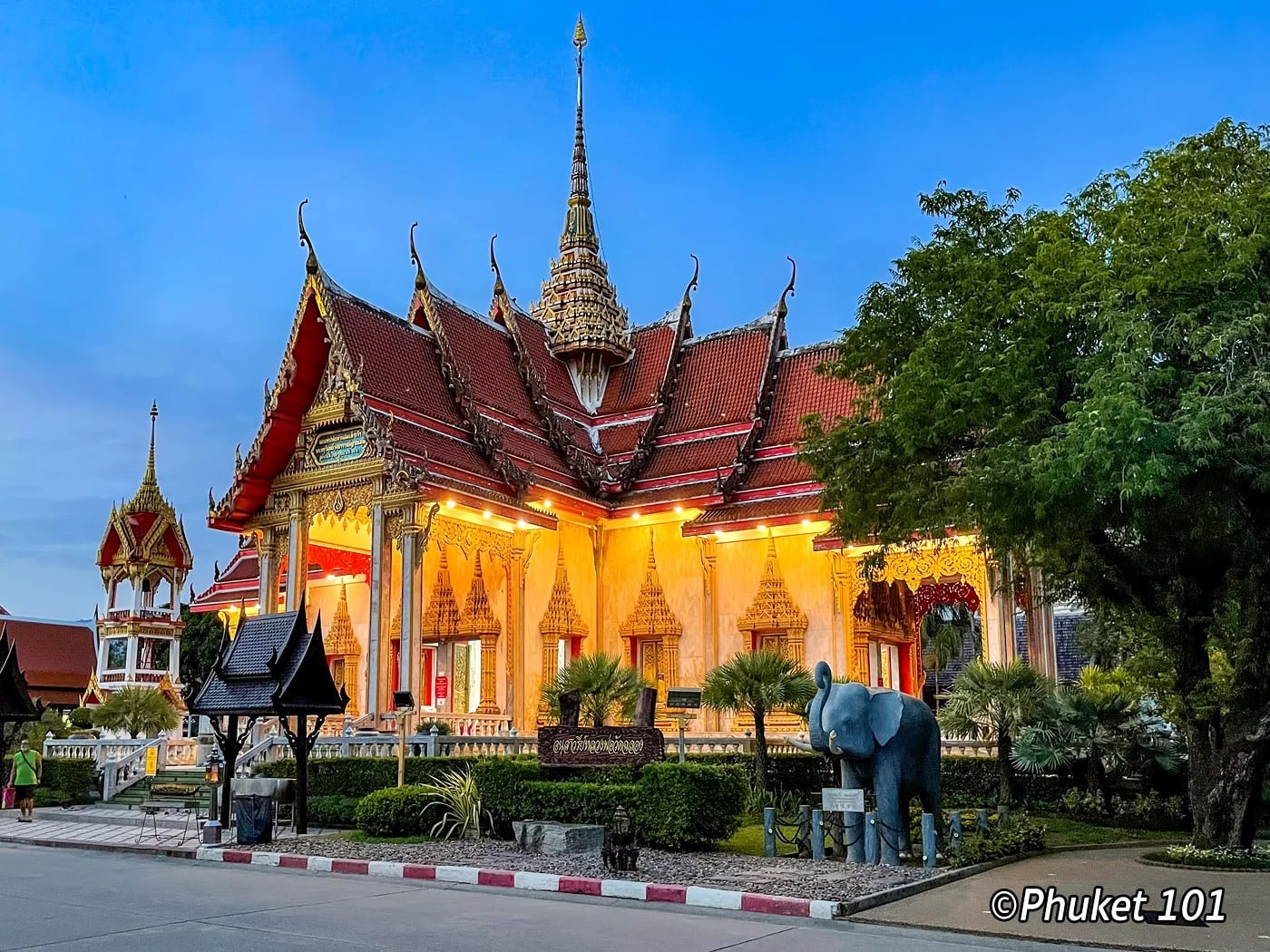 How to Reach Wat Chalong
Wat Chalong lies in Mueang Phuket District, 10 km south of Phuket town, between Phuket and Chalong. It is very close to Kata beach. You can take a taxi or tuk-tuk from either Phuket or Patong.
It will take you about 20 minutes to reach Wat Chalong from Phuket. You can alternatively rent a bike or car from a rental in Phuket.
Location: 70 Moo 6 Chao Fah Tawan Tok Rd, Tambon Chalong, Amphoe Mueang Phuket, Chang Wat Phuket 83000, Thailand
What to Look For at Wat Chalong
The Wat Chalong temple was built in the early 1800s and was formerly known as Wat Chitarara. Although the temple has undergone several developments since then, it still remains famous for its rich historical architecture.
The temple ground is huge with several other buildings and a garden. The beautiful mountain backdrop makes the place look even more enchanting.
As you enter the main hall, there is a huge gilt-covered statue of Luang Poh Cham, one of the founding members of the temple.
Near the statue is a stick that is believed to be Poh Cham's stick that has healing powers. Many ailing locals and tourists come here to seek the blessings of Luang through the stick in hopes of getting cured.
The tallest building in Wat Chalong is a 60-metre tall Chedi with a tall tower. The chedi is built on three floors. On the first two floors are statues and pictures of Buddha representing the different phases of Buddha's life.
The murals on the wall depict the teachings of Lord Buddha. The top of the tower is believed to have a fragment of Lord Buddha's bone that is placed within a glass chamber.
The statues in the temple complex are covered with gold leaves as a mark of respect to God. Going further you will enter a museum that showcases antique Thai furniture and Benjarong, Thai porcelain designed in five colours.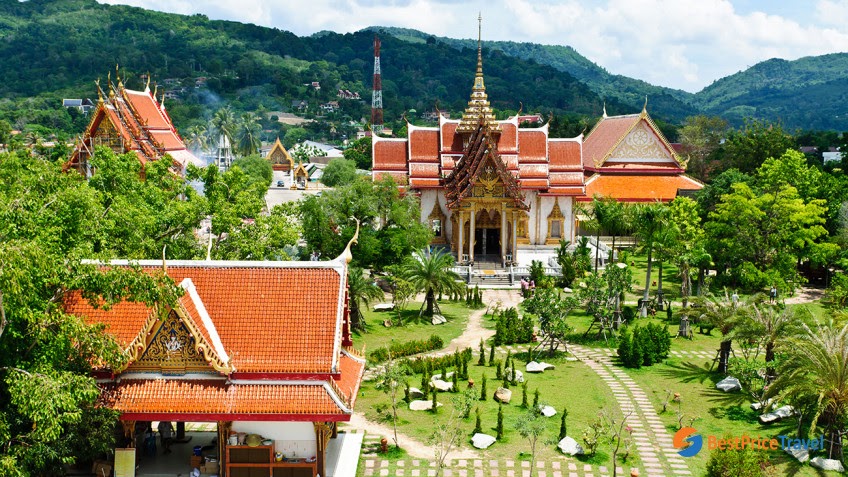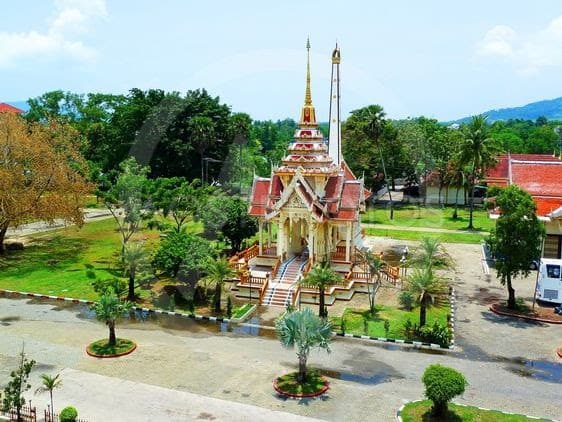 Opening Time
The temple is open for visitors from 7 am to 5 pm. The entry is free here. However, it is a kind gesture to give some money to the donation boxes inside the temple.
Pro Tips
Although there are no hard and fast rules for visiting the Chalong temple in Phuket, there are certain things that you should be mindful of to avoid any awkward moments.
The first and the most important thing to remember is that your dress should be appropriate while visiting any temple in Phuket and so similarly for Wat Chalong. Avoid wearing revealing clothes and possibly cover your head.
It goes without saying that you will have to take off your footwear before entering the temple. Don't worry about this one though as the sea of footwear will keep you reminded of the same.
Do not speak in a loud tone or talk jestingly inside the temple. It is better to not talk among yourselves and get yourself deluged in the beauty of the place. However, when necessary, try to talk in whispers or low tones.
There is no boundation on you to give any amount of money to the temple authority, however, a generous donation is very much appreciated by the monks of the temple and is utilised in the upkeep of the place.
You are allowed to take pictures inside the temple premises, however, be very careful to not position yourself in a disrespectful position to take the perfect shot.
Tourist Attractions Near Wat Chalong
The most interesting tourist attraction near Wat Chalong is the famous Phuket Big Buddha. Officially known as the Phra Phutta Ming Mongkol Eknakiri, the Big Buddha is a seated maravijaya Buddha statue.
The Buddha statue is about 45 metres tall and hence visible from most parts of Phuket. The magnanimous statue will leave you thinking. It is a perfect meditative spot for tourists who want to have a laid-back experience.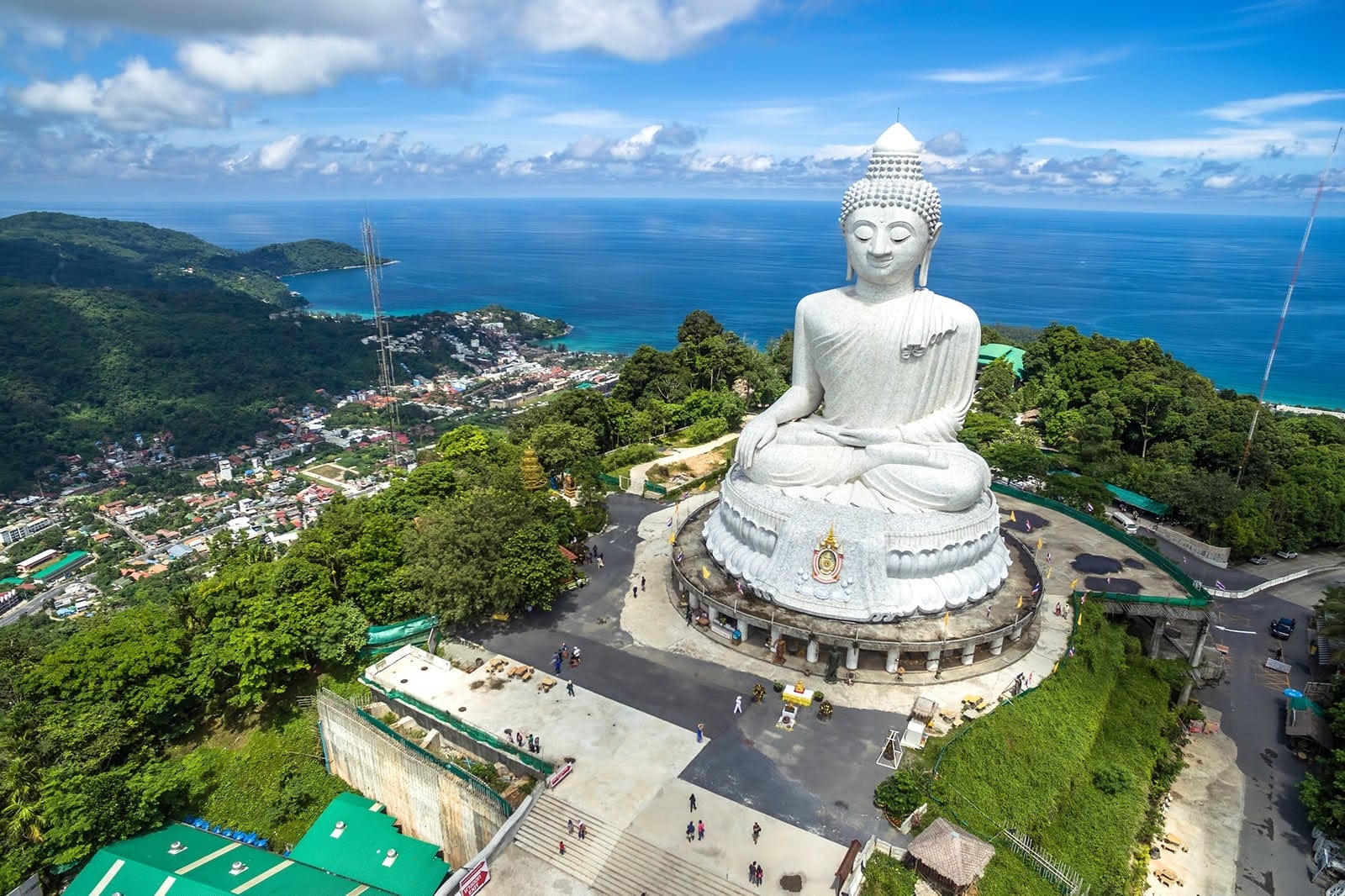 Other Temples in Phuket
Besides the Wat Chalong, the city of Phuket is home to many beautiful and interesting Buddhist temples. It is known for its abundance of temples. For more information, follow our guide on the other temples in Phuket so that you don't miss out on a good one.
Founder - Thailand Nomads
Jordan started Thailand Nomads primarily for sharing his experience of exploring Thailand for several years. The objective is to help tourists especially digital nomads plan their travel itinerary when visiting Thailand.
Email: jordan@thailandnomads.com