Koh Samui, a tropical paradise known for its stunning beaches and vibrant culture, is also home to a burgeoning cannabis scene. For those seeking a unique experience while enjoying the island's natural beauty, exploring cannabis shops in Koh Samui is a must.
In this blog, we will discuss the top 7 cannabis shops that offer not only high-quality products but also a memorable and insightful journey into the world of cannabis.
1. PrikPot
Before we go ahead to the physical stores, allow me to introduce PrikPot to you- a premium cannabis online store. The sole objective of the store is to ensure you enjoy the best quality cannabis at the convenience of wherever you are putting up.
PrikPot ensures a seamless customer journey from initial inquiry to post-purchase support. Their team of highly knowledgeable people will educate you on the different products and help you choose better.
One outstanding feature of cannabis products sold at PrikPot is that they are organic and very safe to consume. This is because they refrain from using Plant Growth Regulators (PGRs), pesticides, and other detrimental chemicals in the production process.
To make this experience even more wholesome for you, I have assigned you a discount code called 5OFF. This will give you a 5% discount on all products in the shop. So wait no more.
2. Buddha's Kush Street Samui
Buddha's Kush Street is a cannabis haven that seamlessly combines a diverse range of high-quality products with a relaxed and inviting ambiance.
The dispensary's well-informed staff guides customers through an array of strains and offerings, ensuring a personalized experience for both newcomers and seasoned enthusiasts.
With its fusion of entertainment elements like a PlayStation 5 and pool table, alongside a community of kindred spirits, Buddha's Kush Street offers more than just a cannabis shopping experience; it provides a tranquil oasis for relaxation, connection, and exploration.
The dispensary's chill-out areas, friendly staff, and inclusive atmosphere create an environment that fosters both relaxation and meaningful connections.
From quality cannabis to entertainment amenities, this destination in Koh Samui offers an immersive experience that transcends the ordinary, making it a must-visit for anyone seeking a blend of tranquility, quality, and community engagement.
Address: Chaweng Beach Rd, Tambon Bo Put, Ko Samui District, Surat Thani 84320, Thailand
Hours: 10 am to 2 am
Phone: +66 82 952 2007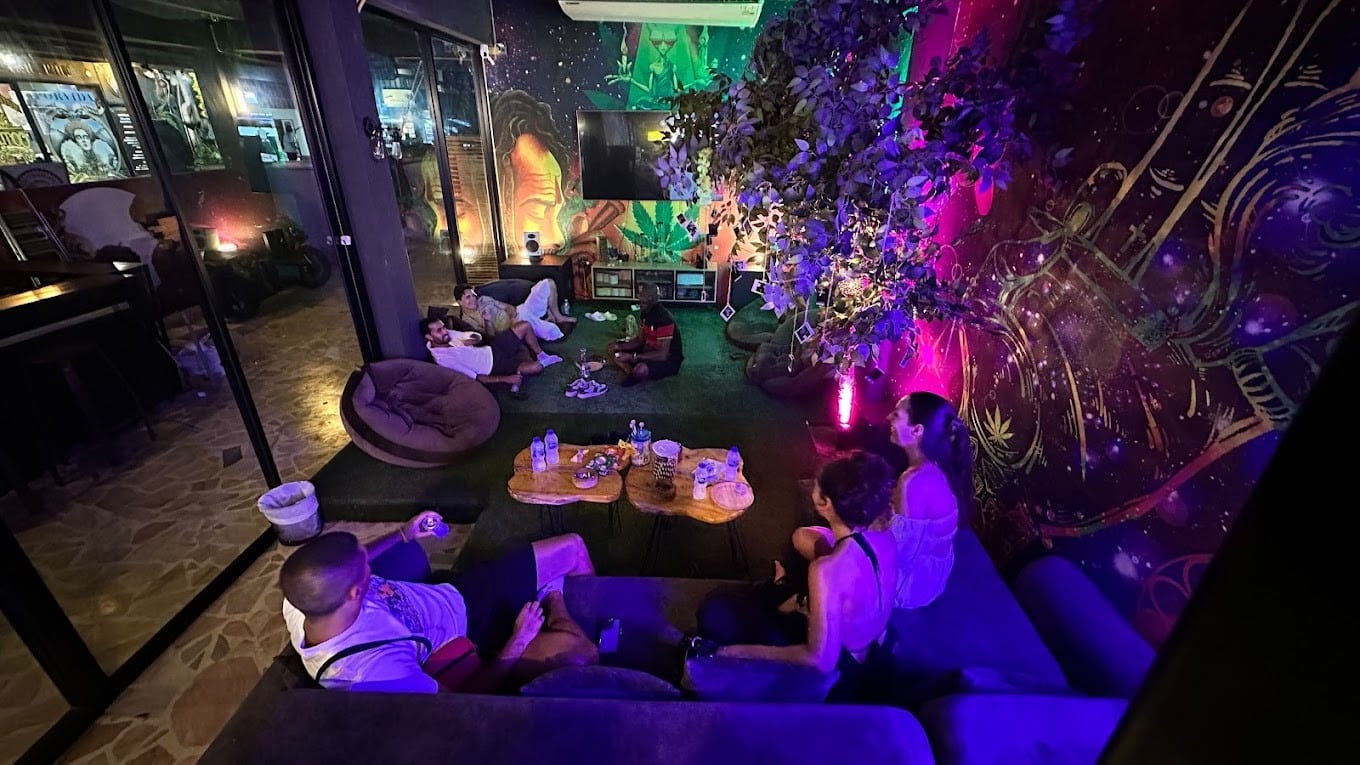 3. Roasted
The Roasted Cannabis Store offers a unique experience where gourmet cuisine blends seamlessly with cannabis exploration. This shop crafts cannabis-infused dishes that tantalize taste buds and curiosity alike.
With an inviting atmosphere, this is a perfect destination for those seeking an extraordinary culinary adventure that embraces the world of cannabis. Don't forget to taste their coffee which is highly recommended by all coffee connoisseurs in that area.
Address: 200, 8 Chaweng Beach Rd, Tambon Bo Put, Amphoe Ko Samui, Surat Thani 84320, Thailand

Hours: 10 am to 12 am
Phone: +66 86 388 6888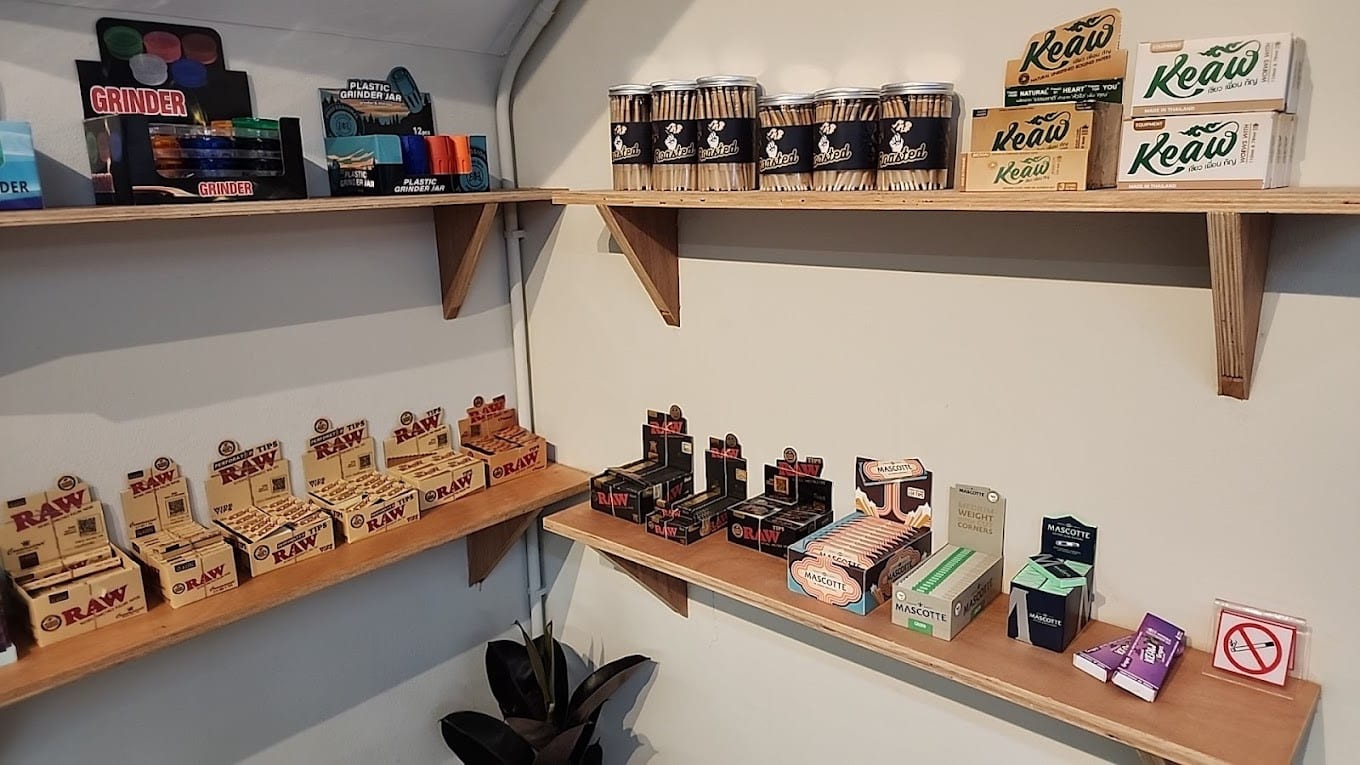 4. Stoners
Just a short distance from the entrance to Chaweng Beach and a quick 4.1 km drive from Samui International Airport, you'll find Stoners Cannabis Dispensary in Ko Samui's lively Bo Put District.
Combining urban chic with a relaxed beach vibe, its vibrant interior is adorned with street art portraits basking in the colors of sunset. The atmosphere evokes familiarity and freedom, capturing the essence of its coastal setting.
Aside from its prime location, Stoners provides convenient access to local attractions like the Samui International Muay Thai Stadium and the exciting Easykart raceways.
Now, let's talk about the strains. Stoners presents a thoughtfully selected array of premium cannabis strains, offering a range of flavors and experiences for enthusiasts with discerning tastes.
Notably, the Blue Dream strain stands out with its sweet berry scent, lively hints of spice and herbs, and subtly invigorating effect. For those who favor Indica strains, the Granddaddy Purple offers soothing relaxation.
With the aroma of luscious grapes and delectable berries, it brings a serene calm that syncs harmoniously with the nearby ocean's rhythm.
At Stoners, there's a rich variety of superb cannabis strains waiting to be explored, each boasting its own unique set of flavors and sensations. It's a place where lovers of quality cannabis - and life itself - can feel perfectly at ease.
Address: 17 48 Tambon Bo Put, Ko Samui District, Surat Thani 84320, Thailand
Hours: 10am - 1:30 am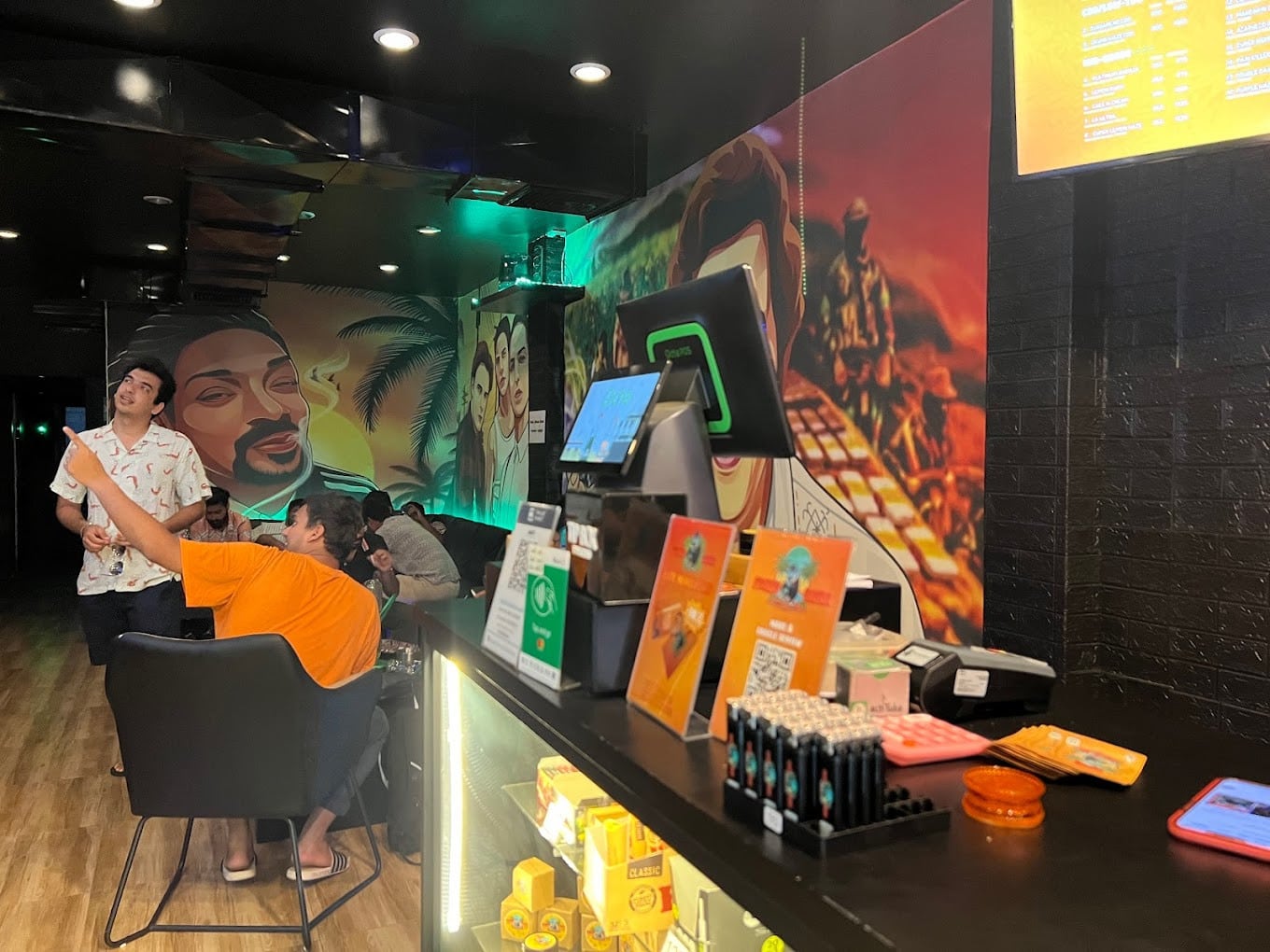 5. Cannabis Kingdom
The Cannabis Kingdom is the fastest-growing dispensary in Koh Samui. Known for its high-quality cannabis, it's become a popular must-visit spot on the island.
It is the perfect spot if you want to relax while having fun. While smoking top-quality weed, you can also indulge in gaming with your friends or complete strangers worth befriending.
Plus, there's a range of delicious treats to curb those munchies.
Address: 59, 127 Choengmon, Tambon Bo Put, Amphoe Ko Samui, Surat Thani 84320, Thailand
Hours: 9 am - 12 am
Phone: +66 81 895 8924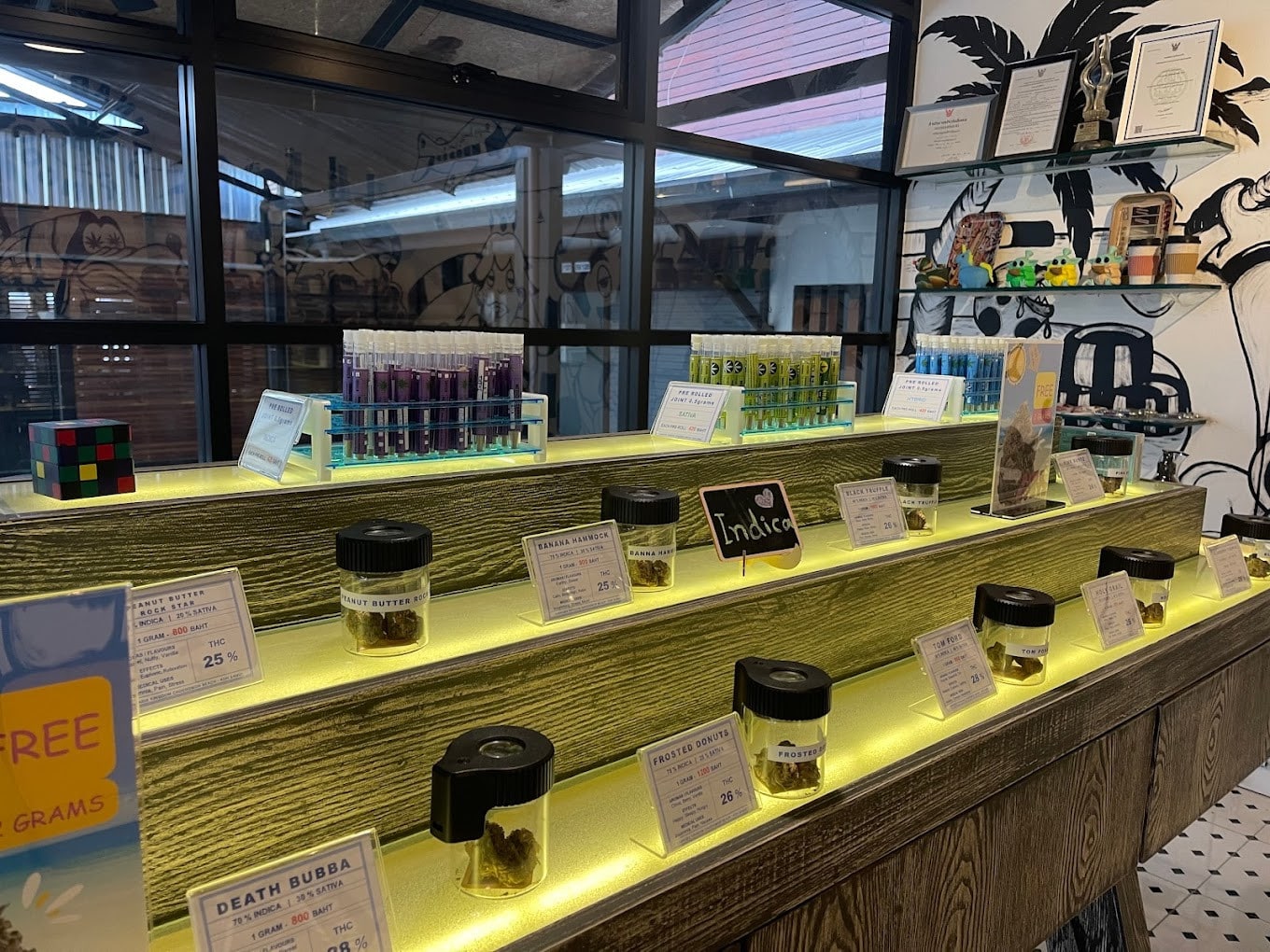 6. 420 Samui
Offering a range of strains carefully tailored to suit varying preferences, 420 Samui is a destination that is especially popular among tourists.
With an assortment of over 10 carefully curated strains 420Samui ensures that every individual finds a strain that resonates. From the subtly nuanced to the intensely robust, the collection spans a spectrum of flavors and effects.
The pricing structure is also designed to accommodate all budgets, spanning from 150-650 THB.
The experience doesn't end with the strains alone. 420Samui recognizes the comprehensive nature of cannabis culture and has amassed a collection of over 100 accessories.
For those seeking more value, they offer the Daily Weed-of-the-Day discount, providing a chance to explore new strains at reduced rates.
And don't miss the excitement of Weed-kends, where specially selected strains are available at lower prices.
These accessories range from elegantly designed smoking implements to innovative devices that enhance the overall experience.
As the sole Official RAW dispensary shop on the island, 420Samui proudly showcases the complete RAW collection.
Address: Chaweng Beach Intersection w/Samui Central Road, Koh Samui
Hours: 2:30 pm - 10:30 pm
Phone: 061 420 0111
Website: https://420samui.com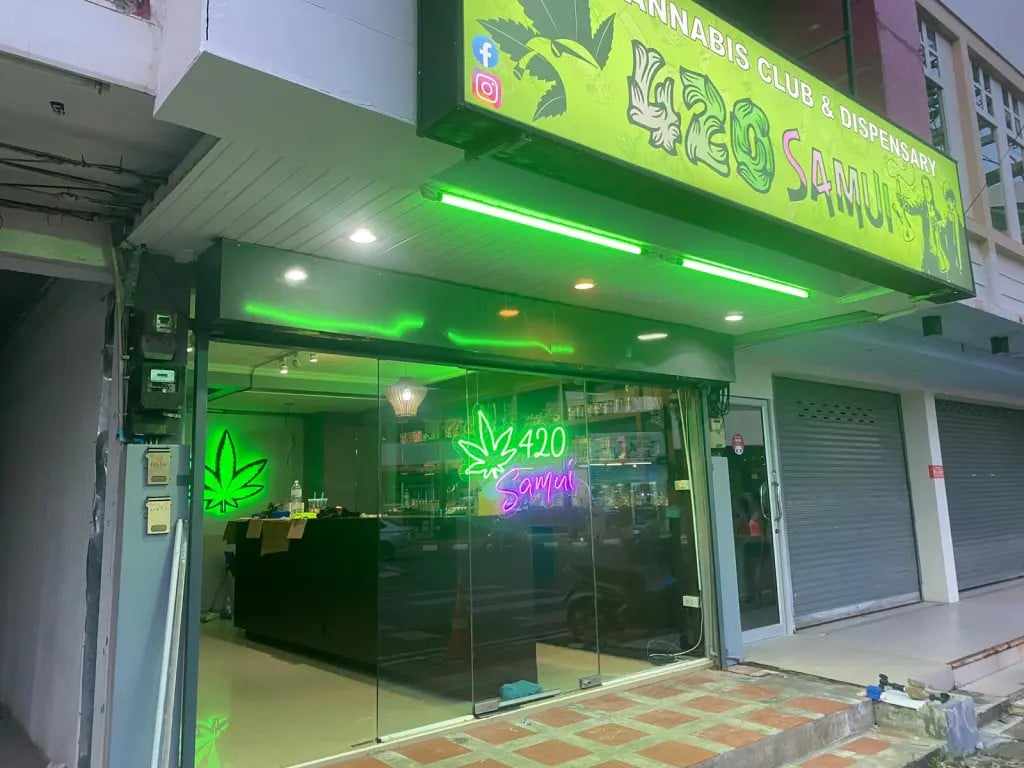 7. Sonsamui Cannabis Garden
Sonsamui Cannabis Garden has evolved to become the premier destination catering to the needs of cannabis enthusiasts visiting the stunning Koh Samui Island.
With an expansive array of top-tier strains carefully sourced from esteemed cultivators worldwide, it has solidified its position as the ultimate comprehensive hub for all things cannabis-related.
The store has a team of kind and knowledgeable staff, readily available to assist visitors in selecting the most suitable strain based on their preferences and requirements.
At Sonsamui, visitors are welcomed into an inviting ambiance, perfectly conducive for indulging in their preferred strains.
Whether in search of a potent indica for relaxation or an invigorating sativa for heightened creativity, Sonsamui Cannabis Garden offers an assortment that caters to varied preferences.
Beyond the diverse cannabis selection, the shop also offers an array of accessories aimed at enhancing the overall experience. From top-quality rolling papers to the latest vaporizers and smoking devices, patrons can find all the essentials required for a memorable cannabis journey.
Address: 78 Moo1, Laanthong Rd, Bo Put, Ko Samui District, Surat Thani 84320, Koh Samui
Hours: 11:00 am - 02:00 am
Phone: +66982300377
Website: https://www.sonsamui.com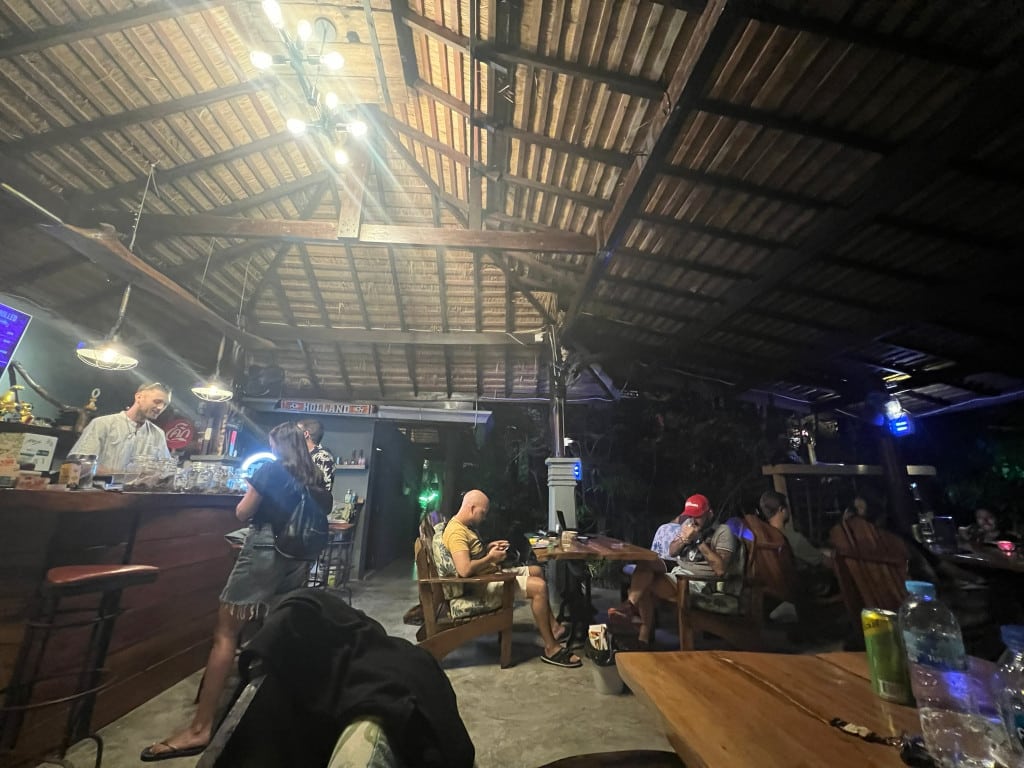 8. Dons
Dons offers a wide range of premium cannabis products, including top-notch weed, delicious edibles, tempting cannabis muffins, and potent hash.
But it doesn't stop there – the experience goes beyond just products. The store presents an array of smoking accessories, from bongs and pipes to grinders and trays.
Whether you want to roll your own or have a bartender assist you, the choice is yours. And if you're in the mood for an instant smoke, clean bongs are at your service.
For convenience, island-wide delivery operates 24/7. And when you're in the mood to linger, the ambiance invites you to enjoy Chinese teas and exceptional classic coffees and drinks.
Address: 39, 7, Bo Put, Amphoe Ko Samui, Surat Thani 84320, Thailand
Hours: 9:30 am to 11:30 pm
Phone: +66 62 958 2185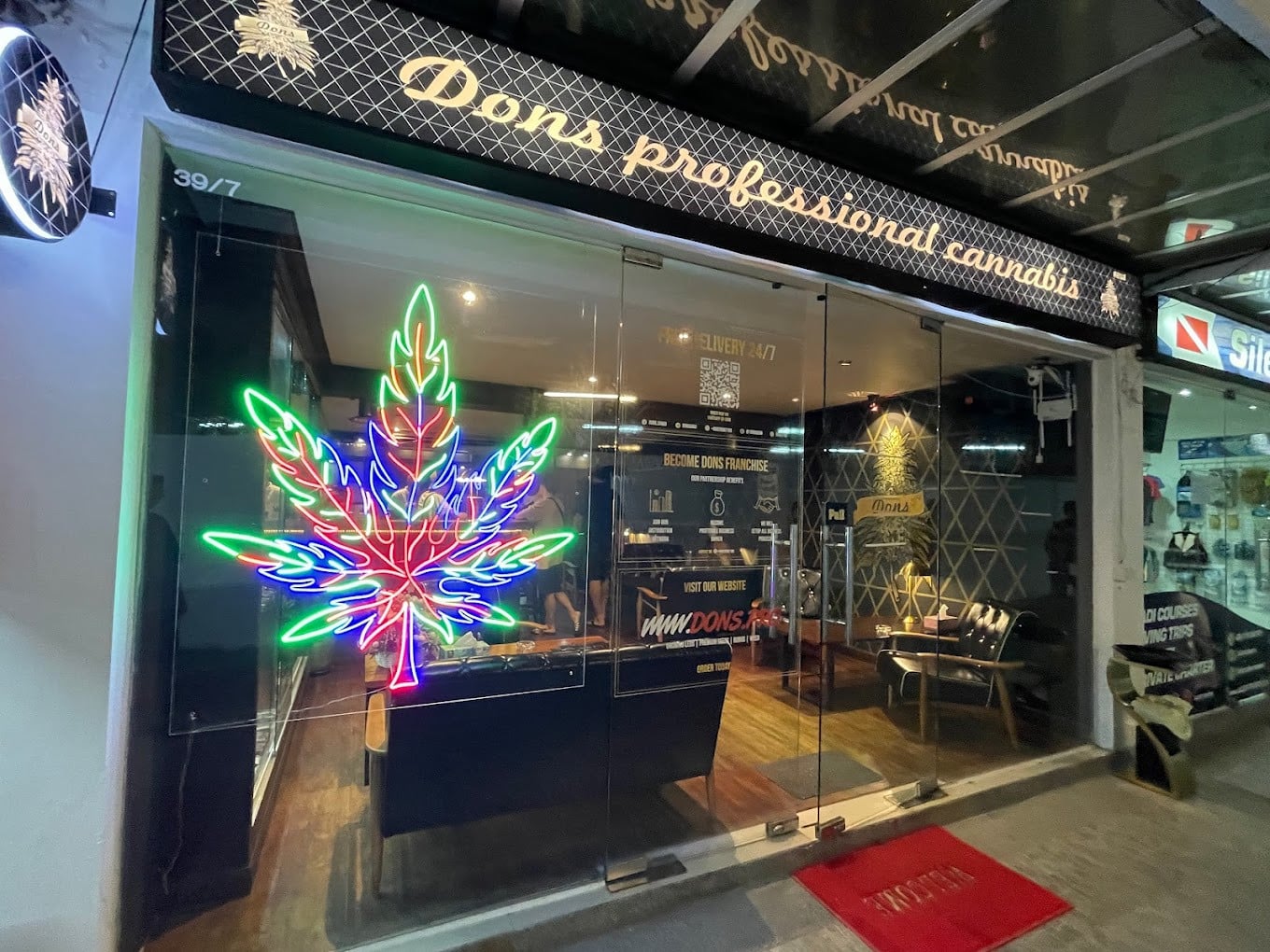 Wrapping Up
To sum it up, exploring Koh Samui's cannabis scene is an exciting mix of relaxation, fun, and culinary adventures. From the convenience of online stores such as PrikPot to Buddha's Kush Street's social atmosphere, each shop offers something special.
As you conclude your journey through Koh Samui's cannabis scene, you'll find a harmonious blend of relaxation, social connections, and delightful culinary experiences awaiting your exploration.
Besides the cannabis shops, Koh Samui offers a treasure trove of natural beauty and cultural wonders. Don't miss the opportunity to explore the island's stunning beaches, lush landscapes, and vibrant local markets.
Immerse yourself in the rich heritage by visiting historic temples, indulging in water sports along the crystal-clear waters, or rejuvenating your senses with wellness retreats.
With its diverse offerings, Koh Samui invites you to delve deeper into its peculiar world of experiences.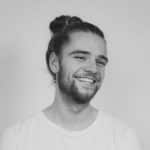 Stuck in a Fintech job, Rouby realized the world of corporate finance wasn't his cup of tea so jetted off to see the world up close. At present, the passionate traveler has covered over 43 countries and has visited Thailand alone 4 times.