Koh Samui, a place far from the madding crowd of Thailand, is a paradise you must not miss visiting. The beautiful moss, berry bushes, and trees which have centuries-old tales to tell, are a treat to the eyes.
The damp, wet scents of the waterfall and the woody fragrance start to settle inside as you take a walk through the vistas of Koh Samui, coupled with the music therapy provided by the rustling of leaves and the sweet bird songs.
This place also has a rich cultural and historical grounding. There are various annual events and festivals, such as the buffalo fighting festival and the Ten Stars Samui art party.
The place is replete with luxurious resorts, which makes it difficult for people to pick one out of the lot. At present, there are over 1000 resorts, rental properties, and homestays in Ko Samui.
Discover a world of luxury and comfort at stunning Airbnbs in Koh Samui, where opulent villas, cozy beachfront bungalows, and chic apartments combine contemporary design, lavish amenities, and breathtaking views to create unforgettable stays amid the natural splendor of this captivating Thai island paradise.
17 Stunning Airbnbs in Koh Samui – 2023 Review
1. Upscale Home Near the Beach
The Upscale Home is the kind of place that you can never have enough of! This high-end house rental has Airbnb Plus status, which makes it an excellent option for a luxurious staycation near the seashore.
The homestay is one of the finest works of modern architectural design infused with a beautiful blue, gray and white colored interior along with windows that touch the ceilings.
This makes the space open to the lush greenery and keeps you in touch with nature while you lay down on the couch watching tv.
Two bedrooms are furnished with a king-size and a queen-size bed each. The breezy gray curtains and almond cream wood finish make it look like the most beautiful minimalistic place to crash in.
The bedrooms and the living room come with an in-unit washer, dryer, and bathroom. There is also a dining area with a full kitchen and a breakfast bar.
The outdoors is most mesmerizing, consisting of an infinity pool and a spacious patio.
This Airbnb is perfect for people who like adventure while also enjoying the cozy towns and beaches.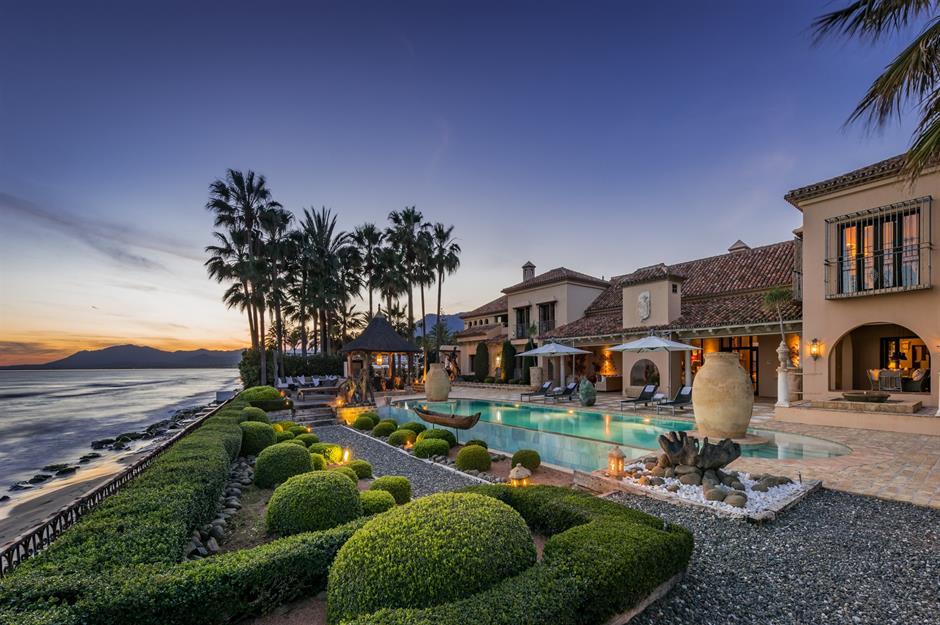 2. Stunning Sanctuary on the Beach
If you want to explore the traditional Thai house, this place is heaven in disguise. With access to private beaches, this exclusive villa in Pang Ka Bay is worth a visit.
Located near the shore, this homestay is beautifully furnished with luxurious wooden furniture, wood-planked walls and ceilings along with granite countertops.
You can start the day by walking along the shore and cleaning those sand-soaked feet under the open-air shower. This traditional Thai house has a unique triangular saltwater pool.
The space has two luxurious bedrooms with king-size beds and terrace access. The rental includes one half-bathroom and one lavish full bathroom with a refreshing soaking tub.
This place is also pet friendly, so you need not worry about leaving your fur friend alone at home.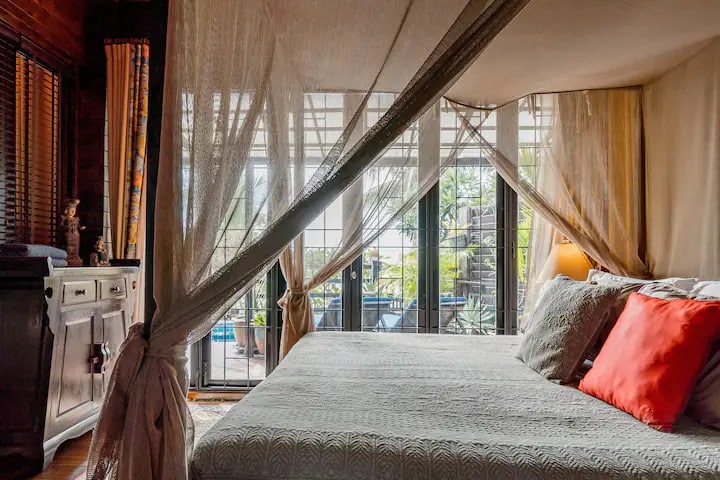 3. Chaya's Pool Villa- Budget Rental in Maenam
When you are done with the chaos of the city and want to spend a vacation on the beach, it is almost impossible to ignore this place.
It is best for people who want to enjoy Thai culture while still being close to nature.
The homestay features a two-bedroom, two-bathroom villa and a pool. It is located amidst the main residential area, but the calm and peaceful will awaken you.
This place camouflages itself as a tourist place yet remains serene and quiet. You can easily access the local shops as the market is nearby.
This Airbnb property has five-star reviews from guests who have previously visited here. You can avail yourself of special discounts for longer stays here.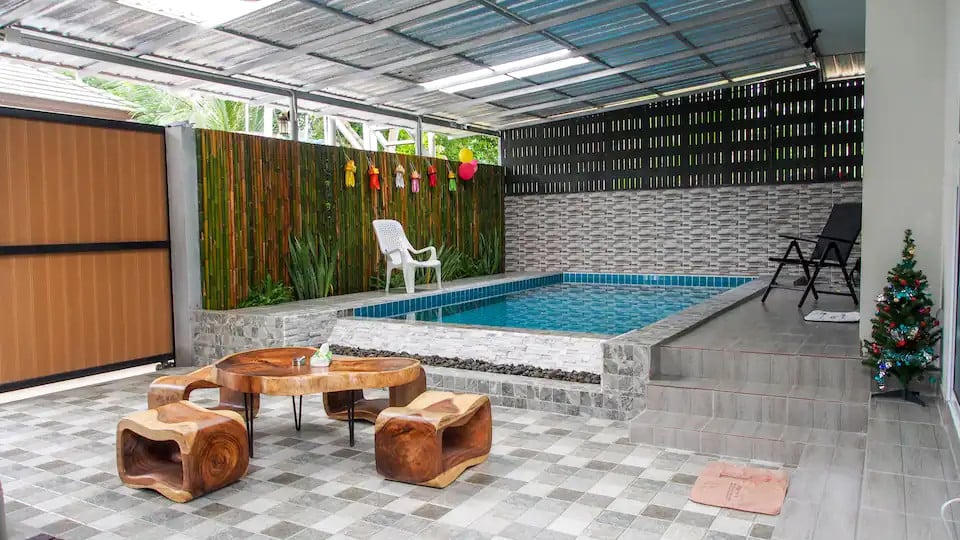 4. Private Pool Villa with Sea Views
What is more scenic than lying on the couch and watching the sea? Well, a deep orange sun takes a dip into it as the water quenches the thirst of the eyes!
This villa is in a cul-de-sac with a private pool and seven other homes from where one can enjoy the surreal beauty of the sea and the jungle.
The beautiful interiors with a wood finish make it appear more natural, and though you are inside glass chambers, it makes you feel like one with nature.
A private patio is also attached, which makes the whole place more airy and bright.
Long-term stays are benefited from discounts for monthly visits. You can bring your furry friends along, as this place is pet friendly.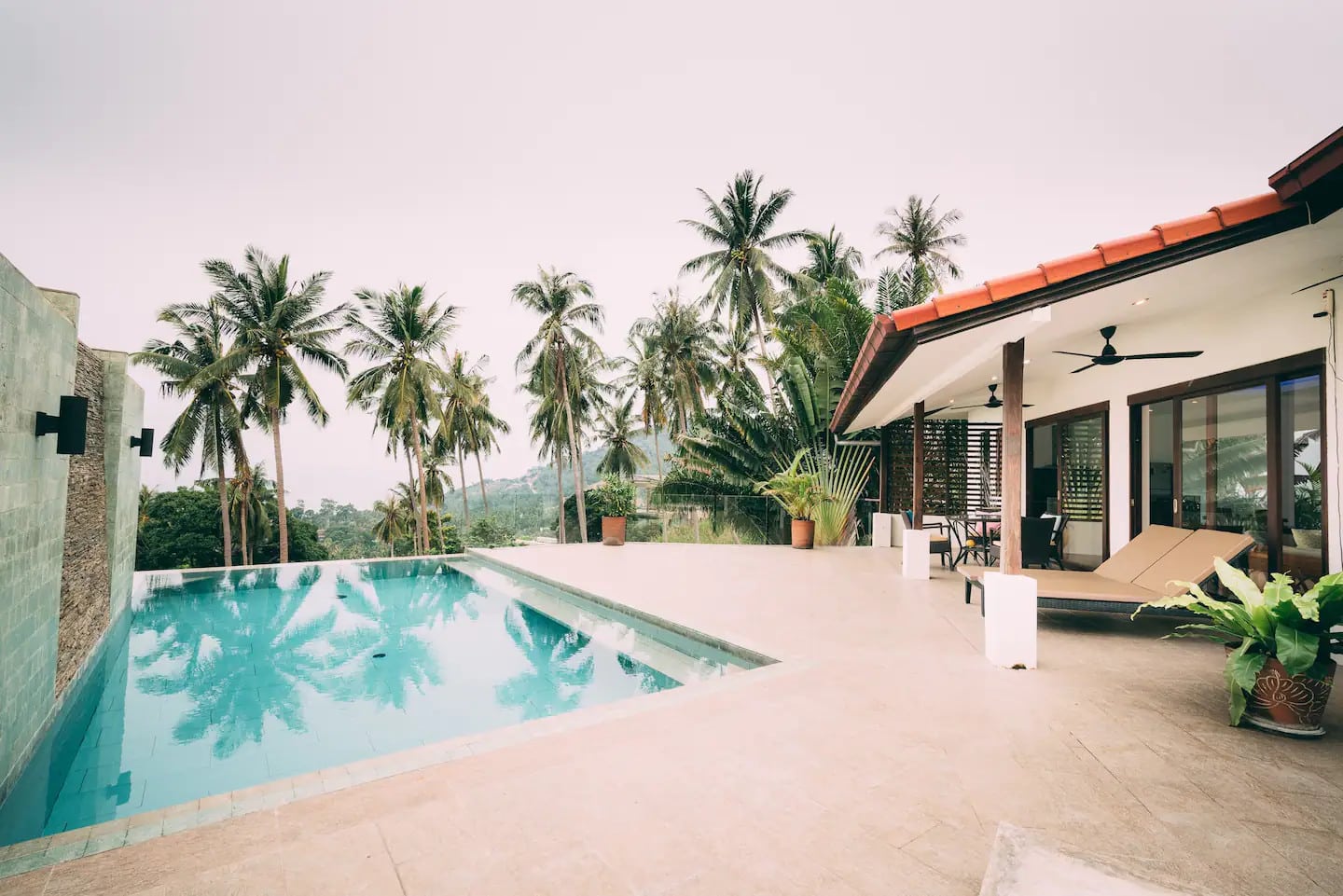 5. Luxurious Villa with Panoramic Sea Views
This place is covered with ivory and vintage aesthetics and classic chic ancient finishes, making you fall for the color blue.
The homestay has three huge bedrooms and 4.5 luxurious bathrooms, making this place a perfect staycation destination for large families and groups of friends.
It is centered between the six senses resort and the Ritz Carlton hotel. The location adds to its perks as it is merely five minutes away from the beach and a few more minutes to the airport.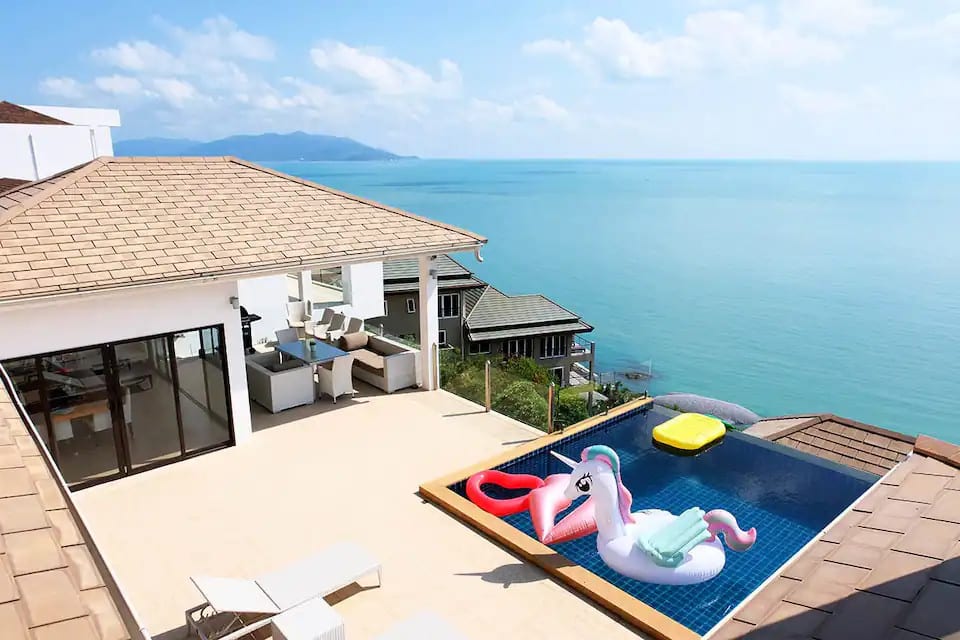 6. Beach View Villa
With four bedrooms and five bathrooms, the villa can smoothly accommodate massive teams of up to eight guests.
Floor-to-ceiling windows throughout the house permit you to take full advantage of the unmatched views, and there's a personal eternity pool commanding the beach.
Each outdoor and indoor lounge area is extraordinarily spacious and cozy, with high-end furnishings and a large amount of open space.
Within the large open-concept living room, white marble accents distinguish taste by placing black details conjointly.
The fully open room boasts a protracted breakfast bar equipped with stainless-steel appliances.
Three of the bedrooms supply spectacular sea views. Two bedrooms have access to a personal terrace. The luxurious master lavatory comes with a soothing bathing tub.
Further amenities embody a washer, an Associate in a Nursing dryer, a 65-inch TV, and a Bluetooth sound system.
This picturesque villa is extremely safe and private, with a chief location in an exclusive and partly gated residential space.
The closest beach is a 5-minute walk away. The villa offers quick access to close resort restaurants and facilities.
The shopping, dining, and nightlife area of Chaweng is simply a short drive away, as is Fisherman's Village.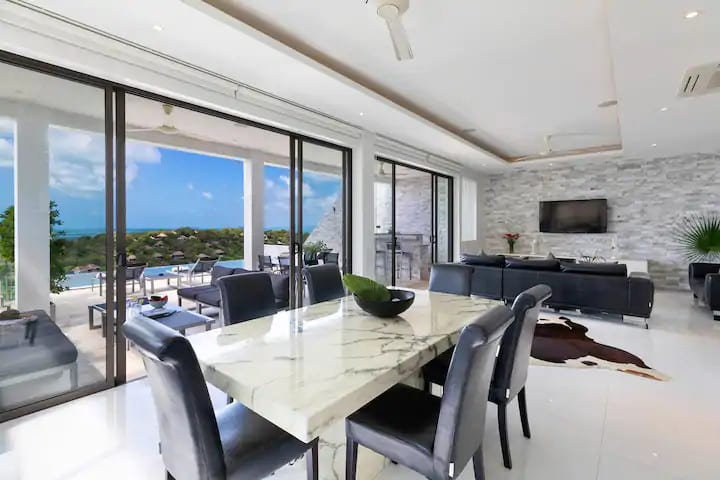 7. Beachside Villa in an Exclusive Neighborhood
The pure white indoors is basic and serene to draw attention to the splendor. There is a beautiful pool alongside the luxurious bedrooms.
There is an outside eating station along with a decently-equipped kitchen.
The homestay can host up to 8 visitors as it has four spacious bedrooms and five toilets. All the bedrooms feature king-length beds, single beds, and an additional cost for children.
There is likewise a completely open kitchen linked to the lodging region. Further functions encompass in-unit laundry facilities, a doors shower, covered seaside essentials, and a personal balcony.
A non-public oasis is so near the seaside that you may even doze off to the soothing sounds of waves crashing in opposition to the shore.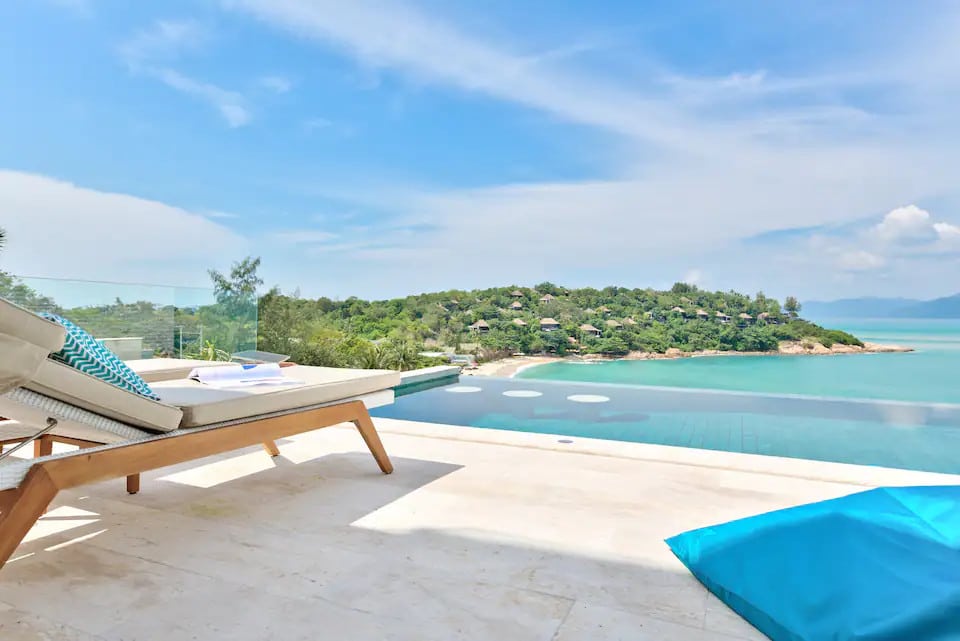 8. Resort-Style Retreat in the Hillside
This Airbnb is one of the foremost luxurious rentals in Koh Samui. There are three bedrooms, all with a personal bathroom suitable for up to 6 guests.
It has folding doors, a lounge, and an attractive private terrace. Guests can enjoy the salty ocean breeze from the terrace.
Alternatively, they can pick an uplifting bath in the comfy brine pool and warm up in one of the spa-like walk-in showers.
The external living area is the house's main attraction and comes with a huge lounge space, an opposite eating table, and a fashionable jam-packed kitchen.
The villa also offers an individual gym, a daily housework service, and an in-unit laundry machine.
Located close to the hills of Chaweng Noi, the villa offers a concealed and restful stay with a forest backdrop and unreserved marine views.
There are beaches, shops, and restaurants just about the location, and the center of Chaweng is merely ten minutes away.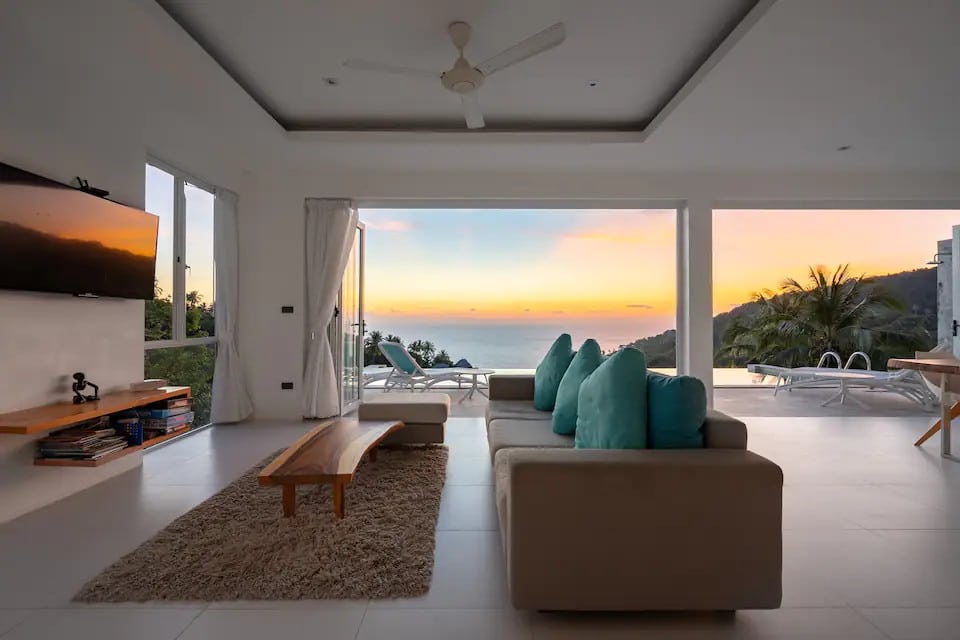 9. Sea Views Villa Near Fisherman's Village
The crucial feature of the villa is the remarkable private pool, which is surrounded by tropical forests that overlooks the ocean and the inaccessible mountains.
This homestay has an enormous private green area and a terrace that offers enchanting and stunning views. Inside, you'll find a clean and open area with exposed timber beams.
With bedrooms and complete bathrooms, the place is ideal for a small circle of friends or family. Additional facilities consist of a complete kitchen and a stunning stay facet eating table.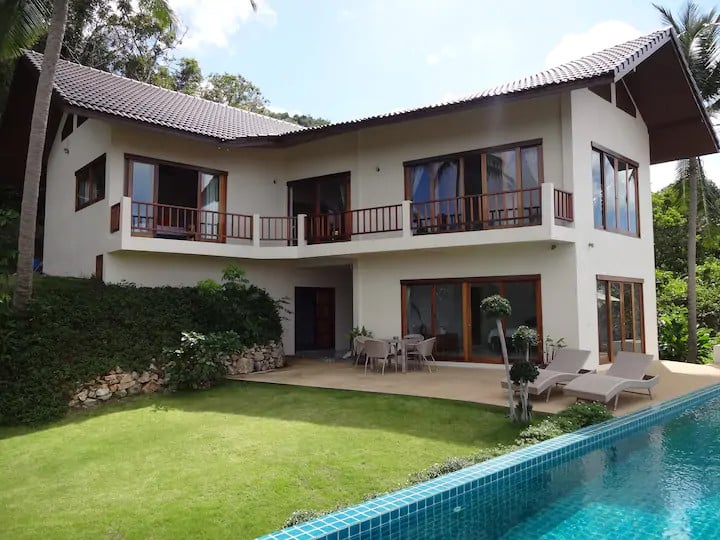 10. Convenient Villa Near Bophut
The external area includes a personal swimming pool, a stunning concomitant reflective pool, and a terrace enclosed by lush tropical gardens.
Up to 6 guests can sleep well within the home, which comes with three spacious bedrooms, each with a king-sized bed and a private full bathroom.
Two of the bedrooms are located poolside, and also the main bedroom is on its own floor with a private sundeck.
Floor-to-ceiling windows throughout the house take full advantage of the property's pretty island views. The spacious common areas and full room build this a good alternative for shorter visits and long stays.
Close attractions embody Fisherman's Village, the airport, and many native shops, restaurants, and bars.
On Friday nights, a noisy walking market is nearby, and Chaweng Beach is simply a quarter-hour away.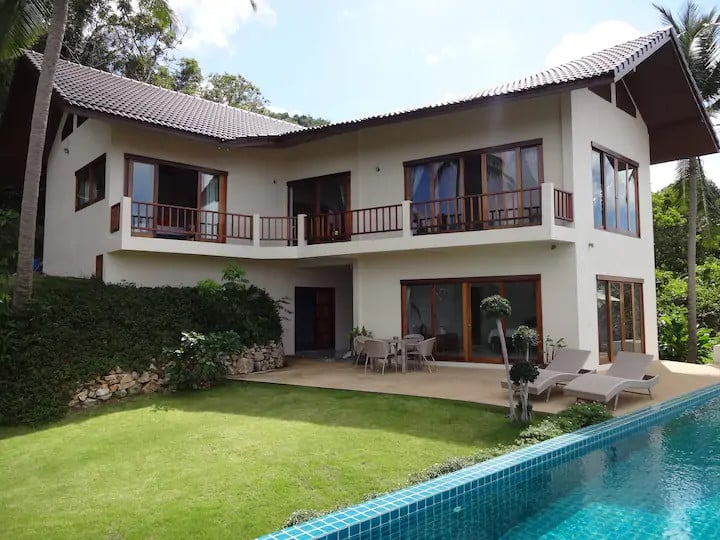 11. Ban Laem Sor Tropical Beachfront Retreat
Unlike most Thai islands, there aren't many beachfront villas for rent on Samui. This is mostly due to the insanely high land prices.
However, this villa is tranquil, out of the method location on the island's south coast.
It's a completely different atmosphere to the majority of beach areas. No giant resorts or nightlife nearby.
The villa consists of 4 separate pavilions that open out onto a tropical garden, terracotta area, and swimming pool.
At the top of the garden lies your own non-public beach, with views to close islands. The villa has been designed to place the stress on barefoot, out-of-doors living.
Guests can chill in the shade with a decent book, swim in the pool, play or estimate in the garden. The rooms are all adorned in an exceedingly trendy Thai vogue with hardwood floors and chunky bamboo beds.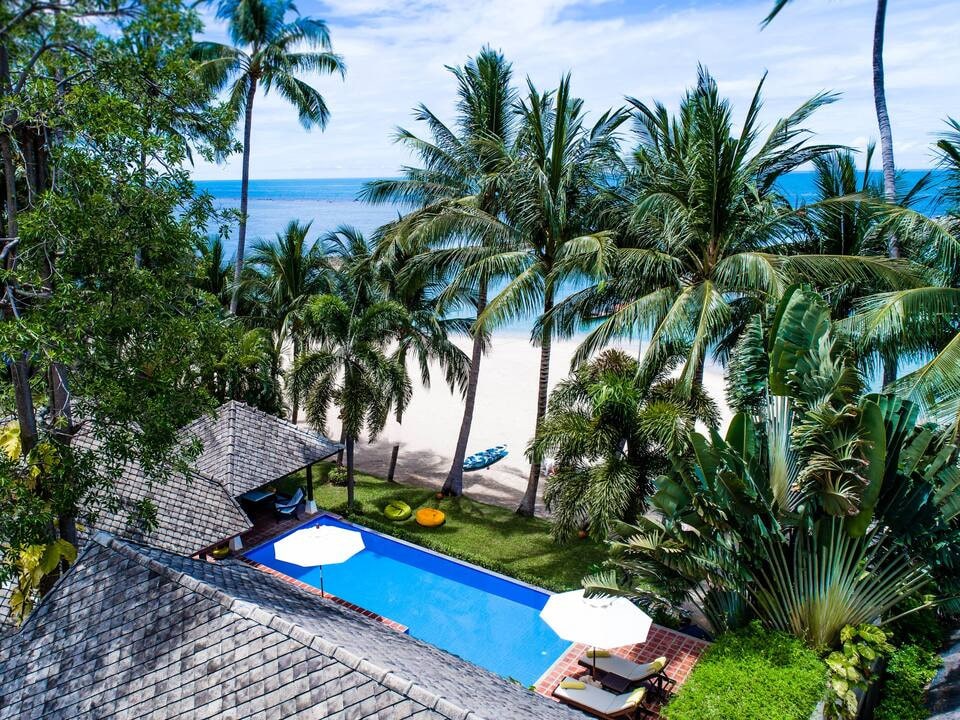 12. Sunset Villa With Private Beach Access
It is a luxurious four-bedroom villa with an exclusive location on the beach.
The inside is elegant and stylish, with high-end furnishings, a contemporary Western-style kitchen, and opulent seating options.
There are four bedrooms within the villa. All of that comes with a large bed, a lot of storage space, and a non-public nut suite bathroom.
And 2 of the bedrooms even provide a lavish outdoor tub, so you'll be able to enjoy a relaxing bath while taking in the striking views of the Gulf of Thailand.
Outside, there is a coated terrace, a sunbathing spot with daybeds, and a non-public time pool commanding the beach. The villa is next to the notable Six Senses.
The shore can simply be reached by a private 30-meter path, shared solely by two different villas. If you intend on defraying most of your stopover at the beach, this might be the right villa for you.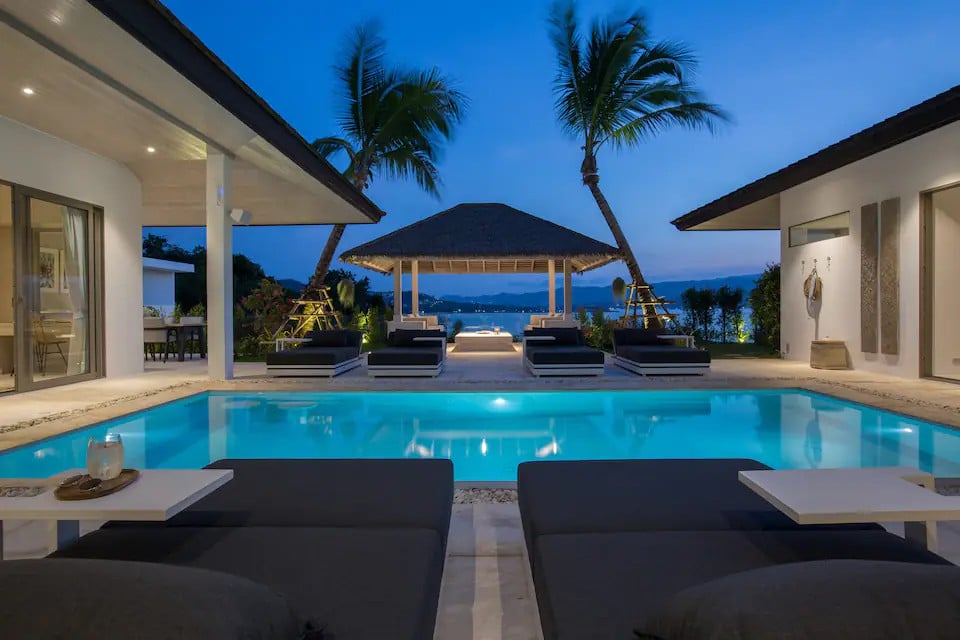 13. Beachfront Apartment Rental in Koh Samui
The spacious studio rental consists of seven luxurious suites along with a shared pool on the beach, a concierge, and maid service.
Massive glass doors and floor-to-ceiling windows offer gorgeous broad views and lead onto the apartment's non-public terrace.
The rental comes with a luxurious king-sized bed and an opulent full bathroom.
There's also a comfy lounge space with a TV, a convenient kitchenette, and a tiny low feeding table. Semi-permanent stays are welcome, and a baby cot is also provided upon request.
The housing boasts a premier location within the heart of Fisherman's Village, with lots of stylish bars and buildings nearby.
Non-public shuttle service to the property's own beach bar and restaurant is additionally enclosed during your stay.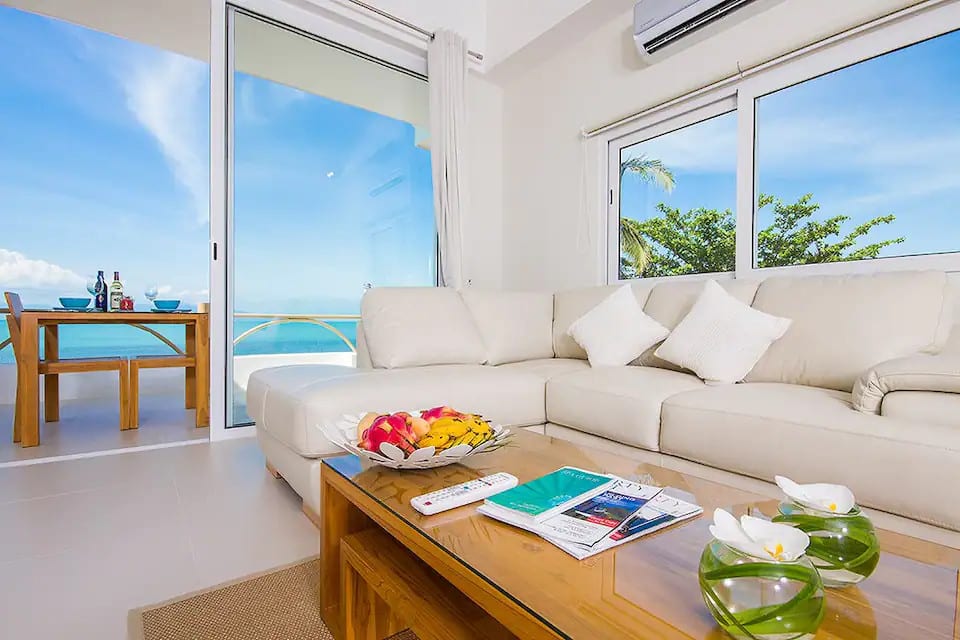 14. Villa Moon Shadow at Chaweng Beach
Perched above the Gulf of Thailand, Villa Moon Shadow is situated on Chaweng Beach.
The delicate major residing vicinity opens to a sundeck with an infinity pool overlooking the ocean and the encompassing lush hillside.
The perspectives are breathtaking throughout the Gulf of Thailand and the coastline.
The breezy and drudgery residing room has comfortable sofas and satellite tv for pc TV. The connoisseur kitchen offers chef-grade appliances.
The eating room seats eight. The main bedroom gives a king-length mattress and a balcony with a sea view, in addition to an en suite lavatory with a deep-soaking tub.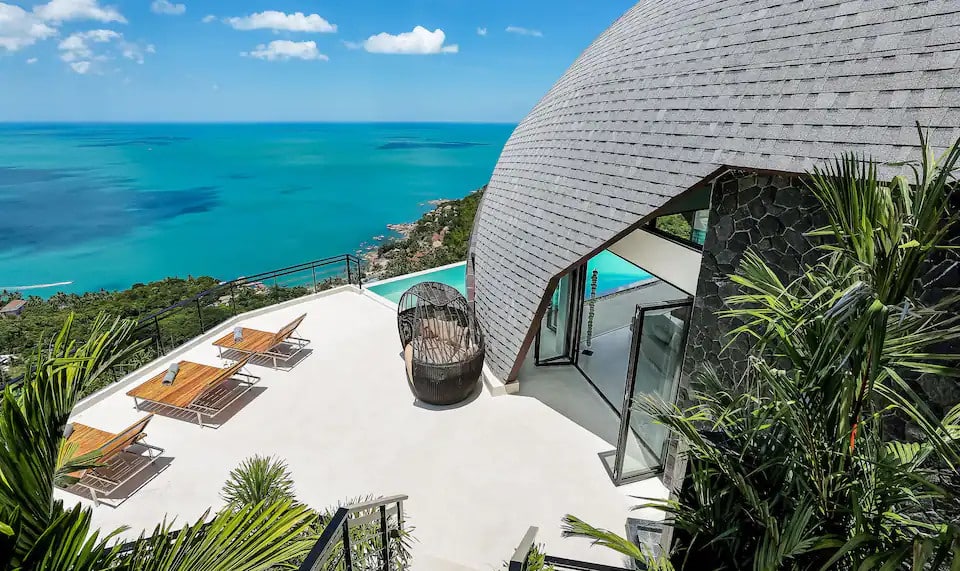 15. Secluded Bamboo Guesthouse
If you're seeking an excellent excursion for a stay in Koh Samui that gives expensive accessories and a ton of privacy, test out this hidden gem on Tongson Bay Beach.
The beautiful cliffside guest house is tucked away on the crest of a non-public avenue and boasts panoramic sea perspectives.
The specific indoor capabilities include bamboo ceilings and may sleep up to 6 visitors with bedrooms and one complete lavatory.
The main bedroom has a king-length mattress and wide-ranging windows that offer dramatic sea perspectives.
Four visitors can crash withinside the visitor bedroom, which boasts unmarried beds and a huge couch mattress.
There is likewise a relaxed residing room that opens as much as the non-public terrace and a pool. Further amenities include a kitchenette and paid laundry facilities.
Guests also can pick from more expensive offerings like jet snowboarding and kayaking excursions, scuba diving trips, and in-residence massages.
16. The Naked House – Lamai beach
The owner, who is an architect, designer, and artist, engineered the naked house over a period of a couple of years.
He conjointly designed and created heaps of furniture. It gets cooled naturally by the ocean breeze.
The homestay's highlight is the huge open set-up living and room space that opens out onto the swimming pool. This villa can accommodate up to six adults and five Children.
It is referred to as the naked house because the walls are all vacant cement.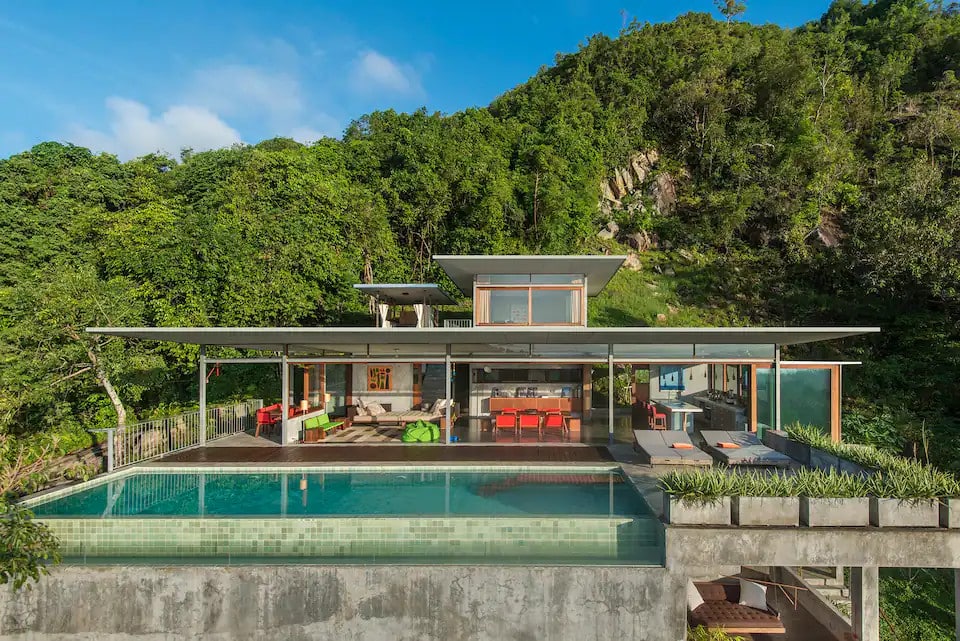 17. Villa Skyfall – Samui's Most Luxurious Airbnb
Skyfall is a huge, eight-bedroom summit villa sited overlooking Choeng Mon seaside, surrounded by the northeast nook of the island.
It offers a fantastic view of Koh Phangan and Ang Thong Marine park. The furnishings here are a mixture of each cutting-edge and vintage Thai and Asian furniture.
Guests have access to indoor and out of doors bars, an infinity pool, video games room along with access to elite flooring through a non-public elevator.
The villa's lighting, track device and personal domestic cinema can be operated remotely with the help of the Villa's Ipad.

Wrapping Up
These beautiful stays in Chiang Mai have been handpicked so that you don't have to waste time researching the best accommodation. Besides accommodation, we wish to make your stay in Chiang Mai memorable.
Check out some amazing Chiang Mai places you must not miss visiting.