Pattaya city stays crowded with a number of tourists almost throughout the year.
The weather of Thailand, the beautiful beaches, the colorful and vibrant night market, and the exotic array of food and people make the city worth a visit.
The accommodation in the city is a mix of vibrant, modern, and luxurious styles.
The hotels and resorts are obviously a grab, but if you really want to enjoy the scenic beauty of Pattaya beaches and nightlife, you must go for an Airbnb.
They are a perfect stay for family and friends groups visiting. We have shortlisted some of the best Airbnb stays for you to choose from.
11 Stunning Airbnbs in Pattaya – 2023 Update
1. Devara Pool Villa
This big Lanna-style villa is amazing for a stay with your family and friend.
The villa has 8 huge bedrooms, each of which comes with a comfy setting drawing room and a well-furnished kitchen.
The place can host up to 16 guests at a time with its spacious and fully air-conditioned rooms.
The villa also has some super special features like an outdoor pool, jacuzzi, and spa tub.
You can also avail yourself of relaxing aromatherapy, Thai massage, and reflexology. Jomtien Beach and The Walking Street are very close by, within walking distance.
Also, keep an eye out for big discounts that the homestay offers from time to time on their website.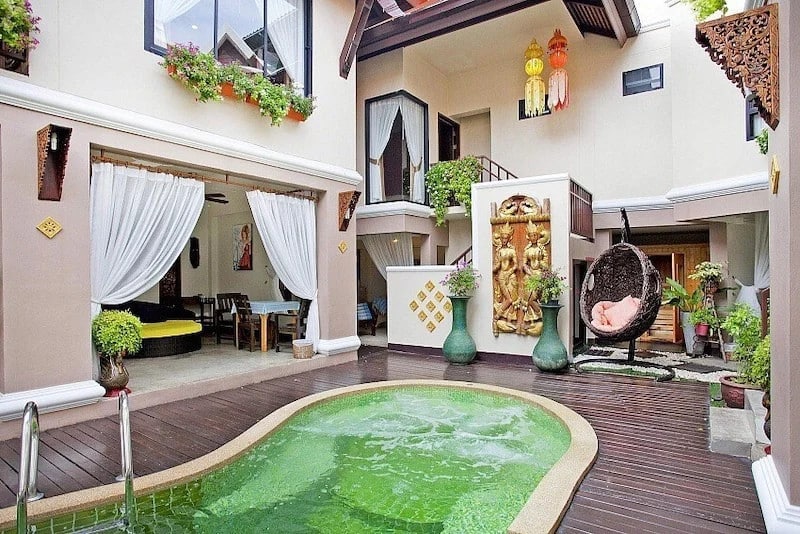 2. The Capsule Room
If you're traveling solo and looking for a pocket-friendly yet beautiful stay option, the capsule room on Pattaya Beach Road is the best choice for you.
With top-notch amenities, this place offers a comfortable and beautiful stay. The interior is completely vintage-themed.
They have a common lobby and dining room for all the customers, in case you might make a friend over a coffee (which is freshly brewed 24×7).
Each room is equipped with minimal requirements, nothing extra or crowded. The place also offers free breakfast and hosts a movie night once in a while.
At a nearby distance are Central Festival Mall, Pattaya Beach, Royal Garden Plaza, and other local food Vendors.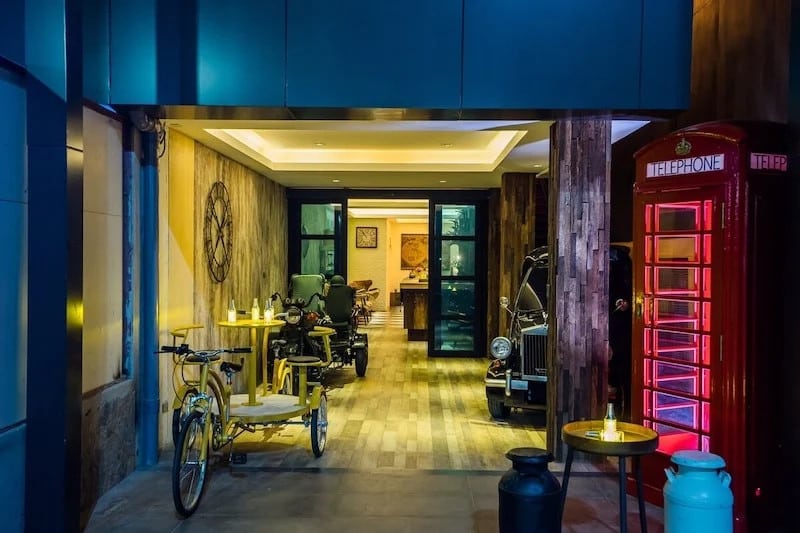 3. Four Pool Villa
Located near Pattaya Beach, this homestay is a popular choice for travellers due to its nearness to the beautiful beach.
The villa is not very exotic in its appeal but offers basic amenities at a very competitive price.
It has fully furnished and air-conditioned rooms with a well-equipped kitchen that has everything you would need to cook.
The balcony view is very mesmerizing and something that would make you want to stay for longer.
You can enjoy your evening with a view of the beach and the street below, showcasing the vibrant lifestyle of Pattaya city.
The place also has a large outdoor swimming pool and parking space for the convenience of the guests.
There is also a dedicated workspace here with a high-speed wifi connection so that your work is not hampered.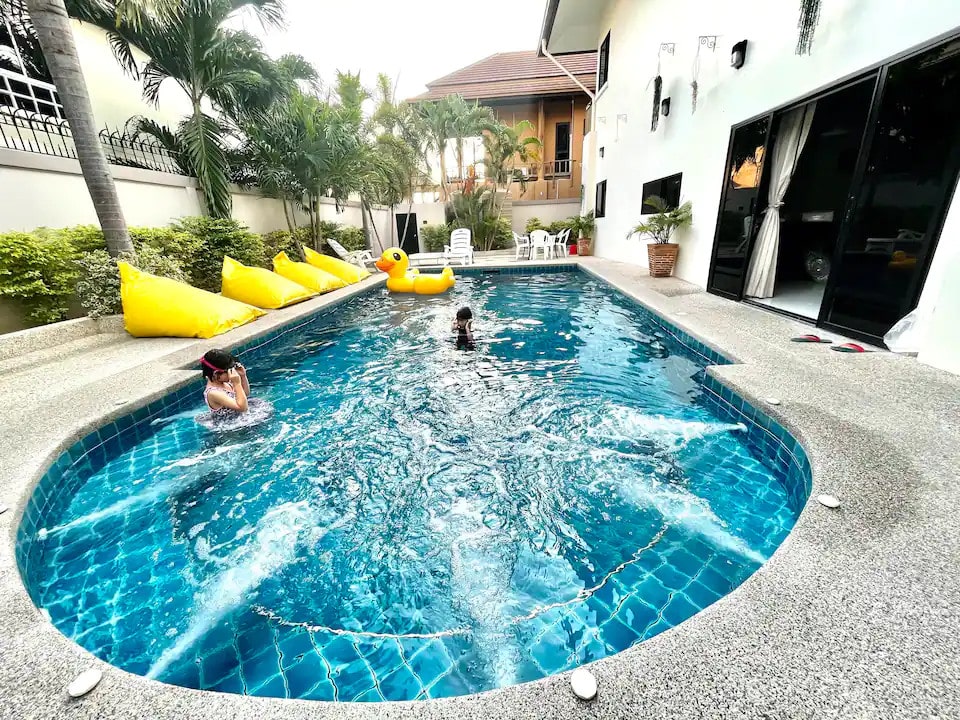 4. Jomtien Pool Villa
Located at a five-minute walk from Jomtien Beach, this villa can accommodate at least 9 guests. It is suitable for joint families and a group of friends.
The villa has a rich and exotic interior with subtle lighting, perfect for a relaxed stay.
The rates are friendly, and all other requirements like grocery, restaurant and market are within walking reach of the location.
The homestay has two big rooms and a living room with a fully equipped kitchen. They also have a private swimming pool for visitors to enjoy.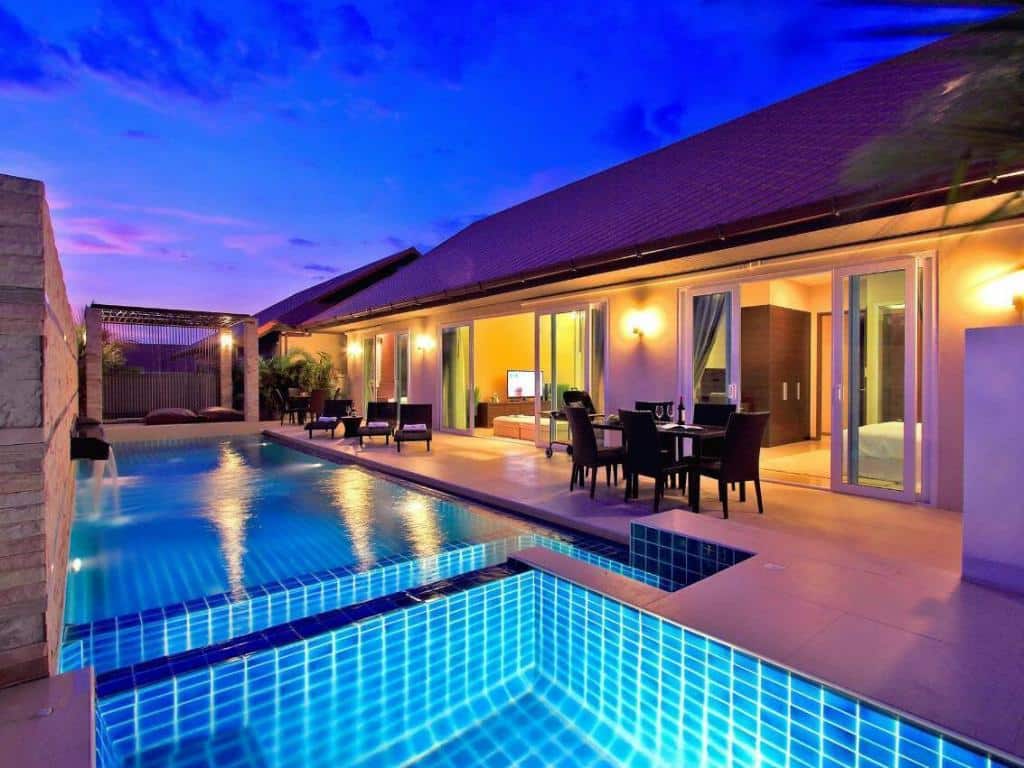 5. 45th Floor Seaview Condo
This is so far the best homestay for a small group of 2-3 people. It is a single-unit apartment room with minimal furnishing.
The room is decorated in a classy and elegant way. The view from the 45th floor is breathtaking.
You can measure the whole of Pattaya Beach from your window. The room also has a rooftop garden and a swimming pool.
Everything in need is within walking distance of 10-15minutes.
The walking street, the beach, restaurants, malls, food carts, etc. are within reach. The rent of the place is very affordable, perfect for budget travellers.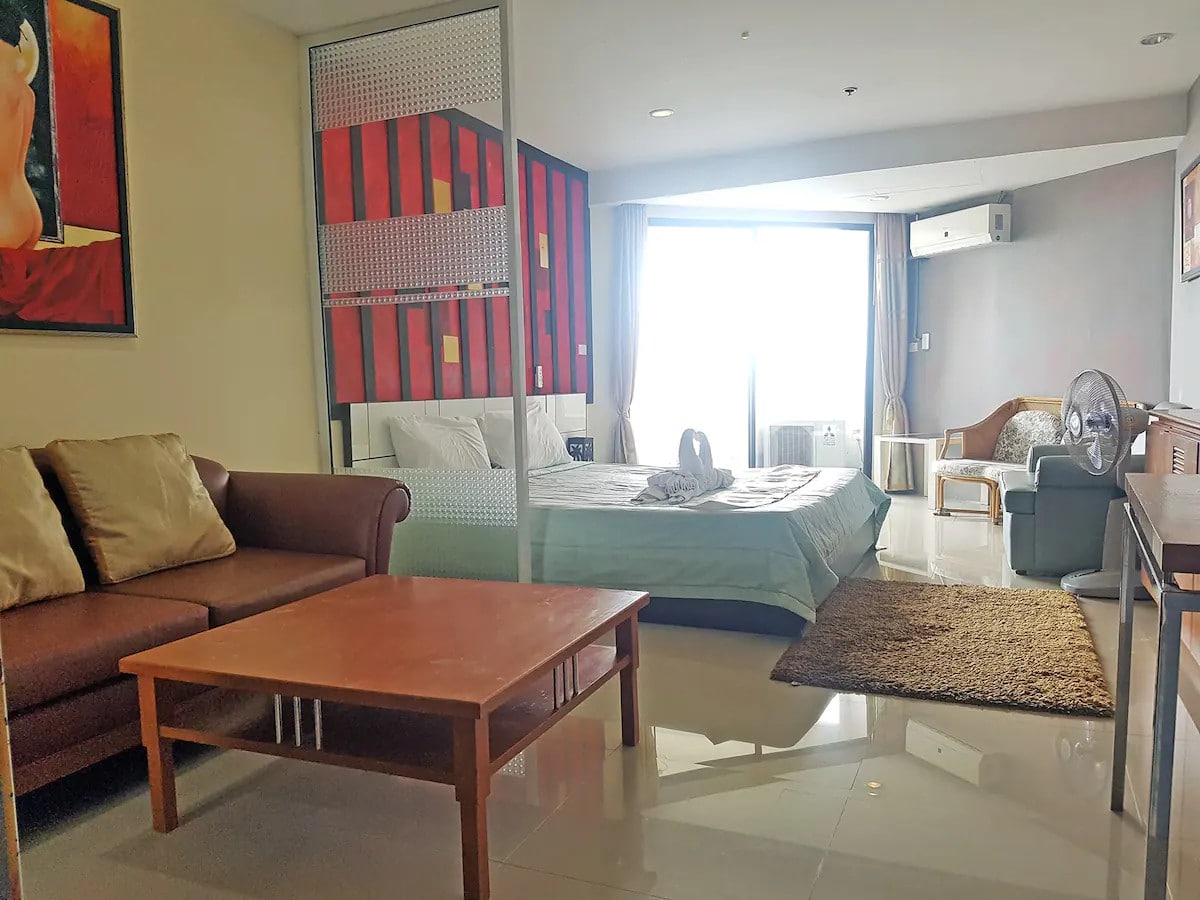 6. Tranquil hideaway
This bungalow is situated always from the rush of the lively city in the midst of the Jometian neighbourhood.
A perfect blend of modern lush and tropical scenery: this place is lovely. The bungalow offers a private room with a swimming pool.
The exquisite lush green scenery is a perfect place to sit down and enjoy a cup of tea/coffee.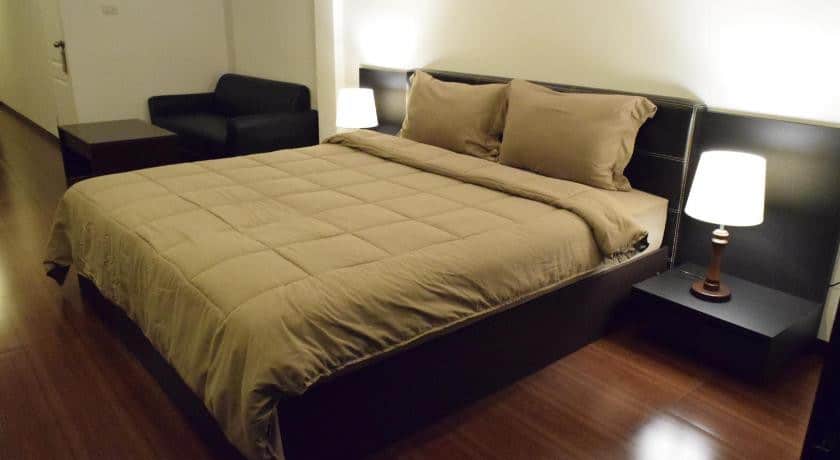 7. Walking Street Holiday Villa
For tourists who cannot leave their pets back home, this is the best accommodation in Pattaya. This pet-friendly homestay welcomes all sorts of pets with love without any extra cost.
The Villa consists of 5 bedrooms with a fully equipped kitchen and finely furnished living room. In addition to that, they have private bathrooms.
The villa also consists of a gaming room and a swimming pool. You can also get bicycles here to wander around the property.
The beach is just nearby so you can walk down whenever you want to touch the sea. For visiting other attractions in Pattaya, you can either take a cab or get a rental car from these car rentals.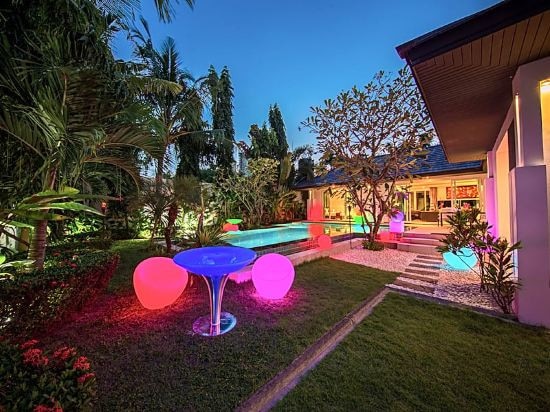 8. Abacus villa
Located in south Pattaya city near the beach, Abacus Villa is a 3-star property that gives a beautiful view of Jomtien Beach and Pattaya Beach.
You will get the entire villa of 3 bedrooms and 2 bathrooms to yourself and with it all the facilities.
The property consists of 3 pools, indoor, outdoor, and children's. The basic amenities like laundry, dest service, free wifi, television screen, etc. are all available.
The interior design gives a pure Thai vibe. Bring your food and barbeque on the Terrace to have a wonderful stay.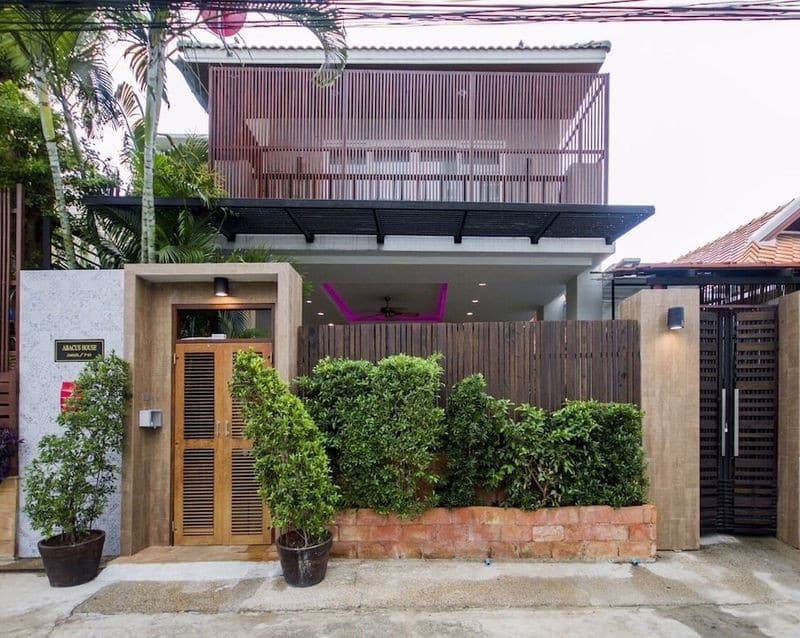 9. Grand Condo Jasmine Villa
This unit is located in Nakula Beach District. The rooms are fully air-conditioned and designed elegantly.
The villa can host up to 9 guests at a time. It has a fully equipped kitchen for you to handle and a living room with comfy couches and seating arrangements.
The standout feature of this villa is its exquisite library. So if you are a keen reader this place is perfect for you.
Apart from this the villa also has a huge swimming pool, a garden with a soothing view and of course with it a BBQ facility.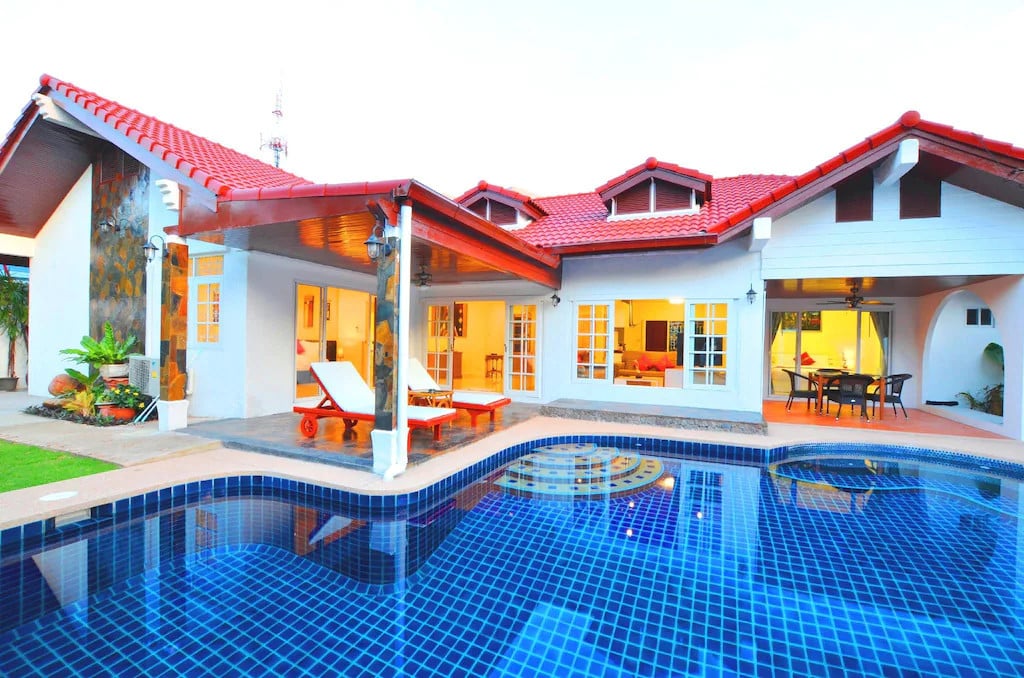 10. Glamorous pool villa
It is a luxury retreat in Pattaya, best suited for high-end travelers. This stylish three-bedroom villa in Pratumnak Hill can make your stay in Thailand a memorable one.
From the pop art-adorned rooms to the private swimming pool and lounge, everything has a touch of luxury.
The homestay is located in a peaceful and upscale residential neighborhood close to the walking street.
After spending your day at the beach, you can immerse yourself in the soaking tubs that are spotlessly clean and fun to take a dip in.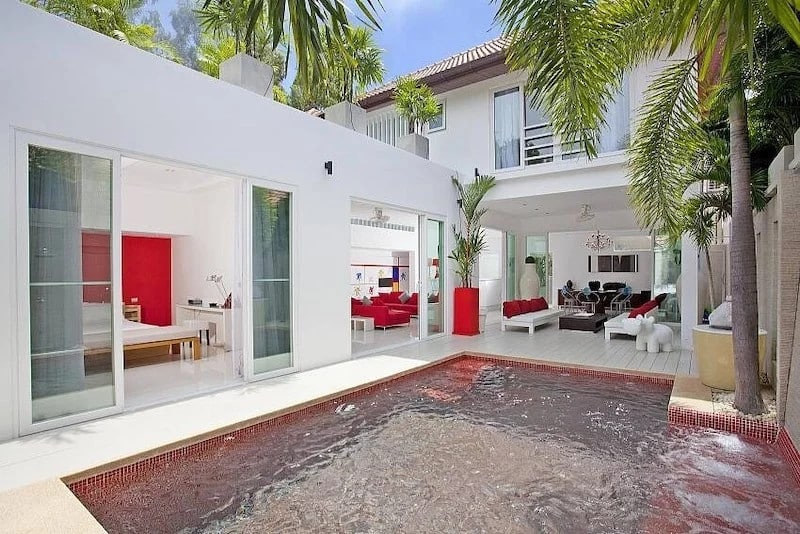 11. Rustic and Elegant Home
This rustic homestay is perfect for a traditional and authentic Thai experience in Pattaya. This secluded tropical Thai house offers a peaceful getaway away from the hustle and bustle of the city.
There are three bedrooms here, along with a well-stocked kitchen and spacious bathrooms with a tub and Jacuzzi.
The open lounge area is embellished with Thai folk art, teak wood carvings, and plants. The homestay can accommodate upto 9 people at a time.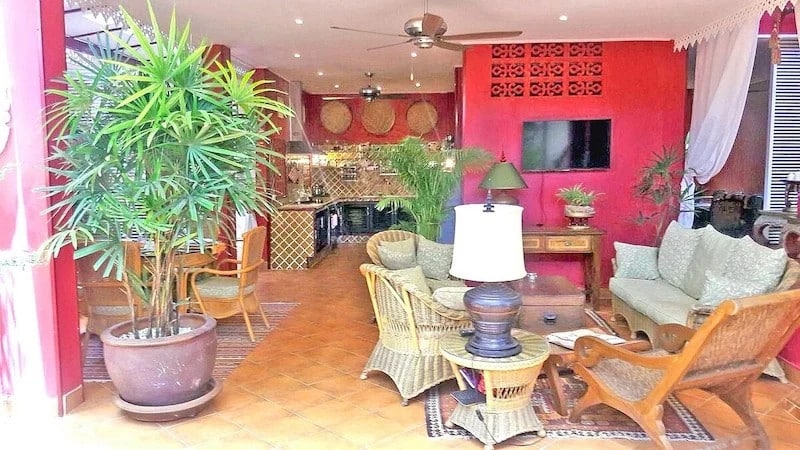 Final Words
So, there you have it- a list of the best Airbnbs in Pattaya. We hope this round-up of gorgeous Airbnbs will get you even more pumped up for your Thailand Vacation.
Keep this list bookmarked in case you haven't made up your mind yet!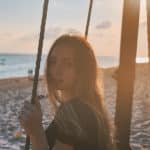 Noah Zaidi is an ardent traveler who has been documenting her Thailand exploration through Thailand Nomads. Her aim is to inform and educate people around the world about the must-visit places in Thailand.