Pattaya Walking Street is a 1-kilometre-long boulevard that connects Beach Road to Bali Hai Pier and turns into the craziest attraction in town after 6 in the evening.
Buzz buzz buzz! Pattaya Walking Street is a loud and buzzing street with music, red lights, and amazing food, making it the heart of the city's nightlife scene.
You will be amazed by the neon lights, color, noise, performances, people, smells, and everything else about this kilometer-long route.
The Pattaya Walking Street may be a memorable experience to stroll through in Pattaya.
It has a huge number of venues. The majority of the establishments on both sides of the street are go-go bars, restaurants, or nightclubs.
Although it has a reputation for having wild nightlife, it is much more than that. With so many options available nowadays, it's simple to become lost.
Immerse yourself in the pulsating energy of Pattaya Walking Street, a vibrant nightlife hub filled with lively bars, bustling nightclubs, and enticing street food, promising an unforgettable night out in this dynamic beach city.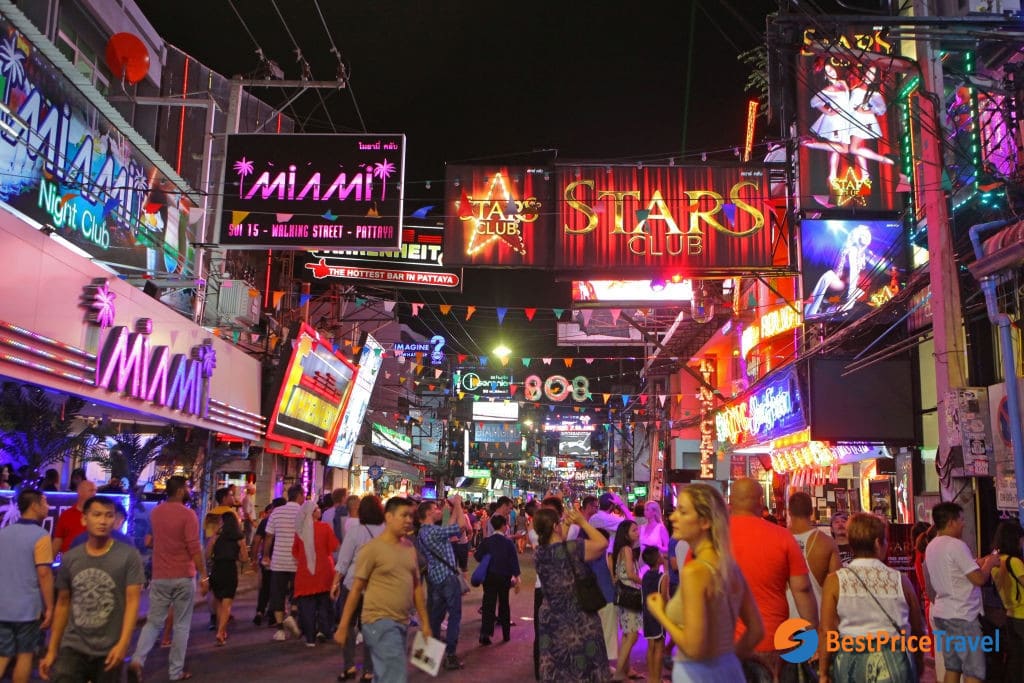 About the Pattaya Walking Street
Walking Street is situated at the end of Beach Road in Pattaya City, halfway between the central area and Jomtien, the southern district.
With an active and buzzing nightlife associated with dance, parties, and lively music, Pattaya Walking Street has earned its reputation as one of the most famous party hotspots in Thailand.
Pattaya Walking Street's unique blend of entertainment and dining options attracts both foreign tourists and locals, making it an essential stop for anyone visiting the city.
As you stroll along Pattaya Walking Street, you'll be captivated by bright neon lights, loud music, and a vibrant atmosphere that draws both foreigners and Thai nationals.
One of the reasons that Pattaya has the intriguing title "devil city" is because of this pedestrian-friendly roadway.
Large neon signage on this street makes it easily recognized. Walking Street is a lively flea market during the day.
You can find a wide variety of traditional jewelry, souvenirs, toys, etc., here. Tourists may capture this intriguing scene of street merchants driving traditional Thai food carts over the shining jewelry kiosks.
It is both a great place for shopping as well as to satiate their interest in Thai culture. Visitors can see street performers performing well-known traditional songs or engaging in snake and python antics.
The street turns into one of the busiest walking lanes in Thailand as the sun sets and the lights are turned on. Nightclubs and go-go bars of all types, from the cheapest to the most expensive, are located on both sides of the street.
You may visit the bar, look for the finest shows in town, sip wine from the top bartenders in Pattaya, and get lost in the dancing of the exciting atmosphere inside the bar.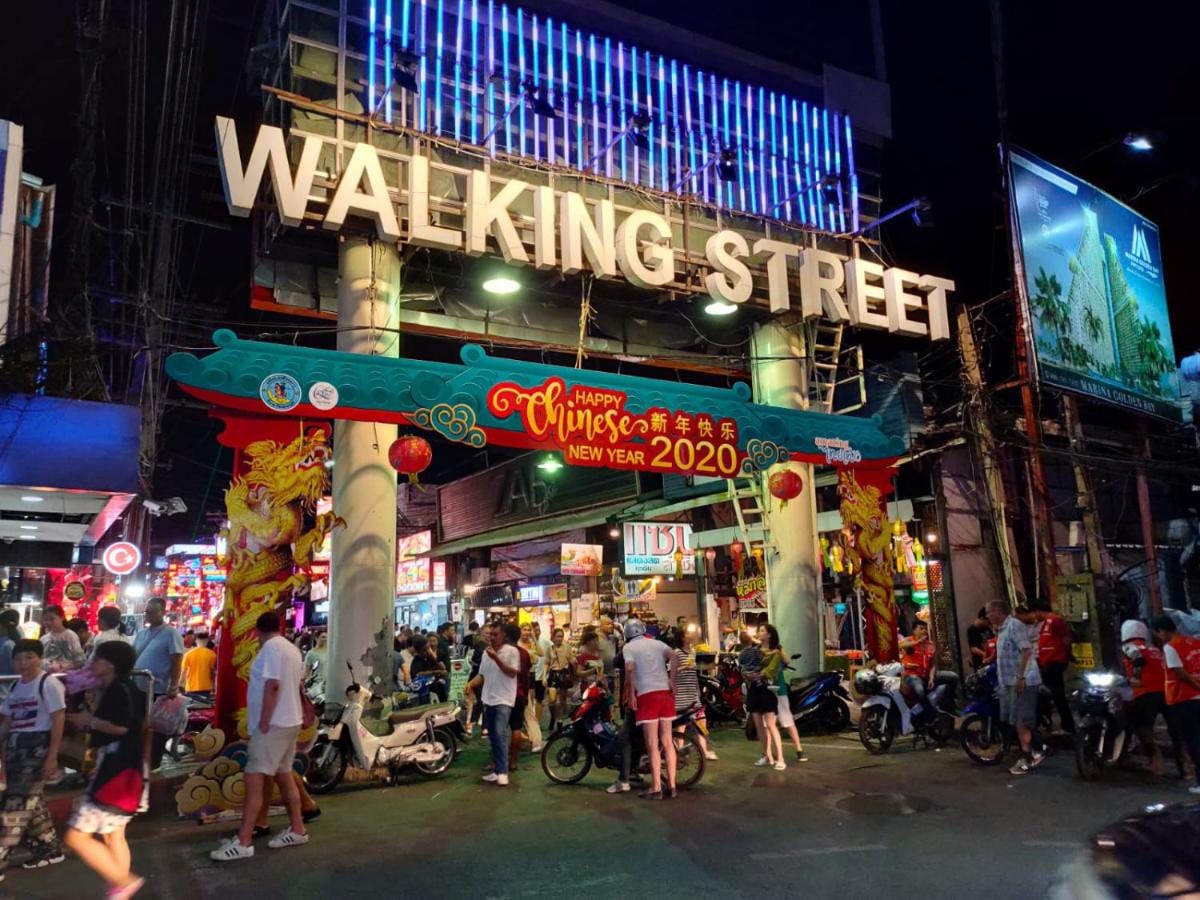 History of Pattaya Walking Street
Walking Street was primarily a roadway built for Pattaya's fishing sector.
A number of beer bars, guest hotels, music lounges, restaurants, and go-go bars sprung up throughout the 1960s and 1970s to serve the American sailors and troops who frequently docked at Pattaya port.
Other western mariners learned about Pattaya's nightlife sector, once known as "The Strip," raising the demand for the developement of its main streets.
In 1980s, Walking Street expanded to include cabaret performances and discotheques as it moved with the times.
The term "Walking Street" was initially used in the 1990s when a number of car accidents led the city council to make the street a pedestrian-only walkway after dark from 6 p.m. onwards.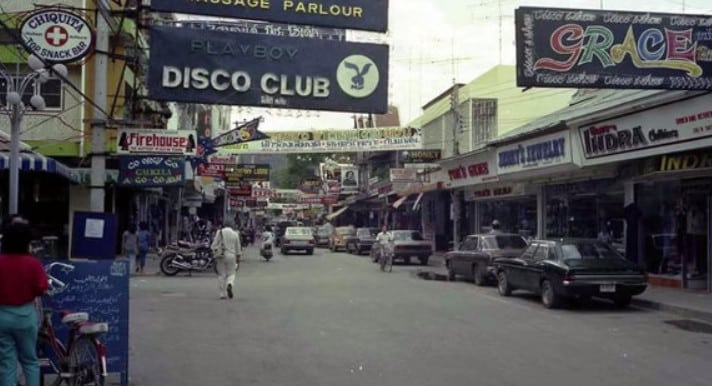 What to Do on Pattaya Walking Street
Watch a Band Play
You must definitely attend a live band performance in Pattaya. There are usually 5–10 bands performing here every night.
You may stroll along the street, select a band you like, sip delicious drinks, and dance to the music of the performers.
Amazing live music can be found at Walking Street Pattaya. Our preferred activity on Thailand's Walking Streets is to sip on a 100 Baht ($3) drink while watching a live performance in a bar.
Any pub you choose will have a fantastic show since the local performers are so talented.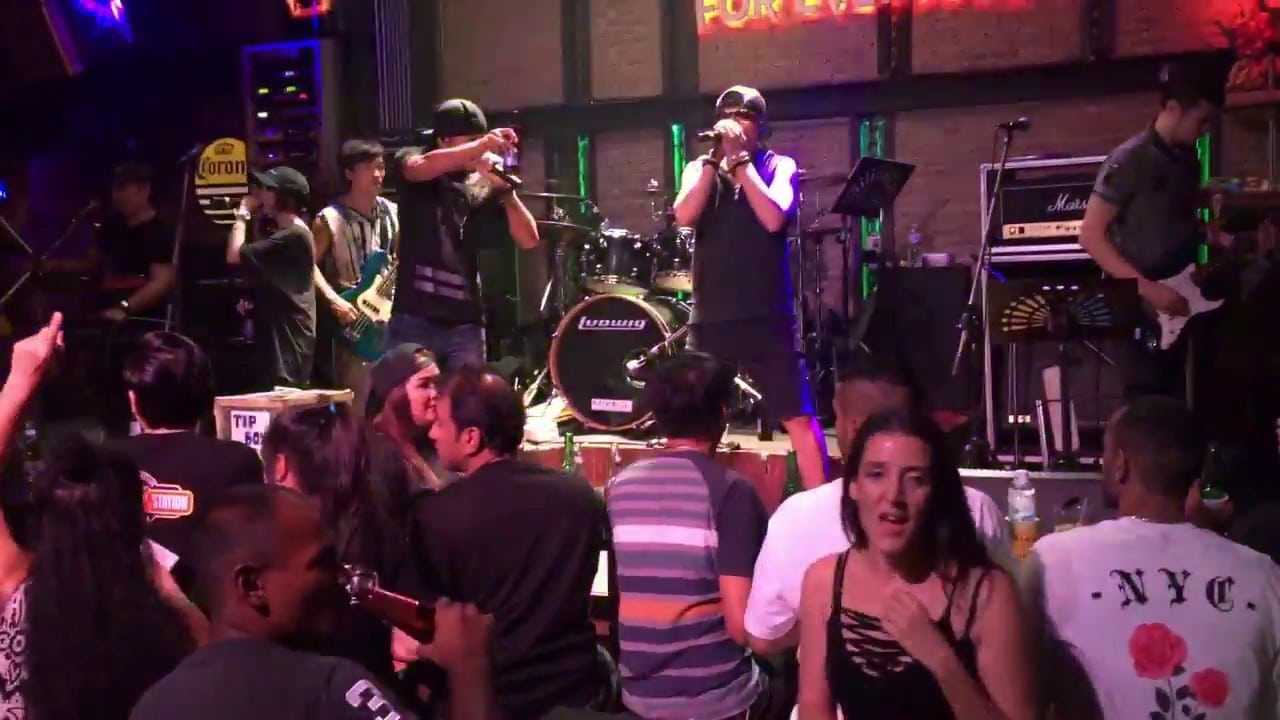 Watch Muay Thai Boxing Match
You can witness Muay Thai boxing matches on the Pattaya Walking Stree free of cost. The location of most games is in the middle of the road, directly across from Marine Plaza's entrance.
The shows here are entertaining to watch, even if they are not as professional as true competition.
You may even test your boxing prowess and snap pictures with the boxers by entering the ring as a tourist.
For those who are inclined towards learning this world-famous sport, there are some amazing Muay Thai gyms in Pattaya that offer excellent training at reasonable prices.
Enjoy a Delectable Meal
There are several delicious restaurants on Pattaya's Walking Street. The Boulevard also features well-known restaurants that specialize in seafood, in addition to open-air food vendors.
Some of these have eating rooms with views of Pattaya Bay, making them excellent locations to unwind with a meal away from the bustle.
Check out Bal Hai Pier (Pattaya Pier)
The Pattaya Pier, a major landmark of the city, is located on one end of the street. From here, ferries go to Koh Larn Island.
Pattaya Pier is a fantastic spot to stop if the activity and loudness of the road get too much for you. At night, the pier is charming and peaceful. Before you go home, it's a nice spot to have a beer in peace.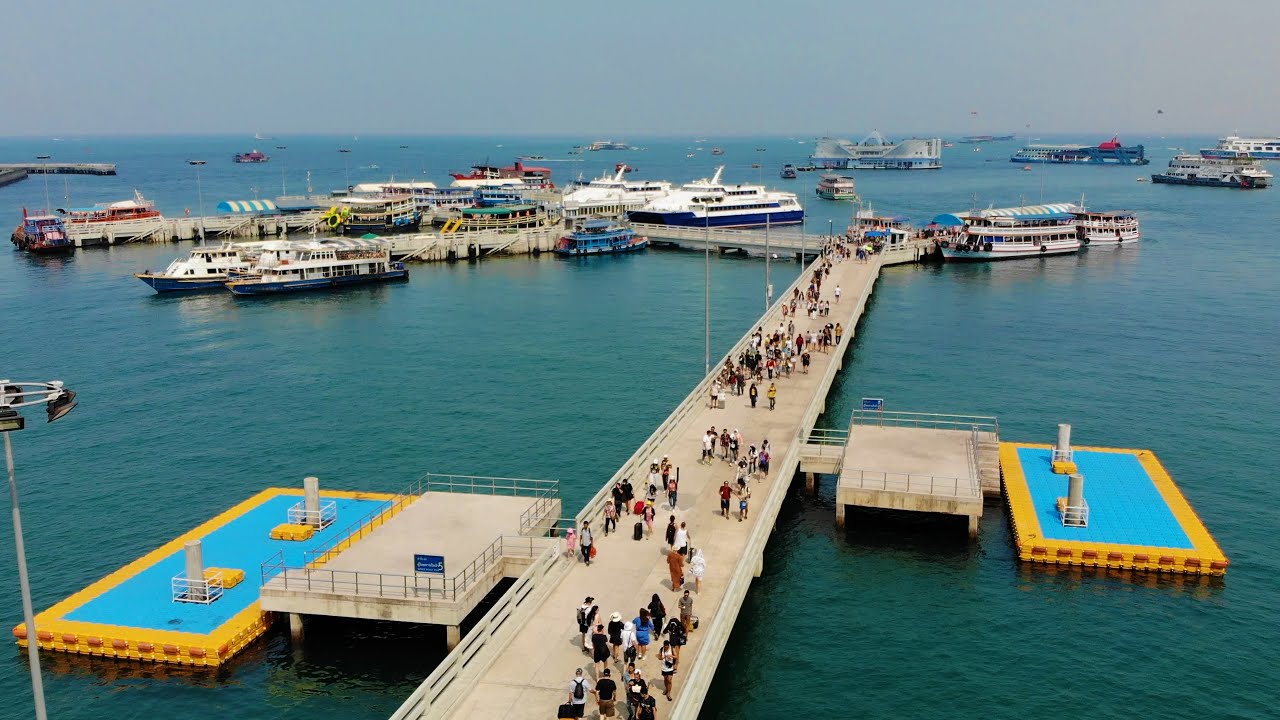 What Not to do in Walking Street Pattaya
You should have a great time exploring the street as long as you act fairly and responsibly. Here are some things that you should avoid doing here.
Don't Show Off Your Cash
In general, pickpockets are present on Thailand's walking streets. Be cautious anytime you take your wallet out to make a purchase, and be sure to count your change constantly. Keep your valuables at home.
Avoid Going to Sex Shows
Touts will approach you whether you go alone or with a companion and ask if you want to witness a sex show. They will be carrying a menu that features females. Going to a sex show is not a good idea, even if you are fascinated. You'll probably get taken advantage of. People regrettably fall into this trap.
Avoid drug use
Someone may come up to you and offer or sell you drugs. Keep away. It could be staged. Thailand considers drugs to be unlawful, and possession carries severe penalties.
Don't Get Too Drunk
Don't let this chaotic nightlife, party atmosphere, and joyful vibe fool you. People have been known to become so inebriated that they lose even their memory of their hotel's location. This may be disastrous.
So please drink responsibly. Additionally, becoming intoxicated greatly increases your probability of being robbed. So, be vigilant.
Wrapping Up
Like the rest of Thailand, Pattaya is very safe, and so is Walking Street.
Unfortunately, there are pickpockets and scams on the street, but if you're careful, you'll have no problem avoiding them. So, with a little care and street smartness, you can make the most of your nightlife in Pattaya.
If you need help, there are police at both ends of the street and squads constantly patrolling the street.