Pattaya has evolved to become one of the greatest tourist destinations in Thailand owing. A big reason for the same is its vibrant and vivid nightlife.
Pattaya offers the greatest nightlife in Thailand, featuring neon lights, eye-catching signs, a buzzing throng, glitzy nightclubs, and go-go bars.
The key attractions of Pattaya's nightlife include Walking Street, Soi Beach Road, Soi Buakhao, and other neighborhoods teeming with pubs, clubs, and restaurants.
You can enjoy a cabaret performance, dance by the water, shop at vibrant night markets, or have a drink at the most opulent hotels.
Whether you're a night owl or a sober adventure seeker, this Pattaya travel guide provides all the information you need to make the most of your Pattaya night.
Experience the electrifying energy of Pattaya nightlife, where dazzling entertainment, bustling night markets, and lively bars set the stage for an unforgettable evening in this vibrant beach city.
8 Pattaya Nightlife – 2023 Traveller's Guide
The Nightlife of Pattaya
Pattaya's nightlife is well-known worldwide, and rightfully so. It is undeniable that this location is where.
A variety of different activities can be experienced almost everywhere in the region, whether it be raunchy nightlife at go-go bars, live rock bands, international DJs, cabaret acts, pool parties, or rooftop bars.
Experience this one-of-a-kind nightlife, whether you're simply visiting for the weekend or planning to stay for a while.
You will undoubtedly find what you're searching for, whether it's cabaret performances, live music venues, top-notch cuisine, or beautifully crafted cocktails.
Here are some of the top experiences to enjoy Nightlife in Pattaya.
1. Pattaya Walking Street
Walking Street is an entertainment and red-light district in the city of Pattaya that comes first in our nightlife pattaya guide list. It is a kilometer-long thoroughfare that comes to life after 6:00 PM. the street is blocked for automobiles after the sun goes down.
This walking street in Pattaya is flanked by neon signs advertising some of Thailand's greatest pubs, clubs, and entertainment venues.
Locals and visitors may be seen dancing to rock music at Club Insomnia or Mixx Discotheque, enjoying a beer at Abbe's Bar or Hot Tuna Bar, or simply taking in the chaotic atmosphere by simply strolling about.
The vibrant nightlife of Pattaya is best exemplified by Walking Street, which is a party in itself.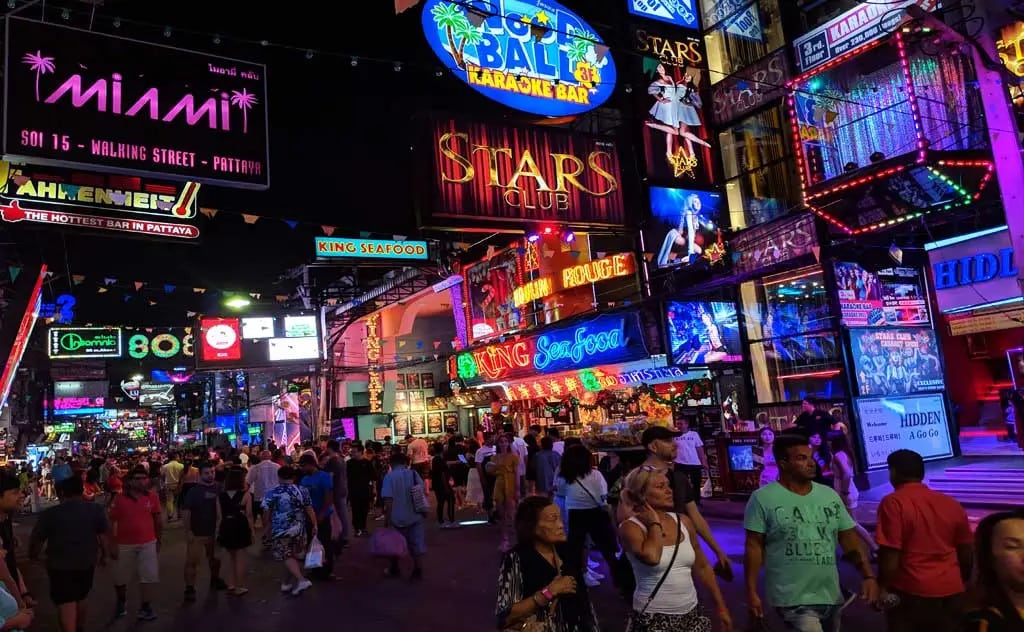 2. Alcazar Cabaret Show
It is of the biggest go-go bars on Walking Street. The cabaret performances here have an exceptionally alluring ambience because of the abundance of fake jail cells and handcuffs.
This ladyboy show features a variety of glitzy entertainment acts and is one of the most well-liked tourist attractions.
The performers have the vigor of a rock star and don stunning clothes. With 1,200 seats and cutting-edge amenities, the cabaret theatre draws visitors from all over the world.
It is produced by a 400-member crew and lasts for around 70 minutes in a well-known theatre on Pattaya Second Road.
It is an extravagant spectacle of glitz and glamour. The event first debuted in November 1981 in a 350-seat theatre, but that was later replaced by the current, massive 1,200-seat theatre with cutting-edge lighting and sound equipment.
The theatre's infrastructure, as well as the performance itself, are always being renovated and improved to keep it engaging audiences year after year.
Location: 78/14 Pattaya 2nd Road Muang Pattaya, Amphoe Bang Lamung, Chang Wat Chon Buri 20150, Thailand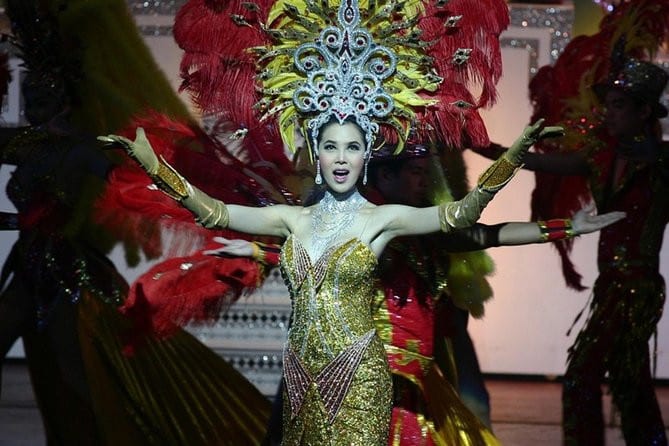 3. Thepprasit Night Market
Thepprasit Saturday night market enjoys the reputation of Pattaya's greatest shopping area.
A diverse array of booths selling everything from counterfeit designer watches, Chinese electronics, and counterfeit apparel labels to handbags and cosmetics can be found here.
It is a perfect choice for those looking to take a break from partying and indulge in some retail therapy.
Almost everything you can think of is available here: clothing, accessories, technology, home décor, and a wide variety of strange items.
However, there is more to this market than just shopping. With live music, martini bars, street performers, and food booths, it is an experience in itself.
There are over 80 vendors here that serve noodles, grilled meats, hot salads, salted fish, and other exotic Asian foods.
Therefore, even if you have no intention of shopping, simply come for mouthwatering street food.
Location: 18 Thep Prasit Rd, Muang Pattaya, Amphoe Bang Lamung, Chang Wat Chon Buri 20150, Thailand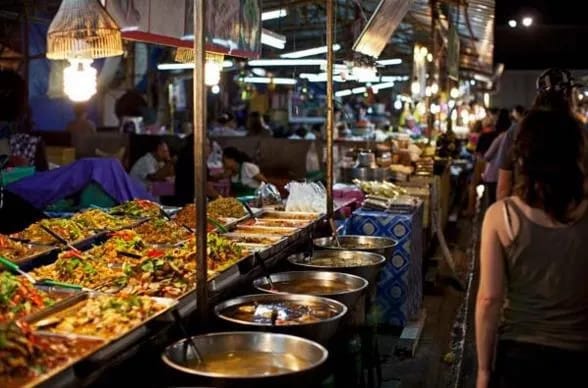 4. Hard Rock Cafe
The Hard Rock brand, well-known worldwide, is particularly sought-after in Pattaya. The front of the cafe has a huge guitar, and the interior is equally impressive, with beautiful lighting and audio.
The Foam X Party, which is held every Saturday, is the most thrilling event that always takes place there.
This location is a favorite pick among travelers looking to enjoy Pattaya's nightlife since it offers various types of pool volleyball, BBQ, cocktails, and music.
If you're a fan of rock and roll, this restaurant in Pattaya is, without a doubt, your favorite.
Here, the loud music and American ambiance provide endless entertainment and a taste of Pattaya's greatest nightlife.
Location: 429 Moo.9 Pattaya Beach Road Nongprue Banglamung Chang Wat Chon Buri 20150, Thailand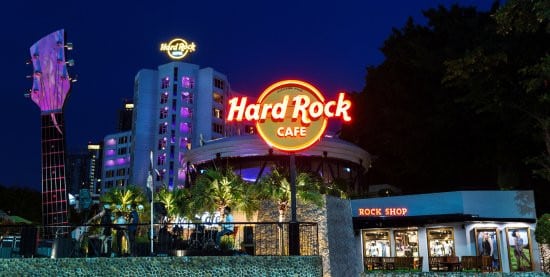 5. Horizon Rooftop Bar
If you can't stand the thought of being around people and loud music on the pedestrian street, treat yourself to some luxury at the Hilton's Horizon rooftop bar.
You may find that peace and quiet away from the celebrations on the 34th floor, where you can relax on the big sofa and sip wine.
Although this bar is surely pricey because it is the most affluent in Pattaya, they do provide happy hours from 5:00 to 7:00 PM.
The outside bar includes relaxing lounge chairs where you may unwind while gazing out at the sparkling sea and city lights.
To get you in the party mood, the DJ spins the trendiest songs. Drink a specialty drink or a glass of good imported wine or beer while taking in a welcome variation from the typical Pattaya nightlife.
The best way to truly cap off your day in style is to have a delicious meal at Horizon Bar.
Location: 333/101 Moo 9 | Hilton Pattaya, 34th Floor, Pattaya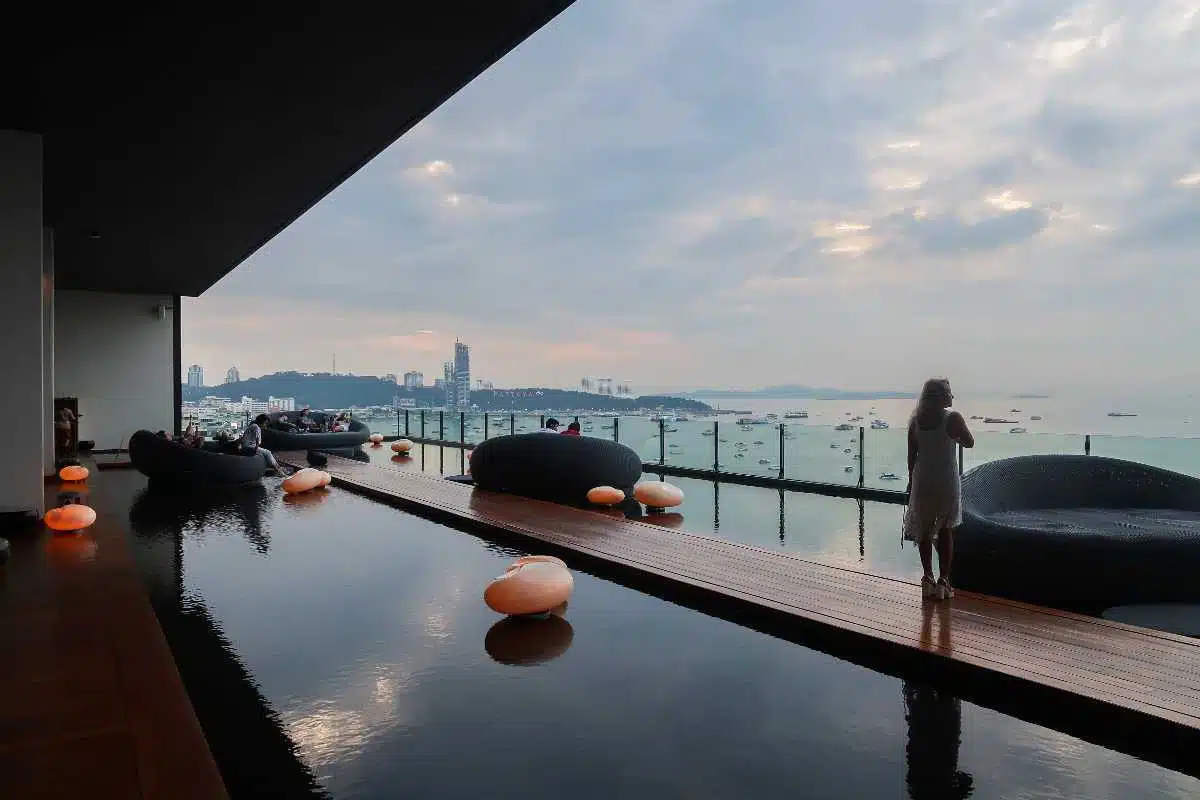 6. Muay Thai Match
Thai kickboxing, also known as Muay Thai, is a well-known sport across the globe. Therefore if you visit Thailand, you must attend a match and perhaps even take part in one.
If you're lucky, Max Muay Thai or Pattaya Boxing World will be hosting championship fights on those dates. Other stadiums in the Pattaya area host minor amateur matches as well.
While watching Thai and international boxers compete in this violent sport in the ring might be fun, certain venues could even let you take part in one if you pre-register.
If you wish to learn this sport while on vacation, you can join one of the renowned Muay Thai gyms in Pattaya.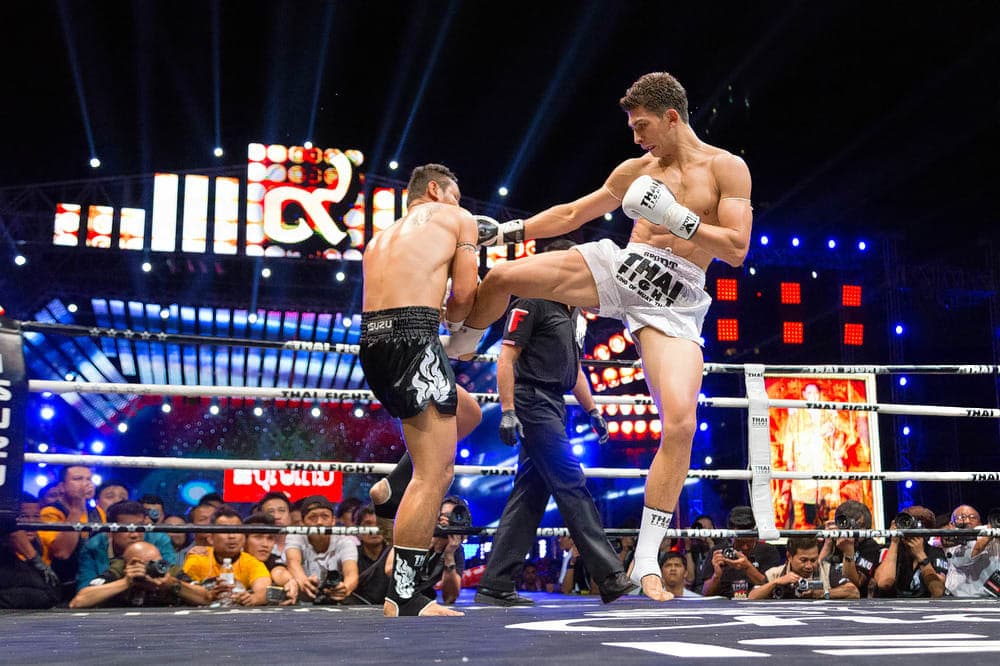 7. Baccara Agogo
Along Pattaya's Walking Street, Baccara Agogo is one of the trendiest, classiest, and liveliest go-go clubs.
Both men and women are invited to witness the beautiful dancers execute sensual, sensuous, and erotic dances on stage.
You can easily find amazing pole and coyote dances in several locations throughout Pattaya, but the two-level Baccara Agogo really knows how to shine.
If you'd like, you may dance as well, or you can just get a drink and watch the performance. Visit during happy hour for fantastic discounts and deals.
Location: WVGF+F2H, Muang Pattaya, Amphoe Bang Lamung, Chang Wat Chon Buri 20150, Thailand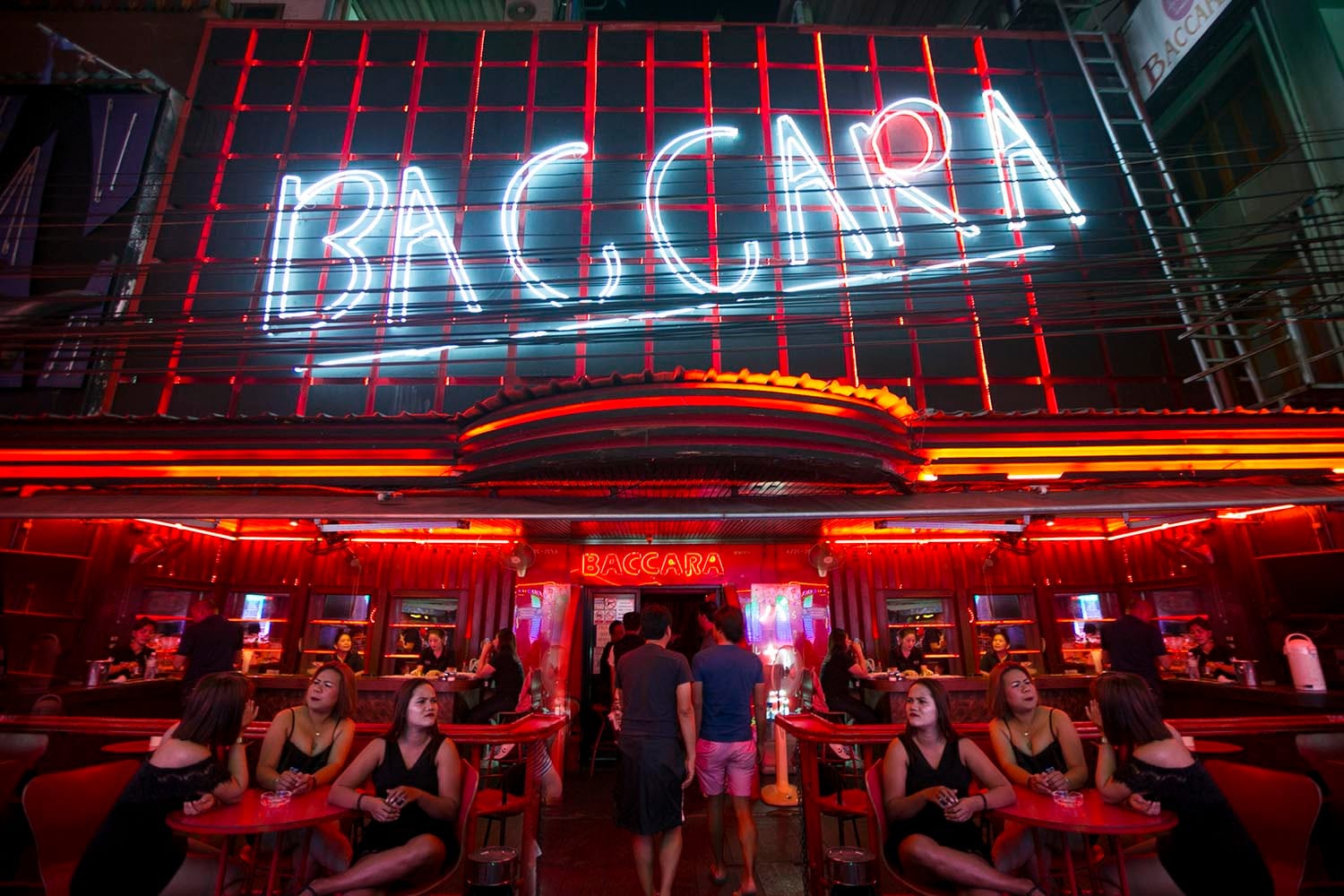 8. Soi Buakhao
Soi Buakhao is now popularly known as Pattaya's new Walking Street. This naroow stretch of road connects Pattaya Klang to Pattaya South Road.
Soi Buakhao is perhaps more adult-friendly than the Pattaya Waling Street.
Since it attracts more elder demographic,there are fewer clubs with great energy and more go-go clubs, ladyboy bars, and beer bars.
You will find a wide variety of bars and naughty nightlife venues, western and Thai restaurants, inexpensive apartments and guest houses, massage parlors, cannabis cafes, and cheap apartments and guest houses.
Location: Muang Pattaya, Amphoe Bang Lamung, Chang Wat Chon Buri 20150, Thailand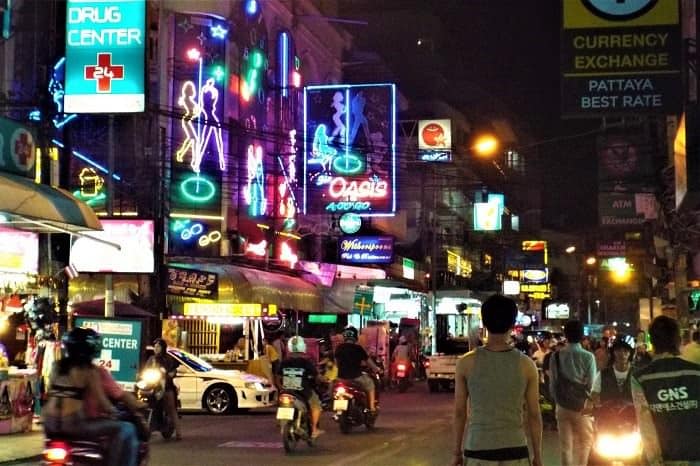 Wrapping Up
With this guide, you are all set to make the most of the nightlife in Pattaya. As you enjoy your time there, here are some tips to ensure your safe and comfortable experience.
After sundown, the majority of the bars and clubs get busy. Therefore, be sure to reserve your table or entrance much in advance.
It's normal for the cost of local transport to increase in the late hours. So don't be terrified if you have to pay more to get back to your hotel from the party. You can instead get your own car or bike from a good car rental or motorbike rental in Pattaya.
Try to become familiar with the terms used in the city if this is your firsget time visiting Pattaya, Thailand.
Even though there isn't a lot of crime, instances like pickpocketing and snatching do occasionally occur. Try to carry as little as possible, including those