Owing to its mountainous terrain, pleasant climate, and tropical jungle Hua Hin makes a perfect place for golfing.
Tee off at the picturesque Hua Hin golf courses, where immaculately maintained greens, challenging layouts, and stunning coastal backdrops come together to provide an unparalleled golfing experience in this charming and serene Thai beach town.
5 Best Golf Courses in Hua Hin
1. The Black Mountain Golf Club
Located 16 km west of Hua Hin, it is the best Golf Course in the Hua Hin area. It was selected to be on the list of top 100 best golf clubs across the globe by Golf Digest in 2012. As the golf course is managed by European professionals it is maintained as per international standards
The resort has 27 holes and three different courses that are suitable for different kinds of gold players. Within the resort, you can find lavish family stay options and a wide range of cuisines to make your day more fulfilling.
Address: 565 Moo 7 Nong Hieng Road, Hin-Lek-Fai, Hua Hin District, Prachuap Khiri Khan 77110, Thailand
Call: +66 (0) 32 618 666
Website: www.blackmountainhuahin.com
2. The Palm Hill Golf Club and Residence
Palm Hill was the first-ever international golf club to open in Hua Hin in 1972. It is just a 30 minutes ride from SO Sofitel Hua Hin, 25 km south on route no. 4. The Golf resort has beautiful lakes, mountain horizons, and breathtaking sea views to make your golfing experience more fun.
The colourful frangipani and bougainvillaea trees on either side enhance the beauty of the golf course. Besides golf, you can also enjoy various other sports here. The options include swimming, badminton, squash, tennis, fitness & Sauna. There is also a private locker facility available at the club.
Address: 1444 Petchkasem Road, Cha-Am District, Phetchaburi 76120 Thailand
Call: +66 (0) 32 527 777
Website: www.palmhills-golf.com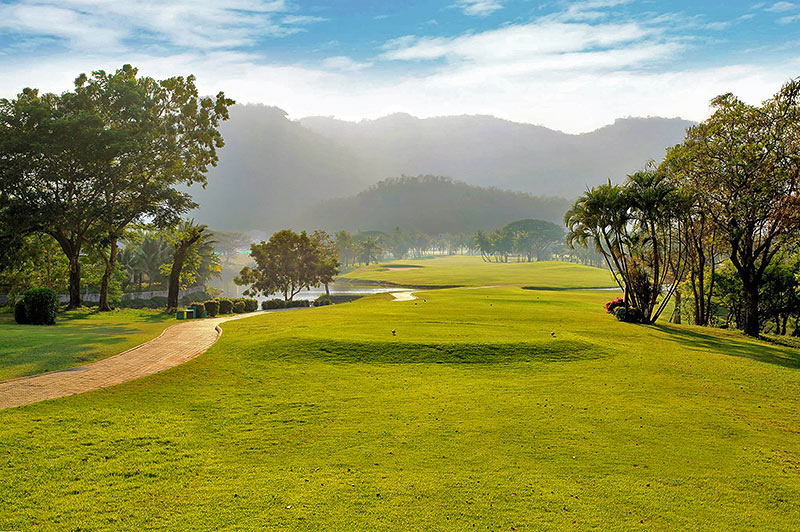 3. The Banyan Golf Club
The Banyan Golf Club is among the most natural golf clubs in Hua Hin. It has been rewarded for "The Best New Course in the Asia Pacific" in 2009 by the readers of Asian Golf Monthly. Opened in 2008, the Banyan Golf Club has gained alot of popularity in a short time.
The golf course was formerly a pineapple plantation. Hence, it still has relic pineapple groves in some spots which makes it a challenging shot for experienced golfers. It has lots of sloping fairways, elevated greens, well-placed bunkers, and meandering creeks making it a unique golf club.
Address: 68/35 Mooban Hua Na, Nong Gae, Hua Hin, Prachuap Khiri Khan 77110, Thailand
Call: +66 (0) 32 616 200
Website: www.banyanthailand.com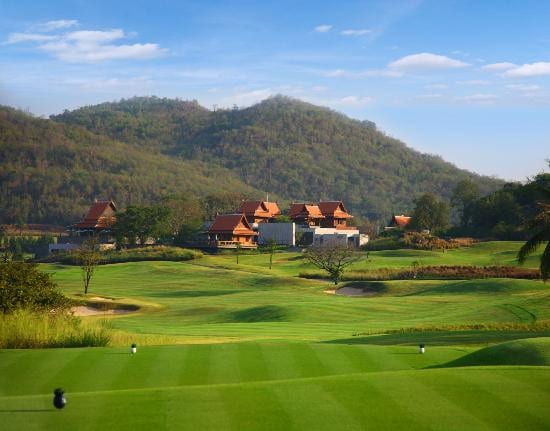 4. Majestic Creek Golf Club
It is among the popular golf courses around Hua Hin. It is especially loved by local golfers who enjoy challenges in golf. The Golf Club has been entirely cut through an original jungle which gives it a picturesque look.
It is set on a huge tract of land, criss-crossed by natural streams that further add challenges and adventures to the golf course. Although it is largely loved by professional golf keepers, even newbie golf players can have a good time hear. It features Thailand's longest Par 5 at 772 yards.
Address: 164 Moo 4 Thap Tai, Hua Hin District, Prachuap Khiri Khan 77110, Thailand
Call: +66 (0) 32 510 672
Website: www.majesticcreekcc.com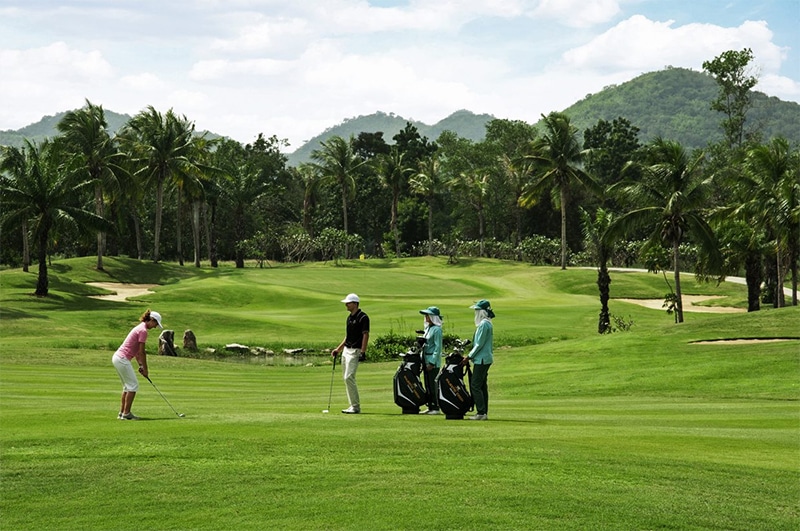 5. The SpringField Royal Country Golf Club
Established in the year 1993, the Springfield golf club has been setting paramount standards in golfing. The golf club was designed by the legendary golf designer, Jack Nicklaus with 18-holes. However, in the year 2055, 9 more holes were added.
The golf course is best suited for advanced golfers who love taking challenges. It has plenty of water hazards, large bunkers, and difficult roughs with mature trees. The place is home to over 100 species of birds that are taken care of by the management.
Address: 208 Moo 2 Sam Phraya, Cha-Am District, Phetchaburi 76120 Thailand
Call: +66 (0) 32 709 222
Website: www.springfieldresort.com
Conclusion
Hua Hin is the birthplace of Thai golfing and boasts an extensive range of golf courses that cater to both newbie as well as professional golfers. With this list of golf courses, you are all set to experience golfing in the beautiful city of Hua Hin.