Do you enjoy snapping adorable and original images of cafes for your Instagram account? Do you enjoy cafe fare and coffee? We all love that, don't we?
Experience the laid-back café scene of Koh Lipe with our guide to the must visit coffee shops in Koh Lipe, where aromatic brews and inviting spaces create the perfect respite between beach adventures.
6 Must Visit Coffee Shops In Koh Lipe – 2023 Review
1. Elephant Cafe & Bar
Elephant Koh is by far the best coffee shop in Koh Lipe that you should definitely check out once. Whether you're hungry, thirsty, or looking to while away a lazy afternoon, Elephant has got you covered.
The Elephant Coffee Shop was opened in Koh Lipe in 2011, and since then, it has only gotten better. Owing to its convenient location close to Pattaya beach, this cafe is especially popular among tourists.
Soon after its inauguration, it became one of the island's favorite restaurants and bars, with lovingly crafted coffees, awesome food, tasty cocktails, and sweet treats, all served up by the greatest staff in the world.
They also have popular western dishes on their menu, along with vegan and keto options. Their smash burger is a must-try if you plan to drop by.
The cafe also accepts payment in cards, so you need not worry about carrying cash as you explore the island. The staff is very friendly and speaks fluent English.
The cafe is open all day, from early morning coffee and epic breakfasts to dinner and late-night bites. If that was not enough, they also offer free home delivery just in case you are too tired from diving on this amazing island of Koh Lipe.
Address: Koh Lipe, 358 Walking St, Koh Sari, Koh Lipe, Satun 91000, Thailand
Hours: 7 am–11 pm
Website: facebook.com
Phone: +66 89 657 2178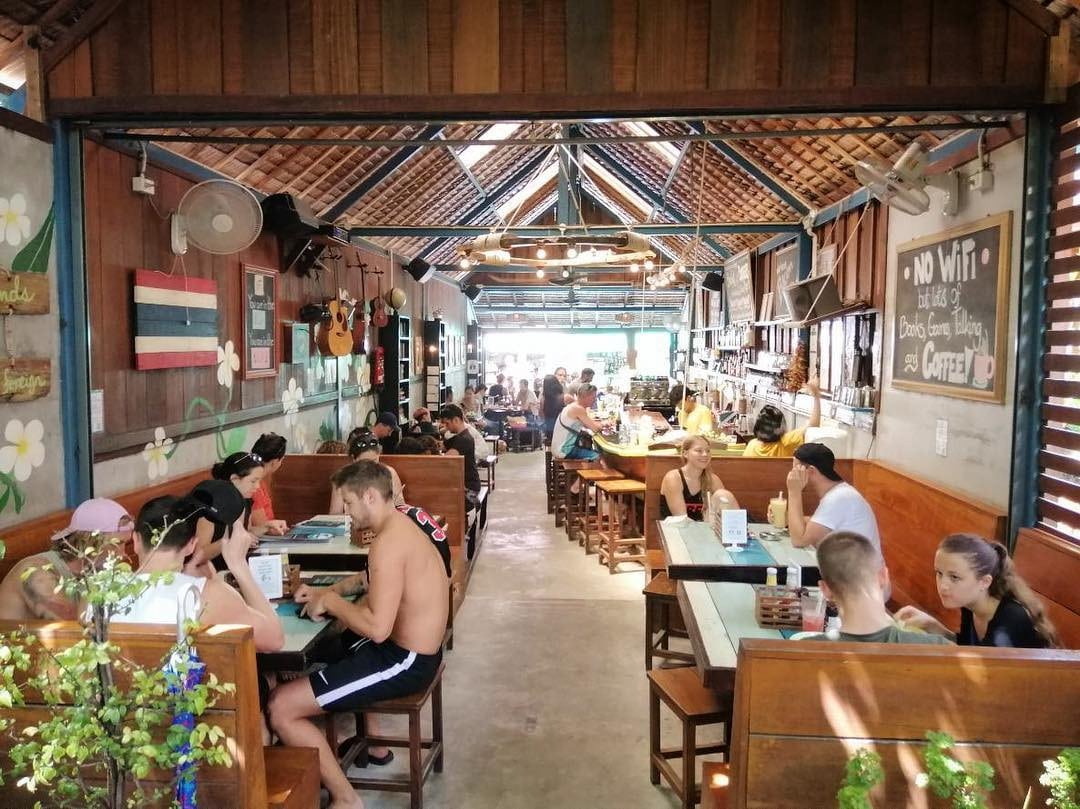 2. Bloom Cafe & Hostel
It is a coffee and cocktail bar in the middle of Lipe island's walking street. The cafe has both indoor as well as outdoor seating. The staff is very friendly and speaks fluent English.
Bloom Bar enjoys the reputation of serving the best coffee on the island. They have different kinds of vegan milk available, which are not frequently served in any cafe in Koh Lipe.
The overall vibe of the cafe is very chic. Some of the spots are just too good as a backdrop for your social media posts.
Since the cafe is centrally located, it is easy to get to from all places on the island.
Do try their cinnamon honey latte. It is totally worth it.
Address: Lipe Walking Street, Tambon Ko Tarutao, Amphoe Mueang Satun, Satun 91000, Thailand
Hours: 7:30 am–6 pm
Website: https://www.facebook.com/bloom.cafe.hostel/
Phone: +66 95 440 2288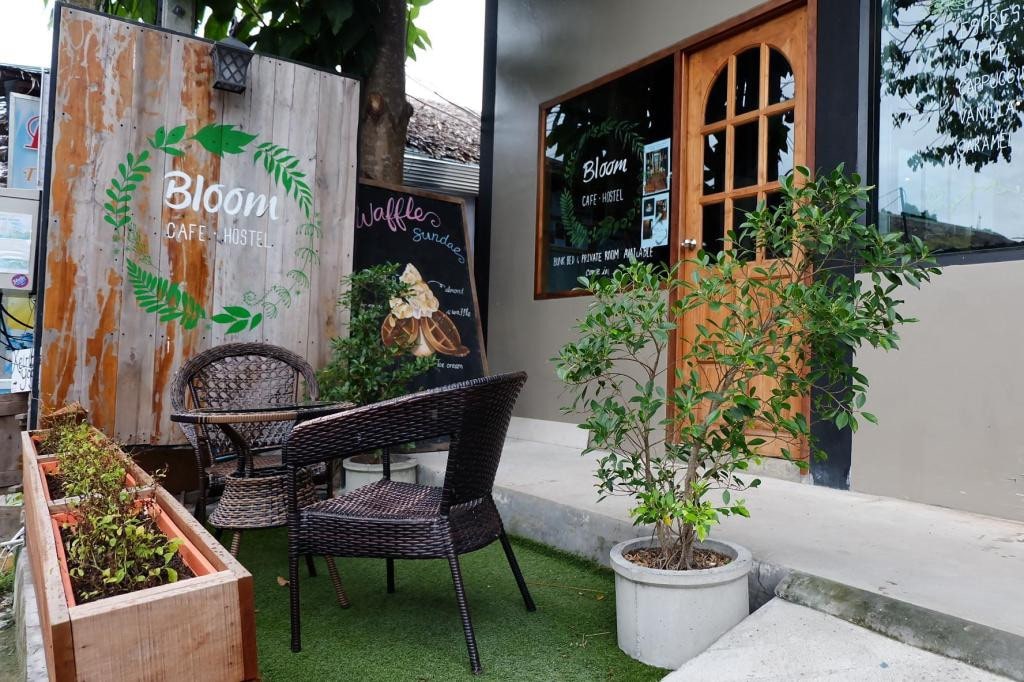 3. Benny's On the Beach
It is the one and only plant-based restaurant in Koh Lipe. The ambiance and view are just great. Right outside the cafe, you can witness the vastness and beauty of Pattaya Beach.
The staff at Benny's On the Beach is extremely courteous, very knowledgeable, and speaks fluent English.
The cafe runs a Cocktail happy hour from 2 pm to 6 pm. During this time, you can avail of huge discounts on drinks.
The fact that sets this cafe apart from the others in Koh Lipe is that it is focused on being sustainable, and you'll see that in pretty everything at the cafe.
So, besides satiating your hunger for good food, you can also slake the desire to be eco-friendly while traveling.
Address: Ko Tarutao, Koh Lipe, Satun 91110, Thailand
Hours: 8 am to 6 pm
Website: https://www.facebook.com/bennyskohlipe/
Phone: +66 90 070 0233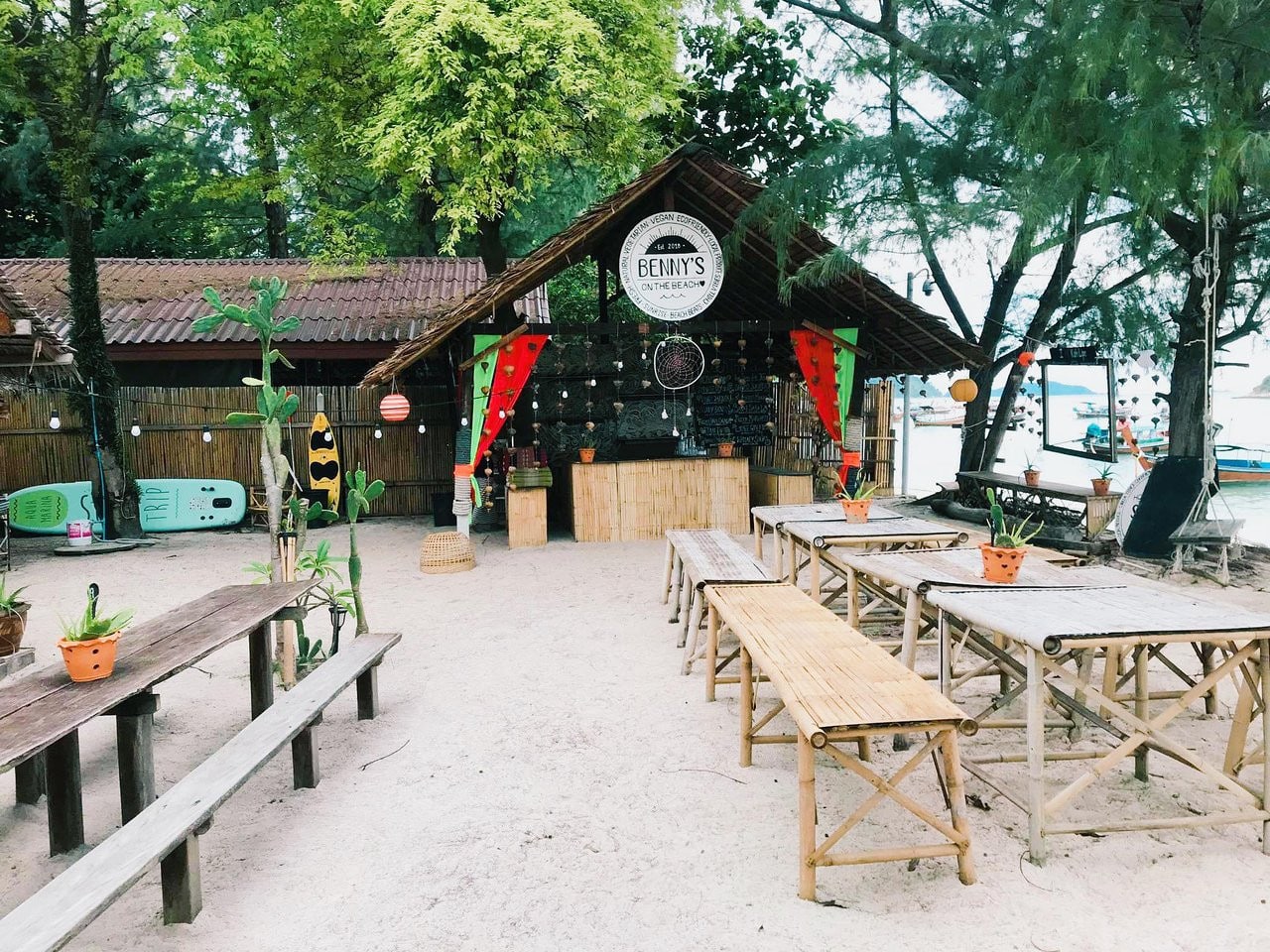 4. Mojo Cafe and Bistro
You should check out Mojo Cafe and Bistro if you wish to have a great dining experience in Koh Lipe. Everything about this coffee shop is just perfect. If you like fine-dine places, you will love this coffee shop.
The place offers an amazing view of the nearby lush greens. It is sure to soothe your eyes that
must have strained due to long hours of work.
The cafe itself is replete with fresh green planters that add to the scenic beauty.
They have an overwhelming variety of dishes that suit all kinds of tastes and preferences. The quality of the food is top-notch, irrespective of what you order.
Address: 357, Tambon Ko Lipe, Mueang Satun District, Satun 91000, Thailand
Hours: 7:30 am to 12 pm
Website: http://mojokohlipe.com/
Phone: +66 82 733 7034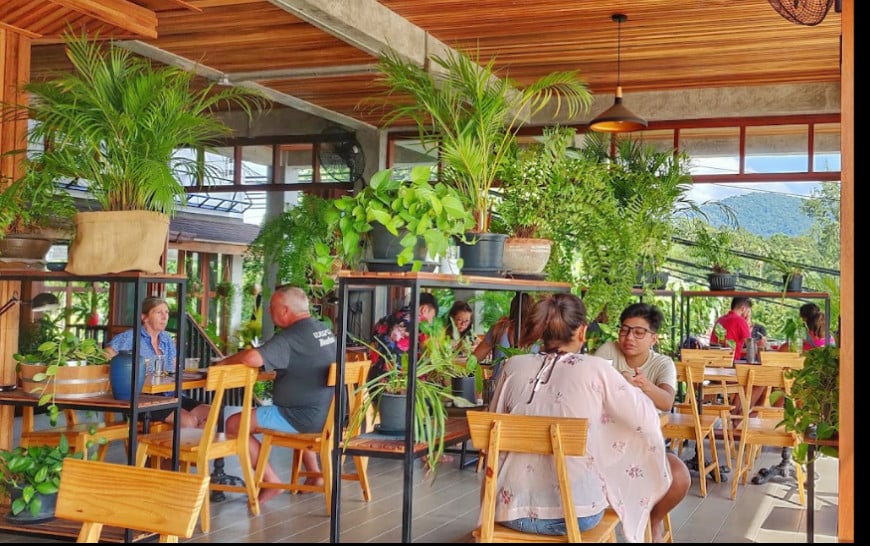 5. Cafe Lipe
Cafe Lipe is one of the finest coffee shops located on Pattaya Beach in Koh Lipe. You can feel the fresh breeze of the sea under the lush green tea right outside the cafe.
More than a cafe, you will feel like you are sitting in a garden.
The management and staff are spot on with the service, and you don't have to "remind" them as you may in other places. Their hospitality is unmatched.
The cafe is owned by Darius and his wife, Bee, who share a great interest in and love for exquisite food.
Here you get both authentic Thai food as well as delicious western dishes.
Address: No. 457, Koh Sarai Subdistrict, Mueang District, Mueang Satun, Thailand
Hours: 7:30 am to 10 pm
Website: https://www.facebook.com/cafe-lipe
Phone: +66 86 969 9472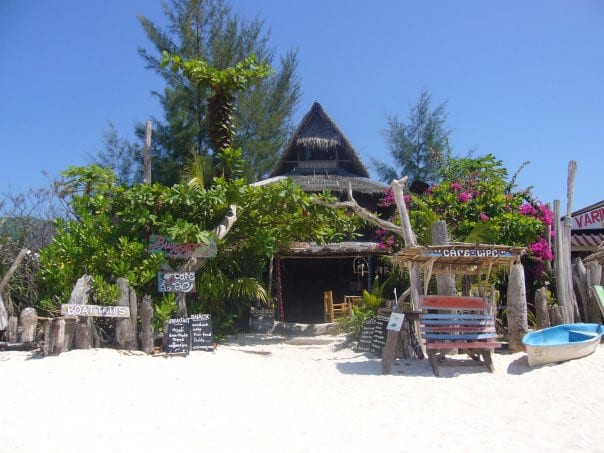 6. On the Rocks
On the Rocks, as the name suggests, is a cafe situated close to the beach, literally on the rocks. We highly recommend you visit here once for the jaw-dropping panoramic view that it offers.
With the perfect brew in hand against the backdrop of the crashing waves, you are very certain to remember this eatery from your Thailand trip.
Their decor perfectly blends with the natural scenery, thereby adding more visual appeal.
They serve excellent Thai food that is prepared in its authentic way and tastes delicious. The dishes served here are all reasonably priced. However, you might find the cocktails a bit expensive.
If you wish to enjoy affordable cocktails, visit the coffee shop during the happy hours. During happy hours, the cocktails are as cheap as 2 for 280 Baht.
Address: 276 Moo 7, Sunrise Beach, Ban Koh Lipe, Mueang, Satun 91000, Thailand
Hours: 10 am–9:30 pm
Website: https://www.facebook.com/OnTheRocksKohLipe/
Phone: +66 85 080 7197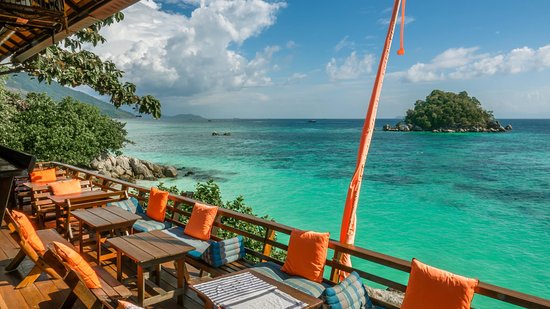 Final Words
So, have you visited any of Koh Lipe's cafes? If you haven't already, tell us which ones you like as you prepare to visit Koh Lipe.
You may be sure that if you spend time with your loved ones in one of these cafés, a memorable moment will be preserved.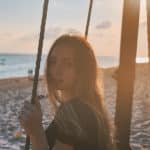 Noah Zaidi is an ardent traveler who has been documenting her Thailand exploration through Thailand Nomads. Her aim is to inform and educate people around the world about the must-visit places in Thailand.