Thailand is internationally known for its excellent quality healthcare that is very much affordable. Today we will discuss some of these hospitals that are situated in Hua Hin.
Contrary to popular belief, Hua Hin has hospitals that have excellent medical care, hygiene, and nursing standards.
Keep this guide handy in case of any emergency so that you can get immediate medical assistance.
Discover the best Hospitals in Hua Hin, where world-class healthcare meets the serene, tropical atmosphere of this popular Thai getaway destination.
3 Best Hospitals In Hua Hin
1. Bangkok Hospital
The Bangkok Hospital Hua Hin is a part of the Bangkok Dusit Medical Services, a leading network that has private hospitals scattered all across Thailand. Not just Thailand, it is the largest privately-owned hospital in Southeast Asia.
The network is recognised by the Joint Commission International Standard. The Bangkok branch is the 19th hospital owned by the BDMS group. The hospital supports English, Mandarin, Japanese, Korean, Burmese, French, and some other languages for international patients.
The hospital has 5 storeys with a roof-top helipad. It features all the modern-day medical equipment and a state-of-the-art laboratory unit. It is spread across a wide area of 20,000 square meter plots with 255 car parking spaces on Petchkasem Road.
It can accommodate 64 general patients and 14 ICU patients. It provides comprehensive medical services from diagnosis and treatments to prevention and rehabilitation in almost all major fields of medicine. The services are provided with an alike dedication to both Thai nationals and tourists.
It has professionally qualified doctors in the field of obstetrics and gynecology, internal medicine, surgery, rehabilitation medicine, radiology, and dentistry. The hospital has a 24-hrs ambulance service and sky ICU to ensure the prompt treatment to critical patients.
Address: Bangkok Hospital Hua Hin, 888 Petchkasem Rd., Hua Hin Prachuap Khiri Khan 77110 Thailand
Website: https://www.bangkokhospitalhuahin.com/en/about-us/our-story
Contact No.: (+66)32 616 800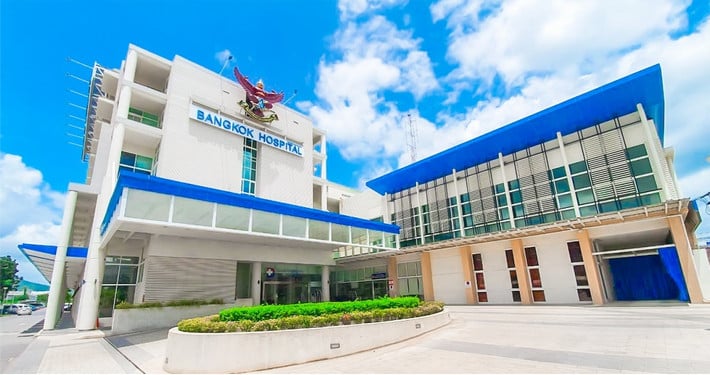 2. San Paulo Hospital
Established in 1997, it is another private hospital in Hua Hin that is very popular for its excellent healthcare services. It has a team of trained doctors that are capable of providing general medical treatments as well as specialized medical care.
The hospital has all modern equipment and technology to ensure quality care along with ensuring stringent safety protocols. It is accredited by Thailand's Institute of Hospital Quality Improvement and Accreditation.
San Paulo offers 24-hr Ambulance and Emergency services to ensure a timely treatment in case of an emergency. It offers international-standard medical services in almost all fields of medicine.
This includes Obstetrics & Gynecology, General Medicine, General Surgery, Orthopedic, Aesthetics Surgery, Radiology, Pediatrics, Neuroscience, Hemodialysis, Ophthalmology, Cardiology, and Gastrology.
Address: 222 Petchkasem Road, Hua Hin Prachuap Khiri Khan, 7110, Thailand
Website: https://www.sanpaulo.co.th/en/index.html
Contact No.: +66 32-532576-80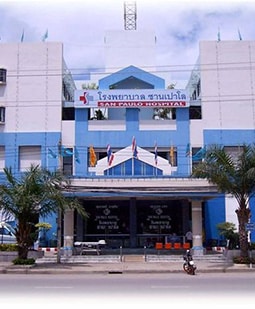 3. Hua Hin Hospital
Hua Hin Hospital is the main public hospital in Hua Hin. It is located in the northern part of the district. This hospital is generally utilized by Thai Locals. The reason tourists are rarely seen here is that the hospital gets very crowded on some days.
People come here in huge numbers because the hospital offers top-notch services at the cheapest price possible. There is no doubt that this public hospital offers professional healthcare services.
It has experienced doctors that specialize in Cardiology, Surgery, orthopaedy, and Neurology. With the help of state funds, the hospital is equipped with all the high-tech tools required for advanced treatments.
They have recently added a new extension. The staff at the hospital speak fluent english so you can clearly explain your problem to the doctor without any chance of miscommunication.
Address: 30 2 Petchkasem Rd, Hua Hin, Hua Hin District, Prachuap Khiri Khan 77110, Thailand
Website: https://www.huahinhospital.go.th/
Contact: +66 32 523 000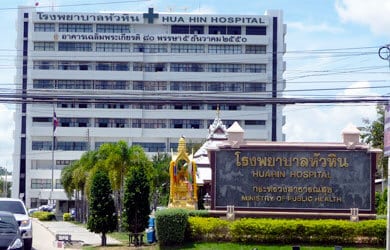 Conclusion
You can trust the above three hospitals for effective healthcare services. For trivial issues such as stomach ache, fever, cough etc, you can refer to the various clinics of your area. We have curated this list especially to ensure that an ailment does not stop you from visiting the amazing attractions of Hua Hin.
FAQs
Yes, all the Doctors in Hua Hin are well-trained professionals and are experts in their field.