Thailand is renowned for its fascinating culture, delectable cuisine, and ancient Buddhist temples spread throughout the country.
One of the most striking temples in Bangkok is Wat Kalayanamit, which offers a unique blend of modern and traditional architectural styles. Here's a detailed guide to the temple, its history, and what to expect when visiting.
About Wat Kalayanmit
Constructed in 1825 by a Thai Chinese merchant, Wat Kalayanamit translated to "The True Friend." It was named so because the temple was a gift from the trader to King Nangklao, Rama III.
It is a serene and highly spiritual temple, which is notable for housing the largest seated Buddha statue in Bangkok, measuring around 16 meters in height and 11 meters in width.
The temple is also home to the largest bell in Thailand, which is believed to bring good fortune when rung thrice.
The History of Wat Kalayanamit
Wat Kalayanamit, also known as Wat Kalayanamit Varamahavihara, has a rich history that dates back to the early 19th century.
The temple was built in 1825 by a prominent Thai Chinese merchant named Chow Sue Kong, who later changed his name to Tat Bunnag. Tat Bunnag was a wealthy businessman with close ties with the royal family of Thailand, particularly King Rama III.
He built Wat Kalayanamit as a gift for the king, who was a good friend and ally of the Chinese community in Thailand.
The temple has undergone several renovations and restorations, but its original architecture and design are still preserved.
Wat Kalayanamit is a Buddhist temple that follows the Mahayana tradition, which is different from the Theravada tradition, which is more commonly practiced in Thailand.
The temple's architecture features a blend of Thai and Chinese styles, with intricate designs and decorations that reflect the cultural heritage of the two countries.
Over the years, Wat Kalayanamit has become a popular destination for tourists and locals. It is known for its peaceful and spiritual atmosphere and impressive Buddhist art and artifacts collection.
The temple is particularly famous for its large seated Buddha statue, one of the largest in Bangkok, and its enormous bell, believed to bring good fortune to those who ring it three times.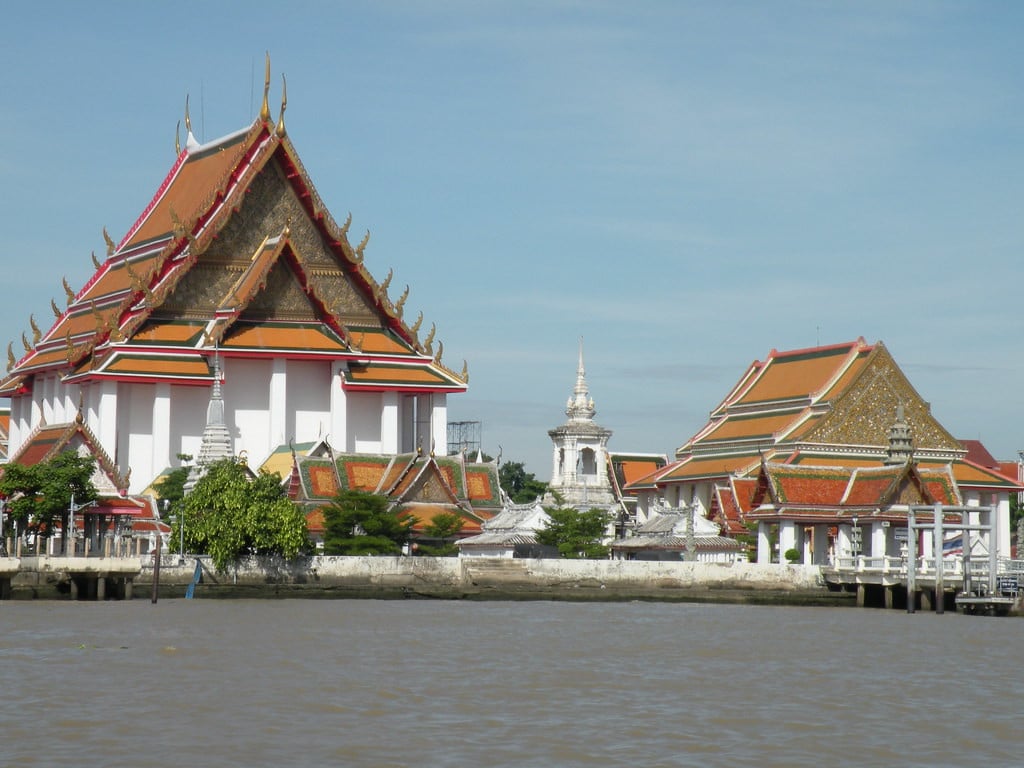 Architecture and Design- Chinese and Thai styles
The architecture and design of Wat Kalayanamit reflect a unique blend of Thai and Chinese styles.
The temple's exterior features traditional Thai gables, arches, and stucco designs, while the interior includes several Chinese architectural elements, such as red columns and a large prayer hall.
The main highlight of the temple's architecture is the enormous sitting Buddha statue. This impressive sculpture dominates the interior and is made of a combination of plaster, brick, and stucco.
The Buddha's head is decorated with a crown of diamonds and precious gems, adding to the grandeur of the statue.
Another notable feature of the temple is the large bell, which is located in the bell tower. The bell tower is a multi-tiered structure with a pointed roof reminiscent of Chinese architecture.
The bell is the largest in Thailand, weighing approximately 7,000 kilograms, and is believed to bring good luck when rung three times.
Overall, the architecture and design of Wat Kalayanamit are a testament to the unique cultural blend of Thailand and China, making it a must-visit destination for anyone interested in the history and art of Southeast Asia.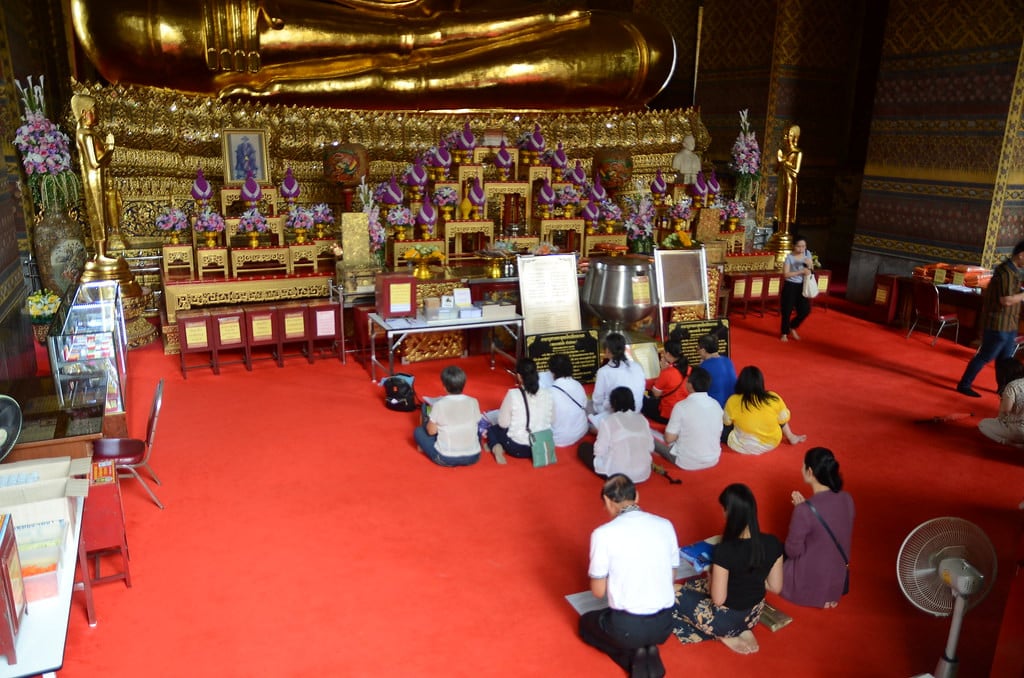 16 Meter Tall Buddha image
Standing at a towering height of 16 meters, the seated Buddha statue at Wat Kalayanamit is the largest in Bangkok.
This majestic image, Luang Pho To, is constructed with brick and mortar and adorned with shimmering gold leaf.
In Chinese, the statue is called Sampokong and is depicted in the Subduing Mara mudra, symbolizing the Buddha's victory over evil.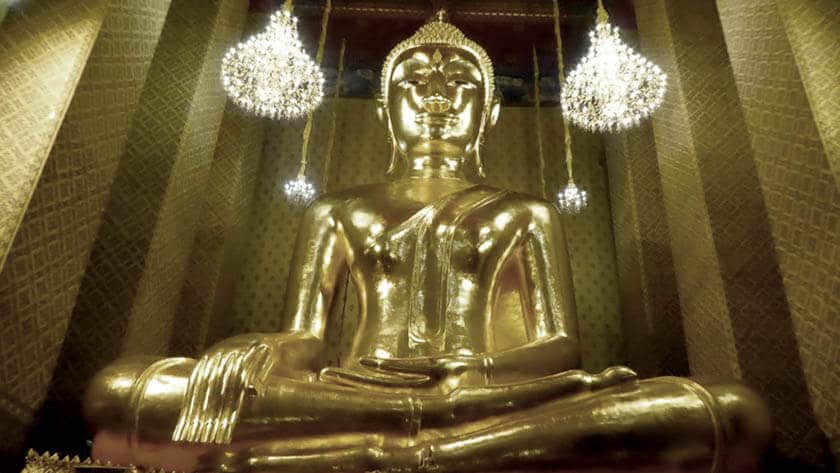 Largest bronze bell in Thailand
The largest bronze bell in Thailand is at the Wat Kalyanamit temple in Bangkok. This magnificent bell was cast in 1987 and weighed a staggering 19.5 tons, with a height of 3.2 meters and a diameter of 2.8 meters.
The bell is an impressive work of art, with intricate carvings and designs covering its entire surface. These carvings depict scenes from the life of the Buddha, as well as other Buddhist motifs and symbols.
The bell is rung by striking it with a large wooden mallet, which produces a deep and resonant sound that can be heard for miles around. The bell is usually rung on special occasions, such as during important Buddhist ceremonies and festivals.
Visitors to the Wat Kalyanamit temple can see the bell up close and appreciate its grandeur and craftsmanship. It is truly a remarkable piece of art and a symbol of Thailand's rich cultural heritage.
What to Expect when Visiting
Visitors to Wat Kalayanamit can expect a peaceful and tranquil atmosphere, as the temple is not as crowded as some of Bangkok's more popular tourist destinations. The temple grounds are well-maintained and offer a pleasant escape from the hustle and bustle of the city.
When visiting the temple, it is important to dress modestly and remove your shoes before entering any buildings. Visitors should also respect the monks and other worshippers who may be present.
Conclusion
Wat Kalayanamit is a must-see destination for anyone interested in Thai culture and history. The temple's unique blend of Thai and Chinese architecture, exquisite mural paintings, and impressive Buddha image make it a truly unforgettable experience.
If you are planning a trip to Bangkok, be sure to add Wat Kalayanamit to your itinerary. Also, while you are here, do get a tattoo as they are the best souvenir you can take home from Thailand.