A tattoo could be either the best souvenir or the worst nightmare you take home from Thailand.
This is because of the amount of precision, its permanent nature, and most importantly, the hygiene concerns tattooing entails.
Discover where to get a tattoo in Bangkok as we guide you through the city's top studios, where skilled artists, exceptional designs, and stringent hygiene standards come together for your unforgettable body art experience.
12 Where to Get A Tattoo in Bangkok: [Top 13 Studios]
1. Wat Bang Phra
The Wat Bang Phra temple could be the best place to get a traditional Thai Buddhist-animist tattoo.
It enjoys international recognition for being the best place to get a tattoo in Thailand, more so after the famous Angelina Jolie got inked here.
Wat Bang Phra temple in Thailand
The temple is situated 50 km from Bangkok. The tattoo designs here are decided by the Sak Yant through a spiritual discussion.
The Sak Yant tattoos are believed to empower you and guard you against evil forces.
Address: Moo 3 NU 4014 Bang Phra, Nakhon Chai Si District, Nakhon Pathom 73120, Thailand
Website: https://www.bp.or.th/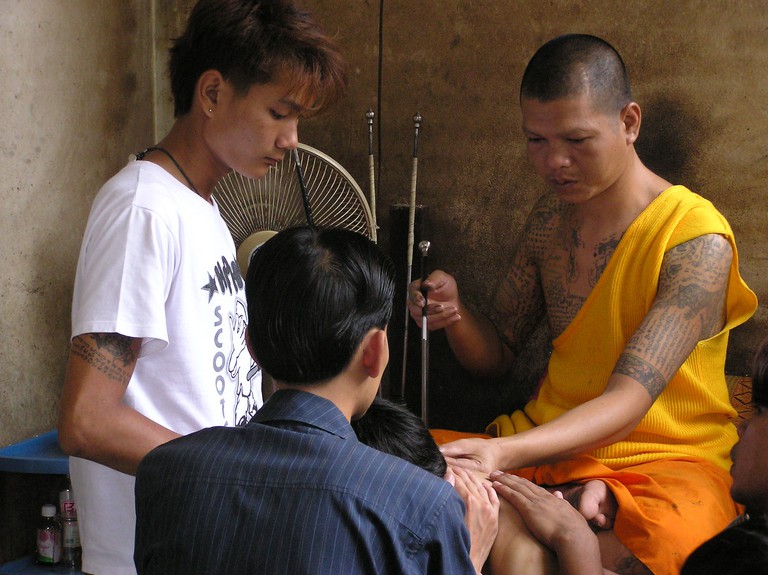 2. All Day Tattoo
The All-Day Tattoo Bangkok features some very skilled and fantastic resident tattoo artists. Each artist is passionate about art and has a distinct style.
There are a total of 3 prominent tattoo artists on site. All speak fluent English.
You can choose from a variety of tattoo designs, including neo-trad tattoos, nerdy tattoos, hyper-realism, black-and-grey tattoos, intricate linework, watercolour tattoos, etc.
Safety and hygiene maintenance is top-notch.
Address: 710/4 Sukhumvit Rd, Khlong Tan, Phrom Phong, Bangkok 10110, Thailand
Phone: +66 98 381 4364
3. Bangkok Tattoo Studio
The Bangkok Tattoo Studio is conveniently located in the center of Bangkok.
The studio specializes in Thai and Oriental styles of tattooing but can as well do any other style or design of your choice.
They offer a large selection of designs and customized tattoos that you can pick.
The place hosts many internationally famous tattoo artists throughout the year. The staff here is as skilled as they are patient.
They will help you select the design and take care of even the minutest of details to make it as demanded. The price here is quite reasonable.
Address: Amarin Plaza Department Store 3rd Floor, Soi 4 Thai Craft Market Zone, Phloen Chit Rd, Lumphini, Pathumwan, Bangkok 10330, Thailand
Phone: +66 89 815 1077
Website: http://www.bangkoktattoostudio.com/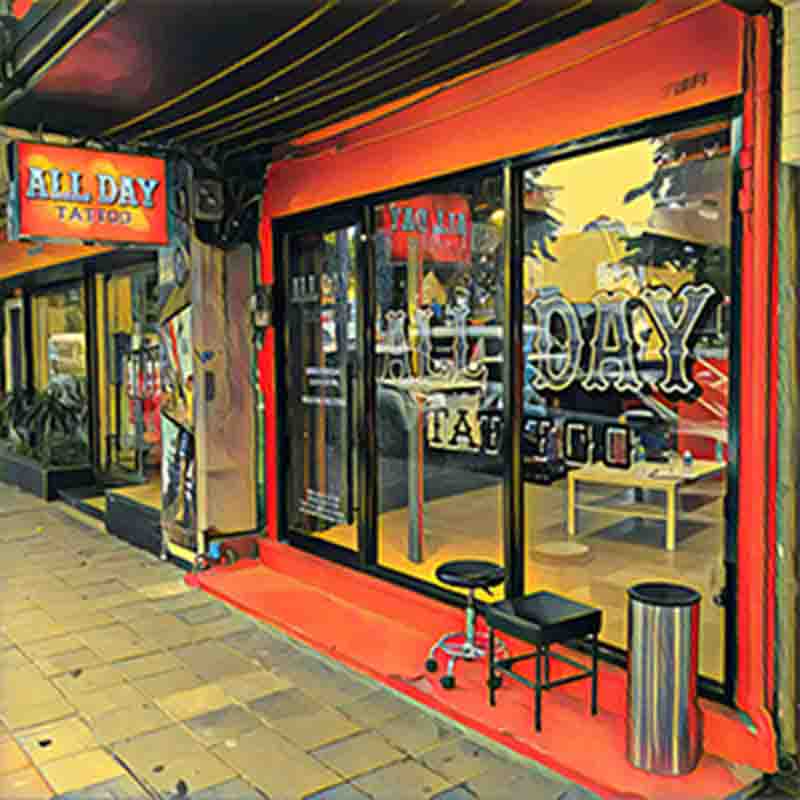 4. BKK Ink Studio
It is one of the earliest and most popular tattoo studios in Bangkok. It has been in the tattoo trade for over a decade now, and the experience is clearly reflected in the dexterity of the artists.
Most artists at the studio are award-winners in tattooing and can provide just about every kind of body art.
The studio's expert artists excel at delivering both hyper-realistic tattoos of color or black-and-grey art and delightfully cartoonish neo-trad designs.
The BKK Ink Tattoo Studio delivers some of Bangkok's highest-quality tattoo art.
Address: 137 Thanon Tanao, Wat Bowon Niwet, Phra Nakhon, Bangkok 10200, Thailand
Phone: +66 2 629 2475
Website: www.bkkinktattoo.com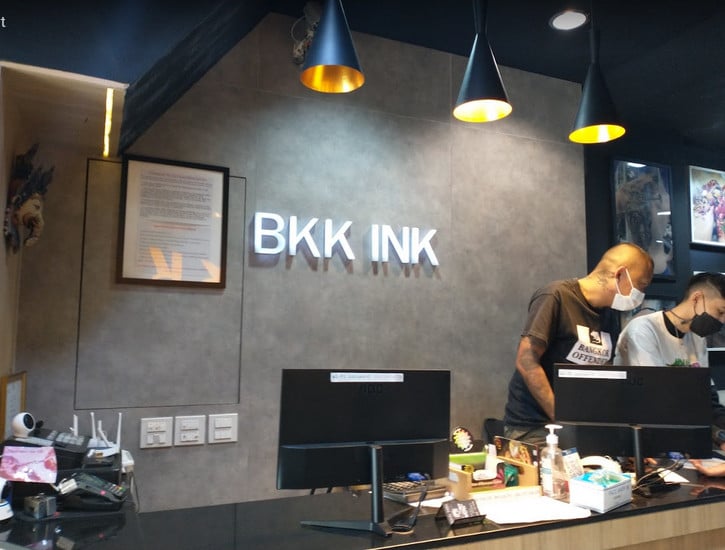 5. Common Ground
It is a very popular tattoo studio in Bangkok, leading the way in real custom tattooing. The studio adopts an East-West concept, claiming to offer "western hygiene and eastern vibes."
The tattooing process is very professional and distinctively unique in Asia.
The tattoo studio features some of the world-renowned artists at the forefront of tattooing. The parlor also has a casual yet stylish vibe, with the bonus of a coffee shop-like frontage.
The best part of this tattoo studio is the transparency and honesty in the services provided.
Address: 1855 1857 Charoen Krung Rd, Wat Phraya Krai, Bang Kho Laem, Bangkok 10120, Thailand
Phone: +66 2 000 4075
Website: https://common-ground-tattoo.business.site/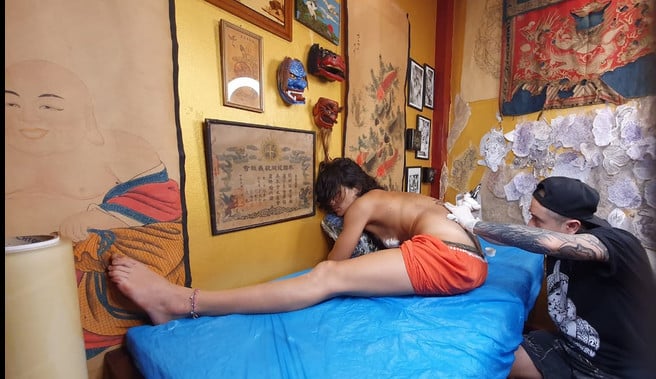 6. Lone Wolf
The Lone Wolf cafe specializes in New School, modern, and back-to-basics geometric designs, although other work is available too.
Despite the old building, the place itself is modern, clean, and uses top-of-the-line equipment.
The artists are friendly and respectful and will ensure you have a good experience. -
For first-timers, I would suggest you look at their Instagram page (each artist has their own account, too) to see if this is the type you're looking for.
They are a popular studio so give them time to respond when making appointments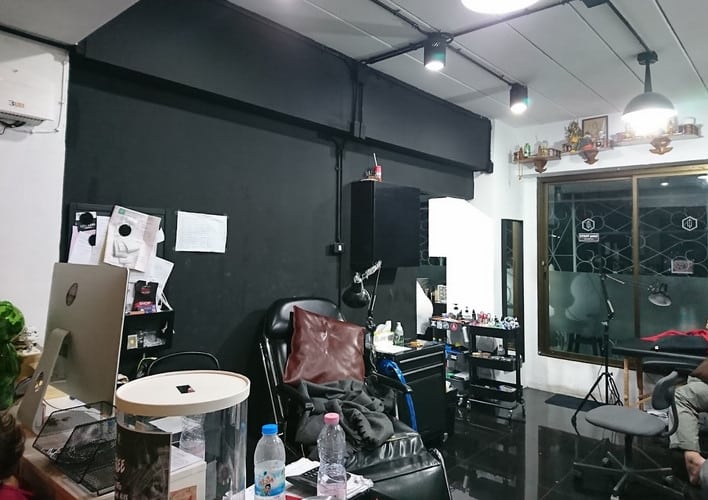 7. Inkception
Inkception tattoo studio was opened in 2011 and is among the long-standing studios in Bangkok. It is conveniently located in Bangkok's central Siam square area.
The studio has five professional artists with considerable expertise and each with a different specialization.
The different tattoo styles offered here are Minimal style, Japanese, full color, portrait, black&grey and more.
Price rates start at 1,500 Thai Baht. Since the place is very popular, you must make an appointment beforehand.
Address: Lido cinema 2nd floor, Siam square soi 2, Rama I Rd, Wang Mai, Pathum Wan, Bangkok 10330, Thailand
Phone: +66 97 126 7130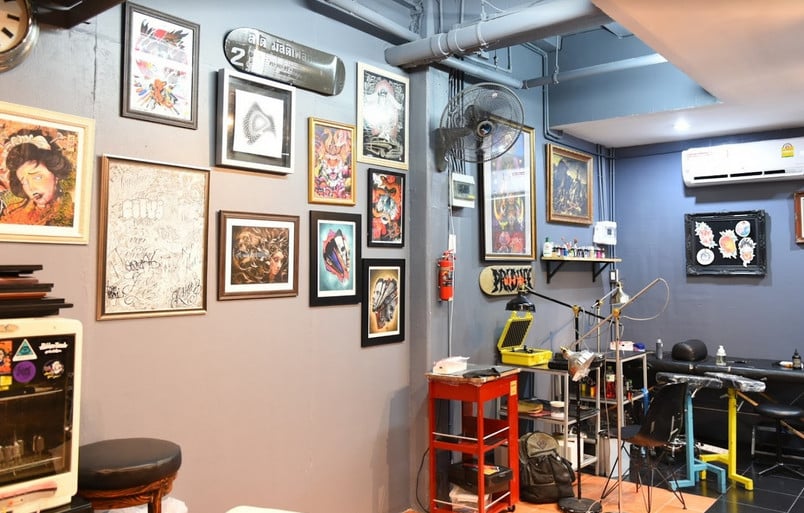 8. Mimp Tattoo Studio
It is a well-equipped and spacious tattoo studio located on Royal City Avenue. RCA is one of the most popular streets of Bangkok and has visitors at all times.
The tattoo studio is named after the owner Mimp- who specializes in a wide range of Thai and Japanese designs.
Mimp is a professional tattoo artist who has been delivering fine tattoos for many years. He has won numerous prestigious awards throughout his decade-long career in tattooing.
All the tattoo designs are reasonably priced with charges starting from1,500 baht.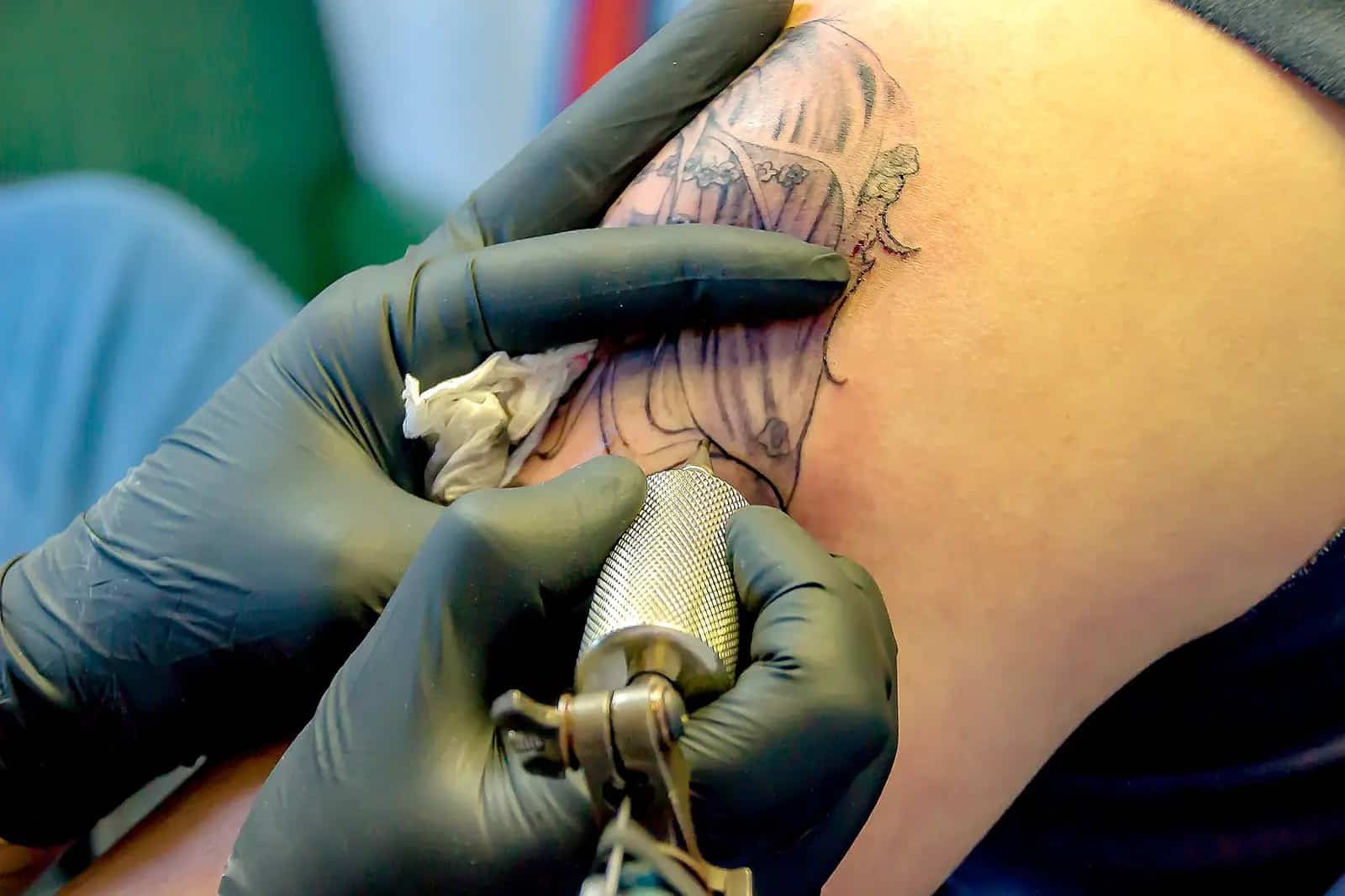 9. Tattoo OD
It is another very popular tattoo studio that is named after its founder Petchy Wan who goes by the nickname OD.
It is among the first tattoo studios in Bangkok that could pick up a license despite being too small in size.
The Tattoo OD studio is set in the modern, affluent, and nightlife-rich Thonglor area. At present, the studio has four artists who are highly skilled in the art of tattoo making.
Since it is very popular in the area, it is recommended that you make an appointment prior to visiting.
Address: Sukhumvit 53 Alley, Khlong Tan Nuea, Watthana, Bangkok 10110, Thailand
Phone: +66 81 916 7802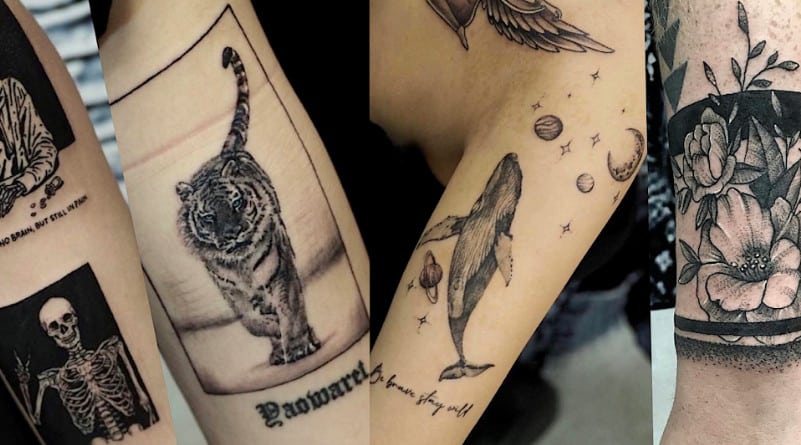 10. Black Pig
If you are a fan of fine tattoos with intricate details, this could be just the place for you. The artists at Black Pig are experts in delicate and neat tattoos.
Luke is the star of the and is very much in demand in the entire Bangkok city. Others too are very professional and friendly.
Address: 394/1-2 Mahajana Road, Grand Palace, Bangkok 10200, Thailand
Phone: +66 80 595 2999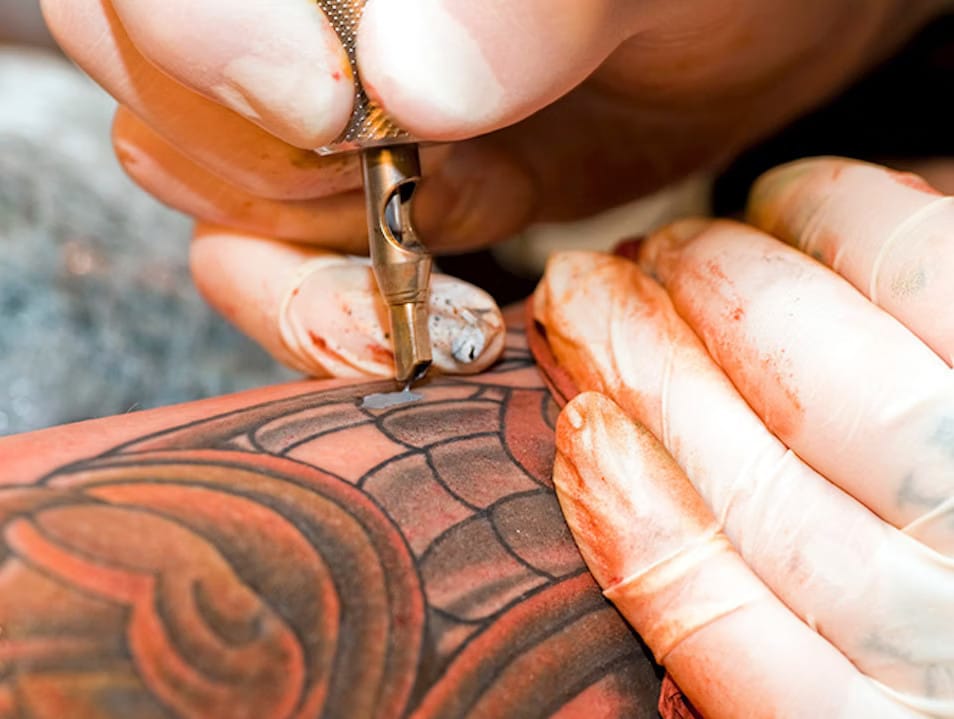 11. Max Tattoo Studio
It is one of the cleanest and most sterile tattoo shops in Bangkok, with fantastic artists. The tattoo artists at MAX are not only skilled but very easy to work with.
Their online presence is also very impressive. You can book your slots just by messaging on their Instagram. They specialize in Japanese style tattoos.
Address: Room No. 470, D&D Inn Hotel, 3 Khaosan Rd, Taladyod, Phranakorn District, Bangkok 10200, Thailand
Phone: +66 2 629 1642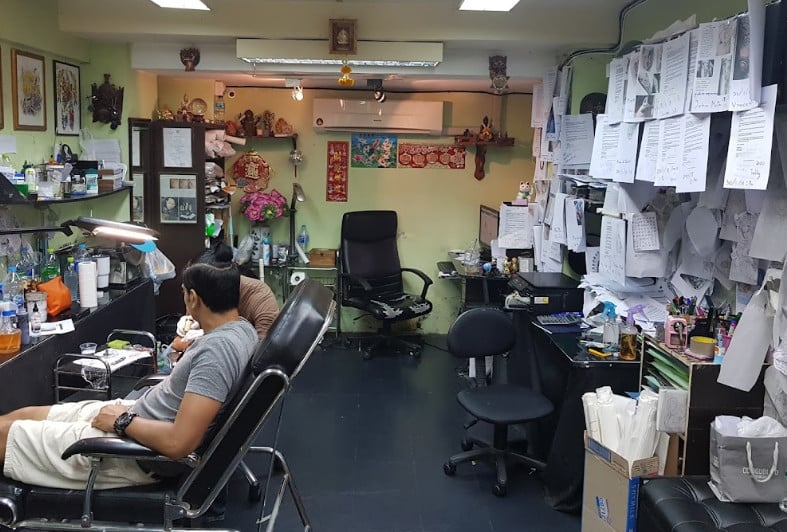 12. Sak Lai Studio
At Sak Lai Studio, people have had nothing but positive experiences. Pu and Leck are the lead artists here whose dexterity is impeccable.
Both of them are highly skilled, very professional, and easy to work with. Their designs are one-of-a-kind and very reasonably priced.
Address: 49-25 Ngam Wong Wan 54 Alley, Lane 1-1, Lat Yao, Chatuchak, Bangkok 10900, Thailand
Phone: +66 81 830 8325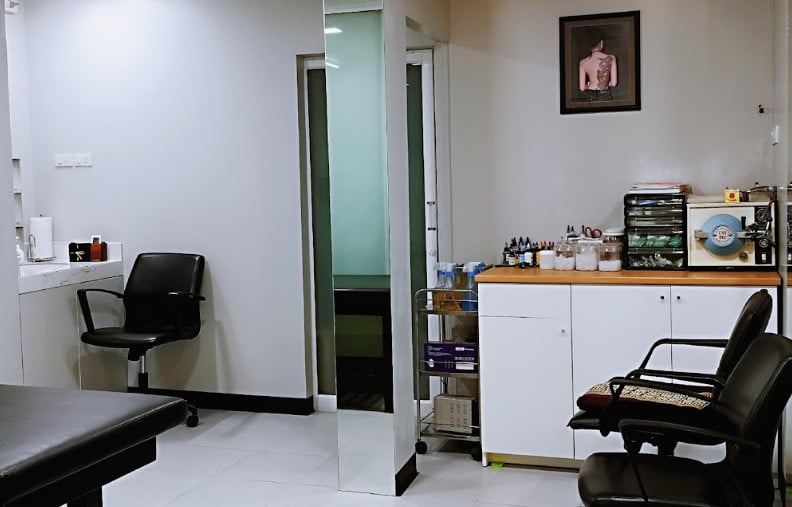 Final Words
The tattoo studios mentioned above enjoy an excellent reputation and are sure to save you from embarrassingly mistranslated calligraphy and the obvious health disaster.
A pro tip when visiting the Tattoo Studios in Bangkok is to have some idea about the tattoo in your mind.
This will help the artists understand your point of view better and also save time.
Since tattoo studios in Bangkok are usually very crowded, a pre-decided design can help the artists focus better on a pleasant mood.
Editor - Thailand Nomads
Cindy quit her 9 to 5 job to pursue her passion for exploring mesmerizing locations in Thailand. She has been living here for the past 5 years now and through Thailand Nomads, she shares her experiences and insights about the must-visit places in Thailand.
Email: cindy@thailandnomads.com