Bangkok city is famous all over Thailand for featuring some of the best coffee shops. Some of these coffee shops also sell home-ground coffee and coffee merchandise alongside lip-smacking coffees.
Savor the finest coffee in Bangkok as we introduce you to the best Coffee in Bangkok, where exquisite brews, innovative flavors, and inviting atmospheres come together for the ultimate caffeine indulgence.
19 Where to Get the Best Coffee in Bangkok – [Top 19 Cafés]
1. The Fabb Cafe
The Fabb Cafe was created by the team that runs Fabb Academy of Coffee, the oldest coffee training institute in Thailand.
From Turkish coffee to Siphon brew, they serve it all.
Besides coffee, they also serve excellent food and occasionally have special chef's table events as well.
Visit this place not just for amazing coffee & food, but also to learn more about the history and culture of coffee in Thailand.
Address: 259/311 Soi Pridi Panomyong 15, Phra Khanong Nuea, Watthana, Bangkok 10110, Thailand
Website: https://www.facebook.com/thefabbcafe/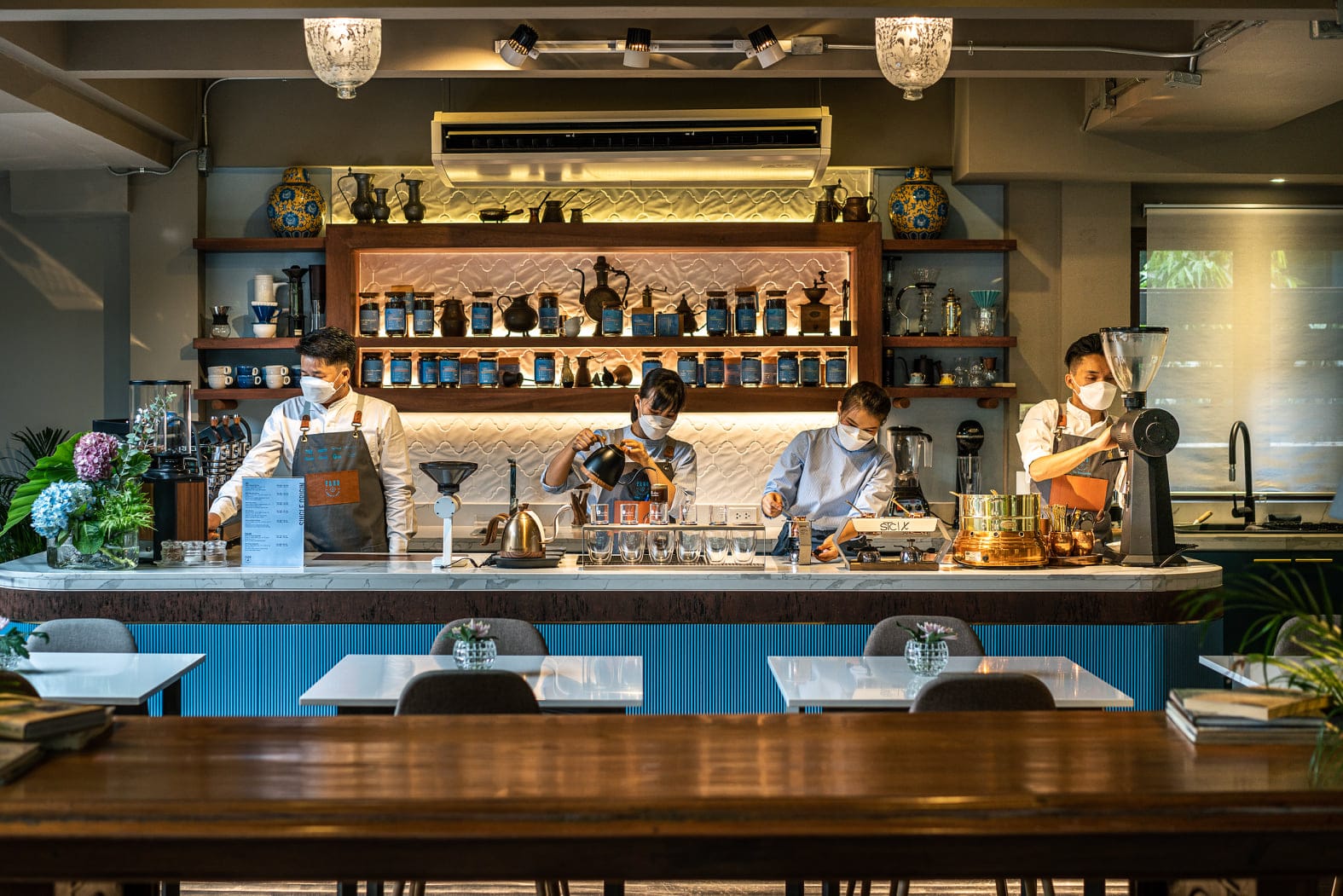 2. Simple Coffee
It is one of the best cafes in the Rama 9 area. There is enough parking in the condo, so you need not worry about that. The shop is very elegantly decorated and friendly, like a home.
Their menu includes drinks and desserts such as cakes, brownies, and puddings.
Their coffee menu is very vast, and nearly all of their coffees taste really good. For those who don't like coffee, there is matcha, chocolate, yuzu, honey, and so much more.
The best part of this café is that you can enjoy a truly amazing coffee without burning a hole in your pocket.
Address: S1 Condo Rama9 Soi45 Suan Luang, Bangkok 10250, Thailand
Phone: +66 82 899 7790
Website: https://www.wongnai.com/restaurants/210037jv-simple-coffee-simple-life-s1-condo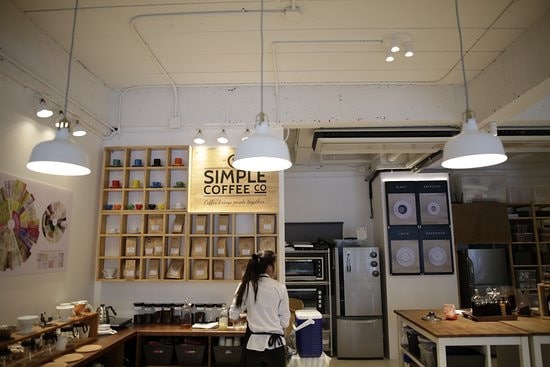 3. Factory Coffee
It is one of the best cafés in Bangkok that is very popular for its lip-smacking signature coffees.
Owing to the popularity of its coffee, the café is almost always crowded. There could be long waiting lines, so it is advised to reserve your seats well in advance.
Apart from serving excellent coffee, the café also offers Barista courses and has its own merchandise line.
The café has several accolades to its credit, such as Thailand Barista Champion 2020, Winner TNBC 2019, Top 13 World Barista Champion 2018, and Thailand Barista Champion 2017.
Address: 49 Phaya Thai Rd, Thanon Phaya Thai, Ratchathewi, Bangkok 10400, Thailand
Phone: +66 80 958 8050
Website: https://factorybkk.com/
Facebook: https://www.facebook.com/factorybkk/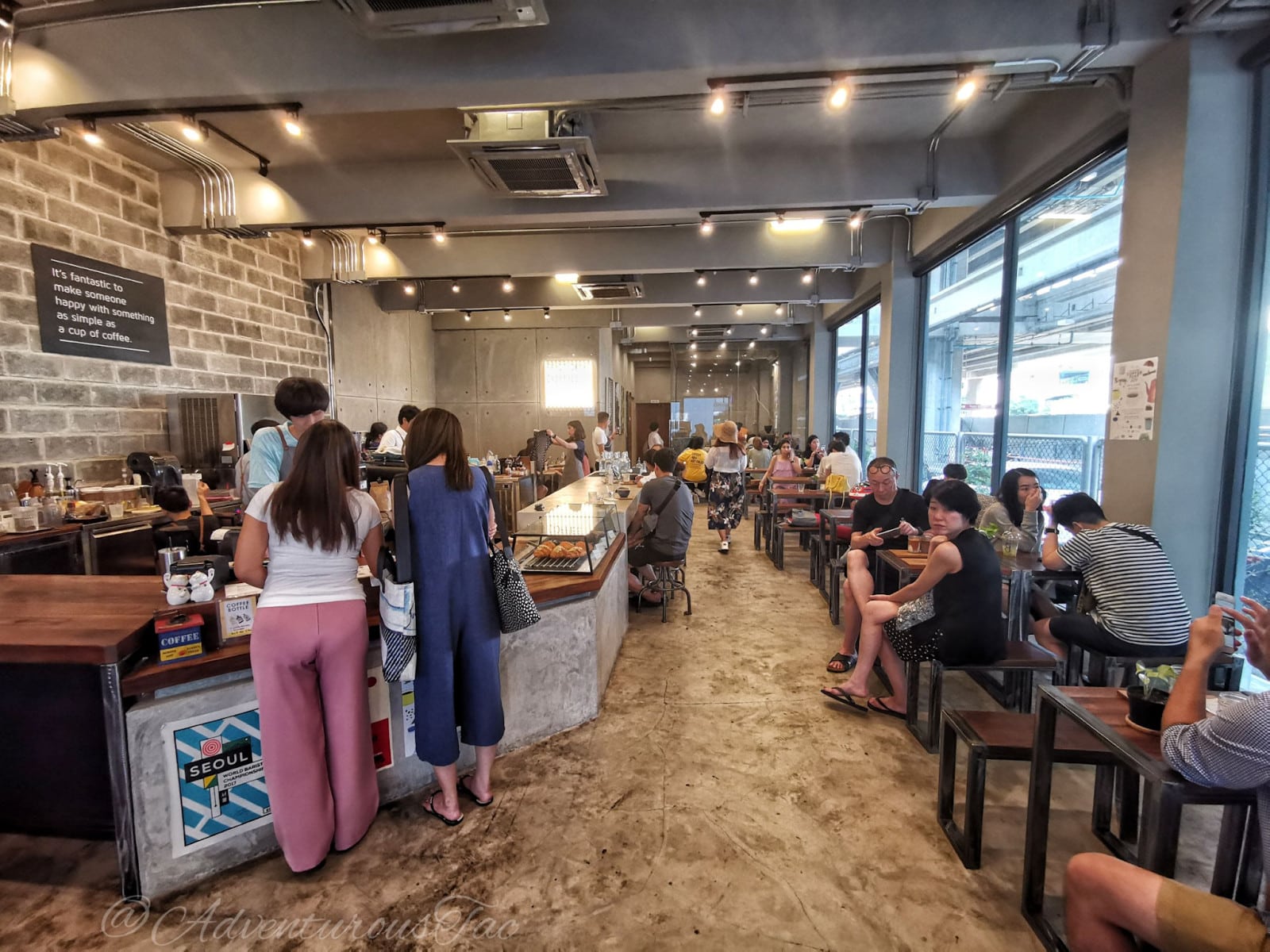 4. Arabica Bangkok Central World
Arabica Bangkok Central World is one of the top cafes in Bangkok. Bangkok finally has one of the most popular coffee chain from Japan. They already have multiple outlets across the city.
We absolutely loved their flagship store at ICONSIAM mall. The interior is glamorus, a perfect backdrop for stunning pictures. They get very crowded on weekends, so its best to come here during the week.
You can see them roasting fresh coffee right there at the café. You can buy their coffee beans at any of their main outlets.
Their outlet at Central World Mall, is also worth a visit.
Our favorite coffee drink here was their hot mocha. It was definitely the best mocha that we've ever had in Thailand.
Address: 1st Floor, 299 Soi Charoennakorn, Khlong Ton Sai, Khlong San, Bangkok 10600, Thailand
Phone: +66 65 979 8100
Instagram: https://www.instagram.com/arabica.journal/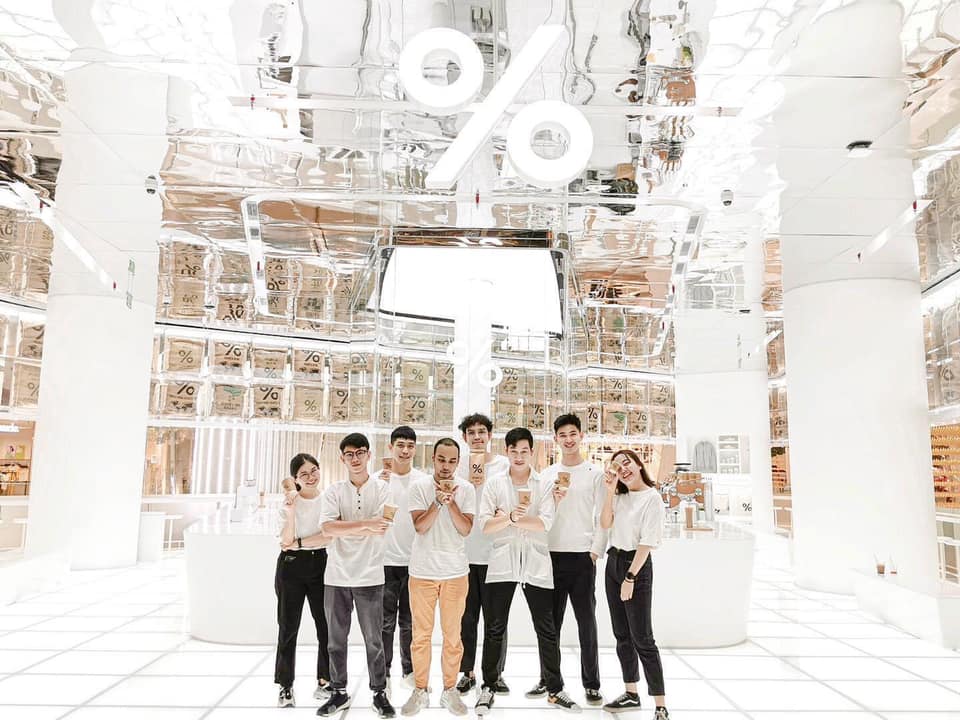 5. Honeyful Cafe
It is a lovely café in Bangkok with a modern-day chic vibe. The place is brightly lit with ample sunlight.
There is always some calming music playing in the café that adds to the lovely appeal of this pleasant café.
As the name suggests, the café primarily uses honey for sweetening over sugar.
The coffee prices are slightly higher than an average café in Bangkok, but it is worth the taste and the beautiful wooden and light ambience of the place.
Address: 19 Sukhumvit 24 Alley, Khlong Tan, Khlong Toei, Bangkok 10110, Thailand
Phone: +66 98 839 9229
Website: https://www.honeyfulcafe.com/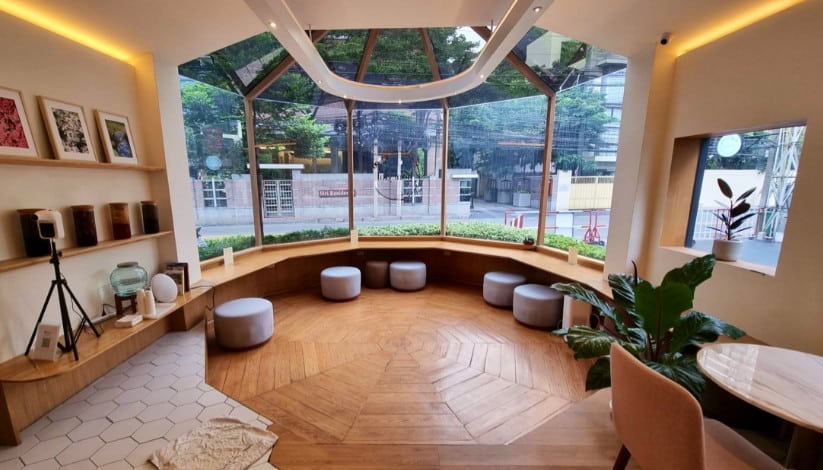 6. Gallery Drip Coffee
Gallery Drip Coffe is a café cum gallery located close to the National Stadium. The café specializes in single-bean drip coffees, with beans sourced from different parts of the world.
The staff here is known to be very courteous and fun.
The most in-demand coffee of Gallery Drip is prepared from Thai beans, grown by the Akha ethnic group in the hills of Chiang Rai.
The beans are freshly roasted here at the café. There are books available also, so enjoy a good read in a chilled-out vibe while sipping a wholesome coffee.
Address: Bangkok Art and Culture Center (BACC) 939 Rama I Rd, Wang Mai, Pathum Wan, Bangkok 10330, Thailand
Phone: +66 81 917 2131
Facebook: https://www.facebook.com/GalleryDripCoffee/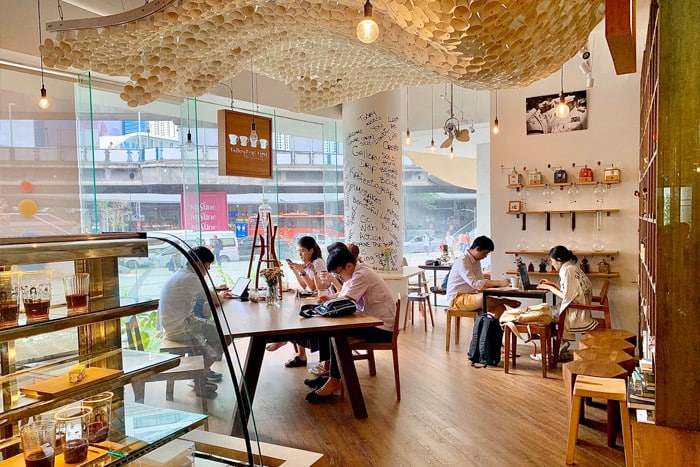 7. Roots Cafe at Thonglor
Roots Coffee is one of famous cafes in bangkok, situated at Sukhumvit. It could be a perfect place for coffee lovers who prefer classic, freshly brewed coffees over fancy ones.
If you order their filter brew, you can watch as your beans get roasted and then brewed.
Their coffees are so good that you might fear not being able to get back the taste anywhere else. You can also buy interesting coffee merchandise from here.
The coffee shop also sells home-ground coffee so you can have the same fine taste in your home country.
Address: Market Floor the COMMONS Thong Lo Rd, Klongtan Nue Watthana, Bangkok 10110, Thailand
Phone: +66 97 059 4517

Website: rootsbkk.com
Facebook: https://www.facebook.com/RootsBkk/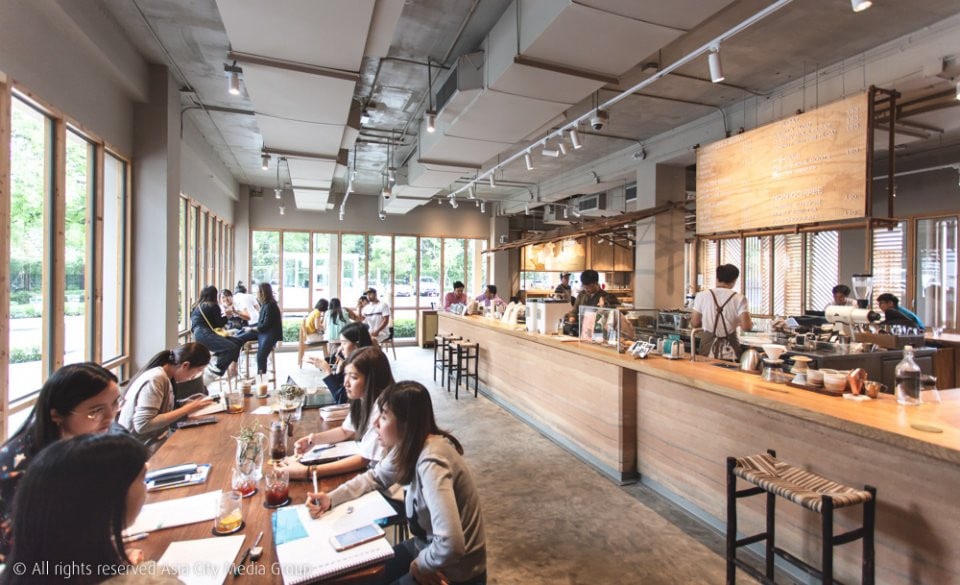 8. Old Town Cafe
The Old Town Cafe, as the name implies, is located in the old town of Bangkok in the Banglamphu area.
Although distant from the main Bangkok city, the café is close to many popular tourist destinations such as the Giant Swing, Grand palace, etc.
The café very well blends in with the ancient town. The bare brick walls, coupled with vintage decor, lend a very rustic appeal to the café.
This is what sets this café apart from its competitors. Drop by for an excellent classic coffee.
Address: Wang Burapha Phirom, Phra Nakhon, Bangkok 10200, Thailand
Phone: +66 81 810 8456
Facebook: https://www.facebook.com/OldTownCafeBangkok/
9. The Coffee Club
The Coffee Club of Bangkok is a perfect place for getting an English eatery experience in Thailand.
The café mostly caters to western clientele but has some authentic Thai dishes on its menu as well. The dishes are all very reasonably priced.
Their menu is very vast and includes everything from English cuisine such as fries, burgers, etc.
And their menu is very well designed with photos and descriptions that are very clear and concise.
This is easily the best mid-range eatery in Bangkok as a chain restaurant.
Address: No. 103A, G Floor, Room, 208 Wireless Rd, Lumphini, Pathum Wan, Bangkok 10330, Thailand
Phone: +66 61 418 9412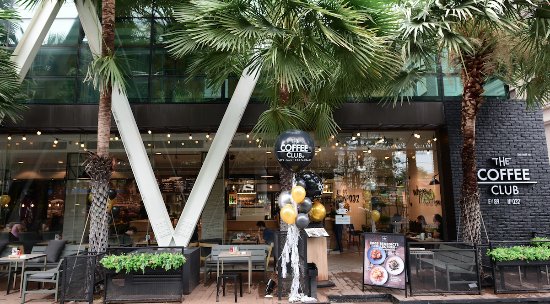 10. Pooltime Cafe
It is the most popular animal café in Bangkok, which is unique. Unlike the usual animal café that features cats and dogs, you can find cute rabbits and racoons here at the Pooltime Cafe.
Their menu includes hot coffees, cold coffees, soft drinks, juices, and snacks.
The interiors of the café are done with tiled counter electric-blue walls, minimal metal furnishings, and a color pop red staircase to resemble a public pool.
Their drinks are very fancy and come in bright colors, which are insta-worthy.
Address: 25/8 Soi Sukhumvit 16, Khlong Toei, Bangkok 10110, Thailand
Phone: +66 83 882 6945
Facebook: https://www.facebook.com/POOLTIME.CAFE/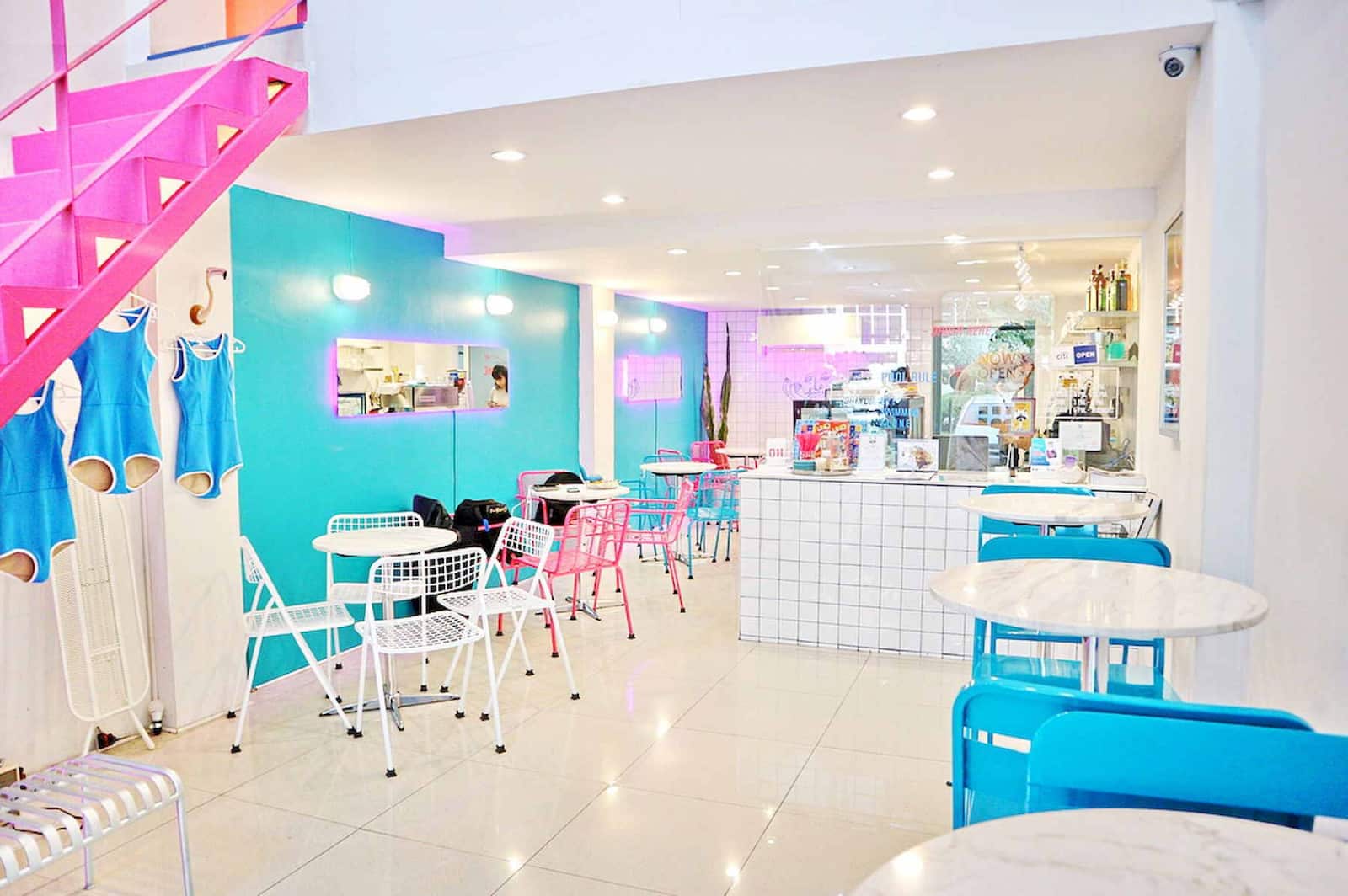 11. Rocket Coffeebar
It is one of the most popular brunch spots and cafés in Bangkok. The Rocket Coffeebar specializes in artisan coffees.
The café sources its coffee beans from countries across the globe, such as Nicaragua, Ethiopia, and Kenya.
Here you can find a wide variety of both vegetarian and non-veg menus. Some of their dishes are very popular such as Swedish meatballs and truffle pasta.
This small café in Silom has both indoor and outdoor seating.
Address: 149 Sathon Soi 12 Alley, Silom, Bang Rak, Bangkok 10500, Thailand
Phone: +66 96 791 3192
Facebook: https://www.facebook.com/RocketCoffeebar/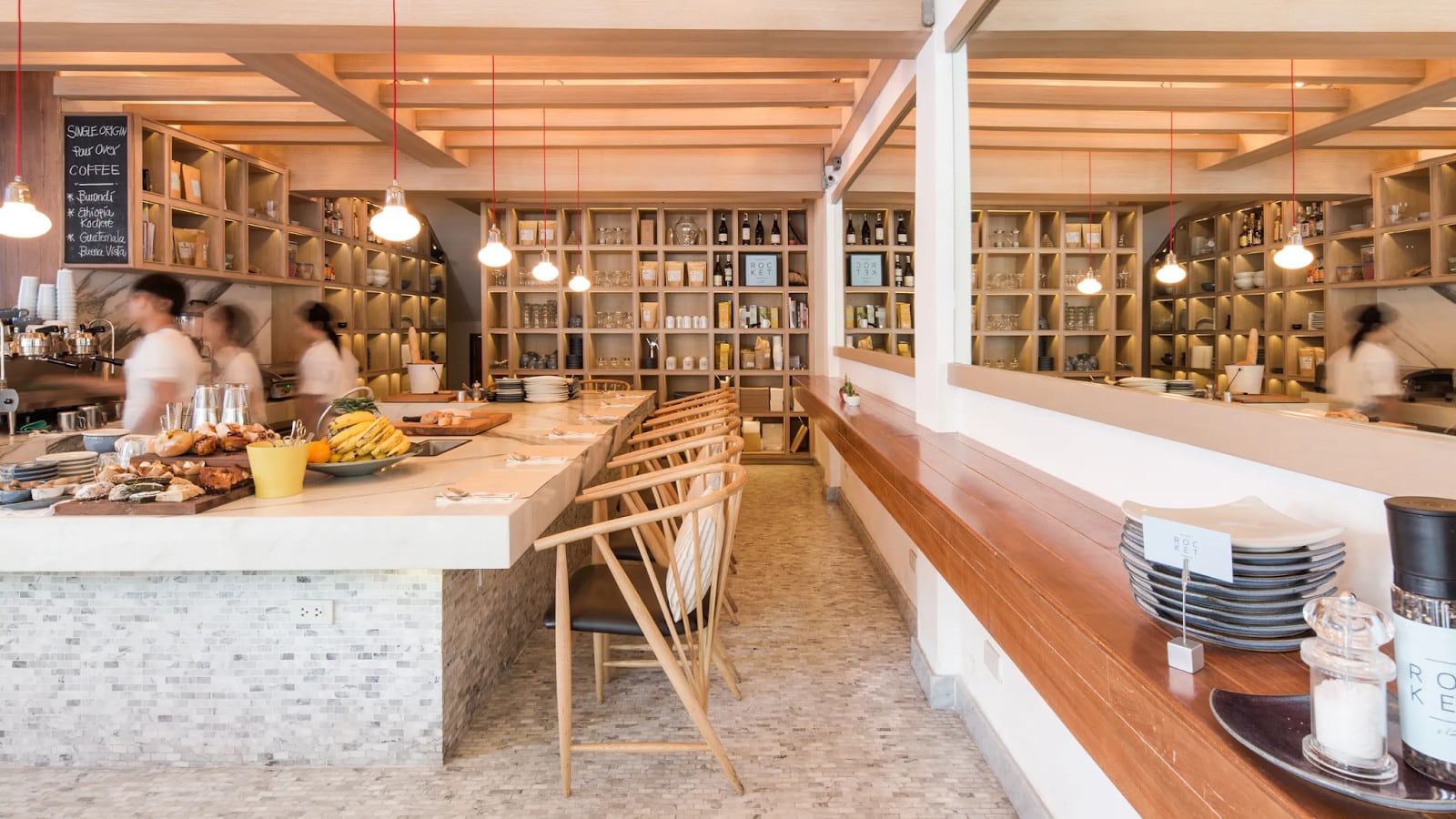 12. Simple Coffee, Simple Life
It is a simple and cozy café with subtle decoration and warm light. The café was a runner-up in the National Thailand Brewers Cup Champion 2016.
You can savor perfectly brewed coffees, especially latte and home-baked goodies, including cookies, cakes, and muffins.
Address: S1 Condo Rama9 Soi45 Suan Luang, Bangkok 10250, Thailand
Phone: +66 82 899 7790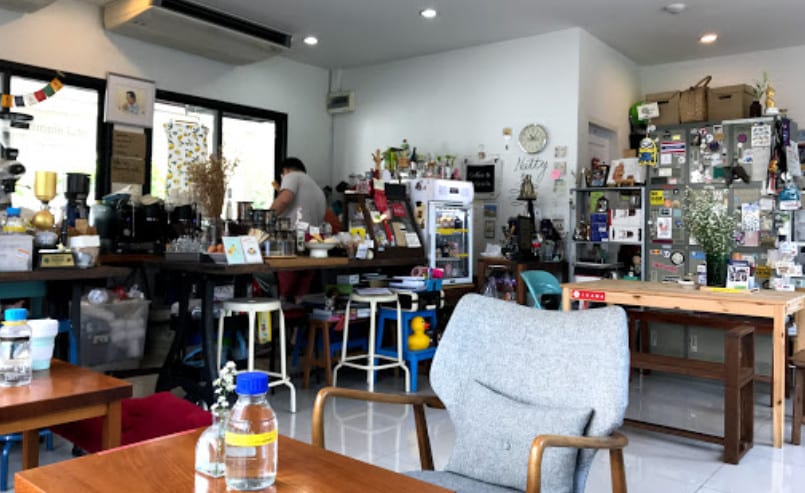 13. Hands and Heart Cafe
The Hands and Heart café is located on the ground floor of a condominium in Thong Lor Sukhumvit.
It is conveniently located in the hip district, home to many trendy cafés and eateries.
It was founded by Thai locals Firm and View in 2015. The owners of the café are very passionate about coffee.
They roast and hand-brew their own coffees, using premium coffee beans sourced from all over the world.
Address: PGVJ+PR4, Siam Square 11 Alley, Pathum Wan, Bangkok 10330, Thailand
Phone: +66 81 442 7977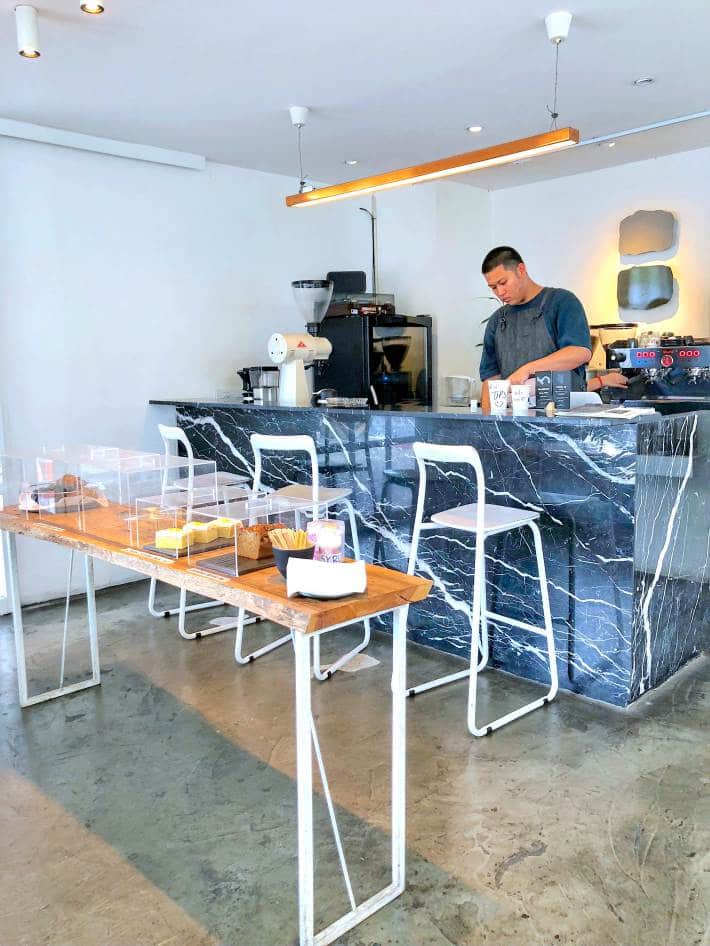 14. Kaizen Coffee
Kaizen is an incredible breakfast spot and coffee shop in the centre of Bangkok. The prices are a little higher than most basic breakfast joints.
You can find a sumptuous meal here, including eggs, an açaí bowl, braised beef, shiitake mushrooms, and grilled romaine.
It was opened by a group of three coffee-loving friends who wanted to bring the coolness of Melbourne's café culture to Bangkok.
It is especially famous for its nitro-brewed coffees. The café is perfect for insta-worthy photos.
Address: 888 6-7 Ekkamai Rd, Khlong Tan Nuea, Watthana, Bangkok 10110, Thailand
Phone: +66 95 312 0301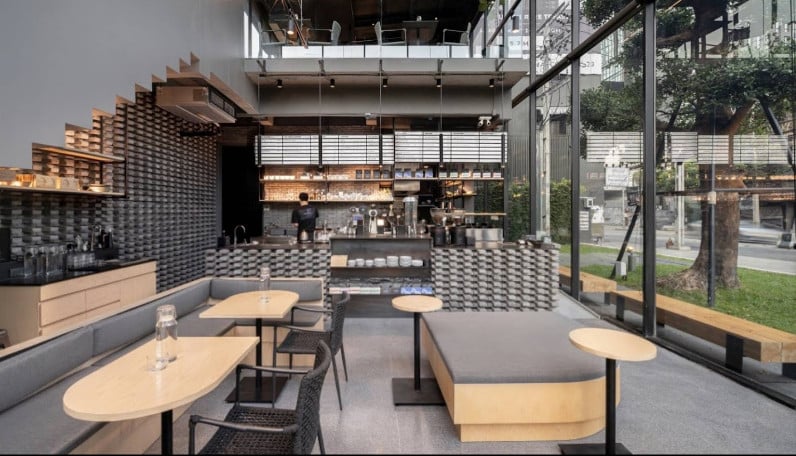 15. Theera Healthy Bake Room
It is a very popular café located in Ekkamai. The place is perfect for celiac, health-conscious, vegetarian, and vegan coffee lovers to get their coffee kick.
They have a wide variety of coffees, including mocha, caramel macchiato, and the store's signature coffee.
The drinks here are made with soy and rice milk; you can choose based on your taste.
There are smoothies and other drinks, too, along with a wide assortment of meals, snacks, and desserts, most homemade and allergen-free.
Address: 67/9-10 Sukhumvit 42 Khwaeng Phra Khanong, Khlong Toei, Bangkok 10110, Thailand
Phone: +66 90 506 2222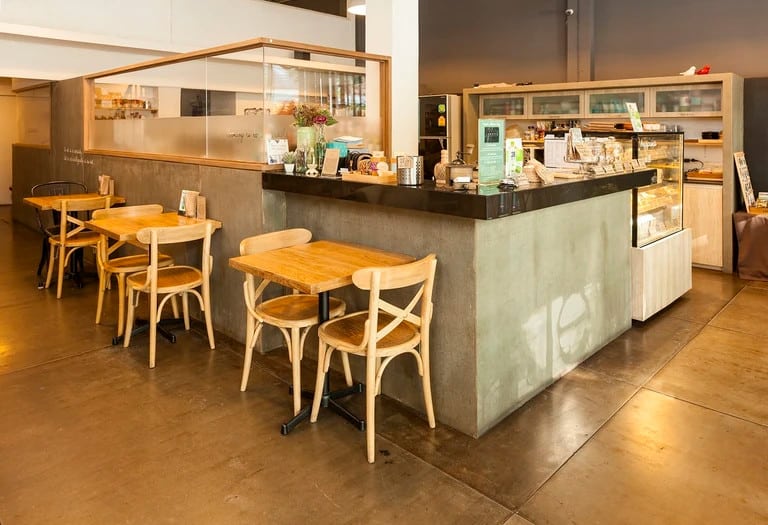 16. As.Is Coffee Shop
It is a hip and stylish coffee shop in Bangkok's Chinatown. It offers a perfectly peaceful spot away from the hustle and bustle of city life.
The bare bricks and gleaming black metal create an industrial-like appearance, perfect for aesthetic photos.
The baristas are highly skilled in the art of brewing coffee.
Most of the coffees at As.is are made using Thai-grown beans for a local touch. You must definitely try their fruity affogato for a tasty coffee-flavoured dessert.
Address: 45 Rama IV Rd, Pom Prap, Pom Prap Sattru Phai, Bangkok 10100, Thailand
Phone: +66 85 143 5215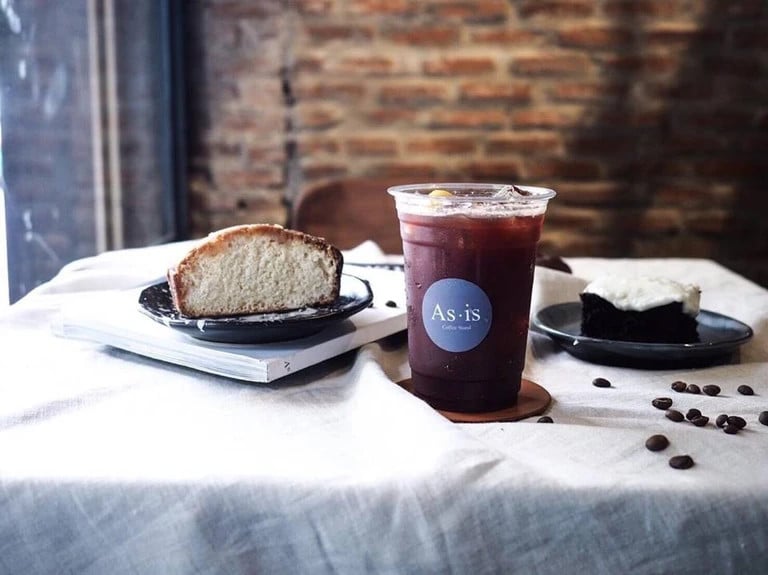 17. Sretsis Parlour
The Sretsis is a popular coffee shop in Bangkok that is run by sisters. It is a cute girl's fantasy land, with trendy décor featuring bright colours and bold designs.
The presentation of the food at Srestsis is top-notch and very creative. The coffees are topped with pictures of lions, unicorns, and other creatures to delightful and tasty cakes.
Address: Central Embassy, Level 2 Lumphini, Pathum Wan, Bangkok 10330, Thailand
Phone: +66 2 160 5875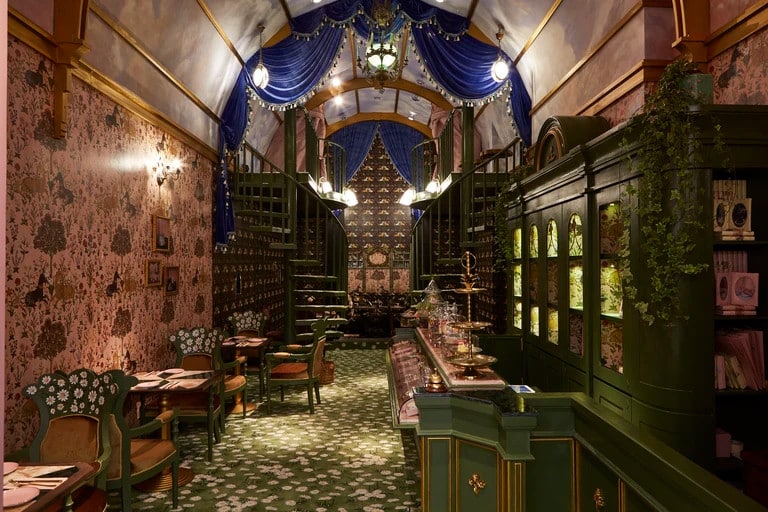 18. Samantao Heritage Coffee
The Samnaatao Heritage Coffee House is conveniently located in central Bangkok in the Ploenchit area.
The café has a laid-back vibe and gives the impression of sitting in a genteel, rural bubble that guards you against Bangkok's usual hustle-bustle and chaos.
It has a soothing teak-house setting and a distinctively traditional menu.
Some popular dishes are Thai coffee mixed with butter, pandan custard steamed buns, and homey toast with soft-boiled eggs.
Address: Wireless Rd, Khwaeng Lumphini, Khet Pathum Wan, Krung Thep Maha Nakhon 10330, Thailand
Phone: +66 97 140 5176
Instagram: https://www.instagram.com/Samantao.Nailert/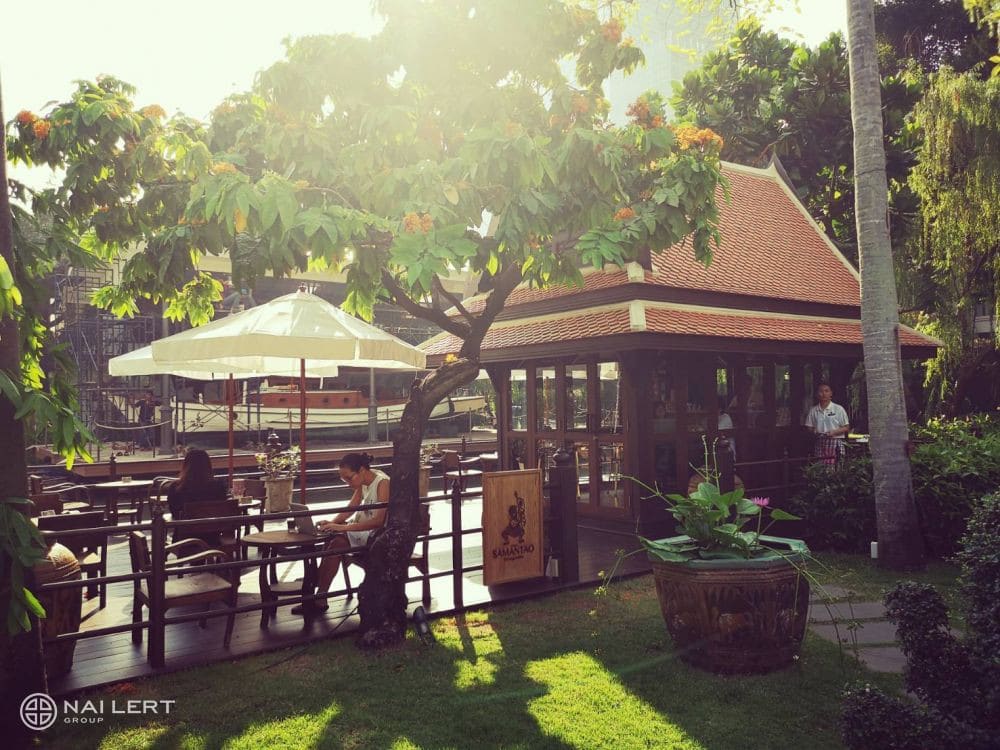 19. Featherstone Bistro
Featherstone is a very interesting café in Bangkok. It has an Old World European interior and locally sourced, handmade items for sale in the gift shop.
Their menu is very diverse and includes French- and Italian-inspired food such as tagliatelle pasta with truffle mushroom sauce and mussels cooked in white wine.
Address: 60 Soi Ekkamai 12, Khwaeng Khlong Tan Nuea, Khet Watthana, Krung Thep Maha Nakhon 10110, Thailand
Website: https://www.seefoundtell.com/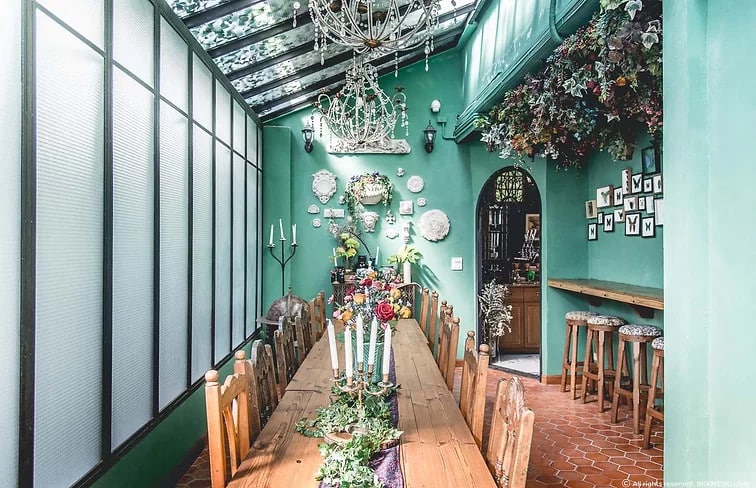 Final Words
Now that you already have this list of the best coffee shops in Bangkok, what are you waiting for? Go explore them and let us know if we missed out on any.
Editor - Thailand Nomads
Cindy quit her 9 to 5 job to pursue her passion for exploring mesmerizing locations in Thailand. She has been living here for the past 5 years now and through Thailand Nomads, she shares her experiences and insights about the must-visit places in Thailand.
Email: cindy@thailandnomads.com